There's nothing quite like relaxing on your patio on a warm evening. You can enjoy the fresh air and the sunshine, and maybe even fire up the grill. It's your backyard. Why shouldn't you enjoy it?
Unfortunately, the summer sun can be a bit too much. We all love the sun on a chilly day. It warms you up! But when the mercury starts to rise, sitting in direct sunlight becomes uncomfortable. Your sunny patio transforms from an inviting oasis to a broiling oven. Spend a few hours out there, and you can end up with a nasty sunburn.
A good patio umbrella is the solution to that problem. It's designed to provide shade while you sit around a table, so you can truly enjoy your patio. With the right umbrella, you can spend hours outside in the fresh air and not get any sunburn. In fact, an umbrella is more or less mandatory on any respectable back porch.
You want a reliable umbrella that's going to stand up to the elements and resist fading. You want one with a sturdy frame that can take a beating. A good umbrella should be easy to open, and it should be easy to fold away when it's out of use. This isn't a little umbrella you carry with you. This is a serious piece of outdoor equipment.
If you want your patio umbrella to stand out, there are any number of ways to do it. But LED lighting is a sure way to make it pop. LED patio umbrellas aren't just a great way to spruce up your patio. They're also a good tool for businesses. There's nothing quite like light-up umbrellas to attract people to your sidewalk café.
Choosing the Best Solar Powered LED Patio Umbrella
Today, we'll be reviewing three of the best solar-powered LED patio umbrellas we could find. All of these umbrellas are well-engineered, and tough enough to stand up to Mother Nature. They're also all easy to set up, since the solar panels are wired in. You don't have to plug them into a power outlet or run any extension cords.
However, there are major differences between these umbrellas. For one thing, they're made from different materials. For another thing, they come in different colors and patterns. We'll also have to think about sizing, and about the nature of the LED lights themselves. After we've taken all of those things into account, we'll have a complete picture of what we're dealing with. Let's begin!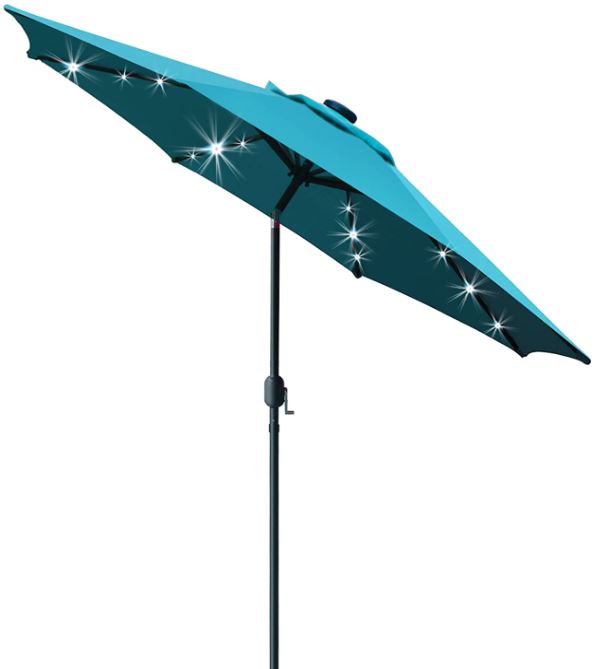 Sunnyglade 9′ Solar LED Lighted Patio Umbrella
The Sunnyglade 9' Solar LED Lighted Patio Umbrella is a sturdy umbrella with a 9-foot canopy. It's constructed from bronzed aluminum, which is impervious to rust as well as durable. There are 8 steel ribs at the top, instead of the standard 6. And the pole has a fat, 1.5-inch diameter for added strength. There's no base included in the kit, but that's standard for patio umbrellas.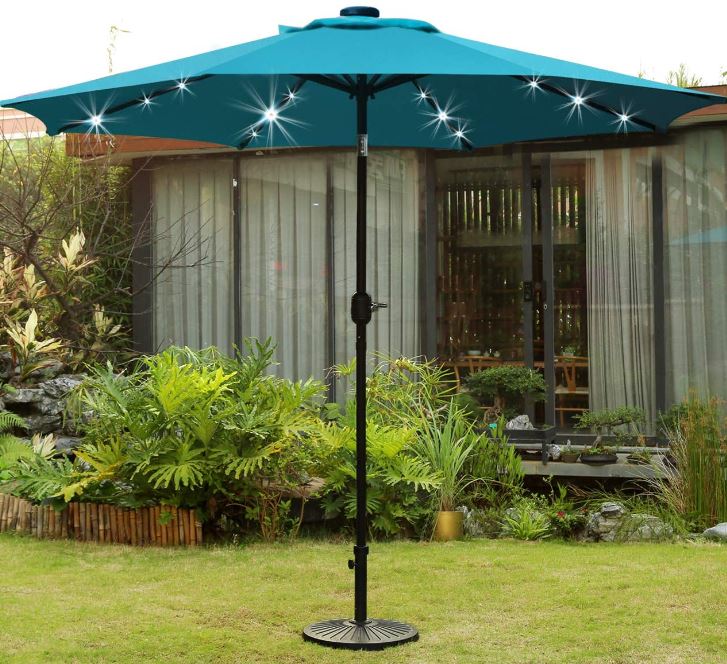 About halfway up the post, just above the surface of most tables, there's a chromed plastic crank. This is used to raise and lower the umbrella canopy. Further up, towards the top, you'll notice a metal hinge. By pressing the button on the side, you can tilt the canopy in either direction. This is a useful feature when the sun is shining from an angle.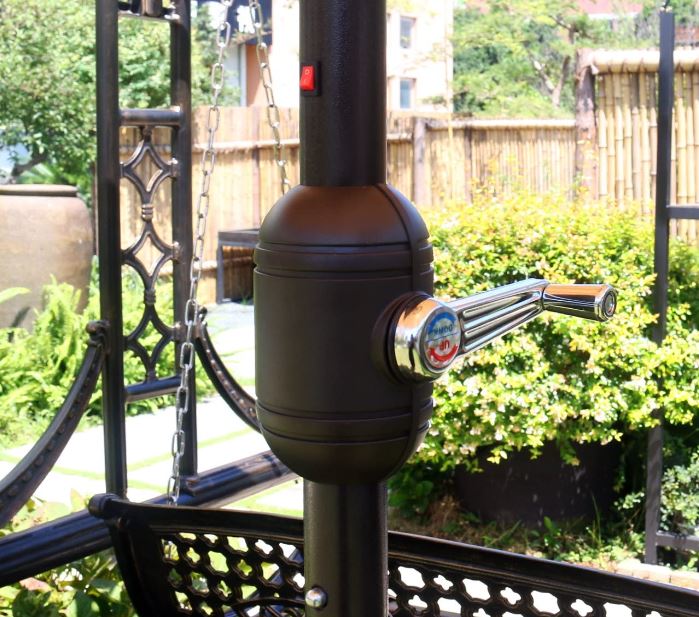 The canopy itself is made from 100% polyester. It's designed to be fade-resistant, even under constant sun exposure. It also repels water, but you need to temper your expectations. A patio umbrella is large, and needs to be semi-porous to allow air to pass through. Otherwise, it could easily get blown away. If there's an intense downpour, some water is going to drip through.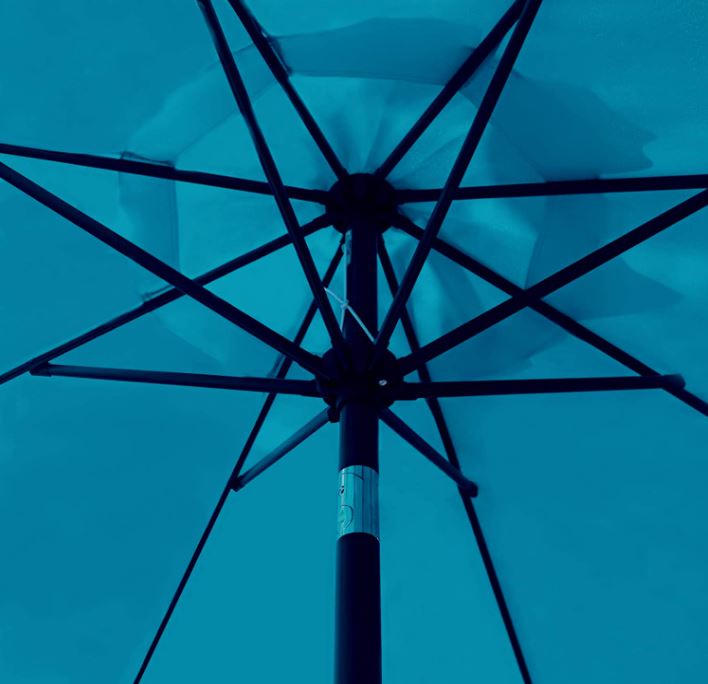 Along the same lines, the top of the canopy is vented, with a separate, raised panel in the very center. This allows more air to pass through, providing excellent stability. Just make sure to collapse the umbrella if there are high winds in the forecast. In high enough winds, anything will blow away.
When you close the canopy, you'll notice a large strap hanging from the side. This is used to tie your umbrella shut, and keep it safe during foul weather.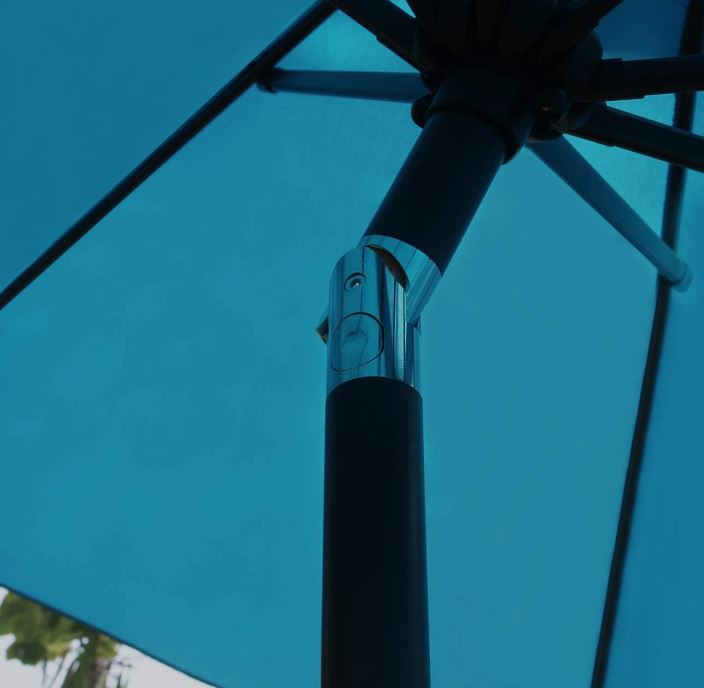 Color Options and LED Features
The Sunnyglade 9' Solar LED Lighted Patio Umbrella is available in 11 different colors. It comes in black, blue, navy blue, teal, dark or light green, grey, tan, and orange. There's also a slick black and white option with concentric rings of color. Whether you're going for a formal or a playful look, you'll have plenty of options.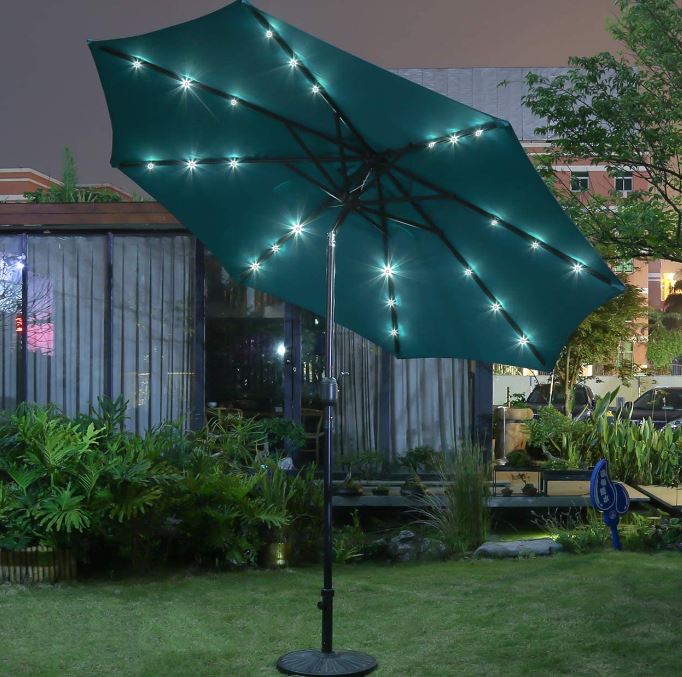 The LED lights themselves are located on the underside of the ribs, beneath the canopy. Each rib has three small white LED diodes along its length, for a total of 24. This provides a pleasant glow, gently lighting your patio table.
The LED lights are powered by a square solar panel, which is mounted on the tip of the umbrella. During the daytime, the panel charges an internal battery. When you turn on the lights, they'll run for around six hours, assuming the battery is fully charged. You control the lights with a little red switch, which is located on the pole, just above the crank.
If you spend a lot of time outside, you may want to light up more of your property. In that case, take a look at the best outdoor solar LED lights. They can be used to illuminate pathways, porches, and other outdoor spaces.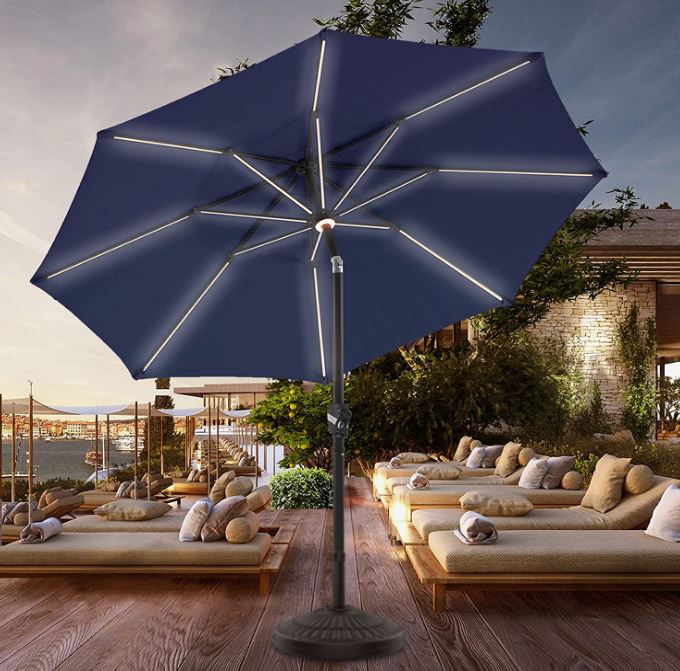 BLUU MAPLE 9′ Olefin LED Patio Umbrella
The BLUU MAPLE 9' Olefin LED Patio Umbrella is another 9-foot umbrella, with a durable frame. It's made from coated aluminum, so it won't rust even under the wettest conditions. And like the Sunnyglade umbrella, it has 8 ribs instead of 6 for added rigidity. Not only that, but the pole has a diameter of 1.57 inches, thicker than your typical umbrella pole.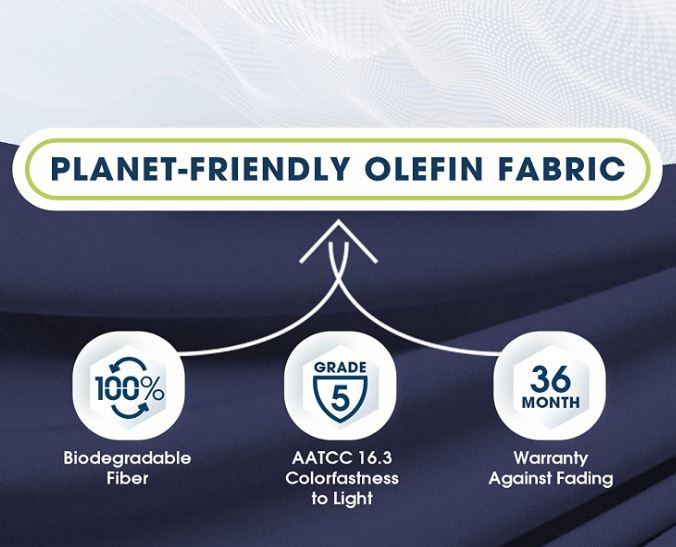 The material is a high-quality olefin fabric. This material is heavier-duty than polyester, and has a softer feel. It also has a more visible weave, so it looks almost like a canopy, rather than an umbrella. The heavy material provides excellent UV protection, blocking out 97% of radiation. It's also surprisingly water-resistant, and can stand up to heavy rain. We should note that like any well-engineered patio umbrella, this one has an air vent at the top. Under some circumstances, a little water might drip through.
BLUU MAPLE actually guarantees the performance of their umbrella. It's guaranteed to maintain UV- and water-resistance for a minimum of three years. They also offer a 30-day no-questions-asked return window. You can try the umbrella out and send it back if you decide you don't like it. It doesn't get much simpler than that.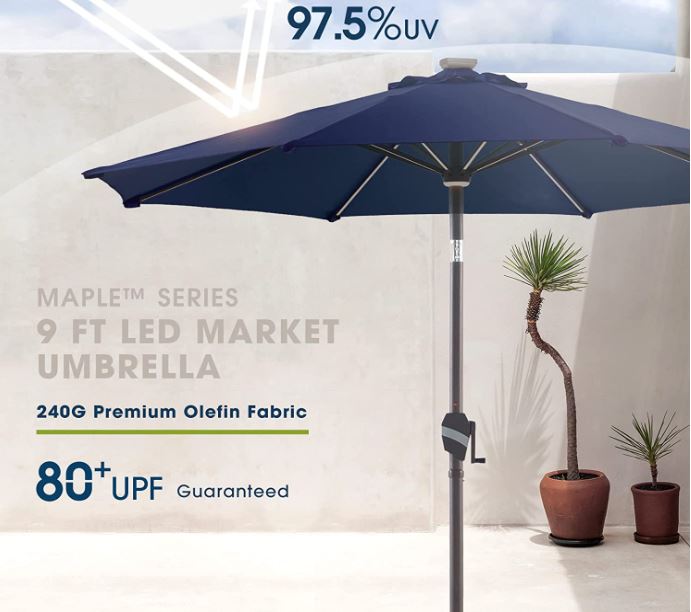 Halfway up the pole is an aluminum crank, for raising and lowering the canopy. You'll also find a tilt mechanism near the top. You can freely angle the umbrella to block the sun, even when it's near to the horizon before sunset.
Color Options and LED Features
The BLUU MAPLE patio umbrella is available in several colors. You can order it in black, navy blue, ivory, sky blue, and brick red. There's also a patterned option that consists of a series of concentric stripes. These stripes are in various brick tones, ranging from a rusty color to lighter shades of orange. It has a Mesoamerican feel, which is perfect for summer décor.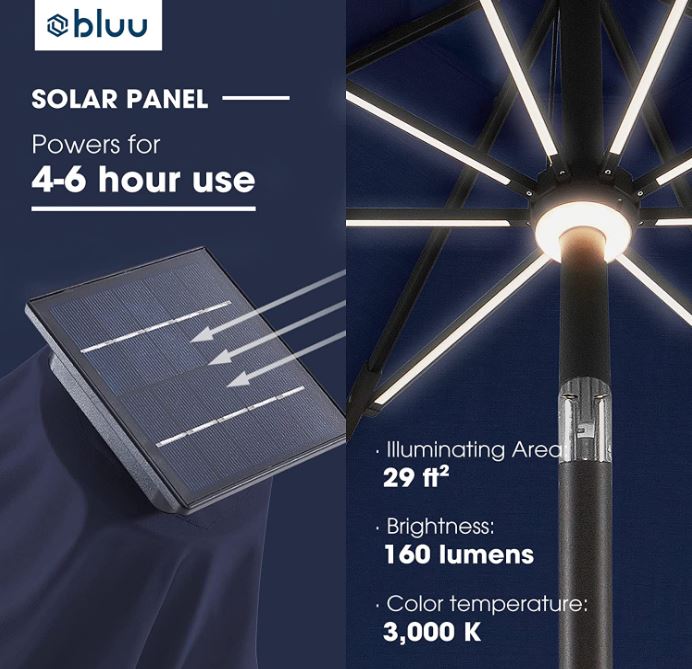 The LED lights are stripes, not small diodes. There are 16 stripes in total, with 2 located on the bottom of each of the 8 ribs. The stripes take up almost the entire length of the ribs, except for the hinges towards the center.
The light is pure white, and the attractive layout of the stripes creates an elegant appearance. It also spreads out the illumination across your entire table. There's a button located in the side of the pole, just above the crank, which turns the lights on and off.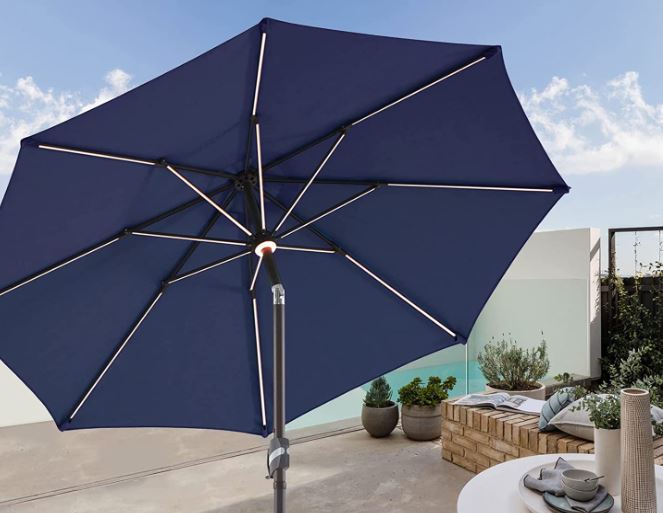 Power is provided by a black rectangular solar panel. It's mounted on the tip of the pole, so it collects light even when the canopy is collapsed. When fully powered, the lights will run for several hours on their battery reserve.
While you're enjoying time on your patio, you might also enjoy the atmosphere provided by tiki torches. But traditional tiki torches are consumable. You have to constantly refill them, and they create a lot of smoke. Instead, consider a set of solar tiki torches. These provide the same pleasant glow, without all of the headache.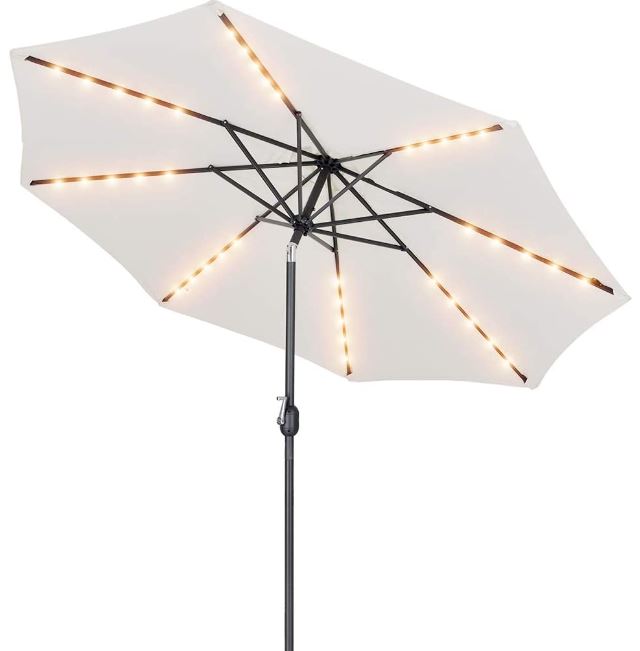 Patio Watcher 10′ Solar LED Patio Umbrella
The Patio Watcher 10' Solar LED Patio Umbrella is actually available in three sizes. In addition to the standard 10-foot version, you can also order it in 9- and 11-foot diameters. This makes it suitable for different-sized patio tables, and gives you a bit more flexibility.
The post and frame are both very well-engineered. They're constructed from a steel alloy, which gives them plenty of strength and rigidity. In addition to a strong pole, there are 8 ribs, so the canopy has plenty of support. You don't have to worry about it collapsing due to a stiff breeze.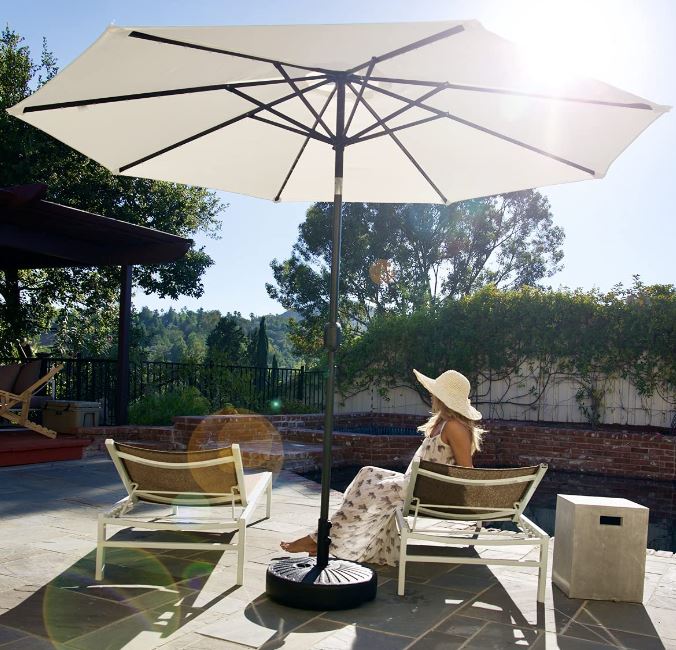 There's a crank made of chromed plastic, located partway up the shaft. Near the top, you'll find the hinge, which has a locking button on the side. This allows you to tilt the umbrella in either direction.
The fabric is 100% polyester, and provides plenty of sun protection. In fact, it blocks 98% of ultraviolet rays. Despite this high degree of protection, it also resists fading, and the bold colors should stand up for years.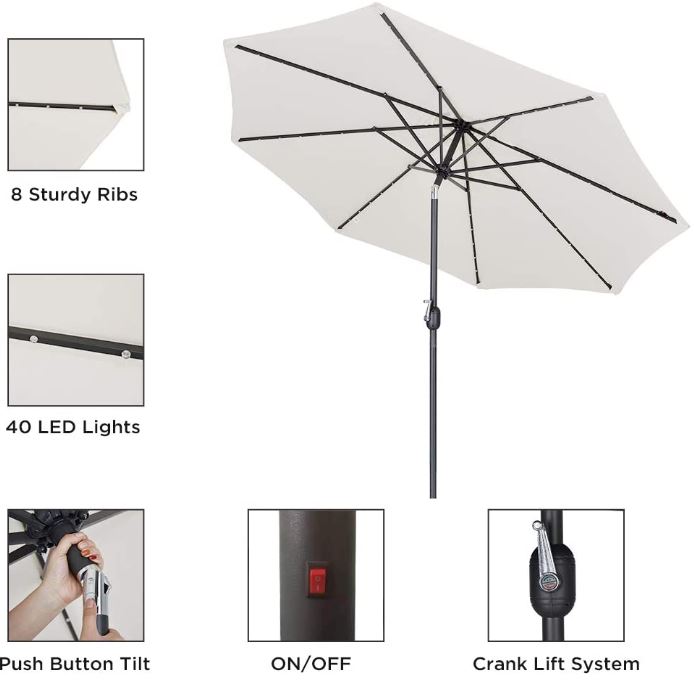 If that's not enough, the canopy is waterproof, so a light drizzle won't put an end to your fun. The top is vented, which allows for plenty of air flow and improves stability. There's also a little tie strap on the outside of the canopy, for tying the umbrella up when it's collapsed.
Color Options and LED Features
While the Patio Watcher umbrella offers plenty of size options, it has fewer colors than our other options. You can order it in beige, blue, green, tan, or red.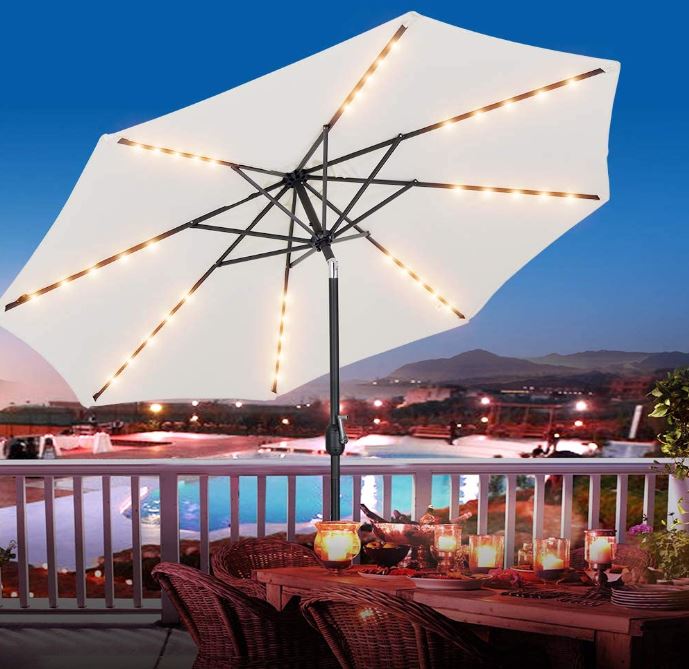 What really makes this umbrella stand out is the layout of the LED diodes. There are 40 of them in total, which creates a brilliant array of lights. Five of them are located on each of the eight ribs, resulting in an attractive star pattern.
The lights are controlled by a red toggle switch, positioned just above the crank. They're powered by a round solar panel at the top of the umbrella. You'll get several hours of performance per charge, more than enough for any patio sit.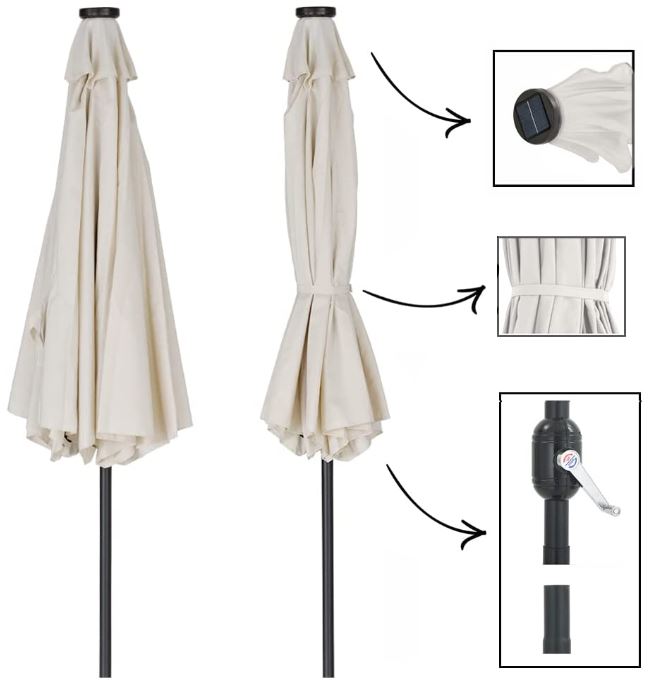 On a hot enough day, it might even be uncomfortable in the shade. But who says you can't still enjoy your patio? You just have to get creative. An outdoor patio misting fan is a great way to keep cool, even in the most searing of heat.
Final Verdict
So, which of these solar powered LED patio umbrellas is the best of the bunch? As is often the case, it's mostly a matter of personal preference. Let's go over what we've learned.
We started out by reviewing the Sunnyglade 9′ Solar LED Lighted Patio Umbrella. This is a durable polyester umbrella with steel ribs. We liked the distinct LED diodes, which form points of light when viewed from a difference. You also get plenty of colors to meet most tastes.
The BLUU MAPLE 9′ Olefin LED Patio Umbrella is made from a heavy-duty olefin fabric. It's attractive by day, with a woven, canopy-like appearance. It's equally elegant by night, with its unique LED striping. We also liked the color selection, especially the Mesoamerican pattern.
The Patio Watcher 10′ Solar LED Patio Umbrella has fewer color options than the other two. But it makes up for that by coming in three sizes, ranging from 9 to 10 feet. It's also fairly durable, with a tough steel frame. And the 40 LED diodes create a beautiful array of lights.