A key is only useful if you actually know where it is. Imagine this scenario. You're getting ready to leave the house. You're running late, and you're finally on your way out the door.
Suddenly, disaster strikes. You can't find your keys to lock your front door or open your car. Now you're hunting through your couch cushions searching for them, and it's getting later by the minute. If only there were somewhere convenient to keep your keys where they wouldn't get lost.
There are many potential places to store your keys. Many people carry them in their pockets, but if you're wearing women's clothing, that's not always practical. You might keep them in a drawer near your front door.
But unless you keep the same routine, you won't always remember to put them in the drawer. You'll bring some groceries to the kitchen, and toss your keys on the counter. You'll go straight upstairs to take a shower, and set your keys on your nightstand. Suddenly, you're back where you started, without any consistent place to keep your keys.
One popular solution is to hang your keys on a hook near your front door. That way, you can always drop them off on your way into the house. When it's time to leave again, your keys will always be right where you expect them to be. You won't have to hunt around for them, and you won't be late for your appointments.
But what do you do if you're pressed for space? In that case, it makes sense to use a magnet or hook that's built into your light switch. There's probably a switch next to your door, so it's a natural place to keep your keys.
Choosing the Best Magnetic Light Switch Key Holders
Today, we're looking for the best magnetic light switch key holders. We'll be looking at the four top options, all of which provide an easy way to store your keys. Each of these holders is well-engineered, and won't fail when it's used as designed. That said, each option also has its own quirks.
To begin with, we found that not all of the best key holders are magnetic. A couple of these gadgets hold your keys on a physical hook, rather than a magnetic surface. The different key holders also install differently, and work better with different types of light switch. To find out which is the best for you, you'll need to consider all of these factors. We'll tell you everything you need to know, and wrap up with a final verdict on each option. Let's get started!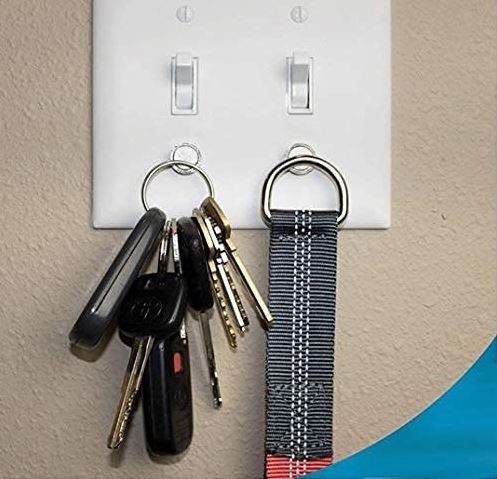 Magnetic Key Rack by Savvy Home
The Magnetic Key Rack by Savvy Home isn't actually a "rack." It's a set of screws that are designed to replace the default screws in your switch plate. The difference is that they have magnetized heads, which you can stick a key ring to.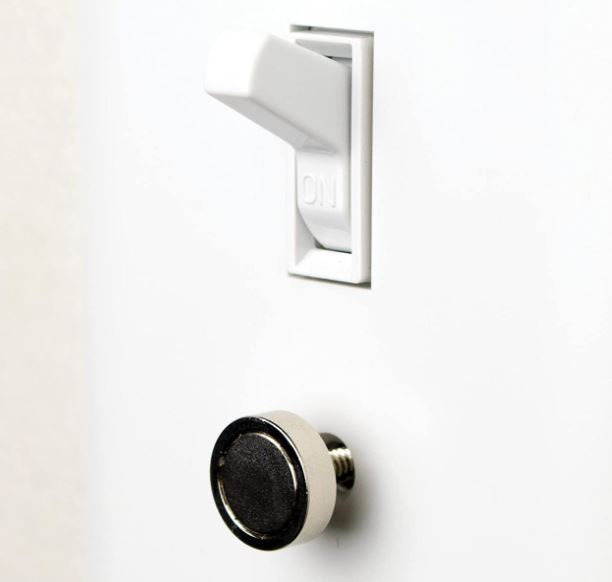 The heads are shaped like hockey pucks, and are half an inch in diameter. This makes them small enough that they don't look out of place on your switch plate. That said, keep in mind that they'll only install on a light switch, not a power outlet. The screw on a power outlet is between the two sockets, and there's less than half an inch of space. Moreover, hanging your keys from the front of a power outlet would be dangerous!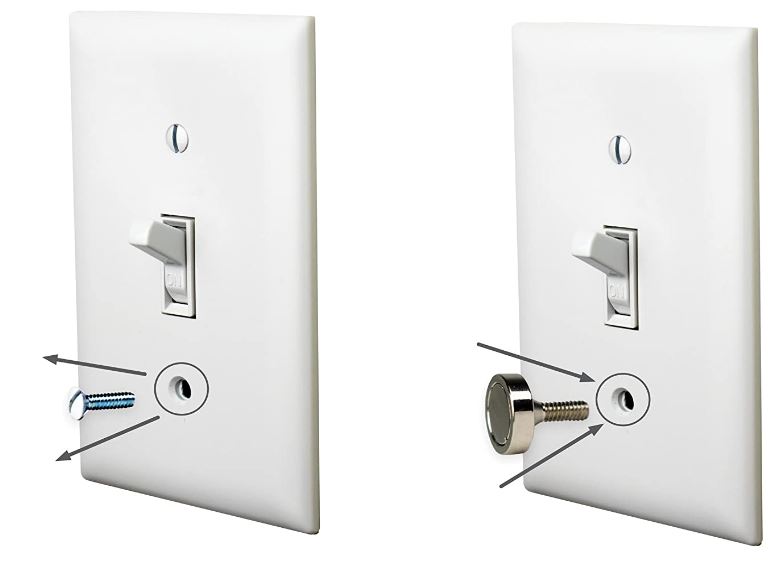 This key holder comes in a 2-pack, a 4-pack, or a 6-pack. If you want to hang things from switches all over your home, you can. You can also hang other ferrous metal objects such as small tools. These are neodymium magnets, and they're surprisingly powerful for the size. Each one has a weight capacity of three pounds, so get as creative as you like.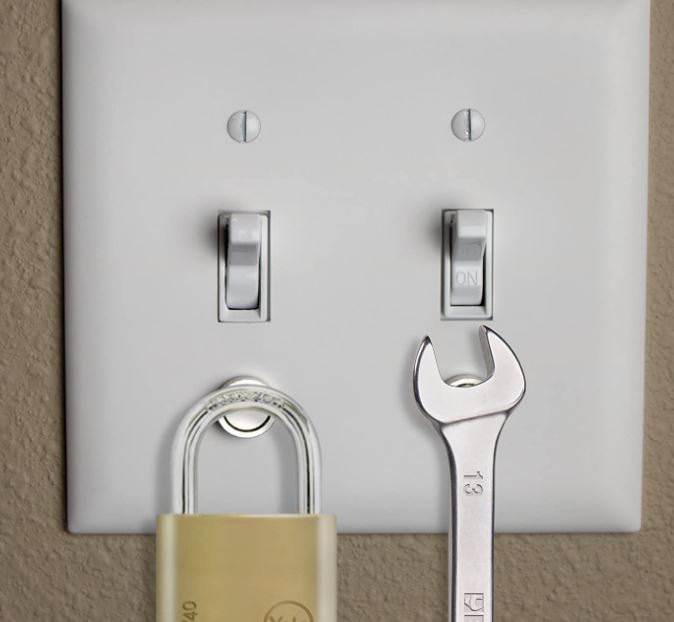 This is all well and good for keeping track of your keys and other small objects. But how do you find something you've already lost? A magnetic sweeper is a great way to find missing metal objects. It's also ideal for cleaning up after a construction project. Just run it through the area, and it collects any loose screws.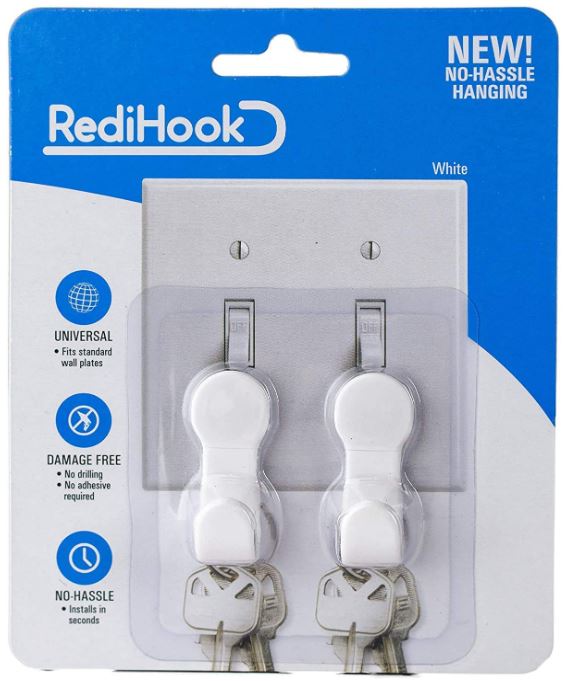 RediHook Key Hook Hanger
The RediHook Key Hook Hanger is one of the non-magnetic hangers on our list. It's a plastic hook about the same width as the barrel on a standard toggle switch. You can order it in white or ivory, to match most common switch plates. You can also order it individually, or in a 2-pack for your front and back doors.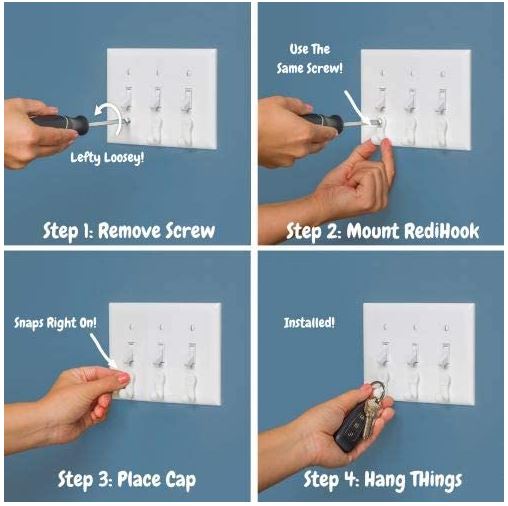 These hooks are designed to install with your existing switch plate screw. There's a removable cap on each one, which pops off to reveal a screw hole. Remove your switch plate screw, put it through the hole in the RediHook, and screw it into your switch plate. Replace the cap over the screw, and the hook and plate will blend seamlessly together.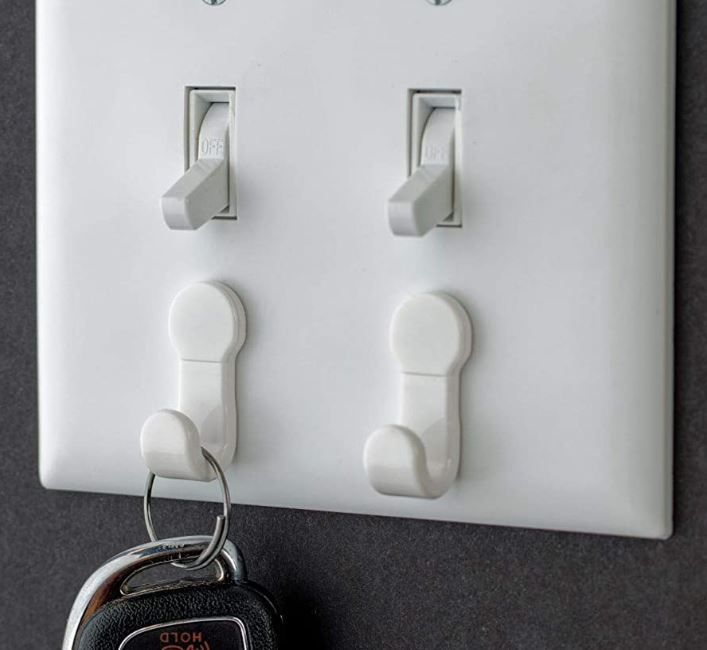 The hooks themselves are very sturdy, more so than we would have expected. According to the manufacturer, they're capable of holding more than five pounds. Be careful, though. You don't want to overstress the box where the switch is mounted in the wall. It may not be designed to support that much weight.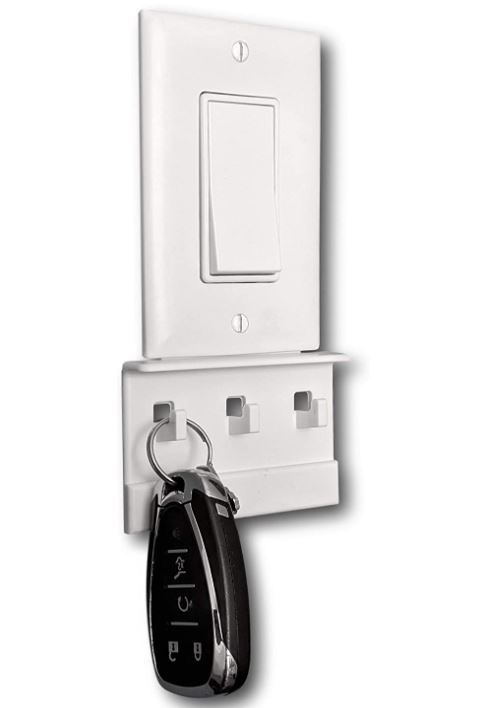 No-Screwups Key Hook Organizer by Mount Genie
Mount Genie is a respected manufacturer of wall-mounting technology. A while back, we reviewed their cable box/modem wall mount. It's a versatile system for mounting your game console, modem, cable box, or other electronics. Given their track record, we decided to check out their key holder.
The No-Screwups Key Hook Organizer by Mount Genie is a plastic plate with three small hooks across the middle. These hooks are evenly-spaced, and are the ideal size for hanging a key ring. The plate has a width of 4 inches, and the entire hanger measures 4 inches high including the mounting flange. Because of this large size, your keys will rest against the plate, not against the wall. You don't have to worry about them scratching your paint.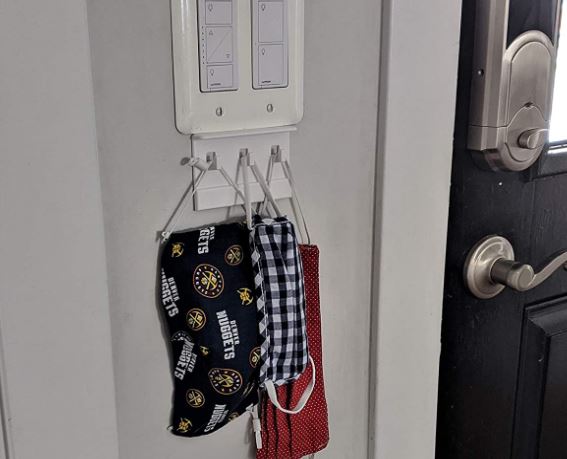 This key holder is available in a 1- or a 2-pack, and it comes in white or black. If you happen to have black switch plates, it will blend right in. To install it, you loosen the screws on your switch plate. Then, you slide the flange on top of the plate behind the plate. When you tighten the screws, the flange will lock in place in the ridge at the bottom of the plate. The top flange is slightly narrower than the rest of the plate, so it can be installed on a single-switch plate.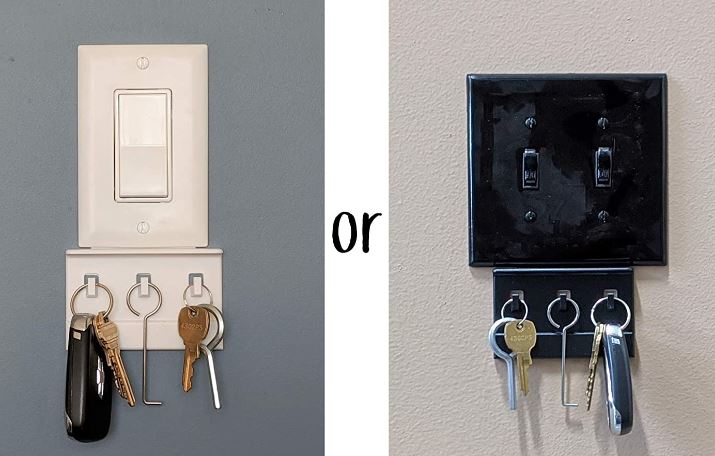 The No-Screwups Key Hook is a great way to stow your keys, but be careful. Because of the way it's installed, it's not suitable for hanging heavier objects. Stick with keys, and you won't have any issues.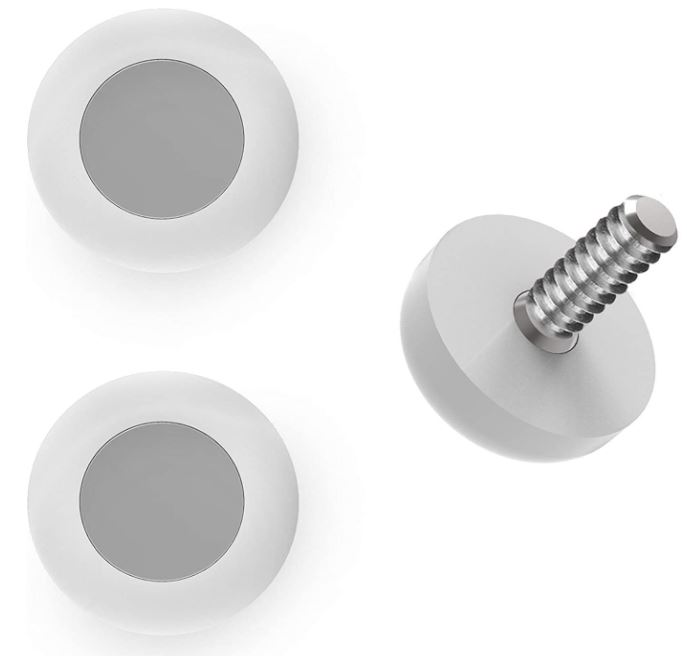 KeyCatch Magnetic Key Holder
The KeyCatch Magnetic Key Holder is a lot like the Savvy Home magnet. These are magnetic screws that replace the ones that are currently in your switch plate. As a result, they're just as easy to install as the other magnets. They also have the same weight rating, with a maximum capacity of three pounds.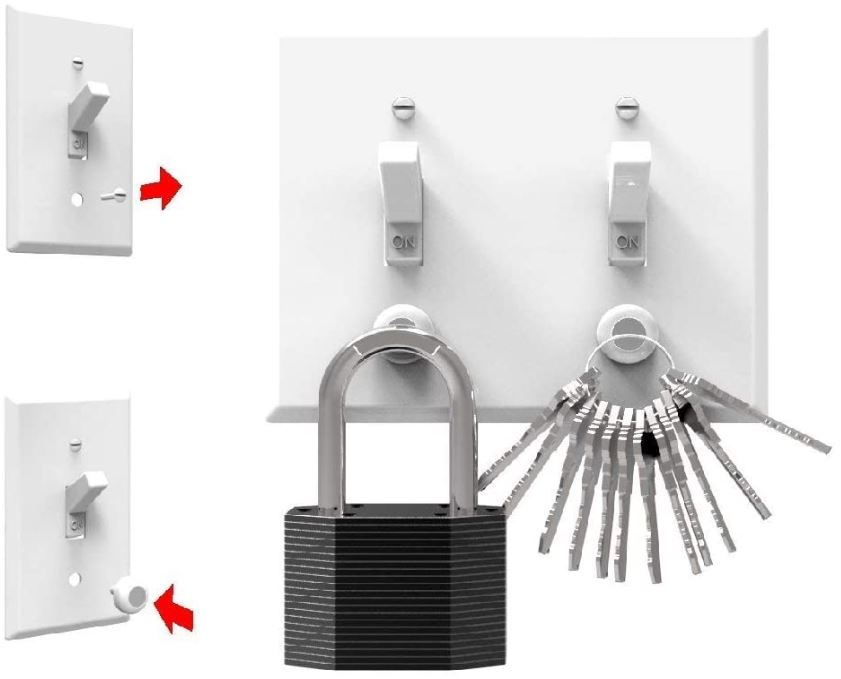 These key holders come in a 3-pack, and they have a decorative design. The metal head is surrounded by a white plastic ring, which curves elegantly down to your switch plate. On a white plate, this helps provide a more unified that. Furthermore, the plastic extends across the back of the screw head, so it won't scratch your switch plate. On the downside, it won't blend well with almond, black, or other colors of switch plate. If your switch plate isn't white, you'll be better with an all-metal magnet.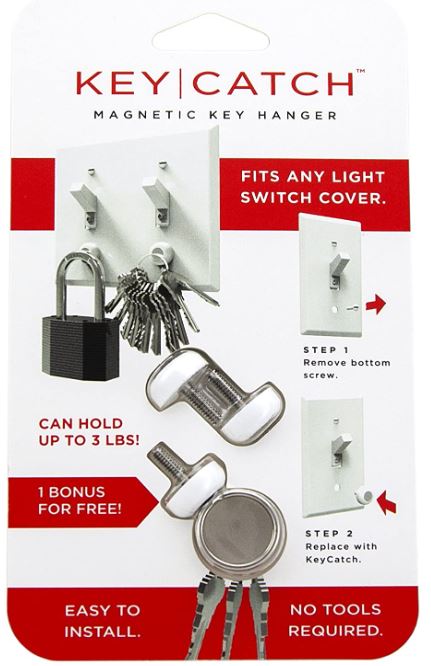 We've talked about a lot of great ways to hang your keys. But what if you want a more heavy-duty magnetic hanger? In that case, read our guide to the best heavy-duty magnetic hooks. These are a bit much for your switch plate, but they're perfect for your kitchen or garage.
How to Find the Right Magnetic Light Switch Key Holder
Before we wrap up, let's talk about why one key holder might be better than another. Here are some things to consider:
The strength of the magnet – In the U.S., this is normally provided in pounds. Neodymium and rare earth magnets provide the most strength at a given size.
Ease of installation – Does it take a couple of minutes, or do you have to take apart half the light switch?
Hook quality – If you're using a hook instead of a magnet, look for one that can support plenty of weight. At the same time, avoid overloading even a beefier hook. You might overstress the box the light switch is mounted in.
Aesthetic – Make sure the key holder matches your switch plate! The last thing you want is an almond-colored holder on a glossy white plate.
Final Verdict
So, which one of these magnetic light switch key holders is the best choice? Let's summarize what we've talked about.
The Magnetic Key Rack by Savvy Home were the simplest of the bunch. They're straightforward magnetic nubs that screw right into your switch plate. They take just a minute to install, and they can support up to three pounds. It's even available in a 6-pack if you want to magnetize multiple switches.
The RediHook Key Hook Hanger is basic plastic hook. It can match white or almond-colored switch plates, and installation isn't too complicated. It's not magnetized, but it's great for hanging any lightweight object. With a capacity of five pounds, you could even hang an umbrella from it.
The No-Screwups Key Hook Organizer by Mount Genie has a unique hanging method. It attaches underneath your switch plate, instead of onto the plate's surface. It's not as sturdy as the other options, but the three small hooks are ideal for organizing your keys. It also has a backplate that protects your wall from scratches.
The KeyCatch Magnetic Key Holder is similar in most ways to the Savvy Home holder. But instead of a plain metal nub, it has a plastic ring. This is mostly a cosmetic difference, but it's still a nice upgrade. It's also less likely to scratch your switch plate, if that's important to you.