Bob and Brad Foot Massager
If you spend all day on your feet, they're probably sore at the end of the day. Nowadays, there are several technological solutions to help protect your feet. Sneakers and insoles are both major industries in their own right. There's a good reason for this; foot pain is no joke, and can lead to other problems.
When your feet are sore and stiff, you might favor one foot over the other. Or, you might walk with an unnatural stride, and end up injuring your knees or hips. These are all good reasons to take good care of your feet. Besides which, it's no fun to walk around on stiff, sore feet. It's a matter of comfort as much as anything else.
As we said, a lot of solutions to foot pain are technological. But some solutions are older than humankind itself. A good massage at the end of a long day is better than any insole. That's why so many people pay good money for a foot rub. However, paying for a foot rub isn't always affordable or practical. You might want to kick back on your own couch and have your feet massaged.
Thankfully, there's a solution. An electric foot massager combines the ancient art of massage with modern motors and circuit boards. It allows you to enjoy a relaxing massage in the comfort of your own living room.
In our search for a foot massager, we were able to choose from many brands. We decided to review Bob and Brad's, because of the brand's strong track record. The Bob and Brad Eye Massager is an excellent example. Not only is it innovative; it's effective, ergonomic, and easy-to-use.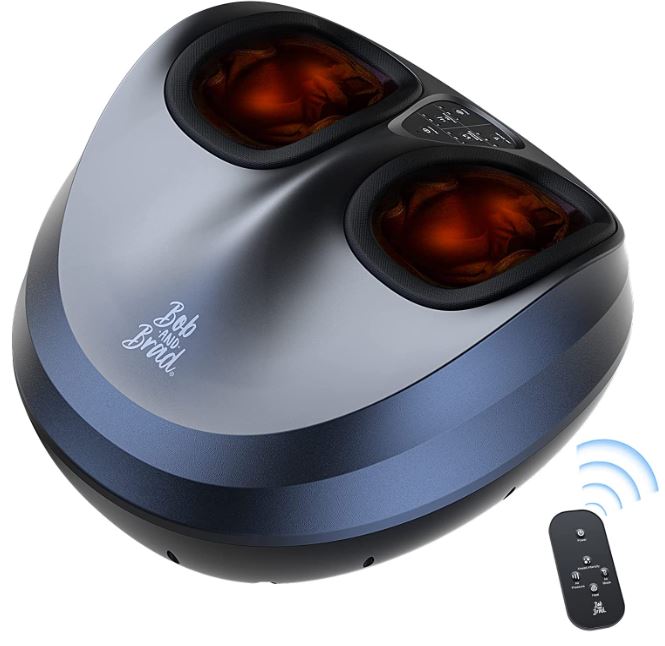 Bob and Brad Foot Massager
Today, we're going to review the Bob and Brad Foot Massager. This massager encloses both your feet, and applies a combination of mechanical massage, air massage, and heat. It has multiple massage settings, so you can choose your own heat and intensity. All of these things are important features for a foot massager.
But to find out how well this device really works, we'll need to look a bit deeper. We'll have to talk about how it's designed and put together. We'll need to go over the individual settings, and what each of them does. In addition, we'll also need to examine the control scheme, and look at the power and safety features. After that, we'll have a full understanding of what we're dealing with. Let's begin!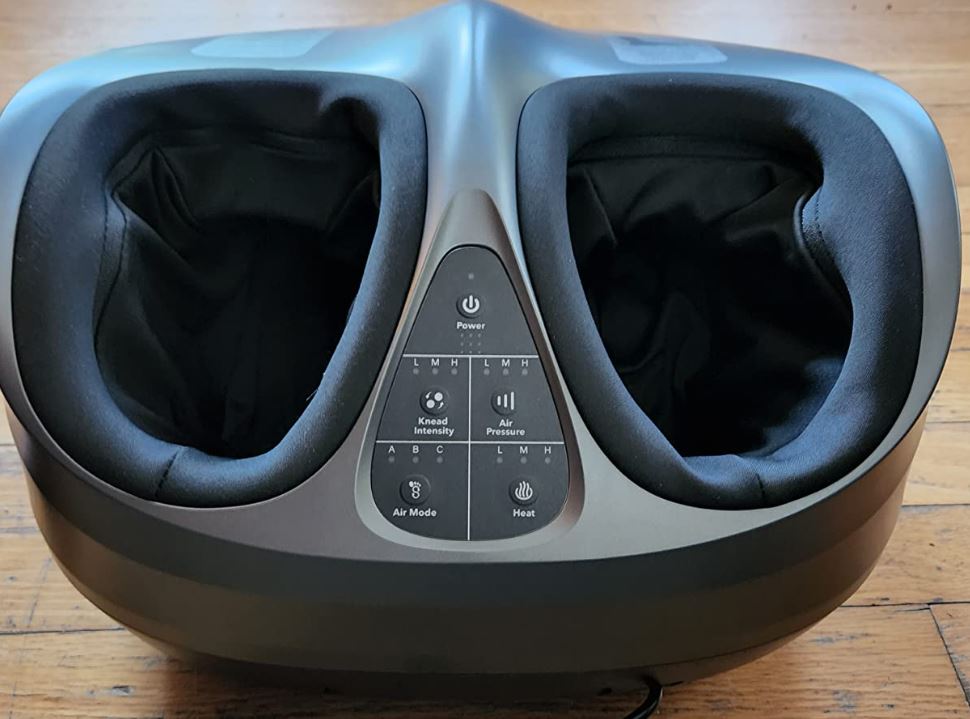 Overall Design
The Bob and Brad Foot Massager has a wide, curved shape that's wider at the back than at the front. It's constructed from a matte black plastic that seems reasonably durable, and it's easy to keep clean. The top panel is a slightly glossier grey, with the words "Bob and Brad" printed at the front in white cursive.
Behind this is a pair of holes, where you can put your feet down inside the machine. The control panel is located to the back, between the two foot wells. We'll go into more detail about those momentarily. The overall size of the housing is 15.7 inches wide, 15 inches long, and 9.3 inches tall. It weighs 11.55 pounds, so it's not to heavy to carry around from room to room.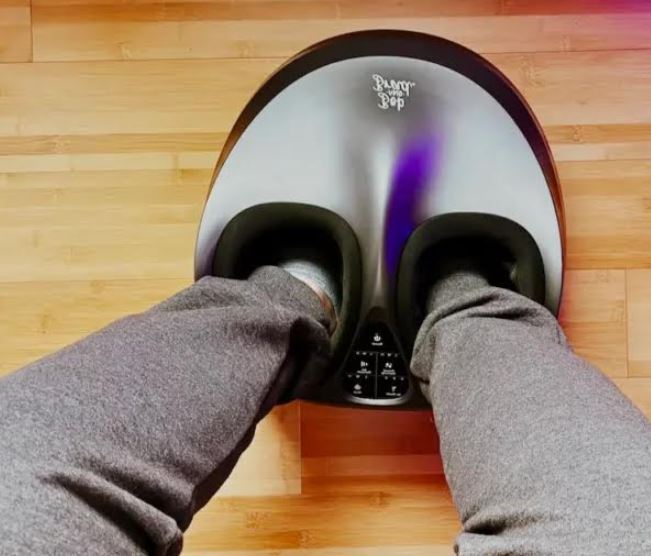 The foot wells are lined with a thick, soft fabric. The inner lining has a zipper near the top, where it can be removed for cleaning. You don't have to worry about your massager smelling like stinky feet after a few months. You also don't have to worry about sizing, or at least probably not. This massager can accommodate feet as large as a men's size 12. And while there's no stated minimum, we can confirm that it's comfortable for a size 6 female.
The massage mechanism uses different methods at the top and bottom of your foot. On the bottom, there's a knobbed roller at the front, beneath the balls of your feet and your toes. Beneath the rest of your foot is a plate with a bunch of knobs on it. This moves up and down, providing an adjustable percussion massage.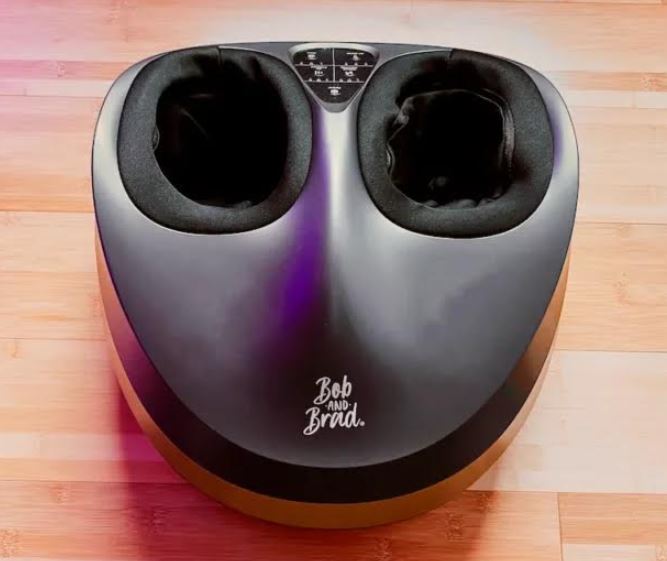 The top of your feet will also get some love. A pair of air bags nearly surround your foot, with one behind your ankle and another over the top. These bags inflate and deflate, applying and releasing pressure as they do.
Massage Settings
One thing we liked about the Bob and Brad massager is the way you can adjust all the functions individually. We did the math, and there are a total of 255 total ways to use it. That's because there are four different functions, and all four can be put at four different settings. Here are your options:
Three kneading intensities – You can adjust the intensity of the roller and sole area massager to three different levels. Or, you can leave the kneading massage off altogether.
Four air pressure levels – You can choose a tight, firm massage or a lighter, more gentle massage. There are three "real" pressure levels. At the lowest level, the massager is just gently cradling your foot.
Four massage patterns – You can choose four different patterns, including kneading and shiatsu. You're not limited to just one type of massage.
Three heat settings – The heat is adjustable from 113 to 131 degrees. Much like the kneading function, you can also turn it off altogether. To be fair, we were a bit disappointed with this function. Even the highest setting doesn't do much more than apply a little warmth.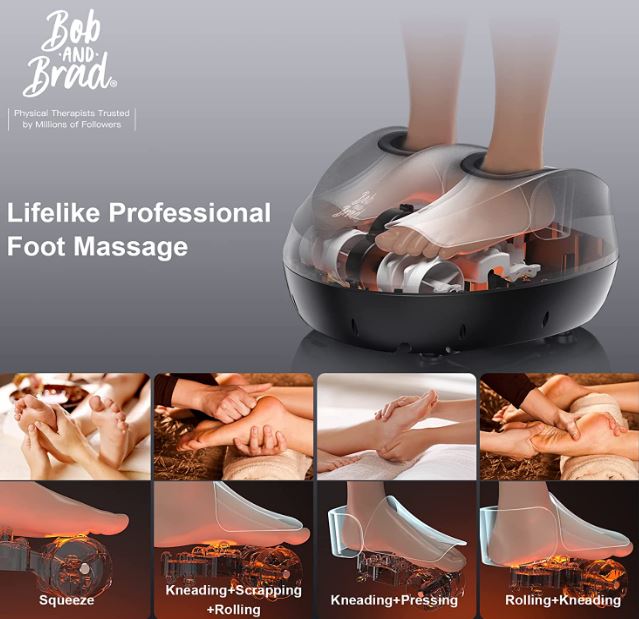 If you like the idea of a foot massager but prefer a different design, there are plenty of other options. The Etekcity Smart Foot Massager is a great example. It offers similar functionality with plenty of adjustments. It also has larger, angled foot openings, so it's a bit easier to get in and out of. On the downside, this makes it bigger and heavier.
Controls
The controls on the Bob and Brad Foot Massager are pretty straightforward. Between the backs of the foot wells, in a wedge-shaped panel, you'll find a control panel. At the front of the control panel is the power button, which has a red indicator light in front of it. Like the rest of the buttons, this one has a slightly domed shape, and provides good tactile response. You'll be able to feel when the button actuates without looking at it.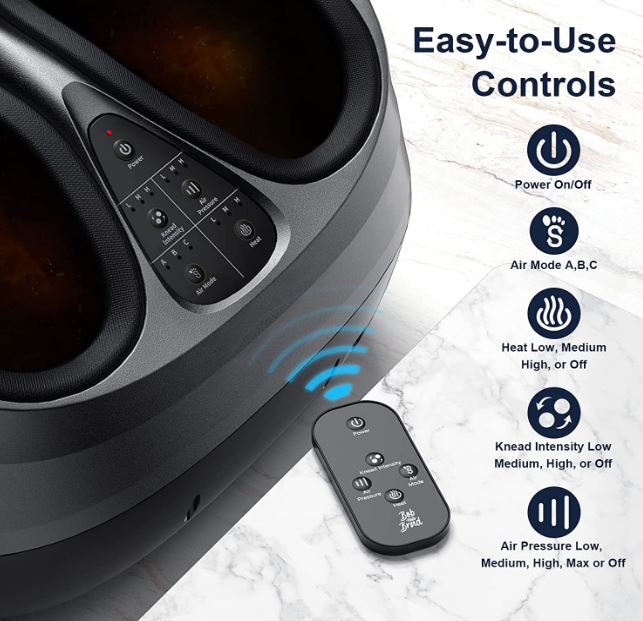 The other four buttons are laid out beneath the power button. These control the four functions we laid out above: kneading intensity, air pressure, massage pattern, and heat. Each button, in turn, has three lights above it, which indicate the current setting. For example, if the heat is set at the maximum intensity, all three lights will be lit up. If it's on the lowest setting, only the first light will be lit up. If there's no heat, none of the lights will be illuminated. You can easily tell at a glance what all your settings are.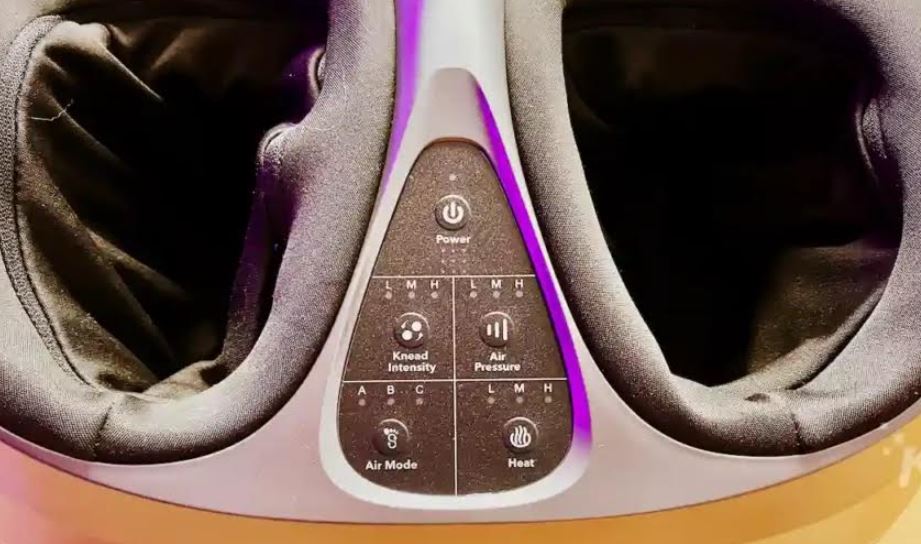 It's awkward to reach around and reach behind your feet to use these controls. Fortunately, there's a more convenient alternative. There's a remote control in the kit, which has five identical buttons. It's a slim, compact little controller you can store just about anywhere. You can lay back, relax, and change your settings without even moving.
Power, Safety, and Convenience
The Bob and Brad massager is too powerful for a battery to be a practical source of power. Instead, it operates on ordinary AC power. There's a power adapter with a barrel-styled tip, and it plugs into any wall outlet. You don't have to worry about keeping anything charged, or having your battery die mid-massage.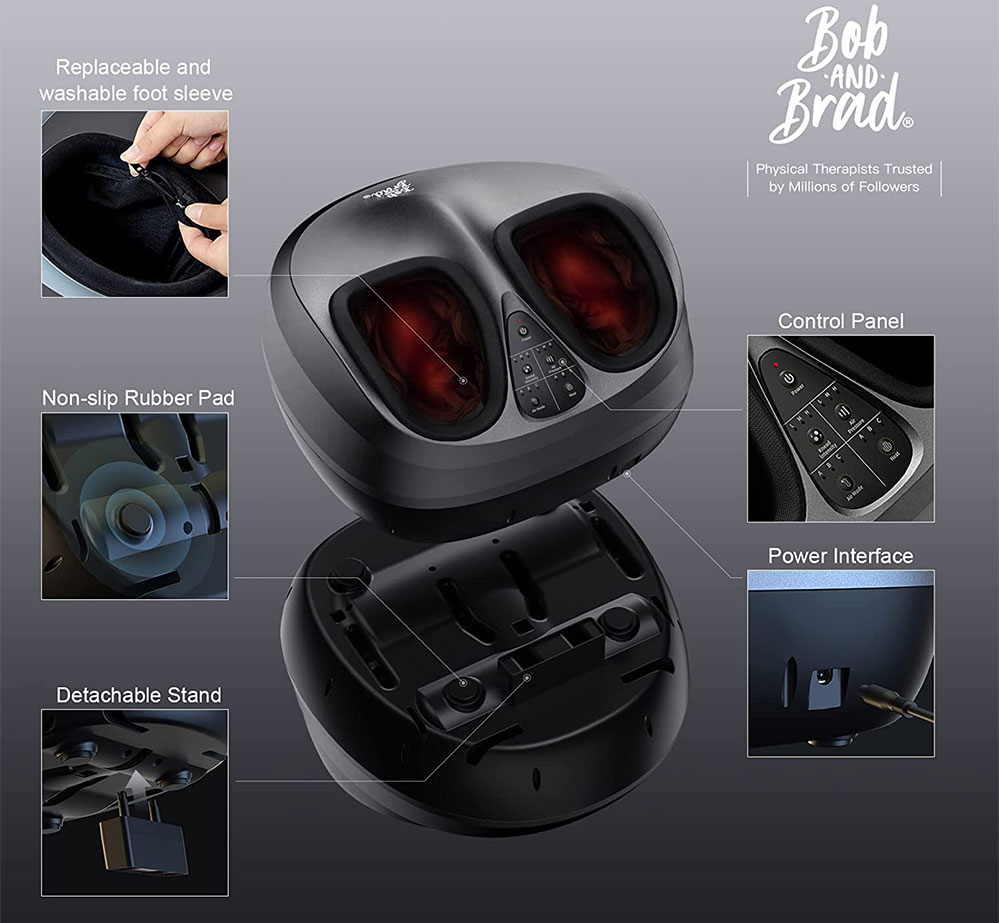 This massager features a 15-minute automatic shutoff for safety and power savings. If you fall asleep in the middle of a massage, it won't still be running when you wake up. And if you want a longer massage, no big deal. Just turn it back on again. Unfortunately, it doesn't remember your previous settings. You'll have to adjust them every time you turn on the massager.
One last thing worth noting is that the motor produces a maximum volume of 55dB. This is around the same level as normal conversation, so you won't have to yell to be heard over it.
A dedicated foot massager is great for stress relief and relaxation. But if you want a deeper massage, you'll need a percussion massager like the Bob and Brad T2. Its massage head pounds up and down on your muscles and soft tissues, providing deep relief. It can even be used to help break downs scar tissue.
Benefits of Foot Massage
Before we wrap up, let's talk about the benefits of a foot massage. We should point out that these benefits don't just apply if you're on your feet all day. They're just as important if you're sitting all day, but for different reasons. Here are the three main benefits:
Improved circulation – Massage stimulates your body to dilate blood vessels and increase blood flow to the area. If you're experiencing inflammation, better circulation helps remove accumulated toxins. Blood also delivers nutrients that speed healing in damaged tissue. Heat has the same effect as massage, so it boosts the effect even more.
Pain relief – Heat and massage relieve the pain associated with many foot conditions. If you have bunions, plantar fasciitis, or rheumatoid arthritis, a foot massager provides welcome relief.
Relaxation – Like any other massage, a foot massage helps you relax. It relieves stress, reducing tension in your muscles. By relieving general stress, it also helps relax muscles elsewhere in your body.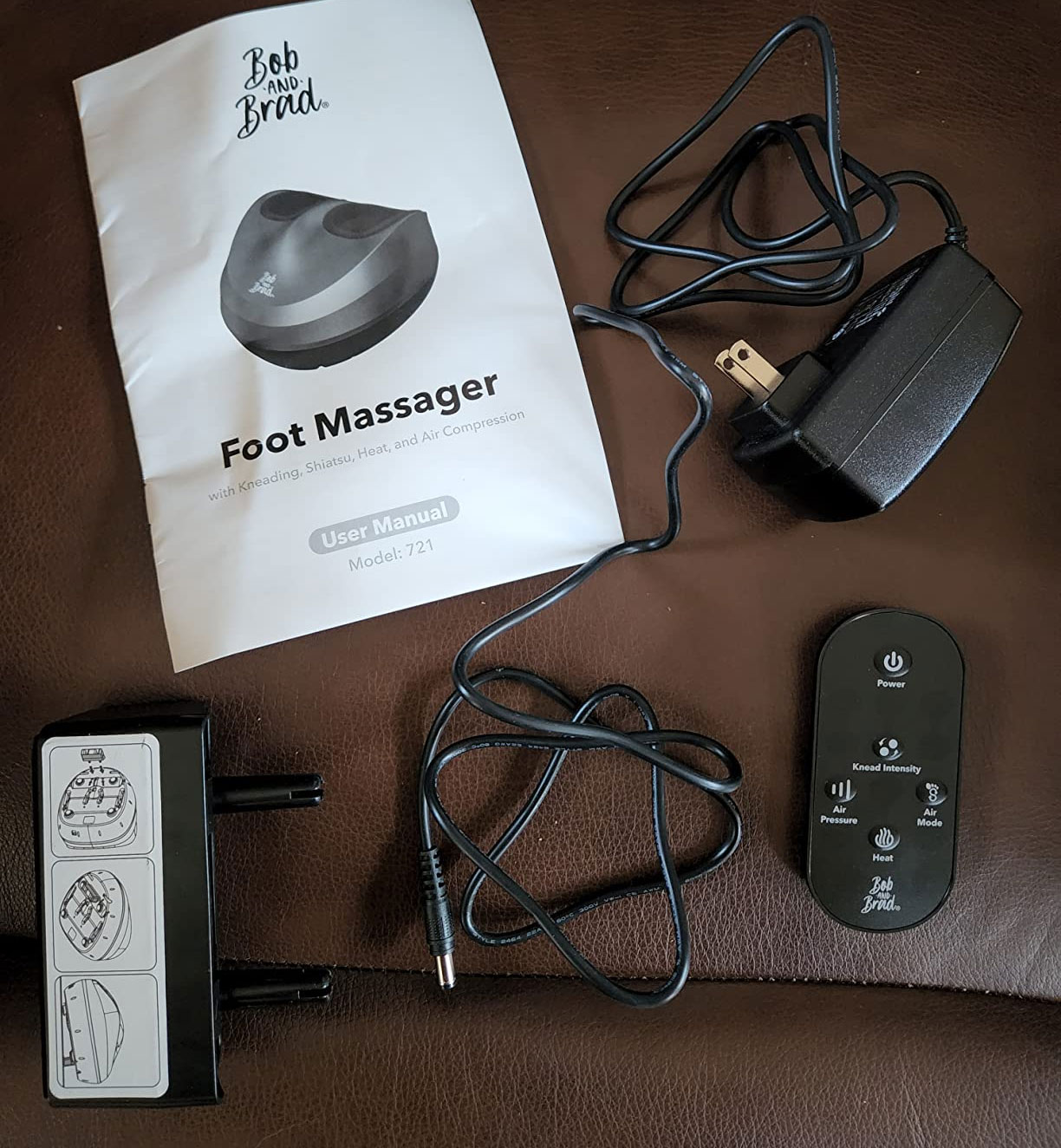 Final Verdict
No matter how you cut it, the Bob and Brad Foot Massager is a well-engineered machine. The foot wells are comfortable, and provide plenty of accommodation for larger feet. With four settings and four options for each setting, you can customize you get near-infinite customization. It's also easy to use and control, which is always a good thing. All in all, there's a lot to like here, and our complaints are relatively minor.