A beautiful LED lamp can entirely transform the look of a room. Instead of boring white, you can add a splash of color to any environment. Want to accent a bookshelf, or augment your nightstand with a relaxing glow? An LED lamp is an excellent way to do it.
In many ways, LEDs have revolutionized the way we think about lighting. Not that long ago, indoor lighting was limited to hot, wasteful incandescent bulbs and glaring fluorescent bulbs.
Compact fluorescent bulbs created a pleasant light without all the heat and waste of incandescent bulbs. But they took a few minutes to "warm up," which was annoying when you first walked into a room. If you wanted to grab something from your bathroom cabinet, you had to wait 2 minutes to get enough light. LEDs solved that problem. They turn on instantaneously. They also last longer than CFLs, and produce less toxic waste upon disposal.
But LEDs have another major advantage: they can be designed to change color. With a single light, you can cycle between many different colors, and create different moods. This gave rise to the array of RGB lighting products we see today. And of course, it's an important technology for accent lighting.
But what if your light was more than just a light? What if it was a means of communication? There are a lot of smart devices out there, and some of them are just gimmicks. So when we first heard of friendship lamps, we were a bit skeptical.
As it turns out, the idea is charming. Your lamp is paired with one or more other lamps belonging to your friends and family. When one person touches their lamp, everyone's lamp changes color. Pretty cool, right?
Choosing the Best WiFi Friendship Lamps for Long Distance Relationships
We're about to review four of the best WiFi friendship lamps for long-distance relationships, friends and family. All of these lights share the same general concept. In fact, the first three options all come from the same manufacturer, Kansas-based Filimin. At the same time, each one of these lamps is unique.
To determine which one is the best, we'll have to look at each of the lamps' physical design. How is it constructed, and what's the overall aesthetic? We'll also have to talk about the companion app and your various control options. In other words, how does it work? Once we understand those things, we'll be ready to deliver a fair verdict. Let's get started!
What Exactly is a Friendship Lamp?
If you've never heard of a friendship lamp, you're not alone. This is a relatively new concept, and most people aren't familiar with it. These are color-changing LED lamps, which is a new enough technology in and of itself. However, they're also WiFi-connected, and can be paired with other lamps of the same model.
These lamps are app-controlled, so how they work will depend a lot on the app. Broadly-speaking, each person chooses their own favorite color. When you touch your lamp, all the connected lamps will change to your color. Because they're all connected to the web, this works no matter where they are in the world. This is just a broad description. Individual friendship lamps will have their own quirks.
How you use a friendship lamp is really up to you. Touching your lamp can mean something as simple as "thinking of you." However, many people like to make a game of it. Obviously, you're not always in the room with your lamp. What if five or six people are all connected? It can be fun to see who was the last to touch their lamp. You can even keep score of how many times each person has changed the lights to "their" color.
Some friendship lamps have additional functionality. You may be able to change the light to multiple colors, not just your own. This can be used as a simple method of sending messages.
If you don't need this kind of connectivity, consider the ECOLOR Smart LED Egg Lamp. It's a customizable egg-shaped lamp that can be set to your choice of 16 million colors. It's also lightweight and easy to carry in one hand, and you can adjust the brightness from 0 to 100%.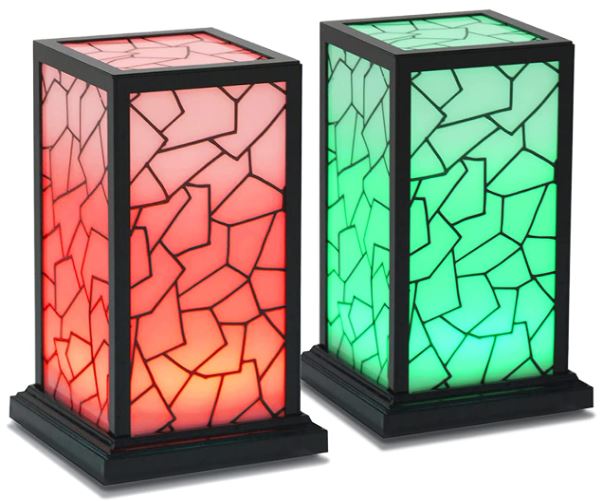 Friendship Lamp by Filimin (Classic)
The Friendship Lamp by Filmin (Classic) is a compact lamp that's ideal for bedside tables or accent lighting. It has a small footprint, with a base that measures 4.75 inches square. That's smaller than the size of a paperback book. At 8 inches high, it's well-proportioned, and the shape is entirely rectangular.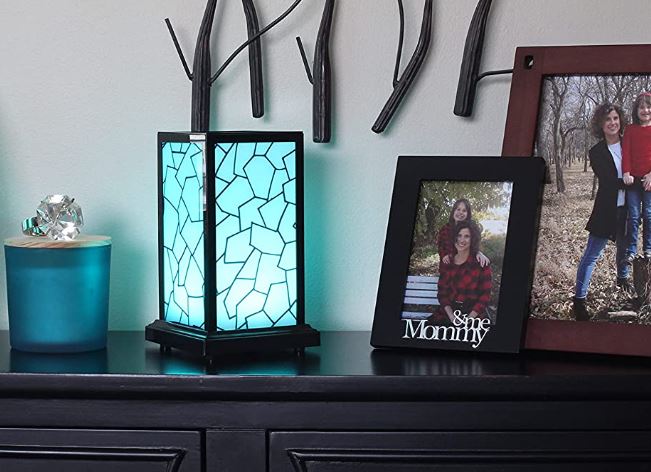 The base is handmade from wood, and painted matte black to match the upper frame. The upper rectangular frame is made from plastic, which was a bit disappointing. Still, it maintains the attractive appeal of an old-school iron lamp. Inside the frame, the "glass" is a transparent plastic, which changes color with the inner LED diodes. It's split with irregular, intersecting black lines that give it the appearance of stained glass. All in all, the word "Classic" is well-earned.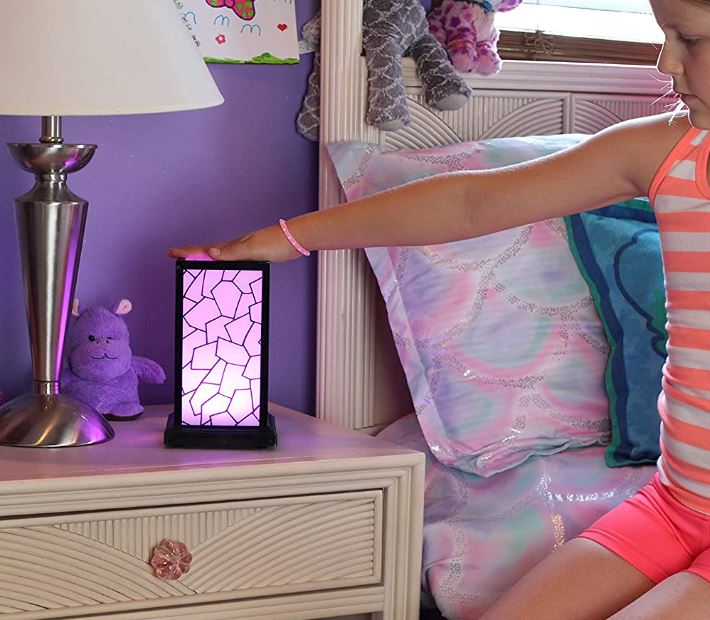 The LEDs themselves have a duty rating of 40,000 hours. That's more than 4 ½ years of continuous, round-the-clock operation. You'll probably turn it off when you go to sleep, so 4 ½ years is really the bare minimum.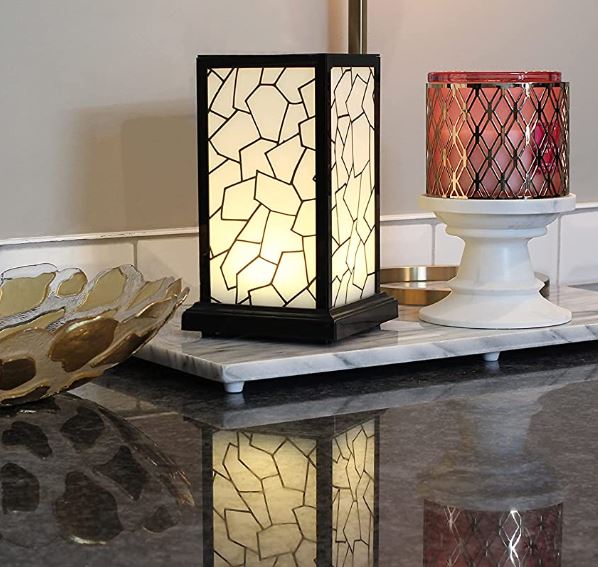 Using the WiFi app, you can select from 256 colors, and link as many lamps as you like. You can also order multi-packs of 2, 3, 4, or 6 lamps. If you're buying for a large group, you can save some money by buying these larger packages. Note that each user will have to download the app and set up their lamp.
There are two ways to connect the Classic Friendship Lamp. First, you can simply connect the lamp to your 2.4GHz WiFi network. If your lamp is out of range, you can use the signal bridge. This is a little black box that's included in the package. Just plug it into an outlet near your router and connect it with an Ethernet cable.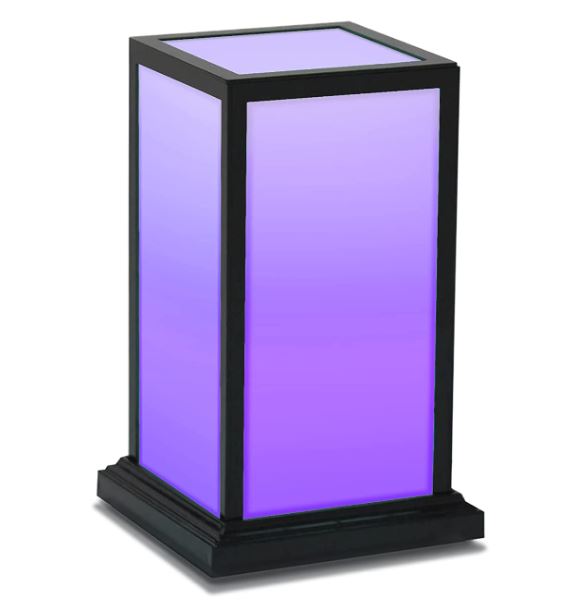 Friendship Lamp by Filimin (Modern)
The Friendship Lamp by Filimin (Modern) is similar in most respects to the Classic version. It has an identical base and frame, with the same high-quality handmade construction.
The difference is the transparent plastic side panels. Instead of being subdivided like stained glass, they're plain, solid panels. This gives the lamp a less ornate, more contemporary appearance. You can order it individually, or in a 2, 3, 4, or 6-pack.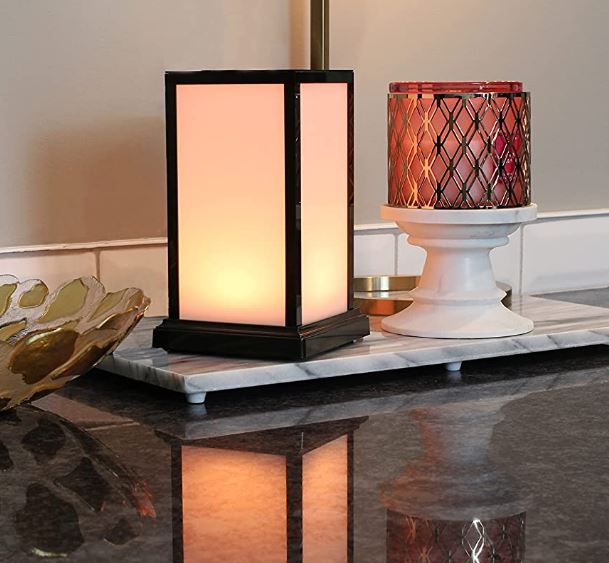 Moving down the list of features, literally everything else is identical to the Classic. You get the same 40,000-hour LEDs, presumably an identical set of diodes. You get the same 256-color palette, and identical app controls. Additionally, you get the same connectivity, with the ability to link as many lamps as you like. You even get the same WiFi bridge to extend your signal range. There's nothing more to see here.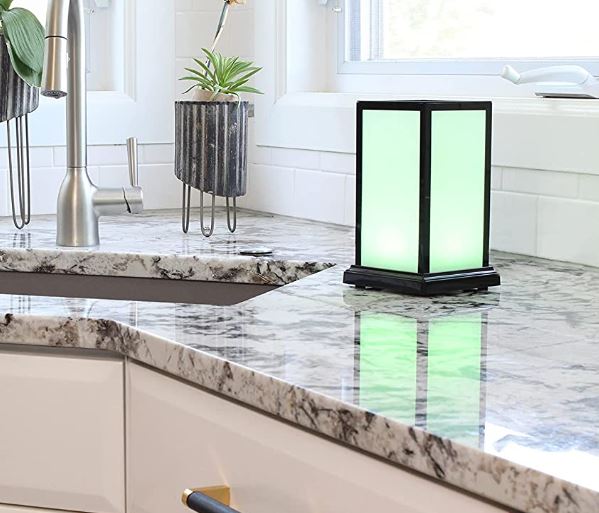 If you want a lamp with a unique, quirky design, look no further than the ECOLOR Smart Table Lamp. This whimsical lamp is shaped like a crescent moon, and sports five individually-adjustable RGB lights. It also has three music sync modes, and it will cycle in time with your favorite tunes. That said, it doesn't pair with other lamps, and can't be used for communication.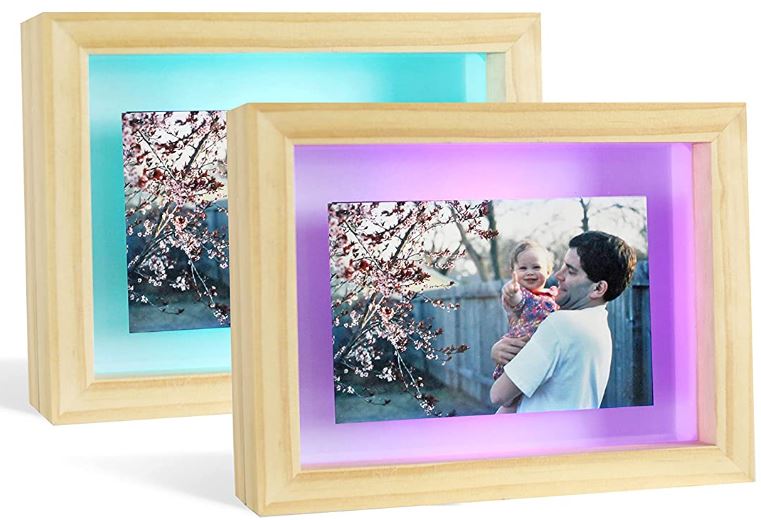 Friendship Lamp Photo Frame by Filimin
The Friendship Lamp Photo Frame by Filimin is a light-toned wooden picture frame, not a lamp. It has a mid-sized profile, at 9.25 inches by 7.25 inches, and it's 2 inches thick. It can be positioned in either a portrait or landscape orientation, and it's handcrafted like Filimin's other offerings.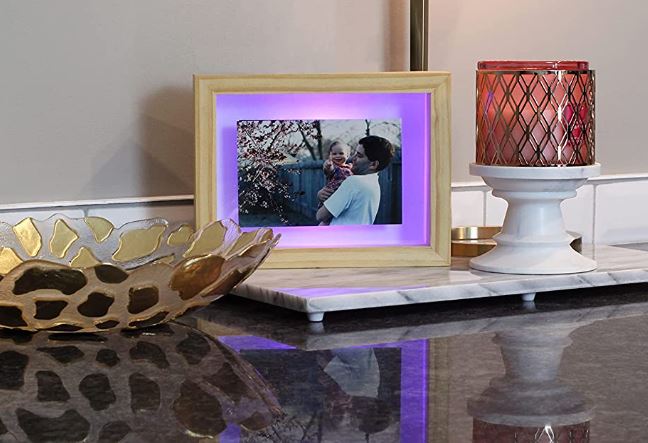 This is a traditional picture frame, in the sense that it's not digital. There's still a hole in the middle where you put a physical photograph. However, instead of matting, there's an LED light panel. This panel wraps around the outside of your picture, and can be set to 256 colors. The light is soft and pleasant, around the intensity of a night light. It won't blind you and keep you from seeing your photo.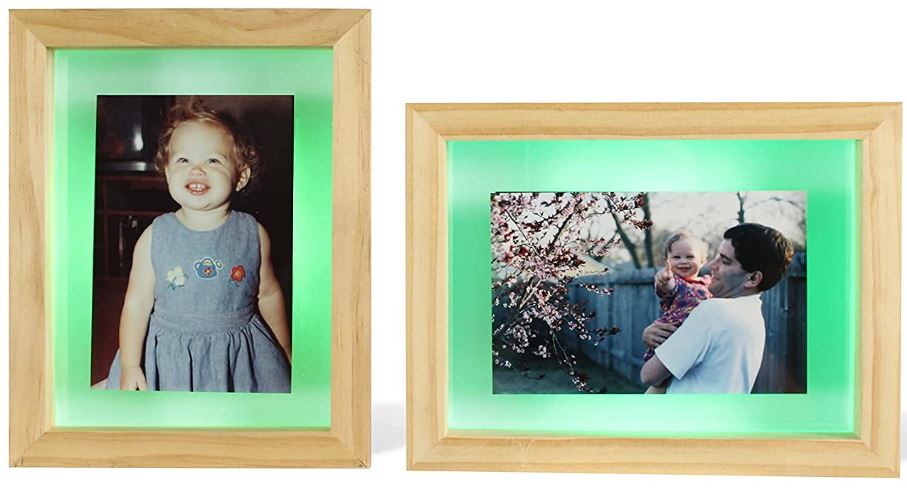 This picture frame can be ordered individually or in a 2-pack. But like the two Filimin lamps, you can link an unlimited number of frames by using the app. It's the same smartphone app, with the same general features. You also get the WiFi bridge to connect to your router. Once again, the only differences are cosmetic.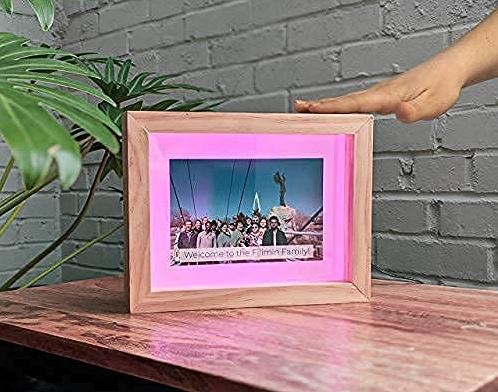 All of these features are great if you want to stay in touch with friends and family. But what if you just want a lamp that looks cool? In that case, check out our list of the best levitating moon lamps. These lamps are exactly what they sound like: floating moons that shine. Talk about a conversation starter!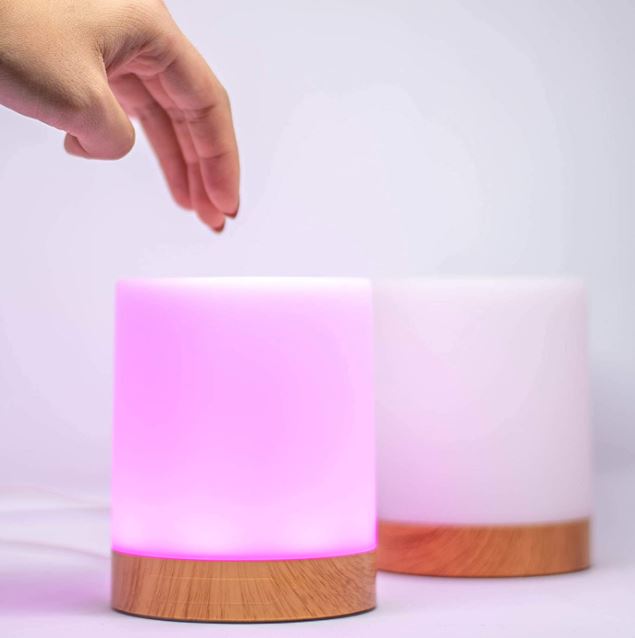 LuvLink Long Distance Friendship Lamp
The LuvLink Long Distance Friendship Lamp is constructed primarily from translucent plastic. It's cylindrical in shape, designed to emulate the look of a jar candle. The base is made from a wood grain plastic, which adds to the visual appeal.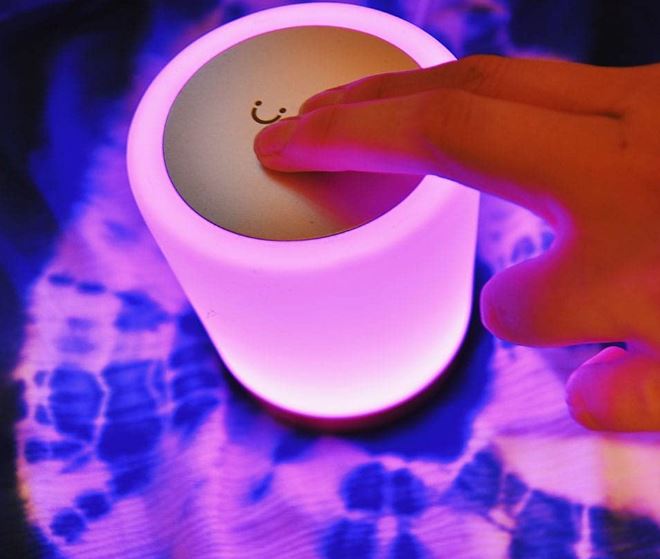 Instead of tapping anywhere on the lamp to change the color, the LuvLink is a bit more specific. On top of the housing, there's a round gold plate with the words "Friendship Lamps" and a smiley face. Tap the button, and the light, as well as any connected lights, will change to your color.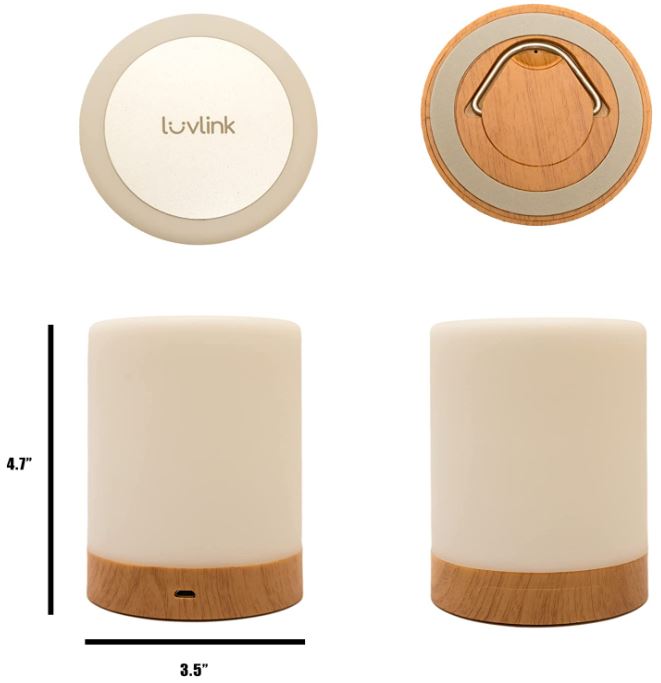 This lamp can be ordered in a 2, 3, 4, or 6-pack, or even individually. Just like the Filimin lamps, you can link as many of them together as you like. However, it's a bit easier to set up. The WiFi connection works seamlessly, without the need for a bridge. You can also plug it into any USB power supply. There's no need to keep it close to a wall outlet.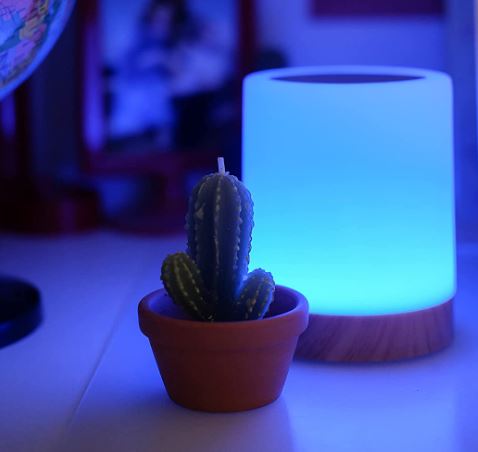 Where the LuvLink falls short is the choice of colors. Instead of a huge smorgasbord, you'll have a menu of only 17 colors to choose from. However, you can hold down the button on top to turn the light to any color, not just your own. In this way, the light can be used to send simple messages. Not only that, but the app lets you adjust the brightness or set a timer. That way, it can automatically turn off when you go to bed.
Final Verdict
So, which one of these lamps is the best? Let's start by acknowledging that the Filimin lamps all have the same basic functionality. The differences between them are purely cosmetic. These three lamps benefit from a 256-color palette, but setting them up with the WiFi bridge can be finicky. Then again, they're also handmade, which is something you can't say for most smart devices.
The Friendship Lamp by Filimin (Classic) lives up to its name with its stained glass theme. As it changes color, it feels like you're looking through an antique window. It also has a small footprint, which makes it ideal for use on a bedside table.
The Friendship Lamp by Filimin (Modern) has a more contemporary look, just as its name implies. If you like the Classic's small footprint but want something with a simpler aesthetic, you'll like this lamp. Other than that, it has all the same features, right down to the wooden base.
The Friendship Lamp Photo Frame by Filimin is unique, because it's not just a lamp. It's a picture frame, so you can pair your friendship lamp with a photo that evokes a treasured memory. The nice thing about this lamp is its versatility. You can put a small picture frame just about anywhere!
The LuvLink Long Distance Friendship Lamp looks like a candle, which is something anyone can appreciate. It's not handmade, and your palette is limited to 17 colors. However, you can cycle freely through colors without the use of the app. The app also has extra features like a timer and dimmer, which makes it the smartest lamp of the bunch.
Meet Derek, "TechGuru," a 34-year-old technology enthusiast with a deep passion for tech innovations. With extensive experience, he specializes in gaming hardware and software, and has expertise in gadgets, custom PCs, and audio.
Besides writing about tech and reviewing new products, Derek enjoys traveling, hiking, and photography. Committed to keeping up with the latest industry trends, he aims to guide readers in making informed tech decisions.