So, you want to listen to CDs. Great! Unfortunately, you probably want to listen to more than just CDs. The fact is, most of us listen to more streaming music and MP3s than old-school optical discs. As a result, you need to have a versatile player, one that can handle multiple inputs. Unfortunately, most CD players lag behind the times. They're either small, portable units for people to use on the cheap, or they're huge, multi-disc changers for external speakers. What if you want a versatile player that also isn't ridiculously-oversized? One option is to use a Bluetooth CD player.
The Bluetooth CD players we'll be looking at today deserve a little explanation. We're not talking about CD players that let you listen with Bluetooth headphones. For that, you'd want something like the Bluesound Node 2i wireless multi-room music streaming player. This is a Bluetooth transmitter that connects to all your existing equipment. The Bluetooth players we're looking at today are meant to receive a wireless signal, not transmit one. They have built-in speakers, so you can play both your CDs and your streaming audio. As an added bonus, they're all wall mountable, so they don't require any shelf space.
So, what are the best wall mountable CD players with Bluetooth? First on our list is the TrophyRak 2021 Upgraded Portable CD Player. This player boasts multiple inputs including SD card reader. Next up, we'll look at the KOVCDVI Wall Mountable CD Player. This is a compact player with great speakers and pull cord that doubles as an on/off switch. Last but not least, we'll check out the Gueray Mountable CD Player. This player can run on batteries, and can easily be unmounted and carried around. Which one is the best choice for you? To find out, we'll take a look at all of their features and benefits. At the end, we'll tally up what we've learned and render our verdict.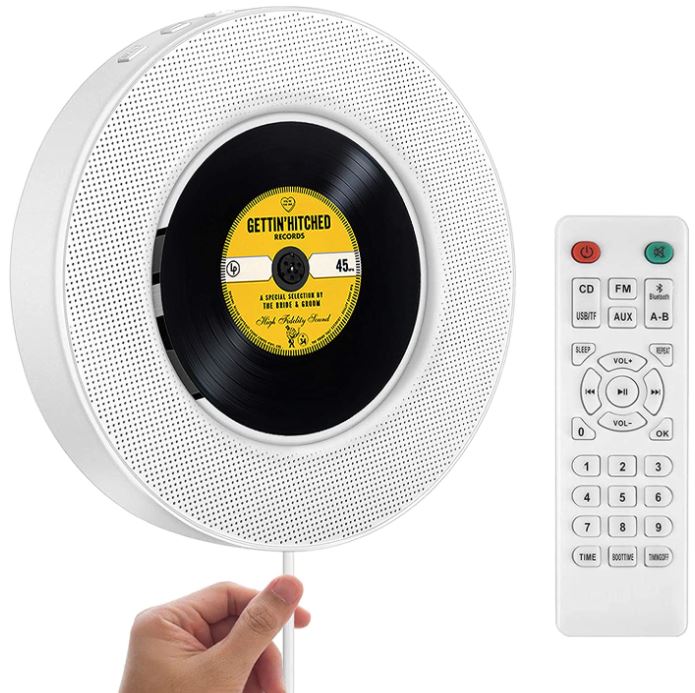 TrophyRak 2021 Upgraded Portable CD Player
The TrophyRak 2021 Upgraded Portable CD Player is a disc-shaped player that measures 8.47 inches in diameter. At 1.65 inches thick, it sits nice and tight to your wall, and keeps a low profile. The housing is mostly white, with a smooth outer edge and a perforated front that acts as a speaker grill. However, the round CD lid is styled to look like an old-school vinyl single. The album is "Gettin' Hitched," which is oddly specific and makes this feel like a novelty wedding gift. On the other hand, the retro look might be appealing to many people.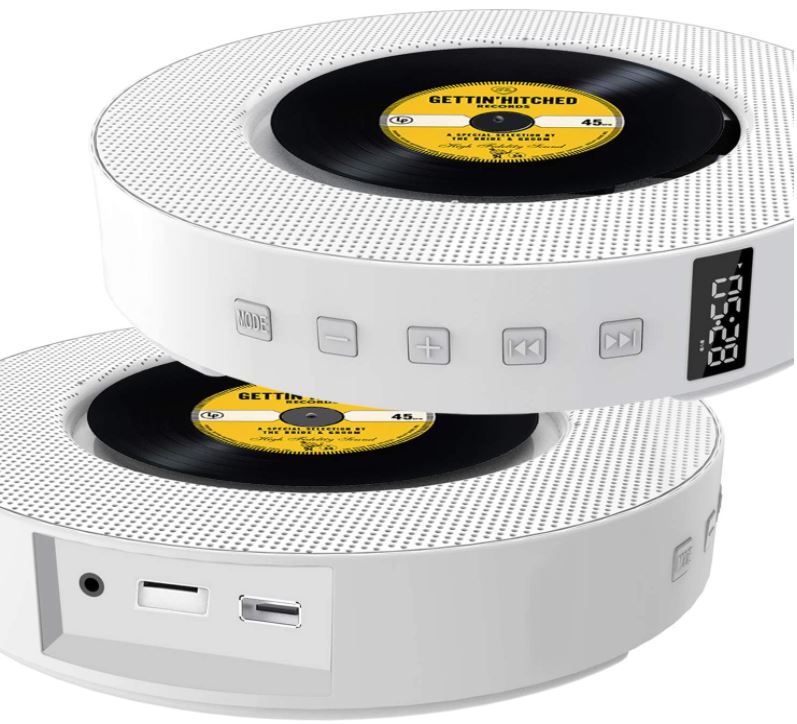 The controls are located along one side of the housing, and consist of five rubbery buttons. These are used to skip tracks, adjust the volume, and switch between audio inputs. Depending on what input you're using, they can also perform other functions. For instance, in FM mode, the arrow buttons let you tune the radio station. If you prefer, you can use the handheld remote. It's line-of-sight only, but it works very well as long as you're in the same room. Regardless of your control method, your current track, time, and other information is displayed on an LCD screen. The screen is housed in the side of the player, so you'll have to be near the wall to read it properly.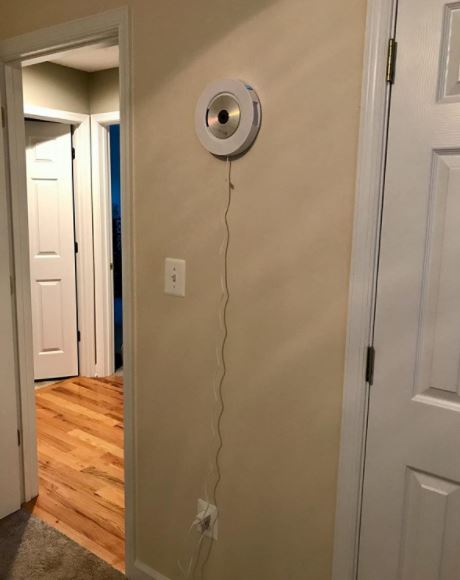 The package includes everything you need to hang the player on your wall. This means screws, anchors, and a plastic bracket that's easy to attach to and detach from. In addition, you get a desk stand. This lets you put the player on an angle, so it can be used on a flat surface such as a table. Finally, a power cord and 3.5mm aux cable are also included.
Connectivity and Audio Quality
The TrophyRak 2021 Upgraded Portable CD Player is capable of playing a wide variety of audio discs. In addition to commercial CDs, it can play CD-Rs, CD-RWs, MP3 CDs and WMA CDs. Basically, if you've put an audio file on a CD, it's most likely going to play. But there's a lot more to this player than just a CD reader. For one thing, there's the Bluetooth connectivity. This allows you to play music from any Bluetooth-capable device, like a smartphone or tablet. For most people, this will cover all your streaming needs.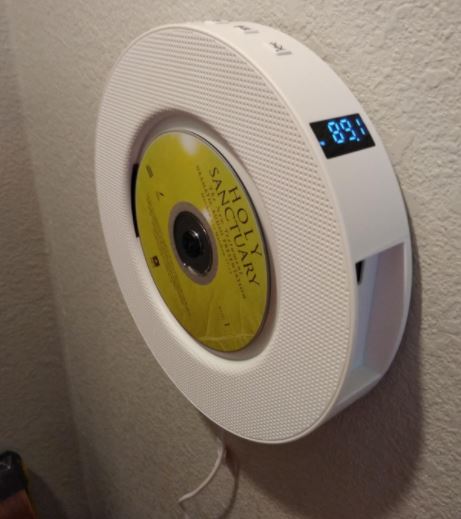 As we meant to, there's an FM radio function, and the tuner is built into the housing. You can also replay MP3 and WMA audio from a USB thumb drive or SD card. Finally, there's a 3.5mm aux port for connecting most other types of devices. If you want to use the built-in speakers for playing vinyl or a cassette, you can.
The audio quality is reasonably good, depending on the volume you need. At low to moderate volume, the balance is great, and the audio sounds rich. However, it seems to lose power as you get towards the top of the volume meter. At maximum volume, it definitely lacks punch, although it's better than many hollow-sounding affordable speakers. As an alternative, you can listen with wired headphones, but not Bluetooth cans.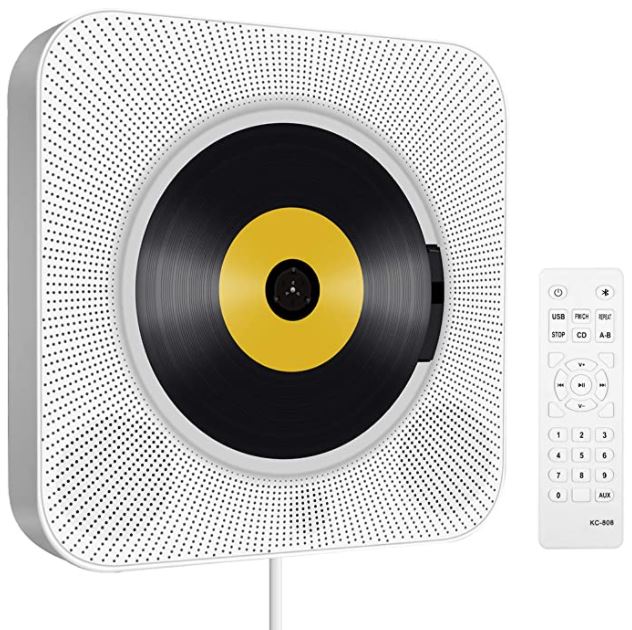 KOVCDVI Wall Mountable CD Player
The KOVCDVI Wall Mountable CD Player is a square player that's slightly more compact than the TrophyRak. At 7.4 x 7.48 inches square and 1.45 inches thick, the difference isn't hugely significant, but it's noticeable. The housing is also white, with a matte finish that won't collect fingerprints. It has rounded corners, but the edges are squared off to give it a tighter, old-school appearance. Speaking of old-school, there's a vinyl record print on the disc cover like the TrophyRak's. However, the "record" is blank, so it doesn't pop out at you quite as much.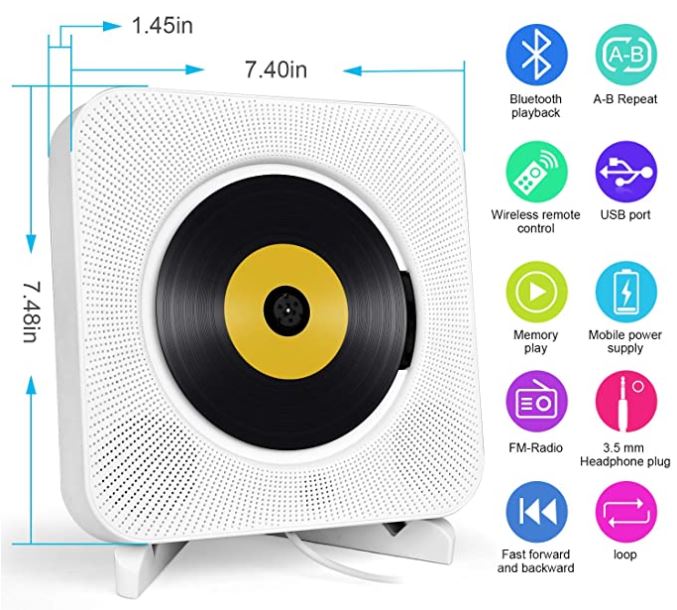 As installed, the control buttons on this player will be located on the top. They work much the same as the TrophyRak's, so we won't belabor the point. You can perform some basic functions, and that's about it. That said, there's also an infrared remote. You can use that to control every aspect of playback. The most attractive control feature, oddly enough, is the power cord. It functions as an on-off switch! You just pull it, the same way you'd pull the string on a lamp. On the downside, there's no LCD display. This makes it hard to tell what track you're on, or how much time is left. It's an odd oversight, considering even very old CD players had displays.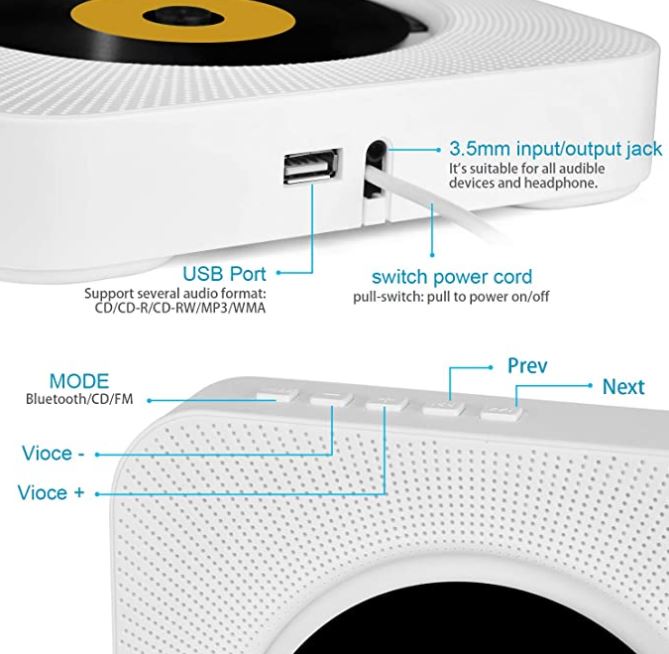 A plastic wall mount is included in the package, along with screws, anchors, and some basic instructions. There's also a desk stand, which is fairly robust. It has a tripod-style base, with an adjustable back that's surprisingly sturdy. A 3.5mm aux cable and a USB power adapter round out the kit.
Connectivity and Audio Quality
As with the TrophyRak, you can play almost any type of audio CD. This includes CD-Rs, CD-RWs, MP3s, and WMAs. For other audio inputs, you have a handful of options. As before, you get Bluetooth, so you can connect your smartphone or tablet. Unfortunately, this is a Bluetooth 3.0 signal. You won't get as much bandwidth or as stable a signal as modern Bluetooth variants. That said, you can always connect with a 3.5mm aux cable if you want better quality. The aux jack can also be used to connect other audio sources, such as a turntable. Your last option is to use the USB port, where you can play MP3 files directly from a flash drive.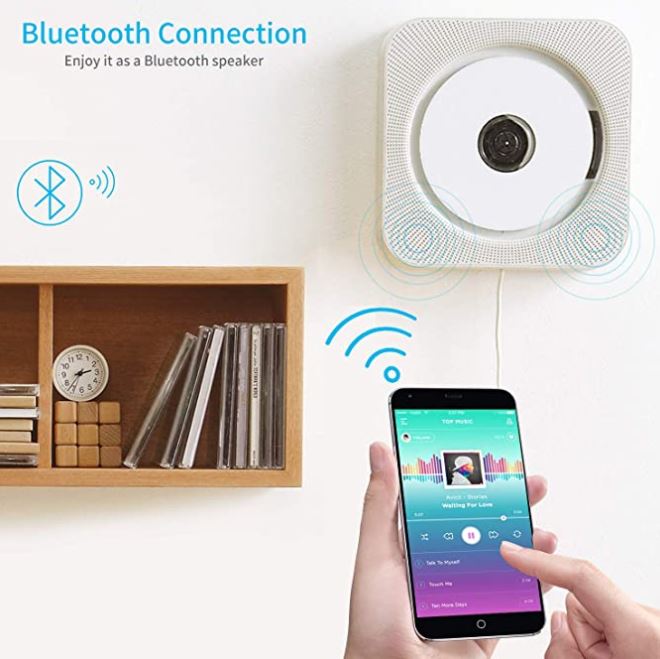 The audio quality is surprisingly good for such a small device. The EQ is flat, with neither too much bass emphasis nor too little. The sound also has a good sense of space, with separation between various instruments. This is probably because there are actually two separate speakers inside. As a result, you're getting real stereo, and not a more cramped simulated stereo. The speakers are close together, so this only goes so far.
Still, given the size and the price, we were pleased both with the quality and with the volume. Remember, though, you can't connect any Bluetooth speakers or headphones. You'll only be able to use an aux cable if you want to use something other than the built-in speakers.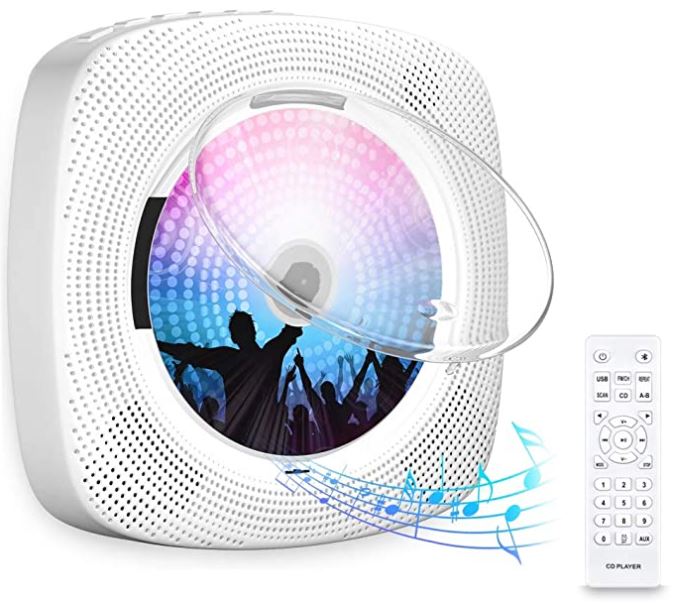 Gueray Mountable CD Player
The Gueray Mountable CD Player is the most compact and understated of the bunch. At only 7 inches square and 1.45 inches thick, it's very compact, barely larger than a CD itself. The housing is white, like our previous two choices, but the edges are smoother for a more contemporary look. The disc cover is also clear instead of being decorated. This allows you to see your CD spinning which, let's be honest, is part of the fun of a CD player.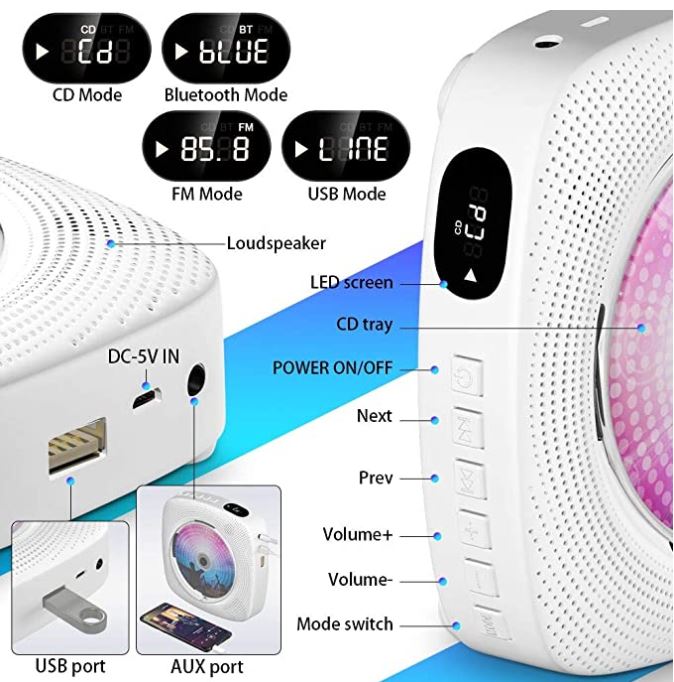 There are controls on the side, which are similar to the controls on the last two players. There's also a remote, which performs much the same function. There's nothing special to see here. The display is attractive and easy to read when it's mounted on your wall. Unfortunately, when the player is unmounted and laying flat, the display is upside-down. This is a bizarre choice, since there's no table stand. You're supposed to put the player flat when it's not mounted, so the display should be facing the other way. Why Gueray made this choice is genuinely baffling.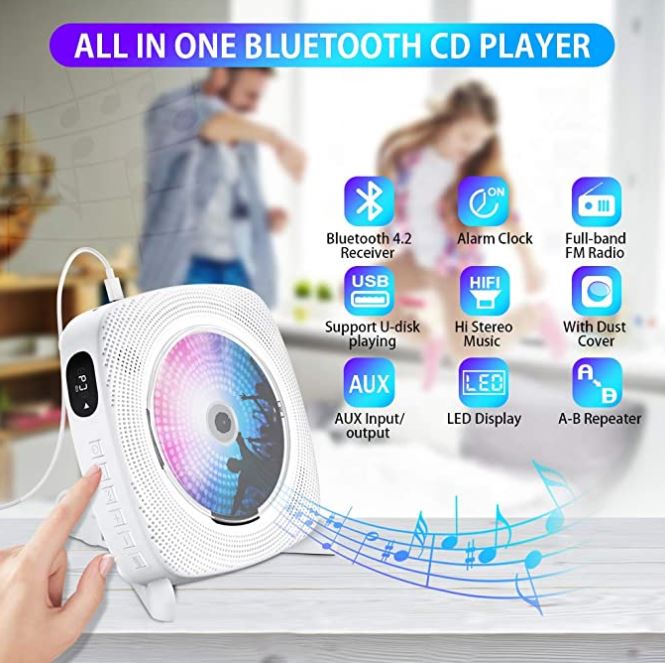 The wall mount plate included with the kit is very well designed. It's engineered so the player can be removed and replaced multiple times with ease. You don't have to worry about damaging the bracket if you're taking it down a lot. This is fortunate, since the Gueray player is made to be portable. In addition to Micro USB, it can also run on a pair of AA batteries. You can take it with you wherever you like, and use it for CDs or just as a Bluetooth speaker.
Connectivity and Audio Quality
For playback, you get all the same input options as the KOVCDVI player. This includes all the various varieties of CDs, plus support for WAV files. The Bluetooth is also version 4.2, so you get a more stable signal and a higher maximum bitrate. Finally, Gueray has built an alarm clock into their CD player, which is a welcome addition. As with our other players, there's no way to broadcast your audio to Bluetooth speakers or headphones. If you want to use headphones, you'll need a wired pair.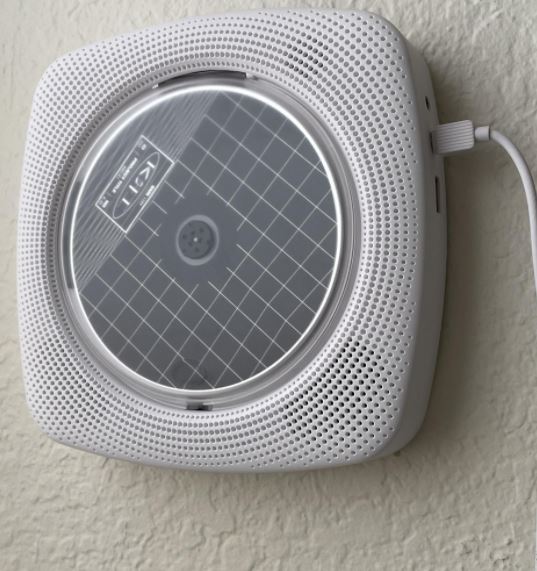 Thankfully, the built-in speakers work quite well. Like the KOVCDVI, they provide true stereo sound for a better sense of space. At low to moderate volumes, the sound quality is excellent, with good balance and plenty of richness. At maximum volume, though, they don't have much extra punch.
Final Verdict
So, which one of these wall mountable CD players with Bluetooth is the best? A lot depends on what you're looking for. The TrophyRak 2021 Upgraded Portable CD Player is an interesting choice. The aesthetic, with the retro record cover, is anything but boring. Either you love it or you don't. The audio quality is reasonably good, although it suffers at higher volumes. That said, the one thing that really sets it apart is the SD card slot. We're not sure how many people are using SD cards for music these days. But if you are, this player is going to be up to the task.
The KOVCDVI Wall Mountable CD Player is a more compact, understated player. It's still square and white, but it's a little smaller and plainer. There's no SD card slot, but you get all the same other connection options as the TrophyRak player. Moreover, the audio quality is a cut above, with richer sound at higher volumes. The pull cord switch is also a nice touch.
The Gueray Mountable CD Player is the most portable of the three. It can run on batteries as well as USB power, and it's easy to mount and unmount for portable use. It supports most CD formats, including WAV, as well as Bluetooth, 3.5mm, and USB inputs. The speaker quality is reasonably good, but you'll want a different player if you want to listen at top volume.