"Make sure you drink 8 glasses of water per day!"
We've all been told that before. Sometimes it was our mothers, other times our doctors. But it seems that no matter who it is giving us a friendly reminder, we just can't seem to follow their advice.
After all, it's a pretty big grey area. Exactly how big should each glass be? And should we just drink whenever we're thirsty, or is there some schedule we should stick to?
No matter how you work it out, the simple fact is that staying hydrated is a responsibility that is easy to neglect. Our bodies become used to it, and we don't really feel thirst. Additionally, it's easy to quench thirst with drinks like iced coffee or soda, which actually make our dehydration problem worse.
In the long run, dehydration can actually cause a lot of problems. Like the oil in your vehicle, water helps maintain a ton of essential functions. If you're not drinking enough water, you're at risk for all kinds of problems such as ulcers, muscle pain, headaches, high blood pressure, and chronic fatigue.
Recently, a trend called "The Water Challenge" went viral. The idea was to fill a 1 gallon milk jug with water, write motivational messages to yourself on it, and try to finish the whole thing over the course of a day. But hydration shouldn't be a challenge – it should be a lifestyle.
WiFi enabled water bottles promise to help you track your fluid intake, and provide a much more elegant solution than a 1 gallon jug with sharpie scrawl all over it. We'll be talking a look at the three best models on the market. We'll show you what they can do, and help you decide if a smart water bottle is the perfect solution to your hydration problems.
Trago Smart Water Bottle
If you're wondering who started the smart water bottle trend, look no further than Trago. This innovative company first launched their idea on KickStarter, smashing their funding goal. The backers have had their bottles for a while, but now the rest of us have a chance to try out the Trago Smart Water Bottle for ourselves.

Design
We've always been a fan of stainless steel water bottles. Trago used a high grade of stainless steel, which is ever so slightly brushed. This gives it a precise, well-made appearance, and the texture prevents finger prints from showing up.
The lid itself is also well made. The black rubber finish is textured, and features raised letters that spell out the Trago logo. This logo contrasts nicely with the bright blue rubber clip that holds the cap on tight.
You're able to unscrew the lid when you want to fill it up, but you can also quickly pop the cap off for a quick sip. The design is visually appealing, but also very functional and easy to use.
Both the lid and the steel bottle are very well insulated. Our drinks stayed cold for nearly 24 hours, which was a noticeable improvement over the simple bottles we've used in the past.
As far as the water bottle is concerned, you can definitely tell that this is a premium model.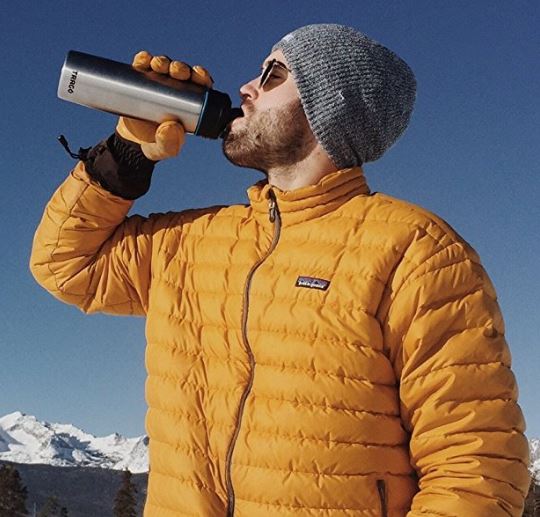 Software
Trago's "My Hydration" app has a fantastic interface, and provides custom recommendations based on your specific needs. When you first fire it up, the app asks you a series of questions. You enter your gender, age, body type, and level of activity. As long as location services are turn on in your phone, it will also determine your location.
Once this is entered, the app brings you to the main screen. You've got one circular bar in the center that tells you how far along you are in your hydration goal. It tells you how much more water you need to drink to stay on track, and each sip slowly fills up the bar chart.
These recommendations are timed. It will tell you to drink a few ounces in the morning, then tell you that you're on track until later in the day. Your hydration is also broken down into morning and afternoon, and you can summarize your hydration levels for the week and month if necessary.
We enjoyed having the ability to see our historic hydration levels, and found the interface nice to use. This goal oriented target feels inspiring, and we definitely noticed an increase in the amount of water we drank.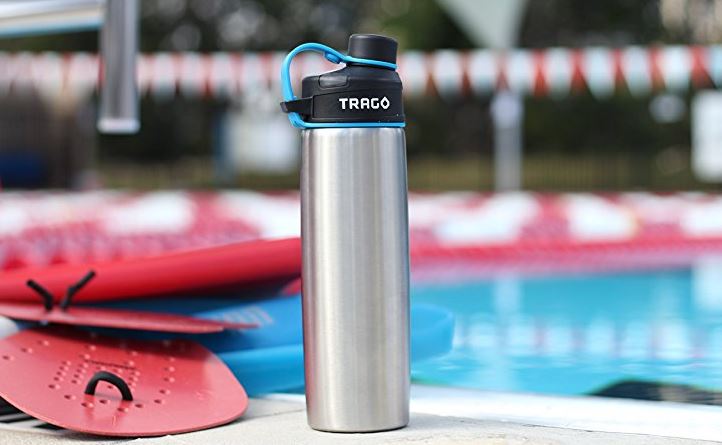 Functionality
One of the main selling points about the Trago is the fact that it makes customized goals for you, based on your personal stats. But it's important to note that it will also study your habits as well. If you're dehydrated, you're not going to be asked to double your water consumption overnight. The goals will be gradual, and attainable.
Everyone is different. Some of us drink a lot more water for others. If that's the case, Trago will up its recommendations to stay consistent with your lifestyle. The user experience is truly personal, which is something we like to see in any health product.
Hydra Smart Bottle
Staying hydrated is a marathon, not a race. You can't simply chug all the water you need for the day when you wake up, and expect that it will all be absorbed. To truly stay hydrated, you need to have a water bottle on you during most of the day. Hydras solution wasn't to give you reminders, but to create a water bottle that you'd never want to put down.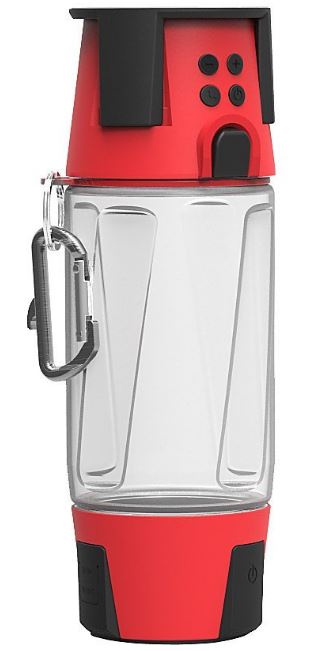 Design
Available in five different color schemes, the Hydra Smart Bottle is definitely attention grabbing. It's got a very modern, yet slightly aggressive look. From a visual standpoint, it's clear that they're targeting a younger audience. But we can't argue with the fact that this bottle looks cool.
Although made from plastic, this water bottle is still absolutely suitable for athletics. The plastic is thick, durable, and virtually impossible to break. It's BPA free, and comes with a clip so you can attach it to your bag.
The 20-ounce capacity is one of it's main selling points, allowing you to carry a days' worth of water on you at all times.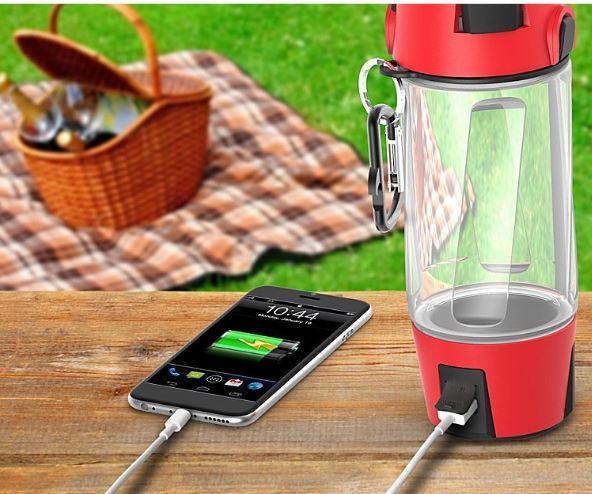 Functionality
Instead of providing an app that helps you measure and track your fluid intake, Hydra decided to add a bunch of hardware that you wouldn't want to leave behind. The cap doubles as a powerful 5 watt Bluetooth speakers. This is the perfect way to listen to a little music while you're on the go.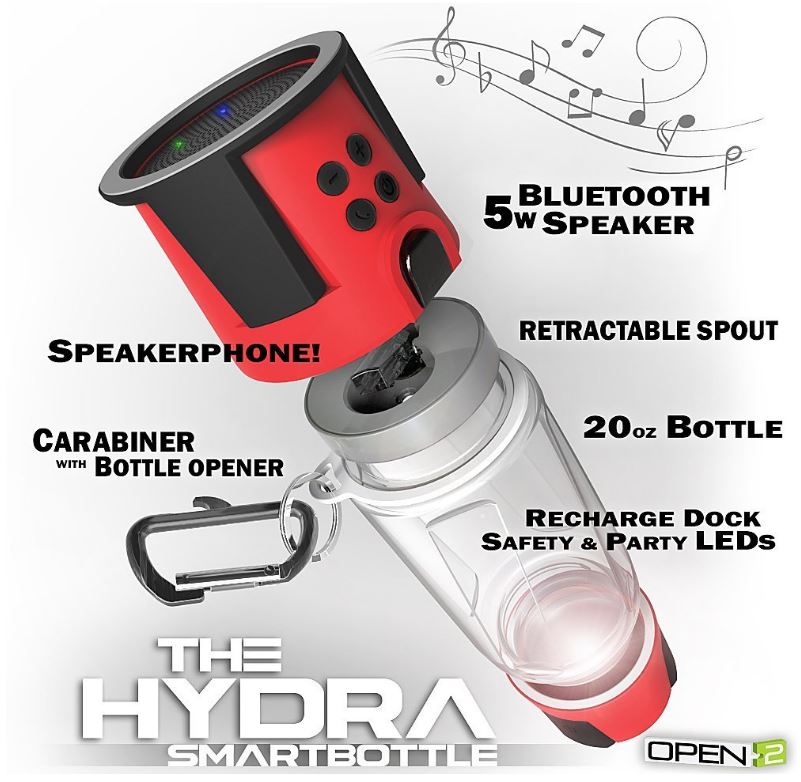 The lid also contains a 4000 mAh lithium battery, which you can use to charge your phone. Most modern phones will get one extra charge each day, even if they use the speaker for a while.
Lastly, there are a set of LEDs built into the water bottle. You can use the white LEDs to illuminate the 'bottle' part, allowing it to work as a lantern. You can also use the red flashing LEDs as an emergency light, which is great for flagging somebody down when you need to jump your car. Overall, this is a pretty handy thing to have around.
Ozmo Smart Bottle
Although they weren't the first to market with a smart water bottle, they didn't just copy an idea. The Ozmo bottle has a few unique features you won't find elsewhere, which many consumers will find advantageous.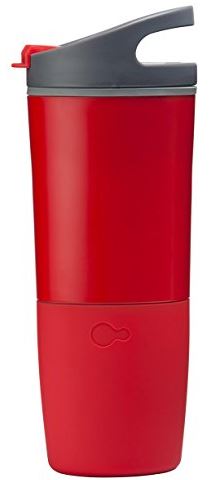 Design
The simple, clean design of the Ozmo Smart Bottle manages to be appealing, without grabbing any unwanted attention. In many ways, it just looks like a simple water bottle. You're able to choose from one of several colors. There are some pastel tones such as pink and teal, or a vibrant red is available if you prefer. For the minimalists, the grey water model is the most un-assuming. But all of the colors are unique, and far from bland.
Although plastic, it's very solidly made and feels good in the hand. It's well insulated, and can be used for both hot and cold drinks. The lid has a coffee-cup style opening, which is ideal for sipping. Overall, this looks like your average cup, with a little modern twist.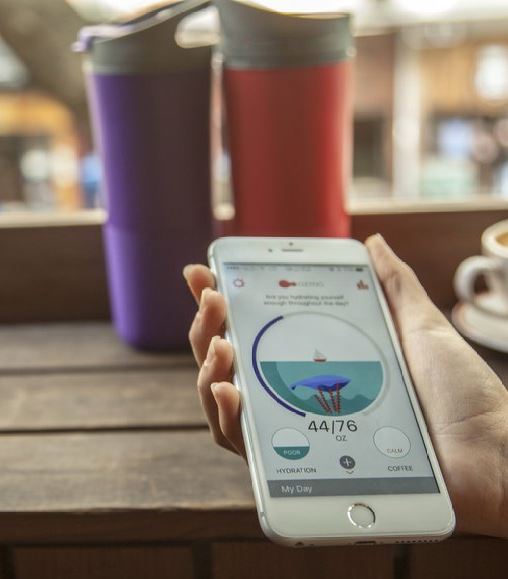 Software
Ozmo's hydration tracking app is similar in design to Trago's, with a few key differences. First, the design is much lighter. It's got a very peppy, airy feel to it, which is enhanced by the cartoon-y graphics. But the key difference between them is the fact that this app also tracks your coffee intake. Coffee is one of the most highly consumed beverages in the world, but it's a dieruetic. This means that it causes your body to purge water. The more coffee you drink, the more water you need. So measuring these two fluids makes a lot of sense.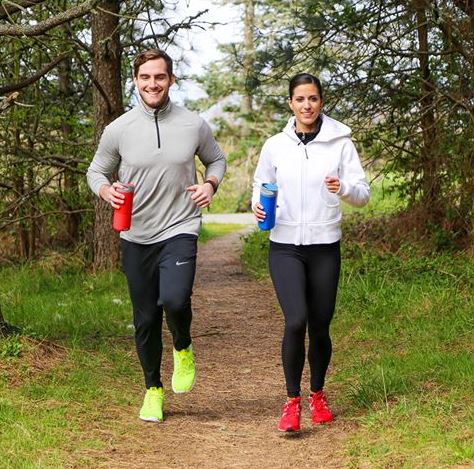 Functionality
Instead of asking for your fitness level, Ozmo simply measures it. Their app syncs up with the fitness app you've got on your phone, on your smartwatch, or even your dedicated fitness tracker. This allows them to give much more specific recommendations about how much water you should drink. Instead of going on an estimate, they know exactly how hard you worked each day.
Which Smart Water Bottle is Right for Me?
At first glance, all three of these smart water bottles seem very familiar. But each of them has taken a different approach to solving the hydration issue, so it's up to you to decide which one will work the best.
With the core concept in mind, the Trago Smart Water Bottle is probably the most effective. The bottle is used exclusively for water, and the app helps you determine how much you should drink each day. Recommendations are customized to your specific lifestyle, so we'd consider this the easiest way to improve your hydration.
You can also take a more scientific approach with the Ozmo Smart Bottle. As it can be used with both hot and cold beverages, it's designed to be used with both your morning coffee, as well as your daily water. By measuring these two fluids as well as syncing up with your activity tracker, this is the most accurate way to determine how much water you need. We'd recommend it to anyone who is a coffee drinker, and also uses a fitness tracking app.
As nerds, we're fans of the Smart-product movement. But not everyone shares our enthusiasm. Some scoff at the idea of an app tell you when to drink water. Others already have so many notifications on their phone that they wouldn't even notice another one. If this sounds like you, we've got an alternative for you. The Hydra Smart Bottle never once tells you when to drink. But if you're anything like us, simply having a water bottle on hand has you reaching for little sips throughout the day. And with the built in battery pack, Bluetooth speaker, and LED lantern, this is one water bottle that you're not going to want to leave at home.
So, can a smart water bottle really improve your hydration? Well, the answer to that question depends on you. In our eyes, the main advantage to these devices is the fact that they quantify your behavior.
Do you remember how much water you drank yesterday? How about the day before? If not, it might be time to consider one of these smart bottles to track your hydration.