A year and a half after its release, the Xbox Series X is finally starting to appear on store shelves. Thanks to the pandemic and supply chain shortages, Microsoft has only recently been able to keep up with demand. Finally, millions of gamers have access to the latest and greatest Xbox console.
But getting your hands on your new console is just the beginning. Now, it's time to accessorize. A lot of this involves practical things. You want a good quality charger, and maybe some thumbstick adapters. You may even go all-in and upgrade your TV to take advantage of the Series X's capabilities.
Beyond the purely practical, a game system is a highly personal thing. When you log in, you see your avatar in front of your background. You see your games and your apps. All of these things are uniquely yours. Log into your friend's Xbox, and it's an entirely different experience. You see their avatar, their background, their games, and their apps. The controls are the same, but that's about it.
Why should the outside of your Xbox be any different? When you open the box, the Series X a simple black plastic rectangle. It's generic enough that it won't clash with any décor scheme. But it also lacks personality.
A custom skin is a great way to make your Xbox truly yours. There are so many options available that you can find the right look for any room. Take your time to browse through different options, and you'll find something that fits your tastes and personality.
Choosing the Best Xbox Series X Skins and Wraps (Faceplates)
Today, we're going to review some of the best Xbox Series X skins and wraps. These are all soft wraps that stick onto the surface of your console. They're designed to be easy to apply, as opposed to the complex process of replacing an entire solid case.
However, these are vastly different options. For one thing, we're talking about four different products, each one with its own benefits and drawbacks. For another thing, each type of skin comes in several different variants. To find out which one is right for you, you'll have to think about all of these different factors. Let's take a closer look, and see what we're dealing with.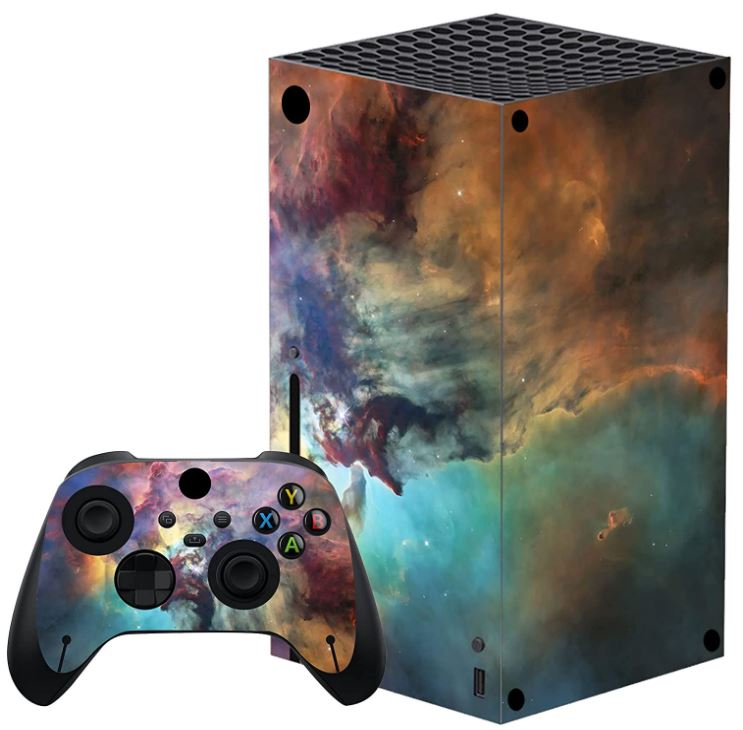 PlayVital Custom Vinyl Xbox Series X Skin
PlayVital specializes in making accessories for the most popular game consoles. Not long ago, we reviewed their Xbox Series X dust cover. It was surprisingly durable, as well as easy to use. So when we saw their Xbox Series X skin, we were more than excited to get a closer look.
The PlayVital Custom Vinyl Xbox Series X Skin comes in 10 different patterns. All of them are space-themed, but that's about all they have in common. They have different dominant colors, with reds, blues, greens, purples, and whites. They also vary in style. Some are photo-realistic renderings of celestial objects. Others are futuristic, with grid lines or geometric shapes amidst the stars. There's even a reproduction of Van Gogh's "Starry Night"!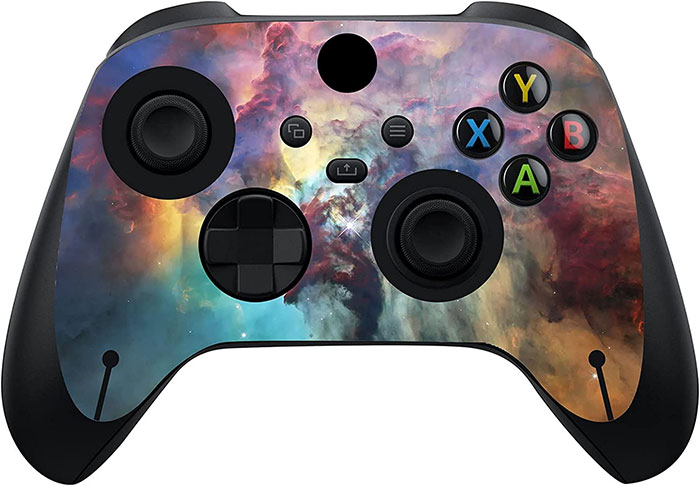 Along with the four panels of the console wrap, you get a pair of controller wraps. These are simple faceplate covers with cutouts for your buttons and thumbsticks. They adhere easily, and are relatively easy to install.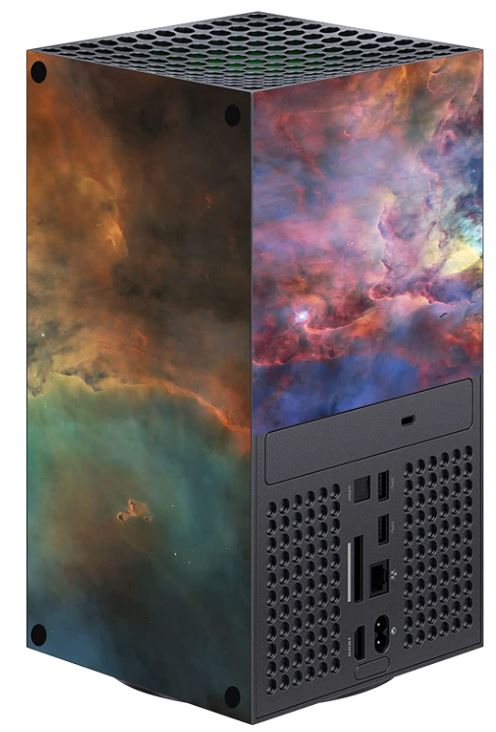 Unfortunately, there seem to be consistency issues with the main wrap. The small cutouts on the front panel don't always line up perfectly. If you line up the holes on one side, the ones on the other side could be off the mark. You might need to apply some heat, or even make a small cut with a razor knife to get good fitment.
Even so, the material itself is made of good quality vinyl. Despite its thinness, it's surprisingly tough. It stands up well to scratches, and the smooth finish is easy to keep clean.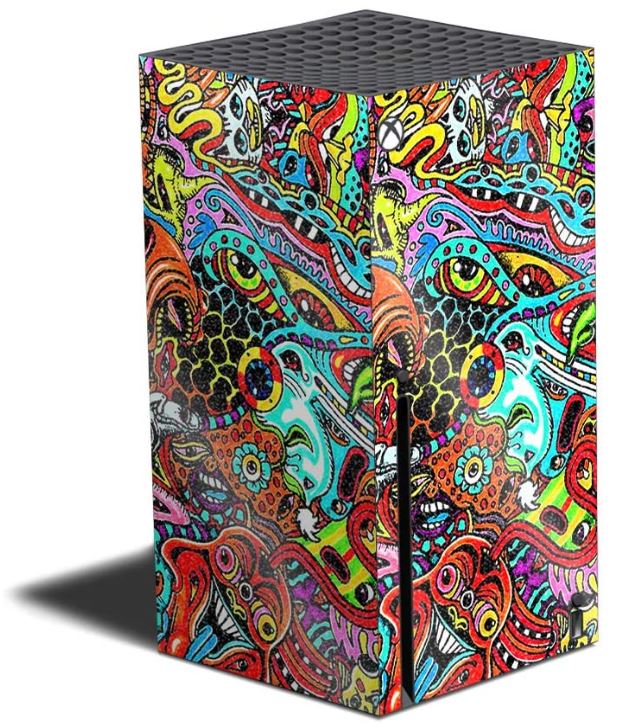 MightySkins Glossy Glitter Xbox Series X Skin
MightySkins is a specialist manufacturer that focuses on skins. In fact, we've looked at some of their offerings before. They make some of the best PS5 skins on today's market. Since they did such good work on the Xbox's competitor, it only made sense to check out their skin.
The MightySkins Glossy Glitter Xbox Series X Skin comes in 10 patterns. These are modern art-inspired skins, each one of them unique. They range from a pastel watercolor of horses to an acid trip-inspired mélange of nightmare creatures. Other options include geometric patterns and "splatter" patterns. Considering all the options, there's something here for anybody.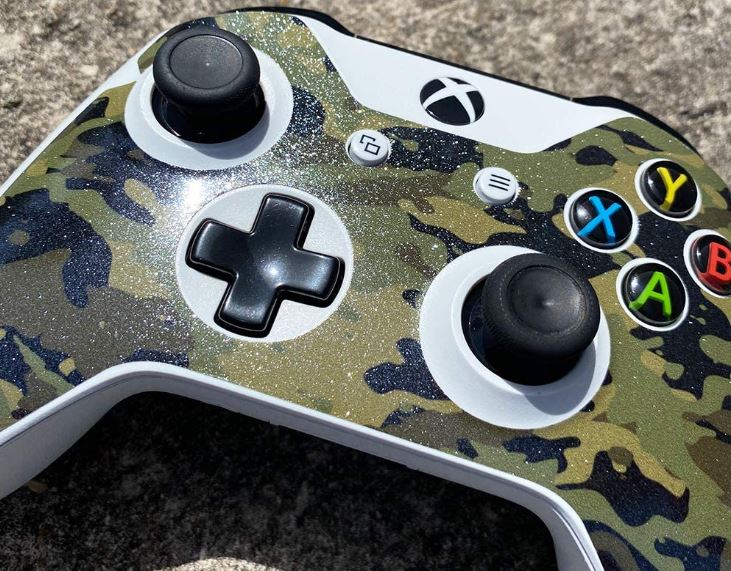 The vinyl is ultra-thin, so it looks like a natural part of the surface. Despite this, it's surprisingly tough, and difficult to scratch with anything short of a knife. It's also stain-resistant, so you can wipe it clean when it gets dirty. A damp cloth is all it takes to remove almost any type of spill.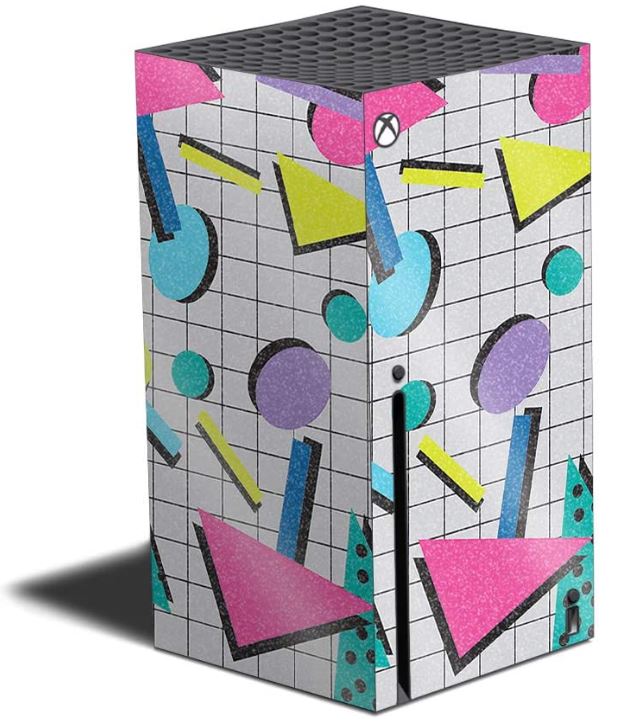 The reason it's so easy to clean is the high-gloss finish. Not only is it shiny, but it's also embedded with glitter, so it shimmers in the light. Whether this is a good or a bad thing is a matter of taste.
Another thing we liked about the MightySkins skin is the adhesive backing. It's designed to be easy to remove without leaving any sticky residue. This doesn't just make it useful for temporary application. It also makes the backing sheet itself easy to peel away during application.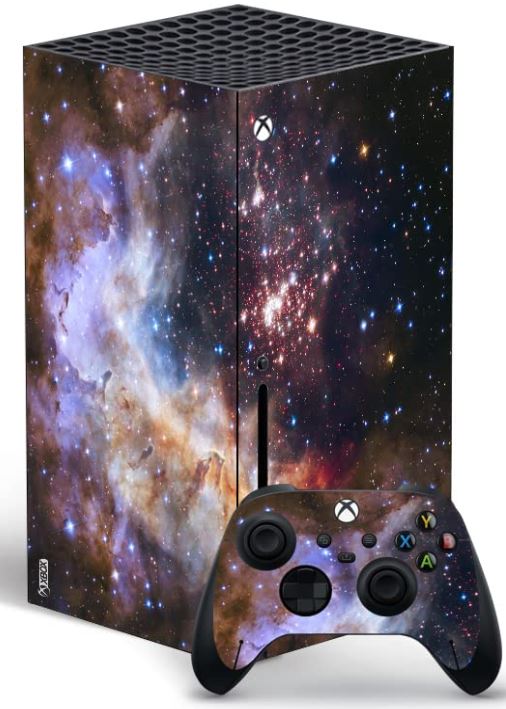 CENSTEEL Colorful Universe Xbox Series X Protector Wrap
The CENSTEEL Colorful Universe Xbox Series X Protector Wrap is a complete kit. It comes with a set of four panels to wrap your Series X console. Along with that, you get a pair of matching controller skins. These stick over your controller's faceplate, and have cutouts for the buttons, D-pad, and thumbsticks.
The default version of this wrap has a night sky pattern, with clouds forming the shape of a wolf's face. The wolf looms over a moon, like some kind of Norse god, and it looks very striking.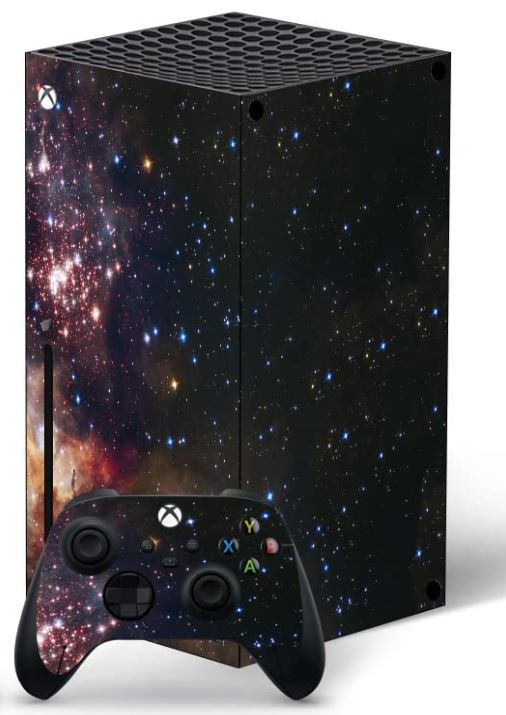 There are also five other versions of the wrap, all of which are wildly different. One is a psychedelic skull; another is a stylized circuit board. One is black, with blood dripping down from the top; another is an aerial photo of an ocean wave. The last is a futuristic-looking blue and purple geometric pattern. If nothing else, this is certainly a diverse set of images!
The vinyl is high-quality, and is tough enough to stand up to abuse. It's scratch-resistant, and it's easy to apply on your console. And like the MightySkins skin, it leaves no residue after removal. That said, the matching controller skins don't seem to be made with the same precision. You might need to use a blow dryer to heat them up and get a better fit.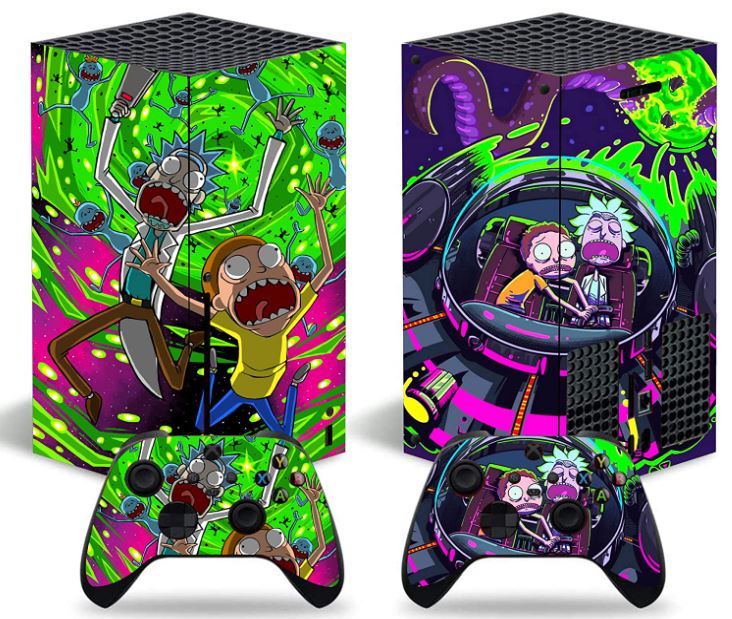 Rick and Morty Xbox Series X Skin
The Rick and Morty Xbox Series X Skin is a complete kit. Along with the console skin, you get a set of controller skins to match.
You can choose from three Rick and Morty-themed designs. One shows our heroes screaming as they run from their most terrifying encounters. Another shows them as secret agents, with a psychedelic sky in the background. The last depicts them on the surface of an alien planet, showing them at their best as intrepid explorers.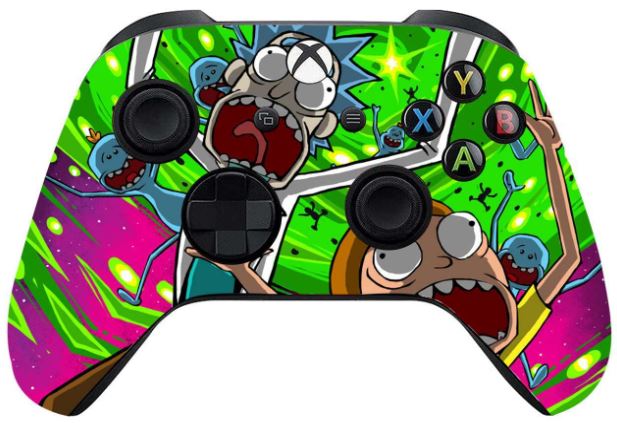 As for the materials and the application, they're similar to the Galaxy Wolf skins. They're nice and durable, with a residue-free backing. But the controller skins might need some fiddling during application.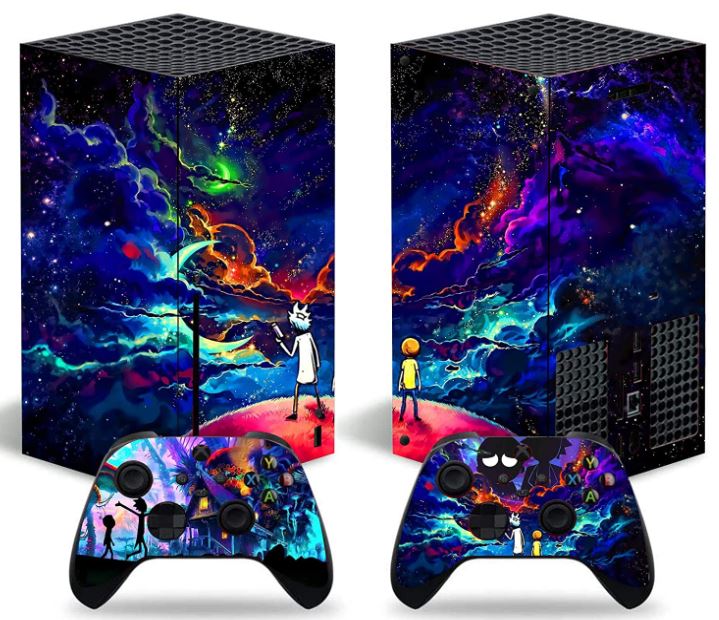 While you're looking for console skins, don't forget to think about lighting. Check out our list of the best RGB LED lights for the Xbox Series X/S. The right lighting kit can be the perfect companion for your skin. It creates an attractive accent, and you can even adjust the colors to match.
How to Apply an Xbox Series X Skin
Before we wrap up, let's talk about how to apply an Xbox Series X skin. This might seem silly at first glance. You just stick it on, right? Not really; there's a technique to applying a skin. Here's how to get the best results:
Clean your Xbox with alcohol first, to remove any dust, grease, or fingerprints.
Peel the paper off one of the panels, and try not to let the sticky side touch anything.
Apply it loosely, lining up any holes.
Use a credit card, and drag it across the surface to smooth out any bubbles. Start from one corner.
Lift up and reapply if the skin is crooked.
Work slowly and carefully, until there are no air bubbles remaining.
It also helps if you can use a hair dryer to warm up the skin. Be careful; you're not trying to melt it. You just want to warm it up, which helps to activate the adhesive.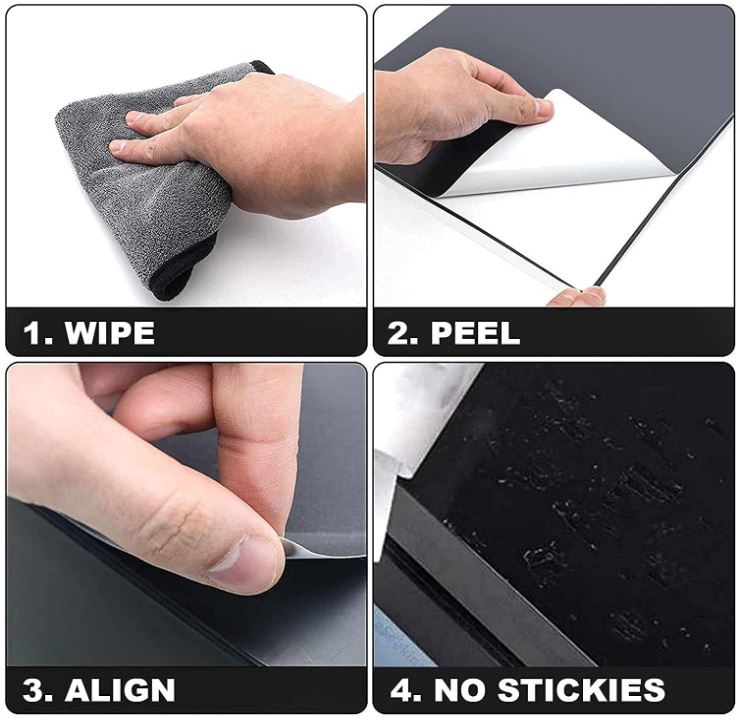 Final Verdict
As you can see, all four of these Xbox Series X skins has its own plusses and minuses. Let's go over what we've learned about each one, and why it might be right for you.
The PlayVital Custom Vinyl Xbox Series X Skin is perfect for sci-fi and fantasy enthusiasts alike. The celestial patterns can also appeal to anyone with a love for the night sky. Fitment isn't perfect on the front panel, which is a bit annoying. But the material seems pretty durable once it's installed.
The MightySkins Glossy Glitter Xbox Series X Skin has a fun, modern art-inspired aesthetic. The glittery finish is a love-it-or-hate-it detail that's important to consider. It also has one of the best adhesives, and won't leave any residue after removal.
The CENSTEEL Colorful Universe Xbox Series X Protector Wrap has the most eclectic choice of images. Whether you want something slick, something peaceful, or something to get your adrenaline pumping, it's literally got your console covered. The controller skins don't always fit perfectly, but other than that the set is very well engineered.
The Rick and Morty Xbox Series X Skin is exactly what it sounds like. It's a line of three fun skins, featuring one of the world's most iconic cartoon duos. If you're a fan of the show, what better way to decorate your console?
Meet Derek, "TechGuru," a 34-year-old technology enthusiast with a deep passion for tech innovations. With extensive experience, he specializes in gaming hardware and software, and has expertise in gadgets, custom PCs, and audio.
Besides writing about tech and reviewing new products, Derek enjoys traveling, hiking, and photography. Committed to keeping up with the latest industry trends, he aims to guide readers in making informed tech decisions.