CENGCEN Pet Camera
Pros
Can feed and view your pets remotely.
Large hopper capacity.
Can share app control with multiple users.
Can be wall-mounted or left on a counter or table.
Cons
Can only feed up to 3 times per day.
Not useful for security purposes.
If you're like most pet owners, you'd do just about anything for your furry companion. People buy their pets expensive spa treatments, pay for premium walking services, and other expenses. There's even a small, but growing market of health insurance plans specifically for pets. To use another example, the market for all-natural and organic pet food is also exploding. We've become aware that a lot of commercial pet foods are junk, and adjusted our habits accordingly. You could go on and on down the line. Point being, we want our fur babies to have the best love and care we're capable of providing.
This doesn't always mean attending to their physical health. Just as often, it can mean looking after their mental health to make sure they're happy. A good example is making sure they have company when you're not at home. If your dog or cat is at home alone, they can feel as if they're all alone in the world. The second you leave the building, they have no way of knowing when – or if – you'll come home. Some pets couldn't care less. Others get separation anxiety and become distressed when they're all by themselves. A treat dispenser or two-way audio system is a good way to pop in and say hi.
Note: At no extra cost to you, we may earn a commission for purchases using our links. Learn more.
Now, we're going to review the CENGCEN Pet Camera. The term "camera" is actually a misnomer, since that's the least important of the unit's three functions. It also feeds treats to your pet on command, and functions as a two-way voice communicator. Not only can you check in on your animal companion, but you can let them know you care. But how well does this unique piece of technology actually work? A look at the basic functions isn't going to be enough. To render a fair verdict, we'll first need to take a comprehensive look at all this device's features. We need to consider how it's built, set up, and installed. We need to talk about how it's powered, and how you can access it remotely. Last, we need to talk about the quality of the camera, and how it's controlled. Let's get started!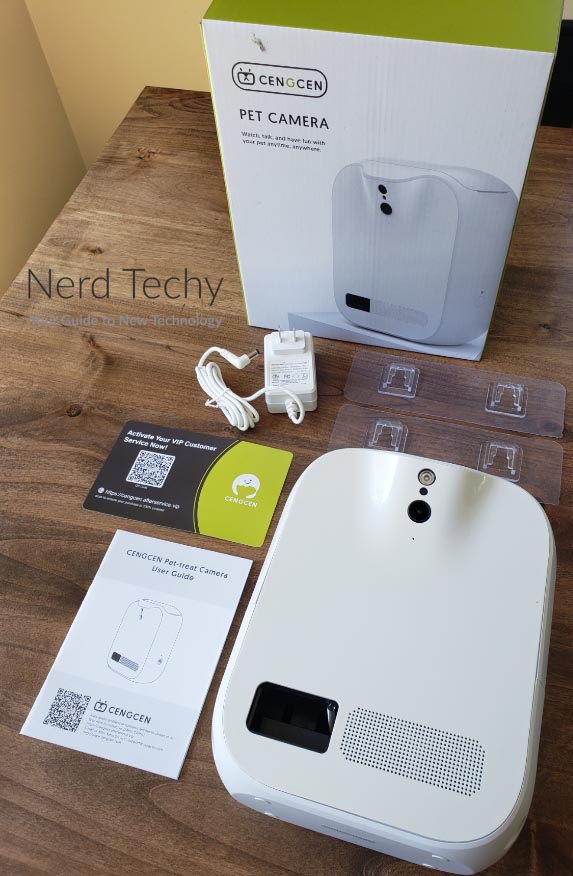 Overall Design
The CENGCEN Pet Camera is a roughly rectangular unit that measures 10.83 inches high, 8.66 wide, and 5.31 thick. We say "roughly" rectangular because all the corners are rounded, so it's not going to poke anyone. The housing is a glossy white, which makes it attractive to look at and easy to clean. Most of the noteworthy features are located on the front, which is the side that will be facing your pet. To begin with, there's the main attraction; a slot that dispenses treats. This is the only part of the unit that's made of black plastic, so it really stands out. It's designed so that the treats don't just drop in like a vending machine. They actually pop out, which makes them easy for your pet to retrieve. There's also a two-way speaker next to the slot, so you can call your pets.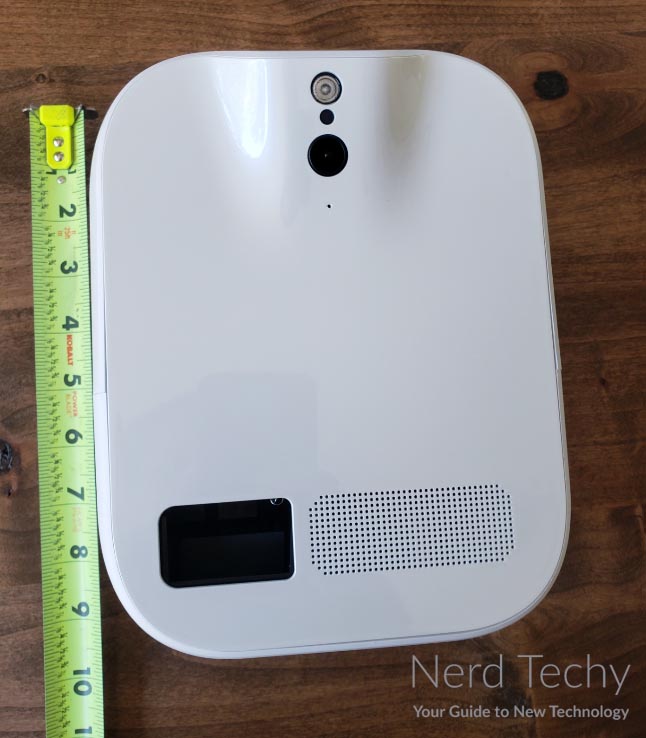 The entire unit is made of ABS plastic, which is relatively lightweight and durable. It's not exactly bulletproof, but it can handle a drop or two. That said, the overall weight can vary widely depending on how many treats you've loaded into it. Treats are loaded into the top, through a removable top panel. On the inside, there's a slot for a silica gel pack that reduces moisture. You'll need to replace this from time to time, but replacements are so cheap that the cost is negligible. The hopper has a capacity of 7KG, which is equivalent to 15.4 pounds. That's a lot of animal treats, enough that you won't need to reload it very often.
The camera itself is located in a protrusion that sticks out near the top of the housing. This forms a surface that points downward at an angle of 18 degrees. The camera, motion sensor, and infrared bulb are all built into this part of the assembly. This is both attractive and functional, and ensures that the camera is facing your pet.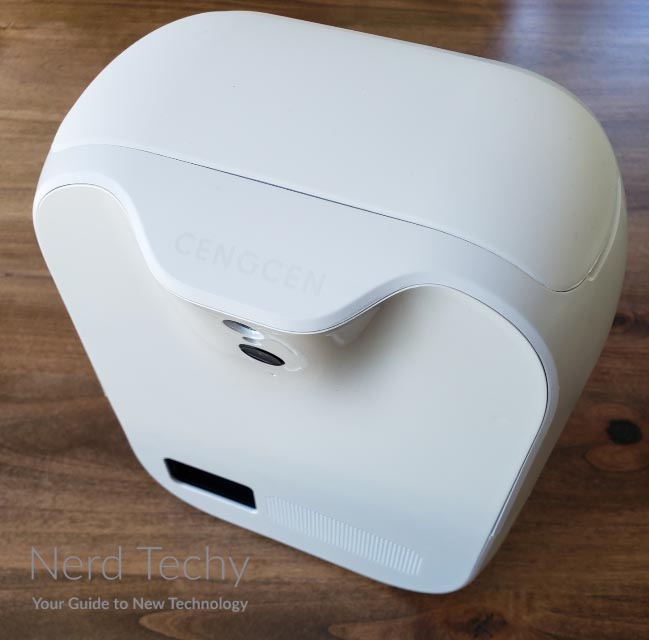 In terms of placement, you'll have a number of options. To begin with, the camera can be positioned on a table, shelf, or kitchen counter. Because it angles downwards, it's made to sit up where your pet can't reach it. A table or counter is a great location for temporary use. For example, you could set up the CENGCEN camera when you go on vacation, and take it down when you get back. That said, you might want a more permanent installation option. In that case, the kit includes a pair of mounting hooks which attach to your wall via an adhesive. This allows you to create a semi-permanent "treat station" where you can interact with your pet every day.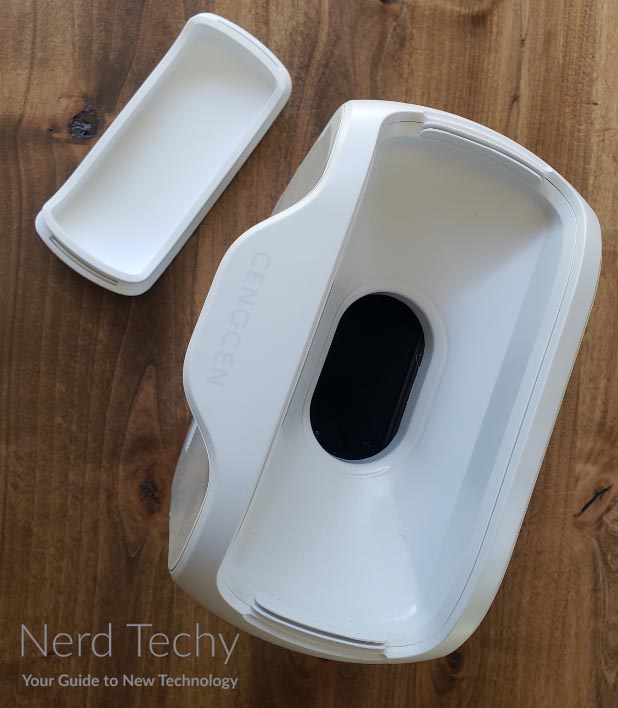 Power & Connectivity
The CENGCEN Pet Camera accepts a 12-volt, barrel-style DC power supply. The cord and AC adapter are included in the kit, so you won't have any power issues. There's no battery backup, but since this isn't a standard feeder, no backup should be necessary. The whole point is to give a treat to your pet while you're interacting via the camera and speaker. Without power, you won't be online, which renders the whole thing moot.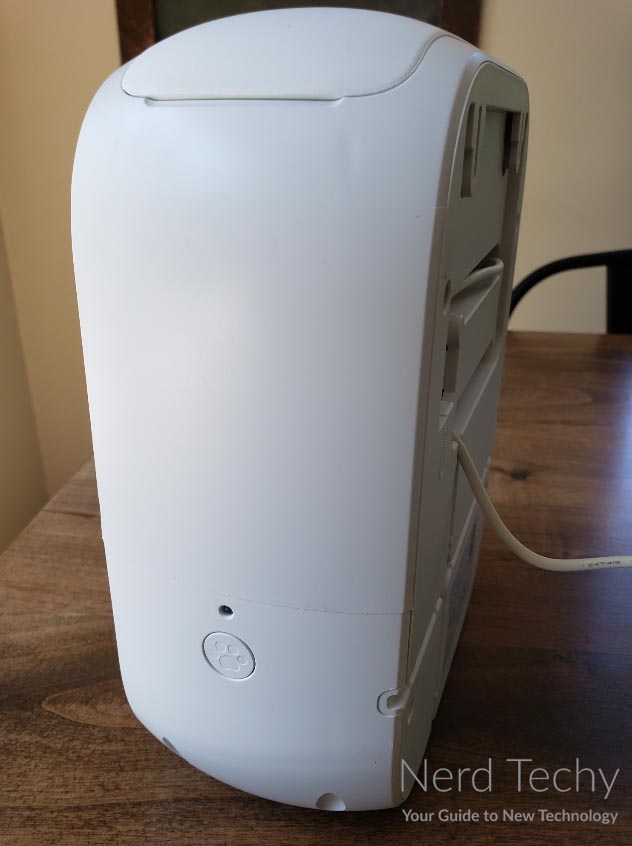 If you do need a standard feeder to provide ordinary meals, there are much better options. For example, not long ago, we reviewed the Petlibro Automatic Pet Feeder. This is a standard kibble feeder that dispenses dry food into a stainless steel bowl. It has enough capacity for a medium-sized dog, but there's no camera or speaker function.
The CENGCEN machine connects to the internet via dual-band WiFi. This means it can use both the 5GHz and 2.4GHz bands. The former will provide a crisper picture and faster connection, but it has a shorter range. If the unit is outside of your router's 5GHz range, it will automatically switch to 2.4GHz. This isn't quite as smooth of an experience, but it gets the job done. To perform the initial setup, though, you're going to need a smartphone. As you go through the app setup process, you'll scan a QR code on your camera to get it paired.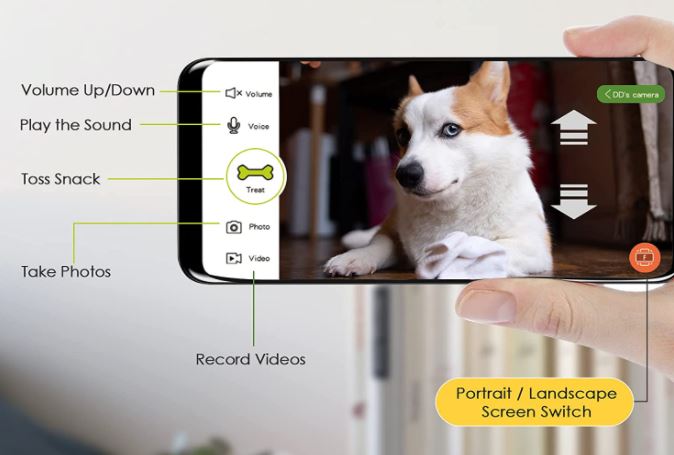 With your phone and camera paired, you're now ready to feed treats to your pet. Within the app, you can feed your pet by clicking on a single button. You can also change the treat dispense rate between three and five pieces. This allows you to adjust your dispense rate appropriately for larger and smaller pets. That said, it's really an approximation. Different-sized treats will dispense at different rates; take your time to play around with this setting.
In addition to communicating with your pet by yourself, you can share access to the camera with the whole family. Well, not exactly. Technically, you can share with up to two other users. But that's still a lot better than using the app solo. All users can view the camera, snap photos, talk to pets, and perform feedings. To ensure that your pet doesn't get overfed, the system is limited to three feedings per day. This is usually a good thing. However, if you have multiple pets, you won't be able to dispense enough treats for all of them.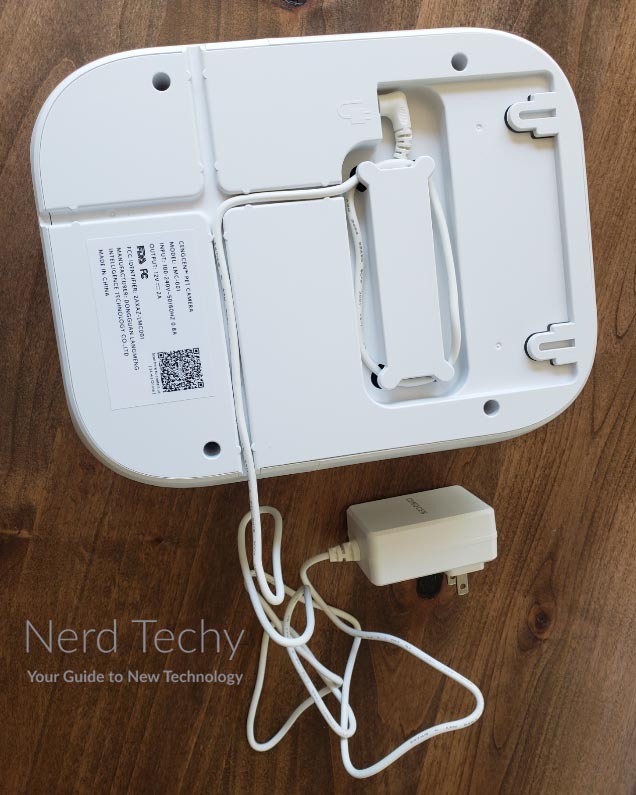 Camera Features & Controls
The camera itself provides surprisingly good quality, particularly for a short-range, interior camera. To begin with, you get a 130-degree field of view. This is a medium-wide angle, so you can see a large portion of a room all at once. The idea is to maximize the viewing area, so you're most likely to see your animal.
The picture has an image quality of 1080p, which is about what we'd expected. Color fidelity is good, and you don't have to deal with a lot of motion blur. In other words, you'll be able to see your pet just fine, even if they're dancing around maniacally in anticipation. Image quality is also good at night. The built-in infrared bulb illuminates the area and is invisible to your animals. Keep in mind that night vision is only in black and white, because you're using infrared. On the plus side, you don't have to worry about a bright spotlight terrifying your pet.
The night vision seems to work quite well. One nice thing about it is the fact that it's enabled automatically if it's too dim. It'll activate by itself so that you can see with minimal lighting in virtually any environment.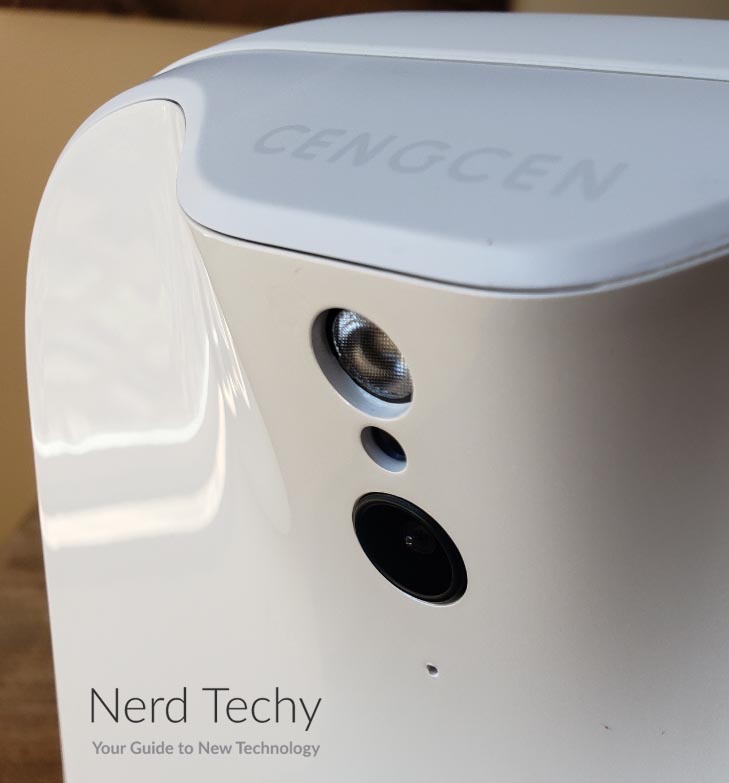 A camera lets you see your pet. But how do they know you're on the other end? The answer is the built-in two-way speaker, which lets you talk to your pet. It also lets you hear their vocalizations, so you can better keep an eye on them. Most importantly, the speaker ensures that your pet associates the treat machine with you! If they're in the other room when you check in, you can call them. When they hear you call and a treat shoots out of the machine, they'll figure out what's going on. Then, you can record or take pictures as they happily gobble up your offerings.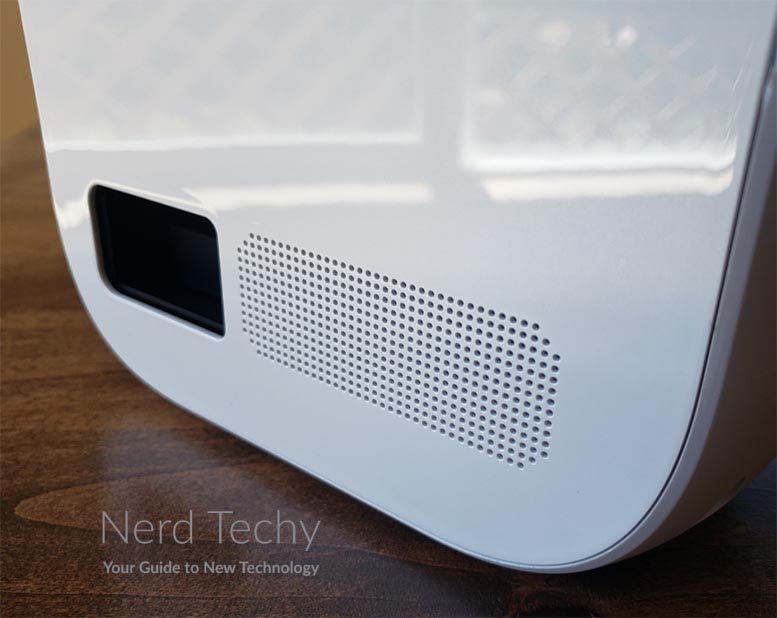 With all of that being said, the CENGCEN camera isn't ideal for straight-up surveillance use. If that's what you need, the Tenvis 2K 3MP Indoor Security Camera is a better choice. It features motion-detection technology and pushes alerts to your smartphone. It even records in 2K, or twice as many pixels as 1080p. On the downside, it won't feed your pets.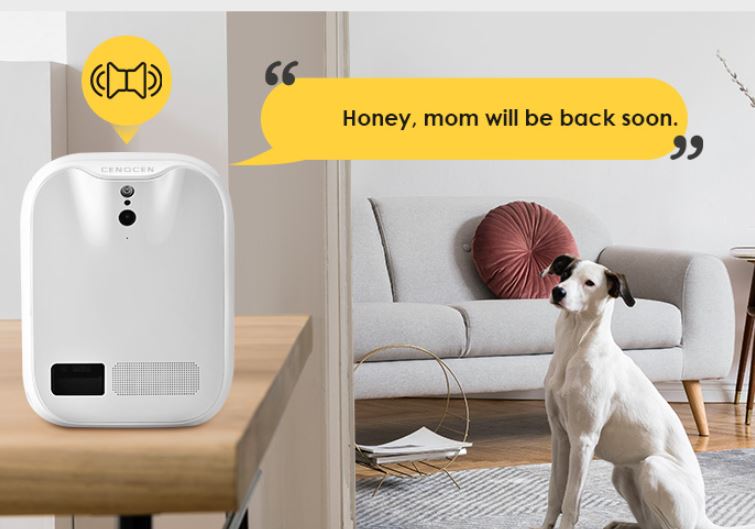 Final Verdict
The CENGCEN Pet Camera is one of the more innovative products we've seen. It's built for everyday use, with a high-capacity hopper and a wall-mounting option. It's also easy to keep clean, and reasonably durable. To be fair, it's not perfect. The three-feeding per-day limit is a bit limiting, and there's no motion detection feature. That said, it's very good at what it's designed for; keeping you in touch with your pets. The two-way voice communication is a great feature, and the camera performs well enough for its role. If you want to feed your pet treats remotely, you're going to be pleased.
Please consider sharing:
Note: At no extra cost to you, we may earn a commission for purchases using our links. Learn more.