Dreo Solaris Max
Pros
Fast, efficient heating.
Straightforward controls.
Plenty of safety features.
Touch controls work well.
Can get a 5-year warranty extension for free.
Cons
Slow oscillation setting.
Fan is a bit loud on maximum power.
Takes 30 seconds to turn off.
Winter is just around the corner, and cold weather is already starting to set in. This can lead to energy bill anxiety in the best of times. And with the war in Ukraine disrupting global supply lines, energy costs are projected to be higher than ever. If you're already struggling to make ends meet, it's a scary time. And even if you can afford the expense, how much do you really want to pay for your energy?
Thankfully, there's a simple solution. With a space heater, you can significantly reduce your home heating costs. We're not saying you can heat your entire house this way; that would be incredibly inefficient. But you can lower your thermostat to 50 degrees in the house as a whole. Then take a space heater with you from room to room to keep the immediate area at a comfortable temperature.
Today, we're going to review the Dreo Solaris Max. This is a powerful little space heater that can provide up to 1,500 watts of heating power. That's a lot of heat – enough to warm up a medium-large room. But what else does it bring to the table, and is it a good fit for your needs? We're about to take a closer look, and see how this space heater stacks up to the competition.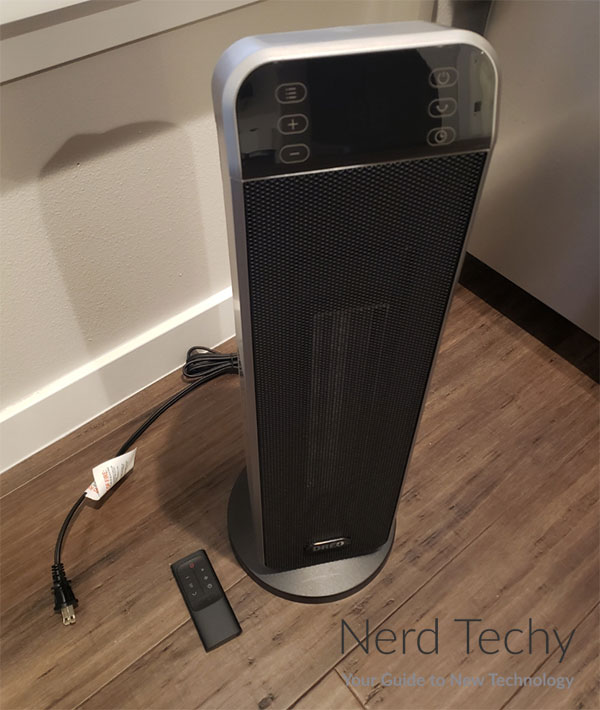 Overall Design
The Dreo Solaris Max is a mid-sized space heater that's shaped as a black tower. The shape is roughly rectangular, with a rounded back and a grey band around the sides. On the front of the housing is a hex-pattern metal grille that protects the heating element. Be careful – the metal will get hot when the heater is in operation. A small chromed Dreo logo adorns the bottom of the grille.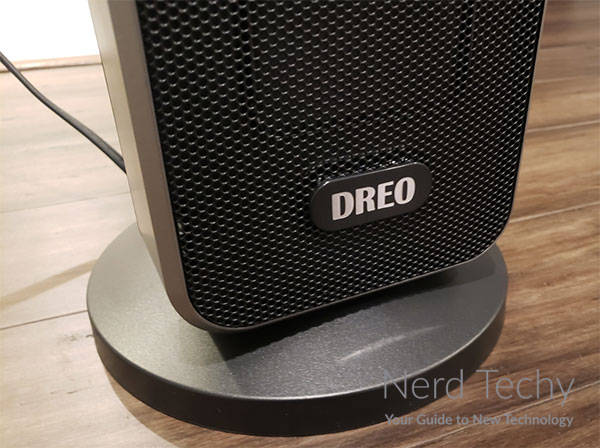 The heater is 24 inches tall, and has a footprint of 7.8 inches square. This means that despite the height, it doesn't take up a ton of space on your floor. It's also reasonably lightweight, at only 6.82 pounds. There's a cutout near the top of the back of the housing where you can carry the heater. That way, you're able to keep your hands well clear of the metal grille.
Beneath the handle, on the back of the housing, is a set of horizontal louvers. These are the air intake, where cool air is drawn into the back of the heating element.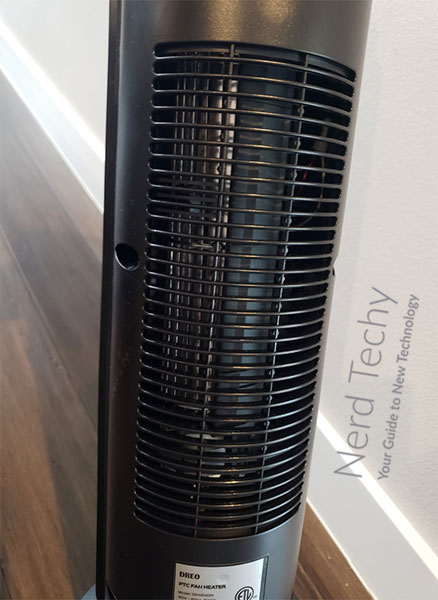 The bottom of the main housing sits on top of a circular black base. A motor inside the housing allows it to oscillate back and forth, much like an oscillating fan. This helps distribute heat more evenly around the room. The 6-foot power cord is somewhat on the short side. But for most applications, it should be long enough for the job.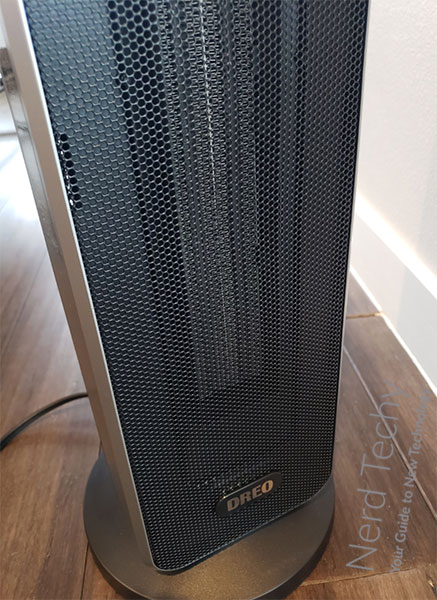 Along with the heater itself, you get a handheld remote. It's made from black plastic, and is a little bit smaller than a TV remote. The remote is powered by a small CR2025 battery, which comes with the kit.
Dreo backs the Solaris Max with a 12-month manufacturer's warranty. This should be more than enough to let you know whether or not there are any defects. But if you register on Dreo's website, you can extend the warranty to a total of five years. There is no extra fee.
Space Heater Controls
At the top of the front of the housing is a digital display. This display shows your current temperature in the center in large digits. To the left, you'll see your current fan mode. To the right, there are indicators for various settings. For example, a light will come on when the Solaris Max is in oscillating mode.
There's a set of six buttons on the display, with three of them stacked on either side. These are soft touch buttons, which are easy to operate. On the left side, at the top, is the power button. Underneath this is the oscillation button, which looks like a little arc. At the bottom left is the timer button, which can adjust the timer as high as 24 hours.
To the right, the top button switches between the five heating modes. We'll dig deeper into the modes momentarily. The two buttons underneath with the "+" and "-" signs are used to adjust the temperature setting.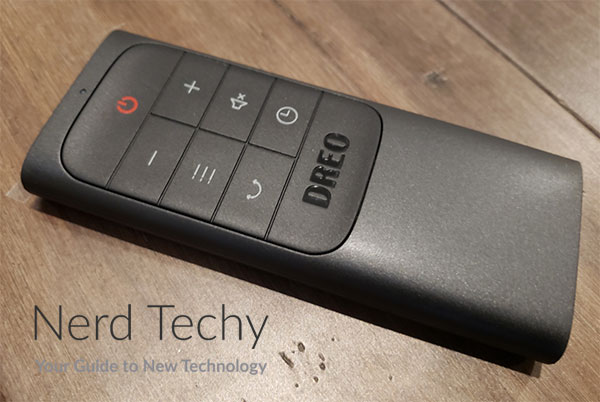 Alternatively, you can control the Solaris Max using the handheld remote. It has all the same buttons, although they're physical buttons that click, not soft touch controls. In addition, the remote has a mute button, which silences the space heater. That way, it won't beep when you operate the controls during the night. The remote also boasts a 26-foot range, which is as long as you'd need for indoor use.
If you don't need this much control over your heater, check out the Beyond Breeze Space Heater. It's more compact, which makes it even easier to move from room to room. And with two dials for speed and temperature, the controls are as simple as it gets. Then again, you can't set your exact temperature.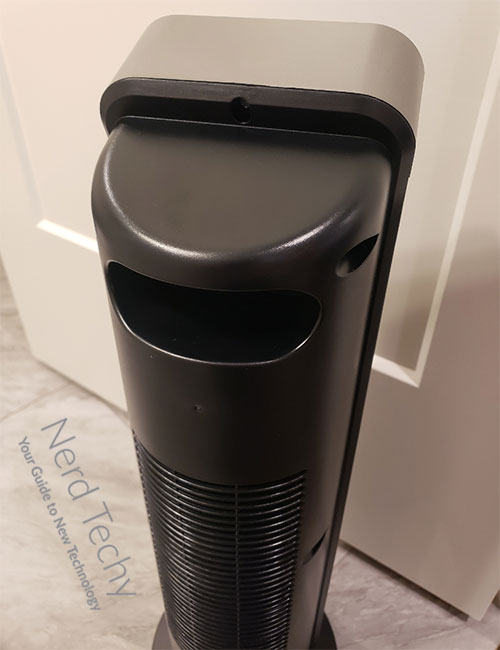 Heating Performance
As we mentioned, the Solaris Max can operate in five different modes. On the highest mode, it will run at the maximum power of 1,500 watts. That's close to the maximum amount of wattage you can get from an ordinary 15-amp outlet. On this setting, you can heat up to 270 square feet, depending on how cold it is in your house.
Lower settings put you into 900-watt, 700-watt, and ECO modes. These modes save power, but you may struggle to heat a larger area. The best approach is to start out on the maximum, then roll things back when the room comes up to temperature. Alternatively, you can use the fan only. This won't heat up your room, but it can give your existing fans an assist during the summertime.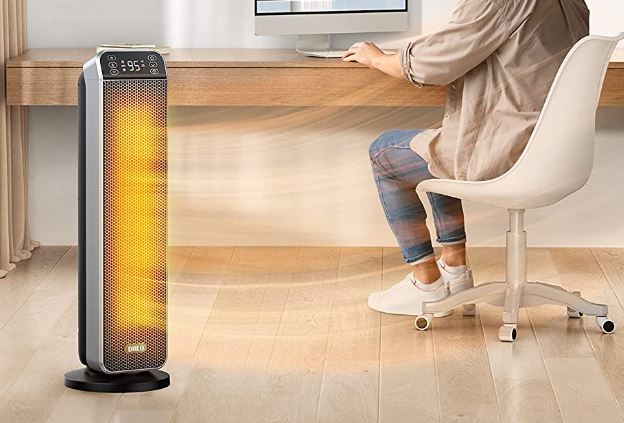 On the lowest setting, the motor will only produce 40dB of sound. That's just a soft whoosh, and it's not at all distracting. But the highest setting can get as loud as 57dB. That's comparable to everyday conversation, which is a bit loud for a space heater.
If all you need is a fan, consider the Dreo Pilot Max. It's a vertical bladeless fan with 12 operating modes and an adjustable oscillation angle. It's also app-controlled, so you can operate it from anywhere in the world.
The Solaris Max sports a ceramic heating element that heats up in two seconds. That's incredibly efficient, and starts providing noticeable heat almost instantly. You don't have to sit around and wait for your space heater to come up to temperature.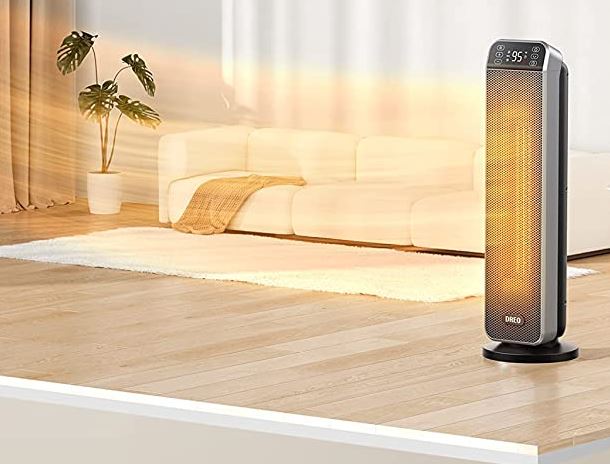 When the heater is set to oscillating mode, it has a 70-degree oscillation window. This isn't very wide, but it's not too narrow, either. It's enough to spread air around the room without spreading it out so much as to be useless. Alternatively, you can set it to blow continuously in one direction.
The temperature is adjustable in 1-degree increments between 41 and 95 degrees. As a result, you'll have a wide flexibility as to how you use it. Use it in your garage to keep your hands from freezing, or keep your living room toasty at night.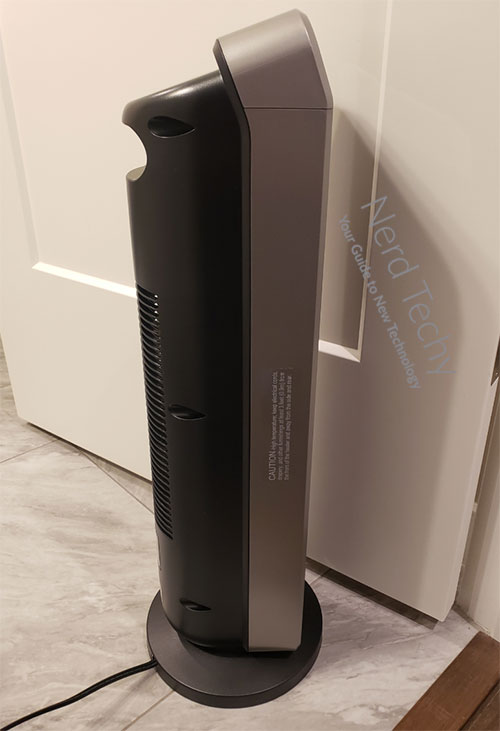 Safety & Extras
When it comes to space heaters, safety is an important consideration. The last thing you want is for your space heater to spark a fire or burn your child or pet. To that end, there are a few important safety protections built into the design.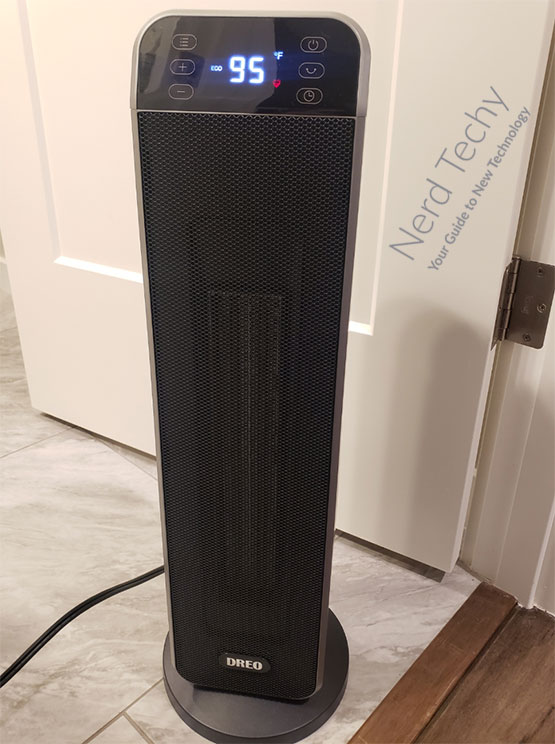 To begin with, there's a built-in temperature sensor that shuts down the element if it starts to get too hot. That way, it won't melt the plastic. There's also a gyroscope that senses the heater's angle. If it tilts beyond 45 degrees, it will shut down. This prevents it from falling over onto the ground and igniting flammable material.
In addition to all this, the timer mechanism is capped at 24 hours. And even if you run the heater with no timer, it will automatically shut off after 24 hours of inactivity. This protects you from accidentally leaving the Solaris Max running for days or weeks unattended. Just bear it in mind if you're using the heater to warm up an animal enclosure. The last thing you want is for it to shut off and your animals to freeze.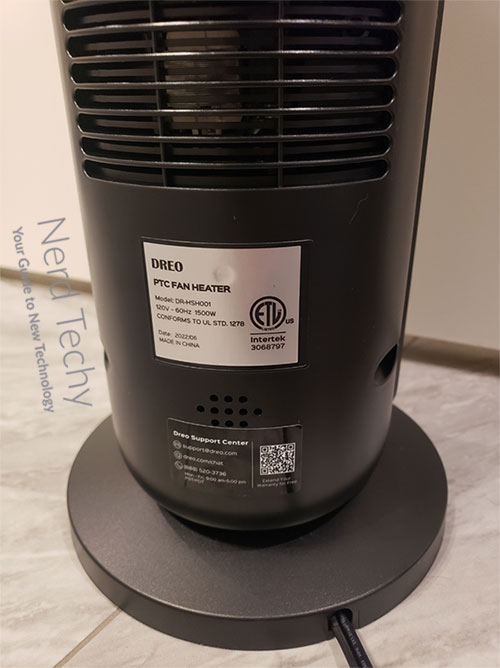 Finally, the plug and power cord are very well-engineered. The cord itself is made from flame-resistant material, and is unusually beefy. The plug has built-in short-circuit protection. And the prongs are very durable, so they won't easily get damaged from abuse.
If you want a heater that doesn't require an AC power outlet, take a look at the Hcalory HC-A01. It's a compact diesel-powered space heater that acts as its own carrying case. It's purpose-built for cars, campers, and RVs, but it requires exhaust venting for safety.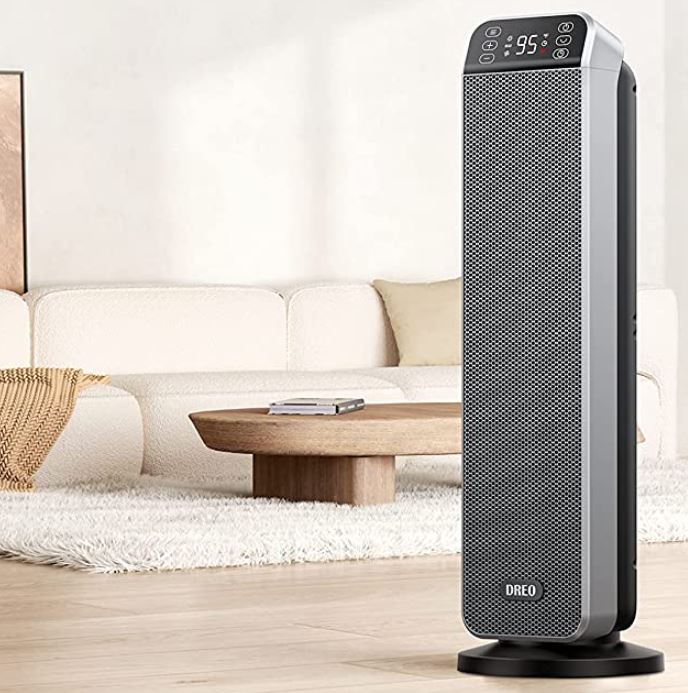 Final Verdict
The Dreo Solaris Max is a powerful space heater that can warm a reasonably large room. The efficient ceramic heating element provides instant heat where and when you need it. And if you want to make it even more efficient, you can turn the power level down a bit.
As far as controls go, you'll have everything you need. The thermostat can be adjusted in 1-degree increments, so you can set a precise temperature every time. The timer allows you to operate the heater for up to 24 hours. And with the handheld remote, you don't even have to stand up to change your settings. You can even mute the button beeps for quiet nighttime operation.
We would have liked it if the fan were a little bit quieter. That said, the safety features are top notch. The tilt protection is effective and works reliably. The overheat protection shuts things down if there's any risk of the fire. And a sturdy power cord prevents short-circuiting or failure due to cord damage. Combine that with a sturdy design and a small footprint, and this is a great little heater.