EKSA H1 Plus
Pros
Excellent battery life.
Can connect to two devices simultaneously.
Reduces environmental noise to nearly zero.
Thick, comfortable ear cup.
Cons
Not really suitable for listening to music.
Not comfortable if you have a large head.
Office headsets used to be purely optional for most people. Yes, you'd need one if you worked in a call center. And if you were a receptionist handling a high volume of calls, they could also come in handy. But for most people, a headset wasn't something you'd typically use. The Covid-19 pandemic changed that. Video conferencing is here to stay, which means everyone needs a good headset.
That said, not every headset is going to meet your needs. To begin with, they have different designs. Some are built like headphones, with two ear cups for a private, immersive experience. Others have only a single ear cup, and are designed for situational awareness. You also need to consider the speaker quality, mic clarity, connectivity, and other features.
With all of that in mind, we're about to review the EKSA H1 Plus. This is a single-eared headset that's designed for use on the road or in office environments. But what else does it have to offer a potential user? To find out, we'll have to dig much deeper into its features, benefits, and drawbacks. Once we have a complete picture, we'll deliver our verdict. Let's get started!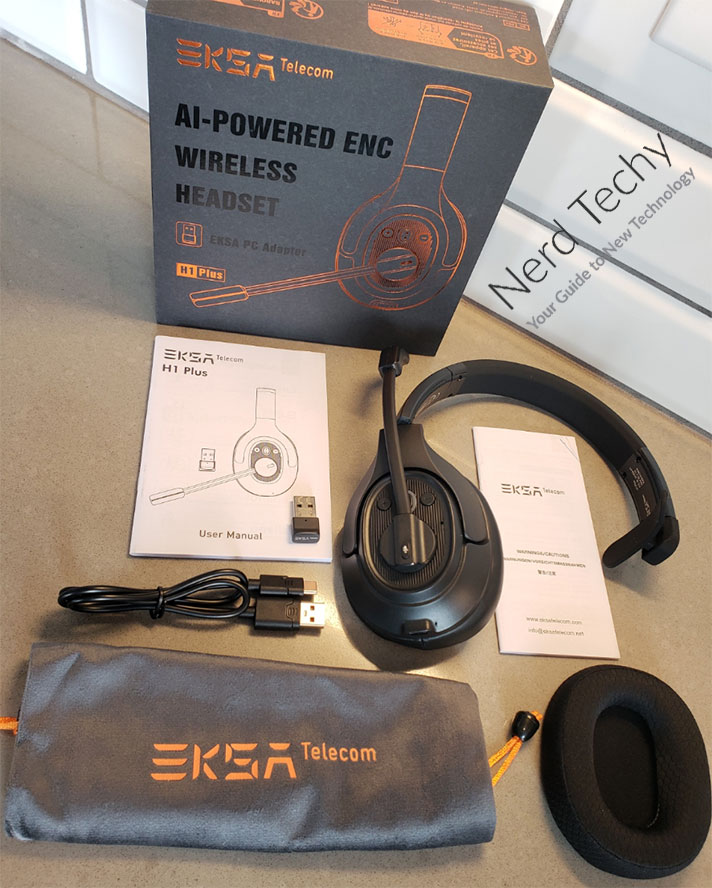 Frame and Adjustability
The EKSA H1 Plus has a black plastic frame and ear cup shell. The plastic has a matte finish, which won't collect fingerprints and is easy to keep clean. The head band itself has an inner metal strap, which adds extra strength and rigidity. You can pull the band out to a longer length for larger heads, or push it together for a tighter fit. This allows enough flexibility to fit most people. But if your head is on the larger size, the headset will feel a bit small.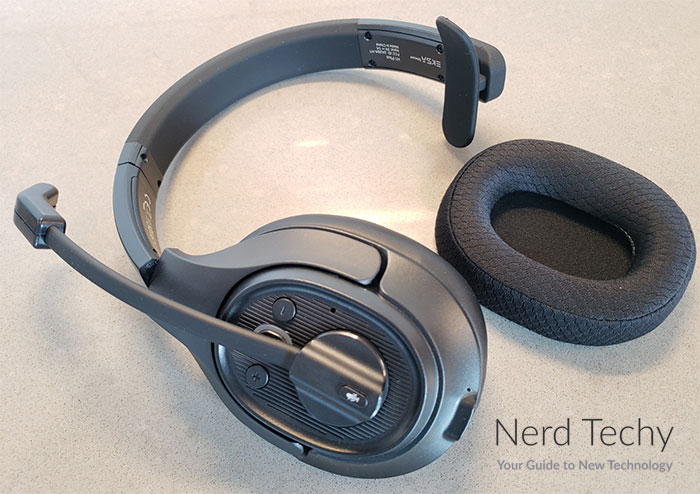 As we mentioned the H1 Plus has a single ear cup. It's located on the left side of your head, and has a boom mic attached. The mic boom is rigid, but can be flipped up out of the way when it's not in use. It's mostly curved, smooth, and round, with a blocky angled microphone at the tip.
If you prefer a dual ear cup design, take a look at our review for the EKSA H6. It has similar features and battery life, but two ear cups. This can be a good thing or a bad thing depending on the application. It's also larger overall, so it can comfortably fit on bigger heads.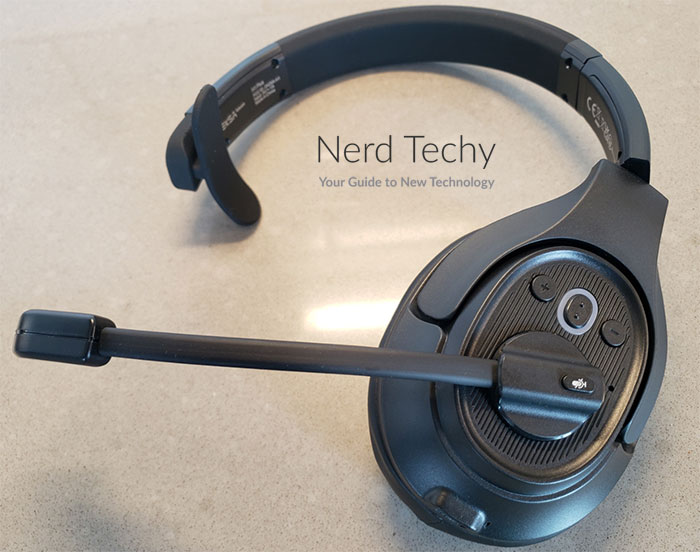 On the back of the H1 Plus' ear cup is a set of three buttons. The volume buttons are located to the sides. In certain contexts, they can also skip tracks while you're playing music. A multi-function button is located between the other two. This is used to answer and end calls, play or pause music, and perform other functions. You'll also find a separate mute button at the base of the microphone boom.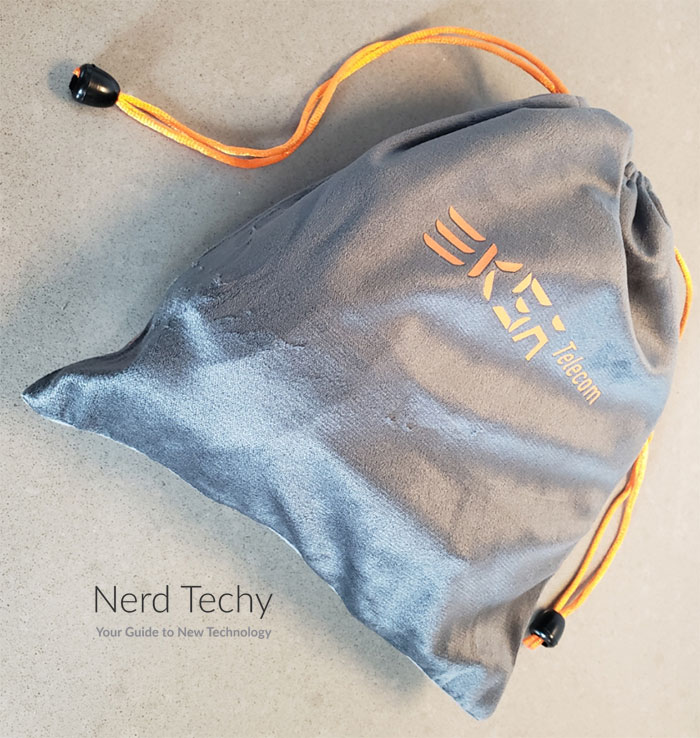 Along with the headset, the package includes a velvet drawstring carrying pouch. It's not incredibly protective. But it keeps the plastic from getting scratched, and it helps you keep the charging cable handy.
Ear Cup and Ergonomics
The single ear cup is a large oval that fits comfortably over your ear. The padding is nice and thick, and will conform well to any cheekbones or temples. The faux leather shell is finely stitched, and won't stick to your head or absorb sweat. It also seems tough enough to stand up to long-term use.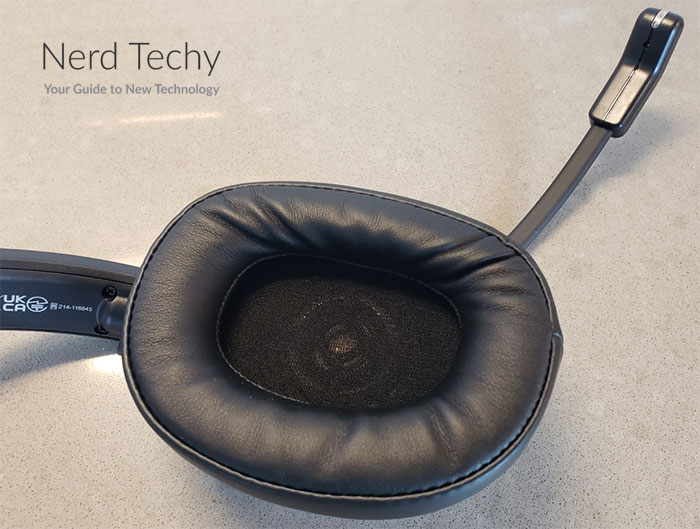 Even better, the kit includes a replacement ear pad that's easy to swap out. When your original pad eventually wears out, the H1 Plus will have a whole new lease on life. However, the replacement is more-breathable fabric, so it may be your preferred option from the start. Regardless, swapping it out is simple to do so you can test for yourself.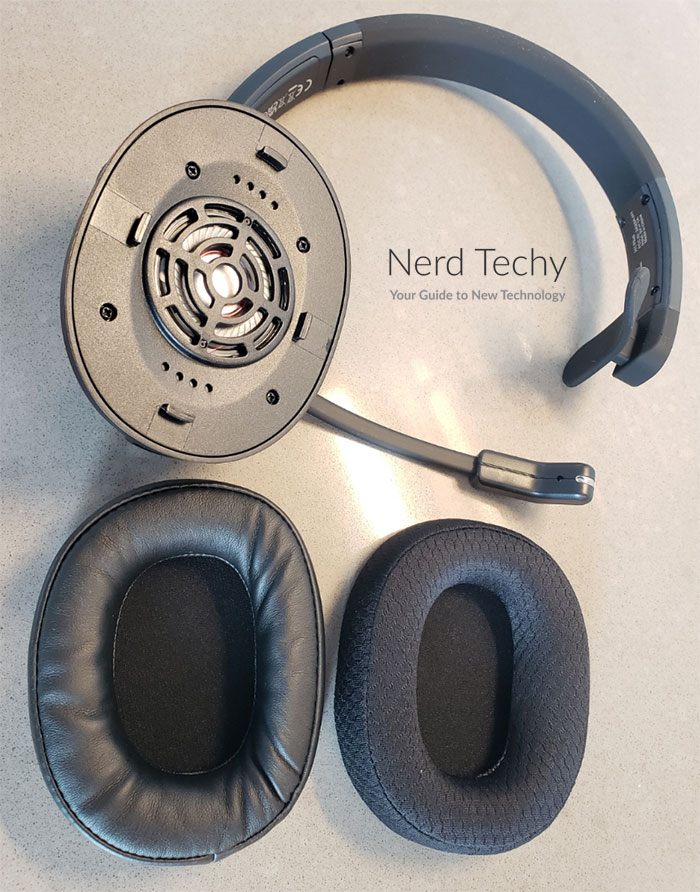 The ear cup provides 15dB of noise reduction, although obviously only on a single ear. Even so, this feature keeps outside noise from directly interfering with your conversations. In addition, the head band itself has a springy design that lightly clamps down on your head. This provides optimal pressure, provided your head isn't too large.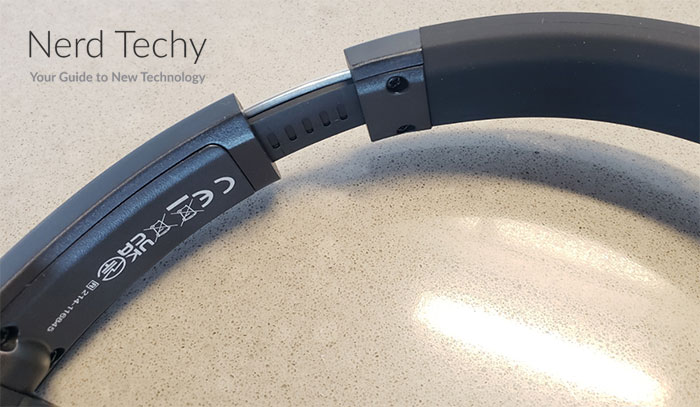 If that's not enough, the ear cup is attached to a 60-degree swivel. It can pivot in either direction that lets it conform to different head shapes. All in all, the system is very comfortable to wear, and won't create any pressure points during extended use. That's important when you have to wear your headset throughout most of the day.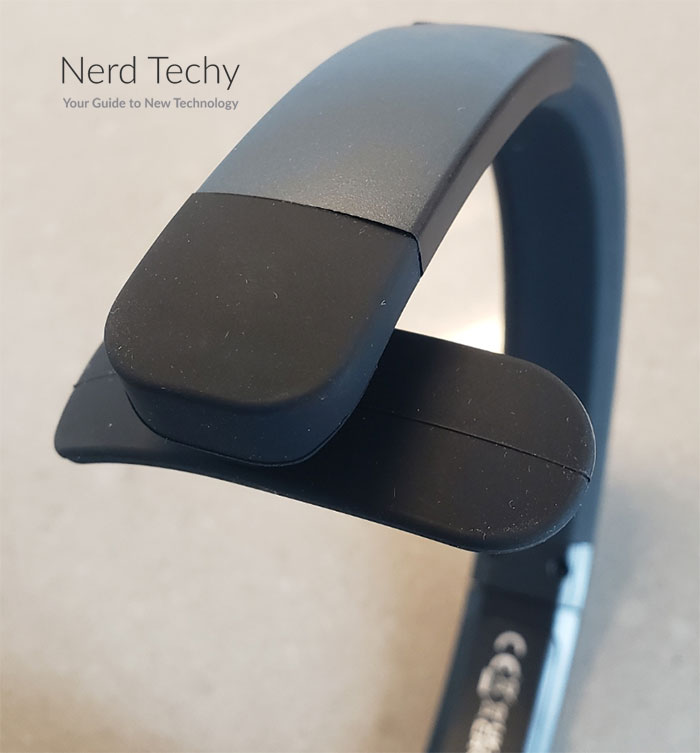 On the opposite side of the head band is a little foot. This foot is oval in shape and horizontal in orientation. It serves to spread out the surface area of the band, so it won't press into your head. Comfort is further enhanced by the rubberized finish, which provides a little bit of cushion. It does what it needs to do without being too complicated.
Connectivity and Compatibility
The H1 Plus can connect in two different methods. To begin with, there's a little USB receiver that plugs into your computer. It's about the size of a mouse receiver, and you'll need to take care not to lose it when it's not in use. That said, the connection is very stable, and has a range of roughly 32 feet, depending on interference.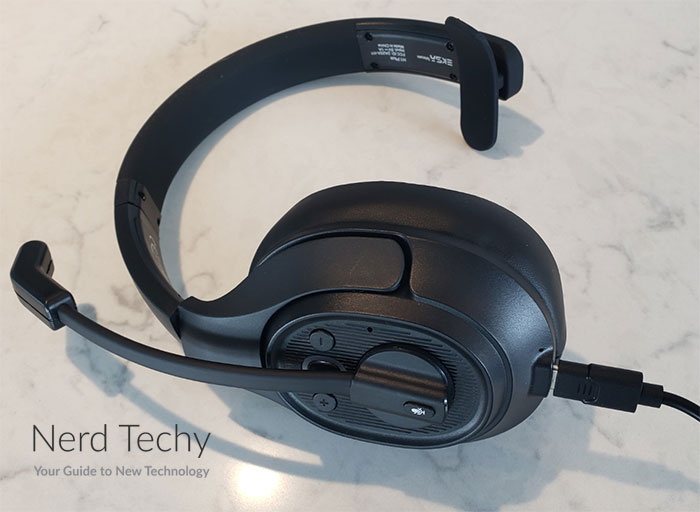 Alternatively, you can connect via Bluetooth. The headset utilizes the Bluetooth 5.0 protocol, which is the current standard. It doesn't have the ultra-low latency of Bluetooth 5.3. But it's a significantly improved protocol compared to Bluetooth 4.2. You'll have a high bandwidth to allow for higher-bitrate audio. And the signal is exceptionally stable, out to a distance of about 99 feet.
Better yet, you can connect the H1 Plus to two devices simultaneously. You can connect to your computer using the USB fob, and to your smartphone using Bluetooth. That way, you can participate in a web chat without missing phone notifications. Or, you can listen to music on your phone and switch over when it's time for a Zoom call. You don't have to manually switch your connection from one device to the other.
With all of that being said, nothing beats the clarity and reliability of a wired connection. If that's what you're looking for, consider the EKSA E900. It's a wired, 3.5mm gaming headset with dual ear cups and a removable boom mic. On the downside, the padding on the ear cups allows your audio to leak out.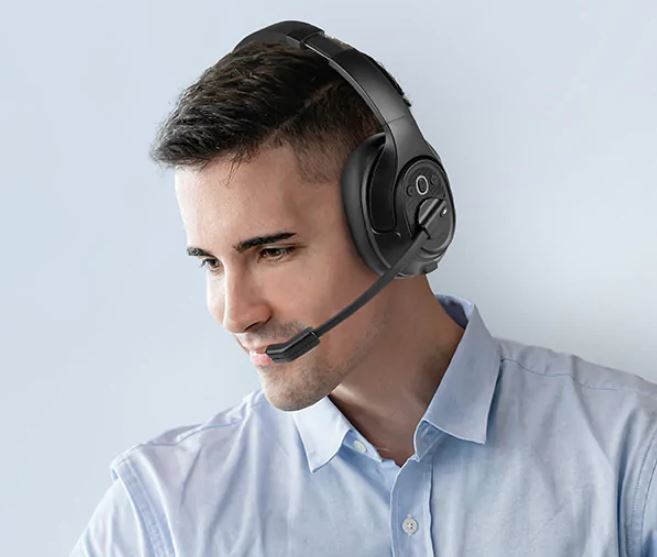 Battery and Charging
The H1 Plus has an internal rechargeable battery with a capacity of 500mAh. That's sufficient for 30 hours of talking time. Normally, when we talk about audio equipment, the rated charging time applies at 50% volume. But EKSA's rating is done at 70% volume, and it seems pretty accurate. That's a good thing, since 70% volume is more realistic than half volume for everyday listening.
If you're not using the microphone, you can listen to music for even longer. In listening-only mode, the speaker will last for an impressive 57 hours, once again at 70% volume. Admittedly, this isn't an ideal music headset. But if you want to listen to some tunes in one ear, you can.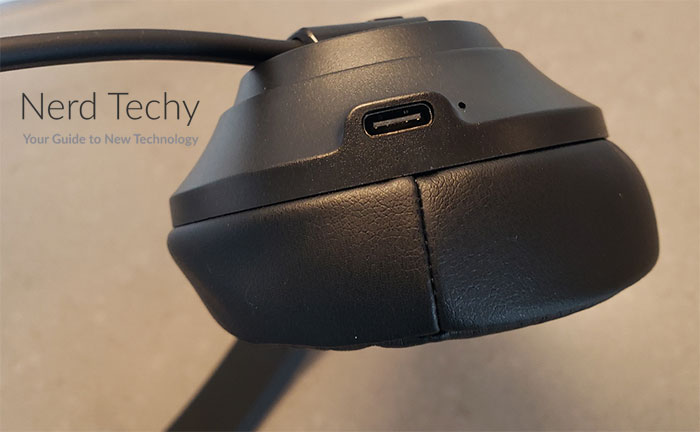 The charge time is also admirable. The battery will fully charge in only 90 minutes, even when it's totally dead. It charges via a USB Type-C cable, which plugs into a port at the bottom of the ear cup.
These are all great points in the H1 Plus' favor. But if you want a different design altogether, check out the eMeet HS100. It's a dual ear cup headset with a heavily-padded, collapsible frame that's perfect for travel. And the battery lasts almost as long as EKSA's.
Audio Quality and Mic
The H1 Plus earphone contains a 40mm driver. This is fairly average-sized for a full-sized headphone, and it puts out a reasonable amount of sound. The speaker's capable of producing 20Hz to 20kHz of sound, so the frequency response is also pretty average. The quality is good enough for casual listening, but it's nothing to write home about. Once again, though, you're looking at a mono headset. It's not something you buy because you want to listen to music.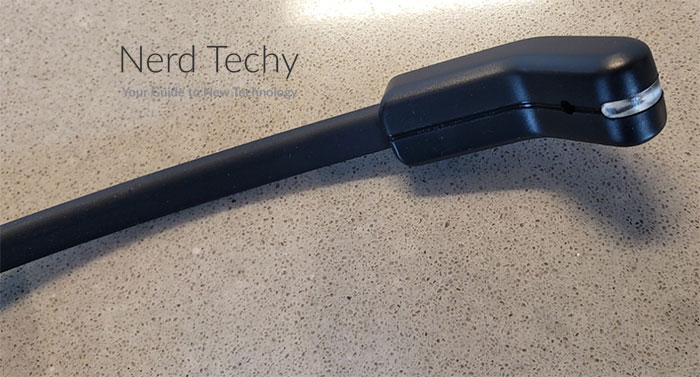 The mic is an entirely different matter. It's designed to pick up audio from 100Hz to 10kHz, which is a much narrower frequency band. The purpose here is to block out ultra-high and ultra-low frequencies that aren't important to human speech.
The result is an audio feed that's very clear. A lot of background noise is filtered out altogether because it falls outside the frequency band. That said, your voice loses some of its texture. Those higher and lower frequencies aren't a huge part of the human voice, but they're still present at some level. Strip them out, and the voice sounds a bit hollow.
Background noise is further reduced by EKSA's patented VoicePure ENC technology. ENC is short for "environmental noise cancellation," and that's exactly what this system does. An internal chip focuses in on your voice, and strips out everything else.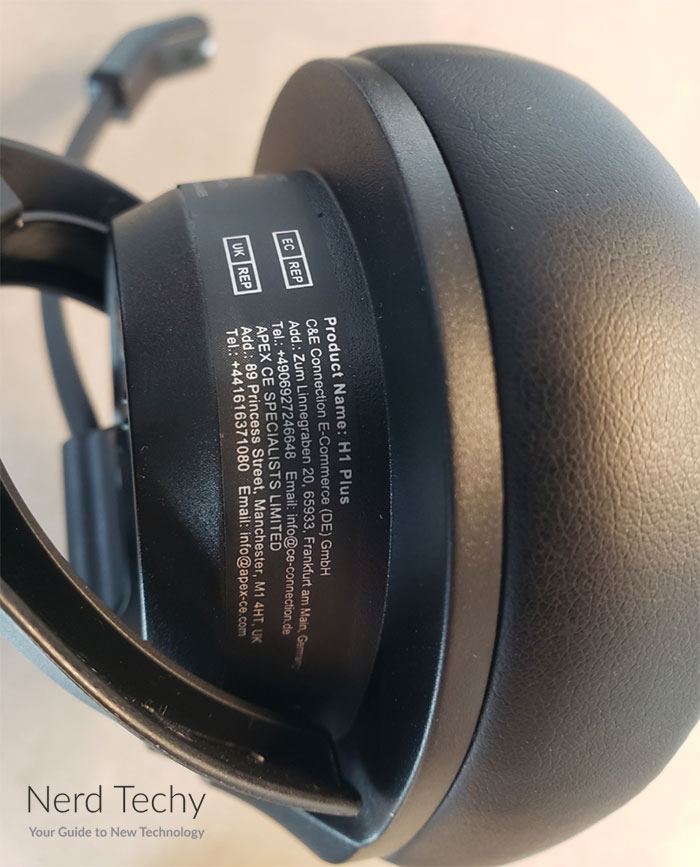 All in all, the ENC system reduces more than 99% of background noise by 45dB. That's an incredible amount of background noise reduction. To be clear, this will have no impact on how well you can hear the other person. But it will make a big difference in how well they can hear you.
Final Verdict
The EKSA H1 Plus is a purpose-built teleconferencing headset that's great at what it does. The fit is very comfortable, and you won't develop pressure points over time. The head band is also easy to adjust, although it could have stood to be a bit longer. The controls are simple and straightforward, and you'll get the hang of them in no time. We also appreciated the long-lasting, fast-charging battery.
To be clear, this isn't for listening to music. If nothing else, you won't get stereo sound. But for talking with another person, the audio quality is very good. The quality on the mic is also outstanding, with top tier noise cancellation. It's not studio quality, but it's exactly what you need for carrying on a clear conversation.
Meet Derek, "TechGuru," a 34-year-old technology enthusiast with a deep passion for tech innovations. With extensive experience, he specializes in gaming hardware and software, and has expertise in gadgets, custom PCs, and audio.
Besides writing about tech and reviewing new products, Derek enjoys traveling, hiking, and photography. Committed to keeping up with the latest industry trends, he aims to guide readers in making informed tech decisions.