EKSA E900
Pros
Very comfortable fit.
Rugged, durable design.
Removable noise-cancelling mic.
Compatible with any modern console or PC.
Incredible value for Lords Mobile players.
Cons
Padding allows some sound leakage.
No wireless connection option.
Sound is a bit echoey.
If you're an online gaming enthusiast, you know how important it is to have a good headset. This is true for a number of reasons. To begin with, sound is an integral part of most games. Think of an online shooter like Call of Duty.
If you're being shot at, you want to hear it. It also helps if you know which direction the shot is coming from. There may be dialog you need to hear, or audio cues that tell you what's going on. Without good sound, you'll miss all the important details.
Note: At no extra cost to you, we may earn a commission for purchases using our links. Learn more.
But audio is more than just an important part of the game mechanics. It's also what makes many games so memorable in the first place. Take the Final Fantasy theme, for example. It's been iconic since the original 8-bit version, and it's probably playing in your head right now.
The Grand Theft Auto series is another shining example. No matter which installment you're playing, the radio stations are a huge part of the enjoyment. You can still hear these things with an inferior set of headphones. But a good gaming headset will make the experience more immersive.
If you're a fan of team games, audio becomes even more important. You don't just need to hear the game music and sound effects. You also need to be able to communicate effectively with your teammates.
This means that high-quality headphones won't be enough. You'll need a good microphone so your friends can hear you clearly. In other words, you don't want just any gaming headset. You want one with a design and feature set that meet your needs.
EKSA E900 (Lords Mobile) Gaming Headset
We're about to review the EKSA E900 (Lords Mobile) Gaming Headset. This is a special edition version of the EKSA E900, which is a tried and true favorite.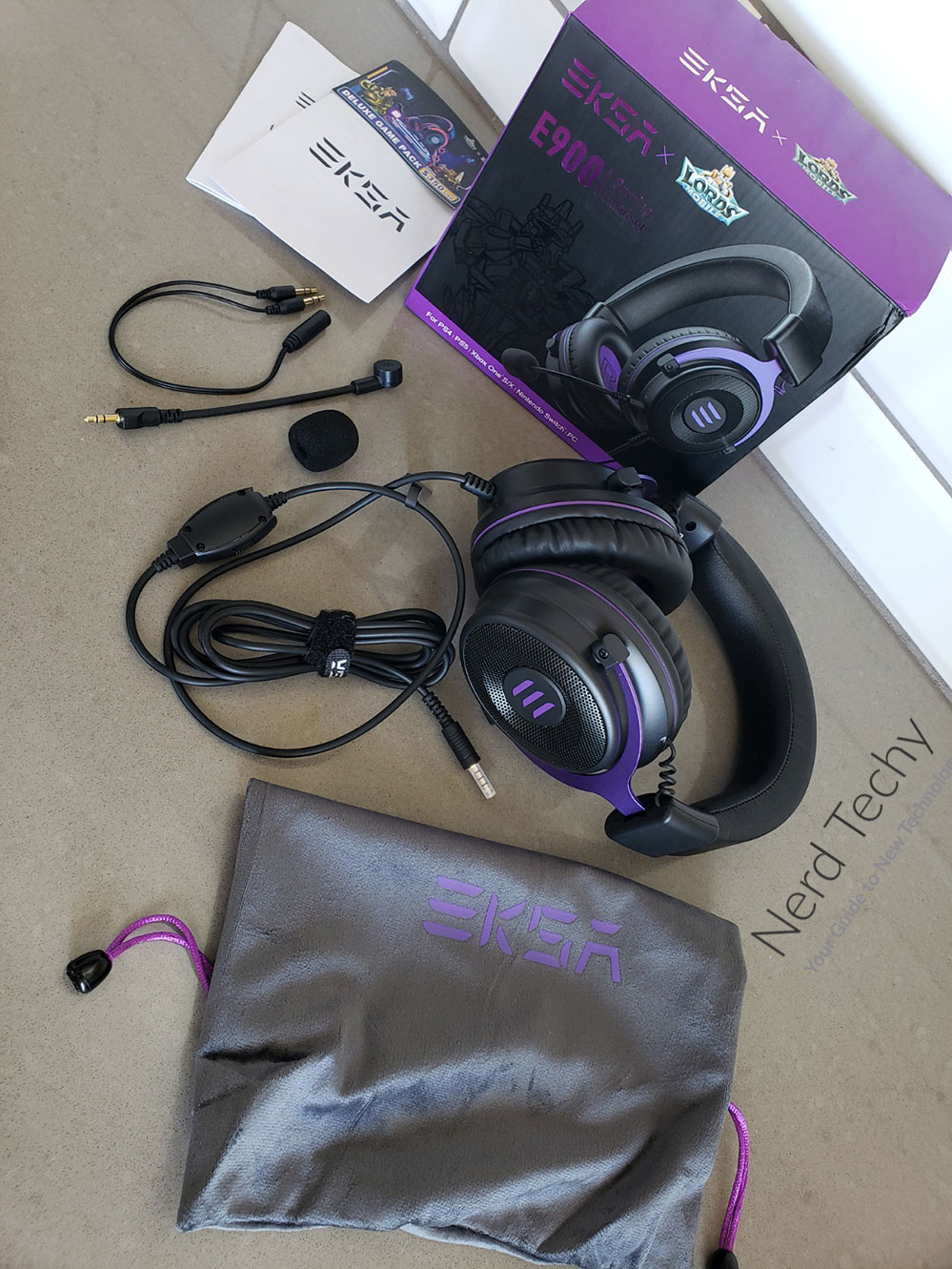 But it comes with a revamped color scheme to honor the popular Lords Mobile smartphone game. It has a beefy metal frame that stands up to almost any abuse, along with oversized ear cups. 50mm drivers provide plenty of sound, and the removable mic has built-in noise cancellation.
Of course, those are just some of the things we'll have to look at. To thoroughly evaluate this headset, we'll need to take a deep dive into the design and features.
We'll have to talk about what it's made of and how it's put together. We'll need to discuss the ergonomics and controls, and how it connects to your game system. In addition, we'll also examine the audio quality and how well the mic works. After that, we'll be able to deliver a fair verdict. Let's get started!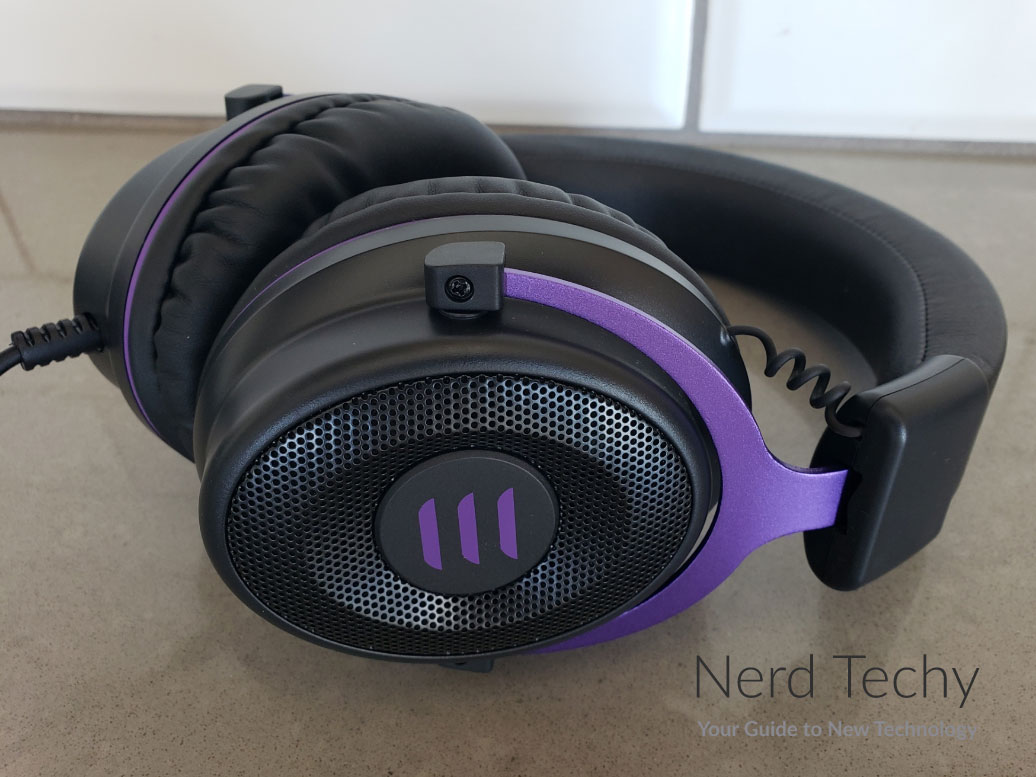 Frame and Adjustability
The EKSA E900 (Lords Mobile) Gaming Headset has an all-metal frame, which gives it plenty of durability. The metal is an attractive purple, which meshes well with the mostly-black aesthetic. The frame has a telescoping-design, so you can slide each side in or out.
As a result, it fits well on almost any-sized head. The bulk of the head band is sheathed in a foam rubber padding which gets pretty thick around the top. As a result, it won't dig into your head, and it's very comfortable to wear.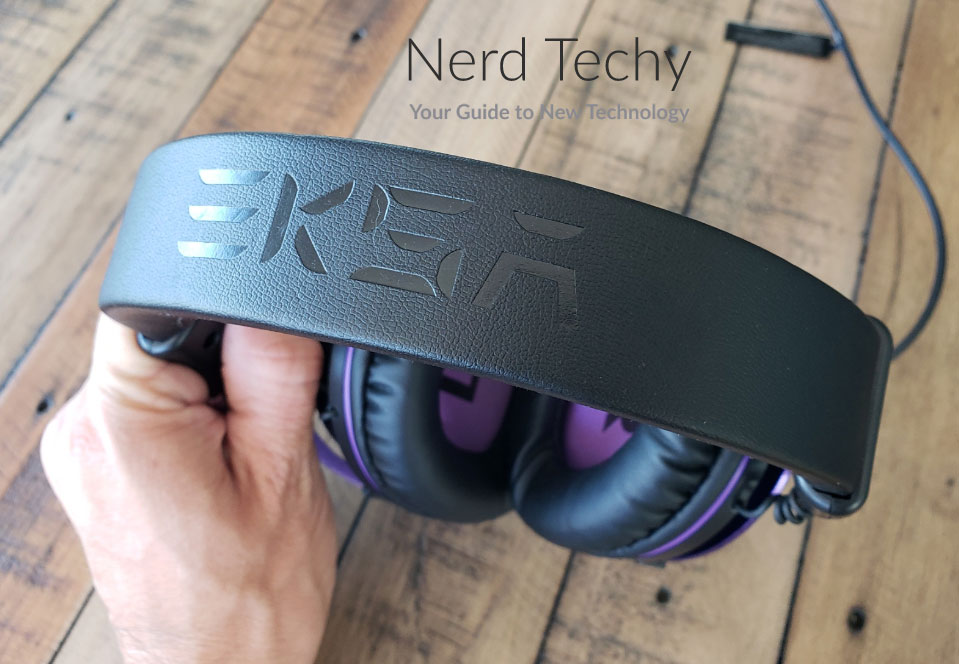 One thing we really liked about the frame is that it's flexible. You can twist it or bend it in any direction, and it will snap back into place. This might not sound all that useful, but it makes the headset easy to store.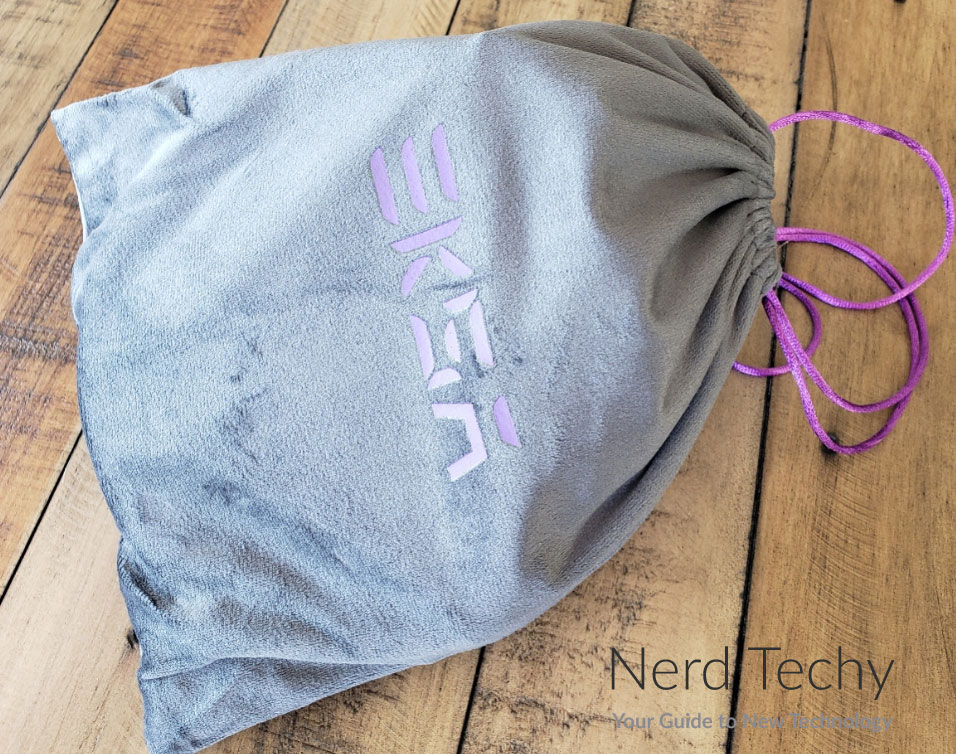 The kit includes a pleather drawstring pouch, and you can easily stuff the E900 inside. Pull the drawstring shut, and you're ready to go. No matter how you've crammed it into the bag, the headset will come out as good as new.
EKSA backs this gaming headset with a 24-month manufacturer's warranty. This is more robust than most warranties for similar products, and it gives us some confidence in the quality of construction.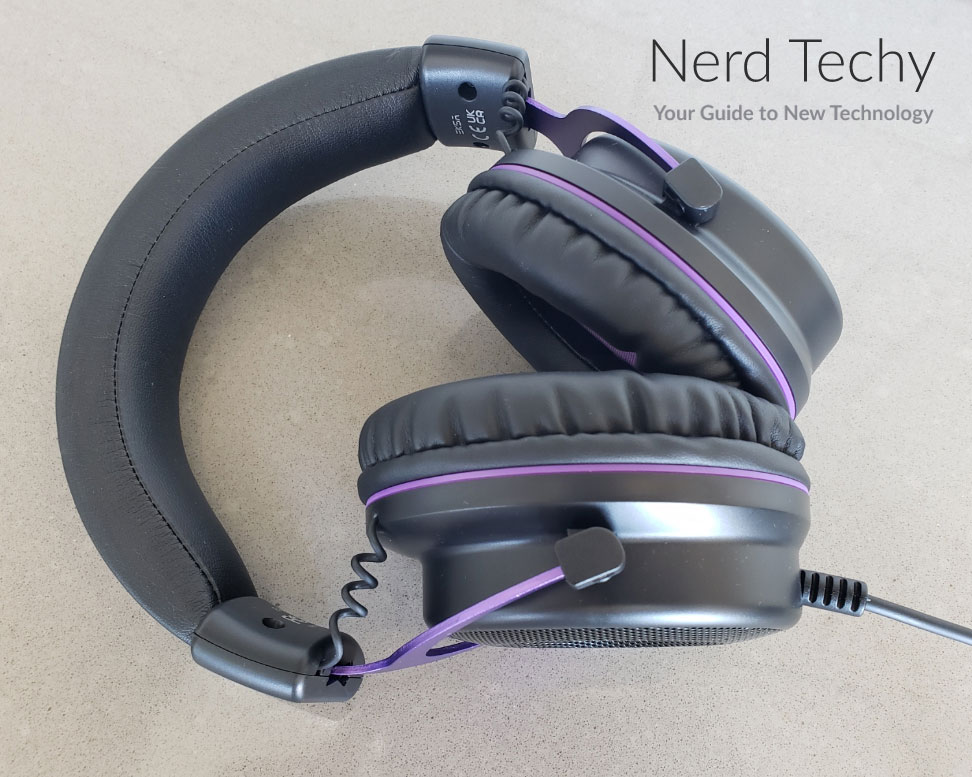 Ear Cups and Ergonomics
Probably the first thing you'll notice about the E900 is the ear cups. They're big and fat, like a set of Mickey Mouse ears. They attach to the frame via a hinge on the back, which allows them to pivot in or out. As a result, they can conform to different head shapes, jawlines, and cheekbone profiles.
This is further enhanced by ultra-thick padding, which is designed to do two things. First, it's meant to conform to your face. The thick memory foam does an excellent job, and provides plenty of comfort. Even if you're gaming for hours on end, you'll barely notice you're wearing anything. The material is also breathable, so your cheeks won't get all sweaty.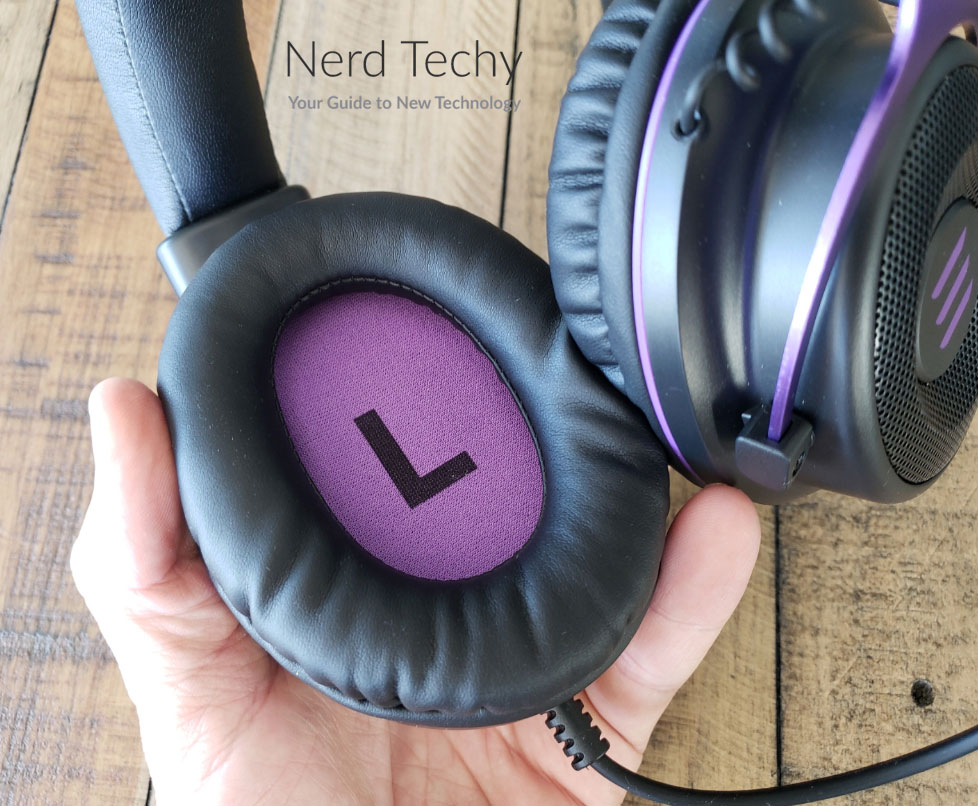 The padding is also designed to help create a seal which will block out outside noise. Unfortunately, it comes up a bit short here. While the padding is extremely comfortable, you'll definitely hear some outside noise bleed through. It's not horrendous, but it can be enough to break your immersion if you're in a loud environment.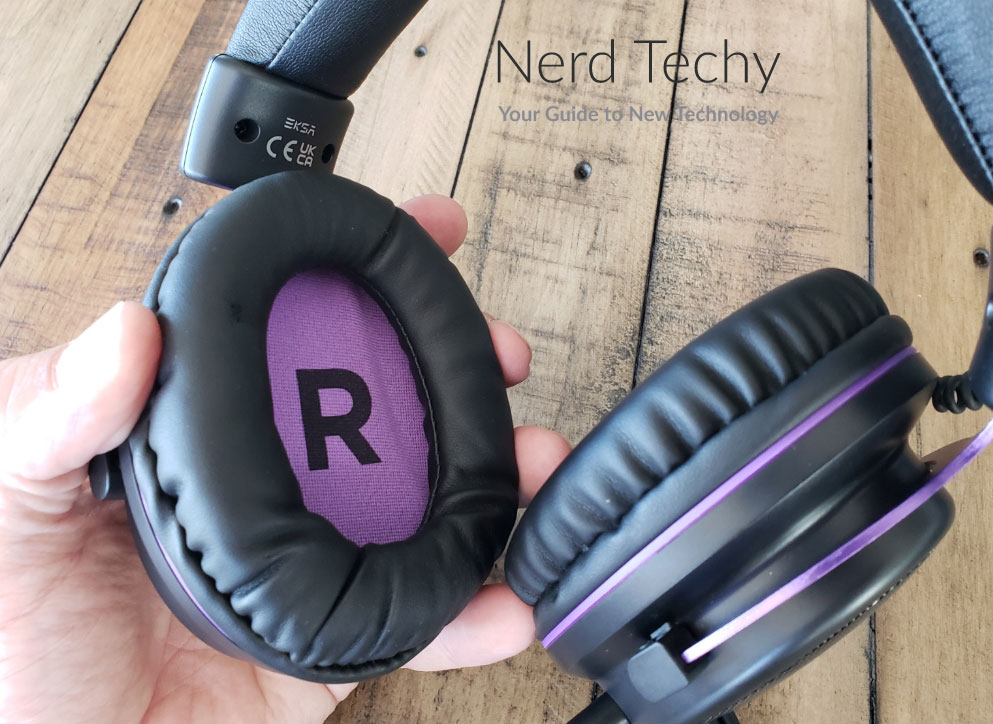 The main ear cup housing is a matte black plastic, which doesn't collect dust or fingerprints. The very back has a metallized black finish, with a purple EKSA logo in the center. It's an attractive cosmetic touch that helps make this headset unique.
If you want something a little more streamlined, take a look at the LucidSound LS1. It has a slimmer, more lightweight frame, with only a single ear cup over your left ear. This lowers the weight, and it leaves one ear free to monitor your real-world environment. Then again, it's also less immersive, and you don't get stereo sound.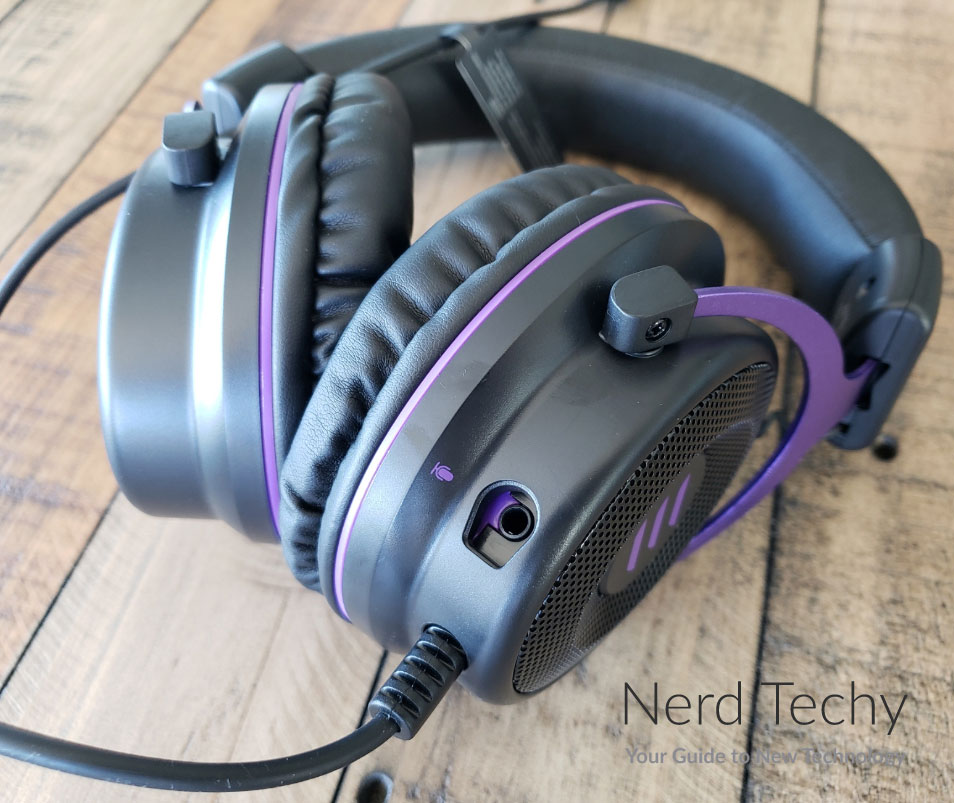 Connectivity and Compatibility
The EKSA E900 connects via a simple 3.5mm aux plug. This allows you to connect to any current or last-gen game console. It will work with the PlayStation 4, PlayStation 5, Xbox One, Xbox Series X/S, or Nintendo Switch.
The one exception is the first-generation Xbox One controllers. If you still have one kicking around, you'll need a headset adapter. Later Xbox One controllers have a 3.5mm aux port just like the Series X/S.
The cable itself is over seven feet long, so you get plenty of reach. It also includes a Y-splitter so you can connect to your PC. Plug one end into your headphone jack and another one into your microphone jack.
That said, there's no Bluetooth option and no USB connection. This somewhat limits your capabilities. For example, you can't move around with the headset like you can with a wireless one.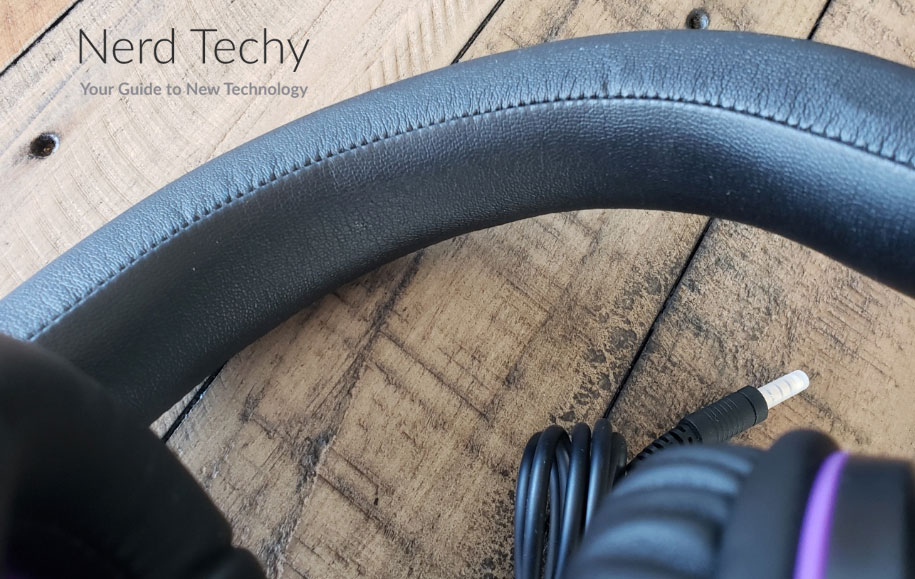 Controls and Extras
In the middle of the cord is a controller fob. It's a little black unit that lets you adjust your headphone settings. On the front is a slider that lets you adjust the volume up or down. On one side, there's a small dial which you use to adjust the microphone volume. The in-line location is very convenient, and makes it easy to control your headset.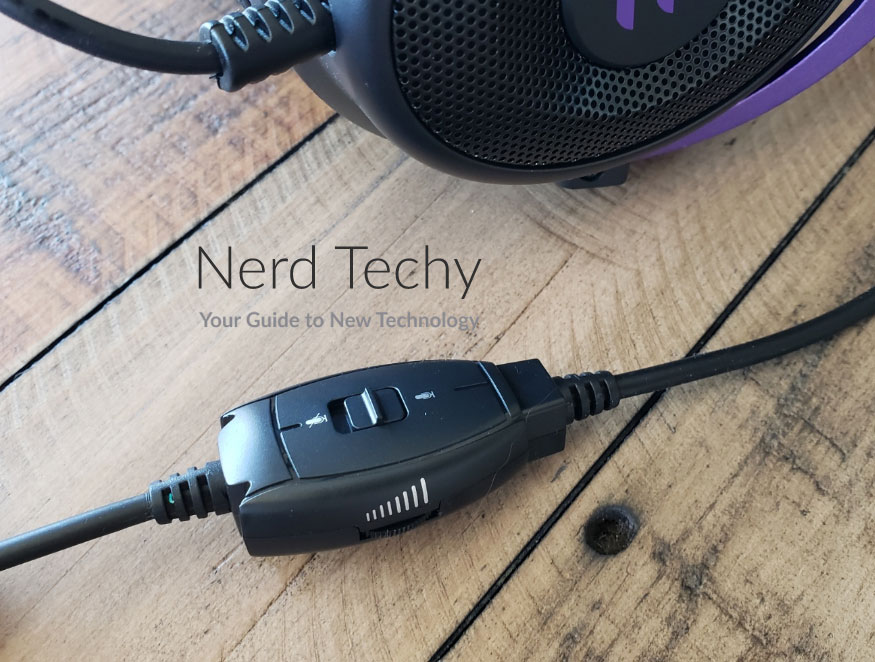 Along with the headset, you also get a gift card for Lords Mobile. For the uninitiated, Lords Mobile is a free-to-play online strategy game. It's available on iOS and Google Play, and has more than 490 million active monthly players. It's the recipient of multiple awards, and won the 2016 Google Play Award for Best Competitive Game.
But like most free-to-play games, the game is funded by microtransactions. Different in-game actions have their own countdown timers, and the more you advance, the longer the timers last. But you can skip the timers by using real-world currency to buy in-game currency to pay down the timers. If you're already a player, you know how infuriating those timers can be. But the Lords Mobile headset comes with a gift card that's worth $350 in in-game purchases. That's an insane value for Lords Mobile players.
If you don't care about Lords Mobile, you probably don't care about the gift card. In that case, you might want a different headset, like the EKSA Air Joy Pro. The Air Joy Pro is a lightweight plastic headset with comfortable, breathable cloth ear cups. It's not as tough as the E900, but it has good audio quality and easy-to-use on-board controls.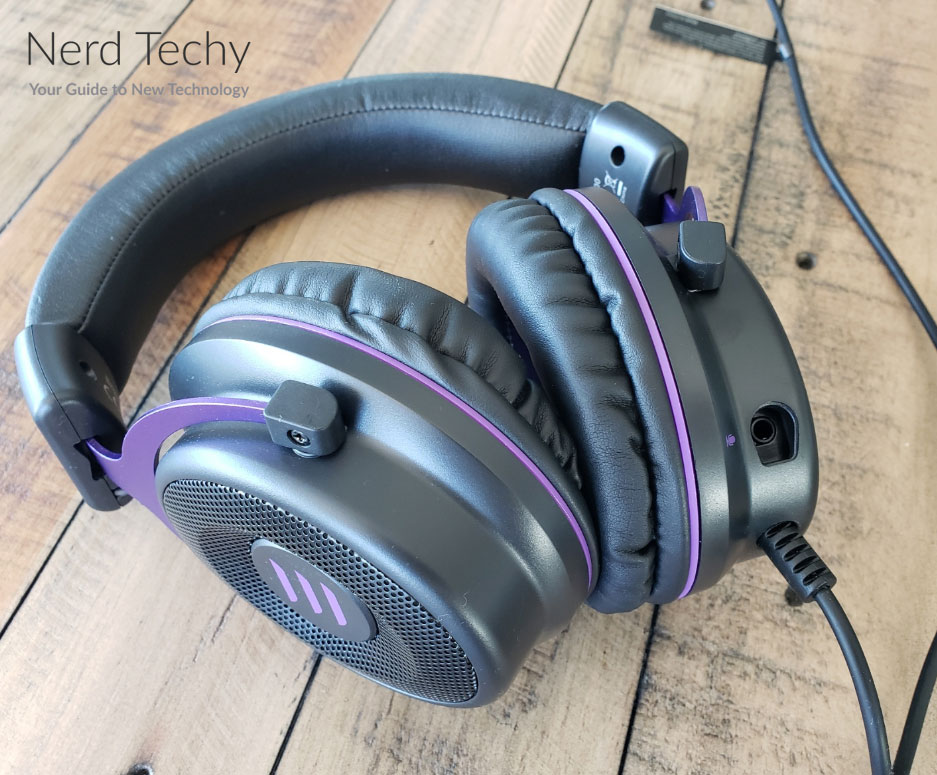 Audio Quality
The EKSA E900 sports a pair of big, 50mm drivers that can push a ton of air. You'll get plenty of volume, no matter how loud you like to crank things up. You'll also get an excellent sense of directionality. There's no simulated surround sound, but the standard 2-channel stereo works pretty well.
The audio quality is good across all frequencies. Highs are shimmery and clear, and the bass is strong without sounding muddy. The middle frequencies, meanwhile, have plenty of space in the mix. That said, there's a slight echo effect on all the audio. It's not terribly intense, but it's definitely noticeable.
If you want even richer audio, consider the EKSA E900 Pro. It's an upgraded version of the E900 with a superficially similar design. While the frame is less durable, it offers improved audio quality and better drivers. It also has a USB adapter, so you can get surround sound when you connect it to a PC.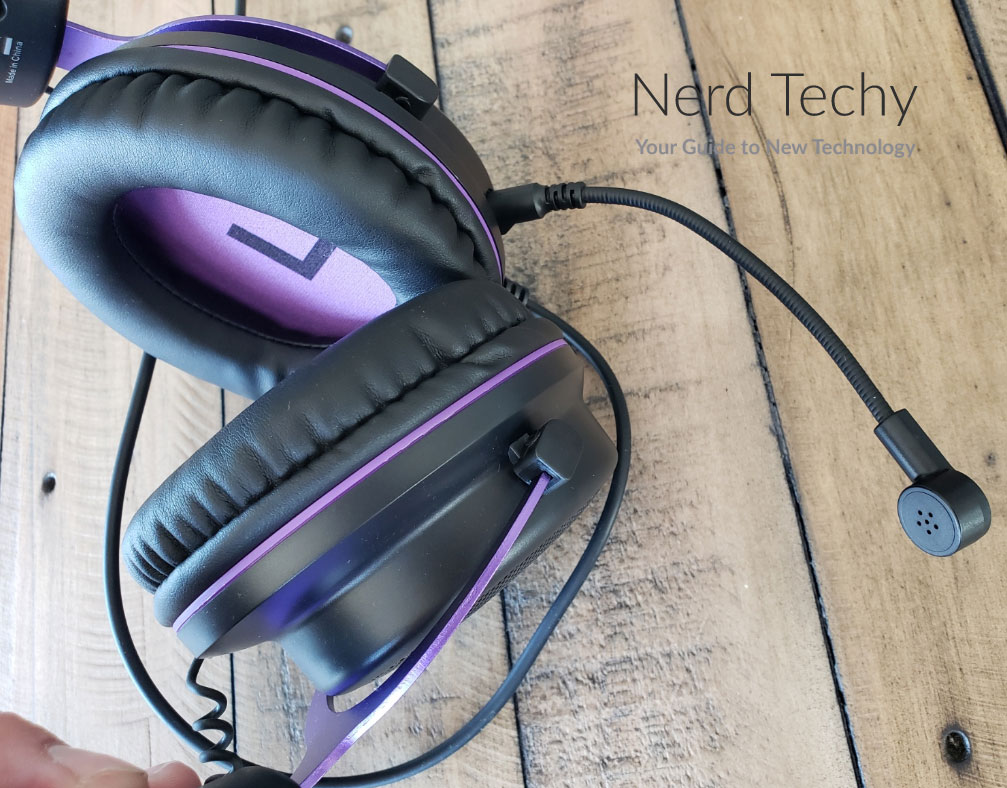 Mic Performance
The E900's boom mic is both removable and adjustable. Bend it to point at your mouth, or pull it out altogether and use your headset as simple headphones. There's a foam wind cover over the tip, which filters out breathing and other air noises.
The mic itself is also noise-cancelling. It filters out background noises like fans and air conditioners. And since it's highly directional, it won't pick most of that noise up to begin with.
Final Verdict
As you can see, the EKSA E900 (Lords Mobile) Gaming Headset is a well-designed bit of gaming gear. It's got a tough frame, comfortable ear pads, and good audio quality for the price. We also liked the noise-cancelling mic, and the gift cart is a great value for Lords Mobile players. Any issues aside, the value proposition alone makes it worth the buy.
Please consider sharing:
Note: At no extra cost to you, we may earn a commission for purchases using our links. Learn more.