EnGenius FreeStyl 2
Pros
Exceptionally long range.
Works as both a phone and a walkie talkie.
Built-in address book, call blocking, and other smart features.
Expandable to nine handsets.
Cons
Only works on a single phone line.
Batteries fail sooner than they should.
If you manage an apartment complex or another large facility, getting good phone coverage can be a pain. For instance, suppose there's a maintenance technician performing a non-emergency repair in one tenant's apartment. Suddenly, another tenant calls because their toilet is flooding. You want to get a hold of the technician and have them switch tasks, but you can't. Your ordinary phone system is only useful inside the rental office. Any further than that, and the signal dies.
Of course, there are multiple different solutions to this problem. To begin with, you could use a walkie talkie system. But these systems need to be left on all the time, which can be annoying for anyone in the vicinity. Moreover, they're not practical if you're a sole proprietor and need to be available. Suppose you manage a large warehouse space and you're often alone. If you want to be reachable when you're not at your desk, you'll need a phone that gets reception everywhere. Along the same lines, you could always insist that your employees use their cell phones. But that could put you in trouble from a compliance perspective. If employees are required to use their phones for work, you might find yourself paying for their phone plans.
A better alternative is to use a well-designed long range cordless phone. That way, you can be reachable anywhere on the property, on a company phone. We're about to review the EnGenius FreeStyl 2 Scalable Long Range Cordless Phone. EnGenius is a reliable manufacturer, and we've enjoyed their offerings in the past. We were particularly impressed with their indoor wireless access points. But let's not get ahead of ourselves. A cordless phone is a different animal altogether, with different design requirements. Let's look closer at the FreeStyl 2, and see how it performs in its natural habitat.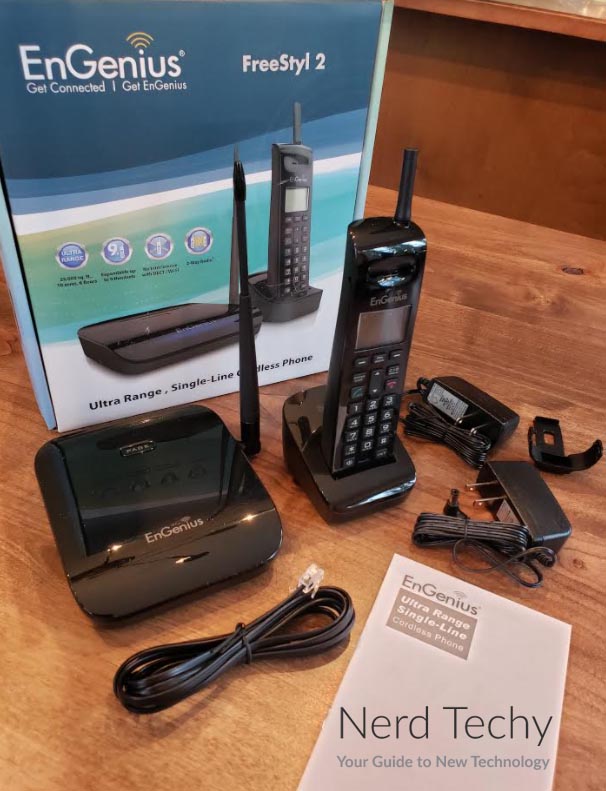 Design and Construction
The EnGenius FreeStyl 2 Scalable Long Range Cordless Phone is a two-piece unit. It consists of a wireless handset, along with a dedicated base station. Both are constructed from a glossy black plastic that's easy to keep clean and fingerprint-free. The base itself actually looks more like a wireless router than it does a part of a phone system. It's wide and flat, with an antenna that protrudes upwards from the side. This transmission and receiving technology is what allows it to communicate over long distances. There's a phone jack in the back, as well as a plug for the power supply. A barrel-style DC adapter is included in the package.
The phone is separate, with a tiny charging base that can be positioned just about anywhere. You can keep the base station out of sight, or locate it in another room altogether. The charging base is for exactly what it sounds like — only for charging. It plugs into a power supply, and not into the phone system. The handset itself is the size of an ordinary home phone, with a mid-sized LCD display. This will show you the caller ID information, and also allows you to easily navigate the phone's menus.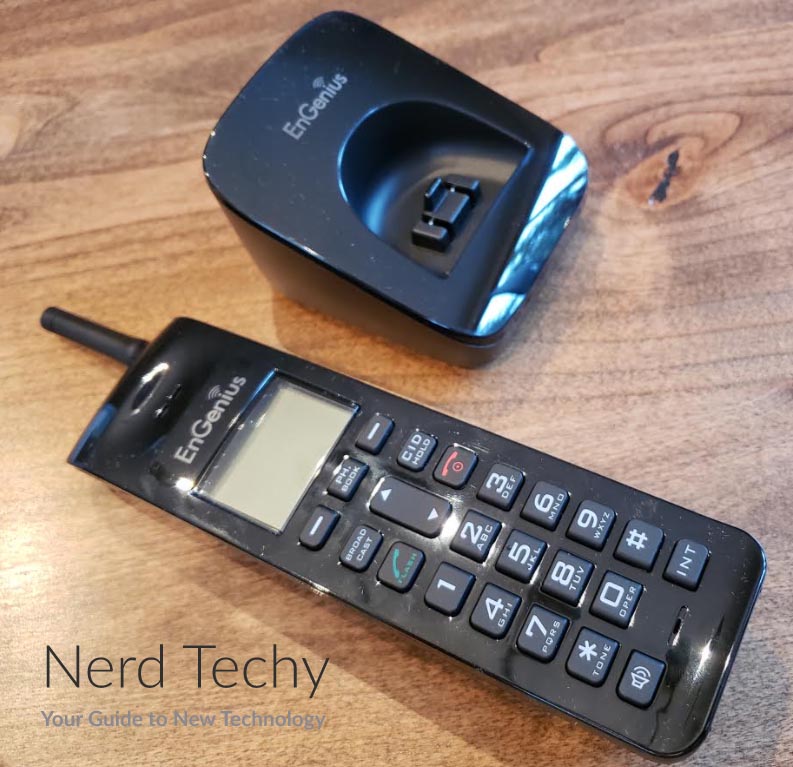 Beneath the screen, you'll see a standard array of number buttons, along with answer and end call buttons. There are also buttons for navigating the phone's menus, and for basic functions like redial. In addition, there are buttons for using intercom and walkie talkie mode. We'll talk about those specialized modes in a little bit. For walkie mode, there's a button on the side that you can use to actuate the microphone. For all modes, there's a 2.5mm headset jack. Keep in mind that this jack is sized for walkie headsets, not 3.5mm phone headsets. You can still use a walkie headset for ordinary phone calls. But if you try to use an ordinary headset, the plug simply won't fit.
Battery and Connectivity
The FreeStyl 2 is powered by an internal rechargeable lithium battery. For office use, the battery is effectively endless. The phone can simply sit in its charging base, and remain perennially topped off. If you're frequently on the move with your phone, the battery life is more variable. A lot depends on what mode you're in. Walkie mode will consume more battery life than simple phone mode. Moreover, it depends on how often you're using the phone. Are you talking most of the day and transacting business as you go? Or is the phone just with you for emergency purposes?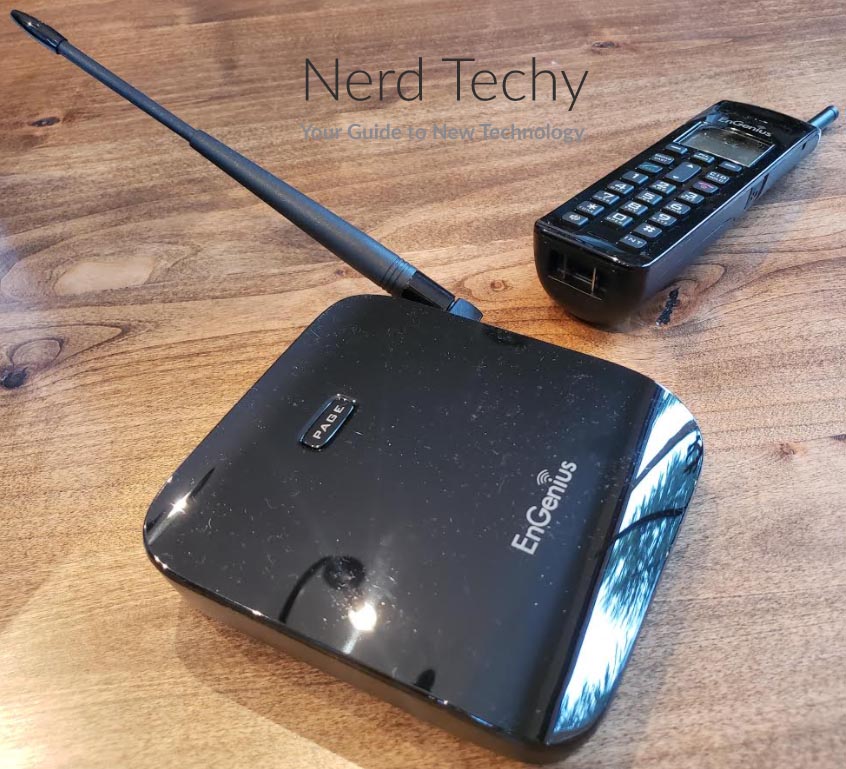 Either way, the phone will last through an entire shift. But if it's been in use the entire time, you'll want to put it on the charger. Thankfully, charging is relatively quick. A fully-drained battery will be fully powered in about two hours. One thing to be aware of is that these batteries have a limited lifespan. They hold their charge very well, right up until they don't. How long it takes for this to happen depends on use. If you're a light user, a battery can last for a year or more before the performance takes a nosedive. If you're a heavy user, they can fail in as little as six months. On the upside, replacement batteries are affordable, and are readily available.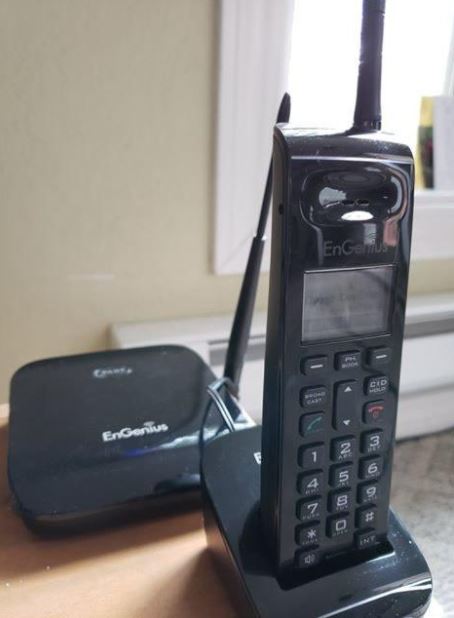 This is a single-line phone system. It's not designed or equipped to work with multiple phone lines. That might not be a big deal if you're using a single handset, but it can be confusing if you expand your system. In total, the FreeStyl 2 system is expandable to nine total handsets, with additional handsets sold separately. When connected, all nine handsets will share the same base station, with no single "master" unit. However, they will also share a single phone line, which you'll want to keep in mind. If you need a multi-line system, you'll need to install multiple base stations. Alternatively, you could use an ordinary Bluetooth-enabled cordless office phone. They have relatively short range, but they're a cheaper, better option for small offices.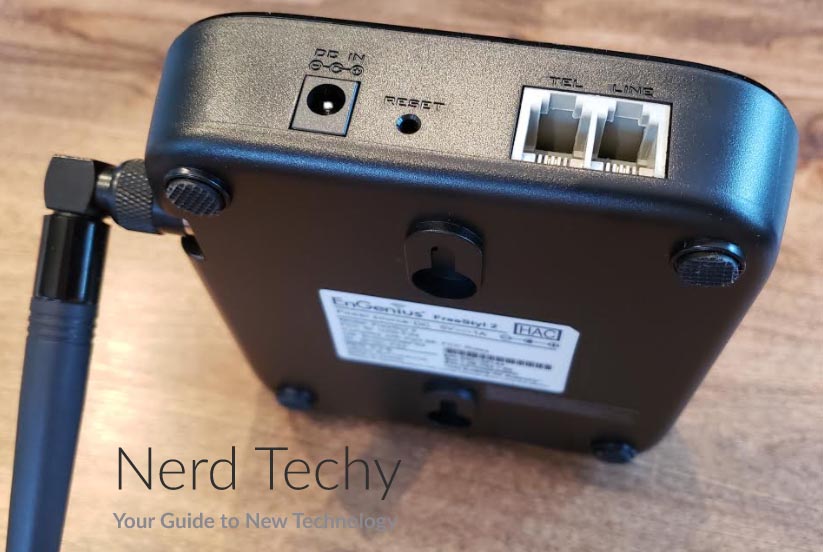 The FreeStyl 2 operates on the 900MHz frequency. This is a longer waveform than shorter 2.4 or 5GHz WiFi systems. It's even more than twice as long as "long-wave" 1.9GHz DECT systems. With these longer waves, it has a correspondingly longer range, enough to cover about 10 acres. Even in a closed building with interior walls, it can cover around 100,000 square feet. The longer waves also have better penetration than ordinary WiFi or wireless phones. In all, they can penetrate through six stories of a building, so they can even cover high-rises.
Phone Performance and Extra Features
So, how well does the FreeStyl 2 work? In most cases, it functions very well, with a range that's at least as powerful as advertised. Keep in mind, though, that this is an office phone, not a smartphone. It's not made for playing music, or even for crystal-clear voice representation. It's made to allow you to have a conversation, and for that purpose, it gets the job done.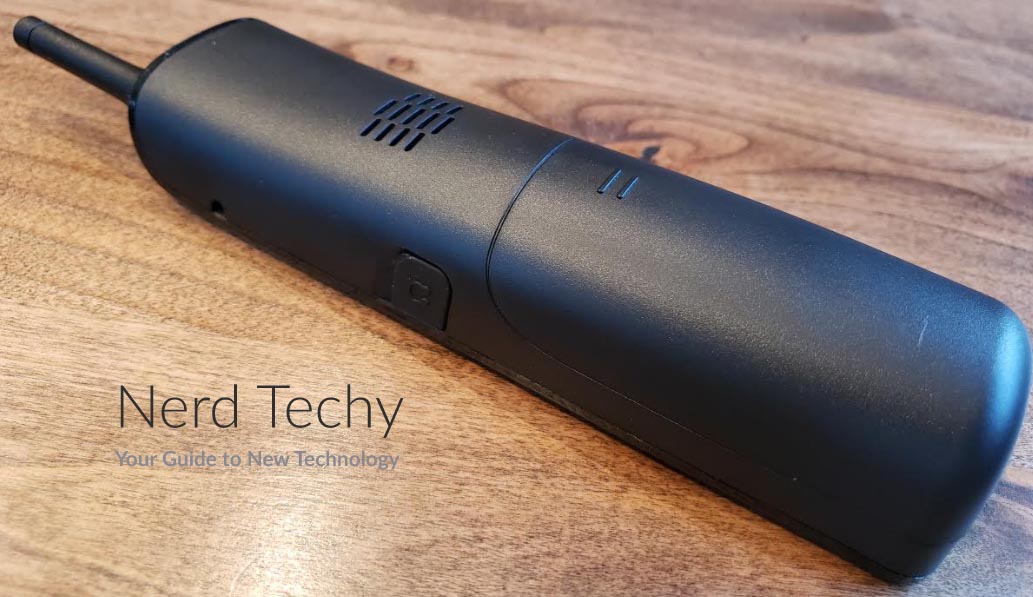 There are also a few extras that you should be aware of. The first two are fairly standard for office phones, but still bear mentioning. First, there's a speakerphone, so you can talk hands-free without a headset. This is also convenient if there's more than one person in the room and you're all on the same call. In addition, the phone's internal memory has storage for 50 local contacts. This is enough for any important business contacts, vendors, and emergency numbers, with room to spare.
Another extra that most office phones don't offer is a built-in call manager. You can block certain numbers for incoming calls. This is a great way to cut down on telemarketers and other nuisance calls. In addition, you can also block numbers for outgoing calls. If you have an employee who keeps using the phone for non-business purposes, this is a good preventative measure.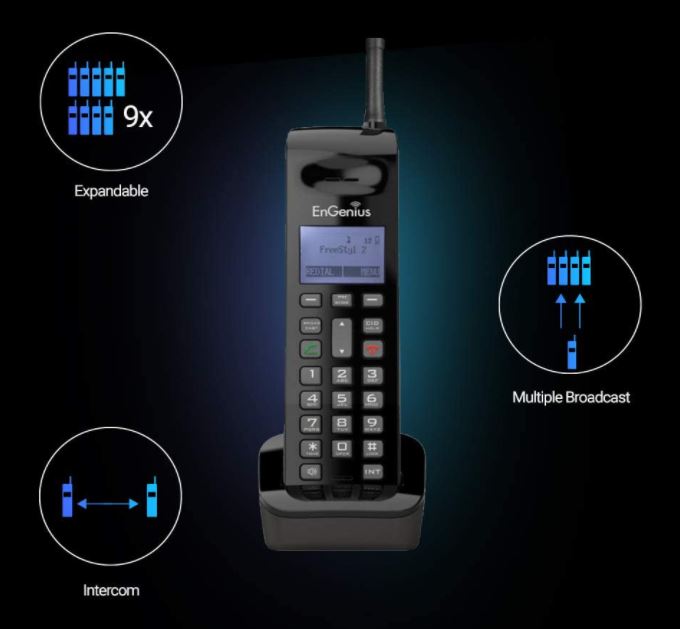 Now, let's look at those two extra modes we mentioned earlier. The first is intercom mode. In intercom mode, your phones will function as a two-way radio. It allows you to communicate back and forth between two different handsets without pressing a button. This is useful if you're collaborating remotely on a task. For instance, if one person is outside repairing a broken motor, another person can be inside researching next steps. Keep in mind that this will obviously require two handsets in order to work. There is no intercom functionality on the base station or charging bases.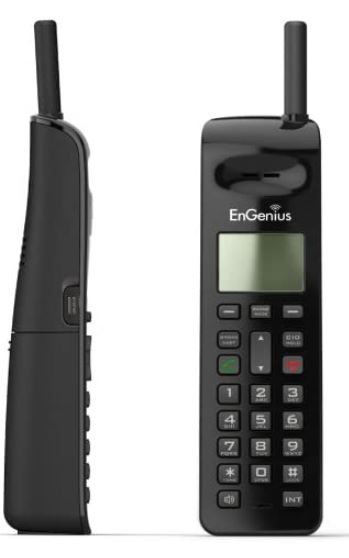 The other extra mode is walkie mode. This takes the two-way functionality of the intercom mode and extends it to multiple handsets. In walkie mode, because there are multiple connections, you'll need to hold down the transmit button to be heard. However, you can have a multi-way conversation with as many as nine FreeStyl 2 handsets. This is ideal for larger teams who need to stay in touch and take the occasional phone call. The downside of this mode is obvious. Since this is a single-line phone system, only one person can make an ordinary call at once.
Final Verdict
As you can see, the EnGenius FreeStyl 2 Scalable Long Range Cordless Phone is a powerful system. As a single phone, it allows you to roam over a wide area without losing your signal. And with multiple phones in the system, you can even stay in touch with an entire team.
Of course, this phone is not without its drawbacks. For one thing, the batteries fail too soon. We understand that lithium batteries inevitably die. But it would be nice to be able to get at least a year of heavy-duty use. We would also have liked to see some kind of multi-line capability. That said, the drawbacks fail in comparison with the benefits. There aren't many office phones that can cover 100,000 square feet and penetrate through six stories of building. If you need the most powerful phone available, the FreeStyl 2 is tough to beat.