The Bluetooth headphones marketplace is extremely competitive, but there is one niche where there never seems to be enough offers – premium headphones.
The discerning customer is looking for something that offers a little more than your standard headphones. They want something that is stylish, and made from quality materials. We're not talking just about durability here, we're talking about material design. Material design is what makes companies like Apple or Bang & Olufsen leaders in their industries. It's what enables consumers to have a connection with their devices, both in form and function.
This is especially important for audio equipment. Music is an intimate experience. It can create emotion, and transport your mind away from the reality you reside in.
There is a certain feeling you get when you hear your music through an audio device that is beyond anything you've heard before. This "wow" factor is what drives audiophiles to spend upwards of $10,000 on a new sound system. We're always on the hunt for the next piece of gear that gives us that experience. When EOZ's Kickstarter campaign for what they've dubbed "The most stylish Bluetooth earphones ever", we were intrigued. Once their Kickstarter smashed it's funding goals in record time, we knew we had to try a pair for ourselves.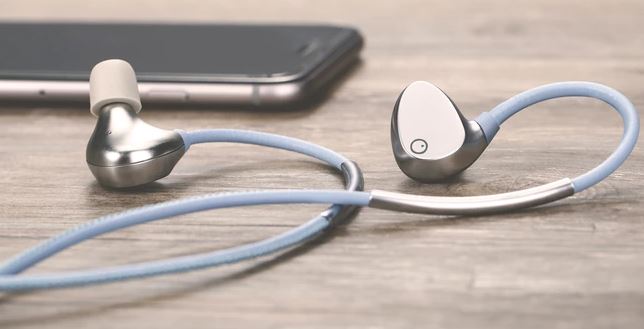 First Look
Hailing from France, EOZ was founded to develop a pair of headphones that built on the nations rich culture to create something that felt exclusive, while remaining accessible. Despite their executive appearance and premium materials, they're priced along with most mid-range Blueooth earbuds. They're a little larger than some earbuds, allowing EOZ to shove a massive 9mm driver in there. This driver was carefully engineered to provide a somewhat neutral sound signature, without reducing bass response.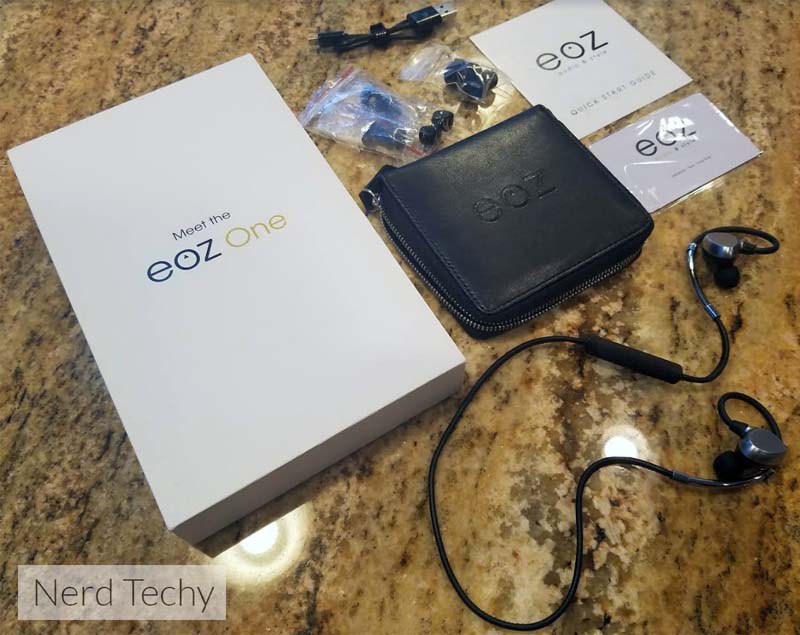 What's in The Box
When we opened our EOZ One earbuds, we were immediately impressed with the level of detail that went into these headphones. There was no plastic case to open, the box was nicely designed, akin to products that are many times it's price. The headphones themselves are stored in a zippered leather pouch with elastic ends. This makes it easy to take with you on the go, and gives a premium feel to it. There is a micro-USB cable included as well. Even though it's just a simple cable, the EOZ branded plugs and fabric-wrapped cable make it one of the nicer ones we've used.
Lastly, you're given two sets of earbuds. There are rounded silicon ones, providing a gentler fit. Alternately, you can use the squared off memory foam tips. These are still quite comfortable to use, but provide almost complete noise isolation. Some consumers will appreciate this, but it's not for everyone. Personally, we're a fan of the memory foam inserts. We've often purchased these aftermarket as an upgrade. Now that you've got the choice, you'll be able to find out which style best suits your needs.
Design
For many, this will be the main selling point of the EOZ One. With the earbuds themselves coated with an aluminum finish, they certainly catch the eye. The earbud housing has a smooth finish to it, while the most visible face has been brushed to give it a slightly more rugged appearance. Although the effect is subtle (you can only really see it in a certain light,) we found it to be the most remarkable design element. You won't believe it when you hold it in your hand, but they're actually plastic. This is what they call "nano-coated ABS." ABS is a type of ultra-durable plastic that is commonly used for pipelines. The nano coating is a thin layer of metal that surrounds it. You get the look and feel of metal, with the durability and the appearance of metal.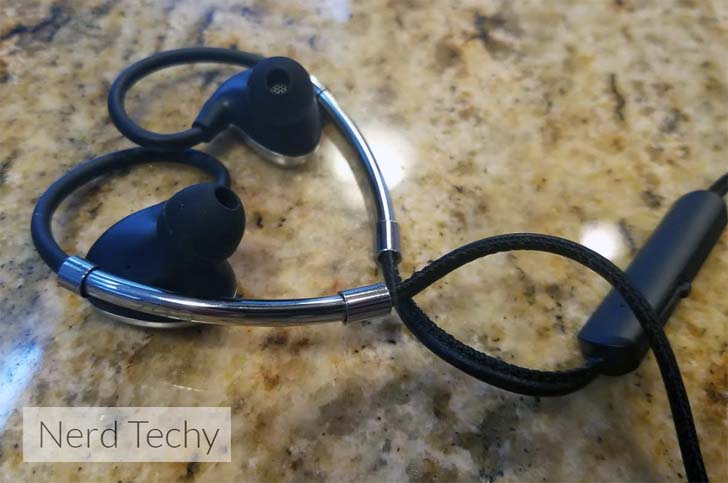 Attached to the earbud is a two-piece clip. The first part is a soft yet bendable cord, with a rigid internal core. This loops behind the ear and holds the earbud in place. As it travels behind your ear, the bendable material transitions into an aluminum guide. The slight weight acts as a counterweight to the earbud, helping it to stay firmly in place. EOZ made it a little longer than necessary, so you can see it just poking out behind the ear. It almost feels like a piece of jewelry, but the effect is subtle enough that it still feels unisex.
The cable itself was another surprise for us. We're used to seeing threaded cable in premium headphones, but this is one of the first we've seen with a leather cable. The cable is consistent across all models, but there are three different color options to choose from. Our personal favorite is the "Noir Edition." This one features chromed clips and a black earbud. The Classic edition stands out a little more, with chromed earbuds to match the clips. Finally, the Noir & Gold edition is a mix between the two. The silver clip has been replaced with a faux gold material, and the earbuds are the same black finish as the Noir edition.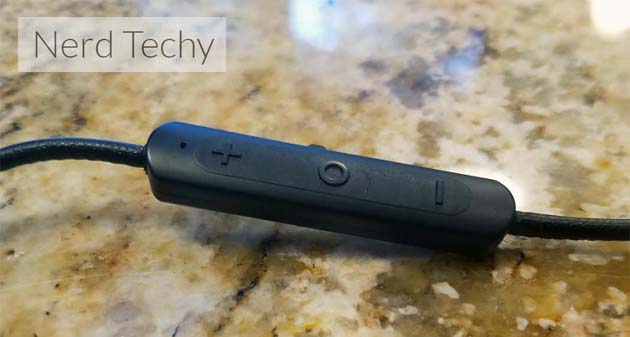 Controls
Including controls for voice and music is becoming commonplace with Bluetooth headphones. On the EOZ One, they're located just behind the right ear. They are similar to what's included with most phones – a rectangular enclosure with a total of three buttons. On the top and bottom, you've got the + and – buttons. A quick press increases or decreases the volume, while a long press changes the track. In the center is a single circular button. When music is playing, this will stop and start the music. If a call comes in, you can tap it once to answer the call, and tap it again during a call to hang up.
Sound Quality
With any premium audio device, the sound quality is the one true defining feature of any pair of headphones. With support for dual-mode Bluetooth 4.1, we knew that these headphones wouldn't suffer from compression loss. But what we weren't sure about was now the 9mm driver would perform. This isn't the largest driver on the market, but it's still larger than most. What separates this driver from others is the near-flat response curve. Typically, headphones have a more stylized response. They might add a little more kick to the bass, or increase the highs to make low quality drivers sound a little clearer. But this response is one of the flattest we've seen. This is a common choice for studio headphones, as audio professionals have to have the most accurate response possible.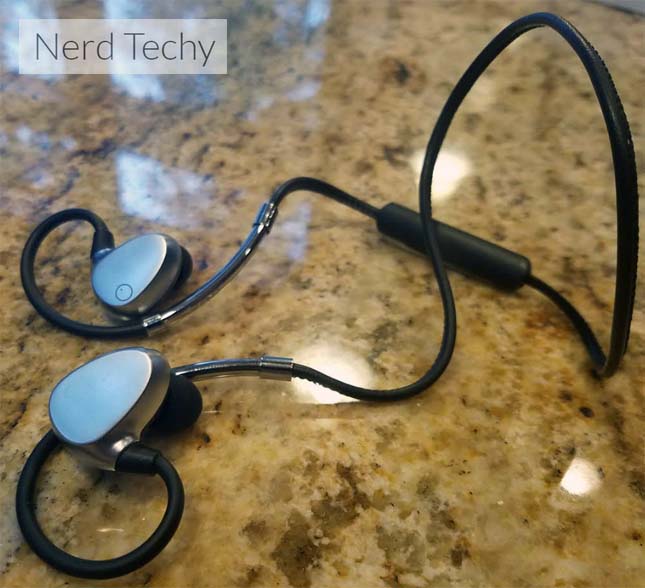 How does it sound? We have to admit, it took us a little while to get used to. We're used to a slamming bassline that immediately draws you into the song, or the crash of drums slamming their way into our heads. The EOZ Noirs sound a little more reserved. But after listening to a few of our favorite songs, we realized how powerful a flat response curve can be. Fine details that we had never heard before emerged from songs that we thought we knew very well. Bass was less like an explosion, and more like a precisely engineered accent to the remainder of the song.
This sound might not be what everyone is looking for. If you're a fan of Beats headphones or have 24" worth of subwoofers installed in your car, you might find these a little lacking. But a flat response curve is heavily sought after in the audiophile community, and the EOZ One's showed us why. This sound is for anyone who truly loves music, and needs something that can take their appreciation for their favorite tunes to the next level.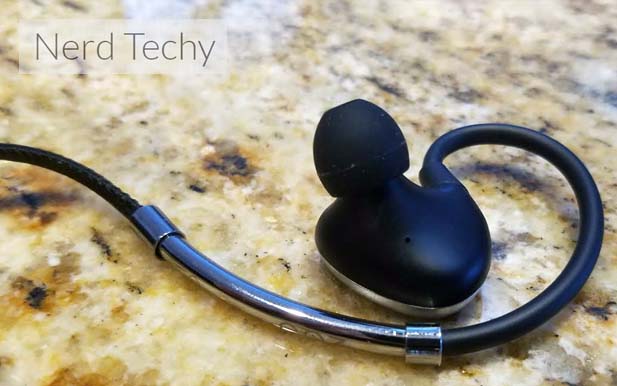 Functionality
There are a few key features that make the EOZ One's a solid pair of all-around headphones. The most important was the battery life. The headphones take up to 1.5 hours to charge, but can last for up to 9 hours. If you're a heavy listener, you might have to charge them every day. But for us, once every 4 days was enough to get us through our daily commute. If you do happen to run out of battery while you're on the go, the included OTG adapter allows you to plug the earbuds into your cellphone to charge them. The total battery capacity is only 100 mAh (50 in each ear), so most cellphones can charge them many times. For reference, the iPhone 7 has almost 2000 mAh of capacity, so a full charge is only 5% of your phones battery.
The headphones have also earned the IPX4 certification. This is a regulated test that determines how much environmental exposure an electronic device can withstand. IPX4 is entry level, so it's not in the same ballpark as industrial grade equipment. But this means that it can withstand dust and moisture. You won't have to worry about sweat when you work out, or dust in the air.
Final Verdict
Wondering if the EOZ One's are right for you? For the price, they offer a pretty amazing experience. The packaging and build quality will make you feel like you paid many times the price, and the flat response curve is an excellent choice for anyone who loves the organic, acoustic sound of a properly tunes pair of headphones.
Are they the best on the market? We wouldn't say so. Headphones are a very subjective purchase. What works well for one person won't work for another. They've got a great balance between fashion and quality, but they won't be for everyone. If you're looking for a pair of clip-on earbuds that have improved bass response and durability, you might want to consider the Sony MDR-XB80BS. These earbuds have a much more engaging sound, making them better suited for active use.
Meet Derek, "TechGuru," a 34-year-old technology enthusiast with a deep passion for tech innovations. With extensive experience, he specializes in gaming hardware and software, and has expertise in gadgets, custom PCs, and audio.
Besides writing about tech and reviewing new products, Derek enjoys traveling, hiking, and photography. Committed to keeping up with the latest industry trends, he aims to guide readers in making informed tech decisions.