Overall Design -

9/10

Battery Life -

7.5/10

Connectivity -

9.5/10

Performance -

9/10
Summary
The Epomaker RT100 offers a compelling blend of form and function. This keyboard excels in versatility, satisfying both the aesthetic and performance cravings of users. With exceptional build quality, customizable options, and multi-device compatibility, it's an easy recommendation for anyone looking for an upgrade.
Pros
Exceptional build quality
Highly customizable features
Versatile connectivity options
Integrated Smart Mini TV
Cons
Proprietary software learning curve
Fussy Smart Mini TV installation
Welcome to our hands-on review of the Epomaker RT100, a keyboard that successfully merges retro charm with modern features.
Whether you're in the market for a typing device that offers a rich set of features or you're a keyboard enthusiast, stick around. Here's what we've discovered.
Unboxing: What's Included
Upon tearing open the packaging, you're greeted by more than just a keyboard. Inside the box, you'll find:
The Epomaker RT100 Keyboard
An instruction manual to help you get started
A keycap puller for easy customization
A super hefty USB A-C Cable
2.4G Dongle (USB-A Connector)
Mini TV component
What's particularly interesting is the Mini TV, a unique component you don't come across every day. It's a harbinger of the numerous surprises the unit has in store.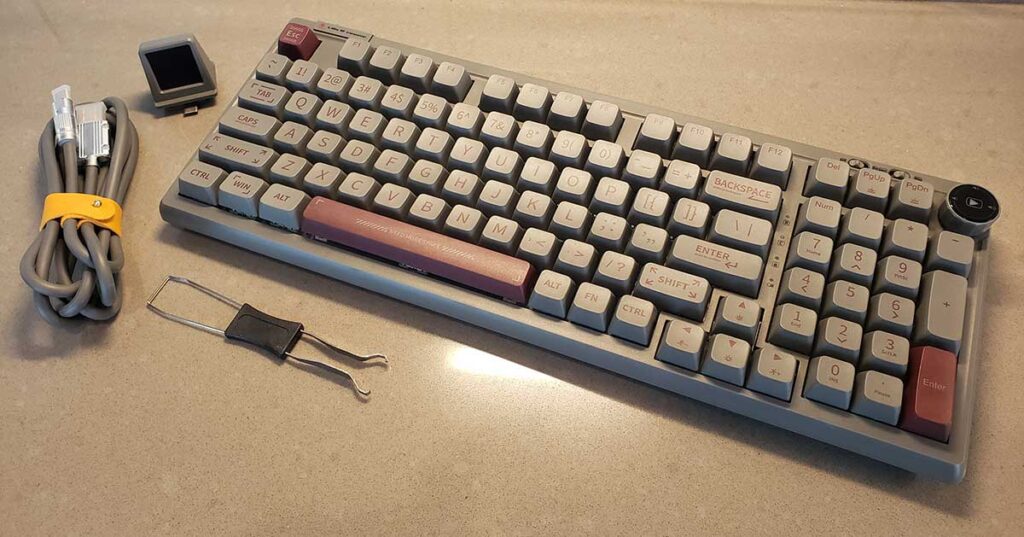 First Impressions
First impressions can set the stage, and with this keyboard, it's immediately clear you're not dealing with a mundane piece of tech. Its weight of 3.29 pounds and dimensions of 12.99 x 4.57 x 0.98 inches speak volumes about its sturdiness and thoughtful design.
Now, let's talk build quality because that's where this keyboard really shines. It's got an ABS plastic case that's as solid as they come but not at the cost of looking like a relic.
The PBT plastic keycaps are designed for durability and long-lasting legends, so don't expect the characters to wear off anytime soon.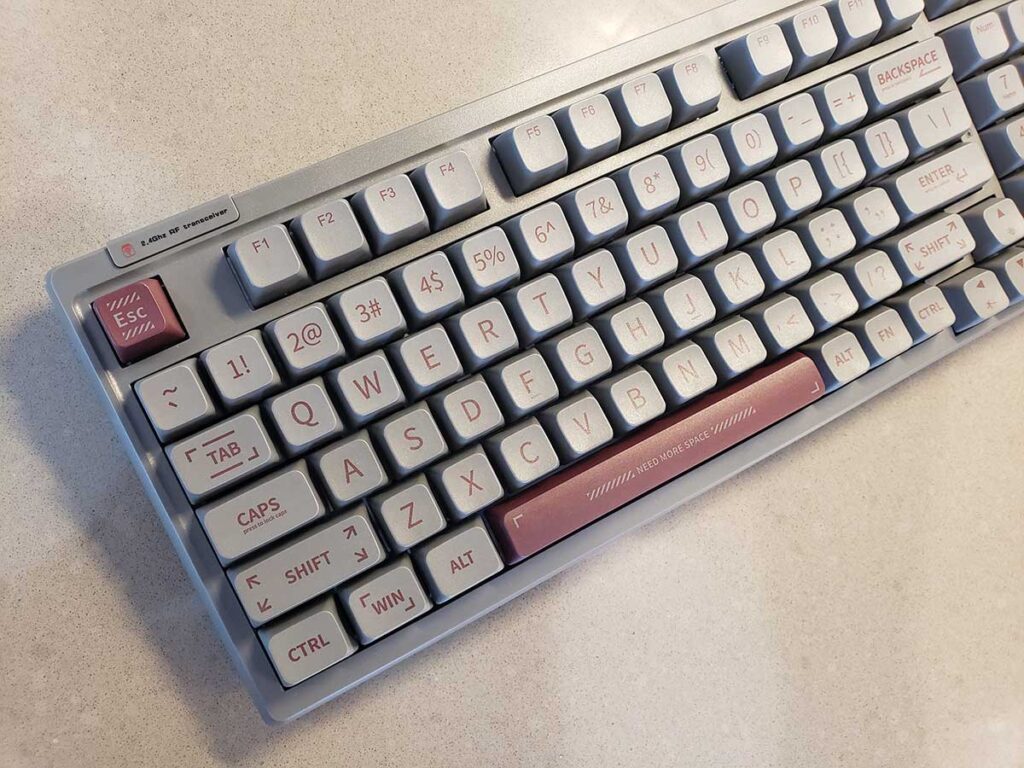 And we can't overlook the FR4 plate, a significant contributor to its structural integrity. As for the foam gaskets and sheets, they're not just there for show; they contribute to the device's robustness and play a pivotal role in the overall typing experience.
So yes, this keyboard bridges the gap between contemporary chic and vintage charm, making it a versatile option whether you're a tech-forward individual or have a soft spot for the classics.
After this first encounter, it's hard not to be intrigued. But as with any piece of tech, the devil is in the details, or in this case, in the features and performance.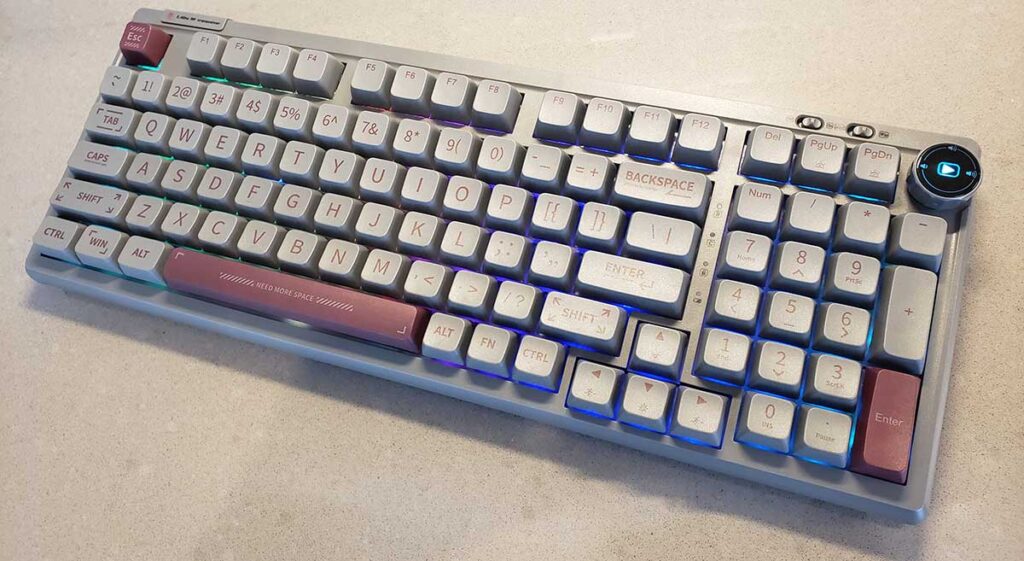 Mechanical Key Switches
When it comes to mechanical switches, the Epomaker RT100 has its bases covered, providing you with options to suit a plethora of typing preferences. The main highlights are the Epomaker Sea Salt Silent switches and the tactile Gateron Pro Yellow switches.
Our rigorous testing demonstrated the Sea Salt Silent switches offer a low-noise experience, making them a prime choice for office settings where a cacophony of key presses might not be well-received.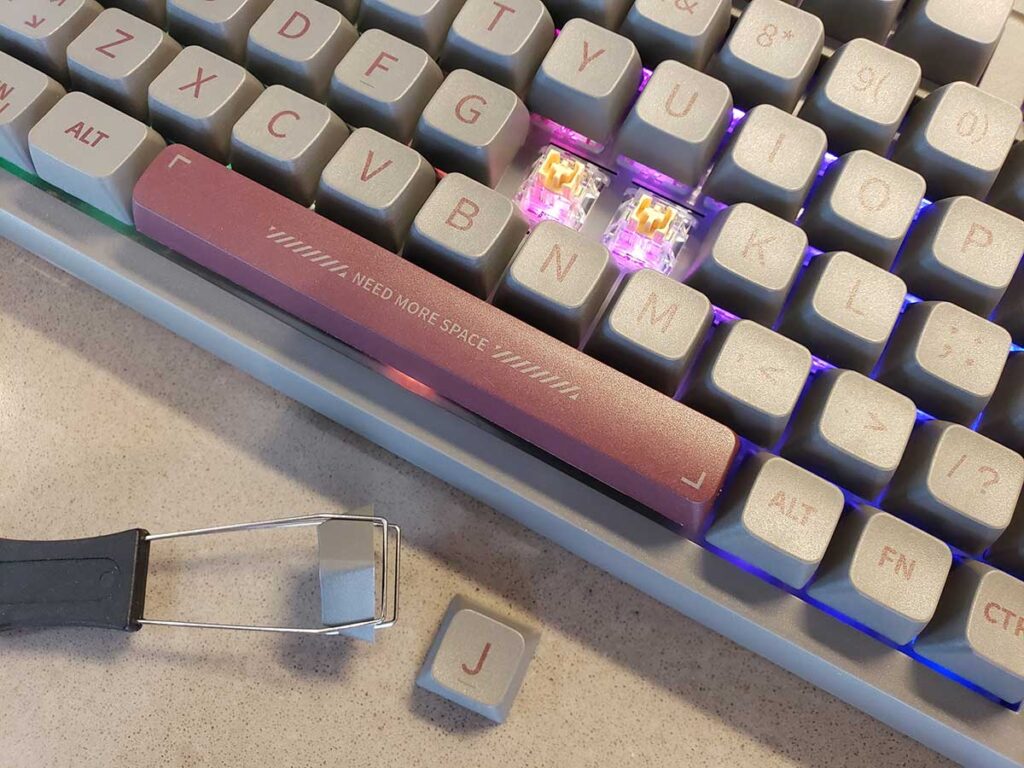 These switches deliver the famed "thock" of linear keys but do it with a whisper, not a shout. Gateron Pro Yellow switches, however, are all about tactile satisfaction. These are your go-to if you're gaming or tackling high-intensity typing tasks that demand feedback you can feel.
These switches provide zero latency, ensuring every key press counts whether you're in the heat of battle or just fervently typing away to meet a deadline.
When it comes to performance, this keyboard is near the top of the list of mechanical keyboards we've evaluated. It doesn't just talk the talk; it walks the walk. The gasket mount plays a notable role here, working in tandem with the selected switches to give you a balanced, responsive experience.
Compact Layout and Multi-media Knob
A feature that often gets relegated to the background is the multi-media knob, but here, it stands out. Attached to this 1800 Compact layout – a rare form factor in the keyboard world – the knob doesn't just control your volume and media playback. It opens up an entire range of utilities, making it an indispensable feature for daily use.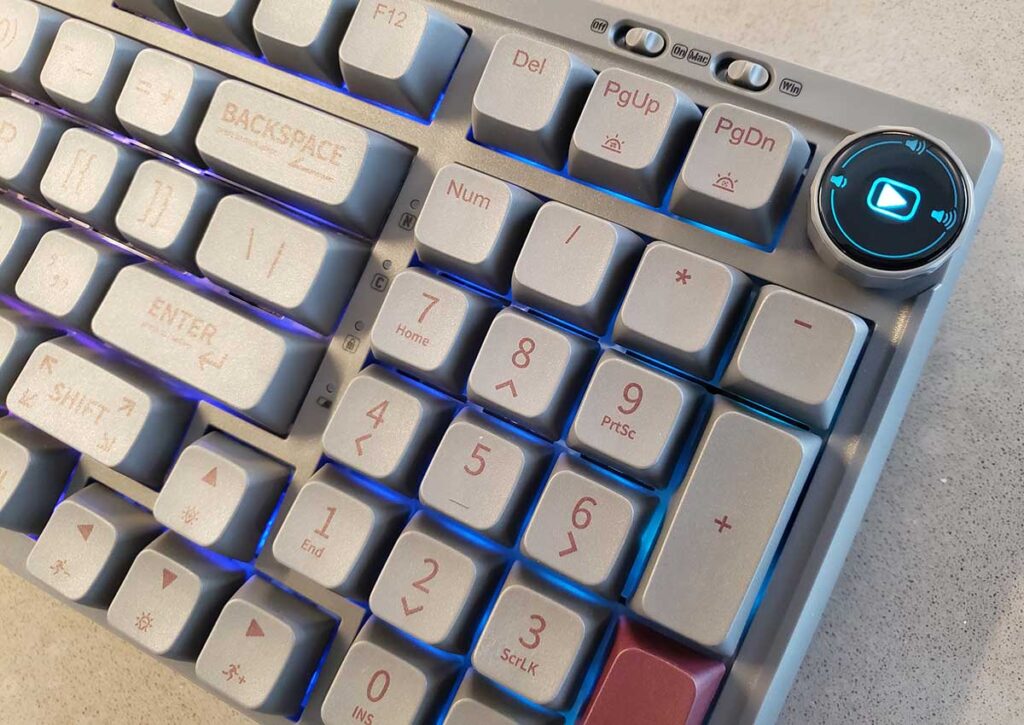 During testing, we found that the knob could be repurposed for various tasks. From scrolling through dense articles to seamlessly navigating between tabs, this little dial adds a layer of ease to your operations.
It would be a disservice to not mention how the keyboard performs across the board. Whether it's the reliability of three connectivity options or the tactile satisfaction of the keys, the Epomaker RT100 consistently delivers a high-performance experience.
The inclusion of class-A Kailh sockets adds to its durability and allows for hot-swapping switches. This essentially means you can switch out key switches on the fly, providing unmatched customization potential.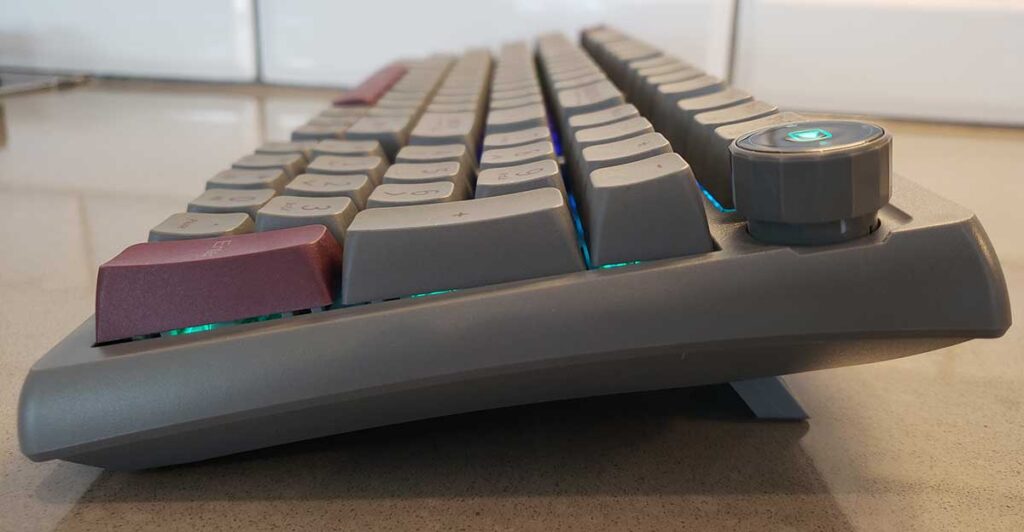 Moreover, the keyboard is designed with convenience in mind, thanks to features like the on/off switch for toggling between wireless or Bluetooth to wired connections.
Then there's the Mac and Windows toggle and other function shortcuts, making everything easily accessible from the top-right corner of the unit. Even the Smart Mini TV's USB-C port has a dedicated garage, ensuring you won't misplace or damage the connection.
Customizable Smart Mini Display/TV
When it comes to unique selling points, the RT100's Smart Mini TV is undoubtedly a front-runner. Now, if you're imagining a shrunken TV screen awkwardly attached to a keyboard, let's clarify.
While it certainly looks like that, it's actually a mini display that serves multiple purposes, all without making your setup look like Frankenstein's workstation.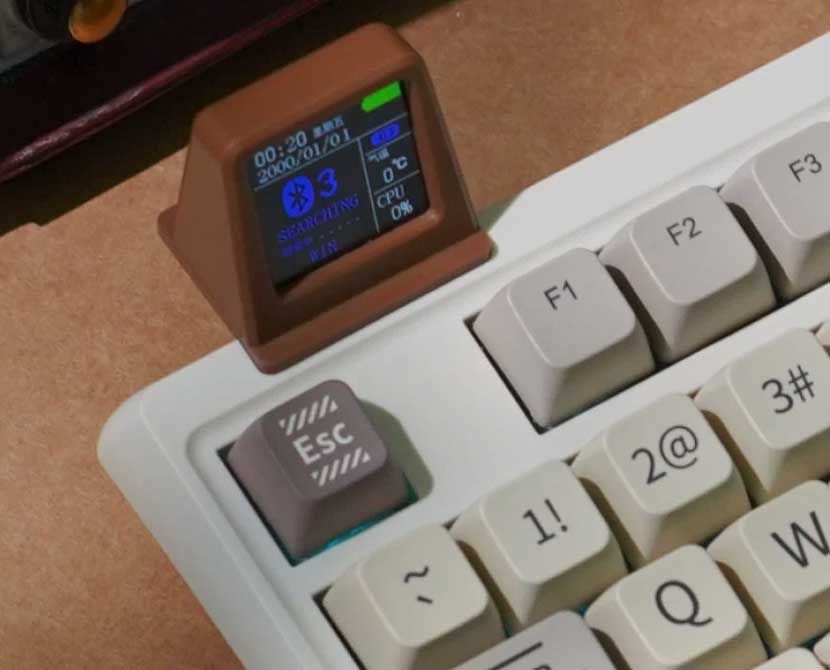 Epomaker clearly went to great lengths to differentiate this keyboard. The Smart Mini TV isn't just a gimmicky add-on; it's a feature that has been thoughtfully integrated into the keyboard's design.
Whether you want to keep track of time, the built-in 5000mAh battery level, or even the day's weather forecast, this customizable mini display has you covered. It's like having a compact command center built right into your keyboard.

Now, let's talk about installation because it comes with a small catch. The Smart Mini TV is designed with a deep port that requires a firm connection. You'll need to insert it all the way until you hear a decisive click.
Skip this step, and you might wrongly conclude that you've been shipped a lemon. It's a small but crucial detail that deserves your attention during the setup process.
Once properly installed, the Smart Mini TV elevates your keyboard experience, putting a wealth of useful information and customization possibilities right at your fingertips.
Connectivity
In today's interconnected world, options are key. The RT100 serves up a generous trio: Bluetooth 5.0, 2.4G wireless, and Type-C wired connections. During our comprehensive testing phase, each mode of connection pulled its weight.
Bluetooth 5.0 particularly impressed us with its ability to maintain simultaneous connections with up to three different devices – ideal for anyone juggling work across multiple platforms.
Not to be overshadowed, the 2.4G wireless connection was equally reliable, providing a stable link throughout our tests. A bonus? The unit has been designed with enough room to accommodate future upgrades to the 2.4G wireless receiver.
The Type-C wired connection, meanwhile, offered the kind of steadfast, no-nonsense performance you'd expect. This makes the RT100 flexible enough to adapt to whether you're prioritizing convenience or stability for your current task.
Ergonomics
A keyboard should not only meet the demands of your job but also those of your anatomy. The RT100 checks both boxes and then some. The gasket-mounted design offers a notably plush, responsive typing experience.
We put it through an extended typing session, and our wrists and shoulders came out the other side without any signs of strain or fatigue. This level of comfort is further enhanced by the two-stage feet.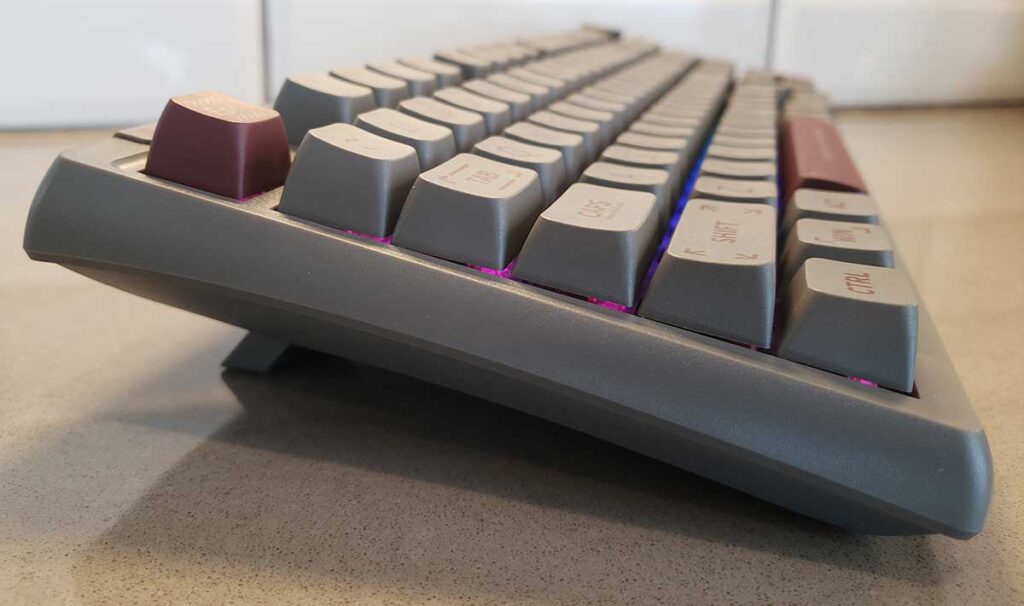 Wrapped in silicone, they are adjustable to suit different typing angles, helping you fine-tune your setup for optimum ergonomics.
The keycaps are designed with an MDA profile, another thoughtful feature that promotes a healthier angle for your wrists. All these elements combined to provide a typing experience that felt like a collaboration between man and machine rather than a contest.
Software Customization
The RT100 excels in the customization department thanks to its robust proprietary software. The user interface is accessible even for those who aren't exactly tech-savvy, allowing for in-depth customization.
During our tests, we found that remapping keys was a breeze, and setting up macros was equally straightforward. This opens up a world of possibilities, whether you're a coder looking to streamline your workflow or a gamer aiming for quicker in-game actions.
The software also offers a versatile suite of backlight effects to match your aesthetic preferences. And it's not just about choosing from pre-set options; you can actually design your own backlight animations.
In short, this unit offers an extraordinary range of customization features, solidifying its status as a versatile powerhouse in its category.
Anti-Ghosting Technology
Anti-ghosting technology is the unsung hero for anyone who relies on complex key combinations. Think about those critical moments in gaming where you're simultaneously dodging an attack, reloading your weapon, and issuing squad commands.
In our hands-on testing, the keyboard held up exceptionally well, registering each key individually, even in fast-paced gaming scenarios.
That's not just impressive; it's game-changing. This sort of flawless performance ensures that you'll never have to blame a lost game on your hardware ever again.
South-Facing RGB Backlights
RGB backlights on a keyboard have become something of a staple, but it's the execution that counts. The RT100 does this beautifully with south-facing LEDs that minimize shadowing and interference with keycaps.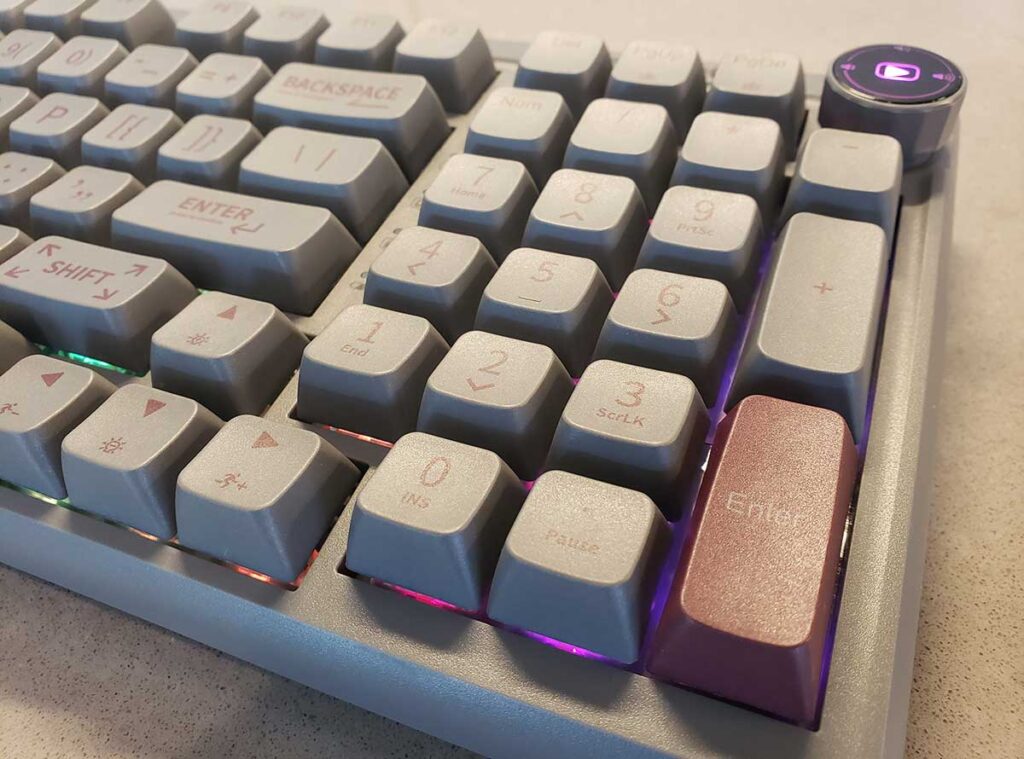 During our tests, we cycled through more than 16 default lighting patterns. Whether you're in the mood for something low-key or looking for a dynamic light show that moves to the rhythm of your keystrokes, this keyboard has got you covered.
What sets this apart is the balance – it's bright enough to make each key visible in low light conditions yet subtle enough not to distract during intensive tasks.
Compatibility and Battery
While it's standard for keyboards to be compatible with Windows and MacOS, the RT100 takes it a step further by extending its reach to iOS and Android.
This opens up a world of opportunities, like smoothly switching from your main workstation to your tablet and even to your phone, all without breaking a sweat. The transition between different operating systems was smooth and required minimal setup.
This feature sets the device apart from others that limit you to a single ecosystem, making it a versatile choice for users who work across multiple platforms. Lastly, we want to mention the battery.
Armed with a 5000mAh battery, you can expect extensive use here. Of course, it'll depend on your usage level, but you should be able to get around 12 hours in 2.4 GHz wireless mode when using the LEDs. If you're going wireless via Bluetooth, expect around 16 hours.
Final Verdict
The Epomaker RT100 offers a compelling blend of form and function. This keyboard excels in versatility, satisfying both the aesthetic and performance cravings of users.
With exceptional build quality, customizable options, and multi-device compatibility, it's an easy recommendation for anyone looking for an upgrade.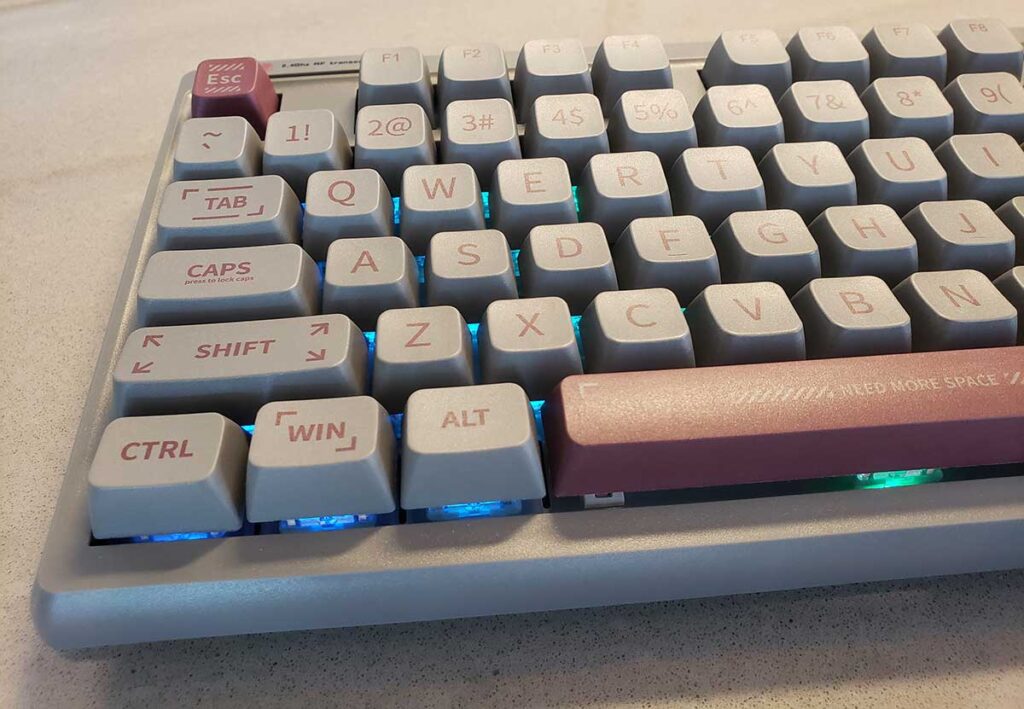 Meet Derek, "TechGuru," a 34-year-old technology enthusiast with a deep passion for tech innovations. With extensive experience, he specializes in gaming hardware and software, and has expertise in gadgets, custom PCs, and audio.
Besides writing about tech and reviewing new products, Derek enjoys traveling, hiking, and photography. Committed to keeping up with the latest industry trends, he aims to guide readers in making informed tech decisions.