If you're in the market for wireless earbuds, one thing's for certain: there's no shortage of option. Particularly at this time of year, when dozens of manufacturers have just dropped their latest and greatest products. Thankfully, we're here to help you sort out the wheat from the chaff. We're about to review two of the most popular new earbuds of 2019. We'll be looking at the Focustone True Wireless Earbuds, a lightweight option with a surprising number of features. Next, we'll be reviewing the AMINY U-Winner True Wireless Earbuds. We'll tell you what we liked, what we didn't like, and how these two earbuds compare.
Focustone True Wireless Earbuds
The first thing we noticed about the Focustone True Wireless Earbuds is how incredibly lightweight they are. Each bud weighs only 4 grams, or about 0.14 ounces. The buds themselves are small black ovals, designed to sit in the hollow of your ear. They're constructed from matte black ABS plastic, with small LED indicators to let you know they're charging. On the back of each earbud, you'll find a soft-touch button that performs a variety of functions. Between both earbuds, you can play or pause music, skip tracks, answer or end calls, and activate your voice assistant.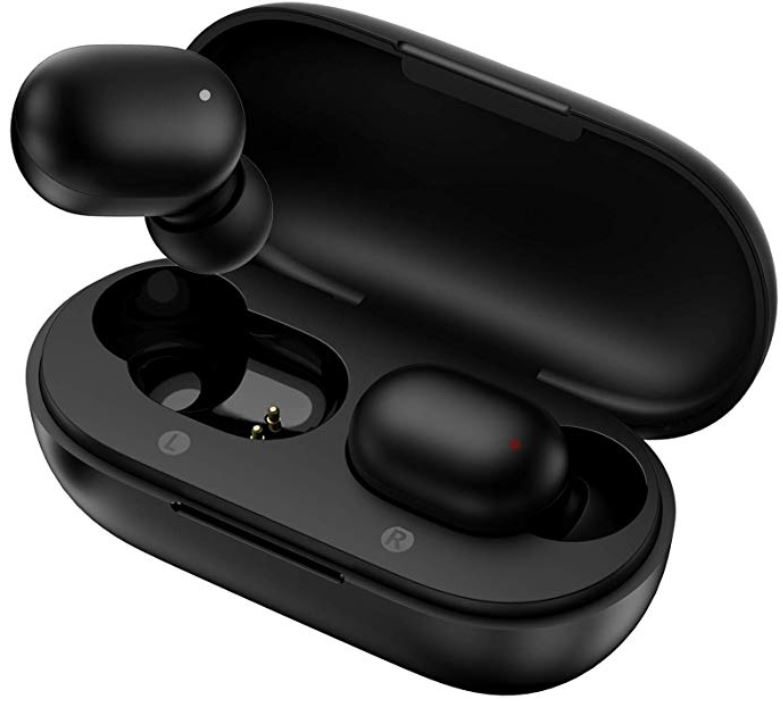 The Focustone earbuds include 3 extra sets of black silicone ear tips. They're all different sizes, so you can mix and match to find the pair that gives you the most secure fit. The earbuds themselves are IPX5-rated for water resistance. This means they'll stand up well to sweat and rain, but they're not good for immersion or showering.
The clamshell-style charging case is manufactured from a matching ABS plastic. It's not magnetized, but the hinge is spring-loaded. This keeps it securely closed, even if it's in your pocket, backpack, or laptop bag. The overall size is fairly compact, at 3.8 inches in length, 1.7 inches in width, and 1.2 inches in thickness. It weighs only 2.47 ounces, so you'll barely even know you're carrying it. It charges via micro USB, with a small, discreet port located on the back. There's a micro USB cord included with the kit, but it's only about 18 inches long. Unless you're right next to a PC or AC adapter, you'll want to use a longer cord. That said, the Focustone earbuds do come with a 12-month manufacturer's warranty. Even better, there's a 30-day money back guarantee. If you decide you don't like them, you can send them back, no questions asked.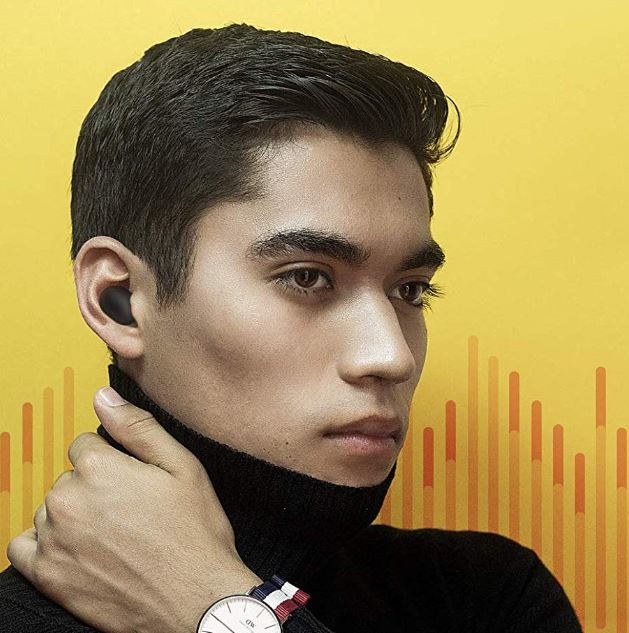 For an even more secure fit, as well as better battery life, why not consider a hybrid set of earbuds? We recently reviewed the Rock Space (B2 Fancy). These earbuds connect to a flexible neck strap that doubles as a battery pack, which makes them difficult to drop.
Battery & Connectivity
The Focustone earbuds provide 4 hours of playback on a single charge. To extend their performance even further, you can recharge them 4 additional times with the charging case. This will provide an additional 16 hours of playback, for a total of 20 hours. As always, this is a manufacturer's rating. Your actual performance will depend on volume, bitrate, and how many phone calls you make. Still, even a conservative estimate of 16 total hours is more than enough to get you through a weekend.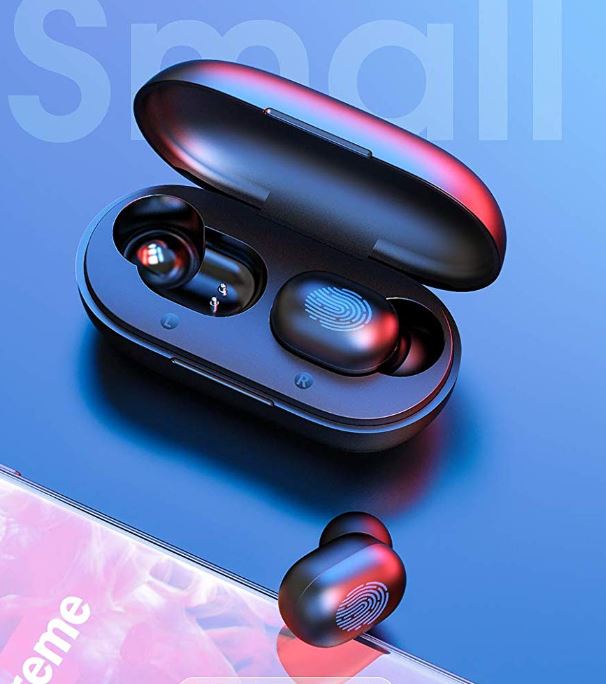 Focustone's True Wireless Earbuds use the latest Bluetooth 5.0 protocol. They have a range of about 33 feet, with virtually zero latency or lag. The connection is also very stable. You won't have to worry about losing your music – or your phone call – just because there's a lot of interference. Pairing for the first time is quick and painless. From then on, every time you remove the earbuds from the case, they will automatically pair.
If you only remove a single earbud, you'll be able to use either the left or right channel individually. However, this can sometimes cause problems with re-syncing the pair. If this happens to you, turn both earbuds off, and return them to the charging base. Delete both earbuds from your phone or MP3 player. Next, remove them from the case, and hold the touch control buttons until the LED light blinks three times. This takes about 20 seconds. Return both earbuds to the case, wait for 10 seconds, and re-sync them. That seems to solve the problem.
For even longer battery life, consider the Anker Soundcore Life P2. They offer an impressive 40 hours of performance, so you can take them on the road without any battery concerns.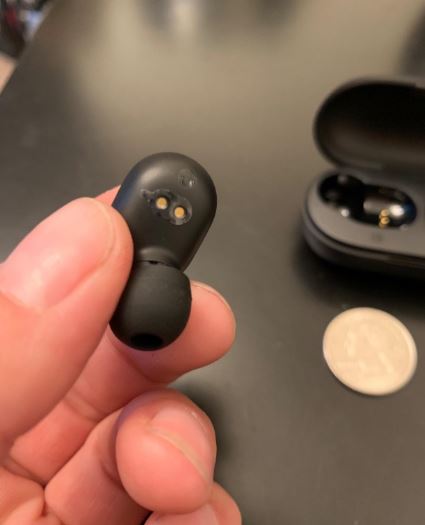 Sound Quality
The sound quality on Focustone's earbuds is reasonably good for the price. The highs are crisp and the mids provide clear, clean vocals. There's plenty of separation in the mix, so nothing crosses over or gets muddy. Focustone also provided a noticeable boost to the bass. It's not so much that there's rattling or distortion, but it's noticeably punchy. All in all, you'll get excellent performance, regardless of what genre of music you prefer.
These earbuds use DSP intelligent digital noise cancelling. That's not a music feature. It's a phone call feature. With DSP, your voice will come through clearly, and background noise will be noticeably muted. This makes it easy to talk when you're in a crowded area. Focustone earbuds also support all major smart assistants. They're as close to 100 percent hands-free as you'll ever see.
AMINY U-Winner True Wireless Earbuds
The AMINY U-Winner True Wireless Earbuds have an unusual design. In addition to the ear tip, there's a rubber flap at the top of the bud, and a plastic stud at the bottom. These aren't just cosmetic quirks. They're designed to keep the U-Winner secure in your ear canal, even during exercise and other intense physical activity. The uniquely-shaped buds are constructed from glossy black ABS plastic. Inside, just above the ear tips, are rows of 4 green LED lights that indicate the battery level.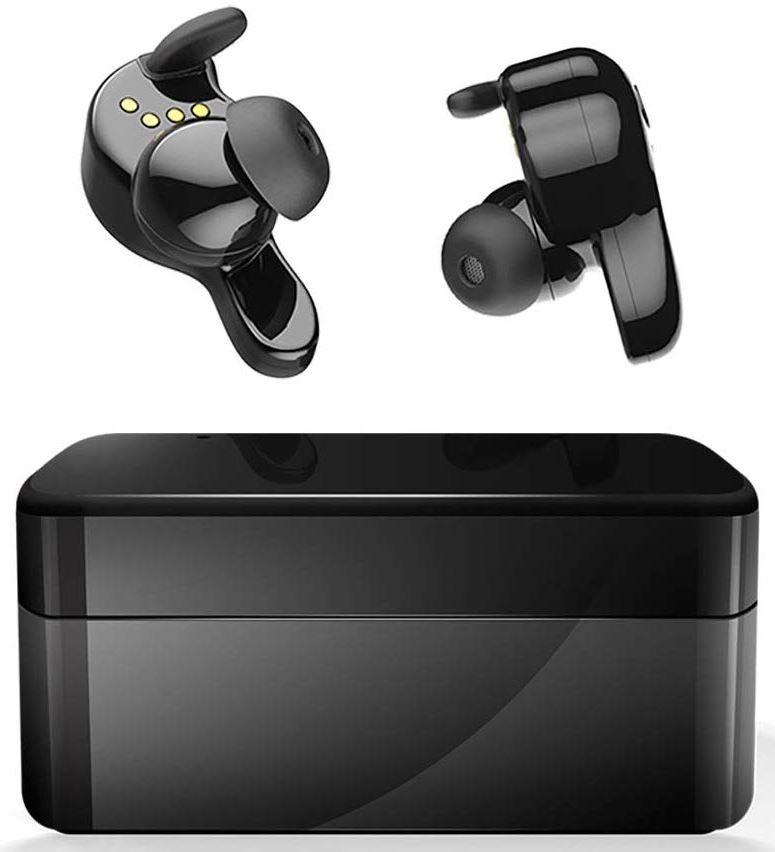 On the backs of the buds, you'll find a pair of small, round buttons that perform all functions. They control the volume, skip tracks, and answer or end phone calls. They're a bit clickier than most other earbud buttons, but that's not a problem. It provides good tactile feedback. And because of the U-Winner's design, the earbuds won't get pressed painfully into your ears when you push the buttons. They're also IPX6-rated for water resistance. This makes them sweat-proof, as well as resistant to hard, driving rain.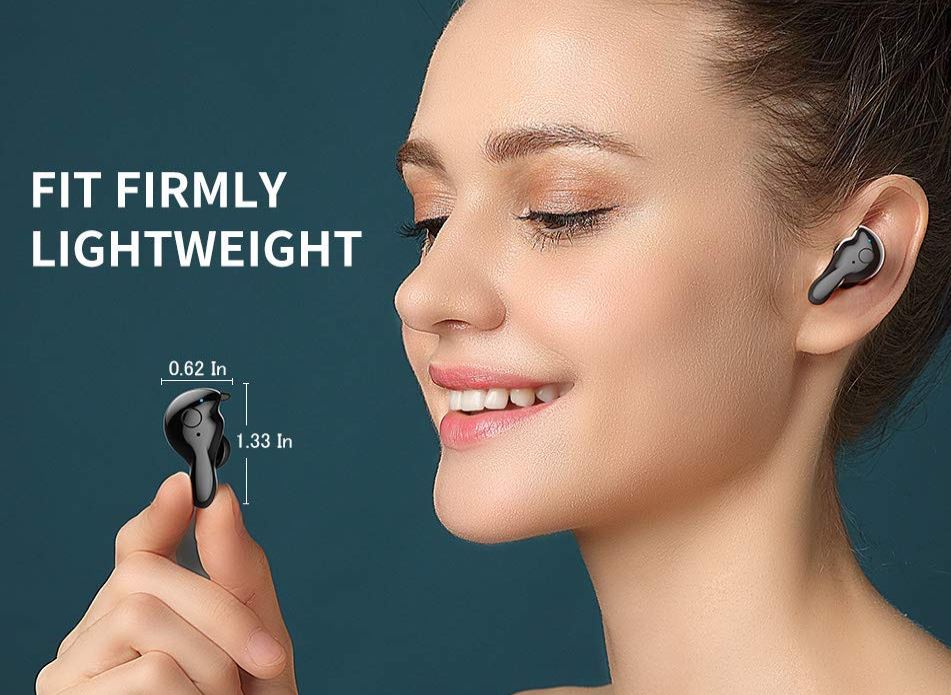 The charging case is wide and flat, measuring 2.8 x 1.9 x 1.3 inches. It's constructed from a glossy black plastic that exactly matches the earbuds, and weighs 7.2 ounces with the earbuds inserted. When the earbuds are inserted, an LED on the back will illuminate, indicating that they're charging. The lid is spring loaded, and stays shut easily as long as the earbuds are properly seated. Underneath the hinge, you'll find a small micro USB port. A charge cable is included, but it's even shorter than the cable that comes with the Focustone. It's only 6 inches long, so you may want to buy a longer one. If you decide you don't like the U-Winner, AMINY offers a 3-month no-questions-asked guarantee. Just send them back. Beyond that, they also offer a 1-year manufacturer's warranty that covers any defects.
For an even smaller profile, the Purity True Wireless Earbuds are a solid choice. They're so tiny that no-one will even notice you're wearing them.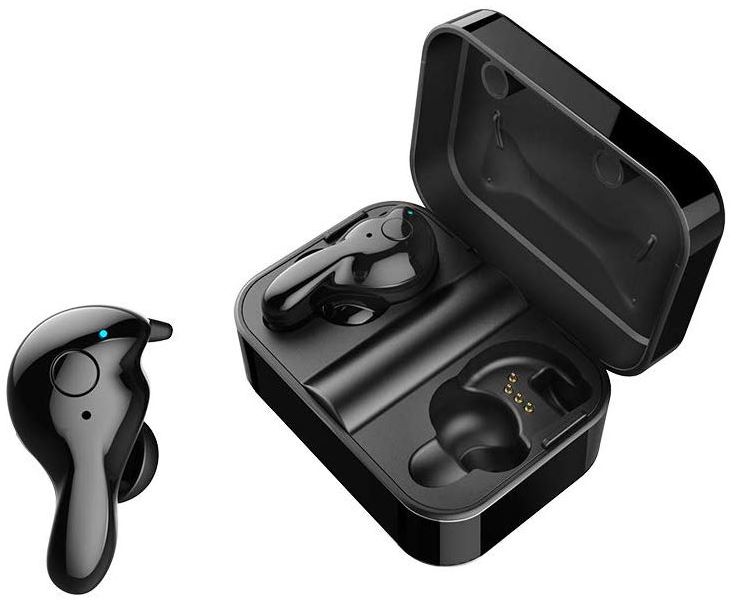 Battery & Connectivity
The U-Winner offers about 3 to 4 hours on a single charge. This works out to 4 hours at medium to low volume, or 3 hours with the volume cranked up. The charging case carries enough charge to reload the batteries four additional times. This allows for 15-20 hours of battery life. That's not shabby, but it's not impressive, either. That said, the earbuds themselves will charge in about 40 minutes, and the case charges in 90. That's very fast, and ensures you'll never be stuck waiting for more juice.
The U-Winner connects via Bluetooth 5.0, with a standard, 33-foot signal range. This is enough to set your phone down for a minute, so you won't be shackled by a virtual wire. There's virtually no latency in the signal, and it's very stable. You don't need to worry about dropped calls or an inconsistent connection. Pairing is simple. Once you've done the initial pairing, the U-Winner earbuds will automatically re-pair when you remove them from the case. They won't pair individually, which can be a drag if you're primarily looking for hands-free calling. On the other hand, this means fewer potential connection headaches later on down the line.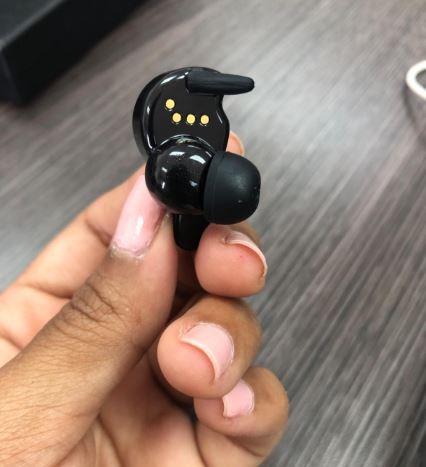 Sound Quality
The U-Winner provides a flat EQ, with a clear signal across all frequencies. Whether you're looking for shimmering highs, clear vocals, or punchy bass, all of your needs are covered. Obviously, this is a subjective standard, and we're comparing apples to apples. When compared to full-sized headphones, the bass leaves a lot to be desired. But when compared to similar earbuds, it's excellent. Fans of all music genres will enjoy the overall quality of the sound.
What the U-Winner gives you in sound quality, it takes away when it comes to hands-free calling. The earbuds themselves sound just fine. But the microphones are very small and aren't very powerful. To the person on the other end, you'll sound a bit tinny. And in crowded areas, this can get even more annoying.
Final Verdict
In most respects, the Focustone and AMINY U-Winner true wireless earbuds are very similar. But there are a couple of key differences that are worth noting. To begin with, the U-Winner earbuds have an exceptionally secure fit. The rubber flap and plastic extension make it much harder to dislodge while running, jumping, or climbing. That said, the battery life is only so-so, and it's not designed for hands-free calling.
The Focustone earbuds, on the other hand, provide excellent call quality, along with smart assistant support. You can even use them individually to double your battery life for hands-free calling. On the downside, connecting them individually can easily screw up your pairing. But it's still nice to have the option when you need it.