No matter which system, console or platform you're using, it's universally well known that an effective Bluetooth gaming controller can make a real difference. By giving you enhanced controls for a variety of games and adding comfort, portability and functionality to your gaming session, they're a luxury that shouldn't be overlooked.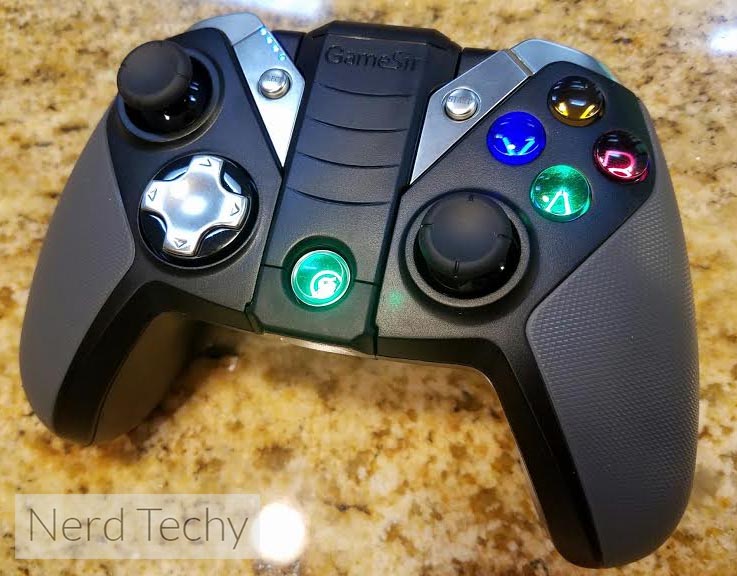 As an upgrade from it's predecessor and the fourth generation release, the new GameSir G4s promises to bring several benefits to the Android, Windows, Playstation 3 or Virtual Reality gamer. Smartphones, tablets, smart televisions, TV boxes, VR headsets and other platforms are all such examples. As an upgrade from the G3s, it has an improved design with better comfort, an enhanced layout, changeable directional pad, vibration adjustment and more. We're going to cover all of these and more within this review and give it an in-depth look to see exactly what it has to offer.
Unboxing and Setup
Upon it's arrival we were both happy and excited to see that it arrived without any issues. Perfectly packed with a USB charging cable, instruction manual, warranty card, optional support bracket, and of course – the G4s controller itself. Right away we opened it up and held it in our hands. The first impression was good, it has a solid, comfortable feel with an ergonomic design that's quite similar to an Xbox controller. Both palms of your hands meet the rubber grip when you're holding it, giving it a soft and cozy feel. It's built in a sleek black color with silver/metal accents throughout, giving it a high-end look with apparent quality to match.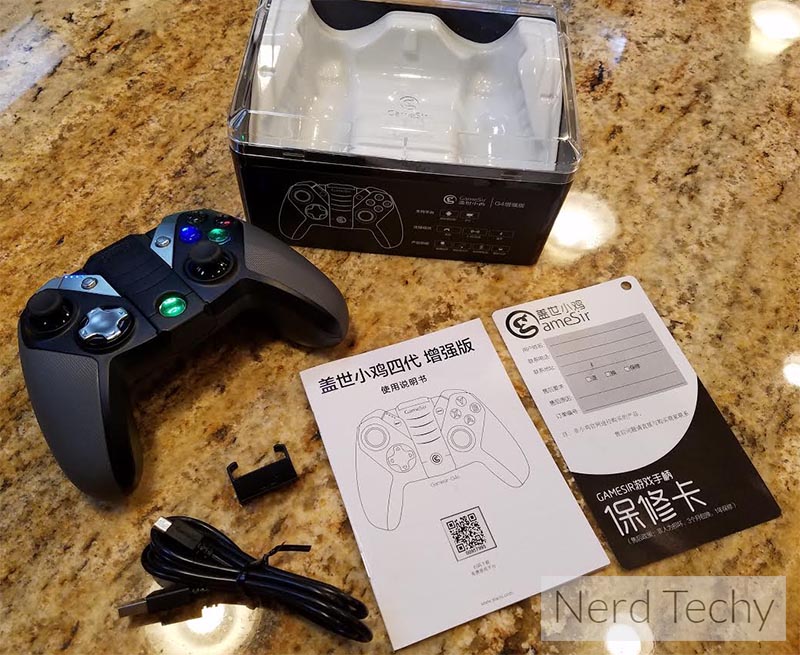 As with any Bluetooth controller, the pairing process must be completed in order to begin using it. First, press the small "GameSir Home Button" that's located in the lower center between the right joystick and the directional pad – right beneath the clear button. You should see the controller light up and the button will begin to flash, letting you know that it's looking for a device to pair with. Next, make sure your device has Bluetooth turned on and select "GameSir" from the list of nearby connections. That's it!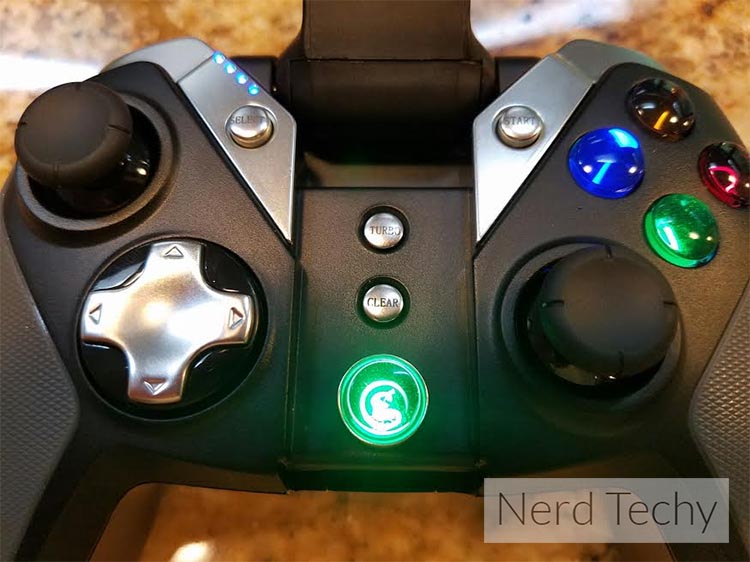 Although the Bluetooth wireless connection is the most popular option that most people will be using, it also supports a connection with the included USB cable. There's even support for a 2.4 GHz wireless connection with the included USB dongle. At first, it may appear hidden, but this dongle is located on the front end, right below the Home button. It pulls out and enables you to plug it directly into your PC, smart TV or TV box.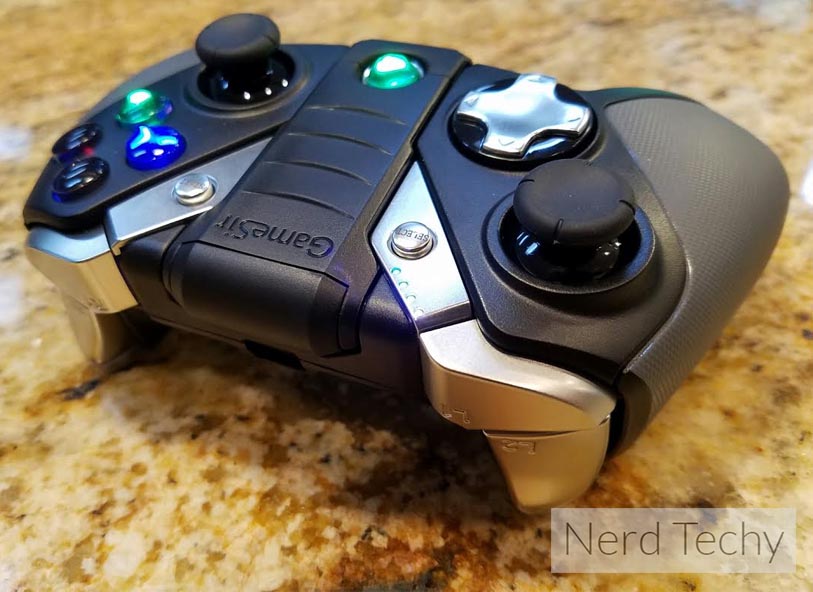 Buttons and Functions
The layout of the G4s is a bit different than the G3s, but it also shares some similarity. All of the standard buttons are there, including both left and right joysticks, a directional pad, L1, L2, R1, R2, Y, B, X, A, clear, turbo and L3/R3 buttons as well. There are four blue LEDs that indicate the remaining battery life and the Y, B, X and A buttons are illuminated, giving you better sight of your controls in any dark or dimly lit environment.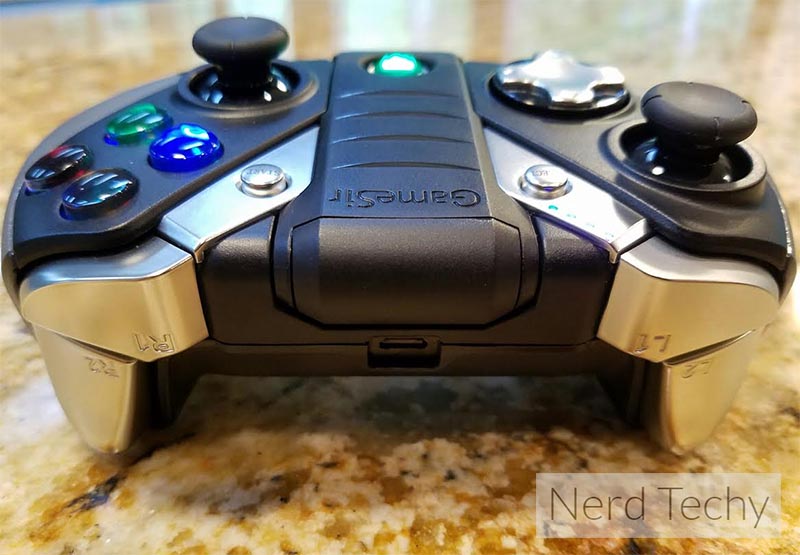 Each button feels really nice with the perfect amount of actuation and "spring" that feels exactly how you'd ideally want them to feel. There seems to be plenty of responsiveness in all of the buttons when you press them.
Support Arm
One of the most obvious things you'll likely first notice is the bracket that folds down and over the middle of the controller. It's designed to hold your smartphone in-place when you're gaming and keep it in position while you're playing. Surprisingly, it doesn't seem to get in the way and is actually quite useful. Simply pop it up and it'll snap into two different positions. It then has the ability to extend and apply pressure with an internal spring that keeps your smartphone cinched down and clamped between the bracket.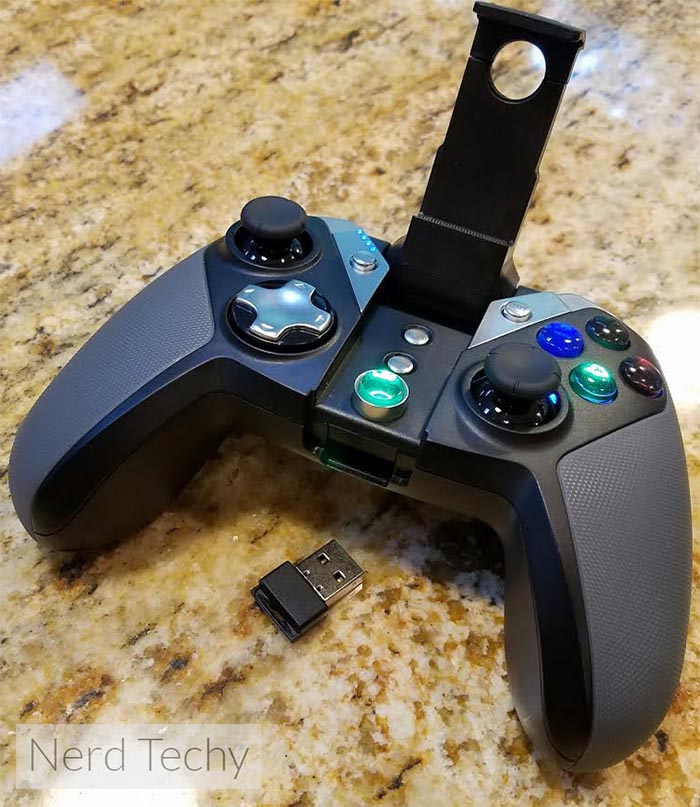 There's a wide range of sizes that it supports. We tried it on a Samsung Galaxy S7 Edge and it still had about a centimeter of more width that it could potentially support. Being that the S7 Edge is one of the largest phones available right now, it seems that the bracket on the G4s will effectively work with just about every smartphone size available. At first, you may find that the lower part of the clamp doesn't have enough "lip" to actually hold your smartphone without it falling off. If you own a thicker one or use a protective case with your smartphone, you'll want to install the included optional support bracket by extending the arm and placing it within the "track" to set it towards the base. Any device that's between 3.5 inches and 6 inches wide should work well.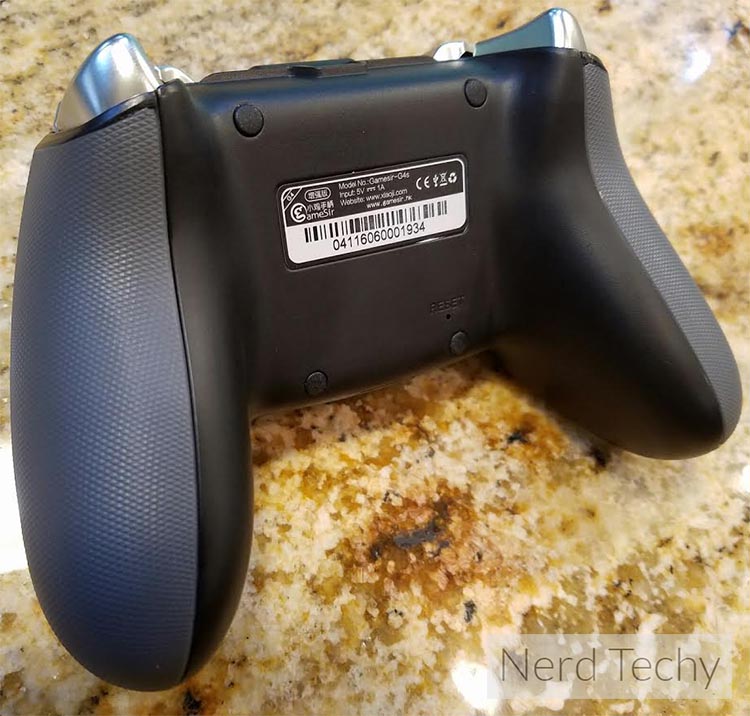 Battery Life and Wireless Range
Since the GameSir G4s is almost exclusively used as a wireless controller, battery life and range are two very important considerations. Although it came with a decent charge, we plugged in the micro USB cable to make sure that the internal battery was at it's fullest capacity. When you plug it in, the four LEDs will flash in-turn. Upon it's completion, these LEDs will all light up and stay on. A full charge from a depleted battery takes about two and a half hours.
One thing that's worth noting is that the battery capacity in the G4s is slightly better than that of the G3s. It has a 800 mAh capacity rather than a 600 mAh capacity.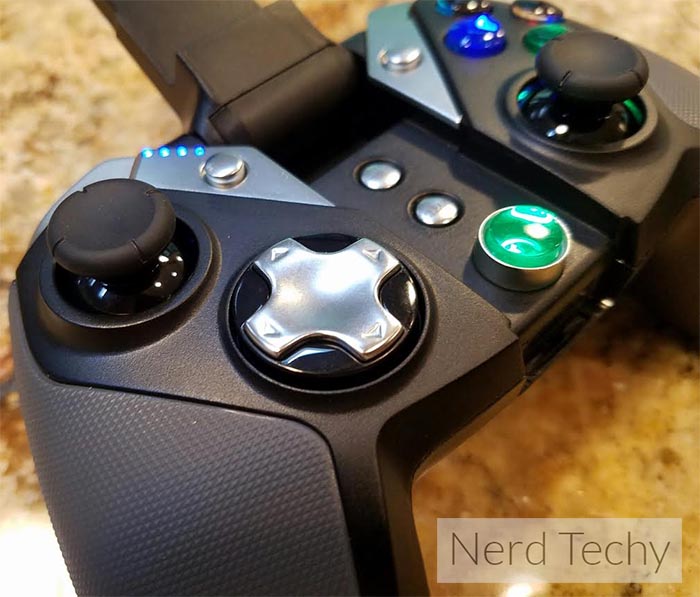 As with anything that's Bluetooth enabled, the battery life is quite dependent on the specific games you're playing, the range between your controller and the game console/device you're using it with. With normal use, we found the advertised 16 hour battery life to be quite accurate. When the battery level gets down below 10%, only one of the LEDs will be illuminated and it will begin flashing. This occurred to us at about 14 and a half hours from a full charge, letting us know that it was nearing it's lifespan and it was time to plug it in again.
Wireless range with Bluetooth is rated for roughly 23 feet. In reality, this is quite accurate as well. You may experience communication difficulties when you're nearing 20 feet, but most people are usually always closer than 20 feet when playing a video game, especially with mobile games. Line of sight environments with little to no obstructions in-between work best and are most ideal if you don't want to experience any wireless range issues.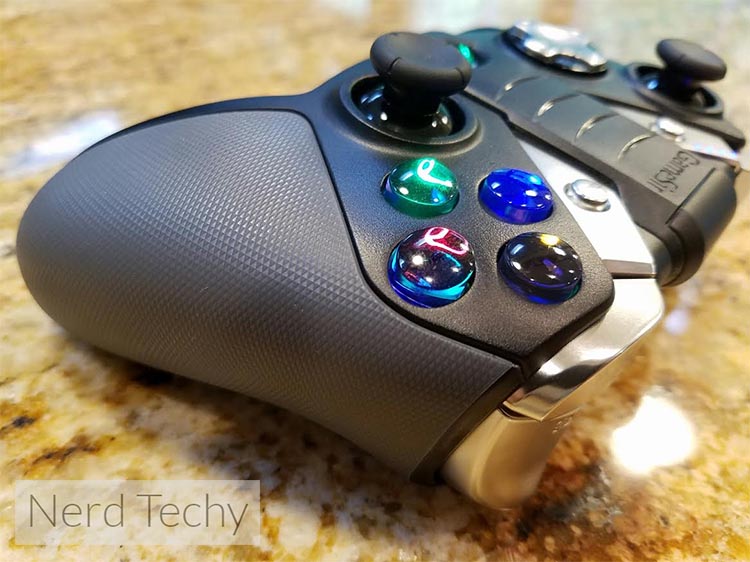 Using the Controller
Using the GameSir G4s is quite easy as it works universally well on multiple platforms and video games. However, we found that it won't work for every single video game out there. You'll need to go into the settings of the game of your choice and set the controls to the gamepad – it only takes a second. GameSir recommends that you install the Happy Chick Emulator app to gain access to thousands of titles to choose from. If you have an iPhone, you'll need to scan the QR code on the front of the instruction manual. Android users will need to manually install the happychick.apk file.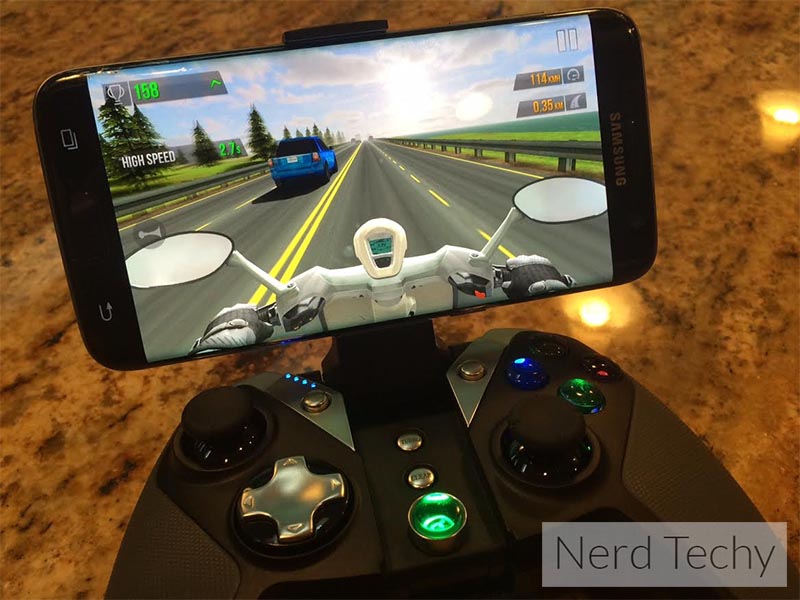 Although the controller isn't compatible with every single video game out there, it seems to support a wide range of games. We found that racing games like Traffic Rider or others where you're required to tilt your screen really benefit from the G4s and what it has to offer. The joysticks are very responsive and make for an easier, more enjoyable time with less crashes.
Playing classic video games through an Emulator is also quite fun. It gives you enhanced control to some classic titles like Mario, Sonic, Need for Speed, etc. Even Playstation 3 and Android TV games seemed to work equally well.
Vibration Adjustment
The G4s gives you the freedom to fully adjust the amount of vibration strength from low to high. Keep in mind, however, that if you choose a higher vibration setting, you'll use up the battery quite a bit faster than if you were to have it at a lower setting. To adjust it, simply press the turbo button and then press the directional up/down buttons to select whichever preference you'd like. It'll immediately vibrate to indicate where you have it set, making it a bit easier on your part.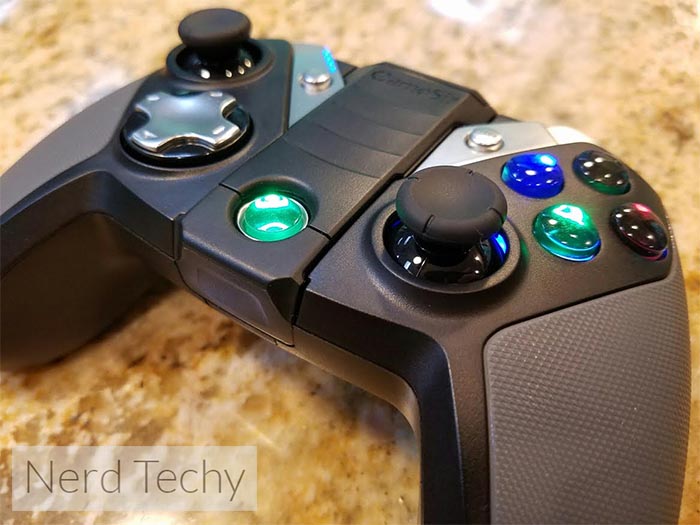 Button Light Adjustment
Another option that you're given with the G4s is to adjust the back-lighting so you can change the brightness. Changing the brightness of the LEDs will also affect the overall battery life, so keep that in mind. The brightest setting is ideal for dark environments, but you won't likely need the full illumination effects if you're outside or in a bright room. Press the L2+R2+R3 and then press the directional pad up/down buttons to move through your preference. You can switch from full brightness or have them completely turned off.
Final Thoughts
To put it simply, we really do love the new GameSir G4s Bluetooth Gaming Controller. It's built with a high-quality design that boasts both comfort, ease of use, and improved control over a wide range of games and platforms. The feel in your hand is nice and solid – it's obvious that GameSir put quite a bit of time into the planning and development of it as it seems to deliver on all fronts.
The battery life is incredibly impressive and the charging process is simple, quick, and problem-free. So far, it's difficult to find anything wrong with it. It far-exceeded our expectations and stands out as total a winner in our opinion. For those looking to improve their control, enhance their experience or have an upper-hand with their favorite video games, the GameSir G4s is one to truly consider.