Ever since we picked up a Gravis Gamepad in the early 90s, we've consistently relied on 3rd party controllers to help us take PC gaming to the next level. While some diehard FPS gamers like to rely on mechanical keyboards, most casual gamers know that a controller is the easiest way to get a fun, engaging gaming experience.
But as games have continued to advance beyond the limitations of old school hardware, our hardware has had to advance to keep up. The unfortunate reality of the gamepad industry is that gamers are expected to spend top dollar if they want a high-quality game pad. Many of us know firsthand that cutting costs means cutting corners.
We had the opportunity to take a look at a GameSir T1S. For the first time since we unboxed our Gravis controller, we felt as if we got a good controller for a good price. But what exactly is it that separates the GameSir T1S from the plethora of bargain controllers on the market? We did an in-depth review to find out.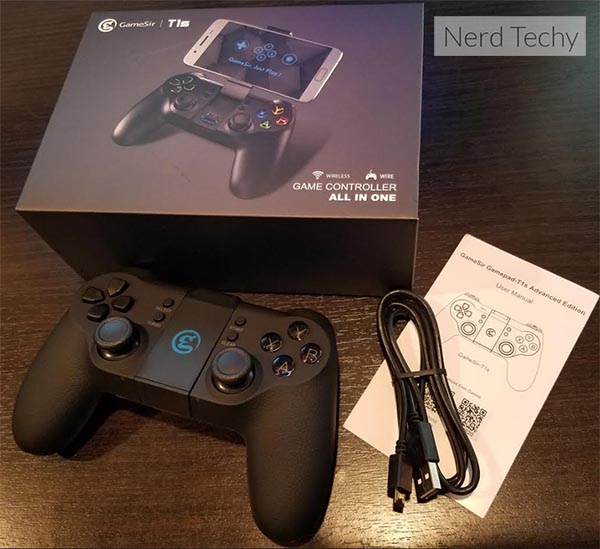 First Look
The GameSir T1S is a bit of a mashup between an Xbox One controller and a PS4 controller. The structure and layout is similar to that of a PS4, but the button labelling and style has a lot of similarities to the Xbox options. But behind the scenes, it's a 100% X-input compatible controller, allowing it to work with any PC game that is designed to be used with an Xbox controller. This makes it a stylish, affordable way to game out wherever you like, whether it's in the comfort of your own home or on the go.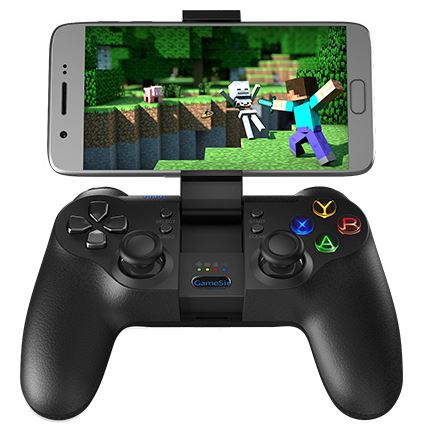 Look & Feel
Not only does the GameSir T1S look like a PS4 controller, but it's very similar dimensionally. If you're familiar with this controller, you'll be right at home with the GameSir T1S. What impressed us most was the feel of the analog controls. If you've used a cheap controller before, you know how frustrating it is to have loose, unresponsive controls. But the T1S has a good bit of weight behind each control point. Executing precise, specific movements is easy, since the controller pushes back just that little bit you need. This is especially evident in the analog triggers. When testing the controller with the X-input configuration screen, we were able to smoothly depress the triggers from 0% to 100%.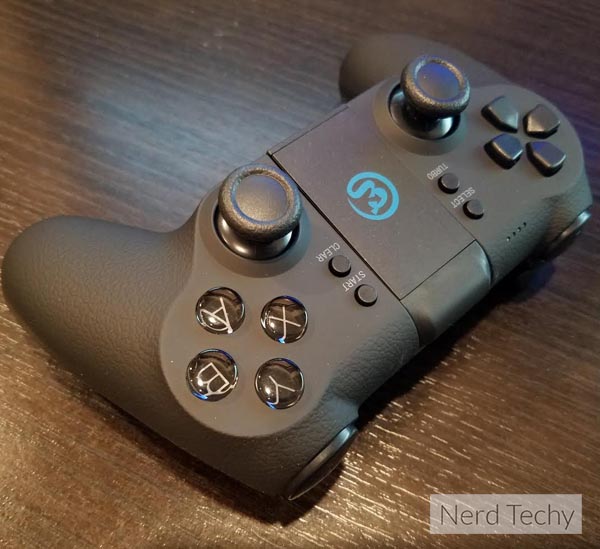 One of the things we noticed about the analog sticks is that they have sticking points, just like a real Xbox controller. What this means is that if you were to rotate the controller in a smooth, round motion, the controls will briefly stick at the far left, right, top, and bottom points. What this does is allow you to accurately point the analog stick in one of these directions. This is especially useful when you're using the analog stick to control older games that are designed for a digital pad.
As for the controller itself, we found that it felt surprisingly solid. It's not heavy, but has just enough weight to it to feel substantial in the hand. Unlike the smooth plastic you get with the real PS4 controller, the GameSir T1S comes wrapped in a rubberized material that makes it easy to grip, and just a little bit softer. Overall, this is a solid feeling controller with excellent analog responsiveness.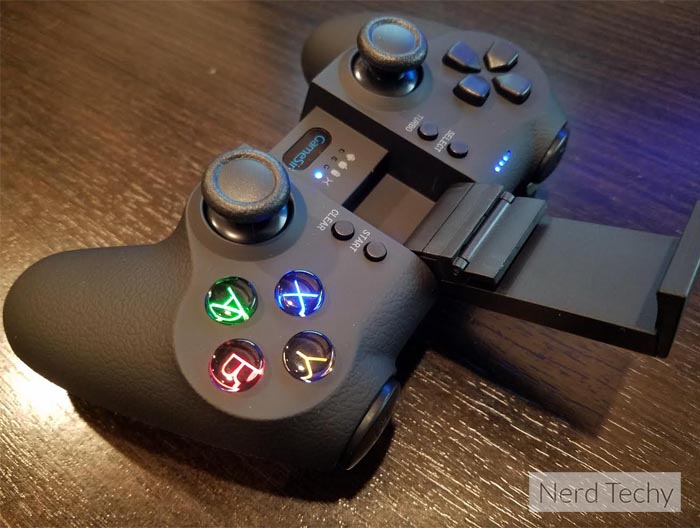 Connectivity
Officially, this is a controller that Windows, Android, iOS, and Mac OS platforms. This is made possible through four different connectivity options. The most popular is going to be X-input. X-input is the communication protocol used by Xbox controllers. The simplest way to use it is to connect the included Micro-USB cable to the back of the controller, then insert it into your PC. Windows 10 will automatically recognize the controller and install the correct drivers.
Now, this controller does support Bluetooth as well. However, Bluetooth is a buffered format. This means that the computer stores up a tiny bit of information at a time, and transmits it periodically. This means that Bluetooth adds lag to the performance of the controller. Lag is something that is generally avoided with gaming controllers, but modern PC gamers demand wireless connectivity.
The GameSir T1S addresses this problem by including a tiny wireless dongle. It's installed in the bottom of the controller. Just pull it out and plug it into an available USB port, and you've got a private 2.4Ghz connection between the controller and your PC. This still uses the X-input protocol, so you retain all of the compatibility with modern PC games.
For the most part, Bluetooth is used to connect the controller with mobile phones and tablets. Both IOS and Android support Bluetooth controllers, so you can use the T1S for gaming on the go as well.
One unique feature of the T1S is its ability to function as a Bluetooth Mouse. When in this mode, the analog sticks can be used to move the cursor, and the buttons can act as right or left click. We found this feature handy to have when we were lounging around, enjoying Netflix from the couch. But it's not something that you'll use every day.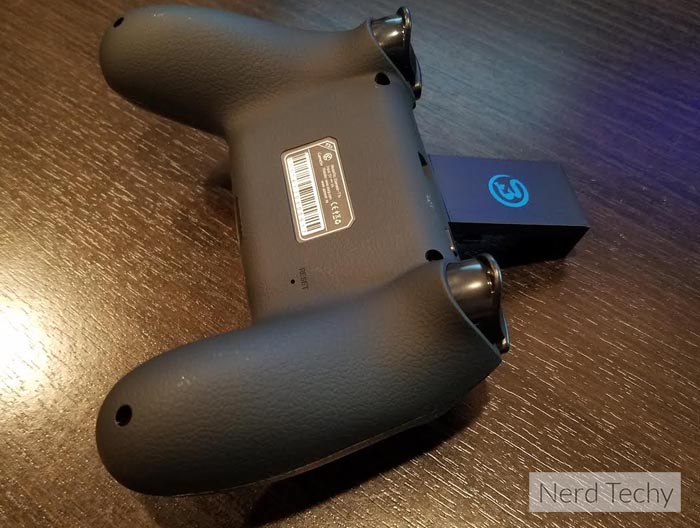 Functionality
In the center of the T1S is a large black bar. This actually lifts up to reveal a large clip. This clip is spring loaded and height adjustable. You can pull it apart, place your phone inside, and let it close around the phone. This allows the device to be mounted comfortably above the controller, turning it into the ultimate mobile gaming station.
We were surprised how rigid this clip was. Even when moving the controller around (something that's unavoidable during intense game play), our phone was stable and remained in place. The clip is also quite large, allowing it to accommodate larger phones up to 6 inches.
When you flip the clip up, you'll see four LED lights and a button. This is designed to change the mode of the controller. You've got X-input mode, Android mode, IOS mode, and Mouse emulation mode.
Another key piece of functionality is the battery life. There is a lithium ion battery included, providing up to 30 hours of playtime. This can depend on your gaming style, but we play pretty aggressively and got about 24 hours out of it when using the wireless USB dongle, which uses a little more power than Bluetooth.
The T1S has two motors installed in the palm rests, allowing it to vibrate quite aggressively. We've used quite a few controllers that had disappointing response in our time, but we were happy to find that the feedback is equivalent to what you'd get with an Xbox controller.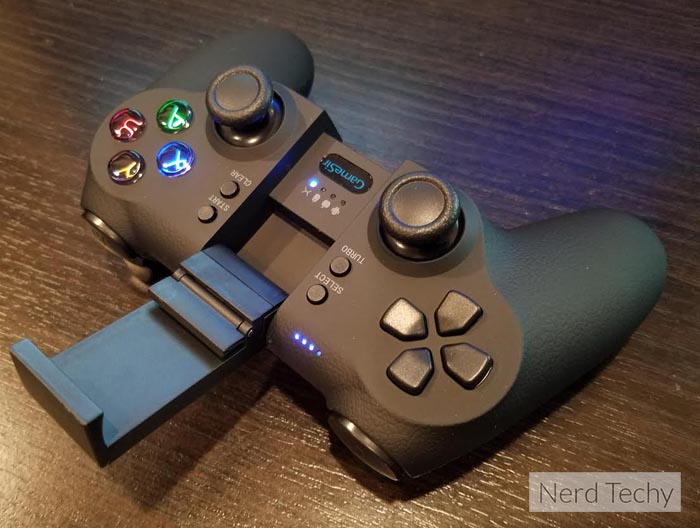 Disadvantages
The GameSir T1S is an incredibly affordable controller that provides the same level of features as high end controllers. However, there were two small disadvantages to the system. When you're in IOS mode, the controller uses the IK protocol. This was the prevalent communication standard for iOS devices for many years, but it's recently been changed to a newer standard. Right now, there are still some apps in the app store that do not support the IK protocol. If you're planning to game on iOS, you might find that some games are not compatible, so it might be worth investigating this before you buy.
Another small disadvantage that we found is that the digital buttons (particularly the dpad) were a little soft feeling. If you're looking to play retro games that primarily use digital controls, you might be better off with a dedicated digital controller. That being said, the Analog controls were among the best we've seen in a controller in this price bracket, making it well suited for most modern games.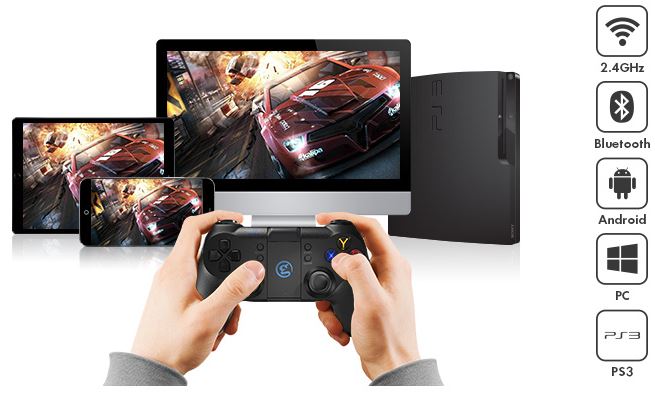 Final Verdict
Overall, we though the GameSir T1S was an excellent controller available for an excellent price. It's one of the most well-made controllers in its class, and GameSir made sure to use only the highest quality analog components. This is one of the most expensive components in the controller, and one of the areas that manufacturers commonly skimp out on, so it was refreshing for us to not be disappointed in this category.
Of course, game controllers are a very subjective thing. If you're not a fan of the PS4 style controllers and would like something a little more Xbox oriented, we'd recommend checking out our review of the GameSir G4S. This controller has the same high quality build, battery life, and compatibility, but comes in a slightly beefier case, making it ideal for those of you with larger hands.