When it comes to printers, it's hard to know how low the price can go. Historically speaking, affordable printers were best to be avoided. They used to offer bare-bones functionality, mediocre (at best) print quality, and low yield ink that can add up in expenses for anyone who dares print a moderate volume of pages.
Today, however, the industry is different. Even the cheapest printers on the market offer features that, just a few short years ago, would have been found exclusively on high end printers.
In the right environment, inexpensive printers can often perform just as well as high end models. However, there compromises. When doing your research, you need to make sure that a printer's design matches the purposes you intend to use it for, or you may end up disappointed.
In this review, we'll be taking a look at the HP DeskJet 2655. On paper, it looks like it has a pretty wide feature range, and is well suited to a variety of applications. We'll be going hands on to see what it can do, then we'll help you decide if this printer should have a place in your home office.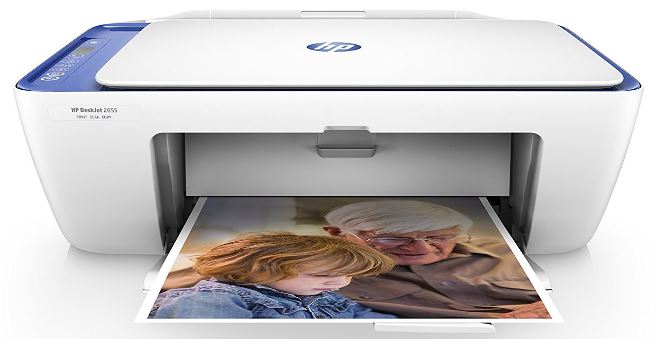 First Look
As an all-in-one printer, the HP DeskJet 2655 can do a lot more than just print. It also scans imaged directly to your computer, or copies them to paper. It can connect to your computers wirelessly, and supports printing from mobile devices as well. These final two features are not often see in entry level models, and are impressive considering the price.
This isn't the lowest end model in HP's Deskjet lineup. That position is held by the DeskJet 1112. But given the additional features in this model, we thought that it would make the perfect entry level printer.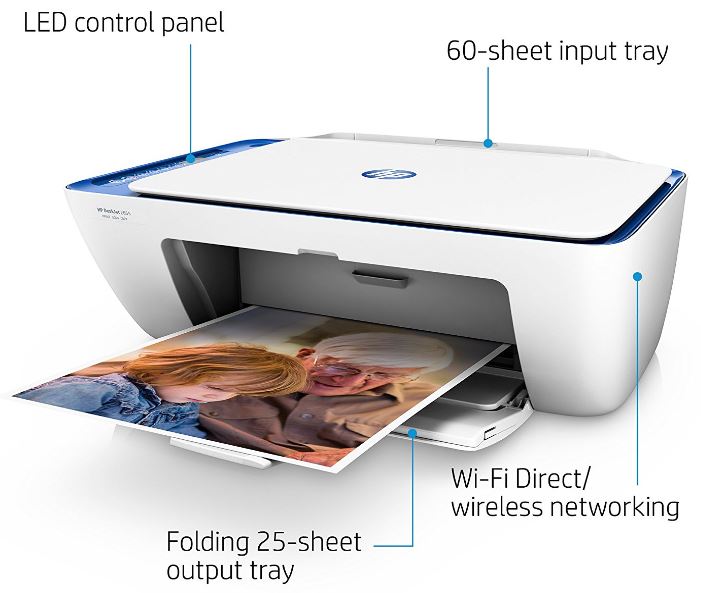 Design & Layout
Though the 2-series DeskJets are considered lower-end than the 3-series models, we actually like the design quite a bit better. The top of the printer is tapered as you move down the enclosure, which reduces the footprint on your desk. Though the case is mostly white, the scanner bed cover sits atop a slightly in-set enclosure, which is tinted vibrant blue. Though subtle, the effect is certainly eye-catching.
At the back of the printer you've got the tray for blank paper, and completed jobs come out the front. A button and LED control panel are located on the left of the printer, with a small LCD display above it which shows the current print settings. This control panel is sleek, but simple to use. All of the core features can be accessed with the touch of a button, so you won't catch yourself digging through menus to find the feature you want.
Setup Procedure & Communication
Printers (especially inexpensive ones) are known to be frustrating to set up. But when we got our DeskJet 2655 up an running, we were pleasantly surprised. The entire process was painless, and can be completed even if you don't have much technical ability. All you need is a smartphone.
What you do is download the HP Smart AiO Remote app. When you first boot the app, it will request that you turn on WiFi (if it isn't already on) and begin searching for the printer. Since the DeskJet 2655 uses a technology called WiFi direct, it will be broadcasting it's own wireless network. Your phone will scan the airwaves one by one, until it finds the printer. This takes anywhere from 30 seconds to two minutes. Once it finds your printer, you'll be asked to select your actual wireless network from a list, and enter your password. This data is transmitted to the printer, and it logs in to your network. From this point onward, all of your computers (running windows 7 and up, or OSX Mountain Lion and up) will see the printer in their devices list automatically.
Don't have a smart phone? You can still connect this printer through a standard USB port. The cable is not included, but you can pick one up inexpensively or use the cable from your old printer. HP provides you with a downloadable setup wizard, which can be easily run on each computer in your home network.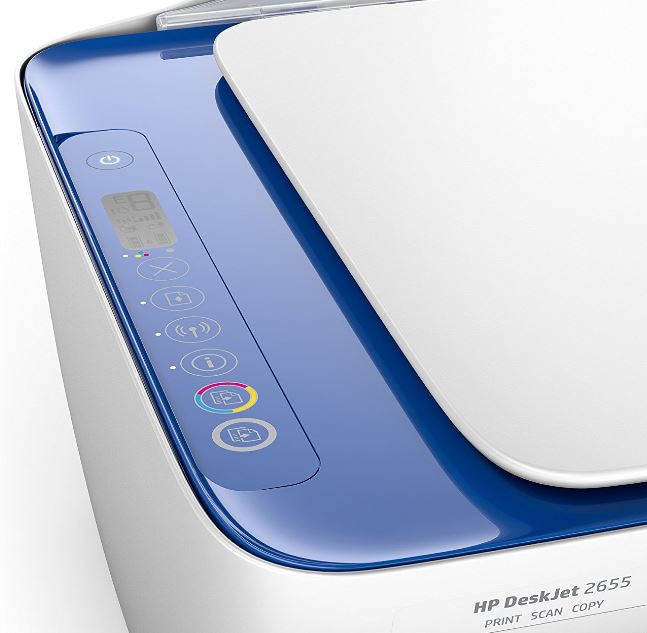 Printing
This printer supports all of the paper types you'll use in a basic home office, and produces color prints that look great. You can use both letter paper and legal, and the printer supports direct feed #10 envelopes as well. For photos, it supports 4×6, 5×7, and 8×10 print sizes. Although edge to edge printing isn't available, the margin is small enough that prints still look good.
This printer isn't the fastest on the market. Black and white documents print out in about 6 seconds, while full color images can take up to a minute. However, this is advantageous. Most entry level printers sacrifice quality for speed. But the DeskJet 2655 is a different beast. When you use proper photo paper, the prints look surprisingly good. We'd be happy to hand them on our walls, which isn't something we can say about most similarly priced printers.
Another benefit is the instant dry ink. You can handle your prints the second that the printer spits them out. You don't have to worry about getting ink on your hands or smudging your photos when you're excited to see what you've created.
This printer only requires two cartridges. The black cartridge is used in all prints, while the tri-color one is only used for color prints. You get a little over 100 pages with each cartridge, with the costs ranging from 10 cents per page (for B&W) to 13 cents per page (for color).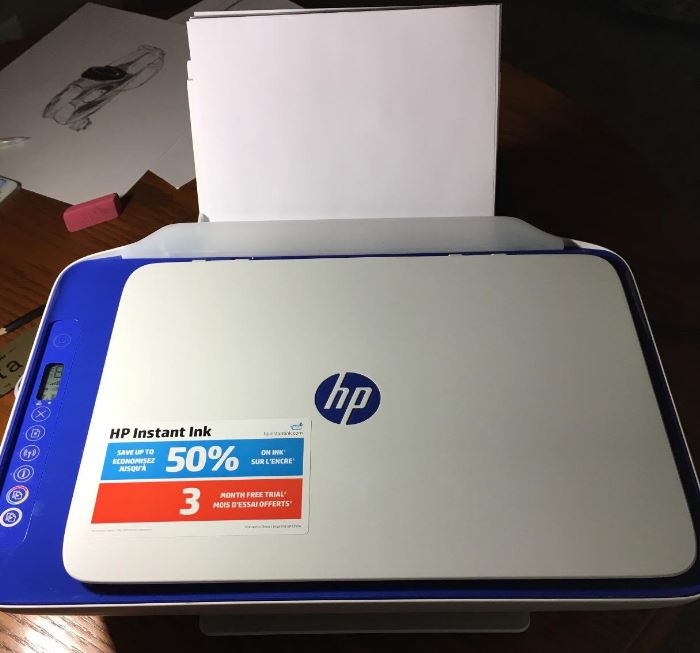 Scanning & Copying
Although this is sold primarily as a printer, scanning and copying features are provided as a bonus. Despite this fact, they still work surprisingly well. The scanner operates at 600 DPI. This references the level of detail (dots per inch) that it can detect. For scanning documents, it works perfectly. If you scan into Microsoft Word, you can use OCR (optical character recognition) to convert an image of a document into an editable file.
You can scan something, make a few changes, then print it back out with your changes in place. OCR isn't perfect. Once in a while, a capital "I' will get read as a lowercase "L." But in our tests, we were able to scan a document, run a quick spell check, and have a perfectly editable version of the file on our local system.
The scanner also works great for photos. If you scan a photo and reprint it, there is always going to be a little quality loss. After all, this isn't a dedicated photo scanner. But if you're scanning hard copy photos to post online, the resolution is perfect.
Disadvantages
This is one of the most economic all-in-one on the market, but it's important to consider the cost of printing. If you're printing high volumes, the costs will quickly add up. HP offers ink subscription packages in monthly volumes of 50 pages, 150 pages, and 300 pages. If you print consistent volumes, then this is the most affordable way to get ink. If your paper use in unpredictable, then it's better to buy the individual packages. But if you regularly print in excess of 300 pages per month, then this printer isn't such a bargain. If you double the cost of the printer, you can cut the per-page cost nearly 80%. If you print high volumes, we'd recommend that you stay away from this printer.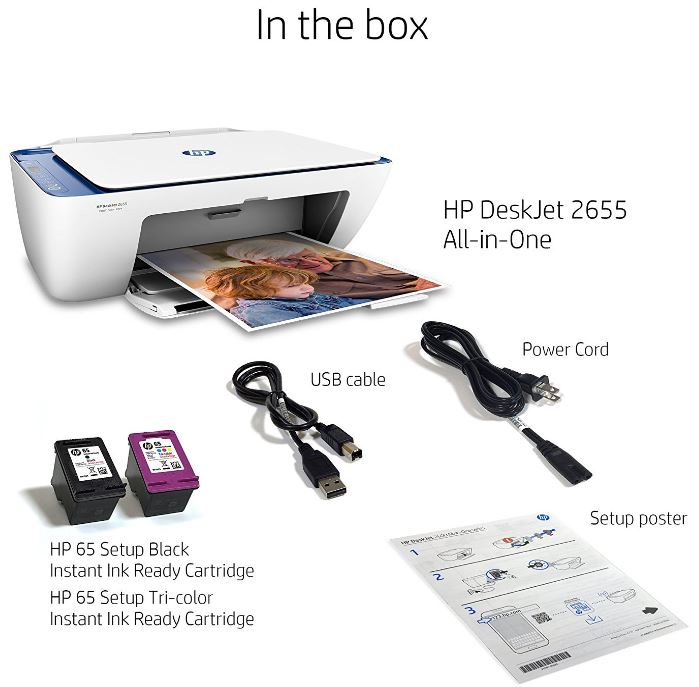 Final Verdict
If you regularly find yourself in need of a printer but haven't been able to pull the trigger, we can't recommend the HP DeskJet 2655 enough. The purchase price is as low as it gets, and quality isn't compromised. Additionally, you get the benefits of being able to scan and copy documents. There are a few entry level models that have poor quality scanners, but this isn't one of them.
If you want to see the real advantage of this printer, just look at the ink cartridges. You'll notice that they are a fraction of the price of most. The per-page price of printing is comparable to most other inkjet printers, but these cartridges have low volumes – only 100 to 120 pages per cartridge. Ink cartridges can dry out after 3 months or so. So if you don't print very much and you're buying $50 cartridges that can produce 500 pages, you won't be able to use up all of the ink before you run out.
For anyone who prints between 25 and 300 pages per month, this is the printer you want. If you print higher volumes, it might be worth considering a monochrome laser printer. For an overview of the best options in this department, check out our roundup of the Best Monochrome Laser Printers.