Kwumsy H1
Pros
Easily extend to three additional monitors.
Compatible with almost any device.
Built-in cooling fan with RGB effects.
Excellent build quality.
Can also power some laptops.
Cons
A bit expensive.
Doesn't support 4K video.
Connecting all of your devices to your computer can be a headache. Desktop users on Windows and Mac alike generally have it easy. Unless you're doing something truly unusual, you should have plenty of ports for your needs. But things get a little bit hairy when you're using a laptop. On most laptops, you only have a couple of USB ports – and you can forget about a secondary HDMI port.
A good multiport hub can solve this problem. Thanks to the incredible data-carrying capacity of USB Type-C, a hub can connect multiple monitors. It can also provide power to your computer, and allow you to connect more peripherals. But you need a good quality hub that has the right features to meet your needs. Otherwise, you're just going to be disappointed.
Today, we're going to review the Kwumsy H1 Multiport Hub. This is a tough aluminum hub that provides excellent heat dissipation. It can connect up to three monitors and three USB peripherals, as well as deliver power. But what else is it capable of, and what devices is it compatible with? We'll take a deep dive into its features and functions, then deliver our verdict. Let's begin!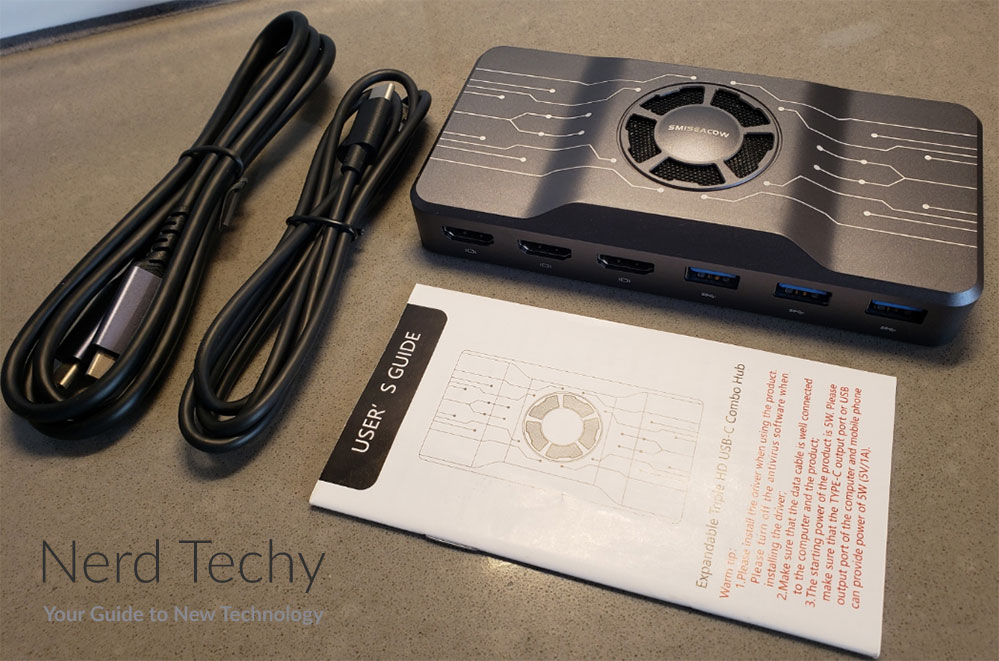 Overall Design
The first thing you'll notice about the Kwumsy H1 Multiport Hub is how solid it is. Rather than plastic, it's constructed from a tough aluminum alloy that can take a serious beating. It measures 5.5 inches wide, 2.75 inches deep, and 0.9-inch thick. The footprint is rectangular, but the corners are rounded to make it less blocky. The sides are shorter than the center, which is raised to accommodate an inner cooling fan. The top is vented, and it has an RGB backlight that illuminates when the hub is active. This is an attractive touch as well as a practical one.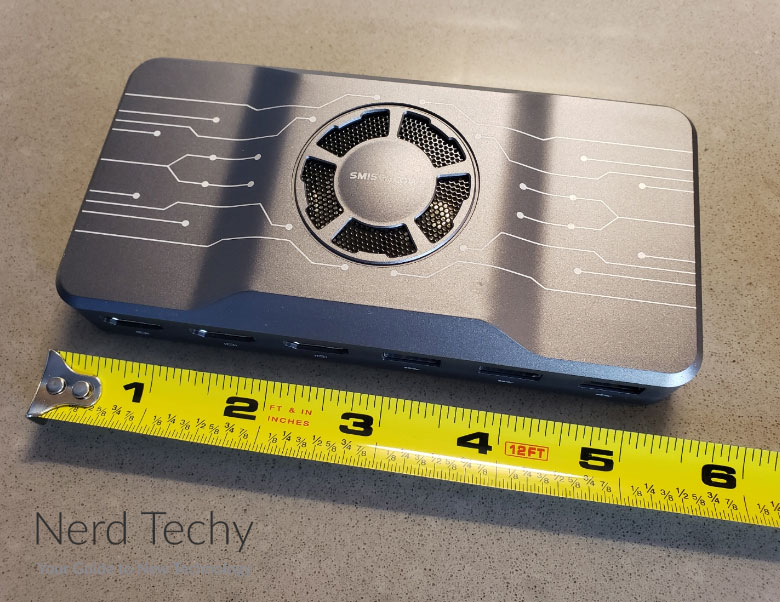 Inside the Kwumsy H1 is a vertical heat sink. It has blades that sit directly under the fan, which draws air over them and expels it out the top. Some people have complained that the aluminum housing gets hot during heavy-duty use. But that's kind of the point. It does a great job of dissipating heat and keeping the inner circuitry at a safe, reasonable temperature.
The ports are located on the back and front edges of the housing. We'll talk about them more momentarily. The finish itself is a slick satin grey, with white futuristic markings on the top that look like a circuitry schematic. It's a pretty cool aesthetic, but it won't stick out like a sore thumb next to your existing electronics.
The base of the hub has a non-slip rubber padding that keeps it from sliding around. It also prevents the aluminum housing from scratching your desk.
Kwumsy is known for their tough aluminum computer supplies. Not long ago, we reviewed the Kwumsy K2, a tough aluminum keyboard with attractive RGB backlighting of its own. It also has a built-in touchscreen display that provides a ton of versatility.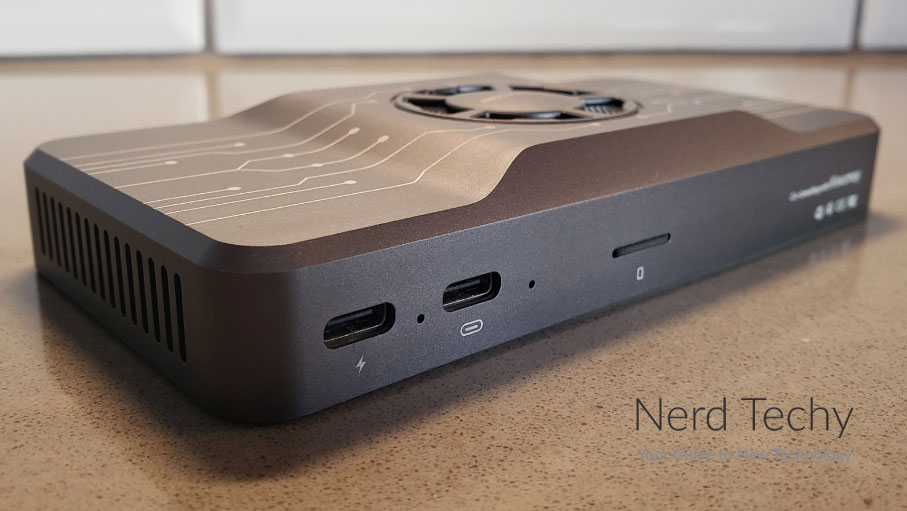 Ports and Connectivity
The front edge of the H1's housing has a pair of USB Type-C ports at the left end. The first of these can be used to connect your laptop's power supply. It's not designed for data transfer, and it won't accept a USB Type-C thumb drive. The second port is designed to connect to your PC. It can deliver power and data in both directions depending on what you're doing. To the right of these ports, you'll find a Micro SD card slot. That's all there is on the front of the unit.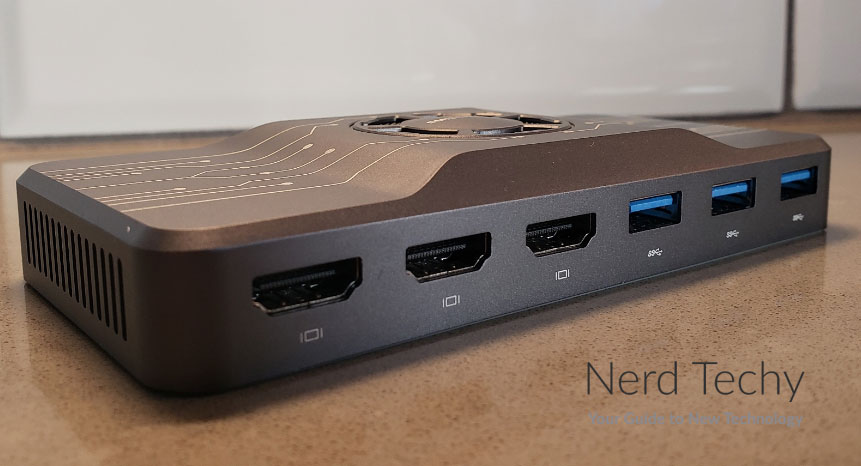 The back edge has a set of three HDMI ports at the left. These can be used to connect up to three external monitors. You can also connect to other HDMI displays, such as a TV or projector. Next to the HDMI ports are three USB Type-A ports. These ports have blue inner tabs that make it easy to align your USB plug. They can be used for external hard drives, thumb drives, mice, keyboards, and other USB peripherals.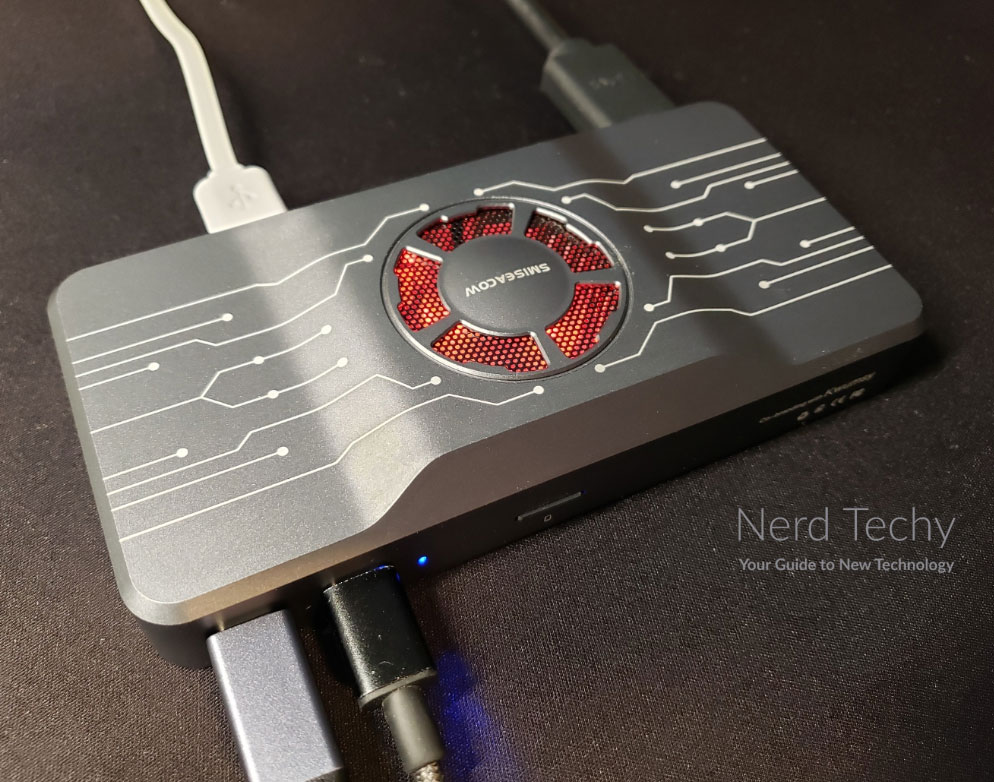 One thing to keep in mind is that the H1 requires a minimum power supply of 5 watts. This won't be a problem if you're plugged into the wall. It won't even be an issues if you're running on most laptops' batteries. But if you're connecting to a smartphone, you're going to need an external power supply. You'll also have to install the driver first before the hub will function. You can find driver's for all systems on Kwumsy's website. On Windows, you'll have to turn of your antivirus software before installing them. Don't forget to turn it back on afterwards!
If you don't need this many ports, check out our list of the Best Steam Deck Hubs. They're more affordable, with simpler designs that make them easier to use. Just bear in mind that they're also less versatile.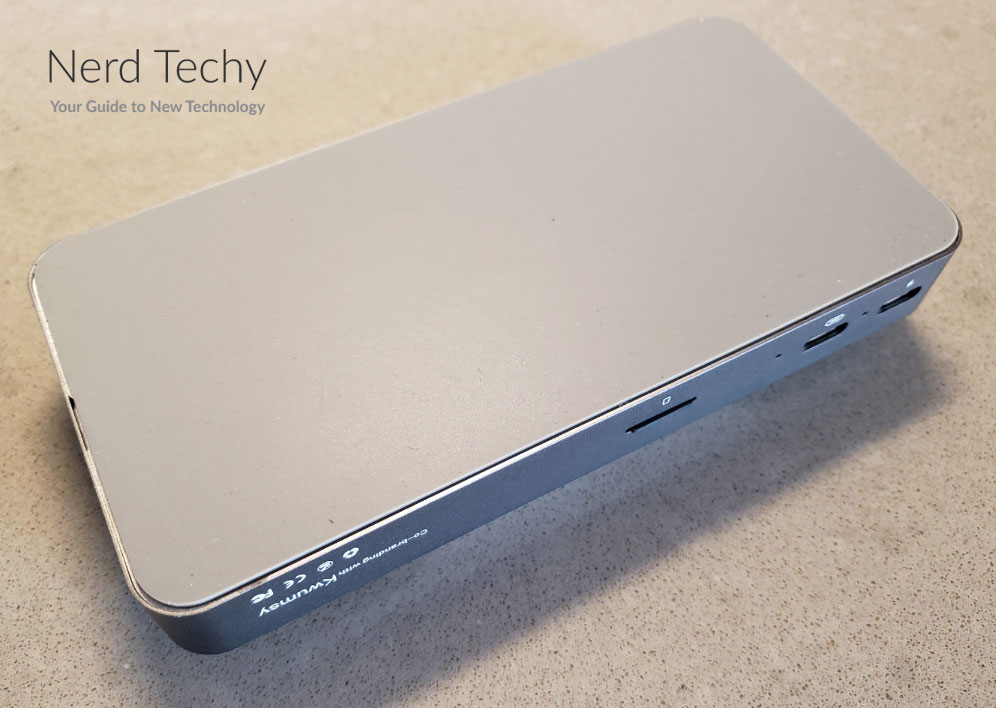 Capabilities and Compatibility
The Kwumsy H1 hub is compatible with almost any device. It works with Windows computers, Mac computers, and Android devices. It's also compatible with Linux devices, which opens up entire worlds of possibilities. It even works with systems with no DP Alt function, so it will work with older laptops. Just install the drivers, plug it in, and it should work.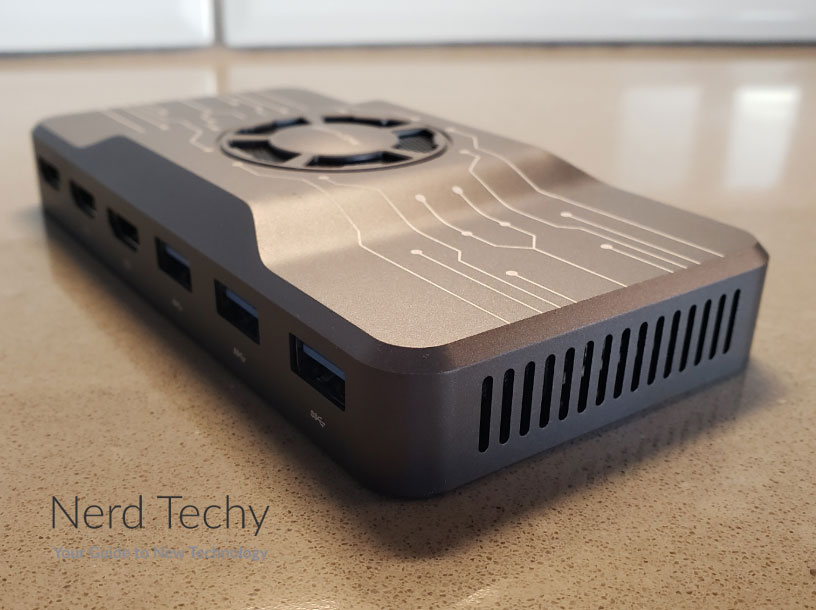 The HDMI ports can deliver 1080p video across all three channels at 60 frames per second. On the one hand, it would have been nice to see 4K compatibility for at least one of the ports. On the other hand, you're still looking at the potential for a four-monitor setup including your laptop screen. You can even use two HDMI ports for laptops with M1 chip laptops, which typically cap out at one extra display. If you have a MacBook Pro or MacBook Air manufactured from 2016 to 2021, you can still triple-extend.
The USB ports can transfer data at a rate of 5Gbps, which makes them suitable for external hard drives. You won't have to wait around for a slow USB port when transferring larger files. The Micro SD slot is a bit slower at 480Mbps. Then again, that's the fastest speed currently supported by Micro SD. The USB power supply port, meanwhile, can accept 60 watts of power. That's enough to supply a MacBook Pro 16".
How to Extend Your Display
In order to get the most out of this hub, you'll need to know how to extend your laptop display. This will work differently depending on what type of system you're using, and it may or may not be compatible. Here's what you need to know.
On Windows machines, you'll need a USB Type-C port to take advantage of all three HDMI ports. The Type-C will also need to be a 2-in-1 port (power and data). If it's just a data port, you'll need to connect a USB Type-C power supply to the hub. That said, if your laptop or desktop only has USB Type-A ports, you can still use two of the HDMI ports. You'll just have to use a USB Type-A (male) to USB Type-C (female) adapter. It will also only work if your computer transmits video via HDMI. If it's an old system with a VGA port, it's not going to work.
The rule is pretty much the same for MacBooks. If your MacBook only has a USB Type-A connection, you'll need a Thunderbolt-compatible adapter. Even then, you'll be limited to two of the HDMI ports. If your machine has a USB Type-C port, you're good to go.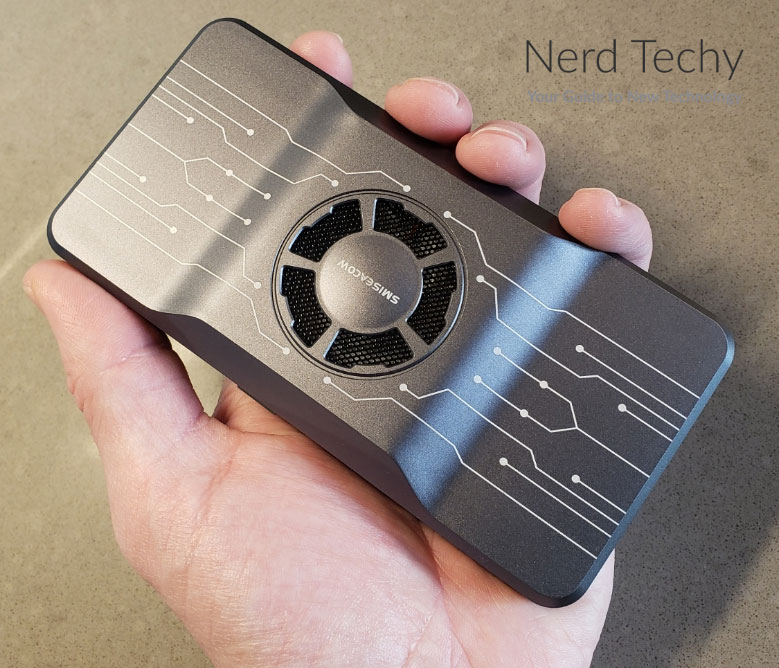 What to Look For in a Multiport Hub
Before we wrap up, let's talk about what makes a good multiport hub. Why would you choose one over another? Here are a few things you should look for when you're making your decision.
What Do You Need to Connect?
Start by taking an inventory of all your peripherals. This should include anything you intend on buying in the near future. Look at how they connect. Do you need a USB port? A USB Type-C port? How many displays do you have? Does your hub also need to support an Ethernet connection? In other words, figure out how many and what type of ports you need.
Along the same lines, consider whether you need to deliver USB Type-C power via your hub. Some hubs, like the H1, support this function. Others do not. Make sure you're getting what you need.
Look at the ports your laptop or desktop already has, and compare it to your needs. Do you need more USB Type-A ports? More HDMI ports? Once again, this will dictate what you choose.
Do You Have Other Needs?
A lot of what we've been talking about today has been about laptops. But there are other reasons you might want to use a USB hub. Maybe you're trying to hook a mouse and keyboard up to your Steam Deck. Maybe you want to attach external displays to your smartphone. In that case, look for a hub that's compatible with your device.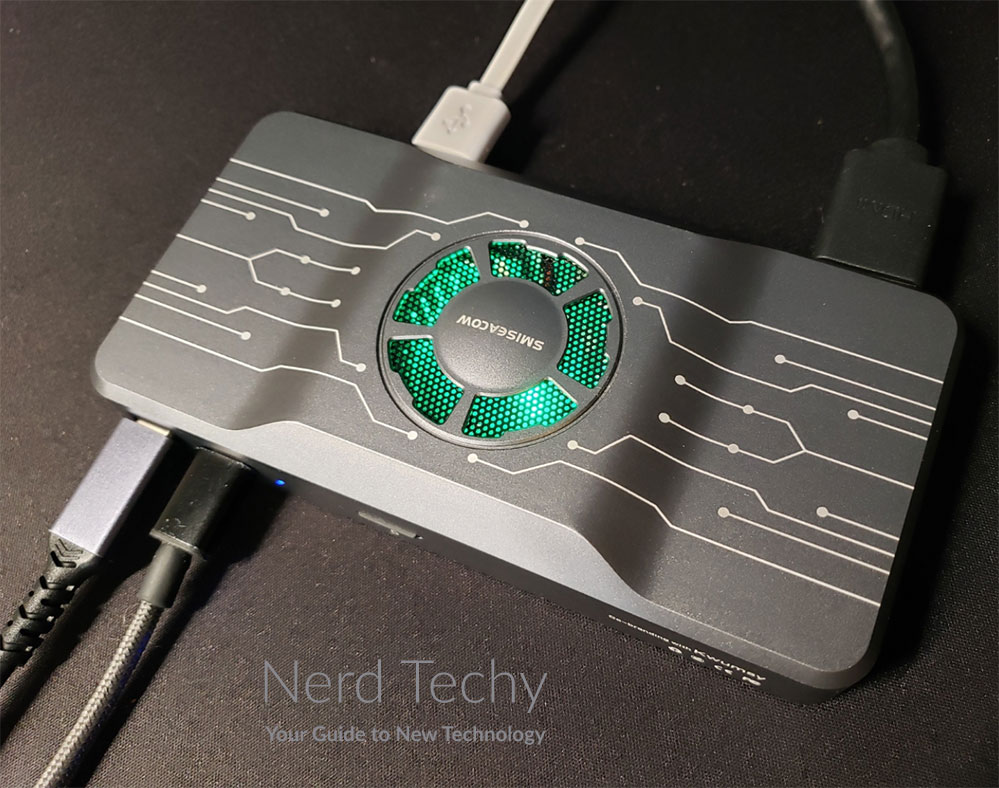 Final Verdict
The Kwumsy H1 Multiport Hub is a versatile hub that significantly increases your laptop's connectivity. It adds the ability to connect three more displays and three USB peripherals. And if that's not enough, you can even run your laptop's USB Type-C power supply through the hub.
It's compatible with pretty much any device. You can use it with Windows, Mac, or Linux-based machines, as well as Android devices. If you want to play your favorite smartphone game on a full-sized monitor, you'll be able to. We particularly liked the compatibility with Apple's old M1 chip. This lets you exceed the typical monitor limit for MacBook laptops.
If that's not enough, the physical construction is practically bulletproof. It's made of aluminum rather than plastic, which makes it very tough. The aluminum housing, fan, and heatsink also do an incredible job of protecting the internal circuitry. And with its modern design and LED backlight, it's attractive to look at.