Desktop computers are making a comeback in recent months. With many people needing a more powerful at-home solution for gaming, entertainment and work, PCs are the most cost-effective, powerful solution. They are infinitely customizable and upgradeable, making it great for enthusiasts and power users alike.
Regardless of what you use it for, desktops need to have a solid connection to the internet and network. Although you could go through the hassle of running a wire from a router to your desktop, most people are choosing to install a WiFi card instead.
What is a WiFi 6 PCIe Network Adapter Card?
WiFi network adapter cards enable desktop computers to have a strong, consistent wireless connection to the internet and local networks. Network cards enable your computer to connect to anything from routers to printers, wirelessly.
While WiFi technology has made our lives tremendously easier, it continues to evolve and roll out faster, more efficient formats to deal with the increased demand for speed. Choosing the right WiFi network adapter card is important if you're going to take full advantage of the internet speeds you're paying for.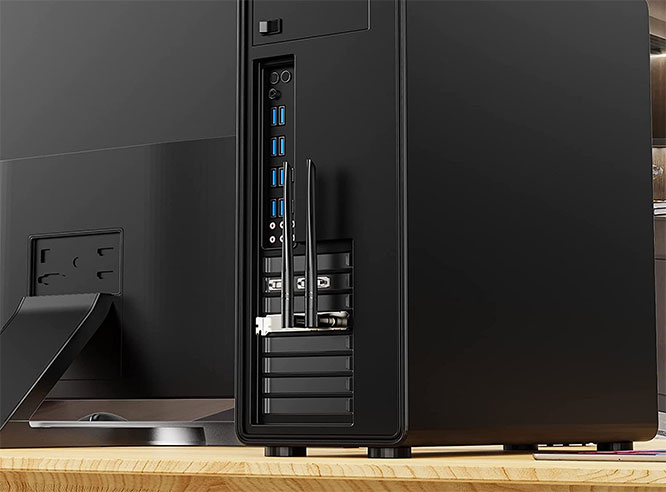 In fact, what card you choose can mean the difference between an enjoyable or a challenging user experience with your computer. There are an overwhelming number of options out there. We've leveraged our years of experience in the technology space to round up the top 5 WiFi adapter cards currently on the market.
You'll notice that we are only including WiFi 6 network adapters on this list. WiFi 6 is the latest iteration that can deliver faster network speeds, simultaneously for a high number of smart devices throughout your home or office.
Many people invest large amounts of money into a WiFi 6 internet router but wonder why they don't see a difference on their desktop computer. You need a WiFi 6-optimized network card in order for your computer to access the speed and features of this new technology. Lesser cards will serve as a bottleneck making your investment a waste.
For that reason, we are excluding WiFi network cards that use older technology in favor of cards that can future-proof you for at least the next few years.
Our Selection Process:
We've only included products in our roundup that we feel offer the best value and performance for our readers. Our team has used specific criteria to make our selections, which include:
Quality Materials: It's important that components are high quality and sourced from reputable sources. This plays a big role in aspects like overall performance and efficiency.
Up-to-Date Technology: We only included network cards that operated on WiFi 6 connection technology. This ensures your computer is free of unnecessary bottlenecks or slow downs.
Futureproof or Scalable: It's important that your network card plays nice with other aspects of your wireless ecosystem. Even though wireless technology is moving at a fast pace, you want to do everything you can to make your investment stand the test of time for as long as possible.
Brand Track Record: A quick online search will yield dozens of brands to choose from. We've done a thorough analysis into the manufactures of the cards in our roundup to make sure they have the reputation and track record of producing a high-quality, reliable product.
Price/Value: You're able to pick up a solid network card at nearly any price range. Going with the most expensive options doesn't always mean it's the best. We make sure the WiFi network cards on our list have enough value to justify the price that they charge.
Best Range: TP-Link Archer TX3000E PCIe WiFi Card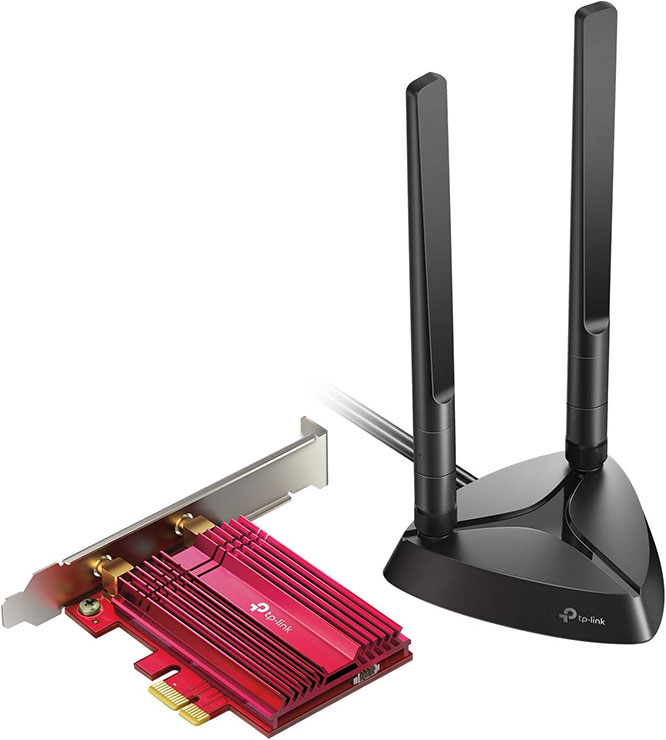 Key Features:
Low latency.
OFDMA & MU-MIMO technology for constant connectivity.
Up to 2.4Gbps of speed.
2 Multi-directional antennas.
Bluetooth 5.2.
The TP-Link Archer TX3000E tops our list as the best PCIe Wi-FI network card for range. Having a network card with a solid range means you don't have to worry if your internet router is on the other side of the house. One thing to keep in mind is that things like clutter, furniture and interior walls can significantly reduce the range you have, regardless of what they advertise.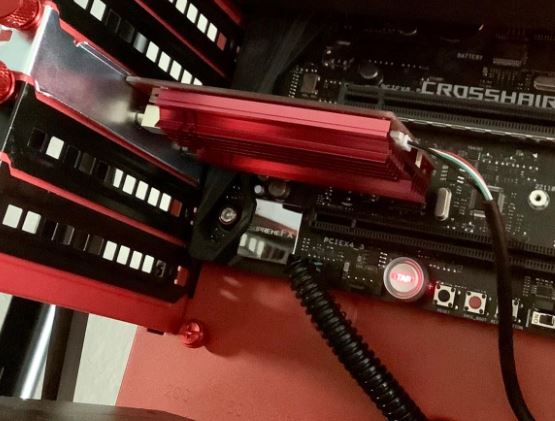 The TX3000E network card provides a rock-solid, uninterrupted connection using both OFDMA and MU-MIMO technology. Combined with WiFi 6, it's an unbeatable combo at the moment.
An enormous challenge with long distances between your computer, and router is lag. The TP-Link manages this exceptionally well, providing some of the least amount of lag of any network card on the market. This is important for people that do things like live-streaming, Zoom or gaming.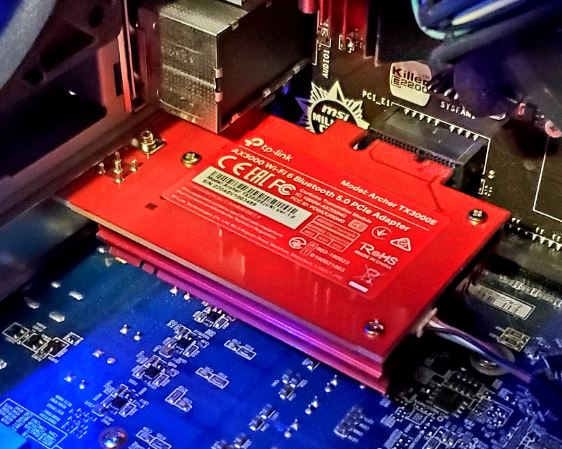 Our team liked the expanded coverage we could achieve from the two large multi-directional and high performance antennas. Overall, the TP-Link Archer TX3000E is a solid choice for anyone looking for powerful connection and fast speeds with incredible range.
What We Liked:
Includes Bluetooth 5.2 for greater coverage and speeds.
Two powerful antennas.
Magnetic base on the external antenna.
Range is as advertised even in spaces with several internal walls.
Easy installation.
What We Didn't Like:
Installing drivers and initial setup can be challenging.
Customer support can take some time to respond.
Best for Gaming: ASUS PCE-AC88 WiFi Card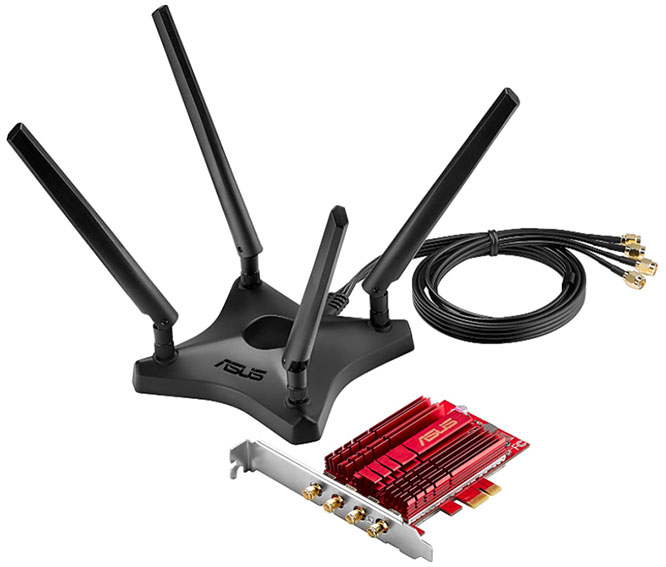 Key Features:
Dual-band 4×4 AC3100 WiFi speeds.
External magnetic antennas.
Heatsink for better cooling.
Low profile bracket.
The ASUS PCI-AC88 embodies everything we look for in the best WiFi card for gaming. Dual-band 4×4 AC3100 WiFi provides blistering speeds of up to 2100Mbps (5GHz band) and 1000Mbps (2.4GHz band).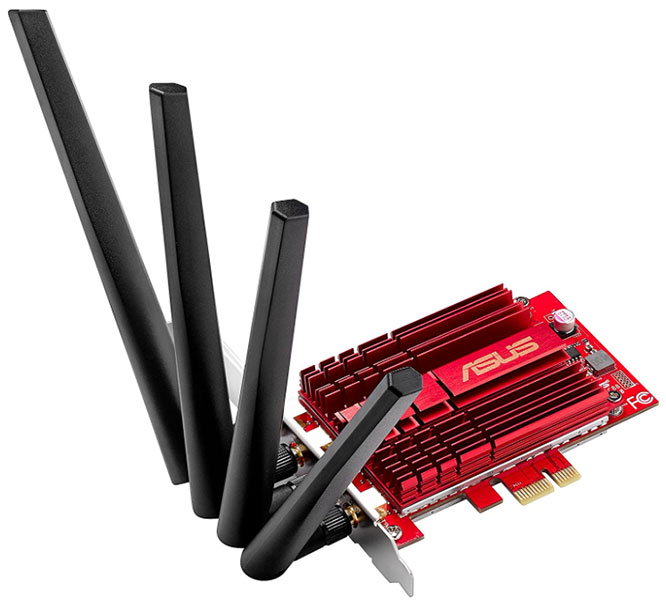 For added range, the ASUS PCI-AC88 provides two options to add antennas to the unit. Included in the box are four dipole antennas that can be attached using an external magnetic base and placed on your desk or on top of the desktop. If you're looking for a less obtrusive option, there are R-sma antenna connectors that allow you to easily install aftermarket antennas directly onto the card.
Heat management and cooling is important for high performance environments such as gaming. Excessive heat can hamper performance and reduce the longevity of a computer's components.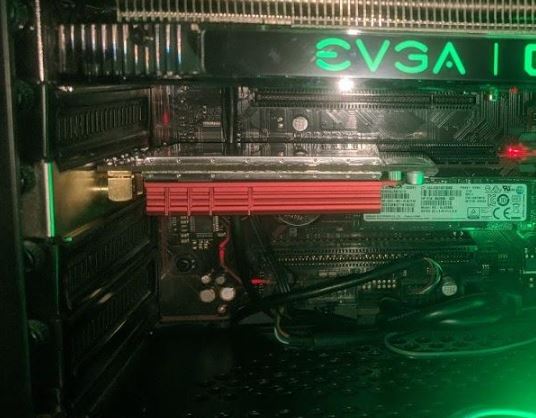 We really love the custom heatsink on the ASUS network card that works to dissipate heat produced by the device. This small but powerful feature allows your network card to deliver extremely fast speeds and performance without putting an additional burden on the onboard cooling system.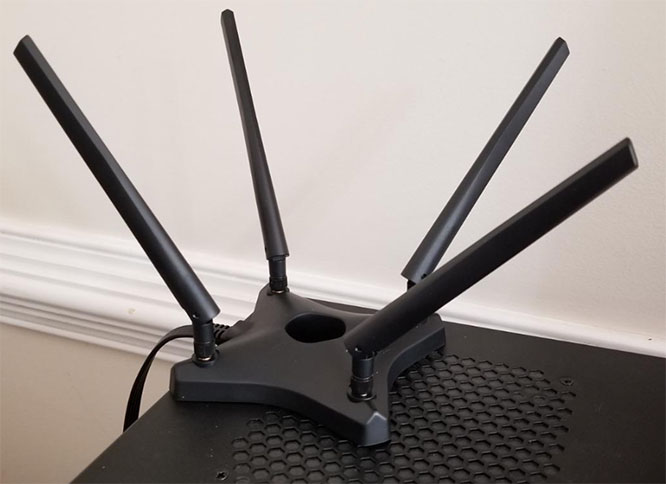 Many WiFi network cards lack the bandwidth to manage wireless online game play. Thanks to support for MU-MIMO technology, we found the ASUS PCI-AC88 to be ideal for limiting lag and providing a more responsive playing experience.
What We Liked:
Supports MU-MIMO technology for less lag.
Four antennas and a magnetic base for greater range.
Custom heatsink.
Fast speeds of up to 2100Mbps.
What We Didn't Like:
Typically more expensive than others.
Antenna takes up a decent amount of space.
Best Alternative: ASUS PCE-AX58BT PCIe WiFii Card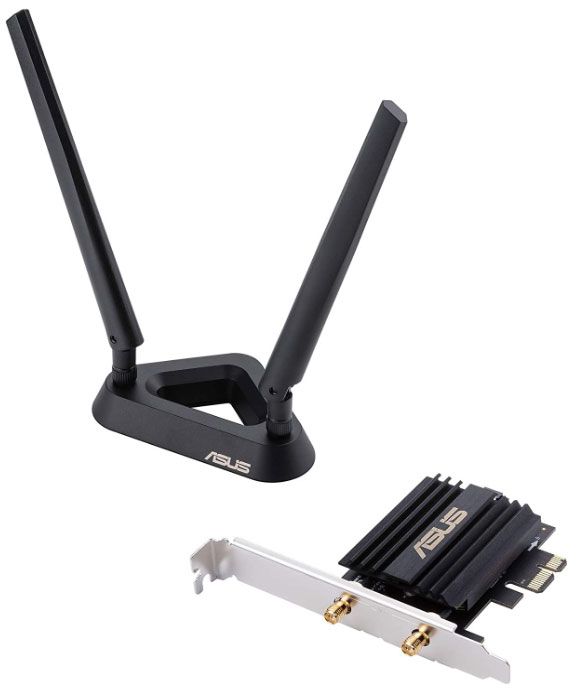 Key Features:
Bluetooth 5.0.
OFDMA & MU-MIMO technology.
WPA3 security.
External antenna base.
Our roundup would not be complete without including the ASUS PCI-AX58BT.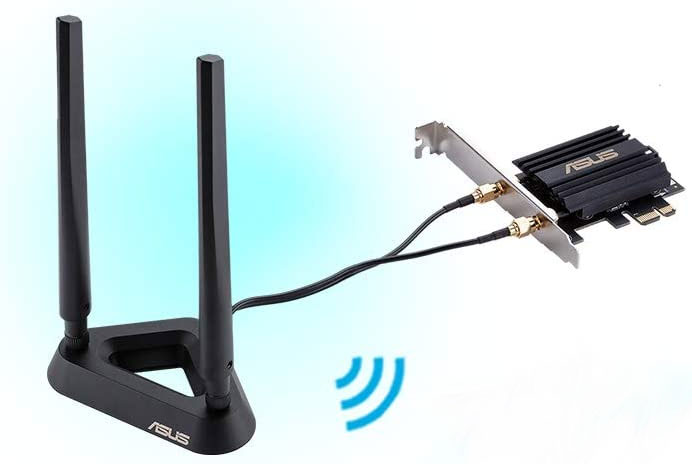 This network card leverages the power of WiFi 6 extremely well, providing a wireless experience that is incredibly fast and free of bottlenecks. According to a host of user reviews, this card can produce 2.7x faster speeds than previous generations of WiFi network cards.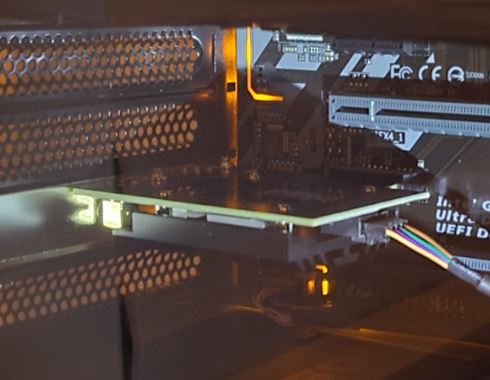 Its Bluetooth 5.0 makes it ideal for extremely fast transfer speeds and connectivity to multiple bluetooth devices such as keyboards, speakers and headsets. We appreciated the included antenna extension base which gives you placement flexibility to enhance coverage. It's hard to beat a card with this feature set from an established brand.
What We Liked:
Bluetooth 5.0
2.7x faster speed.
OFDMA and MU-MIMO technology for less lag.
External antenna base.
What We Didn't Like:
Installation with an included bracket can require extra tinkering to get right.
Antenna performance is lacking.
Best 2nd Alternative: TP-Link Archer TX55E PCIe WiFi Card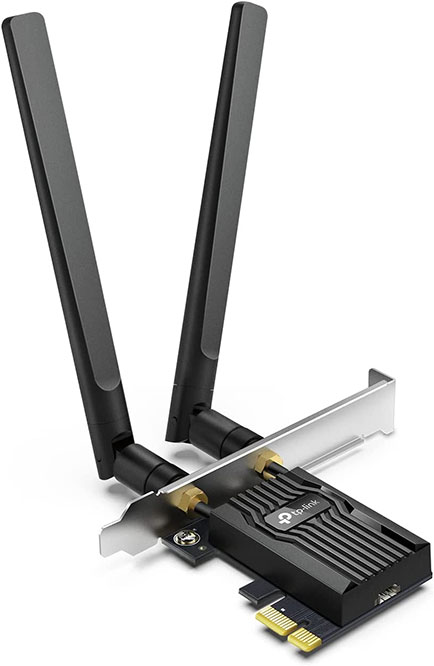 Key Features:
2402Mbps on 5GHz band.
OFDMA & MU-MIMO technology.
Double antennas.
Bluetooth 5.2
The TP-Link Archer line of network cards are rock solid performers in the computer electronics space. When it comes to wireless network cards, the TX55E is a powerful performer. With speeds of up to 2402Mbps on the 5GHz band, it provides incredible speeds with uninterrupted connectivity.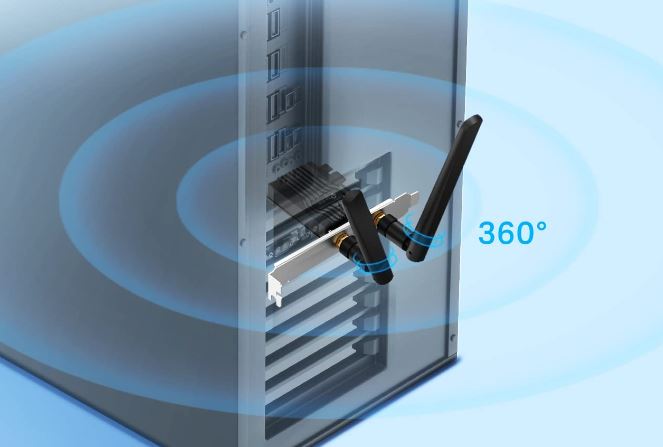 OFDMA and MU-MIMO technology minimize lag and improve responsiveness. This unit does not come with an antenna base extension but we found that the antennas that attach directly to the card do a great job of keeping the range high.
If you have a lot of Bluetooth devices to connect to your computer, the onboard Bluetooth 5.2 is capable of delivering 2x faster speeds and 4x more coverage. Overall, the TP-Link Archer TX55E is a solid choice at an incredible price.
What We Liked:
Bluetooth 5.2 is extremely fast.
High speeds at both 5GHz and 2.4GHz.
Latest WPA3 security protocol.
Comes with multiple brackets to match your tower's needs.
What We Didn't Like:
Bluetooth function requires a USB cable to be connected to a F_USB connector.
No antenna extension base.
Best Budget: Wavlink AX3000 PCIe WiFi Adapter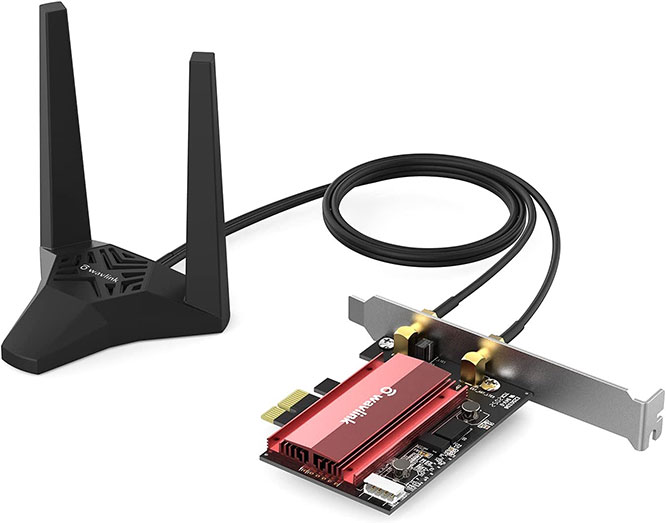 Key Features:
Dual-band 4×4 WiFi.
External magnetic antennas.
Heatsink for better cooling.
The Wavlink AX3000 tops our list as the best budget WiFi adapter because it still leverages the latest wireless technology just in a more cost efficient package. While it lacks some bells and whistles of other options on this list, it still provides a solid, uninterrupted connection with only rare marginal lag.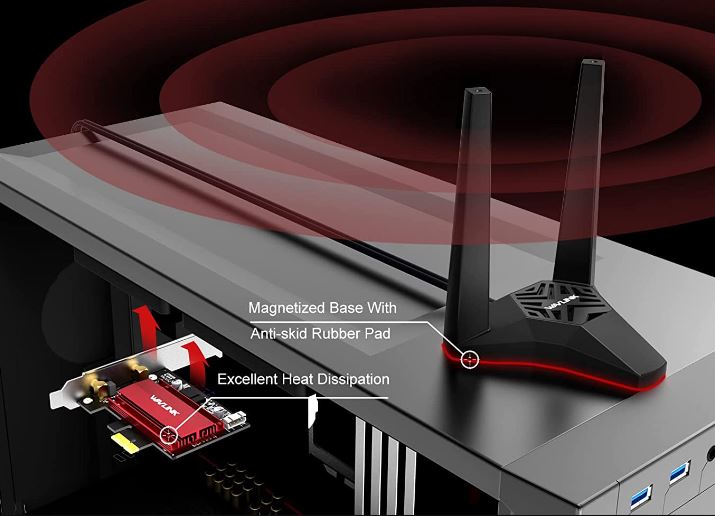 The installed MT7921K chipset extends WiFi speeds up to 3000Mbps which is solid even for network cards at even higher price points. These speeds are great for ultra-smooth gaming and VR experiences.
The magnetic antenna extension base helps to increase the range of your network card if your computer tower is on the floor. Users report this wireless card's speed and connectivity are on par with the wired connections they had before. It's an affordable way to rid your office space of additional wires.
What We Liked:
Budget friendly.
6GHz band.
Bluetooth 5.2
Antenna extension base for greater range.
What We Didn't Like:
Driver installation sometimes requires a computer reboot before detecting device.
MT7921K chip is not as stable as Intel.
Bluetooth functionality requires additional hardware.
How to Choose the Best WiFi 6 PCIe Card
As you can see, there are plenty of options to match a wide range of needs. If you stil aren't sure which network card is best for you, we've included some things to consider to help make your decision easier. Have a look.
Budget
There are great options regardless of your budget. However, you are going to have to make a list of priorities and be prepared to compromise on a few things as you go lower in price. Placing your router closer to your computer can help you save money by reducing the range you need.
Range & Coverage
Your card won't do you any good if your range doesn't reach the router. There's a difference between marketed range and actual range. You'll want to skim through user reviews to get a more accurate idea of just how much range you can get out of a specific network card. Also, the greater the range, the higher the price.
Bluetooth
Most of us have wireless keyboards and headsets. If you have over one or two Bluetooth devices, it's important to make sure your WiFi 6 network card has the latest Bluetooth technology.
Speeds
If you intend to do data intensive activities like gaming or video conferencing, you will want to make sure your wireless card is up to the task. Try to make sure the data speed on your card is the same or higher than the capabilities of your router.
Meet Derek, "TechGuru," a 34-year-old technology enthusiast with a deep passion for tech innovations. With extensive experience, he specializes in gaming hardware and software, and has expertise in gadgets, custom PCs, and audio.
Besides writing about tech and reviewing new products, Derek enjoys traveling, hiking, and photography. Committed to keeping up with the latest industry trends, he aims to guide readers in making informed tech decisions.