WiFi is one of those technologies that seems old, but is constantly being upgraded. 802.11a was the original standard, but 802.11b was the first to become popular with the public. Since then, we've gone through 802.11c and 802.11a, with each iteration being a major improvement. Signals have gotten more stable, speeds have gotten higher, and latency has gotten lower. Support for multi-device use has also significantly improved since the early days. Last year came the release of a new standard, WiFi 6 – formerly known as 802.11ax. This new standard allows speeds as fast as 3,000Mbps, as well as supporting more devices on one network.
So far, the rollout of WiFi 6 has been slow. We started to see some WiFi routers throughout last year, but little else. This year, though, we've started to see more WiFi 6 connected devices. This is great news for anyone who wants fast internet and connectivity for all their smart home gadgets. But unless you're using a brand new PC, you won't notice any benefit in your PC connection. Your old wireless card will serve as a bottleneck, limiting your speed. If you want to get the full benefit of your new WiFi 6 router, you'll need to upgrade your computer, too. The best solution is to use a PCIe WiFi 6 network adapter card.
Note: At no extra cost to you, we may earn a commission for purchases using our links. Learn more.
Today, we'll be looking at four of the best PCIe WiFi 6 cards available. We'll begin by reviewing the Asus AX3000 (Pce-AX58BT). This card has big external antennas, also provides Bluetooth 5.0, and works with Windows 10 64-bit and Linux. Next, we'll look at the MSI AX916C AX200. This card has a similar design and features, works with both 32- and 64-bit Windows 7, 8.1, and 10. After that, we'll consider the WAVLINK AX3000. This card also has external antennas, and supplies Bluetooth 5.1, but it's for Windows 10 64-bit only. Finally, we'll check out the EDUP PCIe WiFi 6 Card. This card has antennas on the back of your PC, and provides Bluetooth 5.1. Which one is right for your computer? We're about to find out!
How to Choose the Best PCIe WiFi 6 Network Adapter Card
Before we start talking about individual PCIe WiFi 6 cards, let's talk about what you should be looking for. That way, we'll have a better basis for comparison when we look at various features. Here are the most important things to consider when you're buying a new wireless card.
Bandwidth
Bandwidth is the most important consideration, because it's a measure of your data speed. The more bandwidth you have, the higher your theoretical maximum transfer speed. Prior to WiFi 6, you could typically expect around one Gigabit of data transfer. That's in line with Gigabit Ethernet, at least in theory. In practice, Ethernet is still more reliable, and has less latency.
With WiFi 6, on the other hand, you should expect at least 3 Gigabits (3,000Mbps) of bandwidth. This will allow you to get the fastest possible speeds out of your connection. Keep in mind, though, that you won't always get the highest possible speed. For one thing, your home's internet service may not be anywhere near that fast. For another thing, if there are a lot of online devices, some of them might hog your bandwidth.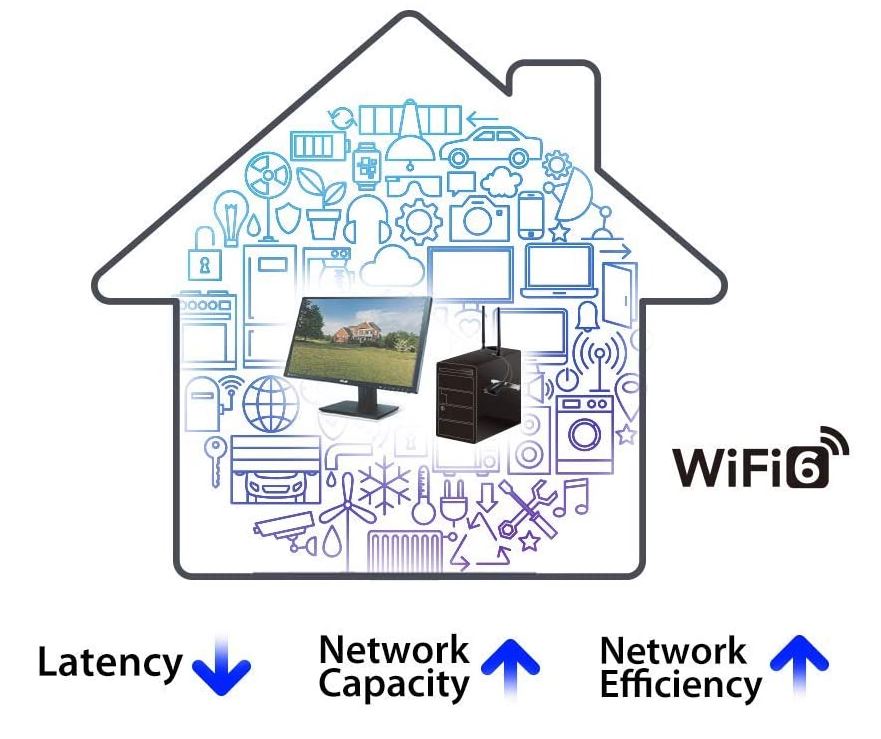 Number and Type of Antennas
It's easy to get distracted by a bunch of antennas. We have router manufacturers to thank for this, and there, more antennas makes more sense. After all, the purpose of an antenna is to boost the signal in a given direction. For a router, you probably want a good signal in all directions, so more antennas makes sense. The more antennas, the more directions you can boost your signal in. This all makes sense so far.
For a computer, on the other hand, it's a different story. You aren't connecting to a bunch of other devices directly via WiFi; you're connecting to your router. So the only direction you need to boost your signal in is the direction of your router. In other words, more than one antenna is normally unnecessary. Then again, if you aim two antennas, that's more antenna pointed at your router.
More important is the size of the antenna. Assuming the same design, a larger antenna will have more strength and longer range. The exact range can be highly variable. It depends on signal strength, interference, and any obstacles that block the signal. As a general rule of thumb, assume the signal range is 30 feet. If for some reason you need very long range, you can always buy a bigger aftermarket antenna.
Card Size
The physical size of the card can also be a concern. PCIe wireless cards will always fit in the same slot on your motherboard. However, the size of your case will make a difference. If you have a full-sized case, good news! Barring an unusual design or a truly massive graphics card, you'll have plenty of space for a wireless card. That said, if you have a mini ITX or micro ATX case, you might not have enough clearance. Before you buy, make sure to measure the clearance over your PCIe port. If that's less than the height of a given card, you'll need to choose a different card.
Cooling Concerns
Depending on your setup, cooling may or may not be a concern for your wireless adapter. If you've got good airflow and no existing heating issues, you should be good to go. That said, there are circumstances where it makes sense to invest in a wireless card cooler. After all, a WiFi card is fundamentally the same as any other type of circuit. The harder it works, the more heat it puts out. And if it's not adequately cooled, its performance will suffer, and it might even fail.
The cooler of choice is an aluminum PCIe cooler. This is basically an aluminum block that sits against your card. It then absorbs heat, and distributes that heat back into the air. Keep in mind that there still needs to be adequate air for cooling. Make sure there's plenty of air flow. And whatever you do, don't install your WiFi card directly in the path of your graphics card's exhaust.
Driver Support
The last thing to take into consideration is driver support. Some WiFi 6 cards will be plug-and-play, which makes for easier installation on some systems. Other cards require you to download and install drivers in order for them to work properly. Some drivers are plug-and-play on some systems and require drivers on others. Make sure your OS will support whatever wireless card you want to buy.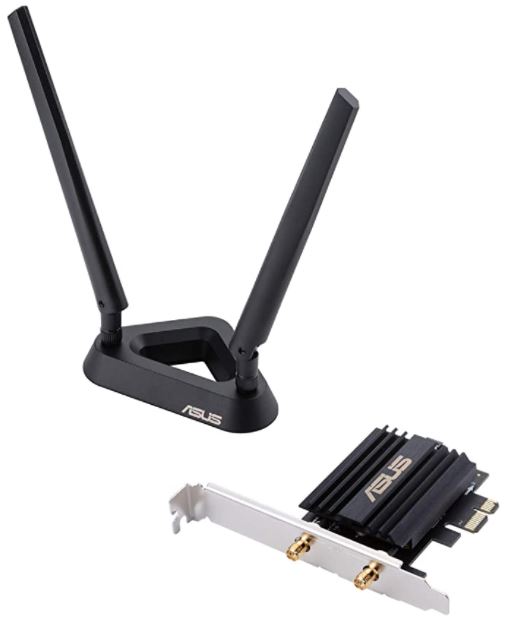 Asus AX3000 (Pce-AX58BT)
Asus is known for producing a number of high-quality electronics, including networking gear. So, how does the Asus AX3000 (Pce-AX58BT) stack up? This is a low-profile design, with a fat body with ribbed sides for better heat dissipation. The card itself is matte black, with a gold ASUS logo on the side. It has a standard aluminum plate on the back for easy mounting, with two antenna connections. These are standard-style antenna connections, so you can hook up almost any third-party antenna. That said, the kit includes a beefy pair of pivoting antennas, attached to a magnetic mounting base.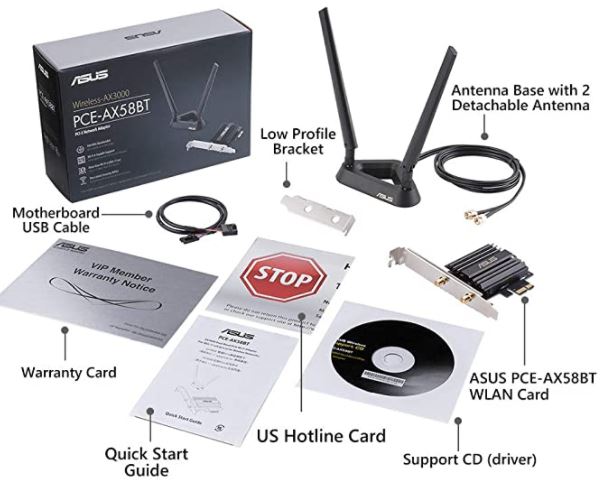 This card provides up to 2,400Mbps of data throughput over the 5GHz channel. This is augmented by 600Mbps from the 2.4GHz channel, for a total bandwidth of 3,000Mbps. It also supports OFDMA and MU-MIMO technology, so it works well when you have many connected devices. As for safety, you get WPA3 security, which is the latest and greatest.
In addition to WiFi, you can also use the Asus card for Bluetooth 5.0. Just be aware that you'll need a 9-pin USB header on your Motherboard to connect the Bluetooth module. The AX3000 is compatible with Windows 10 systems, but only with the 64-bit version. You can use it on Linux systems with 32- or 64-bit architecture, but you'll have to install drivers.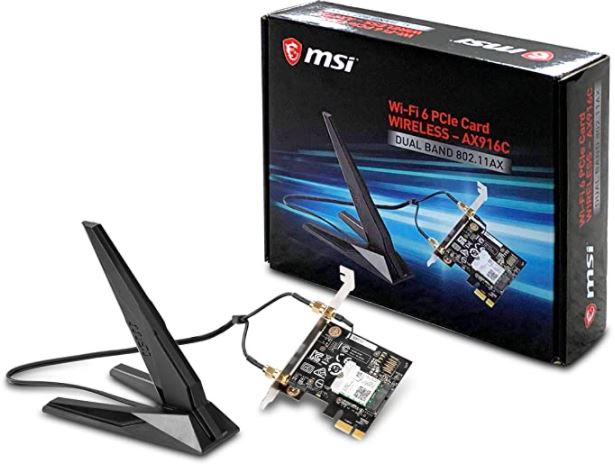 MSI AX916C AX200
MSI produces many gaming and computer accessories. So it made sense to take a look at the MSI AX916C AX200 WiFi 6 adapter. The card itself is understated, with a low profile, but also much narrower than the Asus card. It mounts easily in the back of your computer, and has contacts for a single antenna. The antenna is thick and beefy, but it's not adjustable, and there's only one. Still, it provides plenty of boost.
This wireless card also provides 3,000Mbps of bandwidth, along with Bluetooth 5.0 connectivity. You can connect the Bluetooth directly to the motherboard pin header, but only on Intel. It won't work with AMD motherboards. That said, you get plug-and-play performance on any version of Windows 7, 8.1, or 10.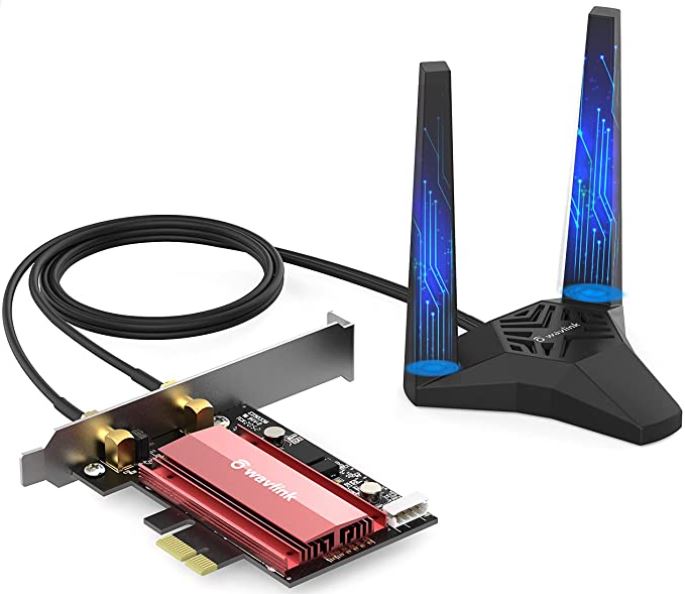 WAVLINK AX3000
WAVLINK is yet another manufacturer with a long history in this field. The WAVLINK AX3000 is another WiFi 6 network card with a magnet-mounted antenna. It's actually a beefy dual antenna, which is not adjustable, but still reasonably big. The card itself has a low profile, with a chunky aluminum heatsink mounted to one side.
Like the last two adapter cards we looked at, the AX3000 provides 3,000Mbps worth of bandwidth. You also get support for OFDMA, MU-MIMO, and other multi-device protocols. There's WPA3 security, so you can connect securely to even the newest routers. But best of all, there's also Bluetooth 5.1. This is an upgraded version of Bluetooth, which is designed for lower latency. This won't help with your internet connection, but it's great for gaming or watching movies. The Bluetooth module connects to your motherboard with a 4-pin cable.
On the downside, this wireless card will only work with the 64-bit version of Windows 10. You also have to download the driver from WAVLINK's website before installing the card.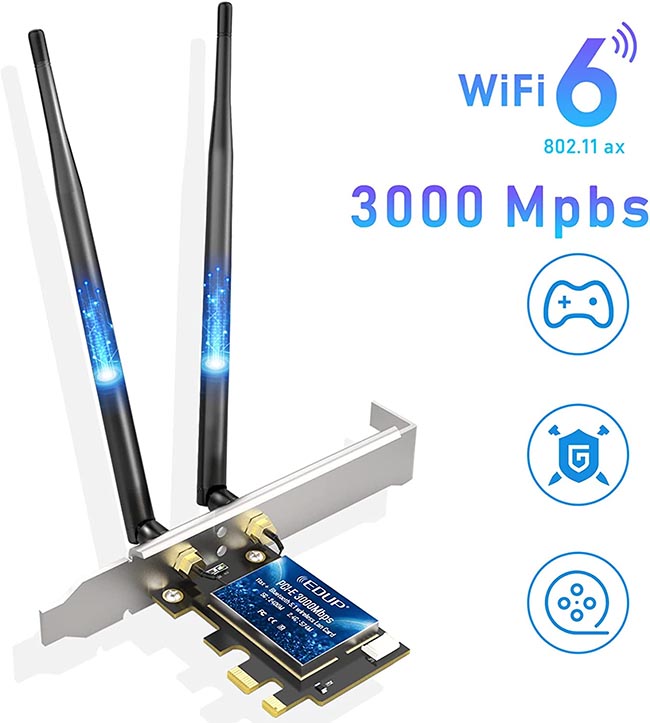 EDUP PCIe WiFi 6 Card
The EDUP PCIe WiFi 6 Card is yet another full-powered PCIe wireless card. It provides 2,400Mbps of bandwidth on the 5GHz channel, and 600Mbps more via 2GHz. Like the others, it also utilizes OFDMA and MU-MIMO technology to work better on busier networks.
The main thing that sets the EDUP card apart is the antennas. Instead of being attached to a separate, magnetized mount, they're right on the back of the card. As a result, you don't have to attach any extra gear somewhere else on your computer. Just point the antennas in the direction of your router, and you'll be all set.
Like the WAVLINK card, this one is only compatible with the 64-bit version of Windows 10. You don't need to download any drivers, though; a driver CD is included in the package. You also get a built-in Bluetooth 5.1 module, which connects via a 9-pin motherboard interface.
Final Verdict
So, where does this leave us? Let's quickly recap. The Asus AX3000 (Pce-AX58BT) offers great connectivity, with Bluetooth 5.0 as well as WiFi. It stays cool easily, and it works on Linux as well as Windows 10. The only drawback is that the external antennas are a bit bulky.
The MSI AX916C AX200 has similar performance in many respects, but with a more compact antenna. It's also compatible with more versions of Windows, all the way back to Windows 7. Then again, the Bluetooth function only works on Intel motherboards.
The WAVLINK AX3000 provides WiFi 6 and a fast Bluetooth 5.1 connection, with a magnetized antenna. You have to download the drivers, though, and it will only work with Windows 10.
The EDUP PCIe WiFi 6 Card has attached antennas on the back, so they won't clutter up your desk. It also provides Bluetooth 5.1, and the package includes a driver CD. On the downside, it only works with Windows 10 64-bit.
Note: At no extra cost to you, we may earn a commission for purchases using our links. Learn more.