It doesn't matter if you're a programmer, avid gamer, or a content developer. Maybe all you do with your PC is access an email account. In any case, RAM can make an enormous difference in the speed of your system. But especially for people who want to have more than two or three windows open at a time.
Choosing the Best DDR4 SODIMM Laptop RAM
Fortunately, picking laptop RAM isn't much tougher than picking any other type of RAM. Swapping components inside your laptop might sound like a pretty intimidating and potentially challenging experience, but you don't actually need any special experience to install laptop RAM.
Note: At no extra cost to you, we may earn a commission for purchases using our links. Learn more.
In most cases, installing RAM into your laptop is only marginally more difficult than installing it into a desktop. Which is about as difficult as connecting some Lego blocks. However, you do need to check a few boxes to ensure you end up with everything you expect.
Quantity of RAM
First and foremost, you should ask yourself, how much is enough? A good way to gauge how much RAM you need is by looking at the system requirements for the programs you want to run. But if you don't have those in mind, there are also some pretty good rules of thumb you can follow.
For instance, the average person really only needs about 8GB of RAM. With that much at your disposal, you should be able to play essentially any game, and operate essentially any consumer grade computer program. But moving to 16GB does help in a couple of ways.
For starters, it means you can keep many more applications open. For instance, a video streamer could load their streaming software, a videogame they're playing, and an internet browser to watch their stream in real time. That eats up a lot of RAM, but with 16GB, even a power-user like an internet streamer shouldn't encounter any limits.
It's only people who are doing development work who really might need more than 16GB. For those people, it's often possible to expand up towards 32GB. But keep in mind, in addition to your laptop having a finite number of RAM slots, there is a limit to the quantity of RAM you can have inside your operating system. Those limits are typically up around 32GB, so you don't have to overthink them.
Number of Slots
But you will want to figure out how many slots you have in your build. Most laptops generally only have two RAM slots. But some have a single slot, and some have more than two. It entirely depends on your build. If you only have one slot, then you may end up paying slightly more for your RAM because it means you won't be able to keep using one of your existing sticks.
Conversely, it's often possible to save a couple of bucks in a two slot setup by only upgrading one chip. But for optimal speed, you actually want to keep both of your RAM chips identical, or at least running with the same speed and timing.
The Manufacturer
You can find RAM from dozens of different brands. But most RAM is actually built out of components that were constructed by only three or four big manufacturers. It's actually pretty complex to make something like RAM, so the underlying components for these products usually originate from enormous brands like Samsung or Micron.
Nevertheless, it's actually important to pay attention to the brand name attached to the product itself. Because even if Samsung or Micron manufactured the chips, they were probably assembled by someone else. And that third party is who's responsible for your warranty. The failure rate on RAM tends to be pretty low, but it's still worth seeking a nice warranty.
Form Factor & Speed
The most common form factor for installing RAM inside a laptop these days is SODIMM. That form factor leaves the RAM measuring roughly 2.66 x 0.16 x 1.19 in. Pretty small and compact, and usually pretty easy to shove into position. You don't really have to concern yourself with issues of size or form factor once you've selected SODIMM laptop RAM.
But you might still consider the speed of the RAM. Faster RAM is able to move information into memory quicker. Simply having DDR4 RAM means you're already moving data pretty fast, so RAM speed doesn't actually have a huge impact on most tasks. But can be significant in a few niche circumstances, for people who know they can experience meaningful performance benefits from pursuing it.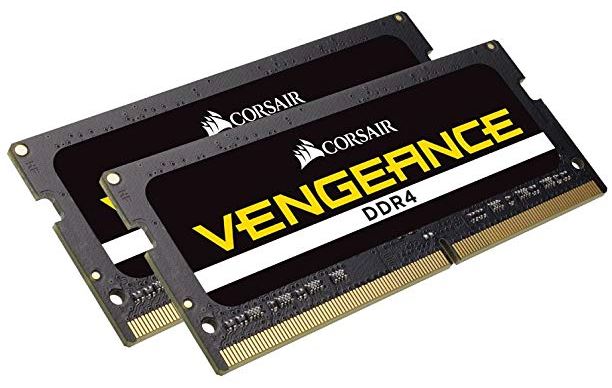 CORSAIR Vengeance Performance
Corsair is easily one of the biggest names in the world of RAM. And their Vengeance Performance is intended to be one of the strongest and most formidable laptop RAM kits anyone could ever hope to get their hands on.
The kit is composed of two separate 16GB modules for a total 32GB RAM. If you need more than 32GB for your laptop, you should probably just swap over to a desktop. But for someone who can take advantage of that much space, perhaps with a RAM disk, this kit means the sky is the limit.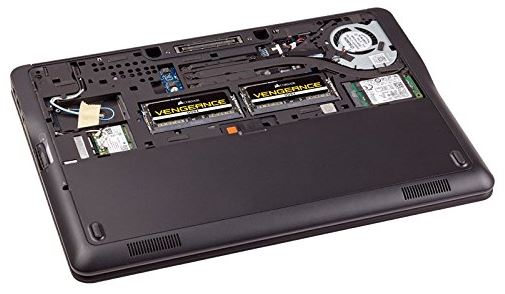 Build & Design
True to its 260-pin nature, this is DDR4 RAM. Not much of a surprise there. But it's interesting to see the Vengeance series turned into laptop RAM because this series is almost always defined by its enthusiastic style decisions. That often includes some flashy LEDs or oversized cooling components, all of which are missing here.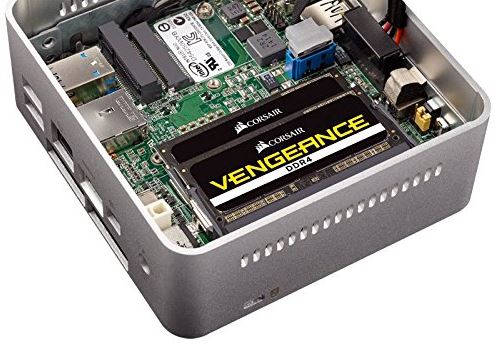 The Vengeance Performance uses a standard SODIMM form factor. More notably, this RAM is clocked at a speedy 2666MHz, using latency timings configured to fairly standard 18-19-19-39. These SODIMM laptop RAM modules were designed specifically for 6th generation Intel processors, but their optimization is nearly just as good for previous generations and newer generations of equipment.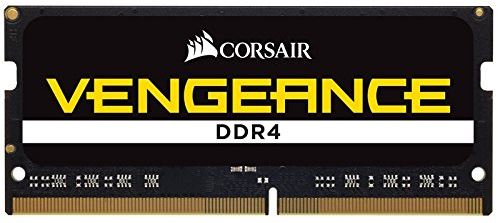 Other Considerations
No BIOS configuration is necessary for the auto-overclocking features of your notebooks to continue to work on this RAM. Actually, there isn't any special configuration require to started taking advantage of the extra speed, you can basically just plug it in and start enjoying the difference.
Corsair is actually pretty famous for having some of the best warranties in the PC industry. Seriously, some of their better power supply units have decade long warranties. In this case, their Vengeance Performance kit includes a lifetime warranty, along with unlimited tech support. Being one of the bigger brands, their tech support isn't bad, either. But keep in mind the warranty doesn't cover accidental damage.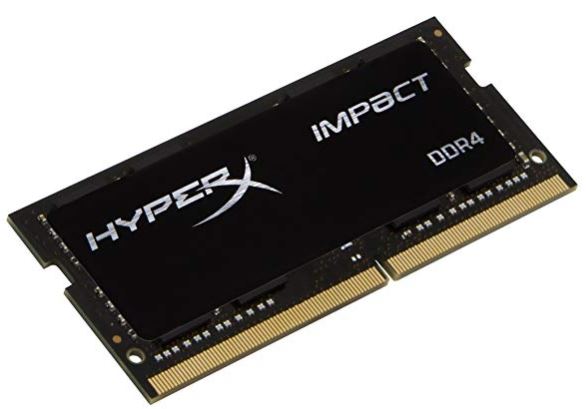 Kingston Technology HyperX Impact
When it comes to PC RAM, Kingston is another enormous name in the industry. But unlike the Vengeance Performance kit, the HyperX Impact are actually available with five different speed variants. Among them, you'll find 2133MHz, 2400MHz, 2666MHz, 2933MHz, and even 3200MHz.
If you've got a speed limit on your board that you can't surpass, for instance a 2400MHz speed limit, then it wouldn't make sense to get faster RAM. But provided you're not dealing with those sorts of limitations, the natural choice would be 3200MHz. Because its performance is best in class, but the price differential is minuscule.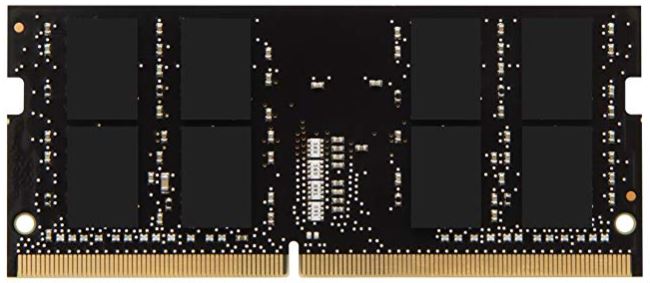 Build & Design
These RAM kits are available with four different options for capacity, too. You can select between a single 8GB stick or a single 16GB stick. You can also pick a 16GB kit made from two 8GB sticks, or a 32GB kit made from two 16GB sticks. Basically all your options are covered.

Similar to any good SODIMM RAM, this kit is basically plug and play. Stick it in and you're good to go, no BIOS configuration or other setup is required. The HyperX Impact kit is Intel XPM ready, making it equipped for overclocking with an i5 or i7 processor. If you try and configure the overclocking manually, your PC might have to restart one time before it knows what's going on. But that's a pretty minor inconvenience.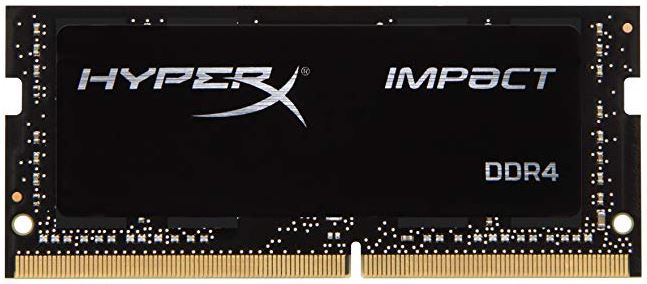 Other Considerations
Aesthetically speaking, each stick is pretty bland looking. They've at least gone through the trouble of giving them a partial cover, such that it doesn't look like you're handling a bare chip. Unlike desktop RAM, where there's a chance that your RAM might actually be seen, this SODIMM laptop RAM is going to be stuffed away inside the chassis of a laptop.
Similar to CORSAIR, Kingston's HyperX series include a lifetime warranty. Pretty handy to have, but this warranty does not include accidental damage.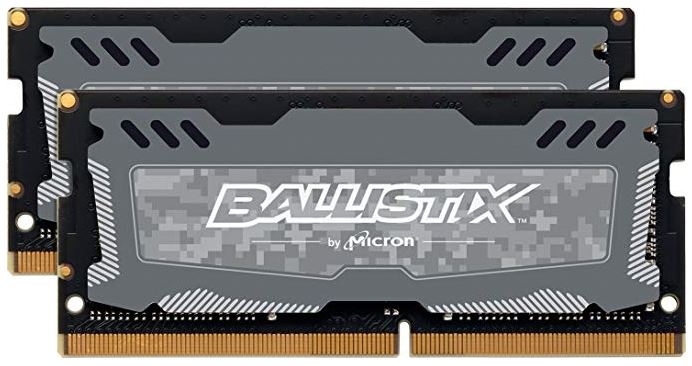 Ballistix Sport LT
Speaking of looking cool, the Ballistix Sport LT is easily the best looking RAM on this list. It's got a full sized face plate on both sticks, blasting out their Ballistix logo across a gray and white design. It's a bit like nobody told Ballistix that their RAM would be hidden inside a laptop where nobody would actually see it.
Even though the Ballistix name isn't well-known, there's no need to fear the unusual brand name. It's actually just a re-branded piece of equipment from Micron. So similar to the other RAM on this list, the Ballistix Sport LT is made with a plug and play design. Shove it inside your system and you're done with installation.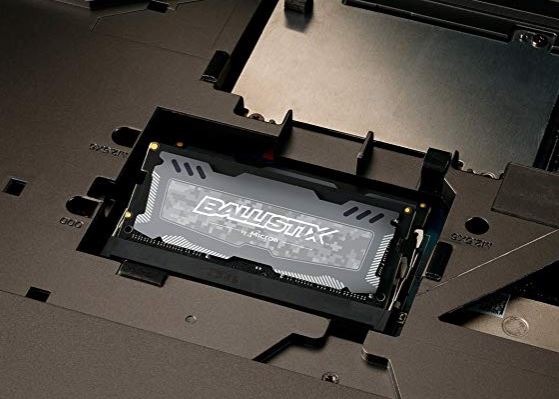 Build & Design
Similar to the Kingston Technology HyperX Impact, the Sport LT is an available in a wide number of different configurations. You can get a single stick of 4GB, a single stick of 8GB, a two-stick 8GB kit, a single stick 16GB kit, a two-stick 16GB kit, and a 32GB kit composed of two 16GB sticks. They're also available in two speed variants, 2400MHz and 2666MHz.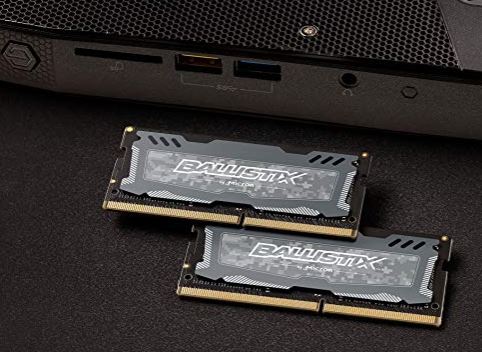 In addition to using the standard DDR4 SODIMM qualifications that most people are looking for, this RAM is configured with Intel XMP for people who are interested in keeping their XMP profiles optimized.
Other Considerations
There's one area where Sport LT doesn't stack up compared to the Kingston HyperX or the Corsair Vengeance Performance. And that's when it comes to automatic overclocking. If you don't actually need to take advantage of automatic overclocking features, then this isn't an issue at all.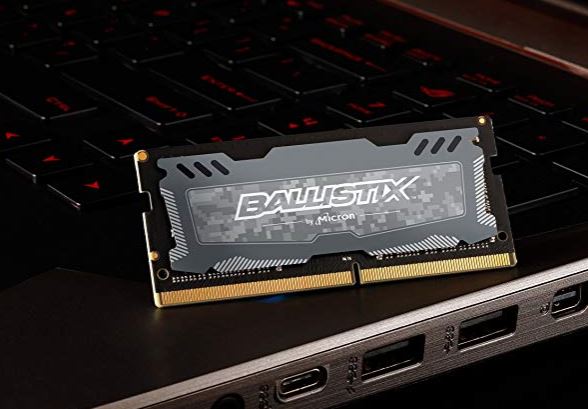 You can still manually overclock this RAM and squeeze a little extra speed out of it. But if you're an inexperienced user who actually gets automatic overclocking from their laptop, and wants to take advantage of it without having to configure anything, the Sport LT is a little unsuitable for that.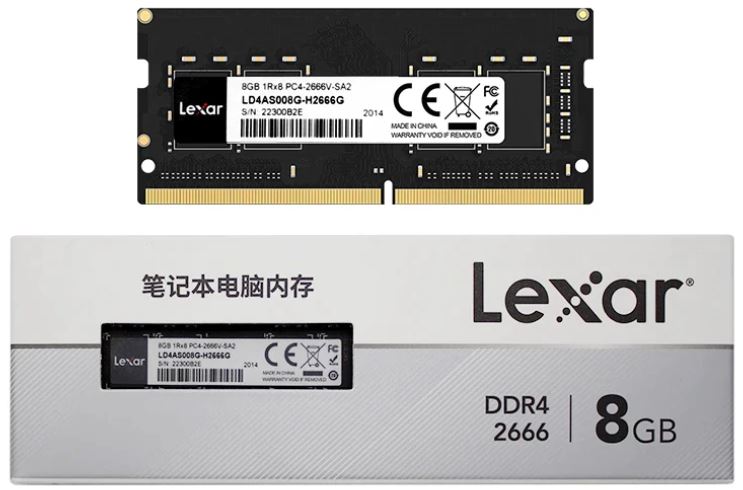 Lexar Laptop Memory
Lexar is another brand that has been an industry leader in the past decade. Their SODIMM laptop memory is available in both DDR4 8GB and 16GB modules. Built with a simple yet streamlined design, they're priced less than other popular brands that we showcased earlier. Although it's not available in a wide variety of capacities and speeds, it's simple to install and plug-n-play with virtually any laptop brand out there. Just pop it in and go!
Build & Design
The Lexar Laptop Memory is only available in 2666 MHz speeds. Although not quite as fast as other options in the 3200 MHz range, it's perfect for matching what's currently installed in the laptop that you're trying to increase speeds with. Ideal for those needing a boost in speed and performance when it comes to boot-up times, video editing and gaming.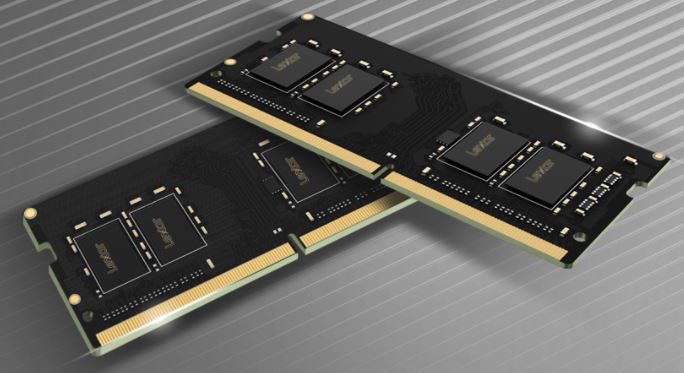 The appearance is basic – nothing fancy or anything to write home about. This is alright though, since the aesthetics of a RAM stick are not quite important for laptop users who simply want to increase speeds.
Other Considerations
Do keep in mind, however, that there are no built-in overclocking features to speak of. This may not be a big deal for most users, but avid gamers who want to push their hardware to the limit will have to manually configure the overclocking of it in your bios or with a third-party application. This is all dependent on the machine you're installing it in, but it's good to know.
Picking Between 4 of the Best DDR4 SODIMM Laptop RAM Modules
Corsair Vengeance Performance is an excellent choice for a 32GB kit. It's been highly optimized for Intel notebooks, and installation is a breeze. The Vengeance kit was made to help you enjoy your existing automatic overclocking features to the fullest extent of their potential. Though not everyone needs 32GB, for those who do, Corsair provides is an excellent safe and simple choice.
Kingston Technology HyperX Impact has a huge number of different options available, from 8GB to 32GB, from 2133MHz to 3200MHz. And the chips themselves are among fastest SODIMM laptop RAM you can get your hands on. Whether you're looking to add the odd stick to your collection, or you're looking to totally swap out your current RAM kit, HyperX can accommodate almost any build style.
There's also the Ballistix Sport LT. Even though this brand looks random, and has basically no name recognition, that's actually not an issue. Because this is RAM was made by a lesser known re-branding of Micron, which is basically like the American version of Samsung. And the Sport LT is available in a pretty wide assortment of one stick and two stick modules. Their speeds aren't quite as impressive as those provided by the HyperX, but if you're trying to save a couple of bucks, the Sport LT are definitely worth picking up.
Finally, there's the Lexar Laptop Memory. Although it's only available in select speeds, it's the most affordable choice that boasts plenty of compatibility. Where it lacks in overclocking features, it excels in reliability and value – a top choice for most scenarios.
Note: At no extra cost to you, we may earn a commission for purchases using our links. Learn more.