If you've been playing Monopoly GO!, you probably want to get the most out of the game. Whether you want more cash, special tokens, or to simply further your progress in the game, adding friends and trading stickers is one of the best ways to do so.
However, adding friends on Monopoly GO! and trading stickers can be a bit confusing. Even if you've been playing regularly for weeks, it can be difficult to find friends, thus making it difficult to further your sticker collection. Today we're going to walkthrough all the steps and recommendations we have for growing your friends list and trading stickers you don't have.
How to Find (Add) Friends on Monopoly GO!
We're going to discuss the top methods to find and add more friends on Monopoly GO! But first, we need to discuss your friends list and where to find it.
Accessing Your Friends List
In the game, at the bottom right corner of the screen, you'll see an icon with two shaking hands, labelled "Friends". Tap this and you will see your "Friends and Family" list. Here, there are three different tabs – "Add Friends", "Timeline", or "Leaderboard".

"Add Friends" will automatically show you a list of up to three suggested friends at a time. These are randomly generated by the game and help to connect you to active players that are, often times, also seeking friendship. Simply tap "Add" or "Hide" to either send a friend request or hide the user.
"Timeline" provides a feed that shows who and when each user becomes a friend. Once someone accepts your friend request, their name and picture will show up, along with how long ago they became friends.
"Leaderboard" provides three different lists of leaderboards from highest to lowest net worth scores; "Global", "Locals", and "Friends".
Global is the all time high scores list out of every single active player in the Monopoly GO! game.
Locals refers to users who are locally active, typically in the same country or region as you.
Friends is your actual friends list; a list of all players who have accepted any of your friend requests. Your friends are listed in order by highest net worth first, and descending from there.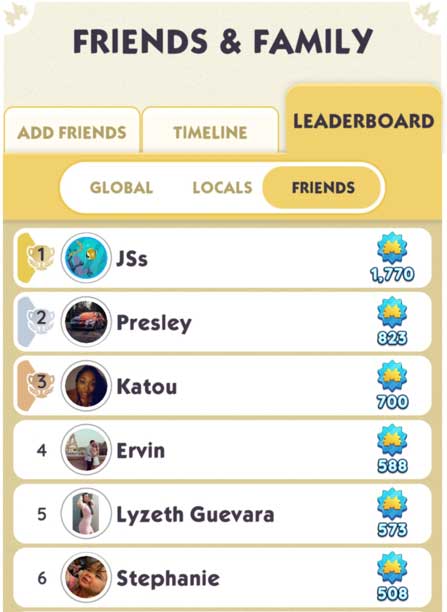 The only functionality of these leaderboards is to show who you're competing with. To remove a user on your friends list, simply tap their name and select "Remove". Unfortunately, there's no way to message or contact anyone through this list.
1. Randomly Add Friends
One of the best ways to add friends is to do it by random. Each time you access your "Friends and Family" list as we described above, you'll automatically be suggested three friends to add.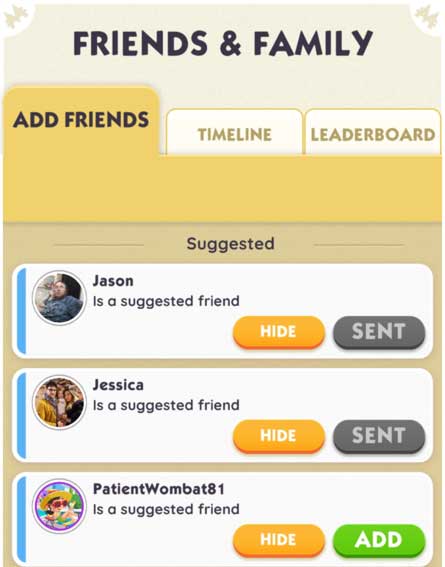 Do this every time you open this list. When you close the window and open it again, three more friend suggestions will automatically populate. Simply repeat this process as many times as you'd like. I found that you'll usually have a 30-50% friend acceptance rate using this method.
2. Share Your Unique Referral URL
On the "Friends and Family" list, at the very bottom of the screen, you'll see three icons. There is a yellow phone icon for "Contacts", a blue "Facebook" icon, and a green "Invite" icon.
Simply tap the green "Invite" icon. Next, click the yellow "Invite" button and copy your unique referral URL.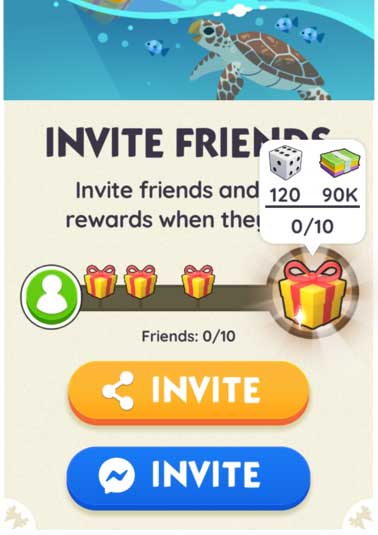 With this referral URL, you can advertise it anywhere or send it directly to those you'd like to add. Once a user clicks on your link, it'll open up their Monopoly GO! app and automatically add you to their friends list. Share this link anywhere you can for the best chance to grow your friends list.
Alternatively, you can select the yellow phone icon "Contacts". This will ask for your phone number and then automatically add any friends in your contacts list that are playing Monopoly GO! Keep in mind, however, that this option may send a text message, so message and data rates may apply.
Lastly, you can opt to choose the blue "Facebook" icon. This will ask for your permission to access your public Facebook profile. It'll then automatically add any of your real-world friends that are also playing Monopoly GO!
Add Your Referral URL Here on NerdTechy!
If you scroll down to the bottom of this article, there is a comments section. Fill out your name and email and then add your unique referral URL in a comment. We'll moderate these "comments" to make sure only authentic users are added to this list of potential friends to add on Monopoly GO!
3. Join the Exclusive Facebook Group
Scopely, the company behind Monopoly GO!, has an exclusive Facebook Group called the Monopoly GO! Trading Group that's worth joining if you'd like to grow your friends list.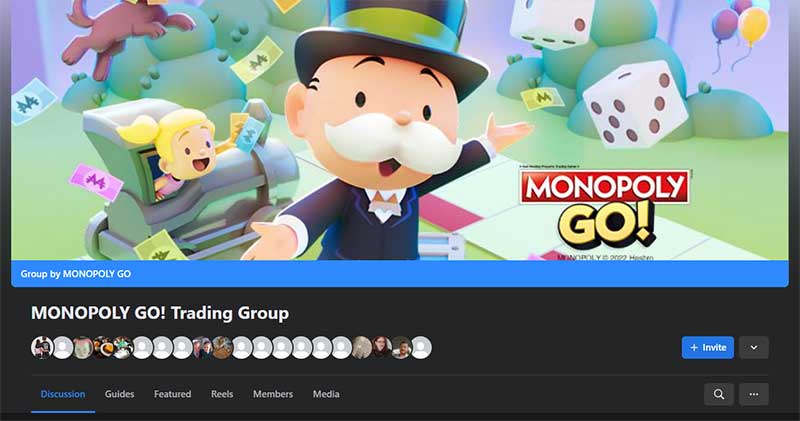 Here, you can post your referral URL and connect with other active players that are searching for friends. It's a very active community of over 215,000 members (as of April 25th) with around 10,000 posts per day and 6,000 new members per week.
While the majority of members in this Facebook Group are looking to trade stickers, they're also looking for friends to play with.
How to Trade Stickers on Monopoly GO!
Collecting stickers is definitely one of the best and quickest ways to gain free rolls and increase your net worth. There are 18 different sets of stickers, each with a maximum of 9 stickers per set. In total, as of April 2023, there are 162 stickers available in Monopoly GO! Some of these are much harder to collect than others. And if you complete sticker sets, you'll be rewarded with massive cash and dice roll bonuses.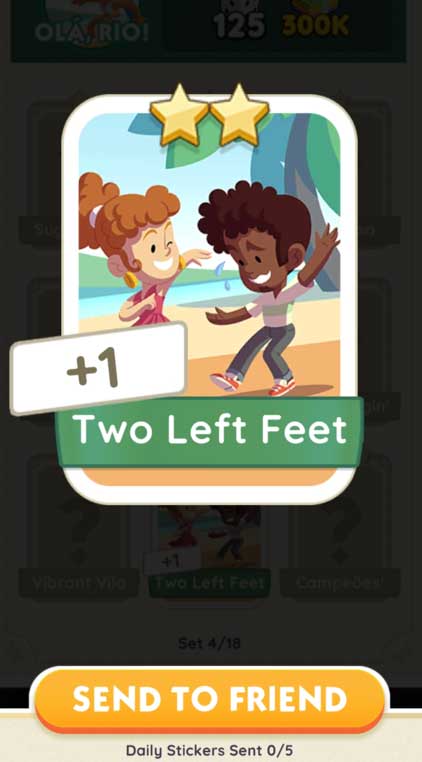 There's one main issue – it's confusing to figure out exactly how to trade or send stickers on Monopoly GO! So, how do you trade? You can only trade (send) stickers to users who are on your friends list.
Simply put, you are only allowed to send stickers to users who have accepted your friend request. Also, you can only send duplicate stickers that you've collected. You must have a duplicate sticker in order to send it to your friends. Single stickers are not able to be sent to anyone – they are solely kept for your collection.
How to Send Stickers
First, access your sticker albums by "Album" icon on the bottom of the screen. Here, you will view all of your albums and all the stickers in each one.
Next, click on an album and view a sticker with a duplicate as indicated by a "+1" or whichever corresponding number showing the amount of that specific sticker you have.
You will then see "Select a Friend" with a list of friends that you are able to send the sticker to. Select their username and confirm by tapping "Send to Friend".
That's it. Once they log on to play, they will be notified that you sent them a sticker. But do note that you are only allowed to send up to 5 stickers per day.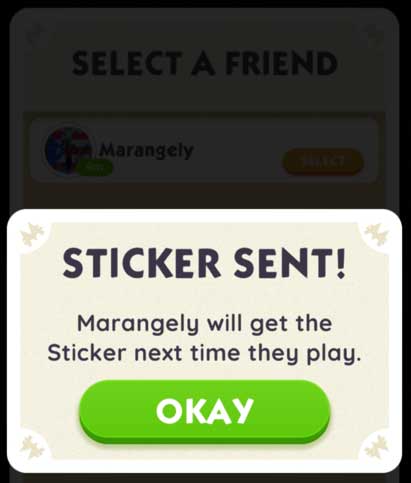 By continuing to regularly play Monopoly GO!, in turn, you will increase your sticker collection. And if you end up collecting duplicate stickers, these are the only ones you are able to send to friends.
The Best Method to Get More Stickers
Other than continuing to play as much as possible, by far, the best and most preferred way to get more stickers that you're missing in your albums is to join the exclusive Monopoly GO! Trading Group. Here, you can post screenshots of your sticker collection to see if anyone out there has the stickers that you're missing.
Most of the users of this Facebook Group are very willing to help out and participate in active sticker trading. I recommend starting your own post on the group that includes your unique referral URL. When random users click-through your link, it'll add you as their in-game Monopoly GO! friend. You can also spend time browsing through other users' group posts to link-up with other active users who share an interest in growing their sticker collection.
FAQ's for Adding Friends & Trading Stickers on Monopoly GO!
Since Monopoly GO! is a relatively new game, there are several questions about adding friends and trading stickers. In fact, it can all be very confusing. Let's discuss some of the most common questions that are frequently asked.
Is There a Way to Add Specific Friends?
As of now, there is no way to search users by name or add specific friends without giving out your unique referral URL. We'd love to see an improved friends list with these capabilities, but for now, the only way to add friends is by either connecting through your phone number, on Facebook or through your unique URL.
How Many Friends Can you Get?
There is no limit to the amount of friends you can accumulate on Monopoly GO! You can freely add random users or send out your referral URL as many times as you possibly can. Scopely hasn't adding a limit or maximum friend count – we hope they don't change that!
Are You Rewarded for Each Friend You Add?
No, you do not receive a reward for adding friends that are already playing the game. However, for every friend you add for users who haven't ever installed Monopoly GO! you will be rewarded with free dice rolls. The amount of free rolls you're rewarded will vary from 25-30 rolls for each friend you get to install the app and start playing.
Can You Send Entire Sticker Albums for Friends?
No. You are limited to sending 5 duplicate stickers per day. Thus, you cannot send entire albums in a single go. However, if you have an entire album of duplicate stickers, you can send them at a rate of 5 per day, multiple days per week. This is the only way to send an entire album, but it cannot be done all at once.
Can You Send Single Stickers to Specific Friends?
Yes, as long as that user has accepted your friend request, you can send them specific single stickers. However, as we discussed, you can only send stickers that you have duplicates of. Unfortunately, there's no way to send single stickers that you don't have duplicates of.
Do My Stickers and Albums Expire?
Yes, unfortunately stickers and albums expire every 2 months. In the "Albums" section of Monopoly GO!, you'll see a section towards the top that says "Time Left" with a countdown from 60 days. After this time period, your stickers and albums will expire and go back to zero. Although this is somewhat upsetting, it's just a fact of the matter. We'd love to see Scopely release lifetime collections, but for now, it's limited to 60 days.
Final Thoughts
Stickers offer a fun and active way to progress the gameplay of Monopoly GO! While it can be difficult to find some of the rarest stickers out there, growing your friends list and participating in the exclusive Facebook Group is the most efficient method for finishing your sticker albums.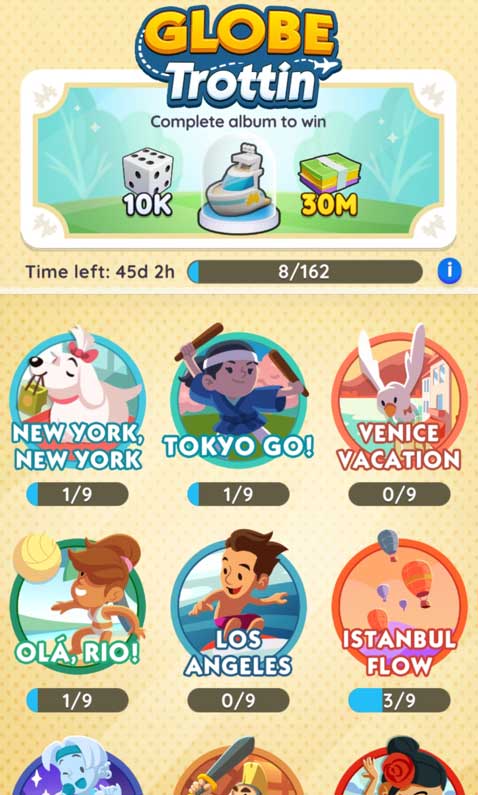 It can take a bit of time, but if you regularly grow your friends list and create connections with other users, you'll likely be rewarded with stickers from those who have extras to spare.
Add Your Referral URL Below
We hope that this guide has been helpful for you. Below, you'll see a comments section where we will allow you to paste your own unique referral URL so more users will find you and add you to their Monopoly GO! friends list. Add your own, bookmark and share this page, and check back for more friends to add! We'll keep it moderated to make sure only authentic users participate. This may end up being a great way to grow your friends list – so don't wait!
Meet Derek, "TechGuru," a 34-year-old technology enthusiast with a deep passion for tech innovations. With extensive experience, he specializes in gaming hardware and software, and has expertise in gadgets, custom PCs, and audio.
Besides writing about tech and reviewing new products, Derek enjoys traveling, hiking, and photography. Committed to keeping up with the latest industry trends, he aims to guide readers in making informed tech decisions.