We have never met a person, in all our lives, who does not list "listening to music" as one of their favorite hobbies. Music haters just don't exist. There's too much variety available and too little brain power required for music not to be a popular activity. People like to think that advertising their love for music makes them unique and artsy: it doesn't. Unless you listen to some kind of foreign crap that we've never heard of, then it's really not worth the time it takes to type. We can just go ahead and assume that you enjoy music just like the rest of humanity.
You might be asking yourself, "Why are you guys so salty today?" Well, that's what an entire night spent on Tinder will do to you (extra points if you read this sentence using your very best Ronald Reagan voice). Our point is, music is universal. Most of us listen to tunes every single day of our lives. That is why headphones have become such an indispensable gadget. Not only is music an experience we can all share, but it's an excuse for us to have some time to ourselves. Heck, some people wear headphones on the train just so they can get a few minutes to themselves. And who can blame them?
When we're looking for a new pair of headphones, the first thing we do is go check out the most popular cans on Amazon. They are far and away the biggest eCommerce site on the Internet, so the Bezos Beast is the logical browsing vehicle. If you have ever taken a look at the list of most popular headphones on Amazon, you've almost definitely heard of Mpow. Their gadgets are littered throughout Amazon's top electronics.
In particular, the Mpow 059 over the ear wireless headphones are currently the best-selling pair of headphones on the entire site. How did a once unknown consumer electronics company come to reign supreme over the mountains of headphone competition? What is it like listening to the most popular over the ear headphones on Amazon? Do they live up to the hype? These are the questions that we aim to answer with our honest and thorough review of the Mpow 059 Bluetooth headphones.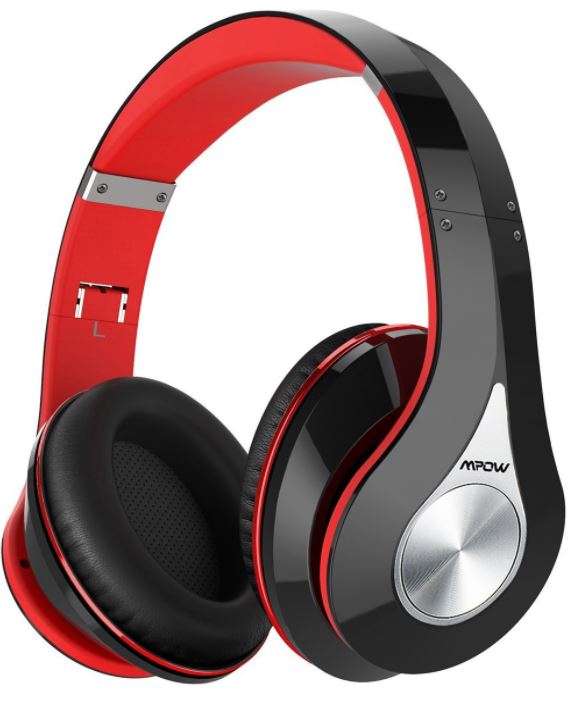 What's in The Box?
The box, the box, what's in the box? Unlike the sleek, black packaging of the Mpow Flame earbuds, the Mpow 059 headphones are shipped in a much more subdued cardboard packaging. All the contents are packaged securely and compact. Included in the box are the headphones themselves, a black carrying pouch, an audio cable (the headphones feature both wired and wireless modes), a USB cable (for charging) and a user manual. The 059's shiny finish and red padding look gorgeous straight out of the box.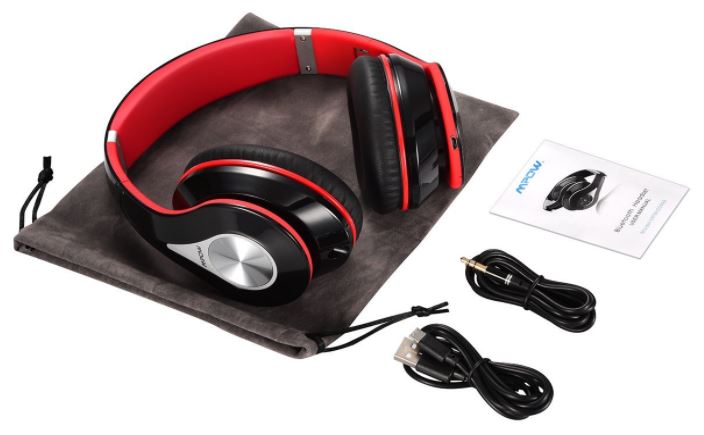 Comfort
When it comes to budget headphones, sometimes one of the features that is sacrificed is comfort. With over the ear headphones, one of the most important elements of overall comfort is breathability. Retaining too much heat is a headphone deal breaker. The Mpow 059's aren't particularly heavy, so they don't put a tremendous amount of pressure around your ears. The result is that your ears aren't going to sweat, even with extended listens. The ear cup diameter is a little on the smaller side and the cups are a bit shallow, but we don't anticipate that this should cause any fit issues. We have pretty massive ears over here, and we didn't experience any discomfort. The ear cups are well-padded, as is the head piece.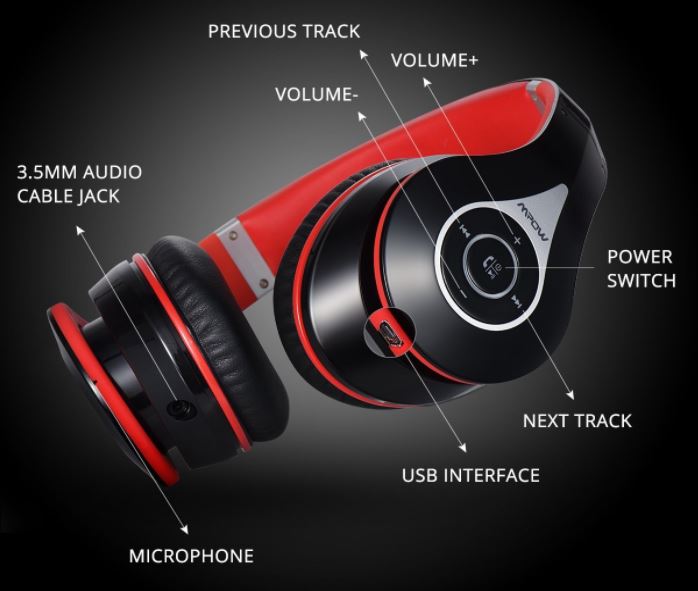 Controls and Ease of Use
All of the controls for the Mpow 059s are located on the outer surface of the right ear cup. We're the type of guys that like some serious tactile feedback on our headphone controls. Feedback makes us confident that we are pressing the right button, which can be a concern when you're playing around with a new pair of headphones. The 059's feature a very decent amount of feedback and the buttons are easy enough to get used to after a few uses. Included controls include all of the basics: skip track, volume controls and a shared play / pause / answer / hang-up button. The round interface is very familiar to anyone who has ever owned an iPod. Sorry, Zune fans. Let's be honest though; even Zune fanboys have owned an iPod at some point.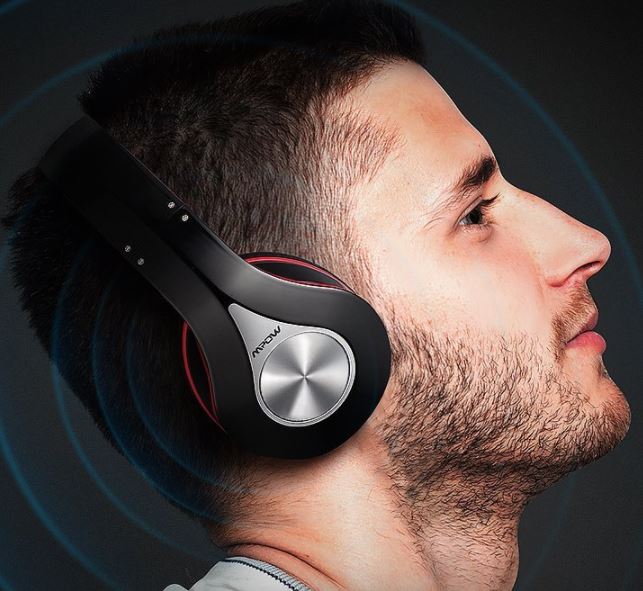 Sound Quality
This is always the point of a budget headphone review where we start to get a little nervous. Yes, it's true that there are a ton of awesome and affordable headphones available, there are also mountains of cruddy models in the mix, but Mpow 059's are best sellers for a good reason. The 059's overall sound quality is quite balanced. The bass might be a little boomy for purists, but if you're that concerned about sound reproduction, odds are that you're going to be looking for a premium pair. For a budget pair of cans, the 059's sound quality is a great value. The sound quality is slightly focused on the low-end, just like your momma. These Mpow headphones aren't going to punch you out of your seat with mids or highs, but as we said, it's all about balance.
Noise Cancellation
One thing you're going to want to keep in mind with the 059's is that they feature passive noise canceling, not active noise canceling. This means that the effectiveness of the noise cancellation is completely reliant on how the headphones fit your ears. These headphones will block out some ambient noise, much like earplugs, but there is no active technology within the device that processes the noise. While we were never distracted my outside sound while using the 059's, you might want to consider looking into a pair that has active noise cancellation if you're planning on using them in very noisy environments, such as airplanes and trains. These headphones feature very little sound leakage, which is a huge plus if you're using them in an office environment or library.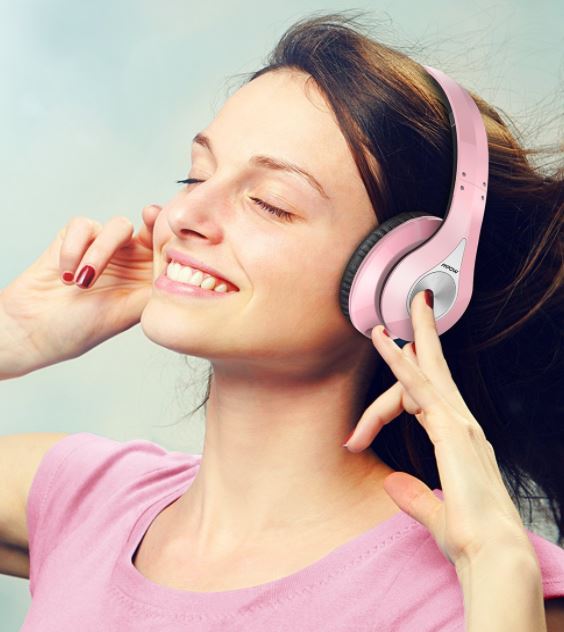 Battery Life
One of the best parts about the Mpow 059's is their super long battery life. These headphones provide you with 24 hours of active listening time on a single charge. Keep in mind that this is subject to change depending on how loud you listen to your music, but at 75% we got well over 24 hours of juice. They do take a while to charge though. With a 4.5 hour charge time, they aren't the fastest charging headphones of the bunch, but that isn't a huge concern to us, and here's why. First, their 24 hour battery life is plenty to keep us going for quite a while.
They will easily last you an entire day, so charging you'll only need to charge them overnight. Secondly, you can listen to the headphones even when they are charging. A lot of wireless headphones, including premium models such as the Soundlink II's, do not allow you to listen wirelessly when they are plugged into the wall. The fact that the 059's allow you to listen, even during a charge, is an invaluable feature, particularly when you have a habit of forgetting to charge your items overnight (we're guilty as charged).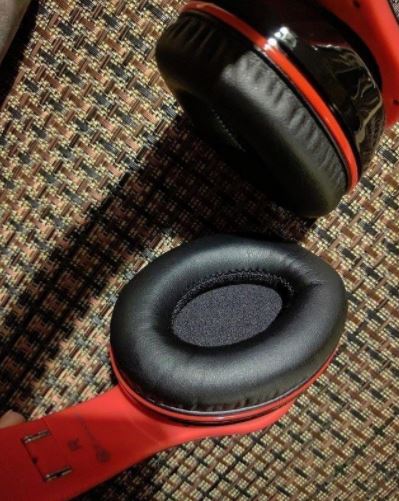 Bluetooth Connectivity
When you're using Bluetooth headphones, wireless range matters. The 059's are Bluetooth 4.0 compatible which means they'll be able to connect to pretty much any mobile device you can think of. The range of these Mpow phones is impressive, with an obstructed range of around 37 feet and an unobstructed range of 133 feet. That's a hell of a good range for a pair of budget headphones. The only slight annoyance is that the 059's lack an NFC chip, so the pairing process can become a little bit of an inconvenience, at least compared to the seamless pairing of an NFC-ready device. But for the price point, we can't be too picky.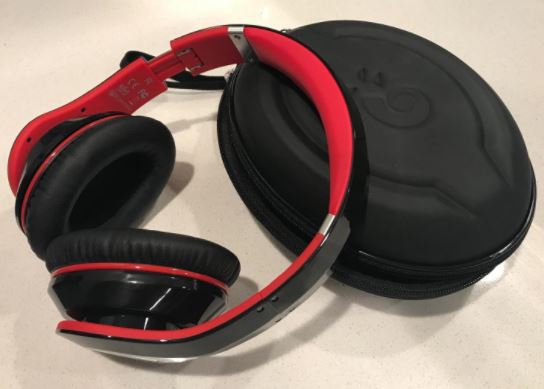 Build Quality
The one weak element of the Mpow 059's is the build quality. While the color scheme looks great (our test model is the black and red option), the actual build quality is straight up shiny plastic. This is where the budget price point begins to rear its ugly head. Don't get us wrong, it's really not all that bad. We're making it sound like the headphones were constructed using tin foil, rubber bands and toothpicks. It's not that serious. They just feel a little cheap. They lack the sturdiness and sleek design qualities of a premium product, which is not to say that they are junky—they just feel more fragile than headphones that cost three times as much.
Call and Mic Quality
The microphone featured on the Mpow 059 isn't going to win you any Grammy awards, but it is totally satisfactory for a pair of headphones at their price point. We used the conversation during several conversations. One of our mother's was particularly excited about the call quality, exclaiming that we "sound like you're in the room with me." This was immediately followed by, "Please get out of my house. I'm calling the police." Poor, momma. Fighting to the bitter end, that one she is.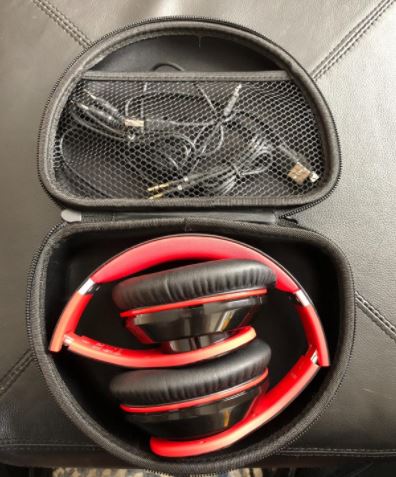 Final Thoughts
Look, there's a good reason why the Mpow 059 wireless headphones are the best-selling over the ear headphones on Amazon. They're affordable, they sound good, they feel good, the battery lasts forever, they breathe life into our sweet momma's failing body, and they just straight up rock. While the build quality does not feel premium, the sound quality does, which is really more than you can ask for out of a pair of headphones made to be affordable to everybody. The 24 hour battery life is perfect for people who have a habit of forgetting to charge their devices and the Bluetooth range is impressive enough to fit even our picky needs.
The next time you're looking for a new pair of headphones, give these babies a test run. We think that you'll be surprised at the overall quality that Mpow was able to squeeze out of these little suckers. We'd love to hear what you think about them.
Meet Derek, "TechGuru," a 34-year-old technology enthusiast with a deep passion for tech innovations. With extensive experience, he specializes in gaming hardware and software, and has expertise in gadgets, custom PCs, and audio.
Besides writing about tech and reviewing new products, Derek enjoys traveling, hiking, and photography. Committed to keeping up with the latest industry trends, he aims to guide readers in making informed tech decisions.