A few years ago, Apple announced that their new iPhone 7 would only support wireless earbuds. At the time, many people thought they were crazy. For the most part, wireless earbuds of the time were low quality, and only supported mono sound. This made them a non-starter for audiophiles. But Apple was banking on a new technology called True Wireless Stereo (TWS) to prove everyone wrong. With TWS, you could listen wirelessly in full stereo with high bitrates. This technology made the original AirPods a huge success, and other manufacturers followed suit. Now, TWS is industry-standard in everything from earbuds to Bluetooth speakers.
Of course, this doesn't mean that every set of TWS earbuds is worth your investment. There are plenty of poor-quality models on the market. If you want a reasonable assurance of quality, it's smart to stick with a manufacturer you trust. Mpow is one of those trustworthy manufacturers. They're known for producing all kinds of audio equipment, particularly for gaming. Today, we'll be reviewing two sets of their earbuds, starting with the Mpow MBits S. These earbuds emphasize bass, as well as boasting an impressive IPX8 water-resistance rating. We'll follow up by looking at the Mpow M7. These buds are designed with a more even EQ, along with a quick charge feature. Which pair is the best? Let's take a closer look, and see what we find out!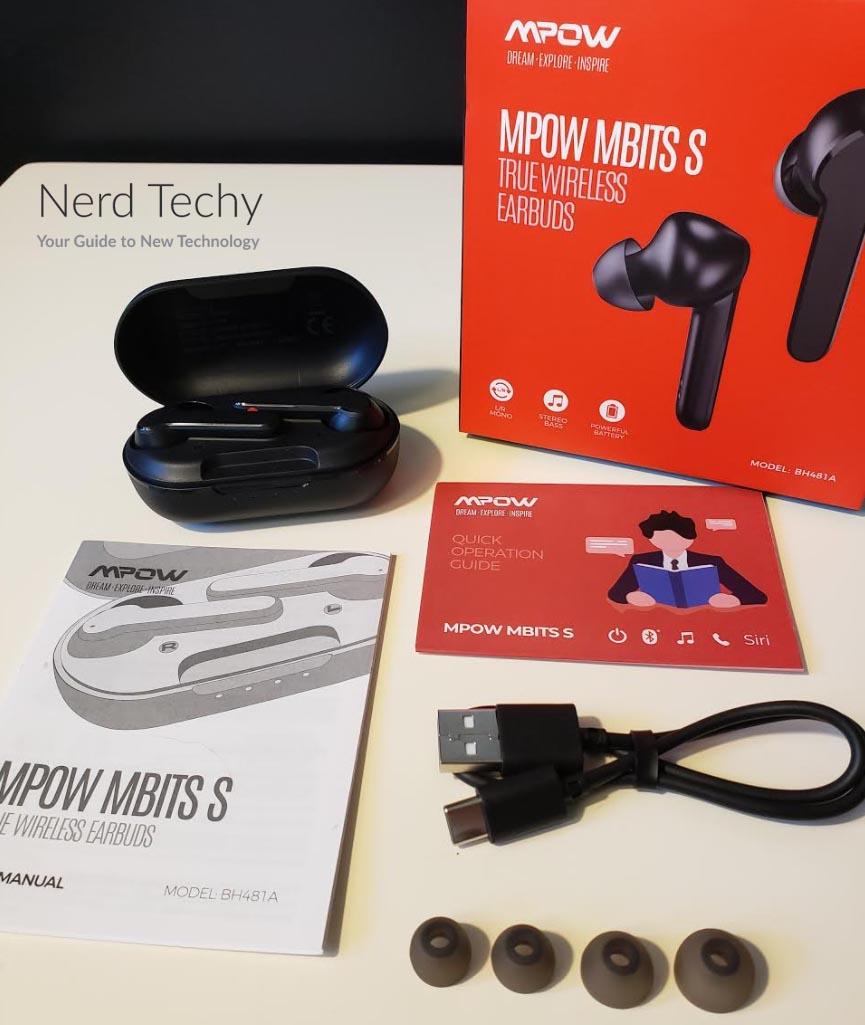 Mpow MBits S
The Mpow MBits S combine the benefits of an AirPod-style design and a more traditional earbud. The batteries are housed in vertical compartments, which hang down from the buds. This makes the design somewhat bottom-heavy, so it remains easily in place. However, AirPods are designed with a bare plastic tip, which doesn't provide much noise isolation. The MBits S earbuds come with three sets of silicone ear tips, so you can choose the size that's right for you. If you have sensitive ears, choose a looser fit for more comfort. If you want the best noise isolation and a more secure fit, choose a larger tip. It all depends on what you need.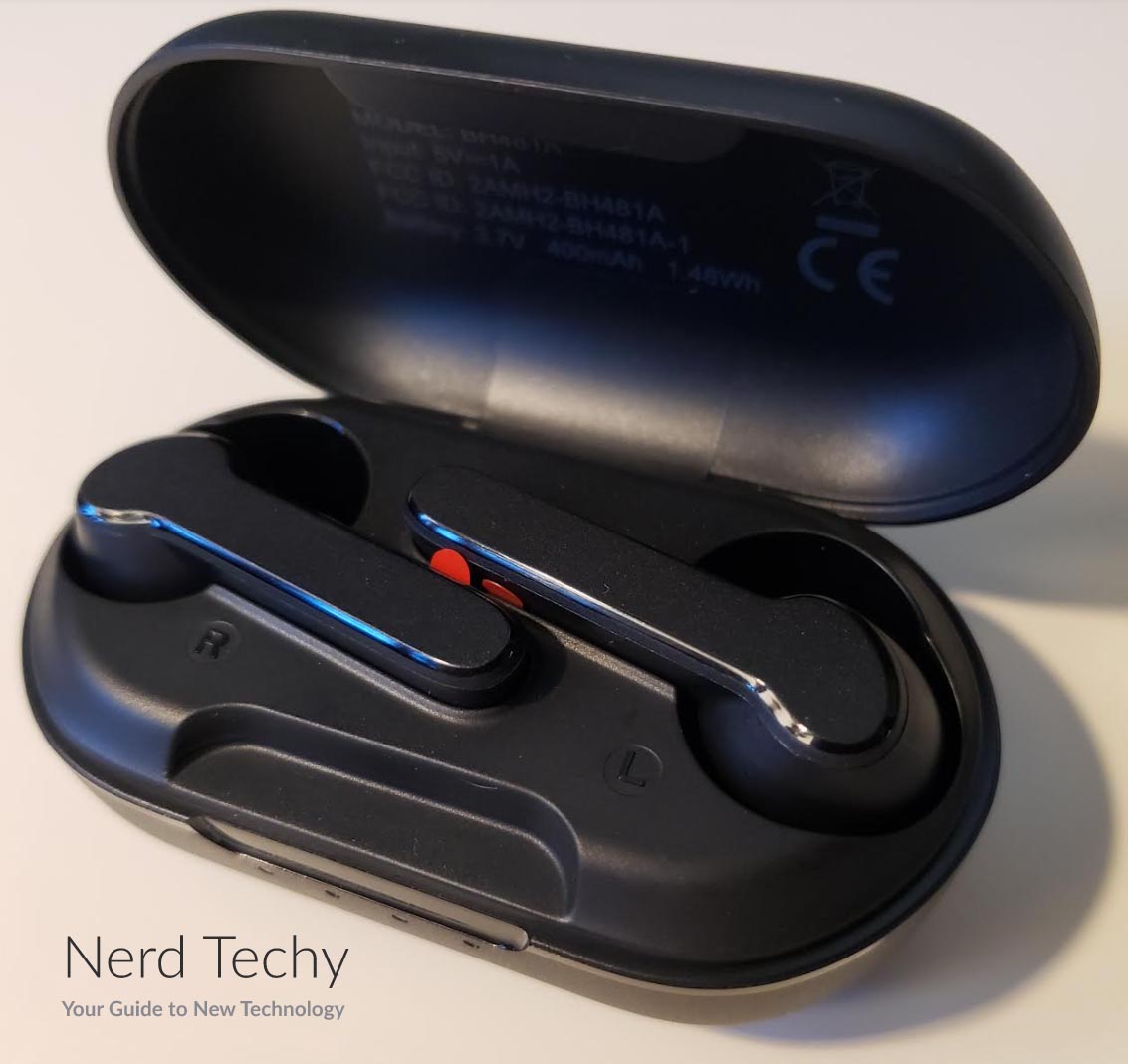 The black shells have a matte finish, which doesn't show off fingerprints even with frequent handling. The backs of the earbuds, up near the top, function as a pair of soft touch buttons. The soft touch design makes them comfortable to operate, since they won't press hard into your ears. You can adjust the volume, answer or end calls, and skip tracks. You can also call up your phone's voice assistant for hands-free command of other functions.
The MBits S earbuds come with a water-resistance rating of IPX8. This is the highest rating available, and it's a custom rating. In other words, we're not sure exactly how water-resistant they are, but they exceed IPX7. IPX7-rated electronics can be submerged at one meter for up to 30 minutes, which is already pretty good. Suffice it to say that you don't have to worry about wearing the Mbits S buds in the shower.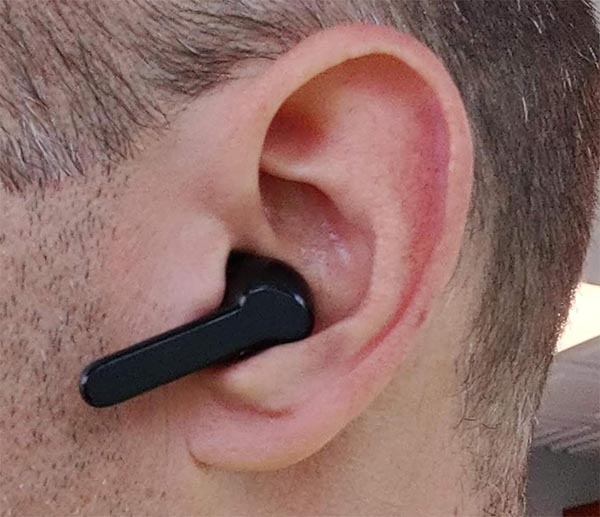 The Mpow MBits S kit includes a carrying case that doubles as a charger. The finish is matte black, matching the shells of the earbuds. The case has an oval profile, with rounded edges that won't jab you when it's tucked into your pocket. It has a clamshell-style design, with a spring-loaded lid that stays shut when you need it to. You can pop the lid open easily with a single finger, and the earbuds pop in and out of molded charging wells. Underneath the front of the lid, there are four LEDs, which display the battery level when the case is opened. In the back, there's a discreet USB Type-C port for charging. A cable is included in the kit, so you'll have everything you need to get started.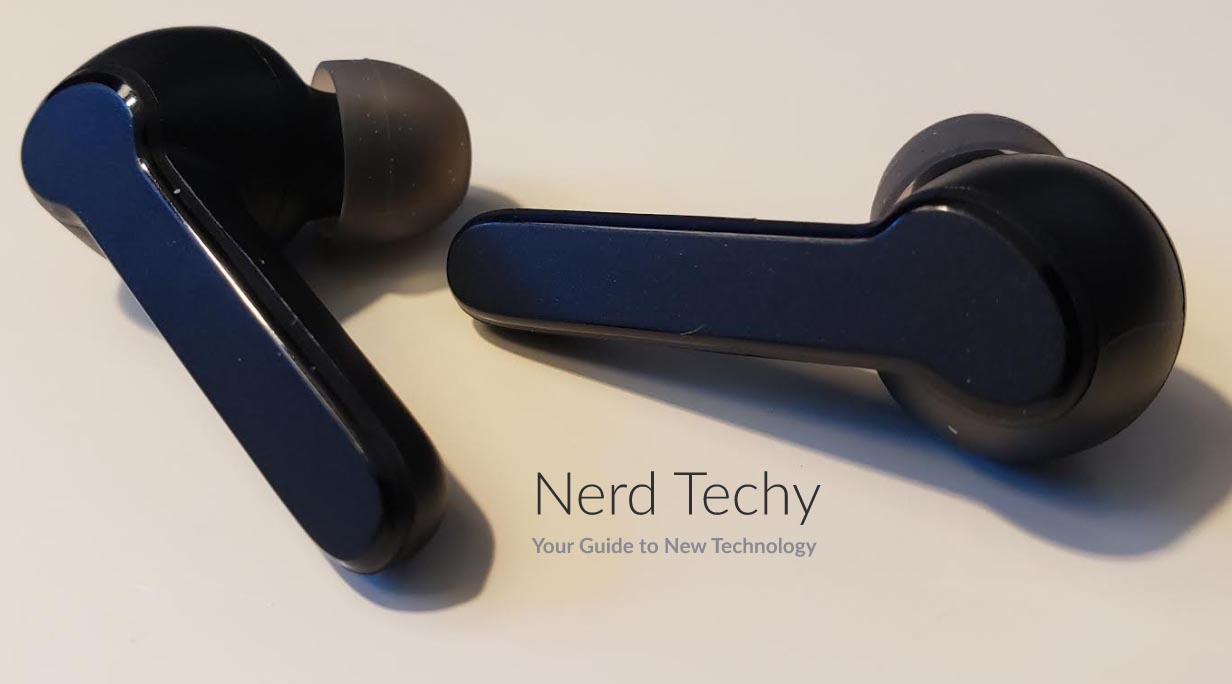 Battery & Connectivity
Each MBits S earbud has an internal battery that provides six hours of playtime. This is a manufacturer's rating, which means it assumes you're listening at half volume. In practice, your mileage may vary depending on a variety of factors. Regardless, it's more than enough performance to get you through the day.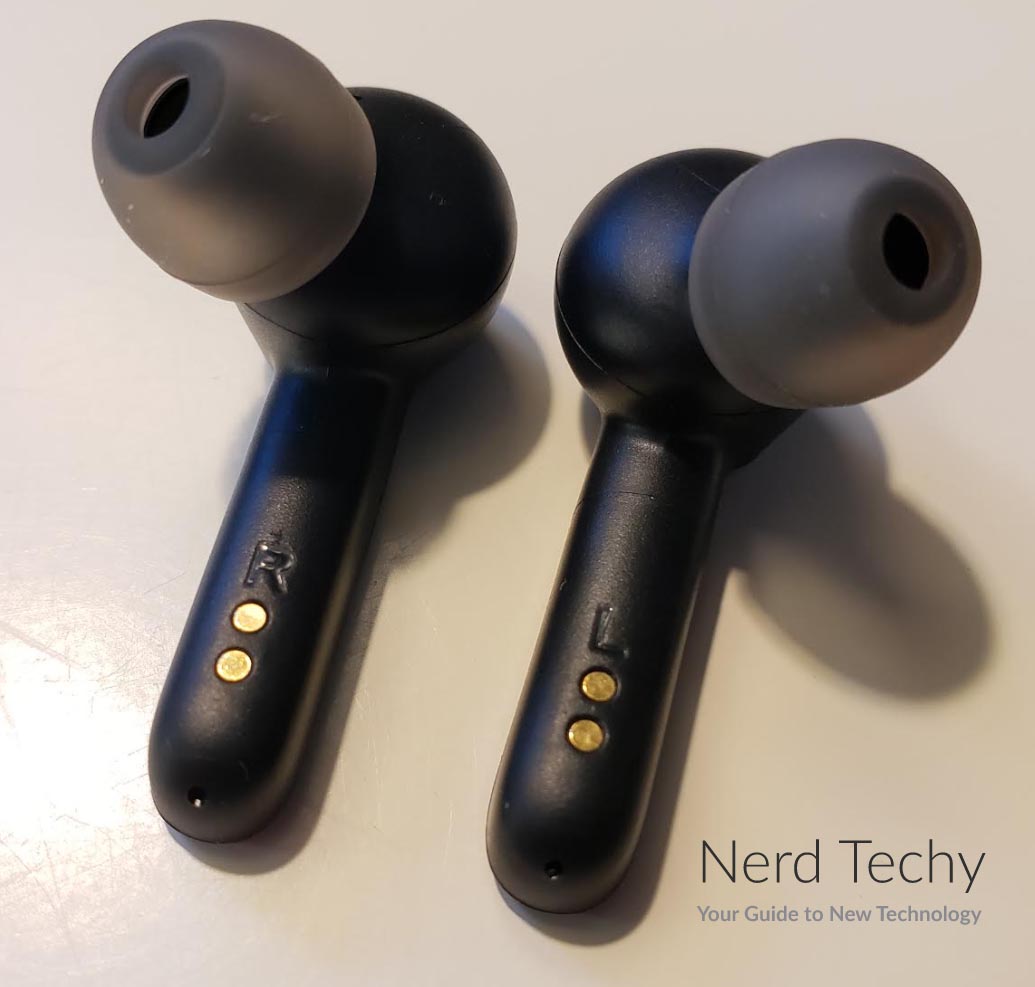 If you need even more power, the charging case will provide enough juice for an additional five charges. This works out to 30 to 36 hours of playtime, depending on your volume. Not only that, the case supports quick charging in the event of an emergency. Put a pair of drained earbuds in the case, and a 15-minute charge will get you two hours of playtime. Fully charging both earbuds will take about 90 minutes. Charging the case itself takes about 90 minutes as well, so keeping your battery topped off is relatively painless.

The MBits S earbuds connect to your phone or MP3 player with the Bluetooth 5.0 protocol. This is an updated version of Bluetooth that offers a few upgrades compared with older protocols. For one thing, it supports higher bitrates, so you can listen to HD audio tracks. For another thing, it offers much lower latency. This is noticeable when you're gaming or watching movies, where the audio would otherwise be out of sync. Finally, Bluetooth 5.0 provides a more stable signal, which means fewer dropped calls.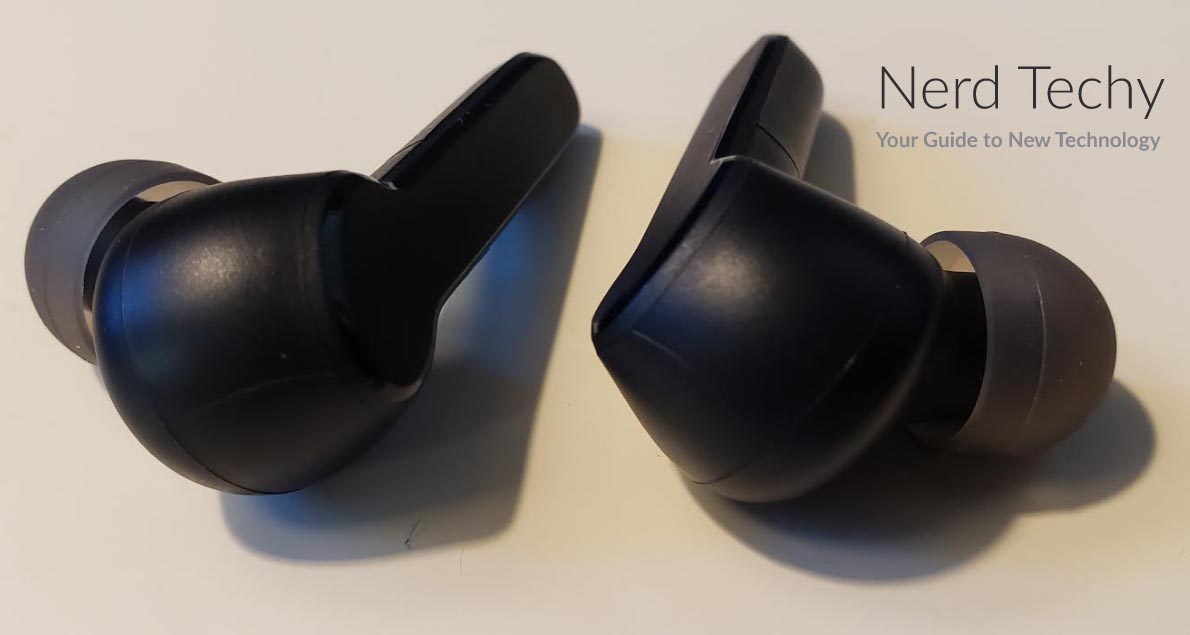 In addition to all that, you can pair Mbits S earbuds separately or as a pair. For music, you'll most likely want to use them in paired mode for better immersion. However, individual earbuds are great for hands-free calling and situational awareness. Using a single earbud also doubles your playtime, since you can switch off between both earbuds.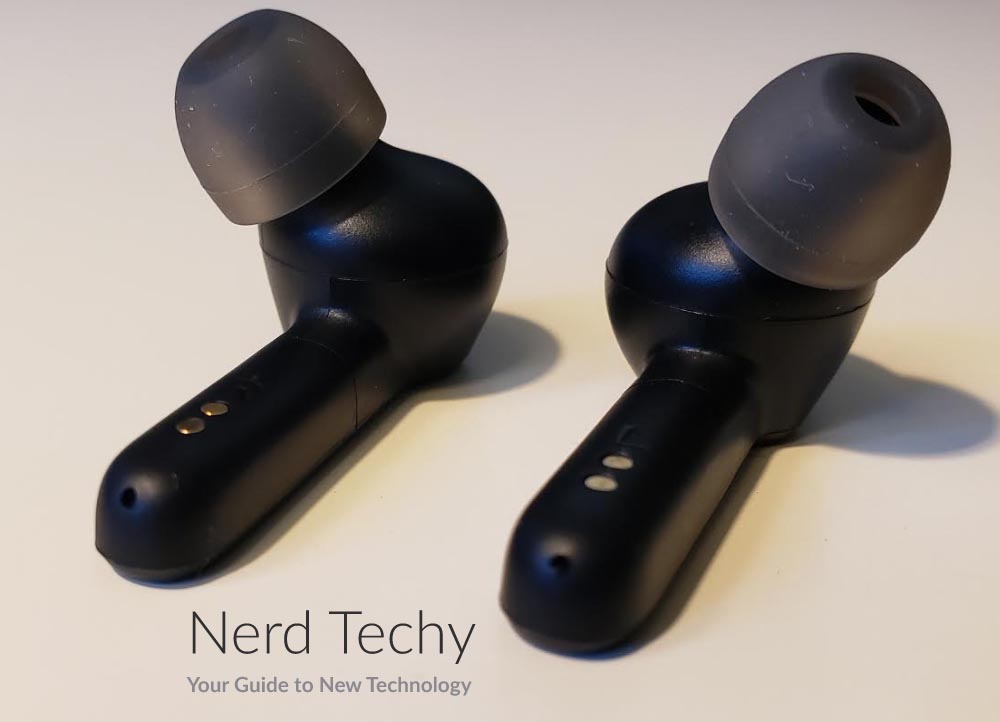 Audio Quality
The Mpow Mbits S earbuds sport 6mm drivers that are slightly smaller than average earbud drivers. This doesn't mean they produce low-quality sound, though. In fact, we were impressed with the powerful bass. Let's be clear; these are earbuds, not over-the-ear cans. The bass isn't going to blow a hole through your wall. But it's punchier than you'd expect for the size and the price.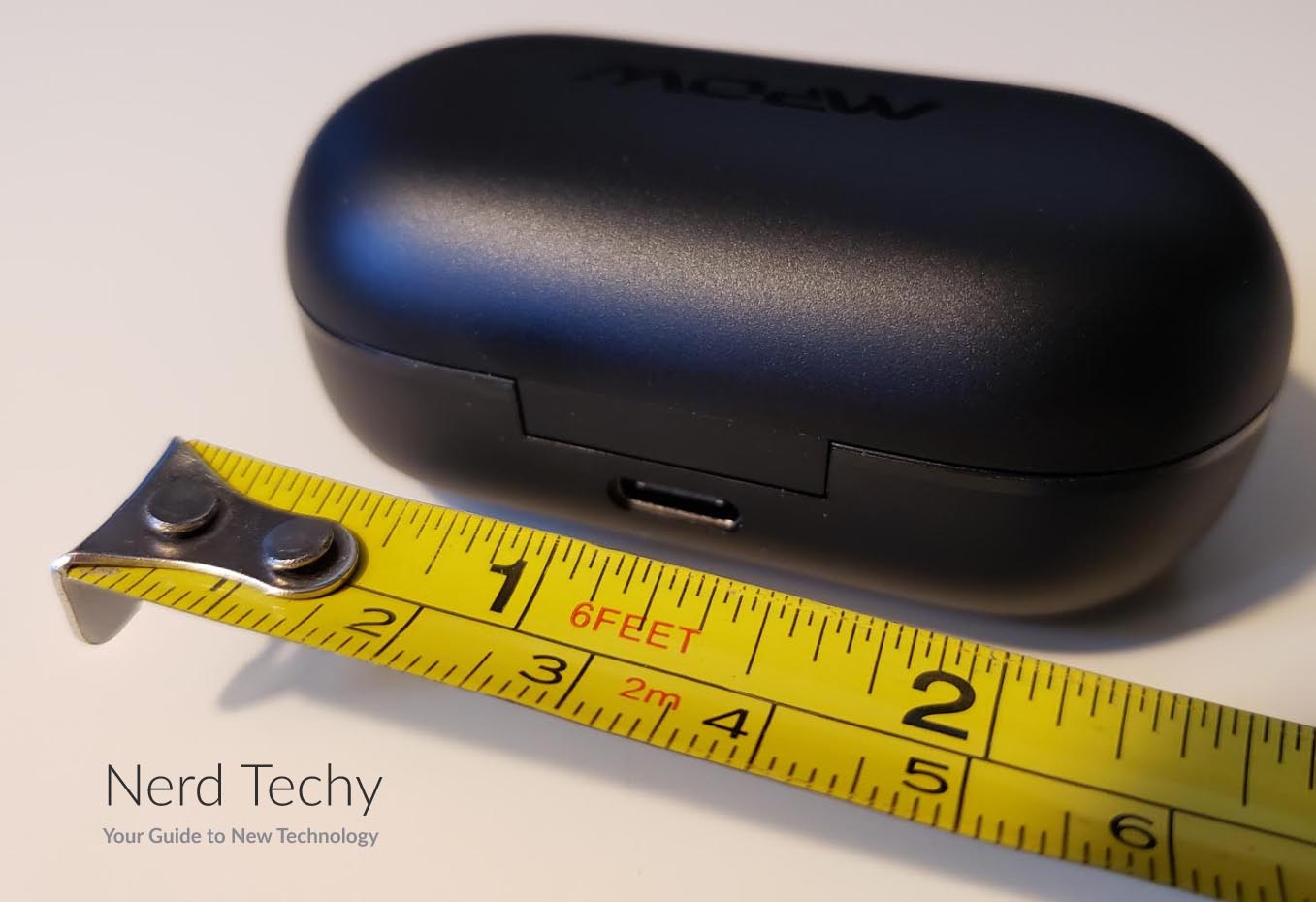 Moreover, the Mbits S earbuds have a wide soundstage. This means there's separation between different instruments and frequencies within the mix. It provides a sense of space, as if you're in the room with the musicians. More importantly, it keeps different frequencies from crowding each-other out. Even when the bass is bumping, it's not going to rattle or distort the mids. Similarly, sizzling cymbals won't sour your vocals with intrusive sibilance.
For hands-free calling, the Mbits S buds feature CVC 8.0 noise canceling technology. CVC stands for "clear voice capture," and it's designed to filter out background noise while you're talking. Because it works with multiple mics, CVC works better when you're using both earbuds. But even when you're using a single bud, the other person will be able to hear you very clearly.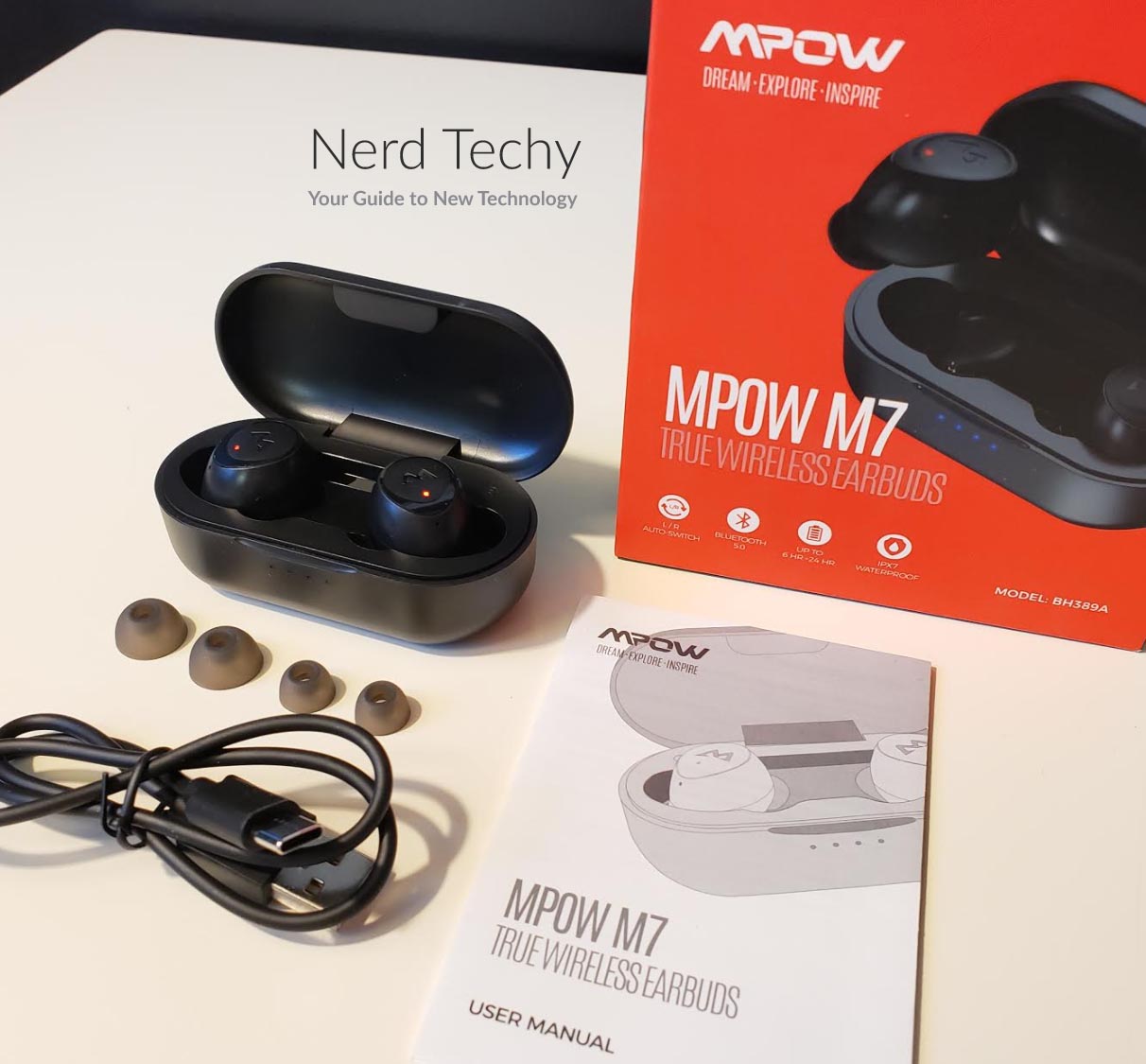 Mpow M7
The Mpow M7 Wireless Earbuds are compact, with a low profile that fits snugly inside your ears. Because they rely on a good fit for security, it's important to find the right set of ear tips. There are three pairs included in the box, in three different sizes. Take the time to find the ones that are both secure and comfortable for your sized ears.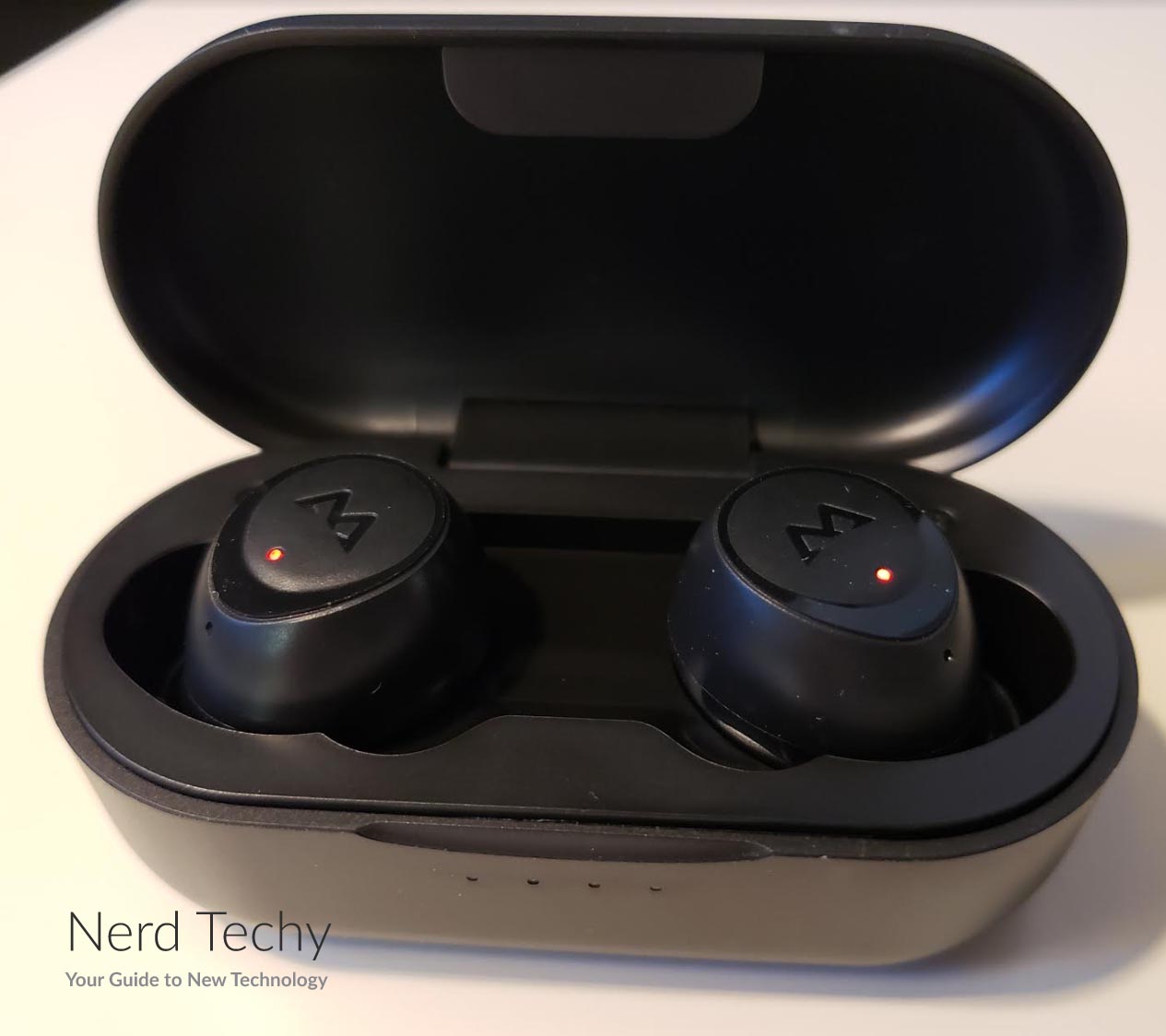 Like the MBits S earbuds, the M7 buds have soft touch controls on the back, including voice assist controls. Despite their small profile, the backs are still broad and flat enough to serve as useful buttons. If you prefer an even tinier, more lightweight design, consider the Mpow M12. These are very compact earbuds that are designed for the smallest of ears.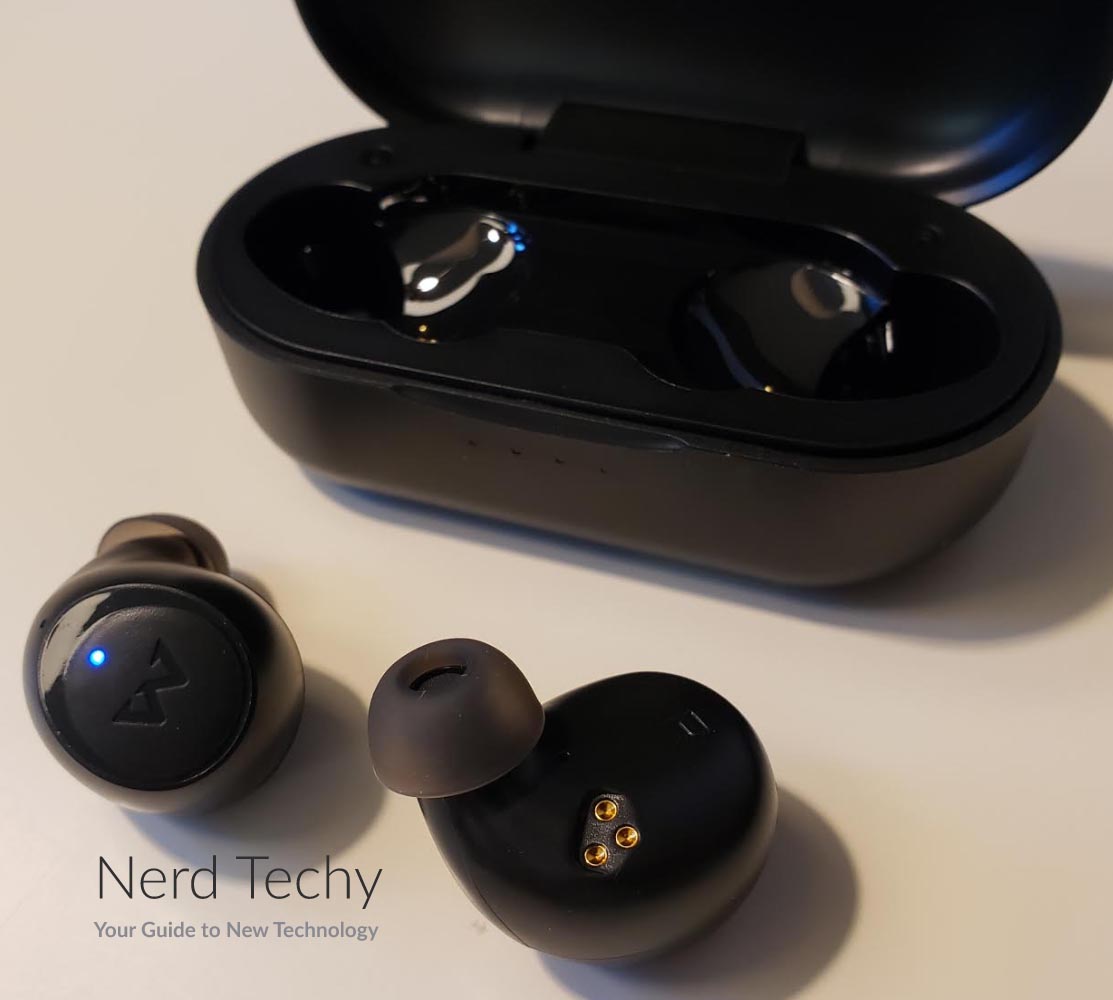 The M7 earbuds have a water resistance rating of IPX7. This isn't quite as impressive as the MBits S, but it's close. You can wear them in the shower without worrying about any kind of damage. In a realistic world, that's all that matters.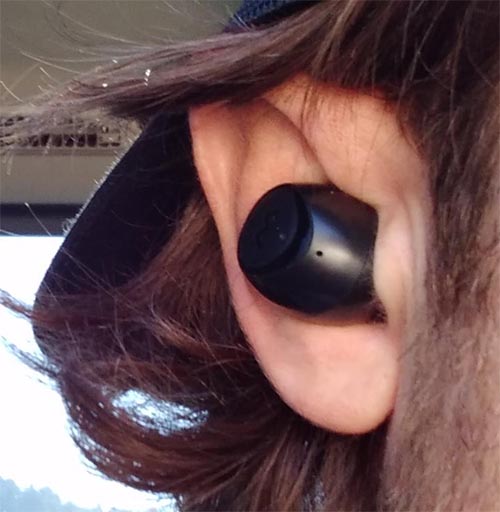 The Mpow M7 buds ship with a compact, pocket-sized charging case. It has an oval profile that's comfortable to carry, and a spring-loaded lid for security. There are also four LED battery indicators on the front, so you won't lose track of your charge level.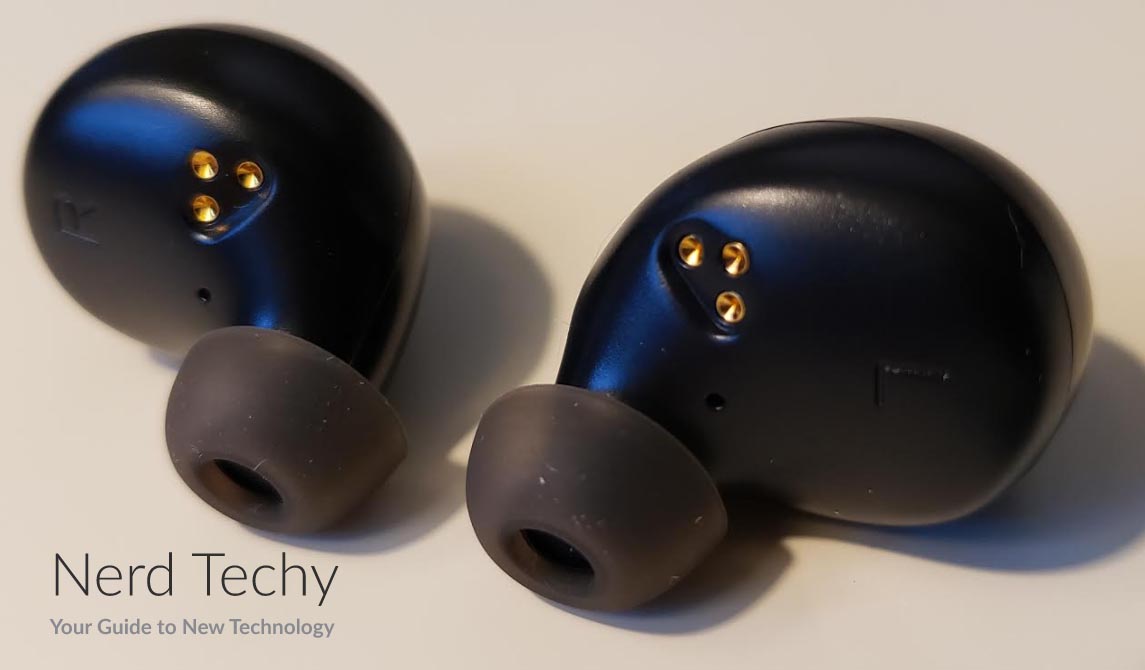 Battery & Connectivity
The M7 earbuds have a rated battery life of six hours per charge, the same as the MBits S earbuds. As with the MBits S, this is also a manufacturer's rating, so adjust your expectations accordingly. Even so, the M7 buds perform remarkably well, and the charging case provides four additional charges. This means you get between 25 and 30 charges between refills. Not only that, but the quick charge function is a bit more efficient than the MBits S. You get two hours' of playtime after 15 minutes of charging instead of 10.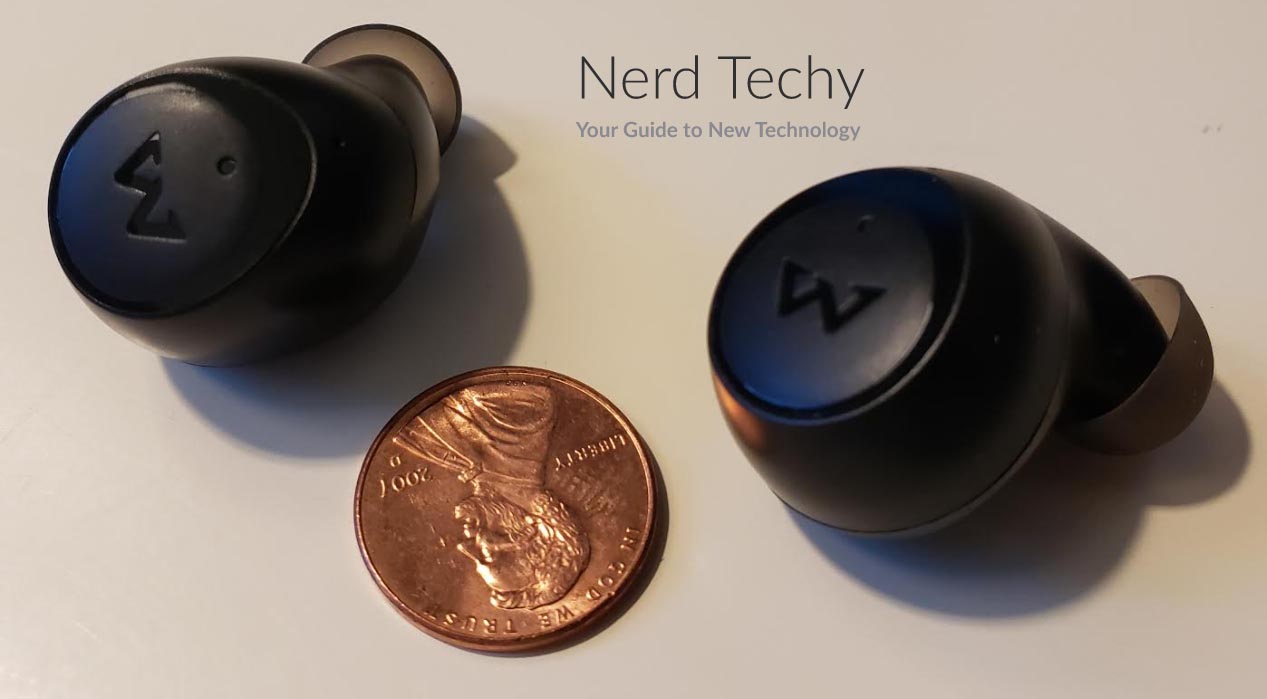 The M7 buds connect via Bluetooth 5.0, just like the MBits S. They also support single and stereo pairing, with all the attendant costs and benefits of both.
Audio Quality
The M7 earbuds' powerful polyurethane drivers are designed to provide an equal response across the spectrum. The soundstage is just as wide as the MBits 7. However, instead of emphasizing the bass, the EQ is flat. This makes the M7 less well-suited for dance music, but better for vocal-heavy genres. Not only that, but if you're using any kind of app with an EQ, you'll want to start with a flat EQ.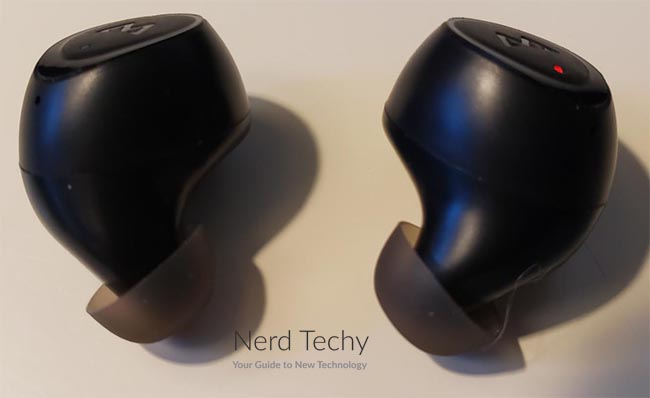 There's no noise cancellation on the M7's mics. However, the call quality is reasonably good. Expect some interference if you're talking in a noisy environment. But ordinary background noise isn't going to be a concern.
Final Verdict
So, which earbuds are the best? In many respects, the decision comes down to design. Do you prefer an AirPod-style bud, like the Mpow MBits S? Or do you prefer a more compact fit, like the Mpow M7? Beyond that, the MBits S holds a slight edge in terms of battery life and water resistance, but it's minor. Whether or not your earbuds are IPX7 or IPX8-rated should rarely, if ever, be the deciding factor. Similarly, the MBits S' single extra charge is another marginal benefit.
The main difference, other than the design, is the type of sound you want to listen to. Do you want the most powerful bass available at this price point? Choose the MBits S. Do you want a more balanced EQ? Go with the M7.