These days, choosing a pair of wireless earbuds means choosing between literally thousands of options. This didn't used to be the case. As recently as a few years ago, most wireless earbuds weren't worth the cost of their plastic housing. It didn't matter what brand you bought, because the technology wasn't "there" yet. You could only listen in mono, and bitrates were low, so your audio sounded hollow and tinny. But with the invention of True Wireless Stereo, you can now enjoy high-quality audio in some wireless buds. This is why there are so many options on the market!
That said, not all earbuds are equally well-engineered. This is particularly true for midrange and more affordable buds. Some are a great value, and will give you thousands of hours of listening enjoyment. Others, not so much. Today, we're going to review two popular pairs of earbuds, and see how they stack up. First, we'll review the Mpow Flame Solo. These waterproof headphones boast environmental noise cancellation for crystal-clear hands-free calls. Next, we'll examine the Occiam Bluetooth Earbuds. These buds have an innovative case, with a digital battery readout. Which pair is right for you? Let's dig deeper, and find out!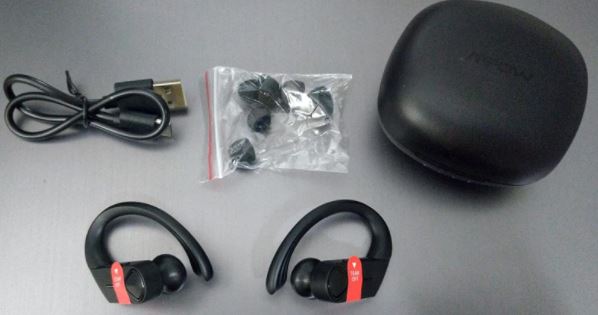 Mpow Flame Solo
The Mpow Flame Solo Wireless Earbuds have an athletic, ear-hook design. This can be a good or a bad thing depending on what you prefer. On the one hand, an ear hook provides plenty of security, so these buds are great for athletes. On the other hand, some people find ear hooks uncomfortable. If you prefer a more traditional fit, check out our review of the Mpow M12. The M12 earbuds are similar to the Flame Solo in most respects, with the exception of the design.
Not only that, but the Flame Solo earbuds come with three different sets of ear tips. These are made, first and foremost, for comfort. Choose the size that's easiest to nestle in your ear. A more snug fit will provide better noise isolation, but less than many other earbuds. Security is more or less a non-issue here. The tips aren't designed to hold the Flame Solo buds in your ears. That job falls to the ear hooks.
The Flame Solo earbuds are very easy to control. Rather than the single soft tap buttons of traditional earbuds, each bud has three physical control buttons. They're positioned to operate easily with your fingers, without applying unnecessary pressure to your ears. Because there are more buttons, you can do more with a single earbud than you can with most pairs. Each individual bud can answer or end calls, skip tracks, adjust volume, or summon your voice assistant. This is a great feature for left handed folks, who often suffer from inconvenient controls.
These earbuds have a water resistance rating of IPX7. IPX7 means they can withstand full immersion, so you can wear the Flame Solo buds in the shower. Needless to say, they'll shrug off workout sweat with ease.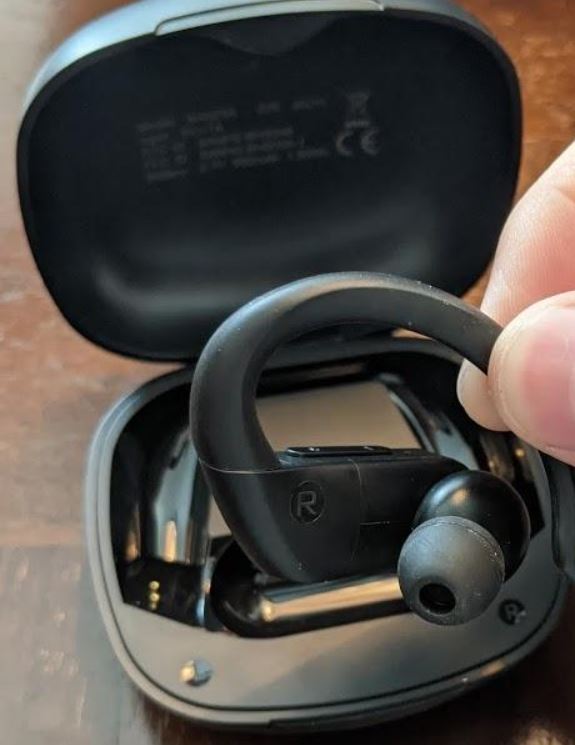 The Flame Solo earbuds come with a charging case, which allows for easy storage and charging. That said, the case is bigger than most wireless earbud cases. The large profile is a necessity due to the large ear hooks taking up a lot of space. This makes it a bit large for easily carrying in your pocket, although it's still small enough for a backpack. The clamshell-style lid is spring-loaded for security, with a notch under the lid for easy opening. Beneath that, there's a row of four LEDs that displays the current battery status.
Battery & Connectivity
Each Flame Solo earbud has an internal battery that lasts for about seven hours. This seven-hour rating is a manufacturer's rating, and should be taken with a grain of salt. It's not that Mpow is being dishonest; it's that industry testing is performed at about half volume. In other words, you'll get about seven hours if you don't crank the volume up. If you prefer louder music, you can expect more like five or six hours per charge. Even so, five or six hours is not bad at all, and it's plenty for getting through an entire day.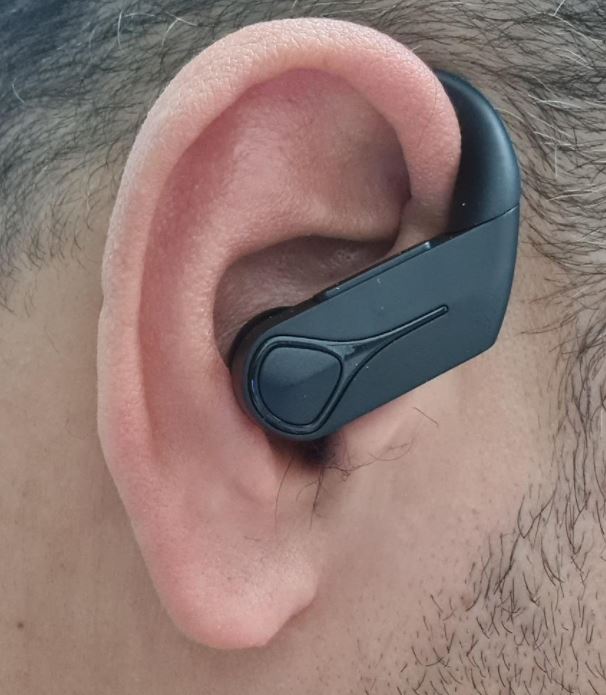 If you do need to charge in an emergency, the case supports fast charging. In 10 minutes, you'll get enough juice for a full hour of playtime. Fully recharging takes about 90 minutes, and the case has enough juice for three recharges. The result is anywhere from 20 to 28 hours of playtime, depending on volume.
The Flame Solo earbuds utilize the Bluetooth 5.0 protocol. This is the latest version of Bluetooth, and it delivers higher-bitrate audio for the best possible quality. It also has a more stable signal for hands-free calling, and lower latency for movies and gaming.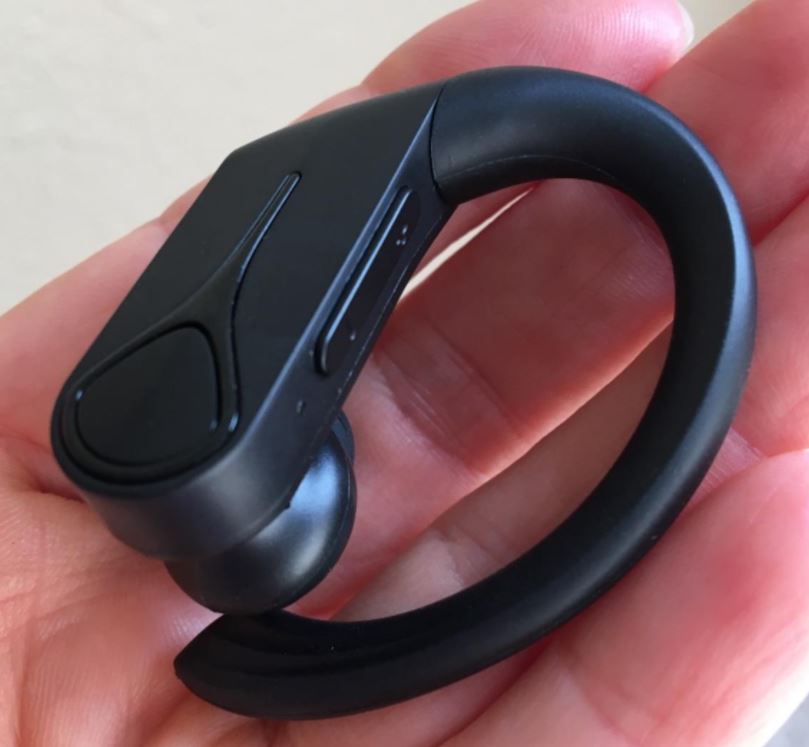 In addition to standard Bluetooth 5.0 features, the Flame Solo buds support three different connection modes. Stereo mode is your standard, for listening to music. In mono mode, you use a single earbud at a time. This is designed for hands-free calling, especially while driving where you need your other ear free. Finally, you can use shared mode, where both earbuds share the same mono signal. This is great for watching movies with friends, or for sharing music together.
Audio Quality
The audio quality on the Mpow Flame earbuds is what we've come to expect from Mpow's mid-priced offerings. They're not outstanding, but they're just about unbeatable for the price. The best feature is the soundstage, with clear separation between all the instruments. You get a real sense of space, which is great for movies and games as well as for music. In addition to that, you get an even, balanced EQ. All the frequencies are clear and present, with shimmery highs, punchy bass, and unmuddied mids.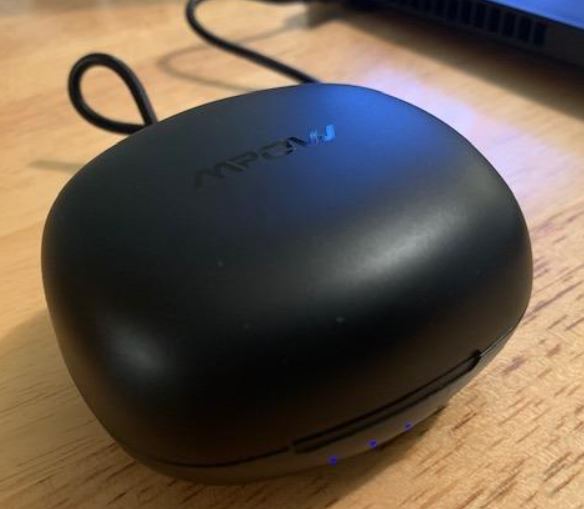 As we briefly mentioned, passive noise isolation is only moderate on the Flame Solo. The tips are designed to allow some amount of sound in, which is great for exercising. For instance, if you're out for a run, you can hear when there's a car approaching behind you. If you do prefer complete isolation and powerful bass, why not spring for a full-sized pair of headphones? They're not quite as workout-friendly, but they offer the best possible audio experience.
The Mpow Flame Solo wireless earbuds have environmental noise cancellation (ENC) technology. This is designed to filter noise out from your microphone, not from your speakers. In other words, unlike ANC, it's not made for you. It's made so the person on the other end of a phone call can hear you clearly. Mpow isn't clear about whether this ENC technology is Qualcomm's CVC or something else, but it works just fine.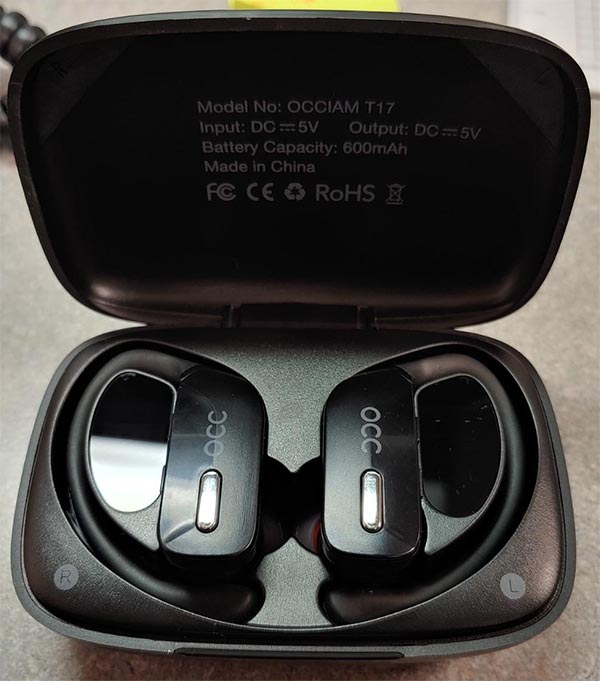 Occiam Bluetooth Earbuds
The Occiam Bluetooth Earbuds look very similar to the Flame Solo buds at first glance. They have an ear hook design, but the hook is noticeably softer. Instead, they rely on more traditional, fitted ear tips to stay in place. There are three sets of tips in the kit to ensure you get the best possible fit. If you prefer a stiffer ear hook and a looser tip, consider the Mpow Flame Lite. It's similar to the Solo in many ways, but with a more lightweight design.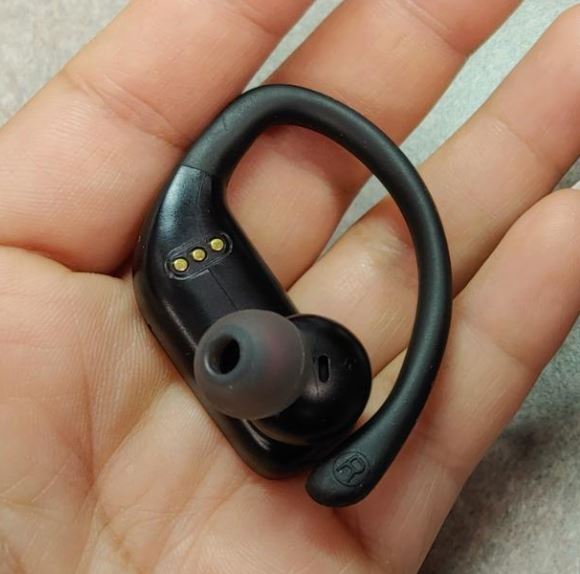 Another thing the Occiam shares in common with the Flame Solo is its three-button control scheme. With buttons on each earbud, you get complete control with either your left or your right hand. The water resistance rating of IPX5 is sufficient for most workouts. Just don't take it in the shower, and you shouldn't have any trouble.
The charging case is large and curvy, much like the Flame Solo's. There's also a nifty LCD readout that's split between both sides. On the left, you'll see a percentage readout of the case's total charge. On the right, you'll see separate battery meters for both earbuds. This makes it easy to monitor your battery status at a glance.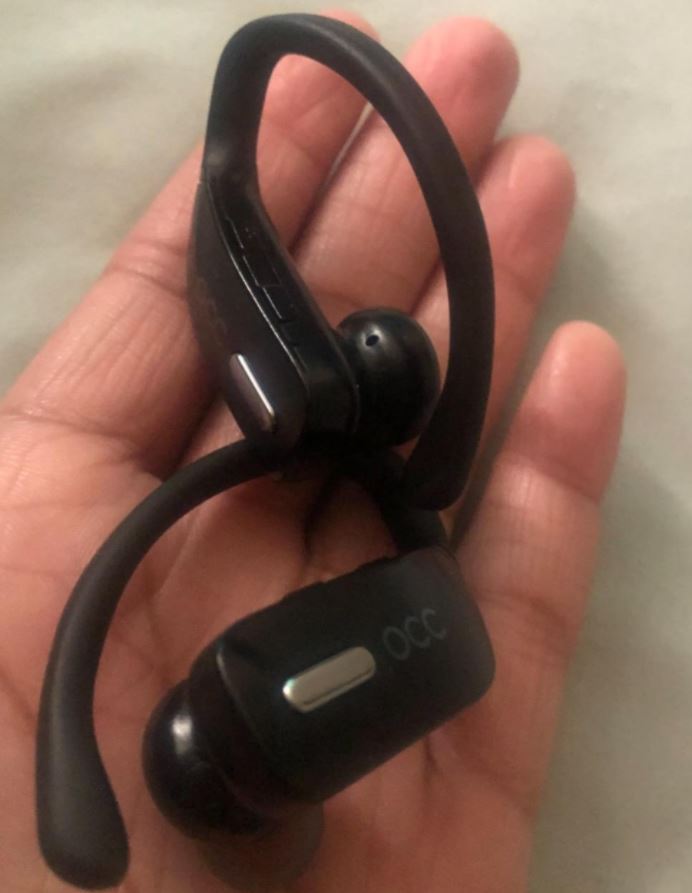 Battery & Connectivity
The Occiam Bluetooth Earbuds will last for up to eight hours on a single charge. As before, we should discount for real-world volumes, but you're still looking at a minimum of six hours. Charging the earbuds takes 90 minutes in the charging case, and the case carries five additional charges. This means you get between 36 and 48 hours of playtime without needing to plug into the wall.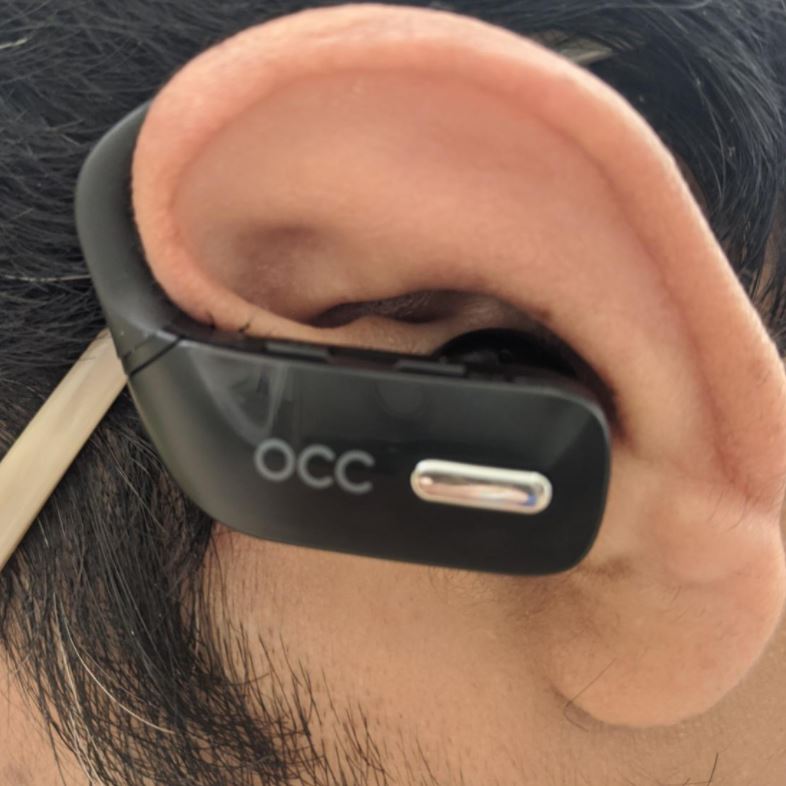 In terms of connectivity, the Occiam and Mpow earbuds are identical. They both use Bluetooth 5.0, and they both support pairing in stereo, mono, or sharing mode.
Audio Quality
Occiam's earbuds offer great sound quality for mid-priced earbuds. The frequency response is even across the spectrum, from the deepest of bass to the highest of highs. The bass is rich and present, if not terribly loud. The highs have plenty of sparkle, and neither the lows nor the highs distorts the middle frequencies. All of this comes with a wide soundstage with plenty of separation between instruments.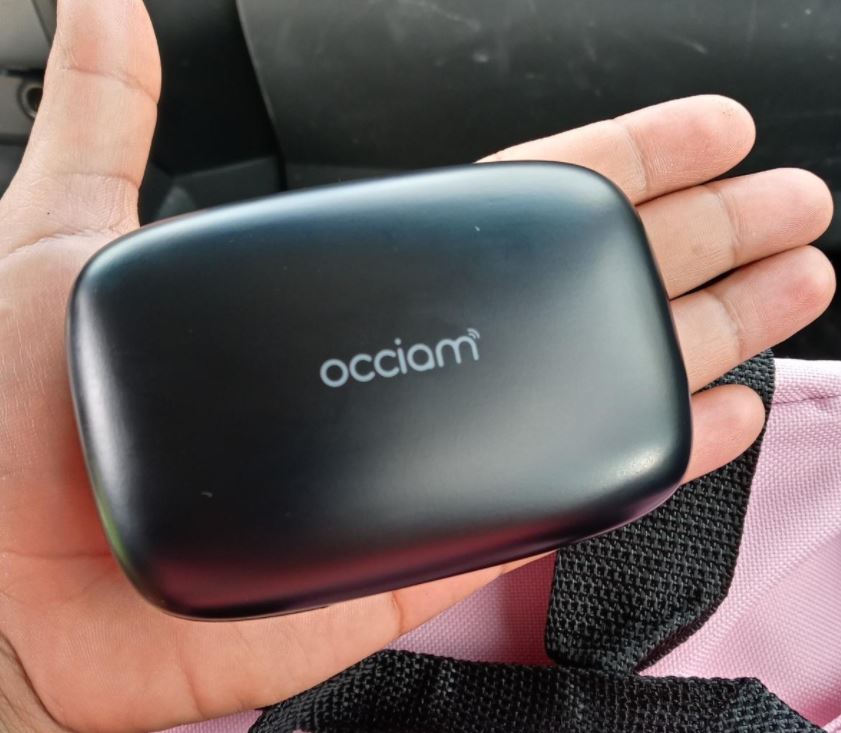 The Occiam Bluetooth Earbuds don't have any kind of dedicated noise cancellation technology. That said, call quality still sounds just fine. The other person shouldn't have any trouble hearing you, and you shouldn't have any trouble hearing them.
Final Verdict
As you can see, both sets of earbuds are similar in many respects. They both have the same workout-friendly ear hook design. They also both have a similar control scheme, with three buttons on both earbuds. Finally, both allow pairing in stereo, mono, or shared mode. On the other hand, there are some differences between the two that are worth considering.
The Mpow Flame Solo is a bit better-suited for the most intense conditions. It has a somewhat more secure fit, as well as a powerful IPX7 water resistance rating. Not only that, but the poor passive noise isolation is actually a plus, since it allows better situational awareness.
The Occiam Bluetooth Earbuds, on the other hand, are made a bit more for audio quality. They rely more on their ear tips for security, with a looser ear hook. That said, these tighter tips provide better noise isolation than their counterparts. The digital battery meter is also pretty cool, even if it is mostly cosmetic.