A strong WiFi signal is one of the most important components to any living space. Considering how much we rely on our phones, laptops and smart devices to get us through the day, having a reliable router as well as a dependable internet service provider is key. However, sometimes even a well-made router can leave you with dead zones in your home or places in which the signal is out of range. This is especially prevalent in large homes with only one WiFi network.
It can be extremely inconvenient to be streaming a video on your phone or tablet, but then experience an interruption if you walk into another room or decide to head outside for a minute. The good news is that extending your WiFi range is possible with the use of something called a WiFi satellite.
A WiFi satellite adds WiFi coverage to your router's existing zone and can be placed nearly anywhere in your home. They sync up easily to your home WiFi network and usually can be used under the same network name. The applications for a device like this are really endless; you can use them to add WiFi range in a basement, game-room, or even in a larger backyard where you may want to host guests.
The newly released Netgear Orbi (RBS50Y) Outdoor Satellite is designed to expand your existing WiFi range in the home, as long as you use it with your Orbi router. We got our hands on one of these satellites and checked out the design, ease of installation, performance, special features and also looked at any potential drawbacks to the unit. Considering how useful something like this could really be, we felt it was definitely worth a look.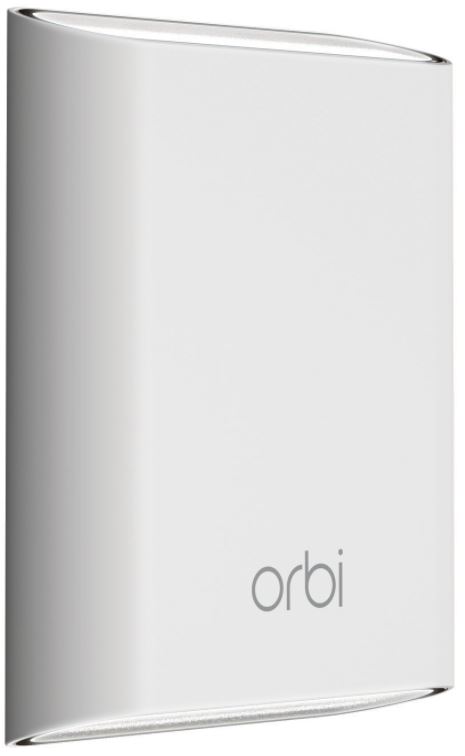 Design
The Orbi (RBS50Y) Outdoor Satellite has a very basic layout, and looks almost identical to the Orbi Pro router with the exception of a few additional features. It comes in white, has a smooth rectangular design, a round indicator light on the top section, and on the front you'll find the Orbi logo in plain view.
It's a bit on the bulky side, but considering that it is both an indoor and outdoor device, this didn't bother us too much. It measures at 12.21 x 9.22 x 6.66 inches and weighs in at 6.22 pounds. Yes, it is a little heavy too, but you won't be carrying it around. It's meant to be mounted or installed in one place and left there in order to expand your WiFi range.
The back of the satellite has a sync button, four Ethernet ports, a USB port, a power button, a DC power port, as well as a reset button. The back section is nearly identical to the Orbi router, with the exception of an additional Ethernet port. You'll have to either position it near an outlet, or use an extension cord to keep it plugged in.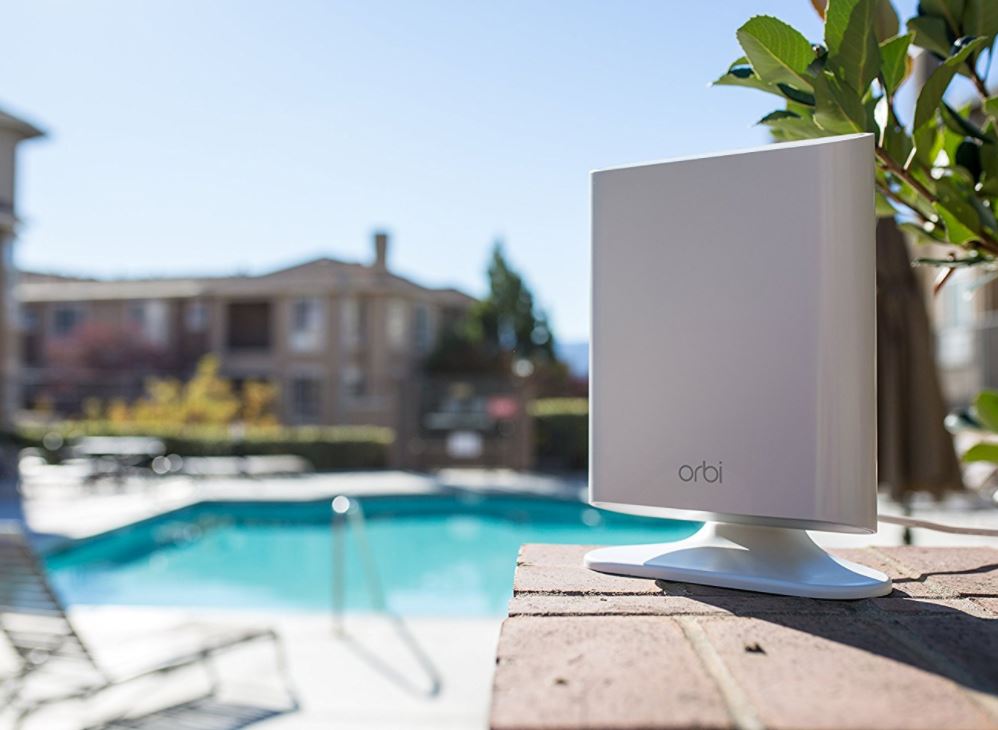 Ease Of Installation
The Orbi Outdoor Satellite is incredibly easy to sync and install. All you have to do is make sure both the satellite and the base unit are powered on and plugged in, and then press the sync button on the back of the satellite. Within two minutes the satellite and the base unit will connect and your WiFi range will be extended.
You'll also know that the process is complete because the satellite unit will change from a pulsing white color to a glowing blue. The indicator light may also show amber or magenta, which indicates a weak connection and that you have to move the satellite closer to the base unit.
You can also use the Orbi app to guide you through the installation process. The app is available on both the App store as well as Google Play and is fairly easy to follow. You'll be asked to select your configuration and then follow the detailed diagrams on how to properly install and connect the satellite. Also, when it came to mounting, the Orbi can be easily mounted on a wall or set up on a flat surface, depending on the layout of your home. The wall mount was actually included with the satellite, which we thought was an excellent addition.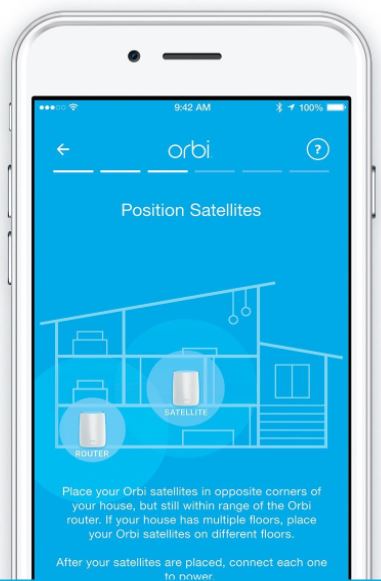 Performance
Once we had it hooked up, we found that the Orbi Outdoor Satellite performed extremely well, and lived up to its claims. As long as it was relatively close to the Orbi base unit, we found the signal to be strong all the way up to the advertised 2500 sq. ft. Our streaming speed was also just as fast as if we'd been connected to the Orbi base unit. Orbi advertises that the wireless speeds are about 3 Gbps, and we found that to be pretty close to what we experienced when we streamed movies, music or downloaded files on a laptop.
The satellite also maintained the same signal strength and speed even when we had multiple wireless devices connected to it. This was especially impressive, because many base unit routers can slow down when they are congested, but the Orbi satellite showed almost no difference even when we had four connections at once. To our surprise, it also performed just as well outside. Even if there were walls obstructing the base unit from the satellite, we still found almost no effect on the signal strength, meaning the satellite could definitely be installed outside if need be.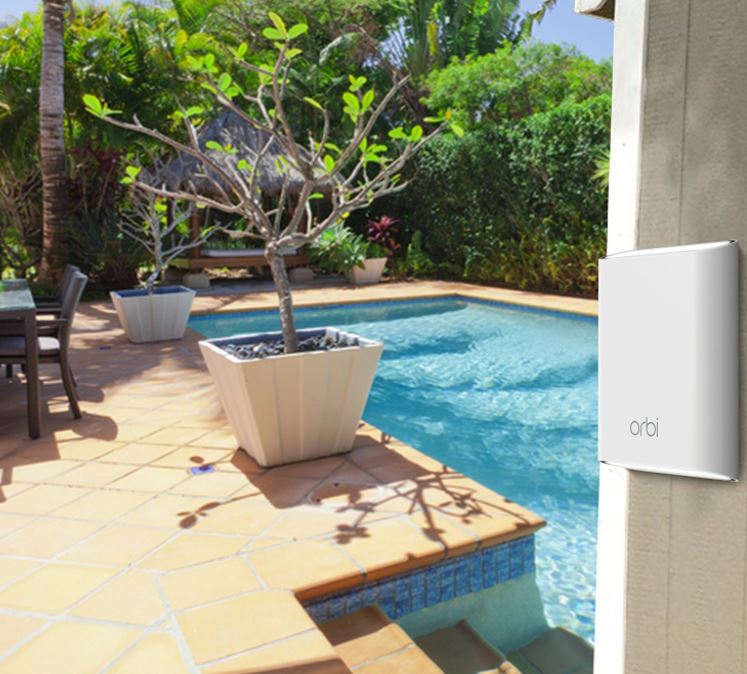 Special Features
One of the most impressive features of the Orbi Satellite is that it is fully water-resistant. You can use the included wall mount to position it virtually anywhere, including the outside of your house, your patio, or even by your pool, as long as it is still within range of the base unit.
We found this to be an incredible feature that added a ton of versatility to the satellite. The range of the satellite was also excellent. With the satellite set up, you'll get an extra 2500 square feet of WiFi coverage from the origin point of the satellite. We tested the range pretty rigorously, and it did hold up extremely well. However, you will notice an immediate drop in the signal as soon as you cross the 2500 square foot line.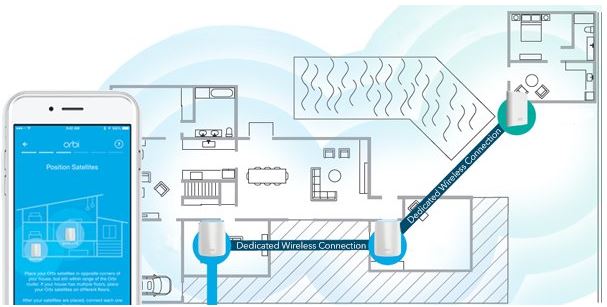 We also really liked the fact that the Orbi Satellite didn't require a second network name in order to connect to other devices. This made it easy to use for both the owner as well as any guests who want to connect. Some WiFi satellites do require a second network name which isn't a major inconvenience, but is still a little tedious for someone connecting their phone or tablet for the first time.
Lastly, the Orbi is compatible with Amazon Alex and Google Assistant. It was a cool addition, and while not everyone who purchases it will have these two services, it was still nice to know that they were available.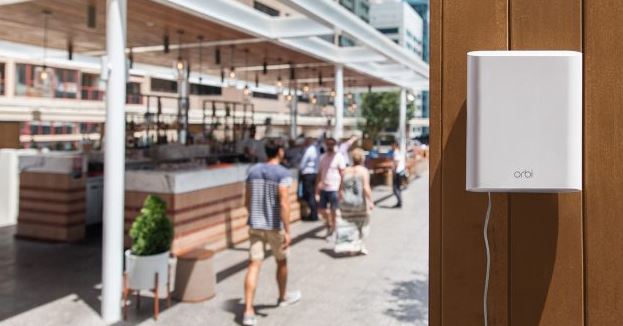 Drawbacks
While we did find this to be an incredibly powerful satellite, with a very easy installation and intuitive design, we did find a few minor flaws worth mentioning. First and foremost, we would have liked for it to be universally compatible with a variety of routers, not just the Orbi base unit.
The Orbi would have been a lot more versatile if it could be used with someone's existing setup rather than necessitate that they purchase an Orbi base unit and start from scratch. Considering that some may be interested in extending their WiFi range but may not be willing to purchase both a satellite and a new router to do so, the compatibility issues lost a few points for the Orbi.

Also, we would have liked for the sync range to a bit better. You'll have to position the Orbi Satellite relatively close to the base unit. In some ways this reduced the overall range, because we were already somewhat close to the original WiFi signal. There was still a noticeable improvement, but we felt that the satellite would have really blown us away if it had both a longer WiFi range, as well as a stronger connecting range to the router.
Lastly, we had one minor issue with the design. To set the satellite up outside, you'll have to mount it to the side of your house, but the only problem with this is that the components on the back are a bit hard to reach. It was great to have the four Ethernet cables and a USB port, but we found that they were obstructed quite a bit once we used the included wall mount. Of course, you could still set up the Orbi satellite in the included stand, but for outdoor use this didn't feel like the best option. It would have been a bit more convenient for the Ethernet ports, power button and USB to be situated on the side of the unit to allow easier access, regardless of how it was installed.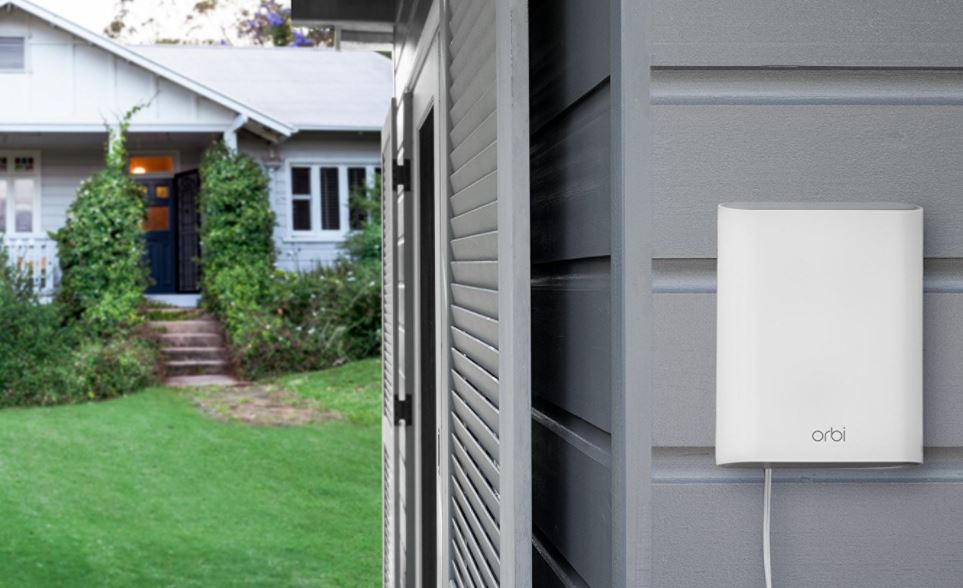 Final Thoughts
Overall, we really liked the Orbi (RBS50Y) Outdoor WiFi Satellite. It performed extremely well and was as advertised when it came to its ability to significantly boost range at high speeds. It didn't slow down even with several devices connected, and its waterproof capabilities made it incredibly versatile when it came to where it could be installed.
It had a few flaws, but nothing that severely affected our opinion of it. It would have been nice for it to have a larger connection range to the base unit and we found that the decision to place components like the power button and Ethernet ports on the back of the unit was a slight shortcoming in the design, depending on how you set it up.
That being said, we found it to be a perfect solution for those with larger homes or backyards or pool areas that could benefit from additional WiFi coverage. The easy installation and simplicity when it came to connecting a wireless device made us think that the Orbi Satellite could benefit not only homeowners but even professionals who want to expand their office WiFi network.
It's definitely the kind of upgrade you'll be seeing more and more, and based on our analysis, we give it a big thumbs up.