Action cameras have come a long way over the last few years with steady advancements in both recording quality, ease of use, durability and overall features. Whether you're biking down a trail, hiking through the forest, spending the day surfing at the beach, or casually enjoying your day at the dog park, a sufficient, high-quality "point of view" action camera can go a long way.
Although it's quite impossible to actually determine who developed the first action camera, people have been trying to capture recordings in the first person point of view for several decades. The first commercially available and most well-known became the GoPro. Originally released in 2004 and improved upon over the years following, but even their latest version leaves out a lot of desirable features.
As the latest release from Olympus and their newest addition to the "Tough" product family, the new Olympus Stylus Tough TG-Tracker brings a lot of specialization to the table. With an emphasis on tracking location, temperature, altitude, barometric-pressure, and other advanced capabilities, it combines all of the rugged features of the "Tough" product line with a 204 degree ultra-wide angle F.20 high speed lens, 4k Ultra HD video quality, and an advanced sensor system.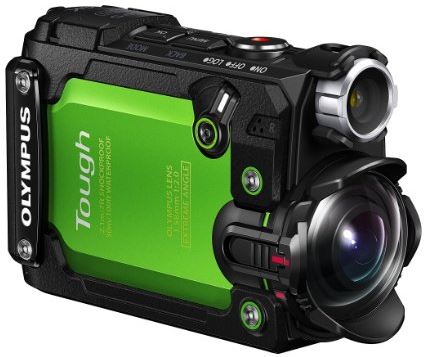 Set to fully release next month on June 27th, we had an opportunity to take a closer look at the Olympus TG-Tracker to see what exactly it has to offer, how it's improved, its core-features, built quality and ease of use.
First Impressions
We're always excited to see a new action camera hit the market – especially one that's packed full of impressive features that promise to combine the rugged ability of the Tough series with all of the high-end capturing and shooting features you rely on to acquire the perfect shot. At first glance you'll notice it's small size, rugged-look and unique style. Available in either green or black, it caries the same appearance as the TG-870, but it's much more impressive.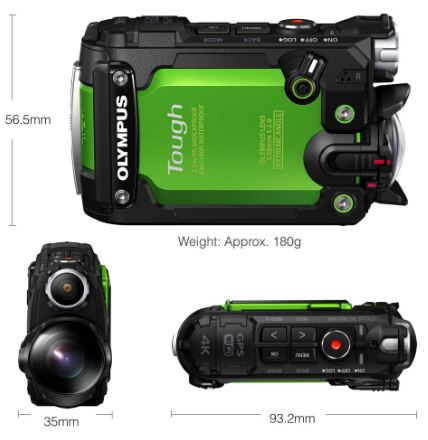 Weighing in at just 180 grams and measuring 56.5 millimeters tall, 35 millimeters wide and 93.2 millimeters long, it's been designed to fit in the palm of your hand so it's always readily accessible when you want it the most.
Durability
Being able to withstand constant abuse from the elements and the surrounding environment is critical if you plan on using your action cam outdoors. The TG-Tracker incorporates a rugged, built-to-last design that's completely waterproof to a depth of 100 feet, shockproof from up to a 7 foot fall, crush-proof to 220 lbf, freeze-proof down to 14 degrees Fahrenheit (-13 C) and boasts a completely sealed, dust-proof body.
Needless to say, it's been built to work well in a wide range of environments – from mountain tops in the middle of winter to the sunny, sandy beaches of the coast. Best of all, there's no protective housing required – you won't need to place it within a sealed case in order to gain all of these benefits. Any way to minimize the amount of require accessories is a good thing in our opinion.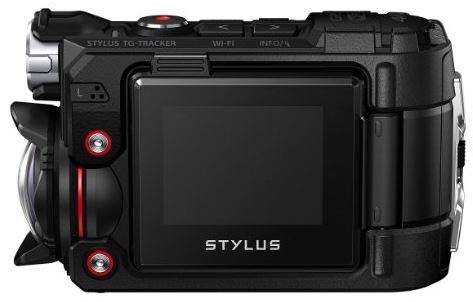 Built-in LCD
On one side of the camera is a 1.5 inch LCD that gives you a clear view of the scene you're shooting so there's never any second-guessing. It flips out from one side and securely latches to the side if you don't want to use it. In some cases, the screen may get in the way so it's nice to see that they give you the option to either use it or not.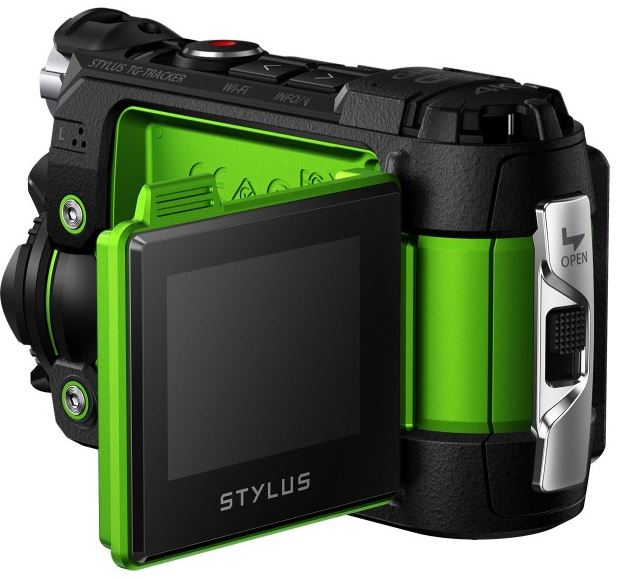 Not all action cameras have a built-in screen as they have been known to potentially drain the battery a bit more than desired. Olympus keeps the screen size small at just 1.5 inches, with an adjustable brightness so you shouldn't run into a significant decrease in the battery longevity.
Video Quality
Being that it's the middle of 2016, you've likely seen the word "4K" thrown around quite a bit – it's simply the latest and greatest when it comes to video quality. Also known as Ultra High Definition, it offers four times the video resolution as it's predecessor 1080p. It brings out the best clarity and realistic, vivid detail that consistently makes you feel like you're watching real-life on the screen.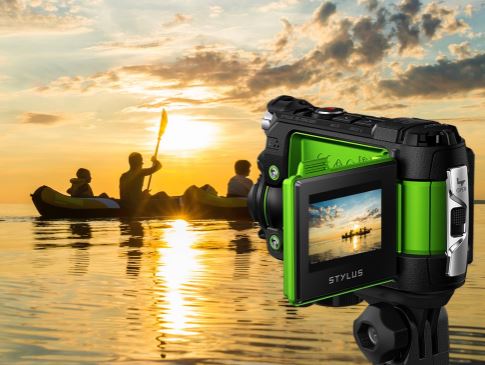 The TG-Tracker records Ultra HD 4K video at up to 30 frames per second, but you always have the option to adjust the recording to capture in either 1080, 720 or standard definition – each one with several different frame rate options which you'll find below:
4k 30p
1080 60p/30p
720 240p/120p/60p/30p
480 240p/120p/60p/30p
There's even different "modes" that you can adjust it to so you get the ideal shot for the scene at-hand. High Speed HD Video mode is ideal for recording slow-motion playback for action scenes where you want to slow down the frames to whatever speed you'd like. 4K Time Lapse Video mode is perfect for capturing a lengthy scene into a short, easy to watch video – like a sunset at the beach. Loop Recording mode will capture a shot every 29 minutes so you can stitch together several still-frames for scenes that will last hours or days at a time. Last but certainly not least is the Still Shot mode, ideal for capturing still images with fine, crisp detail in 8 megapixels.
Optics
Utilizing a BSI CMOS sensor in conjunction with the TruePic VII for 4K Image Processor, the TG-Tracker is built specifically for capturing vivid detail with vibrant colors and realistic effects. Whether you're shooting still images or recording full length videos, the integrated electronic 5-Axis Image Stabilization works wonders for automatically fixing and adjusting vibrations, bumps and jittering that commonly occurs when shooting most action scenes.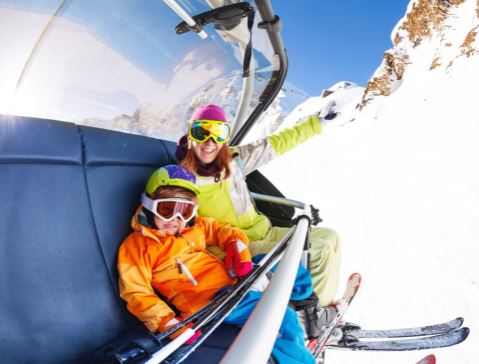 Thanks to the F2.0 aperture, scenes that are in low-light or dim environments are correctly balanced for an improved shot whether you're 50 feet underwater or 10,000 feet on a mountain top. Pair this with the 204 degree extreme wide angle lens and you're given the ability to capture with much more dramatic scenes that look true-to-life. If you don't prefer such a wide panorama, you have the option to adjust the lens to a narrow angle view for a much more natural perspective. Additionally, Olympus has included the dome lens protector to keep it protected at all times, and even an underwater lens protector that's specifically ideal for underwater filming.
Sensors
What truly makes the TG-Tracker unique is the amount of sensors that are built-in including the GPS, eCompass, Accelerometer, Thermometer, and Barometer. They help replicate the realism that you experience when you're in the middle of the action by recording the GPS coordinates, direction, g-force, altitude, water depth and even the ambient temperature. It's really awesome to see a camera include all of these advanced sensors, we feel that it makes it unique and adds a fun and quite useful twist to the recording of your adventures.
Connectivity
Once you capture your videos and images, you have the ability to instantly upload them to share them with friends, family and through a variety of different social media sites using the integrated WiFi feature. Additionally, you can sync them to your smartphone or tablet using the QR code setup.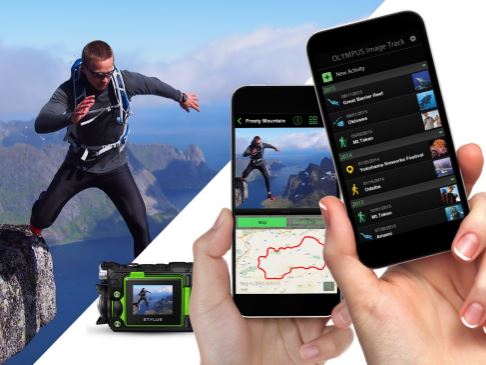 However, the most popular way to access your shots is with the OI.Share app. Completely free of charge and quite simple to use, it lets you wirelessly change settings and share your content within a matter of seconds. If you'd like to store still shots, video, and log all of the TG-Tracker's shots on your smartphone or tablet, install the free OI.Track app and you're given the freedom to do so.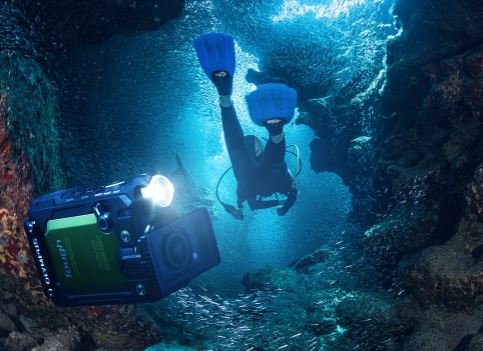 LED Flashlight
Located directly above the camera lens is a super-bright LED flashlight that's perfectly positioned to light up the scene in front of the camera. This can drastically improve any dimly lit environment and make recording with impressive clarity as easy as it would be in an ideal setting. It's so bright that it can even double as a useful flashlight.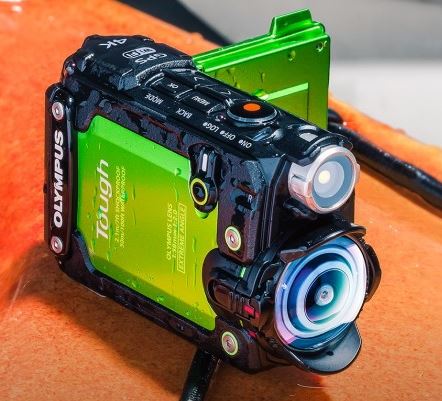 Battery
With the included lithium-ion battery, you're given the ability to record for up to 95 minutes in full 4K Ultra HD at 30 frames per second before you need to charge it up again. Since it's completely interchangeable, you always have the option to buy additional batteries in the future so you can have a few extra on-hand at all times. Although the constant need to charge the battery can get old, it's much more economical and smarter than relying on standard disposable batteries.
Final Thoughts
Overall, the Olympus Stylus Tough TG-Tracker provides an exceptional amount of value considering all of the high-end features it brings to the table. With it's ability to record in full 4K at 30 frames per second, you're assured lasting quality that captivates any audience. Pair this with the electronic 5-Axis Image Stabilization, the five built-in sensors and wide range of connectivity options, and you're left with an action camera that'll provide exceptional quality for years to come.
The durability speaks for itself – waterproof to depths of 100 feet, shock-proof, dust-proof and even freeze-proof, we truly believe that it outshines any GoPro model and in fact, any action cam that we've seen released so far this year. One of our favorite things is that you don't need to enclose in any housing – it's good to go right out of the box.