Earbuds require you to balance about a hundred different factors. You need to think about the kind of wireless connection you want to use, and how far the connection needs to go. You've got to reflect on how long you need the battery to hang in there. Even comfort and style come into consideration.
Which means there's no such thing as a perfect pair of earbuds. It's more about finding a pair that are likely to suit your own needs. In other words, it's about matching your expectations with the most appropriate earbuds. And making that matchup from big brands can be tough. Because big brands almost always design for general audiences, but that doesn't include everyone.
Pamu Slide
Pamu Slide were crafted by Padmate, which isn't technically an audio company, but they have done some good work in the past. Maybe it's their fresh perspective that helped make the Pamu Slide what it is. Speaking of the Slide, these earbuds are basically designed to do two things.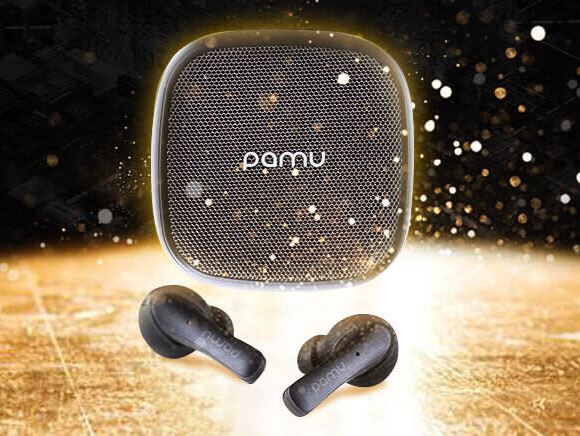 The first thing is to stick inside your ears without fail, period. They're supposed to be able to grip within your ear with more reliability than you would otherwise expect from earbuds. And their wireless connection is almost just as stable.
The second thing these earbuds are supposed to do is keep you moving with as little downtime as possible. Which is something that's only possible with a slew of convenience features packed together in the right order. Not only does the charging case have to perform well, but the earbud batteries, and even the sync process as you start using them. So how well does the Pamu Slide put all of that together?
Design & Layout
The Slide cines with a USB-C charging cable, three sizes of ear-tips, and a user guide. They also include a portable charging case that's quite distinctive. The case is constructed from a mix of lightweight ABS and lightweight aluminum, so it feels pretty light in your hands. But it's still got some sturdiness to it. Additionally, it helps the case to look more distinctive as well.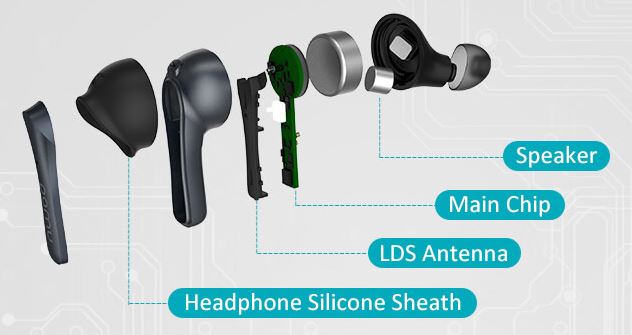 Speaking of distinctive, have you wondered how the Pamu Slide got its name? Unlike most charging cases, the case doesn't pop open from a hinge of some sort. This case slides open like a sliding glass door. Inside the case, you then magnetically attach each earbud, helping keep them in place while they're charging.
If you flip the charging case to its bottom side, it's possible to turn it into a portable power bank. In order to start charging, you have to press a button on the backside in order to initiate the switch in modes. Though this should really only be used as an emergency charger because using the charger for your phone will manage to drain it quite quickly.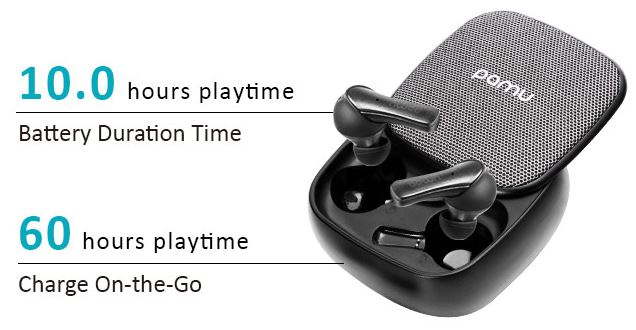 For controlling the earbuds, you'll find the Slide uses a touch interface. And touch controls on earbuds are terribly ordinary by today's standards. Once you get the hang for them, the controls allow you to stop your music, reduce or raise the volume, answer calls, and so forth. It's also possible to connect with Google Assistant or Siri.
Lastly, the earbuds themselves have an IP6 weatherproofing rating. So they're supposed to be able to handle rain and sweat without an issue. However, they're not rated for submersion. So keep them out of pools. The same goes for the charging case, especially when it isn't sealed.
Battery Lifespan
One of the most annoying parts about using true wireless earbuds is that you end up having to recharge so often. The average pair of earbuds only offers just over three hours of battery time. Some claim to go as high as four or five, but the moment you raise your volume settings a bit, they start running down to 3-hours again.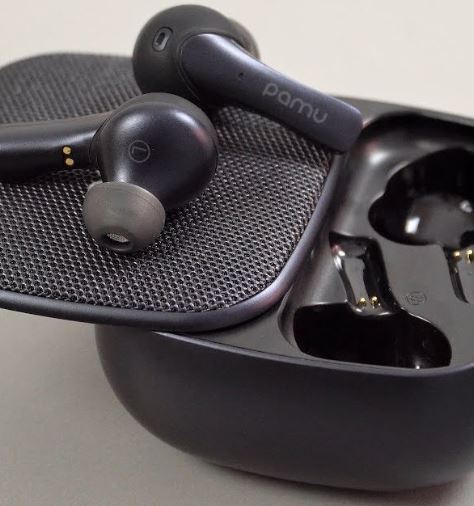 In this case, each Slide earbud allows for a maximum 10-hours of playtime. Since there's a mono mode, technically, you could squeeze 20-hours from the pair. And then you get the charging case involved. The charging case allows you to get each earbud recharged five times. So you have a total of 50-hours of theoretical playtime when running both earbuds in stereo mode, or a 100-hour playtime potential for someone running in mono.
It takes about five minutes to charging to restore an hour of battery. Though that isn't a linear process, after the first hour it will slow down somewhat. But being able to quickly throw some charge into your earbuds can be great for people who often forget to recharge.
This isn't technically quite as fast as some of the other quick-charge technologies out there. This version is mostly front-loaded, so you can quickly recharge the initial portion of your battery. But once you start getting past 25% of your charge, the speed will slow down and become a bit more ordinary.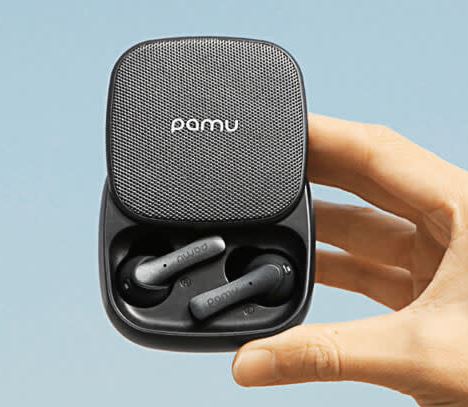 Comfort
The comfort provided by these earbuds would best be described as average. So if you've ever worn in-ear headphones before, then you probably have some accurate expectations about their comfort. The reason why these earbuds are pushed towards average comfort is mostly due to the fact they've been designed to put security above all else. They're supposed to stick inside your ear canal even while you're doing vigorous exercise, and that requires a little bit of squeezing force.
Managing to get a secure fit without the aid of ear-fins or an over-ear design is often tricky. But the comfort limitation mentioned earlier is actually directly related to this. A more secure fit inside your ear is going to be great for noise isolation, and it's going to be great for helping keep the earbud stationary. Comfort does take a hit in the process, so the fact these earbuds still end up feeling about average is really a compliment to them.
Unfortunately, Pamu Slide doesn't incorporate any extra noise cancelling features. That includes no ANC, and no memory foam ear-tips. Though the addition of either could fundamentally interfere with a lot of what the Pamu Slide is trying to achieve. For instance, adding ANC wouldn't just be technologically too difficult to expect from a smaller developer like this, it would also undermine battery performance. And that's a big part of the appeal of these earbuds.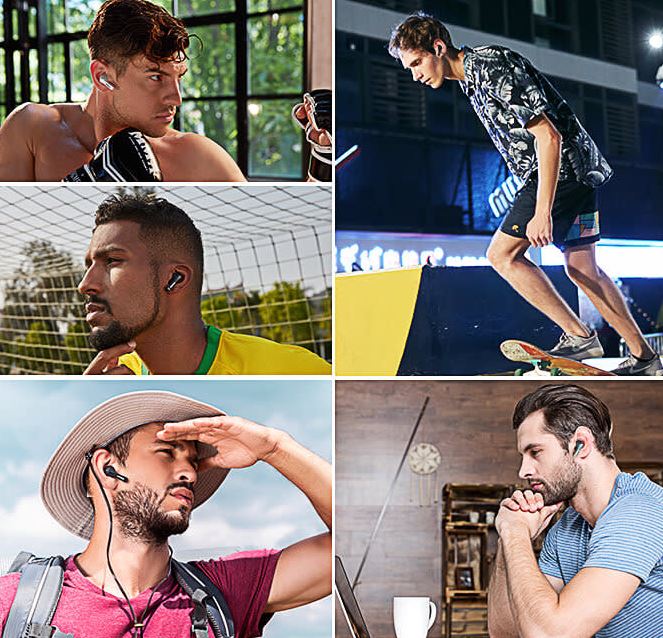 Wireless Connectivity & Call Quality
As you might hope, Bluetooth 5 is the underpinning wireless format. That's a good call since basically any pair of true wireless earbuds that do not run Bluetooth 5 will be comparably handicapped compared to those which do. And Bluetooth 5 helps ensure you don't encounter syncing issues between the earbuds.
It also helps ensure you can support wide connectivity among basically any kind of Bluetooth enabled device you'd want to use with them. For example, that includes devices on the Android, iOS, and Windows platforms. When you start looking at connection distances, things quickly return to average. You can expect about 30-feet of connectivity from the Slide.
Call quality is always a mixed bag on earbuds like these. Part of the problem is that the microphones are placed in your ear, which isn't exactly the best positioning for a microphone. But the Pamu Slide earbuds do manage to pull together some decently good call performance. That's partially because of the sound isolation they've generated from the security of the silicone ear-tips.
It would've been nice to see them incorporate some extra noise cancelling technologies. For instance, they could've tried adding CVC 6.0 or 8.0. But as long as you're not trying to make tons of calls in loud areas, you shouldn't have a problem with this level of call quality.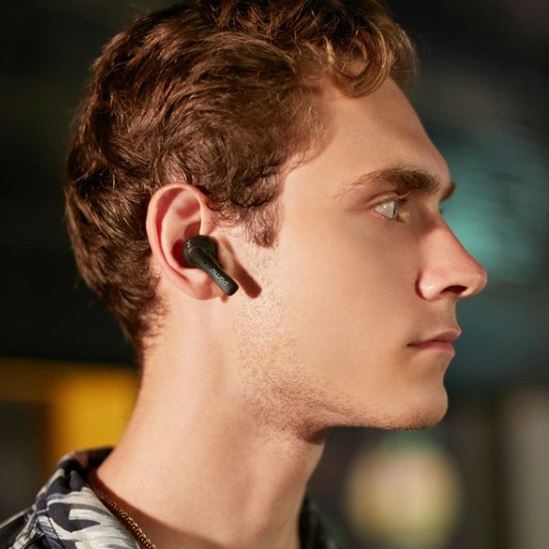 Audio Quality
It's always tough to grade audio performance because there are so many elements involved. Some people want to take advantage of low-latency codecs, others could care less as long as their earbuds work when needed. Here you'll find audio that was created in the interests of the average listener. Because the Pamu Slide are constructed with fairly ordinary audio drivers.
These dynamic drivers are supposed to do justice to the entire tonal range on their own. And they do a decent job. The problem is that they do fall prey to the same sort of limitations you'll find on virtually all similar pairs of earbuds. You can't get amazingly deep bass from earbuds like these. An equalizer can help give them a little boost, but they can't perform the way over-ear headphones can.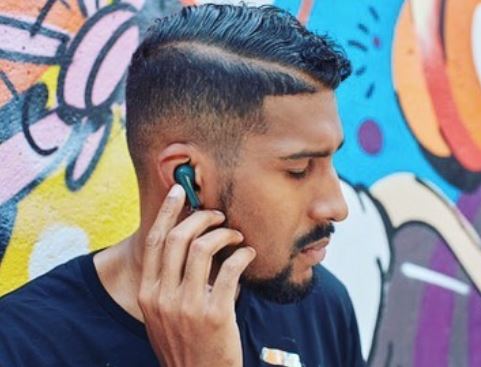 But the upper frequencies manage to maintain detail and clarity. If you start to raise the volume, those details don't get washed away behind distortion. So when it comes to general quality, it's fair to say these drivers deliver. Though it would've helped if they had included a few sound modes.
Perhaps if they had a support app. But those kinds of features are still something you can generally only find from larger brands. Because designing earbuds is difficult enough before you start layering on more and more features to worry about.
Who Should Choose Pamu Slide?
The Pamu Slide have a very cool charging case. It's not the smallest and most compact thing you'll ever see. But it is stylish and durable. You don't have to worry about the case accidentally popping open, and you don't have to worry about it wearing out.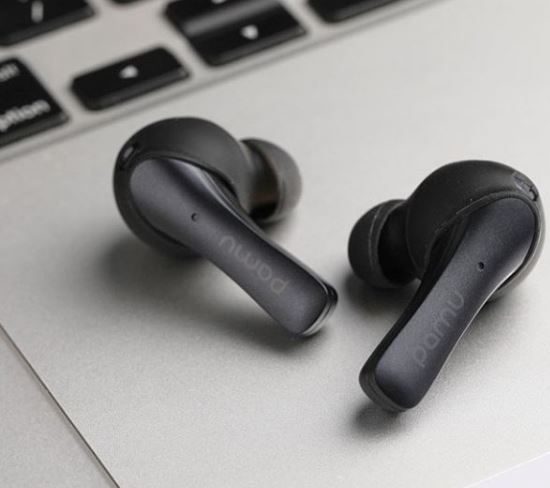 When it comes to audio quality, things are strong, if a bit run of the mill. It's only when you turn towards their battery lifespan that you can start to see some real highlights. The Slide has a battery lifespan that can run almost the lifespan of a lot of their competitors. And Slide also has a number of standard features to round things out. For instance, basic calling features and basic auto-sync features.
But it's really the in-ear security and battery lifespan that help make these earbuds what they are. For people interested in wearing earbuds during athletic activities or outdoor excursions, the Slide will be a natural choice. Provided that you think the charging case is cool, and you value stability in your earbuds, these will do the trick.