Taking your sound wireless isn't difficult to do anymore. But you can end up with a better listening experience if you try and find audio equipment that's more specifically been tailored to be suitable for your tastes. Because some headphones are made for people who listen to songs filled with booming bass. Other headphones are made to try and perform as neutrally as possible, giving you accuracy and clarity, which is very different kind of sound experience.
Phaiser BHS-950 Bluetooth Headphones
For people who aren't interested in going as far as audiophile gear, the BHS-950 has a lot to offer. Aesthetically speaking, you can tell right away these headphones are just a little bit different. Anytime headphones make use of a slightly larger bodied design like the BHS-950, it's a good idea to look and see if the developer is actually making good use of that extra size and weight.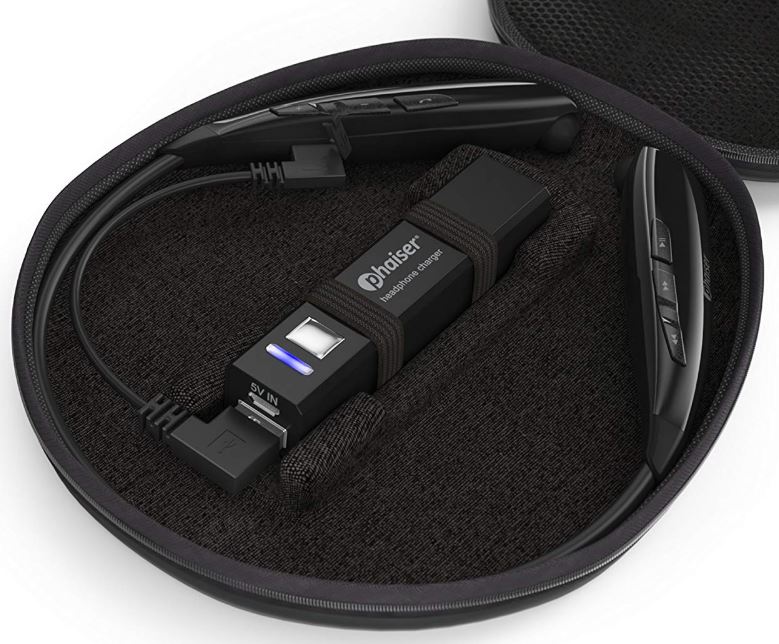 In this case, it's pretty clear Phaiser is doing just that. The headband is a but unusually thick, but it houses retractable earbuds and some pretty powerful batteries. It also houses more than your average microphone setup. So all in all, they really do seem to be making excellent use of the extra size. For people who are trying to get higher levels of call performance, that can be pretty important.
Of course, headphones tend to be a matter of taste. As such, the BHS-950 isn't going to be a great choice for everybody. Not everybody will want something this bulky. But for people who are able to find at least a couple of appealing aspects to its design, the BHS-950 clearly has some things to offer. It really depends on how much you value calling features, portability, and similar concerns.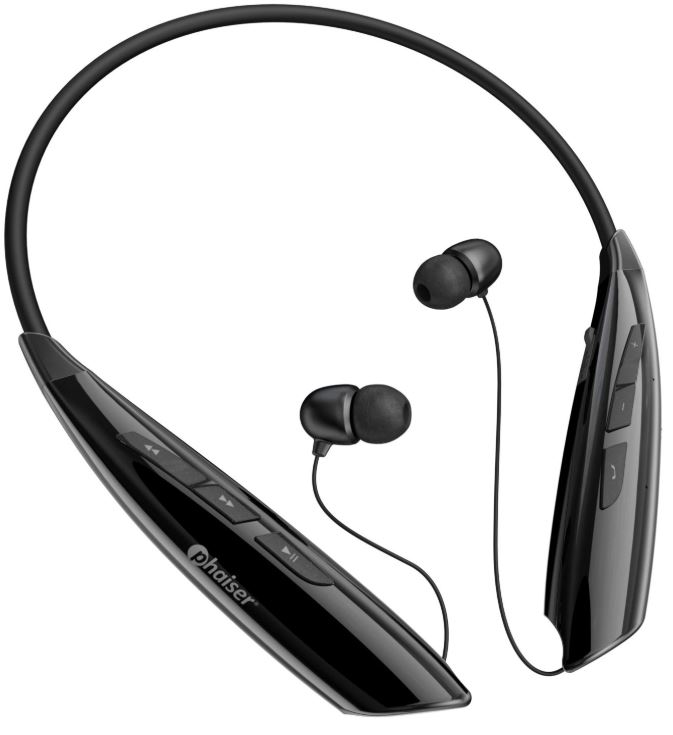 Design & Layout
The earbuds pull out on a retractable wire from the base of the headband. Because the earbud wire is retractable, you can generally expect far greater longevity from the wire. Apart from longevity, you can also expect this retractable design to be a little easier for wire micromanagement. You don't have to be worried about tangles either, provided that you take the time to retract the earbuds when you're done using them.
Along the edges of each side of the neckband, you'll find a pair of analogue controls. On one side, you'll notice a call button is paired with the two volume buttons. On the adjacent side, a play/pause button has been paired with two track-skipping buttons. A fairly intuitive design, though the fact they've used six buttons does make this interface feel a little cluttered when compared to something like a touch control interface.
The sweat proof design is protected with a hydrophobic nano-coating. For people who are into exercising, biking, or otherwise staying active with their earbuds, that can be pretty useful. It's important to keep in mind that the hydrophobic nature of this waterproofing means you're only protected from the occasional splash. These things are not rated to survive through any form of submersion, so you really wouldn't want to throw them into a puddle by accident.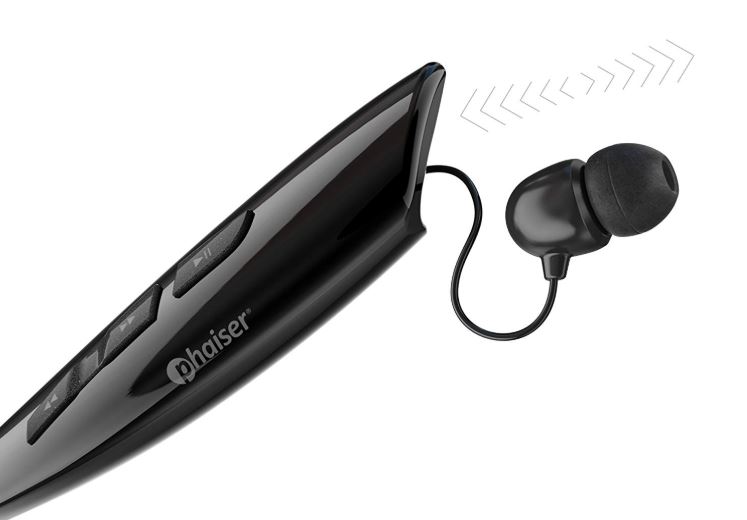 Charging Case
The charging case looks as though it were just an ordinary headphone case. As opposed to the small magnetic designs you find with wireless earbud charging cases, this case is a soft-shelled zippered nylon bag. Inside of the case, the BHS-950 headphones connect with what is essentially a small battery within the center of the case.
This isn't nearly as streamlined as some other headphone cases – you can't just place your headphones into the case and automatically start charging. You actually need to connect the battery inside the case to the headphones, with a physical USB connection using the included wire.
Though it's still a pretty simple solution, it's just not quite as slick as true wireless earbud cases. So it gets the job done, but not with nearly as much style as some people may be used to. If you were looking for something with a more streamlined case, you might consider the SoundPEATS Q31, another pair of headphones I review recently.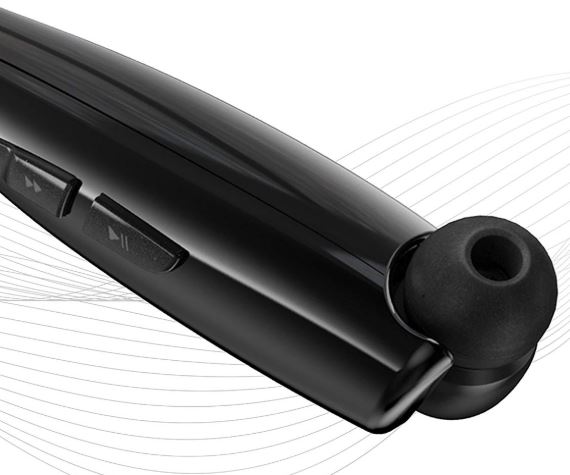 Wireless Connectivity & Calling Features
But then there's the Bluetooth. Using Bluetooth 4.2 means you get much faster and reliable data transmission. That translates into fewer connection drops, even when you're transmitting a signal from across the distance of a room. You can extend or retract the buds from a headset for a more secure and easier storage. Plus, the transmission distance is actually slightly above average. It can stretch anywhere between 30ft and 40ft, making it roughly a quarter better than the average pair of Bluetooth headphones.
Another thing these headphones does pretty well is provide a good call experience. That's largely because of the inclusion of a noise cancelling microphone. But it's also because the microphone is a smart mic, capable of starting and stopping your music at the beginning and end of your calls as needed.
Additionally, the headband stands out thanks to its vibrational functionality. It has a vibrating alert that it can use when calls are detected, so your voice assistant can help keep you in the loop as needed. Think of it like a phone's vibration feature, except applied to your headphones. The vibration is actually pretty gentle, so it won't tear through your battery if it goes off with regularity. But it's something you'll be able to feel over clothing, and that's pretty well designed.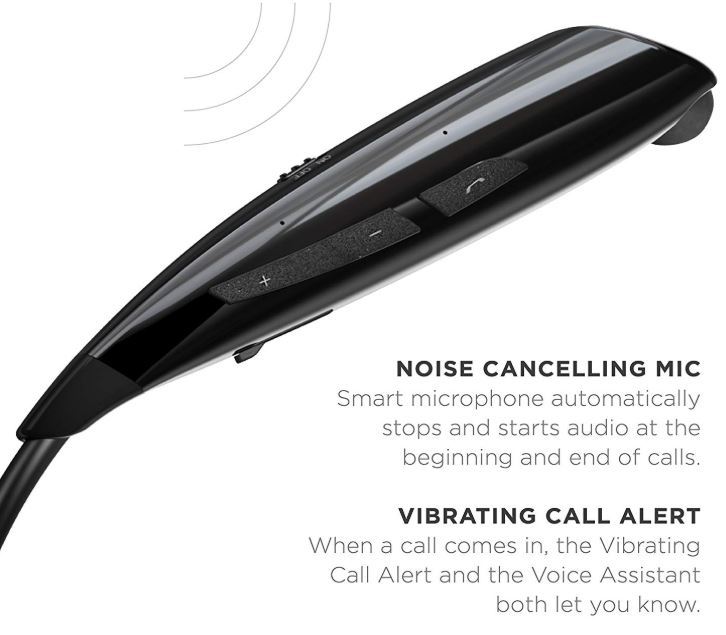 Audio Quality
At some points, these headphones are described at having 8mm drivers. But they actually use slightly larger 10mm drivers. The difference doesn't sound like much, but it actually counts for a lot with a design that sits this far from your ears. A higher air volume gives more room to develop a sense of deeper bass tones.
But with respect to the audio quality, it's fair to say these earbuds are about average for a pair of headphones in this price range. They sound perfectly fine, but they certainly won't blow your mind or set new expectations for what you can get at the intro-level for headsets. The bass really does deliver a little more than you might expect given the 10mm nature of the drivers, though.
And since there's a soft focus on calling features behind these headphones, it shouldn't surprise you they're also built in the interests of clarity. That's clearest when you're looking at the bass tones because these headphones do have a somewhat inflated bassline, though that sense of being inflated is partially due to the fact these headphones are capable of becoming quite loud. Actually, it's surprising that their battery capacity remains so compelling in spite of their maximum volume potential.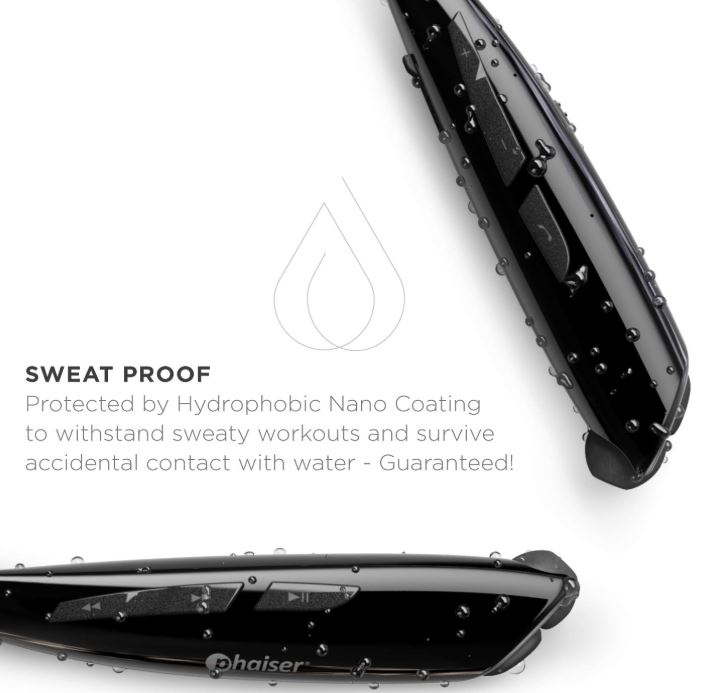 Battery Lifespan
The BHS-950 is supposed to provide a 15-hour lifespan. That lifespan is a consequence of a pretty robust 170mAh battery, and recharging is done with an onboard micro UBS connection. It takes about two hours to recharge from a pair of totally drained headphones, though it's closer to an hour if you're only topping them off.
The 15-hour battery estimate is a good start. Of course, that estimate will vary depending on how loud you take the volume and so forth. But when you have the charging case, none of that matters. Your playtime can be expanded with the 77-hours when you've got the extra capacity carried in the case. You can also get about 18-days of standby time between charges, which means they are pretty good for more than a week without needing a recharge.
Comfort Concerns
The BHS-950's headband is covered in a nice thick layer of silicone. Not exactly a unique design in that respect, but it's still extremely smooth and pleasant feeling against skin. It also flexes and bends a little bit as necessary, to better adjust to the contours of your neck.
Apart from that, these headphones include three sizes or ear-tips, and two sets you can use for replacement. Those sizes are medium, small, and large. The medium-sized tips actually come pre-installed on the earbuds, so you'll only find the two spare sets inside the case. But that's pretty much all you need to be able to find a comfortable fit from any pair of earbuds, and these are really no different.
Other Considerations
Not all Bluetooth is created equal. In this instance, it's worth noting that these headphones don't include support for the AptX Codec. For people who are trying to listen to lossless music wirelessly, that could be an issue. But for people who don't mess around with giant resolution audio files or other audiophile content, that probably won't be an issue.
Another thing you won't find included with the BHS-950 are memory foam ear-tips. Though memory foam ear-tips are increasingly common inside these kinds of kits, they're far from essential, and swapping the ear-tips is usually a bit of a pain anyway. So it's easy to overlook their absence.
In addition to the earbuds, the BHS-950 includes its charging case, three pairs of earphone tip sizes, two charging cables, and a user manual. It's basically everything you'd expect to get from a more traditionally designed set of Bluetooth headphones.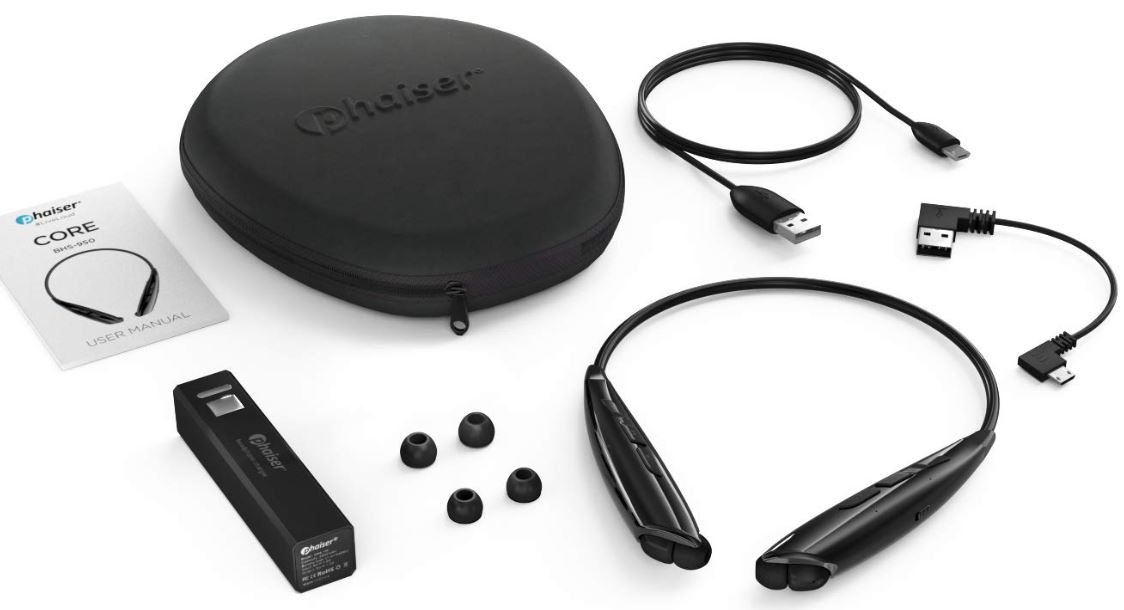 Who Should Choose Phaiser BHS-950 Bluetooth Headphones?
There are a number of things to like about these headphones, and then there are things you might not like. If you're comparing them to true wireless earbuds, you'll certainly find this charging case isn't nearly as streamlined as what you may be familiar with using. There's an added step in connecting them to the case, but most people should find it's really not much of a big deal.
These headphones aren't trying to offer you everything. They don't come with a bunch of extra support for call assistants. They don't have memory foam ear tips, they don't have ANC technology, and so forth. But if you're looking at these from a performance per dollar perspective, the BHS-950 actually looks pretty good.
Because you're getting a battery lifespan that greatly outperforms most of its competitors around this price range. If you're not using them every day, you're able to keep these headphones going for several weeks without having to worry twice about them. And if you're using them every day, they've got the endurance to hang in there with you. The waterproofing isn't quite redundant, but it's enough to keep out the rain, which makes the Phaiser BHS-950 a pretty well-rounded choice for someone who can appreciate this particular balance of features.