The SteelSeries Apex M800 is a new mechanical gaming keyboard that can be easily customized to your specific needs. It offers an unprecedented user experience and quick response to any of your gestures. Six strategic macro keys are put closely together, which ensures quick access to the exact controls you need while playing your favorite video games.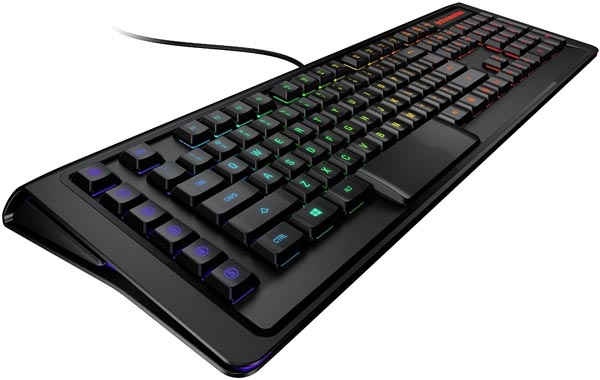 This gaming keyboard can be programmed and reprogrammed until it fully meets your requirements. Featuring several customizable illumination effects, it offers not only great gaming abilities, but also an impressive visual appeal. Additional tactile bumps allow you to totally plunge into the gaming world, without the need to track every key you press.
Features
The SteelSeries Apex M800 is a programmable keyboard powered by Apex's own software. The M800 gives its users a chance to customize each key according to one's own needs. It allows an unlimited number of changes, so anytime you feel like the usability could benefit from a little boost – feel free to rearrange the functionality of your keys. The process is very simple and will not take you more than a couple of clicks.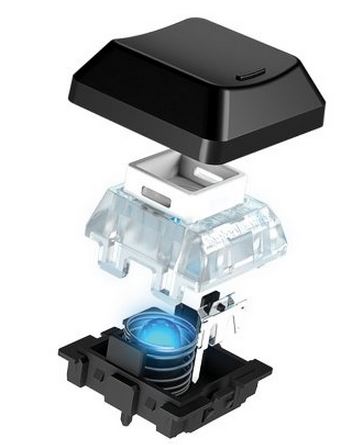 This mechanical keyboard has an estimated 60 million click capacity – which is much more than many of its counterparts can offer. QS1 Switch keyboards from Steel Series can withstand hours of gaming and still look good as new.
The Apex M800 is one of the fastest, most responsive keyboards that will be soon available on May 1st of 2015. In comparison to a traditional mechanical switch, it's characterized by a 25% response speed. This gives you an undeniable competitive advantage in gaming.
Apart from an impressively quick response, the SteelSeries Apex M800 has a memorable look and feel. Featured in black, it has key illumination with 8 brightness levels. Needless to mention, that the lighting color is customizable as well. It's up to you to choose any hue from the entire color palette and enjoy a truly individualized user experience.

Some of the available lighting modes include Wave, Breathe, and Tiger. It's also possible to program your own custom illumination effects with the help of the included Steel Series Engine.
When the keys lighten up, the keyboard looks really amazing – that's a fact. Yet, a plastic exterior seriously simplifies this model. After all, with its mid-range price, one would expect something out of the ordinary. Of course, there is nothing wrong with plastic, but to some it may look a little cheap for such a hi-end product. Additionally, it may catch lots of dust and debris, so regular cleaning is a necessity.
On the upside, the SteelSeries Apex M800 still has a very solid build. It's equipped with special rubber feet that ensure a fixed, stable position that can also support heavy loads. However, the chassis tends to be a little bit more flexible than it should be. On the whole, the build is still very good.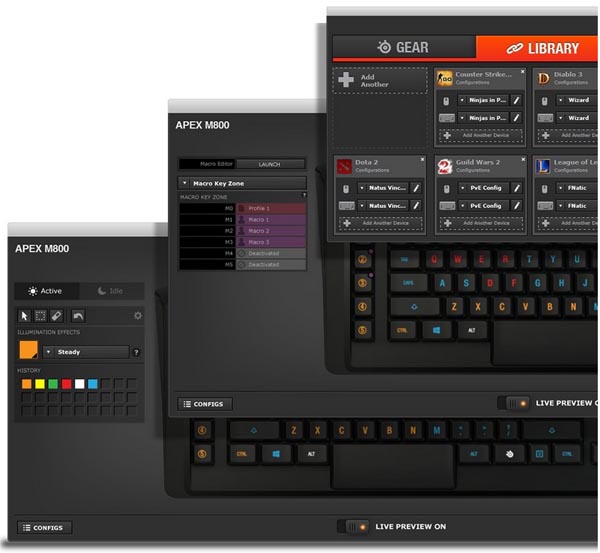 To make your gaming experience even more satisfactory, the keyboard features some additional quick access keys, offering you a chance to quickly get to your music and multimedia files. They also play a part of F keys, controlling volume, brightness, etc. Yet, no F is required with the SteelSeries Apex M800. Another important aspect about the keys is that they're put together very densely, which is an especially great perk for video games.
The SteelSeries Apex M800 has an additional tactile bump on the W-key, ensuring your a quick return to WASD. Once you get used to the experience, you'll have a chance to plunge into the game completely. Plus, the close position of all keys makes it even easier to set your eyes on the computer screen and become more involved in the game.
All of the features mentioned above, namely quick response, additional tactile bumps, and close position, contribute to the great usability of the keyboard. It's designed in such manner that it guarantees minimal fatigue while playing, and has a low profile design that's a warranty of great ergonomics.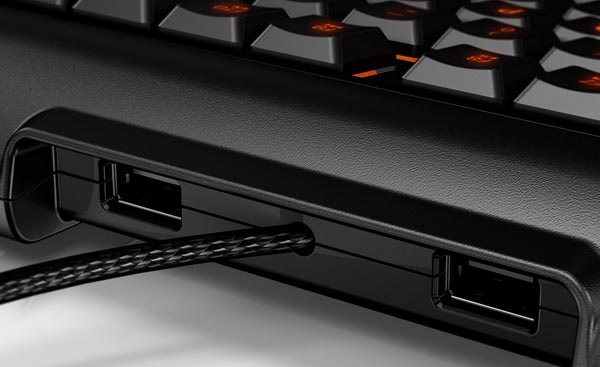 The SteelSeries Apex M800 connects with the single USB cable only. However, located on the front end of the keyboard is a USB port that can be convenient to those who find themselves low on available USB inputs.
One drawback is that the keyboard is currently available within the United States only. Gamers on the other continents will not have the pleasure of customizing their gaming experience – well, not with the SteelSeries Apex M800 at least.

The last but not the least issue with this keyboard is its cost. After all, its price tag of $180 to $200 seems a little bit overpriced and may turn some away. But even if we take all of those beneficial features into consideration, the price still seems slightly higher than it should be. That's the price to pay for the latest up and coming technology.
Pros
Powerful hard and software
Minimal fatigue while using
Every key can be reprogrammed
Features stylish illumination effects
The keys are densely put together
Simultaneous key pressing
6 quick access keys
Additional tactile bumps
Adjustable rubber feet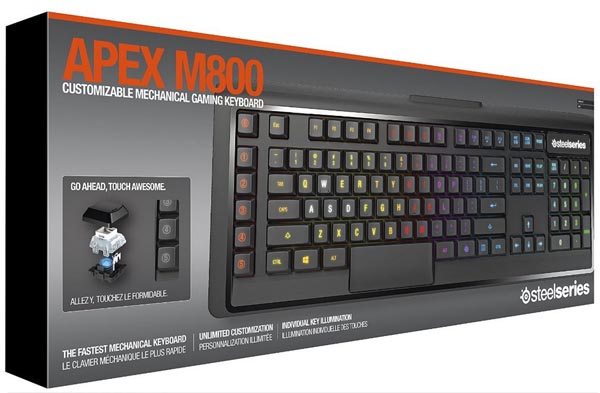 Cons
Expensive in comparison to other gaming keyboards
Could have had a stronger build
Plastic exterior looks cheap
Catches fingerprints
Only cable connection available – not wireless
Available only in the US
Final Thoughts
Overall, the SteelSeries Apex M800 Customizable Mechanical Gaming Keyboard is a great investment. It's rather expensive, though. No doubt, it offers plenty of truly amazing perks and looks fantastic. Whether it's worth its price, depends on your budget. There's truly nothing wrong with this keyboard in terms of functionality and general usability, but its price range may be way too much for some.