Mechanical keyboards tend are more expensive than ordinary rubber dome keyboards. It takes about two seconds to figure out why, at least, once you've got one in your hands. Using physical mechanical switches for each of its keys, a mechanical keyboard is far more complex and difficult to construct than other keyboards.
Yeah, both ordinary keyboards and mechanical boards are tasked with basically the same thing. You hit the keys, and letters come up on your screen. Sounds like it should be pretty straightforward, right? But the difference between a decent mechanical board and a rubber dome board is like the difference between a sports car and a regular car. It's all about the details of its performance, and about your expectations of the board.
VicTsing Backlit Mechanical Gaming Keyboard
The VicTsing Backlit Mechanical Gaming Keyboard is rare proof that it's possible to get a reasonably good mechanical keyboard for under $50. That's not to say this keyboard doesn't have issues. Anytime you want a mechanical keyboard and you're not willing to spend close to $100, you're going to be cutting corners somewhere.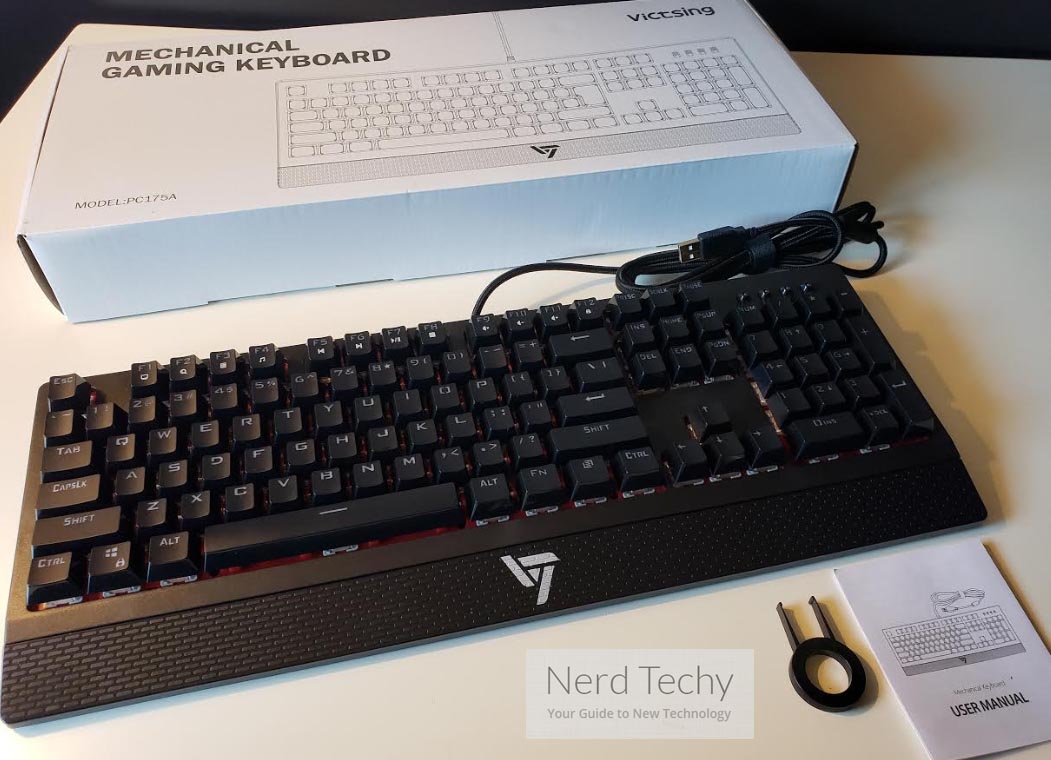 In this case, corners are mostly cut with respect to the keycaps and the frame of the board itself. For instance, this board wasn't made with an aluminum top plate. That's really not a big deal, since the ABS they're using is plenty sturdy. It's every bit as sturdy as any gaming controller you've ever used before. Still, it's not quite as cool as aluminum.
But that's just style, what about substance? From a purely substantive point of view, this board will be far superior to rubber dome keyboards, and yet it costs about as much as them. It performs comparably to most mechanical boards on the market, at least when you're making a 1:1 comparison between switches. But how well does it really work?
Design & Layout
Aesthetically, the board is a tad minimalistic. The base of the board is black, the keycaps are black, and their lettering remains clear until you've switched on the LEDs. It's only then that this board starts to look a bit more like a gaming keyboard.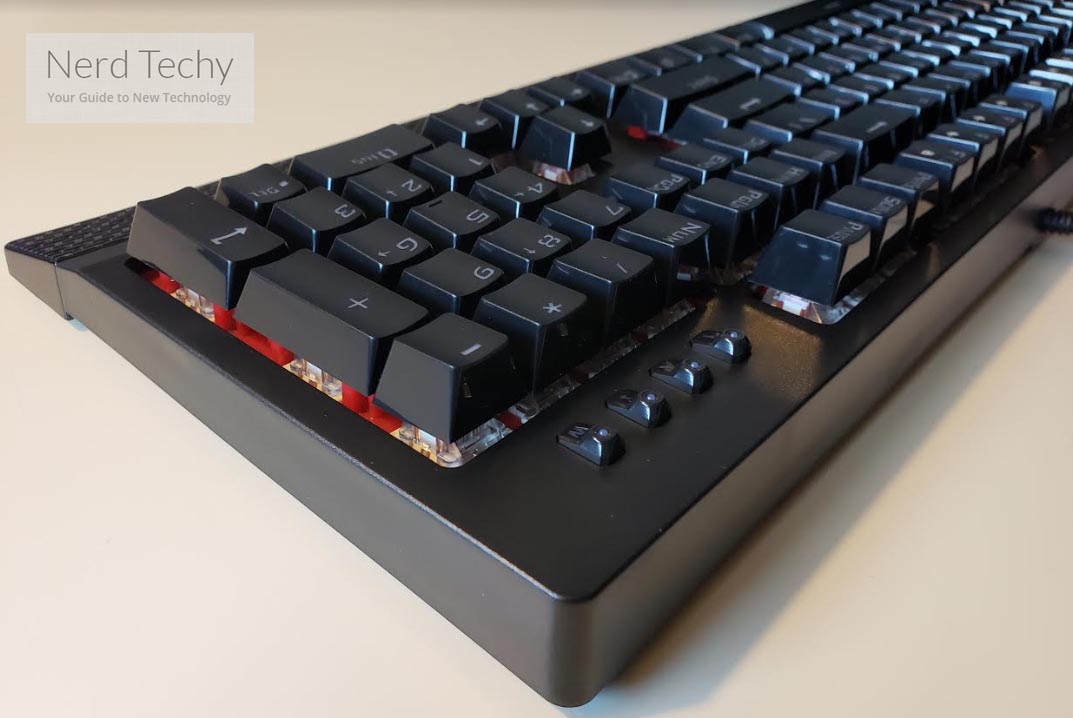 Because this is about as cheap as you can make a mechanical keyboard, the quality of the construction here is nothing special. In fact, the plastic chassis is comparable to any $15 plastic keyboard that you'll find in any public library across the nation.
The baseboard is still pretty rigid, which will prevent flexing the board and damaging the switches. The board is drop-resistant for a distance of about 2.5 feet. In other words, it's supposed to be okay for dropping off a desk. You probably don't want to drop it much higher than from your hands to the floor, however. What you're paying for here is the mechanical switches more than anything else.
One thing worth pointing out is how the included cable is permanently attached. That's actually fairly typical for boards like this. It's not especially thick, but it is properly braided in nylon to help ensure it will last as long as the switches themselves.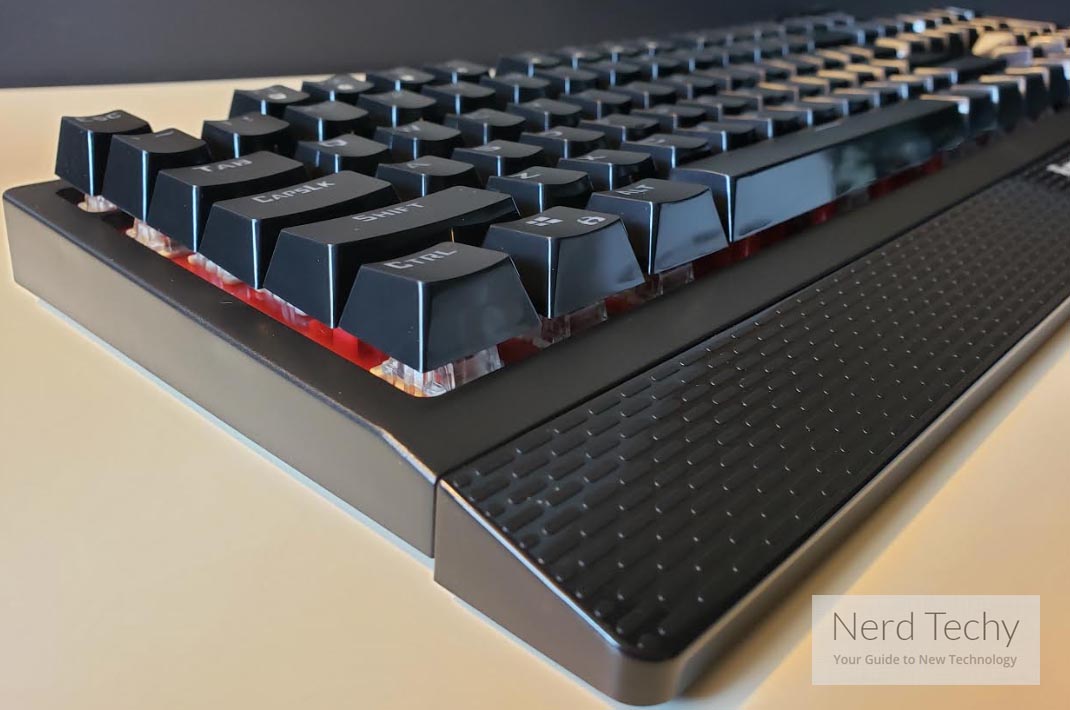 Another thing to notice is the VicTsing Backlit Mechanical Gaming Keyboard was also made to be fairly water resistant. It's every gamer's worst nightmare – spilling something across your new keyboard. In a lot of cases, even pretty fancy boards aren't made with protections against water. Because like most PC components, designers are ready to assume that if you spill something, whatever happens next, it's your fault.
The VicTsing Keyboard is a little different. It was made with a total of four draining holes placed along the edge of the board to help channel water and other liquids to places that won't damage the board or its LEDs. Though you still want to go out of your way to avoid getting liquid on your board, it's nice to know you don't have to panic if it does happen.
Gaming Switches
The VicTsing Keyboard was built around mechanical red switches. They're supposed to be a rough approximation of Cherry Reds, which are often preferred by gamers for their low actuation point. When you're playing a game and hammering away at your keys, you don't want to press a key and not have it actuate, and you don't necessarily want to have to bottom-out every key you press. Red switches are a great option for achieving exactly that.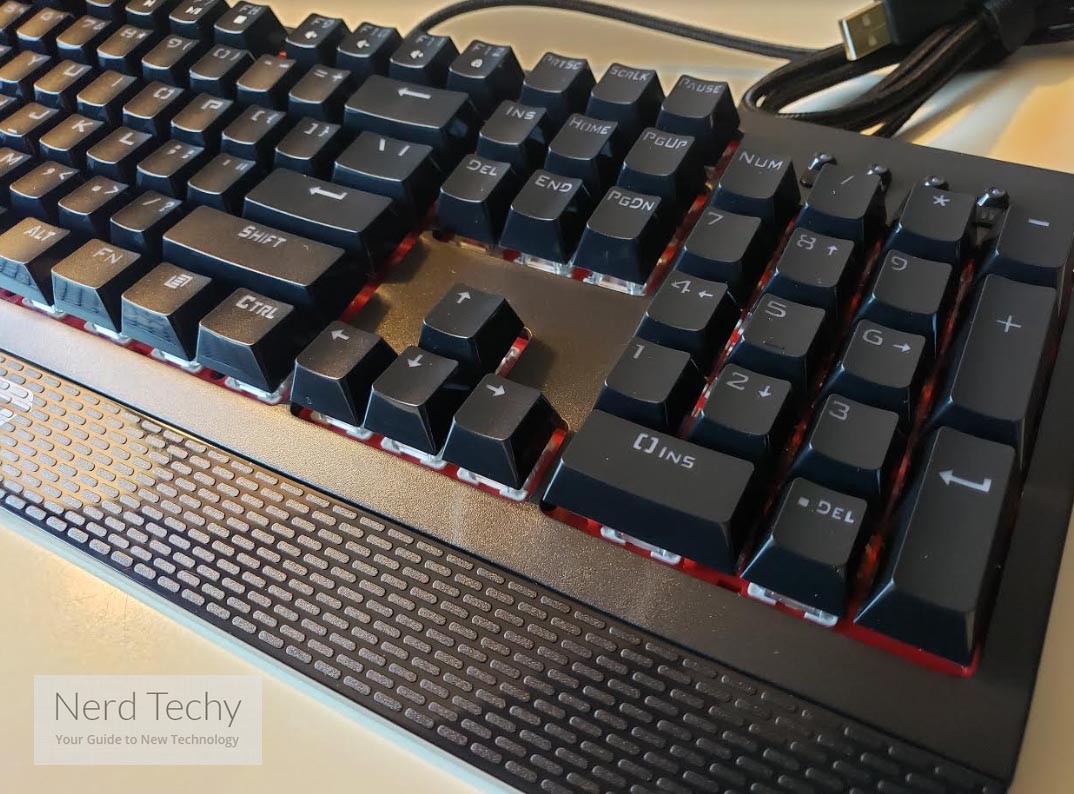 These switches are designed to endure about 60 million keystrokes, which makes them comparable to Cherry for longevity as well. Though the average Cherry switches only last for 50 million keystrokes, they do have some that can go for 100 million these days. It takes 2mm of distance to trigger keystroke actuation, and 60g of force to get the key to that point. That makes these keys slightly stiffer than typical reds, though.
LED Lighting
When you're picking from cheaper mechanical boards, it's still pretty common to find LED keycaps. But you're usually relegated to monochrome keys. Sometimes they're colored white, sometimes they're colored red, but they're not full RGB LEDs. In this case, you're looking at red LED, which do go pretty well with a gaming aesthetic.
The keys have a total of 20 backlit modes you can choose between. To toggle between them, you've got to use a combination of the function key, insert key, and the page down key. Along with the arrow keys, that lets you move between a number of different light in modes and brightness settings. And you can make those adjustments without having to open up any software packages, right from the keyboard.
Very handy, and pretty fancy for a cheaper keyboard like this. Though the lighting effects aren't anything revolutionary. Most are pretty standard stuff, like breathing lights or wave effects. Others are catered to specific genres or even specific titles, like FPS or MOBA games.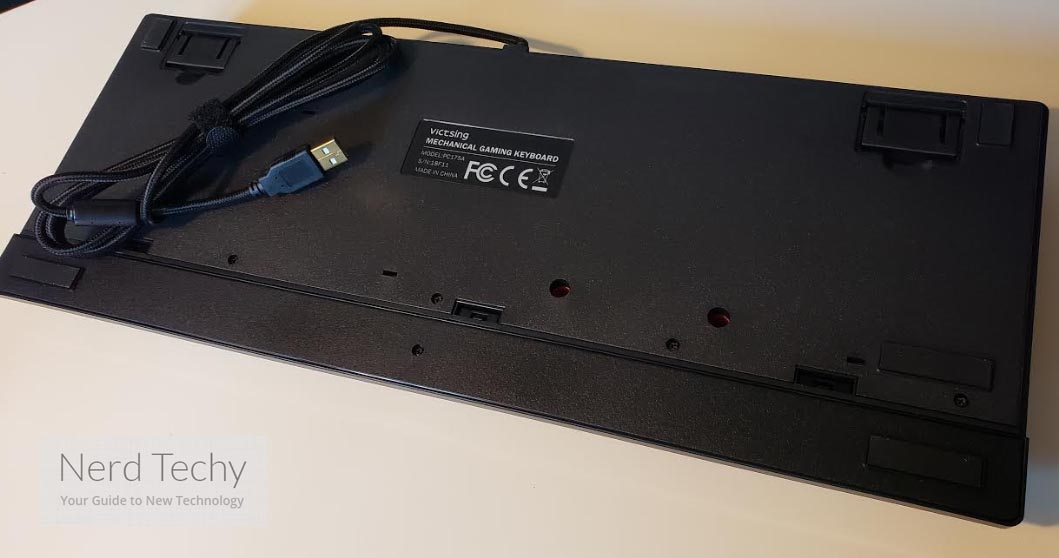 Included Keycaps
As mentioned earlier, when you buy this keyboard, what you're paying for is almost entirely the mechanical switches within the board. One area where keyboards routinely try and cut costs are on their keycaps. That's true even when you're looking at more expensive $100 keyboards, and it's certainly true when you're looking at less expensive ones like the VicTsing Backlit Mechanical Gaming Keyboard.
Most people aren't keyboard enthusiasts. That means cheap keycaps aren't something that most people will ever think twice about. But they are worth pointing out. Because these keycaps will eventually start to wear down with regular use, and you should be able to see some real wear-and-tear on them within 18 months. Eventually, the lettering on many keys will disappear as the paint around them wears out. And the keys themselves will slowly start to feel polished and smooth because they're constructed from ABS.
ABS is far-and-away the most common materials used for keyboard keycaps. The biggest reason why is because it's so cheap to make. But the better material for keycaps is PBS. It's far more difficult to make, and thus more expensive. Consequently, a good set of PBS keycaps will cost more than this entire keyboard. So these are corners you just have to cut if you're looking to find a mechanical board for $40 or less.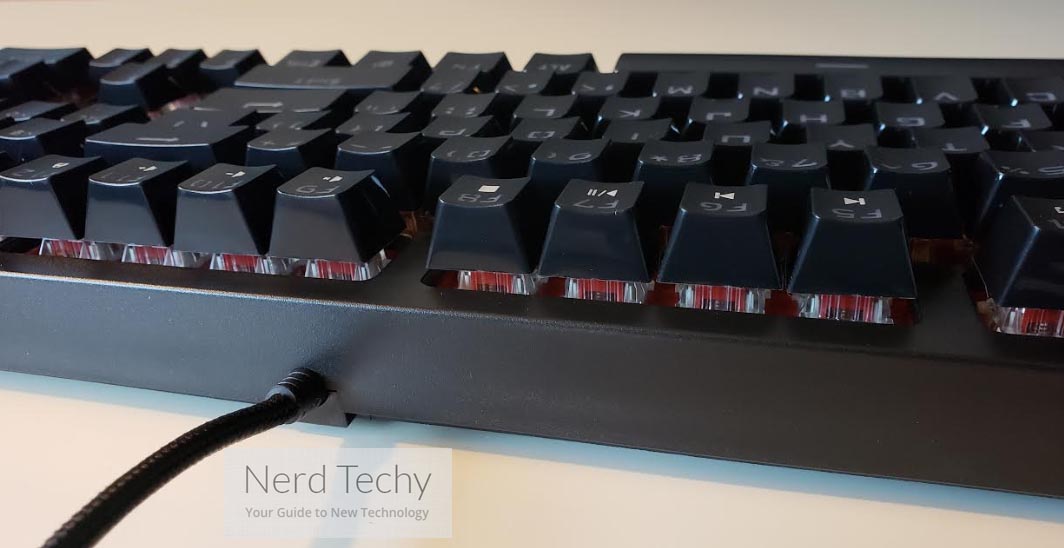 The Wrist Rest
The VicTsing includes a detachable ergonomic wrist rest. It can be pretty handy for players who are putting in more than a couple of hours of playtime. The rest can be very helpful on your wrists, though whether it's helpful or not does partially depend on your wrist posture while using the keyboard.
The wrist rest they've included with this keyboard is actually quite short, hardly measuring two inches in total length. That doesn't seem like much, but your wrists are supposed to only make contact on a tiny portion of the board, so it's actually more than enough. It's also far more conscious of space, and doesn't ask you end up wasting a bunch of desk space to have it installed.
If you do end up using the wrist rest, it's quite good at warding off fatigue. Plus, it's pretty easy to clean. And even though it's plastic, since you're not making a hard impact with the rest, it's still quite comfortable and smooth against the skin.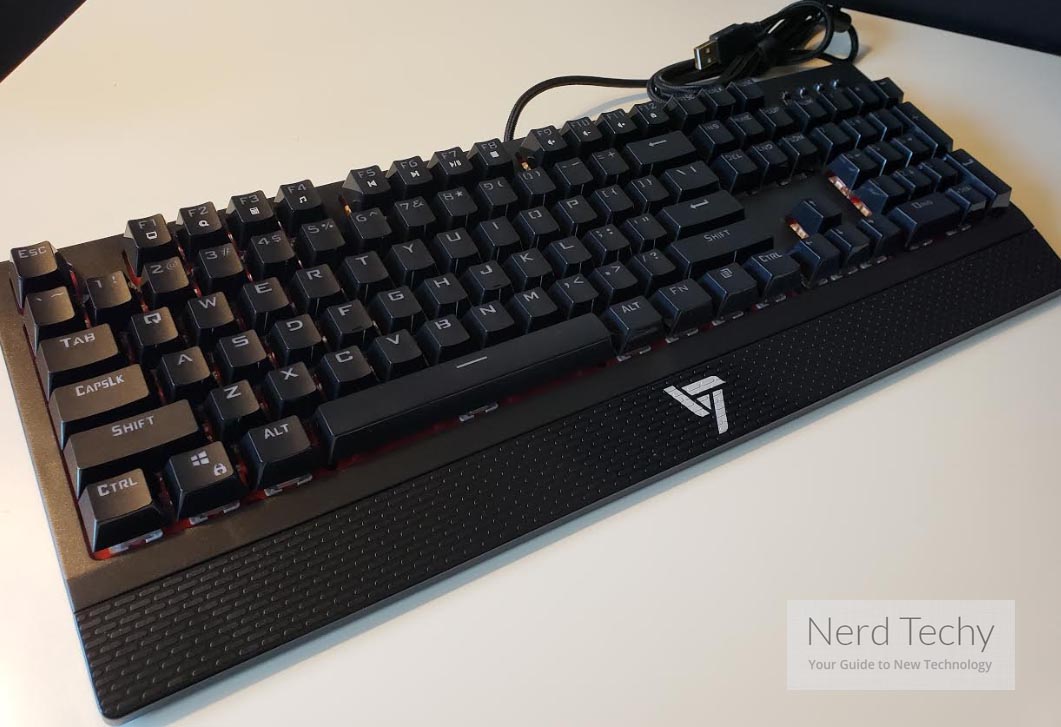 Other Considerations
You'll notice the VicTsing Mechanical Keyboard offers full N-Key rollover, with no limits. You can basically roll your face against the keyboard, and the board won't have any trouble inputting each and every press. That can be useful for gamers who end up playing frantically and entering multiple hotkeys at the same time. Additionally, tere anti-ghosting features, which have become pretty standard for these sort of gaming keyboards.
Even though these are not technically Cherry switches, they're a close enough imitation that you can still use keycaps designed for Cherry switches on them. That means it would be very simple to end up replacing these keycaps. Will you want to do that? Well, that depends entirely on personal preferences.
You'll find this keyboard is supported by basically all modern versions of Windows and Mac OS. Additionally, VicTsing includes an 18-month warranty with their keyboard.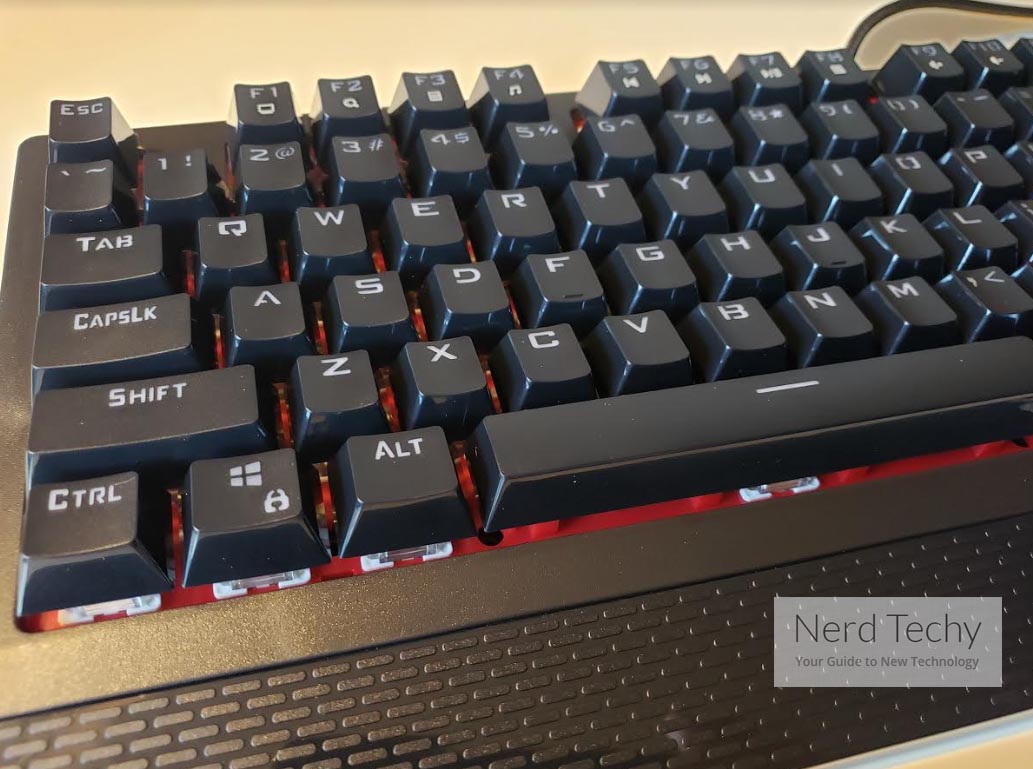 Who Should Choose the VicTsing Backlit Mechanical Gaming Keyboard?
The VicTsing Backlit Mechanical Gaming Keyboard is going to be a good choice for a specific group of people. Gamers who are willing to throw down $100 or more on a keyboard will be able to find better options, and feel rewarded for spending a little more. A lot of the difference between this keyboard and a $100 keyboard is style, but not all of it.
With that said, gamers who are on a tight budget will love this board. It provides the accuracy and power of mechanical switches without the price tag, and without giving up the cool aesthetic associated with an LED gaming keyboard. For people who know what they're getting involved with, that makes this board a good choice for those on a tight budget. It certainly beats going without a mechanical board.