Quick Analysis
Pros
Very secure fit; comfortable for long workouts.
Lightweight yet durable; resistant against sweat and moisture.
Good sound quality.
Excellent battery life; charging case is nice to have.
Cons
Bass and low tones seem to be lacking.
Limited color schemes.
While working out, it's an absolute requirement for many athletes to use music to their advantage. In fact, studies have shown that listening to music increases the duration of exercise in both male and female subjects. This is already a known fact for some, as many times, people have been known to downright refuse a work out if they don't have their headphones. Furthermore, there's good reason why you'll often times find gyms always play music over their speakers. It helps!
With this said, it's virtually a requirement to have a pair of sports-orientated headphones on-hand. There's one caveat – headphones and earbuds can be expensive and somewhat confusing to choose. Some consider them an "investment" to their motivation as they let you fire-up your favorite tunes at the touch of a button.
Today we're taking a look at the popular Vislla S7 Wireless Earbuds. They're one of the several "trending" products within the audio category on Amazon; and it seems to be for good reason. From first glance, you'll likely notice a wealth of features that promise a lot. Additionally, they're incredibly affordable and well under-priced compared to a lot of other options on the market. In this review, we'll go into each aspect of them, see what they offer and ultimately determine if they're worthy of a purchase.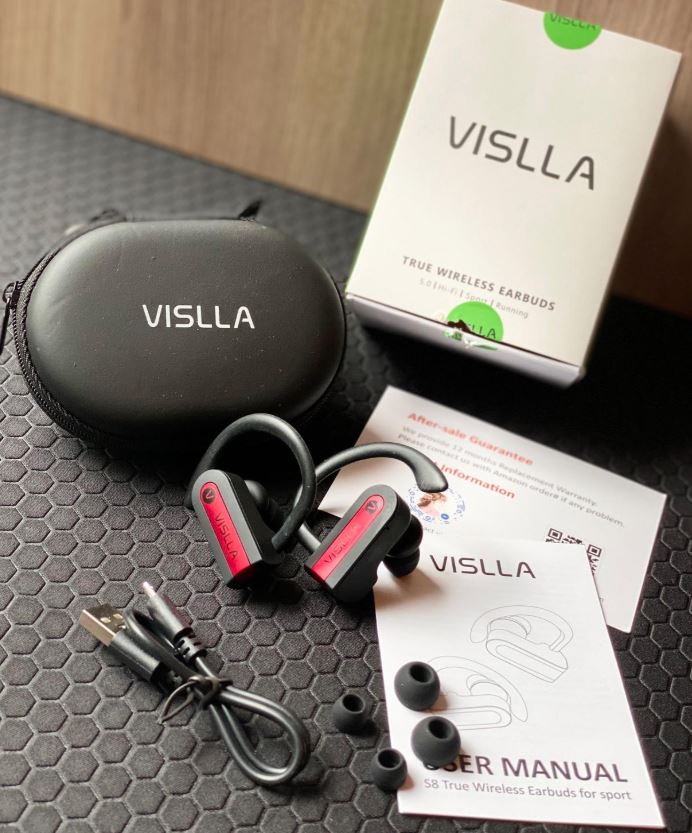 First Look
Right from the get-go, you'll notice the Vislla S7's are completely un-tethered from each other. Known as "TWS" or "True Wireless Stereo", they're operated without the use of any wires. They boast a simple design with an ear hook that fully encapsulates the diameter of your ear. Unlike others, this design seems to be the best possible solution for those who want them to stay secure when they need it most. It's a tried and true method for keeping the buds wiggle-free and ready for even the most vigorous of workouts. Rather than just sticking in your ear canal, the hook secures them in a steady manner.
Moving forward, you'll also notice they're only available in two color schemes; red on black or black on black. Although we can't say they look completely unique, we can appreciate the fact that their appearance is quite minimal.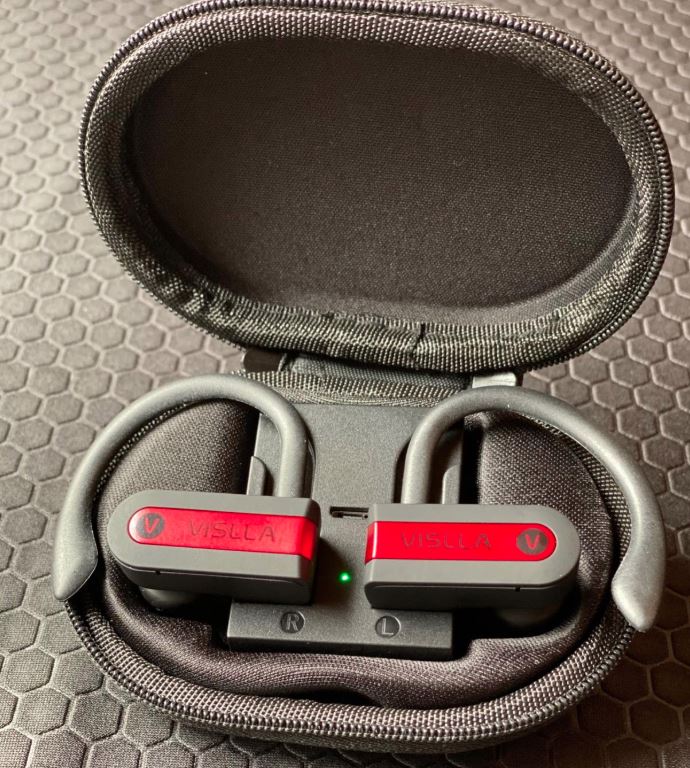 Setup and Pairing
Opening the box for the first time, you'll notice that a few accessories are included. There's a zippered storage pouch, micro USB charging cable, extra ear tips, user manual and of course – the earbuds themselves. Keeping it simple, we love the fact they've included a pouch to keep them stored in. Although it's a bit on the bulky side, having a place to store the earbuds and the few accessories keeps it all nice and tidy. However, the case is unlike most. It acts as a charging cradle so when the buds are placed in it, they're automatically kept at a full charge. More on this later.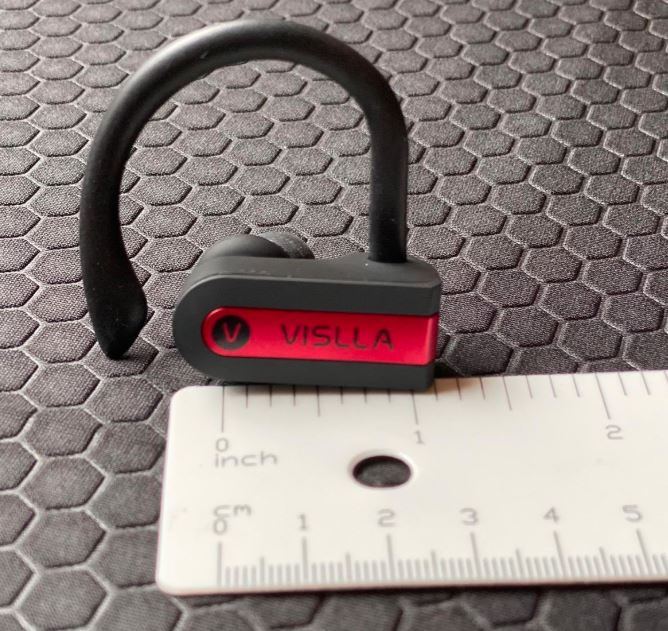 Remove the earbuds from the charging case and they'll instantly go into pairing mode. At this time, you'll find the integrated LEDs will begin blinking intermittently. Open up your iOS or Android device and make sure you have Bluetooth enabled. Once you do, scroll down the list of nearby connections and you should see "S7". Tap it and you're good to go.
The one-step pairing is truly one-step after you've completed the initial pair. From that point forward, your smartphone should remember the earbuds and automatically sync with them each time you remove them from the zippered charging case. We like seeing simplicity become a priority. It's nice to know there's no complicated procedure for getting them setup.
Comfort and Fit
Once you've completed the initial pair, place the hooks around your ears and the tips in each ear canal. You'll want them to fit snug; not loose but not too tight. If they're too loose they'll simply wiggle out and become a nuisance. Too tight and they'll eventually cause discomfort. To adjust the fit, simply exchange-out the ear tips for a larger or smaller size. Three pairs of tips are included with the medium size pre-installed. You can either size-up or size-down from the default tips from the factory.
Unfortunately, the hook doesn't adjust, but since it's quite flexible, we found that any adjustment to the hooks is likely unnecessary. They seem fit a wide range of ears without issue. Overall, we're a big fan of the way they fit. Once you've selected the proper-sized tips, you'll likely be glad that the hook-design was implemented. We found them to fit much nicer and more standard than simple in-ear earbuds that don't utilize a hook.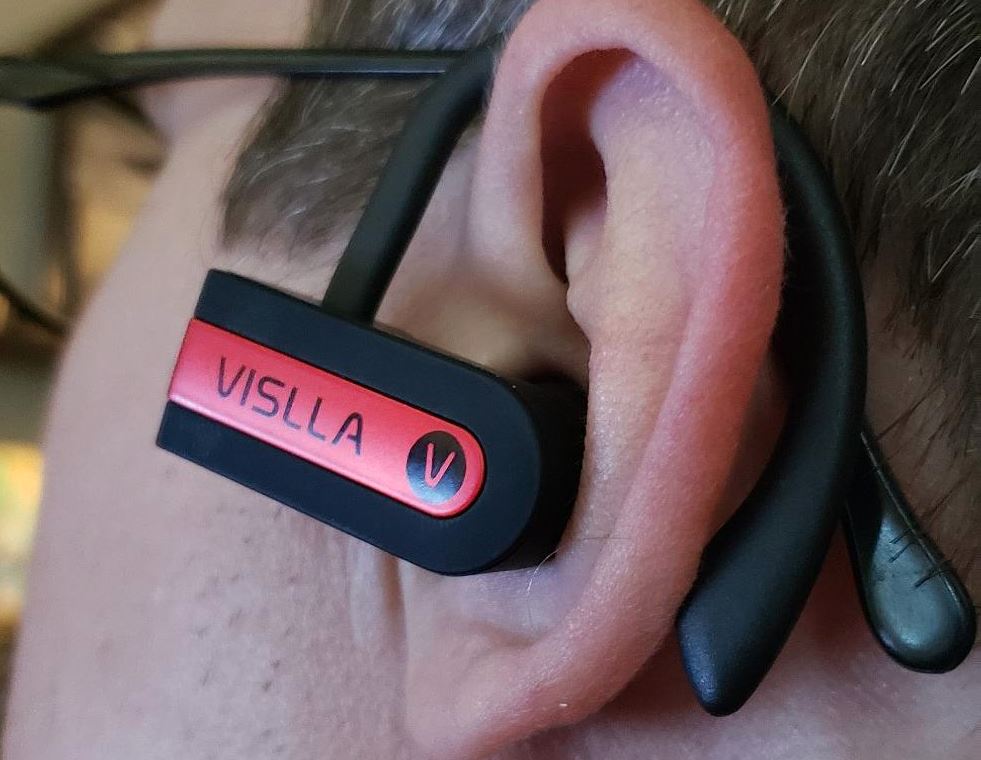 Sound Quality
Now that they're paired and properly fitted to your specific ears, it's time to truly enjoy them. Whether you prefer Spotify, Pandora, iTunes or streaming through YouTube, pick your favorite song and give them a listen.
From first listen we were pretty impressed with the sound they produce. Utilizing the latest Bluetooth 5.0 protocol, they emit stereo sound that quite frankly, sounds much better than we initially anticipated. To give them a fair chance, we played just about every genre of music we could think of through them. Rap, rock, classical, jazz, pop music and just about everything in-between.
Throughout our first 2 hour listening session we could come to a few conclusions about the sound quality. Overall, they sound excellent. Especially considering the low price-point, they sound pretty nice! We enjoyed the highs and mids, but the lows were a bit unsavory; not too bad but not too impressive either. The bass was a little on the weak side, but everything else sounded sufficient. Honestly, it's kind of what we expected. Most small headphones or earbuds have trouble replicated deep subwoofer effects since everything's crammed into such a small design.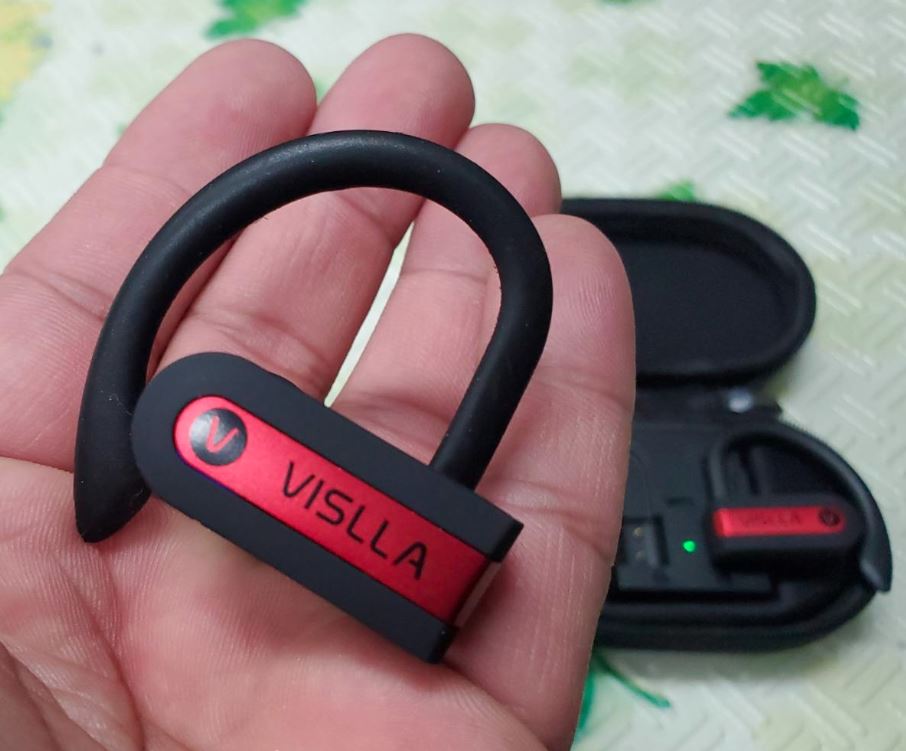 For gym listening and bulk-less travelling, we think they're the perfect solution. However, don't expect true deep acoustics when wearing them. They're not able to truly replicate to an audiophile grade, but they definitely suffice for what they're meant for. If this is what you're after, you might need to spend a lot more on earbuds or simply go with an over-ear headphone like the SHIVR 3D or Mpow H19. Yes, they're much bulkier, heavier and not really catered towards working out, but the sound quality definitely beats these; no pun intended.
Wireless Range
With any Bluetooth earbuds or headphones, considering the wireless range can be an important factor for many. Although you personally may never have your paired smartphone leave your side (or pocket), it's good to understand their capabilities. We found that the range was pretty standard.
We achieved about 35 feet of distance between the Vislla earbuds and our Android device before lag became an issue. At this distance, the music started to become "choppy" and problematic. Keep in mind that this was also "line of sight" with no walls or obstacles in the way. The moment you start putting interference in the middle, the projected 35 foot range will surely diminish. Not a big issue for some, but for others, it might be a game-changer. Most earbuds cap-out at around 10 meters or 33 feet, so our findings weren't to our surprise at all.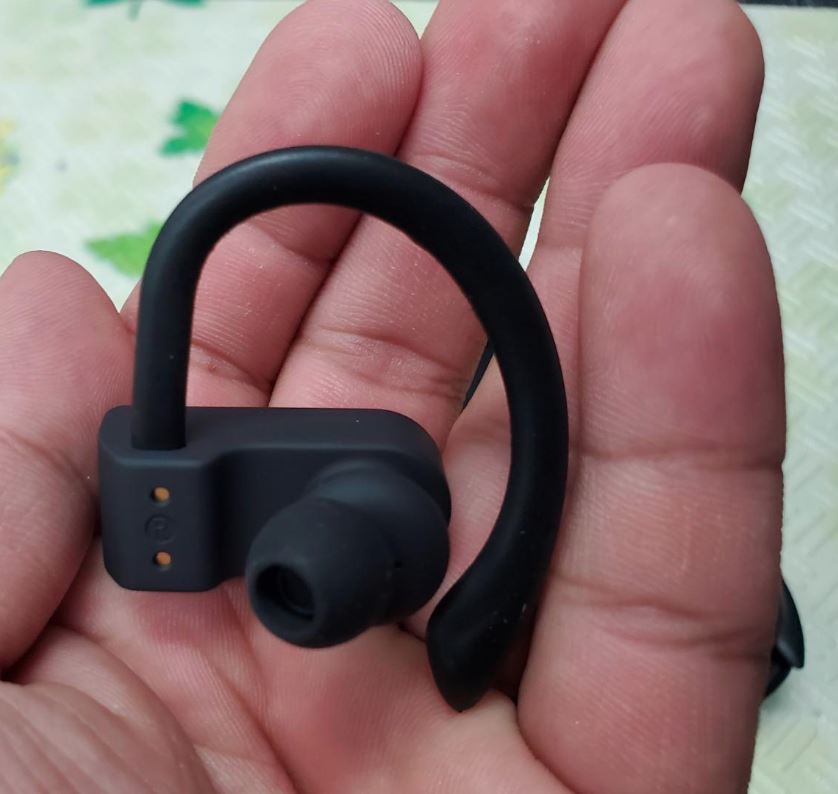 Battery Life
With any wireless set of headphones, battery life is absolutely crucial. Vislla advertises the S7's have "up to 8 hours of listening time" on a single charge. With each earbud equipped with its own 110 mAh internal rechargeable battery, it sounded achievable, but we needed to test this claim out ourselves.
From previous reviews of similar earbuds on the market, we knew that there were a couple key-factors that effect the actual duration of the batteries. One of the main factors is the volume setting. Crank the volume up all the way and you'll definitely use much more battery than if you had the volume set lower. To make our test fair, we set the volume right in the middle at about 50%. Another factor is the distance between the paired smartphone and the actual earbuds themselves. To remedy this, we kept them nearby – within 10 feet of us. The last varying factor was ambient temperature. If it's cold out, your wireless earbuds aren't going to perform the same as if it were 70 degrees out. Simply put, we weren't exposing them to outside temperatures so this battery-duration test was performed indoors.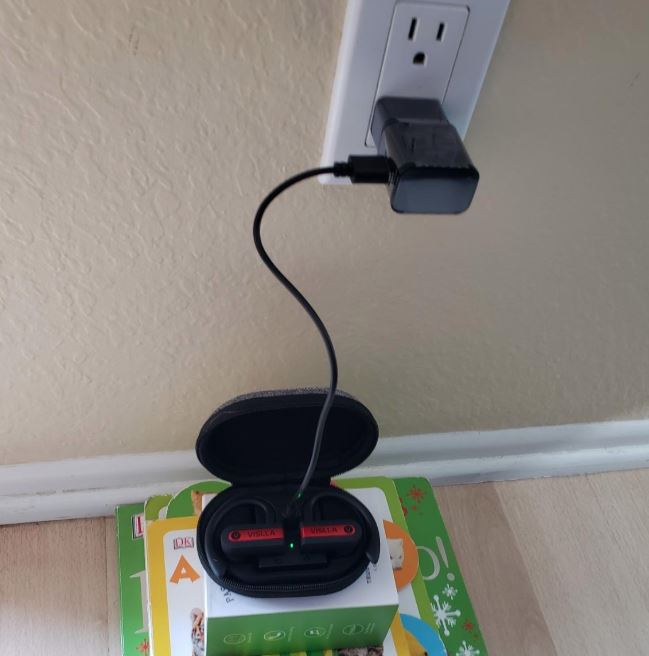 With 4 hours of continuous listening we were still enjoying the S7's. After about 6 hours the music kept playing strong. However, once we achieved the 7 hour mark, we were notified of a "low battery". In the end, Vislla's estimate of "up to 8 hours" seemed fairly accurate. Yes, we never achieved a full 8 hours of playtime on a single charge, but that's why they say "up to". Fair enough, we felt their claims were so close that they didn't seem completely inaccurate.
As we previously mentioned, the inclusion of the charging case is a very nice addition. Not only does it keep them contained in a safe place with the accessories, it keeps the buds readily available for long workout sessions. By placing them in the case, you're automatically charging them for next-time use. What's more, the case allows a claimed "24 hours of continuous using time". It's a bit untruthful in regards to "continuous" since you can't continue to use the buds while they're charging, but we get what they mean.
Plop the buds into the case after the first 7-8 hours and they can achieve 2 or 3 more full charge-cycles before you need to connect the micro-USB cable and charge-up the case itself. This was our experience at least – not sure if it would qualify as a full 24 hours, but even 18 to 22 hours of playtime from a full case charge is pretty fantastic!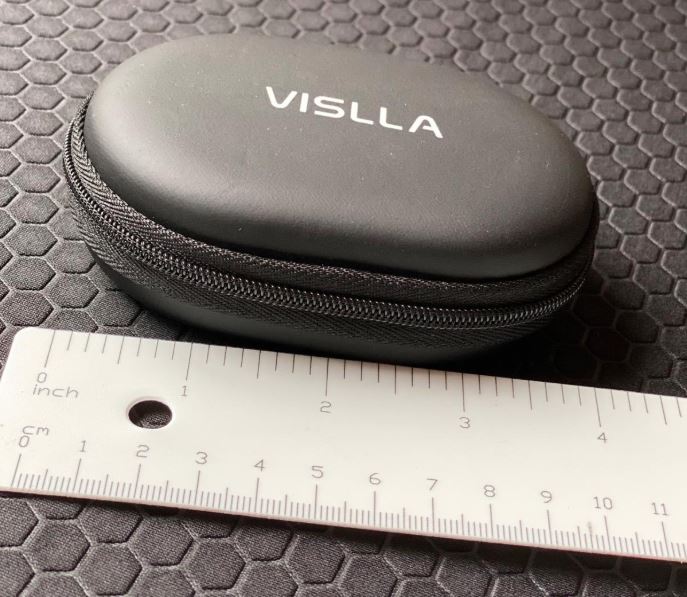 Durability
If you closely examine the S7 earbuds, you'll likely notice that every crevice is fully sealed. This keeps them water-resistant but not fully waterproof. What we mean by this is that they're protected from sweat, light rain and moisture, but definitely not suitable for full immersion in water (like swimming). Sure, you can take them to the beach or to the lake for a day of fun in the sun, but make sure they don't fully go into the water. Protection from light rain and sweat means that they're IPX5 rated. You'll find this to be commonplace in the earbud industry so in our opinion it's definitely adequate.
As far as build quality goes, you'll notice that they're made from solid plastic – keeping them lightweight but also not super-rugged. You don't necessarily need to "baby" them, but take care in not dropping them onto hard surfaces. They're durable but not rated for drops or shocks.
Final Thoughts
On paper, the Vislla S7 Wireless Earbuds have a lot going for them. In reality, we feel that this holds true. The sound they produce is great, although bass is slightly lacking. Comfortable for long gym sessions and an impressive amount of battery life to match, they're suitable for most applications but excel for workouts. The way the earhook fits over your ear keeps them much more snug and problem-free for virtually any scenario. We appreciate the lengthy battery life and the inclusion of the zippered carrying case; it's an excellent solution to an inevitable problem since nobody likes having to remember to manually charge up your headphones before each use.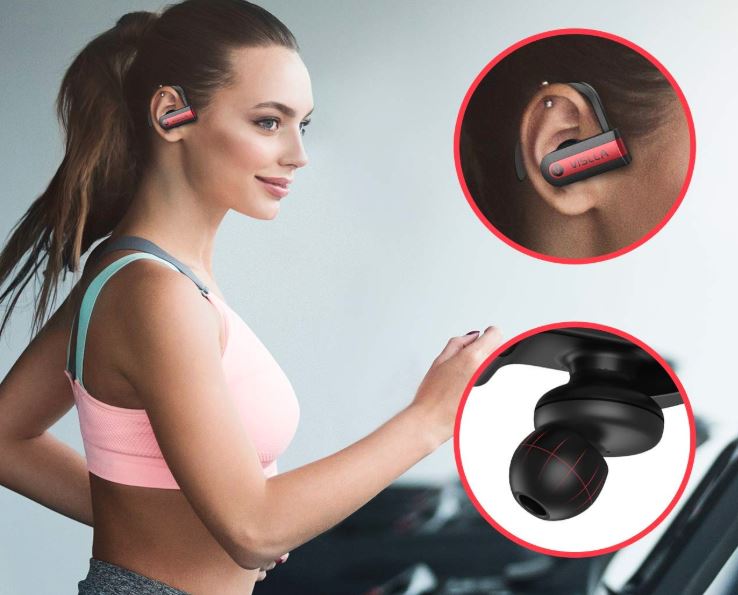 All in all, the S7's offer phenomenal value for the low price-point the come in at. It's quite obvious why they're so popular on Amazon; several favorable features and affordable for just about anyone. We're certain that they'll provide an excellent solution for those who love great-sounding music but don't want to fork over a large investment.