These days, there's no shortage of Bluetooth headphones on the market. But not all of them are equal. When you're choosing a set of headphones, there are many factors to consider. Obviously, you need to look for a pair with good sound quality. But there are other important considerations. For example, you need to think about comfort and ergonomics. Battery life is also a consideration, as is the quality and stability of the wireless connection.
With all of these factors to consider, choosing the right headphones can be a challenge. Thankfully, we're here to break things down for you. We're about to be looking at the SHIVR 3D Bluetooth Headphones. And we'll take a deep dive into all of their features, so you know exactly what you're looking at. Let's take a closer look!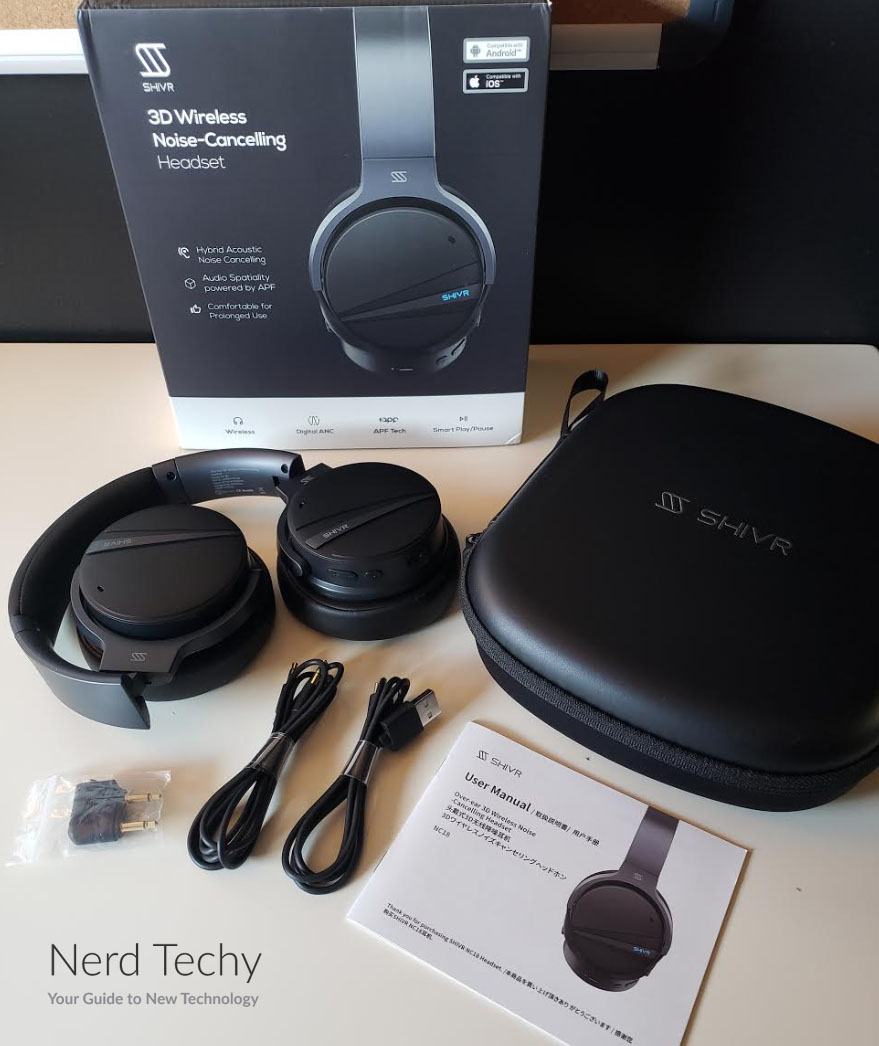 Design & Ergonomics
At 10.4 ounces, the SHIVER 3D Bluetooth Headphones are an ideal weight. They're not too heavy, so they won't put stress on your neck. They're also not too light, so you can rest assured that they're well-constructed. The headband has a hybrid design. Inside, it's constructed from aluminum, which gives it strength and rigidity. On the outside, it's sheathed in ABS plastic, which gives it a little more bulk and comfort. The central portion, over the top of your head, is sheathed with padded leather instead of plastic. This provides additional comfort, and helps to eliminate any potential pressure points. The headband is also adjustable. Simply pull the ear cups, and they'll slide out to accommodate various sizes of head.
The ear cups themselves are mounted on freely pivoting hinges. This allows them to flex comfortably, so they'll fit securely on a variety of face and head shapes. It also makes them easier to put on and take off, since they're not locked into a rigid orientation. The pads are constructed from memory foam, which conforms to your face without any excess pressure. They're coated with leather, which is comfortable, provides a good seal, and lets sweat roll away easily. Inside, a mesh screen protects the drivers from contacting your ears.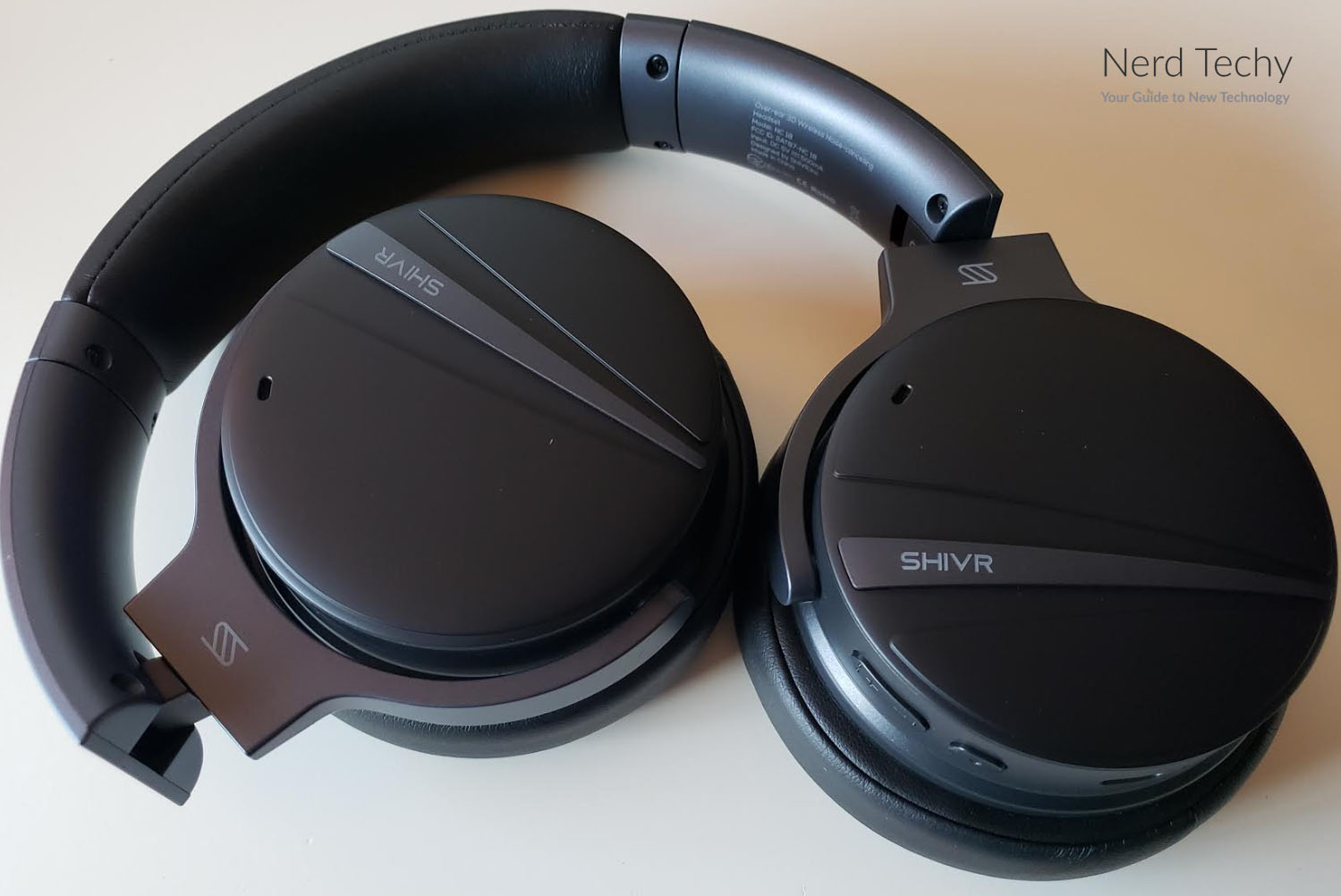 On the bottom of the left ear cup, you'll find a USB Type-C charging port. On the top of the right ear cup, you'll find an on/off button that's easy to find by touch. It offers good tactile response, so you'll be able to easily tell when you've pressed the button. Next to the power button, you'll find another button for activating or deactivating the active noise cancelling. There's also a button for activating the 3D's conversation mode, which we'll discuss more later. All other controls are performed from your MP3 player or smartphone. This might sound limiting at first. However, as we'll see, SHIVR includes some extra features that make this easier than it sounds.
If you're looking for a similar design, but different overall features, there are plenty of options available. We recently reviewed the Anker Soundcore Life Q10 and Q20 headphones. These portable designs are both well-engineered, and have plenty of value to offer.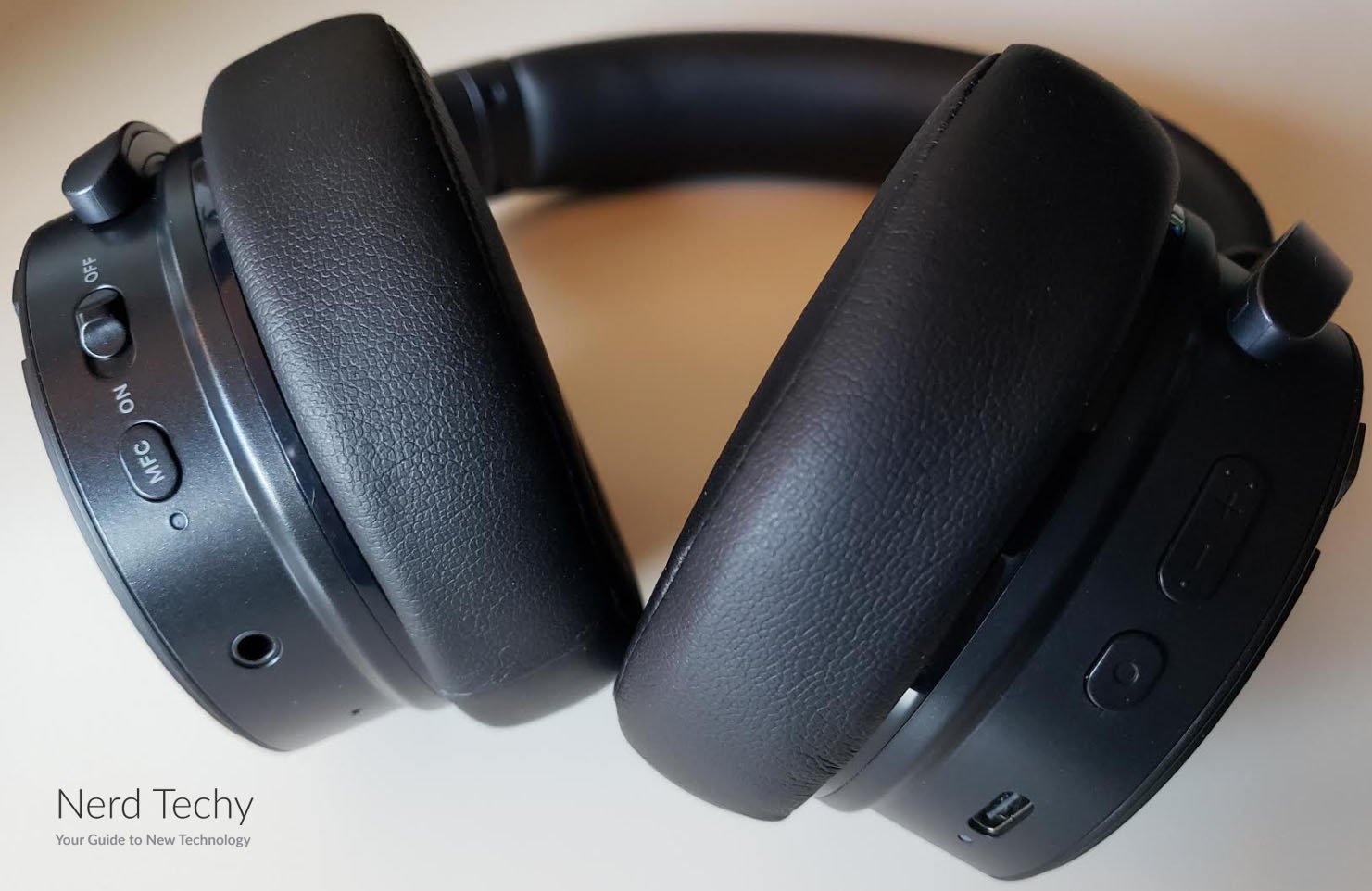 Battery & Charging
When fully charged, the SHIVR 3D Bluetooth Headphones offer up to 25 hours of use. As is generally the case, this is a manufacturer's rating, based on playback at half volume. If you prefer louder music, you're liable to get lower battery life. That said, lower bitrate audio, such as audiobooks, will tend to allow for longer playback periods. There's a second confounding factor with these earbuds: the active noise cancelling. The 25-hour rating is based on operating the headphones with the active noise cancelling off. With active noise cancelling, the rating drops to around 20 hours. Adjusted for volume, this can drop as low as about 16 hours. That's still not bad, but it's hardly impressive.
The SHIVR 3D recharges with a USB Type-C cable, which is included in the kit. It recharges from a dead state in about 90 minutes, assuming a modern, 5-volt USB port. You can plug it into your PC, Mac, game console, or an AC to USB power adapter. All told, you get plenty of battery life to listen for a few days, and recharging is quick and painless.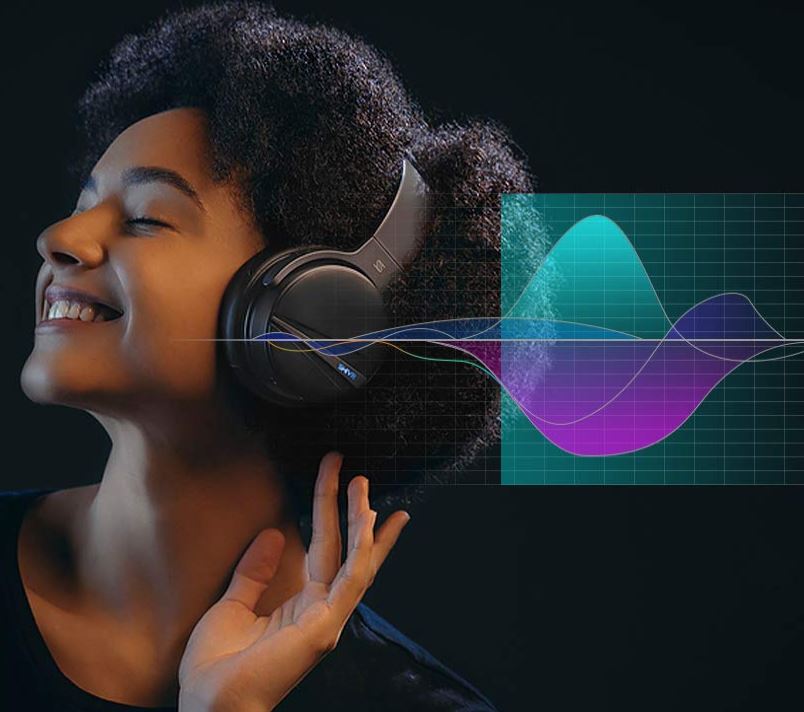 Sound Quality
When choosing a pair of headphones, perhaps no single factor is more important than the quality of the sound. In this regard, the SHIVR 3D really shines. These headphones use 40mm drivers, which is fairly standard when it comes to size. But volume isn't everything. Clarity, separation, and a sense of space are far more important for the majority of users.
The default EQ is flat, with plenty of response throughout the frequency spectrum. There's good sReview of the Treblab E3 Active Noise Canceling Over-Ear Wireless Headphoneseparation, which allows plenty of space between vocals, strings, and bass or drums. The bass packs plenty of punch, but doesn't overwhelm the rest of the music. If you want even more powerful bass, consider the Mpow H19. These are high-quality headphones, with an exceptionally punchy bass.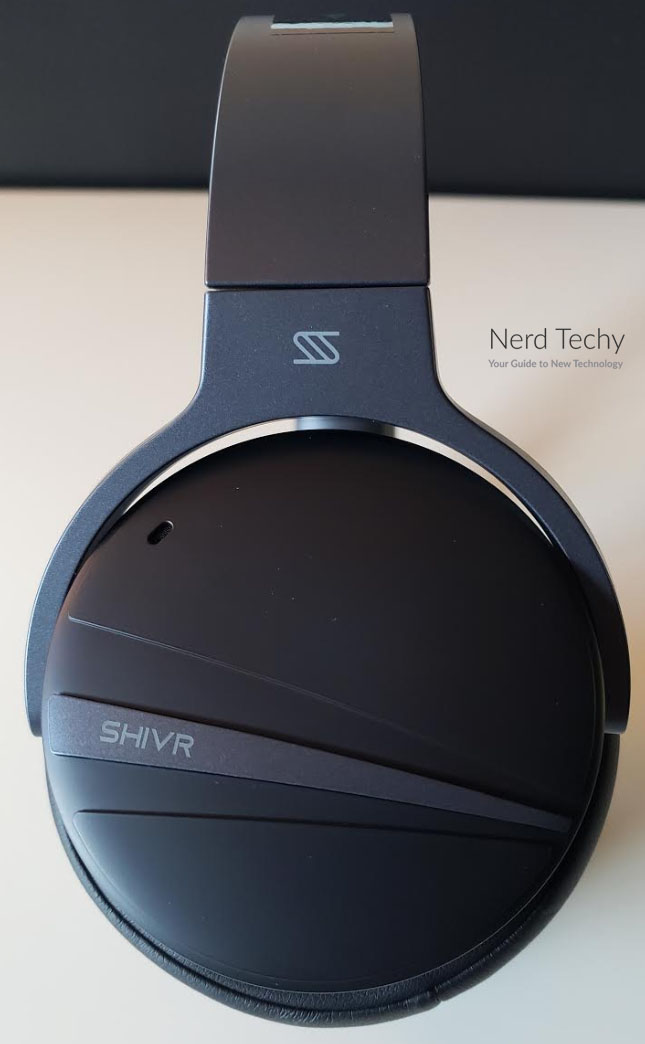 Part of the SHIVR 3D's quality can be attributed to its audio peak filter (APF) technology. This reduces the volume of extremely loud noises, resulting in a more harmonious sound. There's also 2.1-channel surround sound, so you get the same sense of space you'd get from studio headphones. You'll also get the benefit of the aptX Low Latency protocol. This doesn't reduce latency as much as it would on a headset with Bluetooth 5.0 support. However, it does help improve battery life.
The SHIVR 3D offers two ways of dealing with background noise. The first is active noise cancelling, which is extremely effective. It blocks out background noise from all frequencies, which ensures a distraction-free listening experience. This is a great choice if you use public transportation, or if you spend a lot of time in crowded places.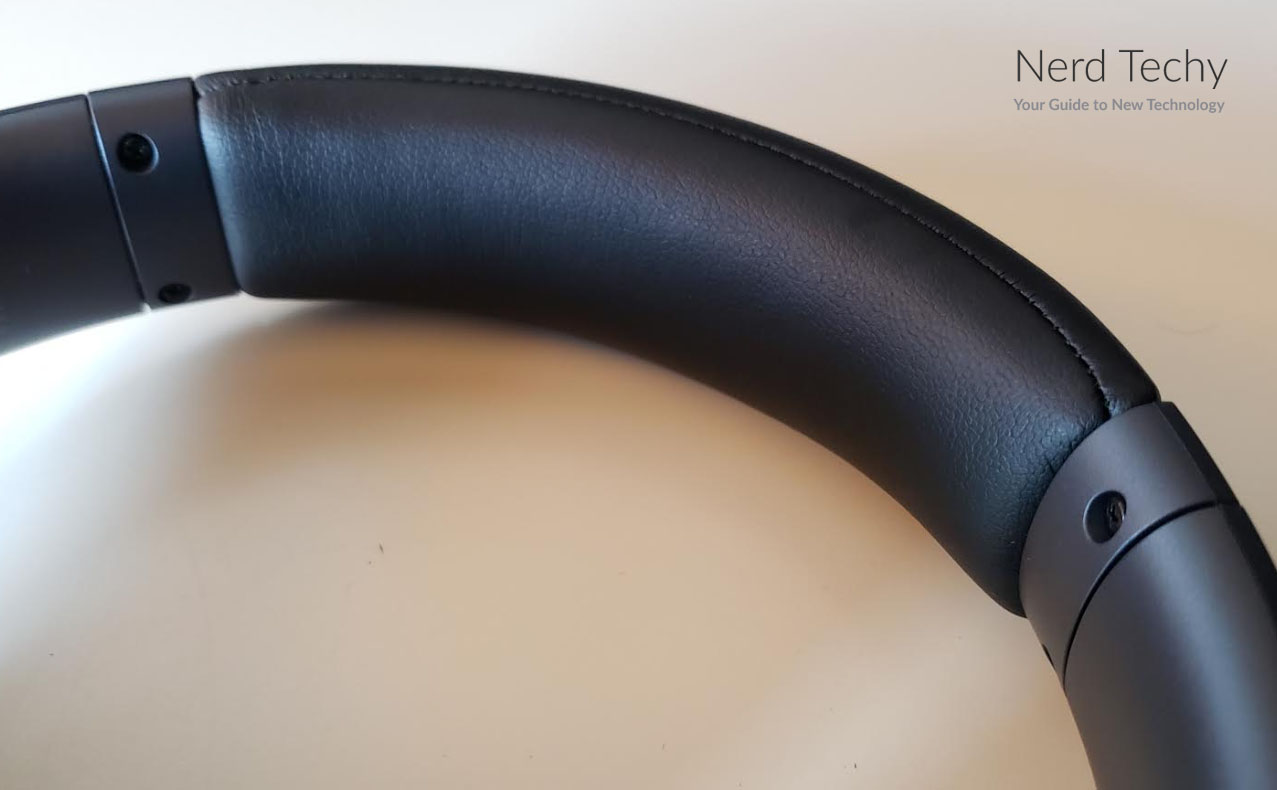 The other way of dealing with background noise is to use SHIVR's conversation mode. With the push of a button, you can temporarily reduce the volume level and let background noise in. The most obvious purpose is for quick interactions, like checking out at the drug store. But this is also a great feature if you need to temporarily boost your situational awareness for safety.
One thing the SHIVR 3D doesn't offer is a microphone or hands-free calling support. For most people, this won't be necessary. After all, hands-free calling is mostly designed for earbuds. But if this is important to you, you do have other options, such as the Treblab E3. It's designed similarly to the SHIVR 3D, but it supports hands-free calling.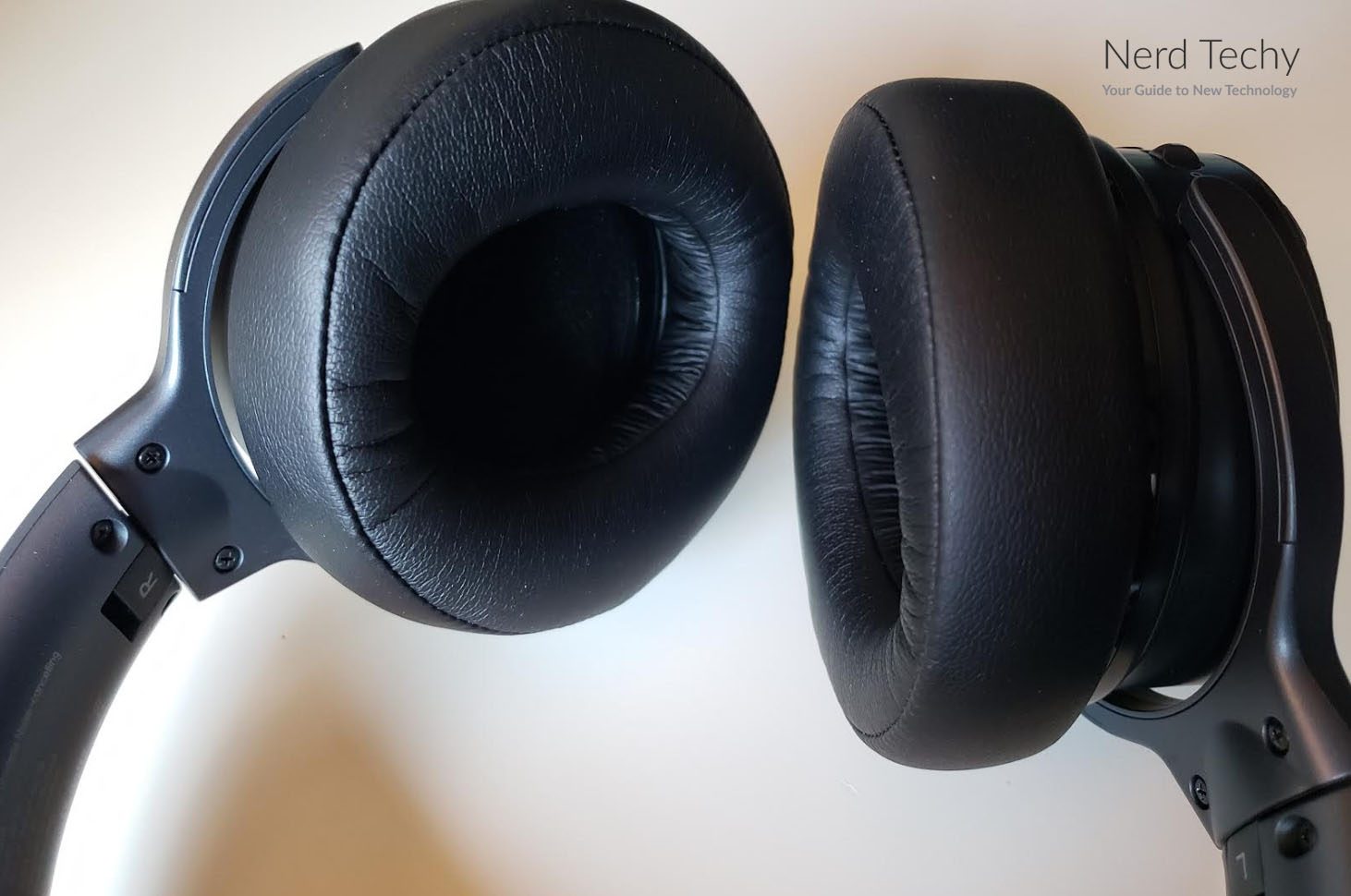 Connectivity & Extra Features
There are two ways to connect your SHIVR 3D headphones. The most obvious method is to simply use the Bluetooth connection. The SHIVR 3D utilizes an older, Bluetooth 4.2 protocol for connecting. The upside of this older protocol is that it allows for longer range. The downside is that it's less stable than the newer 5.0 protocol. This can be problematic for phone calls, but that's not an issue, since the 3D doesn't support calling anyway. More problematic is the higher latency. The latency can be up to 100 milliseconds, which isn't an issue for music. However, it's distracting when watching a movie or playing a game.
In these cases, it's better to use the 3.5mm aux cable, which is included in the kit. This won't allow for active noise cancelling, unfortunately. However, it also won't drain your battery. There's also a 2-prong airline adapter included in the kit. This is a nice feature, since it means you won't need to pay for special headphones to enjoy your in-flight movie. Just keep this adapter in a safe place, since it's small and easy to lose.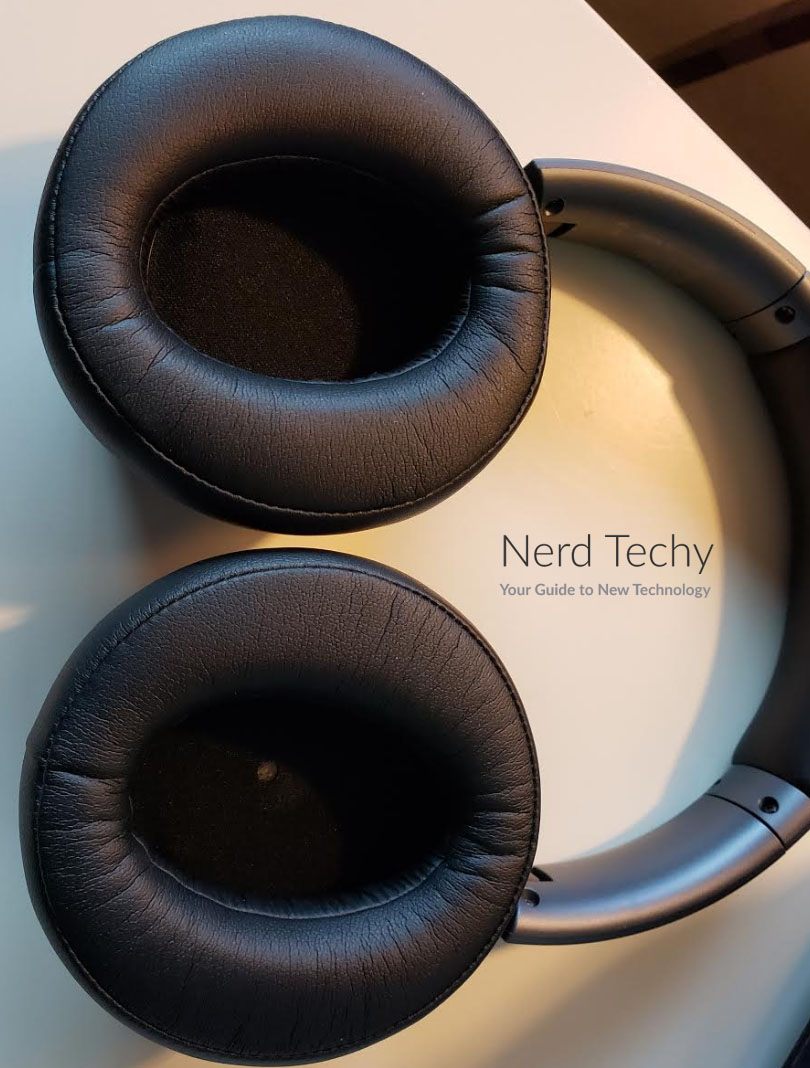 The SHIVR 3D features built-in sensors, which automatically pause your audio when the headphones are removed. They also automatically resume your audio when you put the headphones back on. In addition, there's a built-in gyroscope. When you lie down or recline in a chair, they'll automatically re-shape the surround sound to compensate. This ensures that you won't get disoriented just because you're lying down.
SHIVR is currently developing a companion app for the SHIVR 3D. The app is supposed to allow for a customized EQ, as well as customize various other features. That said, there's no release date for the app at the time of this writing. So take this with a grain of salt.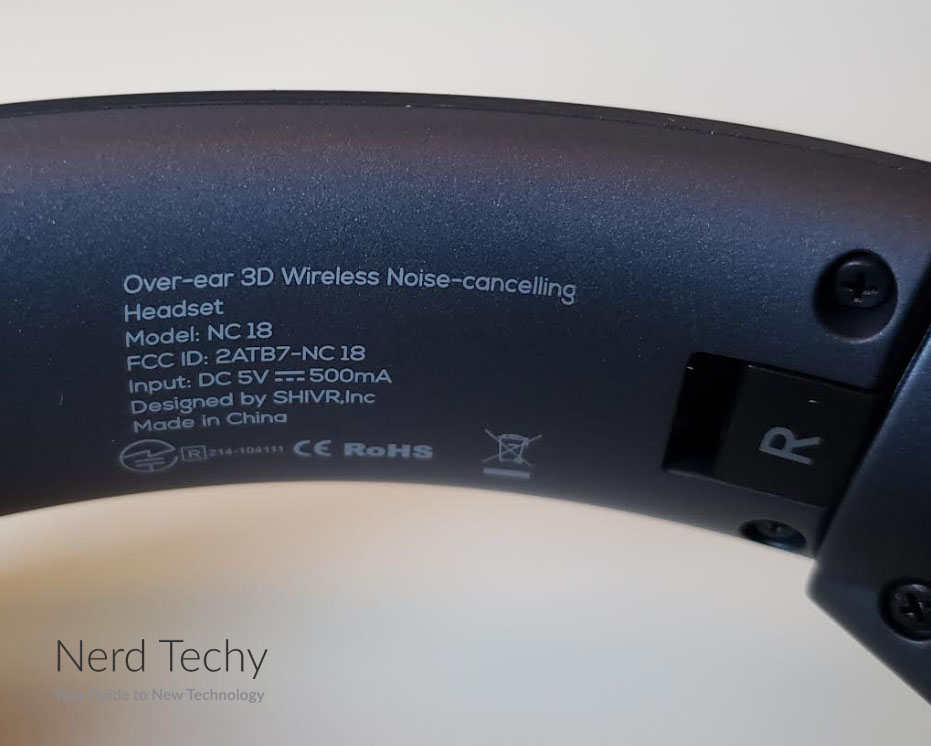 Final Verdict
So, are SHIVR's 3D Bluetooth Headphones worth the investment? We answer with a resounding yes. For one thing, the sound quality is excellent, better than the majority of Bluetooth headphones on the market. They're also exceptionally comfortable. The sturdy, padded headband doesn't dig into your head. And the ear cups both pivot freely and provide a secure, comfortable seal against your face. Finally, the extra features add a lot of value. The active noise cancelling and conversation mode, in particular, are much appreciated.