Quick Analysis
Pros
Full pan/tilt/zoom capability.
Excellent night vision.
Powerful and feature-rich app.
Free cloud storage for 10-second alerts.
"Person Detecting" AI
Cons
24/7 recording requires a subscription.
Short USB cable.
Not long ago, it was unusual to see a security camera in a residential home. For the most part, people only installed them if they were wealthy and had a lot of valuables. Some people installed them if they were at high risk of burglary. But generally speaking, prices were too high, and "recording" meant having a dedicated tape recorder in your home. This was too much expense – and headache – for most people to deal with.
But nowadays, home security cameras are more functional and affordable than ever. With wireless technology and smaller lenses and circuit boards, they're also easier to use. Today, we'll be reviewing one of the most popular new models, the Blurams Dome Lite 2. We've taken a long, hard look at all of its features. And now we're going to break them down for you in plenty of detail. After that, all you'll need to do is exercise your own judgement and make a decision.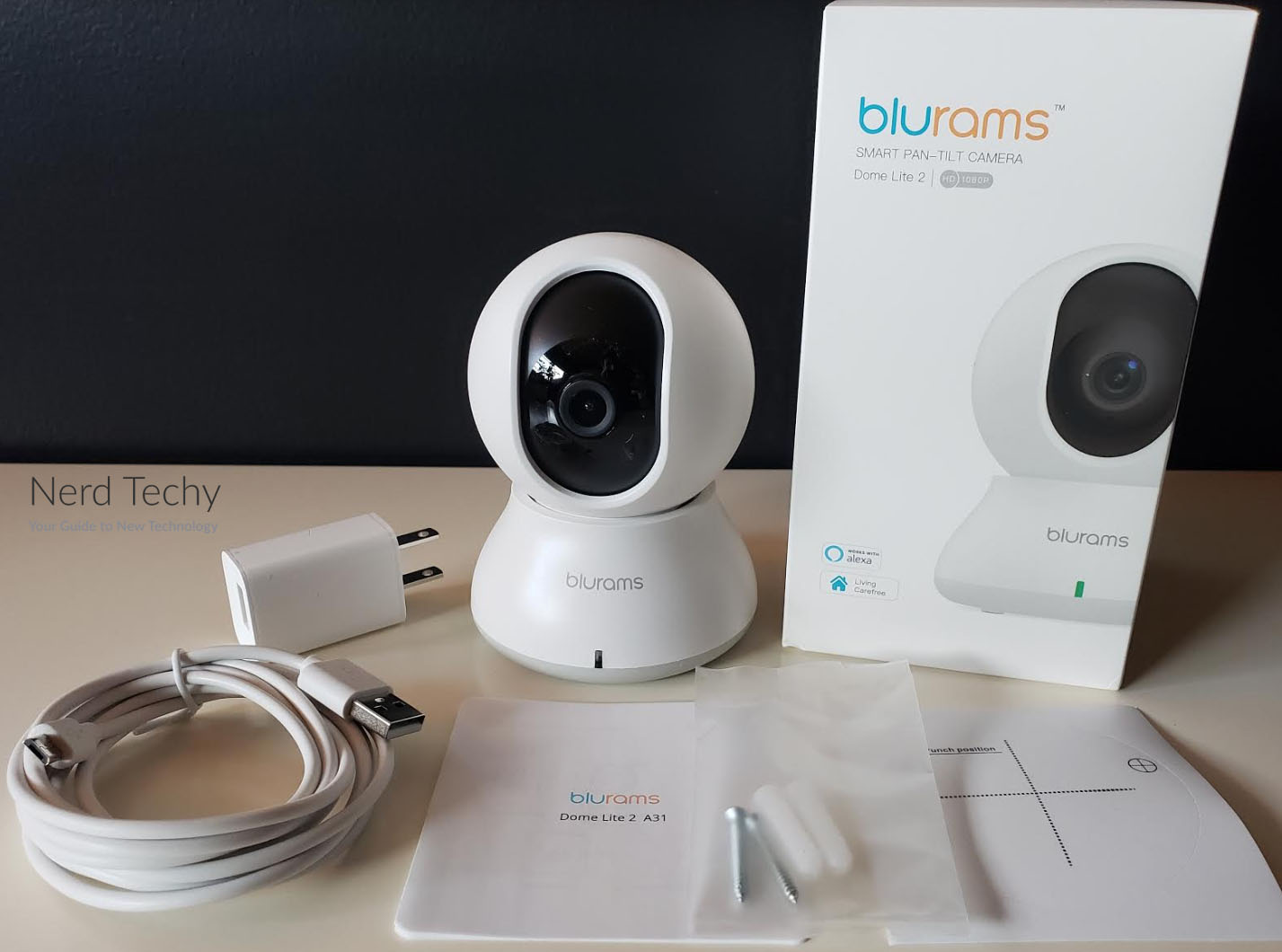 Design & Setup
The Blurams Dome Lite 2 is named for its circular shape. It consists of a spherical camera, mounted in a circular base. The total height is only 6.3 inches, and the base has a diameter of 3.94 inches. The outer case is constructed from white ABS plastic, both on the camera and the base. The only exception is the black inner housing around the lens, and the grey base on the bottom. On the front of the base, there's a grey "blurams" logo, and a small green LED that indicates active power. Overall, the look reminds us of one of those new Japanese robot nurses. It looks very futuristic, which we appreciate. But what about the actual features?
To begin with, you've got a couple different options for installation. The base has a trio of small rubber feet, which makes it easy to set down on any horizontal surface. For many home purposes, this should be good enough. Set it in your bookshelf, on a spice rack, or on top of your entertainment center to get a good view of the room. Alternatively, you can also mount the Dome Lite 2 on a wall or ceiling. There are a pair of screw slots in the bottom, which allows for easy mounting and unmounting. A pair of screws and drywall anchors are including in kits, which makes installation easy.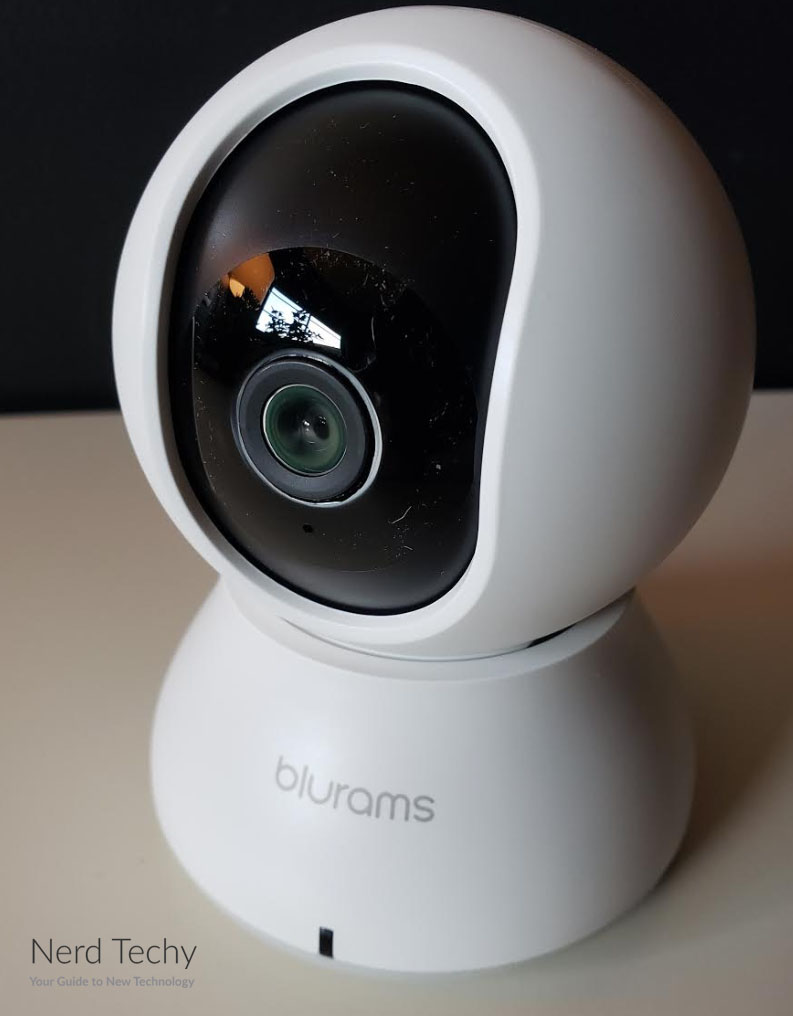 The Dome Lite 2 is a wired camera, not a battery-operated one. On the one hand, this keeps you from needing to worry about keeping a battery fully charged. On the other hand, it means you'll have to connect it to a power outlet. A 6-foot USB cable and AC adapter are included in the kit. As a result, you'll need to keep your camera within a few feet of the nearest power outlet. Alternatively, you could buy a USB extension cable. They're cheap, and they're easy to use.
That said, there are a couple of limitations. To begin with, the Dome Lite 2 isn't waterproof. This isn't a problem indoors, but it means that the Dome Lite 2 is definitely not an outdoor camera. It also only works on the 2.4GHz WiFi band, not on 5GHz. That said, almost all modern routers are dual-band, so this shouldn't be a problem for most people.
If you need an outdoor camera, check out our review of the HeimVision HMD2. Not only is it waterproof, but it's solar powered, so you don't need to mess with batteries or hard wiring.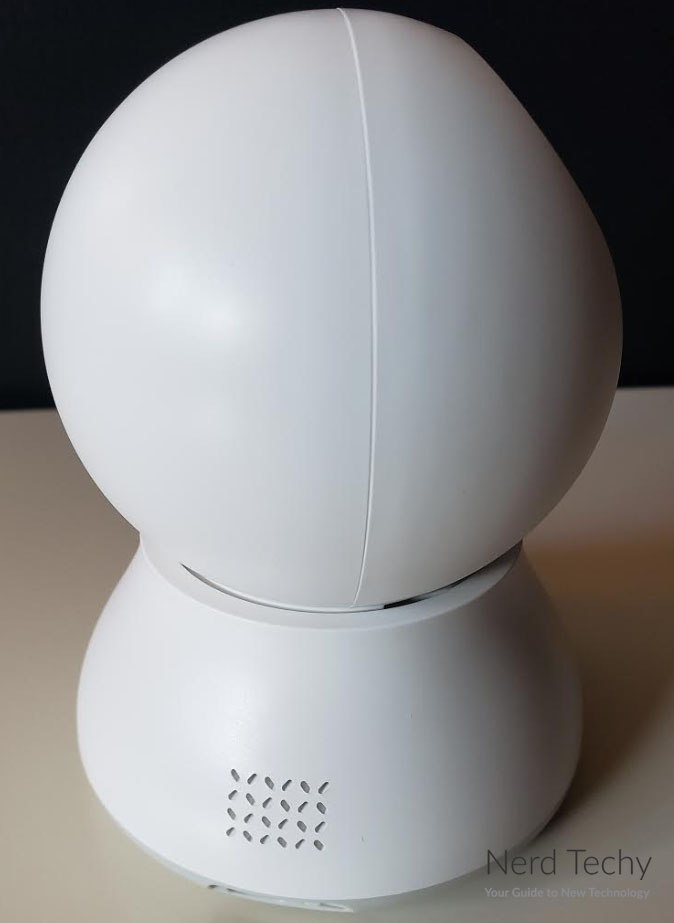 Use Coupon Code "BLURAMSDOME" for 40% Off on Amazon.com
Video & Audio
The Blurams Dome Lite 2 offers full 1080p resolution. This would be less than thrilling for an outdoor camera, but for indoor use it's more than sufficient. Realistically, the camera isn't going to be far enough away to pick up necessary details at this resolution. It also allows for full 360-degree coverage. This isn't to say that the camera can record all 360 degrees at once. However, there's a small motor in the base that allows for full pan, tilt, and zoom coverage of your space. These functions are controlled through the Blurams app, which we'll discuss in more detail shortly.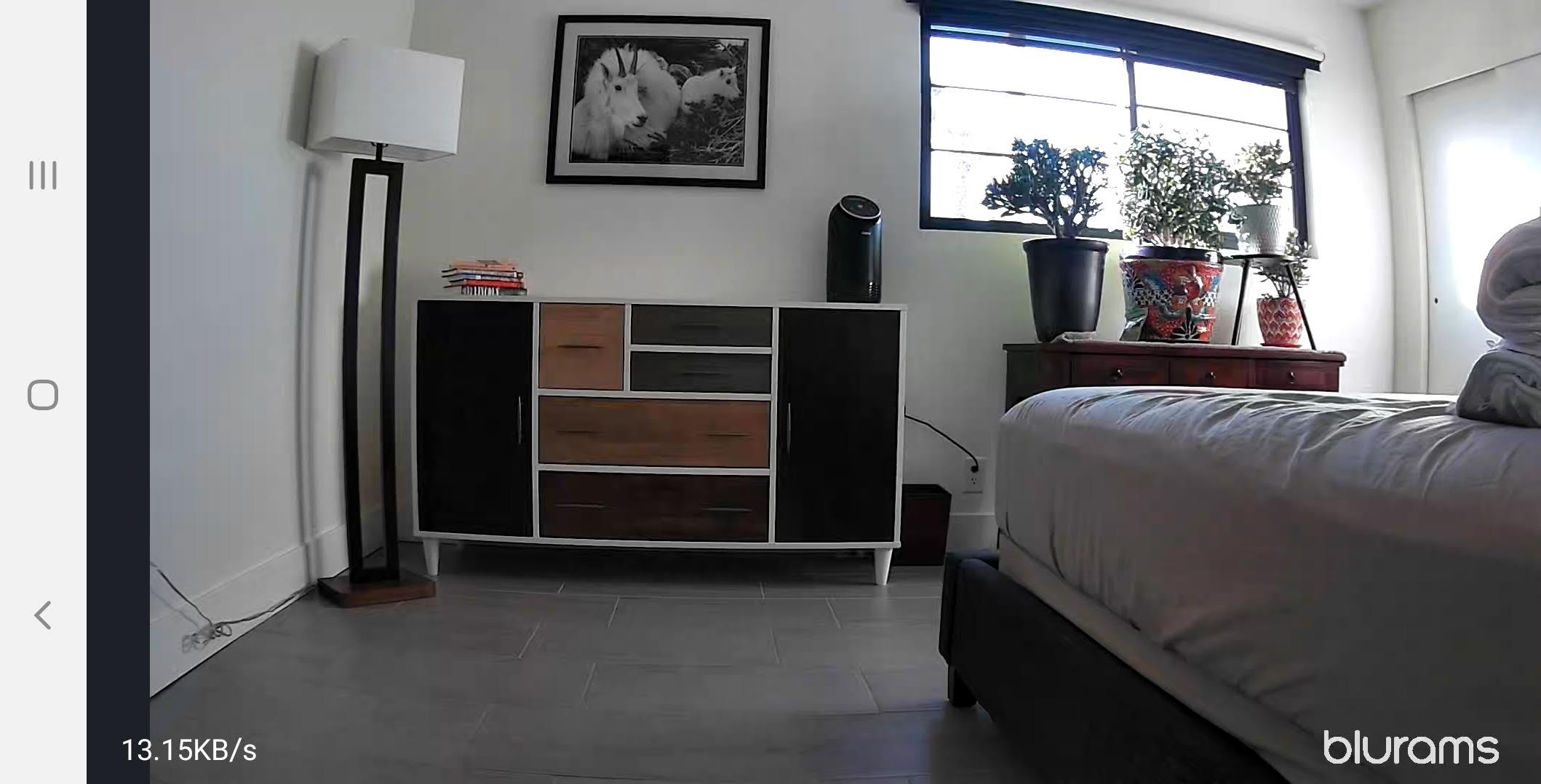 For nighttime coverage, the Dome Lite 2 includes 8 infrared LEDs around the lens. These LED lights will illuminate objects and people up to 27 feet away. And they're invisible to the naked eye, so they won't alert an intruder. The night vision quality is fairly clear and crisp, with a slight loss in resolution. That said, there's no color in the night vision video. It's purely black and white. This is a common function with infrared cameras, and it's not something we'd complain about. It's definitely something you should be aware of before you make a purchase.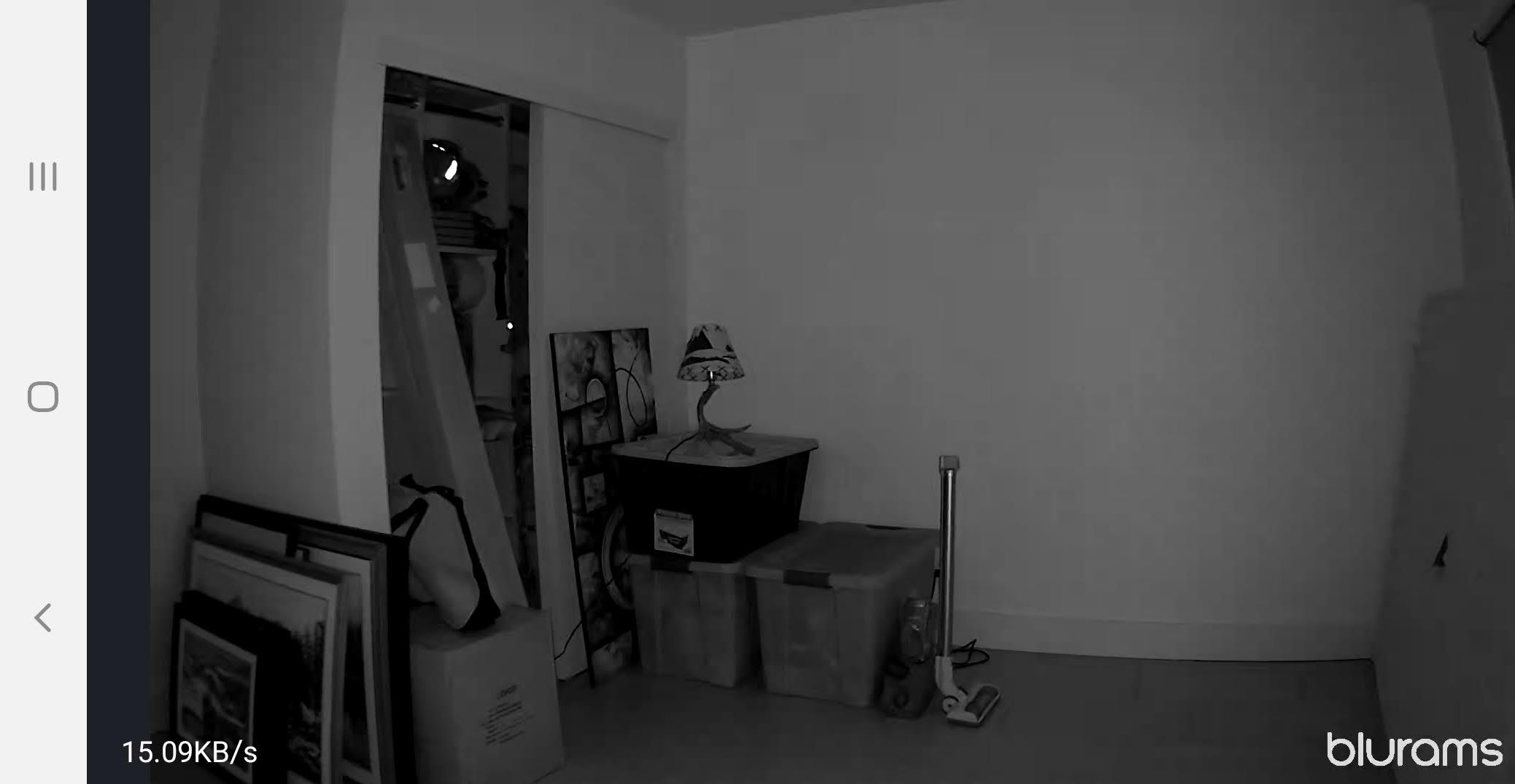 The Dome Lite 2 also allows for 2-way audio. The most obvious function of this feature is to frighten an intruder. Imagine the look on a burglar's face if you're suddenly broadcasting to them at they're on camera. They aren't likely to steal anything. But they're very likely to need a new pair of pants when they get home. If you really want to give them a fright, you can also use the remote-activated siren. It sounds like a standard burglar alarm, and is just as likely to scare off a burglar. That said, the audio system is good for more than just security. It's a quick, easy way to talk to family members if you just need to have a quick conversation. You can even give instructions to a contractor or housekeeper from the other side of the country.
Of course, video quality isn't everything. Sometimes, you need a camera that's truly small enough for easy concealment. In that case, consider the Taococo Mini Spy Camera. It doesn't have the crispest video, but you can hide it just about anywhere.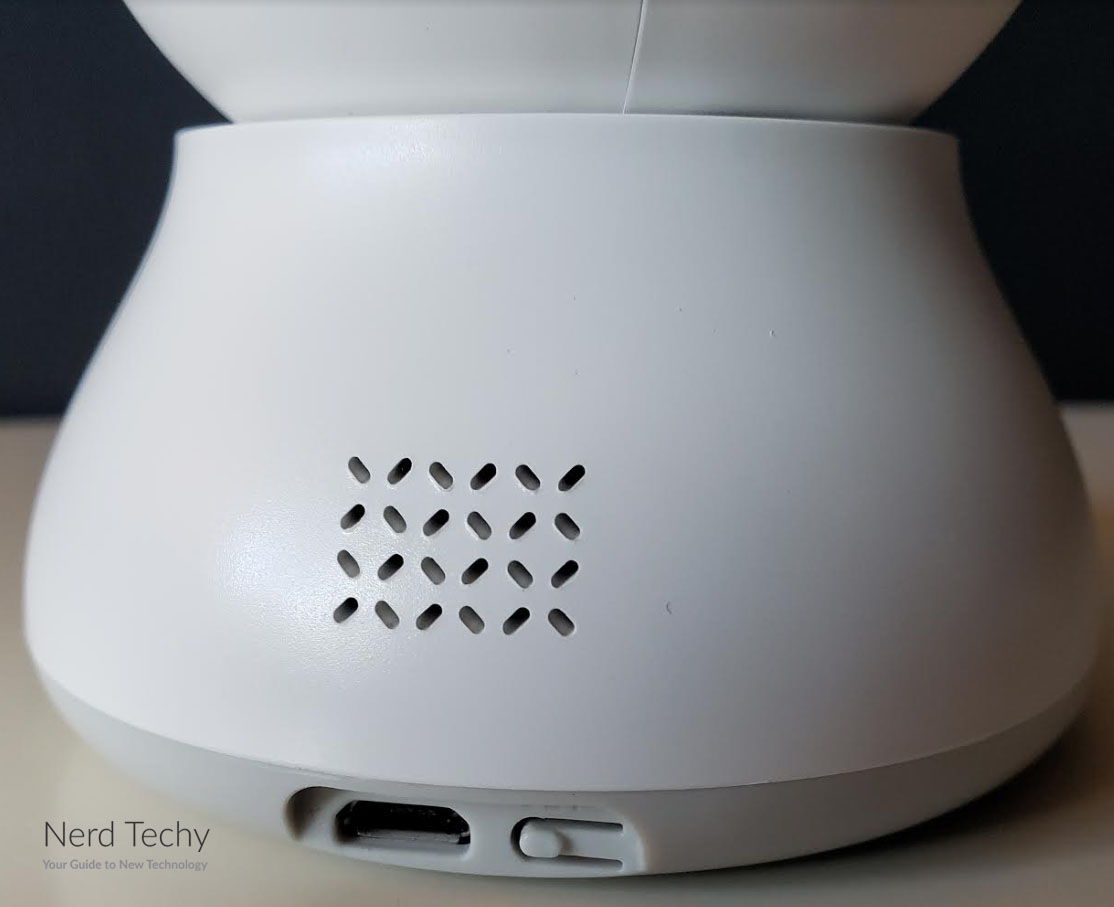 Data Storage
There are two ways of storing your recordings from the Blurams Dome Lite 2. The first method is to save your recordings to the cloud. This allows for easy access, no matter where you're at. It also allows for 24/7 recording without the need to worry about a storage limit. Keep in mind, though, that the cloud service requires a monthly subscription. You do get a free month of storage with your purchase, though, so you can at least try it out. If you'd rather not worry about cloud storage or monthly fees, you can also save your recording locally. The Dome Lite 2 will accept up to a 128GB SD card, so you'll have place for several days of storage.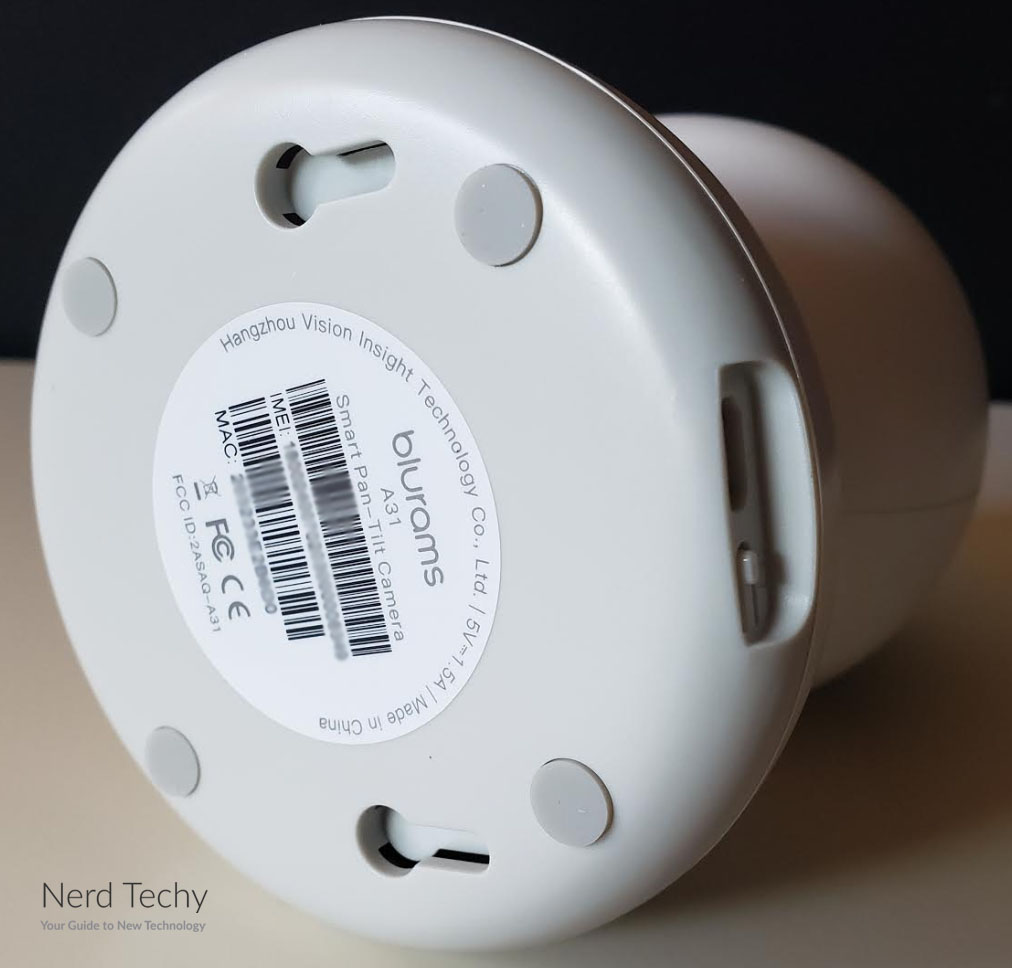 Smart Features & Extras
So far, the Dome Lite 2 looks like a respectable, if relatively ho-hum indoor security camera. But it offers several smart features that put it heads and shoulders over a lot of the competition. To begin with, there's the Blurams app, which allows for remote access. Inside the app, you can pan and tilt your camera, or zoom it in to get a closeup. You can also view up to 4 camera feeds simultaneously. If you want to keep tabs on multiple rooms, this is a great way to get it done. The app is free on both Android and iOS.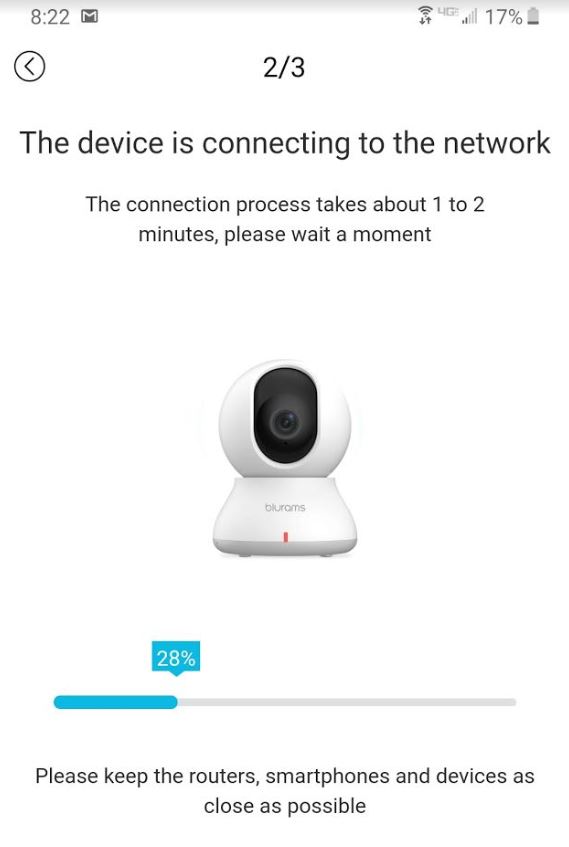 From the app, you can also power the camera off. This closes a physical shutter over the lens housing, ensuring complete privacy. It's also a great way to keep an intruder from stealing your SD card. Since the SD slot is inside the lens compartment, the privacy shutter will also conceal the SD slot. The privacy shutter will automatically close when the camera is powered off. Not only does this keep your SD card secure, it keeps your lens from getting dirty while not in use.
The Dome Lite 2 is ready to pair with Alexa right out of the box. In this way, you can also control your camera with your smart assistant. Use voice commands to control the camera from anywhere in your home, or anywhere you have Alexa access.
One other smart feature that impressed us was the Dome Lite 2's advanced "person detection" AI. When it senses a human form, it will automatically record a 10-second video alert. This recording will be stored in the cloud for 24 hours, whether or not you have a subscription. It will also trigger an alert on your smartphone, so you can instantly pull up your live feed.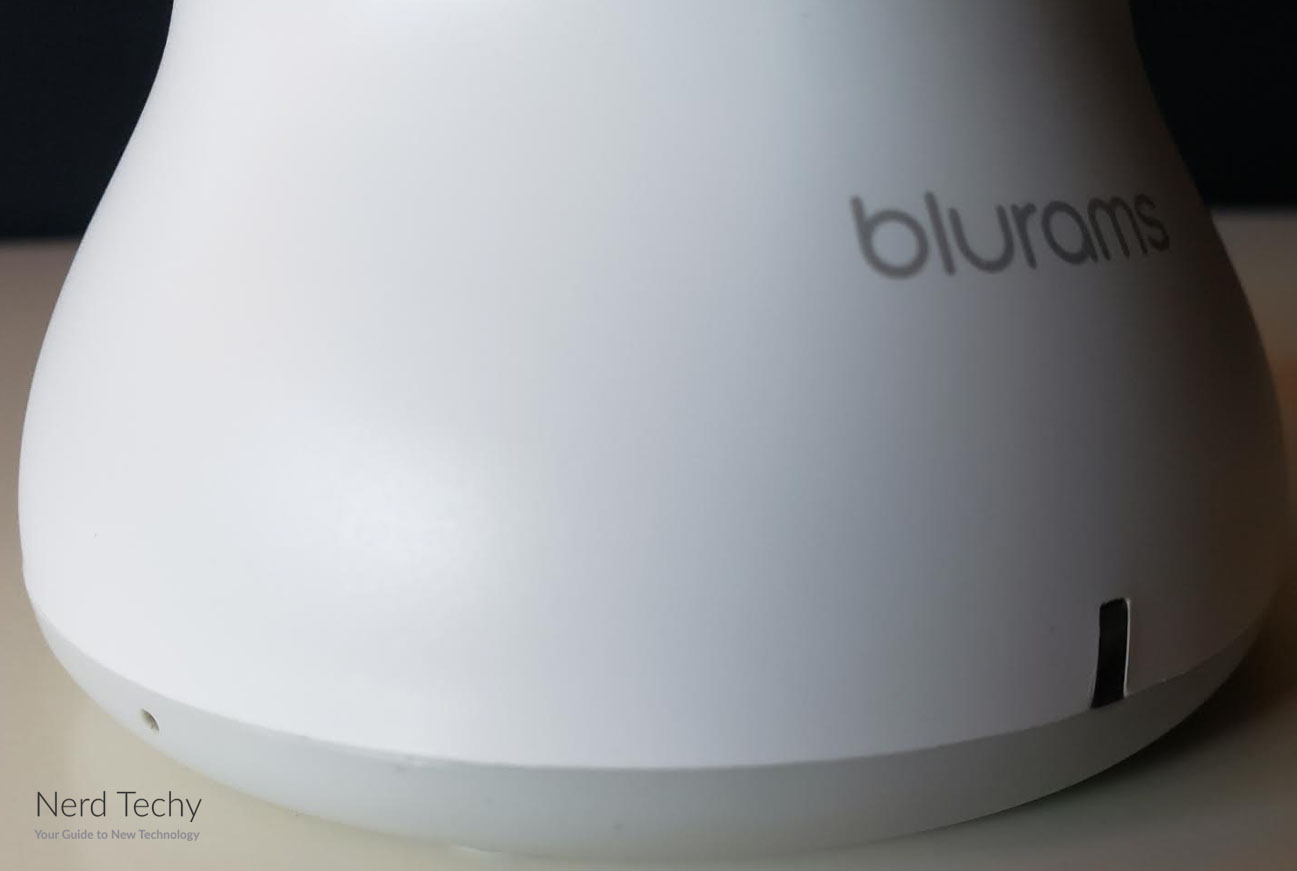 Final Verdict
All in all, the Blurams Dome Lite 2 is one of the most impressive home security cameras on the market. While the video and audio quality are good, they're not anything to write home about. And the mounting is about what you'd expect from a system in this price range. But the mobile alerts, cloud storage, and AI put the Dome Lite 2 in a league of its own.