How do you watch movies? Do you prefer to watch them on a laptop, smartphone, or just a good, reliable high-definition TV? Whatever you choose, home entertainment is changing. Technology has gotten more sophisticated, and now people can bring a big cinema-quality experience right into their living rooms. Gone are the days of watching Hollywood blockbusters with stunning special effects on a screen that doesn't do them justice. The same shift has happened for video games. Gaming has gotten so much more detailed, visually impressive and complex, that a regular monitor sometimes just doesn't cut it. As a result, more and more people are shifting their attention to portable, but highly powerful home projectors.
There are tons of these devices on the market, but only a select few can really deliver the big theatre feel that most people are looking for. In this review we're going to be taking a look at the Vivibright GP100 Video Projector. We'll be taking a look at things like the design, ease of use, portability and video resolution, as well as any special features that GP100 might have in order to give you a fully comprehensive idea of what this new piece of gear can do.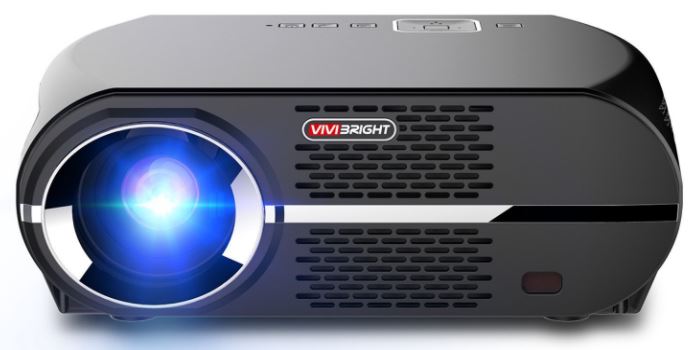 First Impressions
At first glance, the Vivibright GP100 was robust, but also simple in its design. It wasn't big or bulky, measuring at 9.8 x 11.4 x 4.7 inches. It also weighed in at just under five pounds, which did add to its portability as well as its versatility as far as where it could be placed in the home. With such a small shell and light weight, you can easily move it so that it operates on your preferred projection surface. This was a huge bonus because it may take some re-positioning to optimize the projector's performance and the fact that it's relatively lightweight and easy to carry makes moving it around a snap.
On the front of the device you'll find the lens, a small grill showing the ViviBright logo, as well as a stylish silver accent sliding across the front of the unit. On top, we found a power button, a reset button as well as a button that appeared to be for adjusting volume or brightness. The back of the device was home to the built-in HDMI port, two USB ports a VGA port, an AV port, as well as an audio out. There was also a plug for the power cord on main power switch underneath the built-in ports. On the side were two easy to locate dials that can be used to adjust the focus of the lens as well as the keystone of the image itself.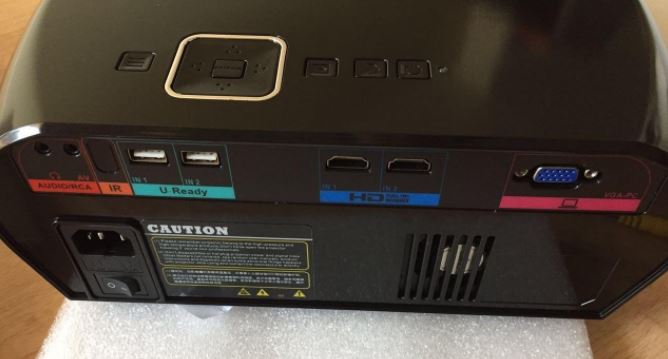 Our opinion when we took the GP100 out of the box was that it wasn't overloaded with buttons or difficult to understand switches; it's simple, the components are easy to find, and the design is compact and convenient. It may not be incredibly portable, but could easily fit into a backpack if you needed to take it to a party or to a friend's house for movie night. It could even have a place for the professional who may want a better, more immersive way to share a presentation at work. You won't want to drop it or let it get crushed by anything while traveling with it, since the shell doesn't appear made to withstand lots of damage, but it can certainly go with you if you need it to.
Accessories, Special Features and Technical Specs
The Vivibright GP100 doesn't come loaded with a ton of accessories, but has enough to make using it right away fairly simple. In the box you'll get the projector itself, a remote control, a VGA cable, a 3-in-1 AV cable, a quick start guide and a power cable. The included wires and remote made it easy to get started using the projector, mainly because having the wires included makes it easy to just plug and play. Also the remote was equally as valuable, mainly because it made using the projector a breeze. We could control it from nearly anywhere in a small to medium-sized room, and the remote layout itself was pretty intuitive.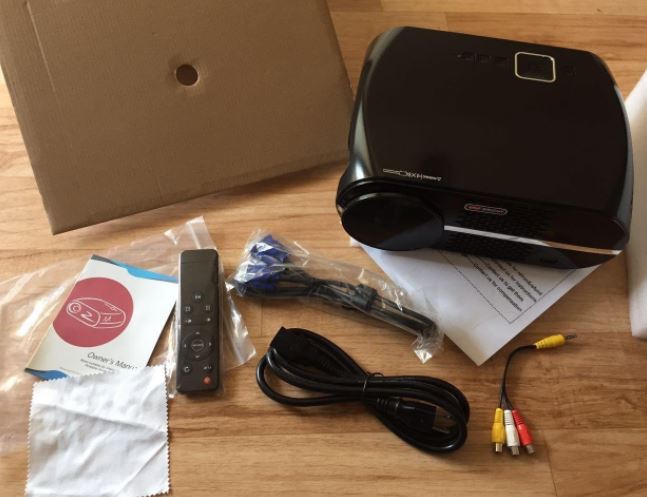 The GP100 comes with some nifty features, but nothing that was truly revolutionary. Still, the capabilities of the projector did give us the impression that it would be able to recreate a cinema feel in the home. The GP100 is fitted with a 3500 lumens LED light for enhanced brightness and clarity and projects in natural 720p resolution. Vivibright also claims that the lumens LED light is a healthy source of light that won't damage or hurt your eyes, even while viewing for long periods of time. The projector also has built-in adjustable keystone correction, which means that adjusting the focus will also adjust the shape of your image for your preferred size, image clarity and shape.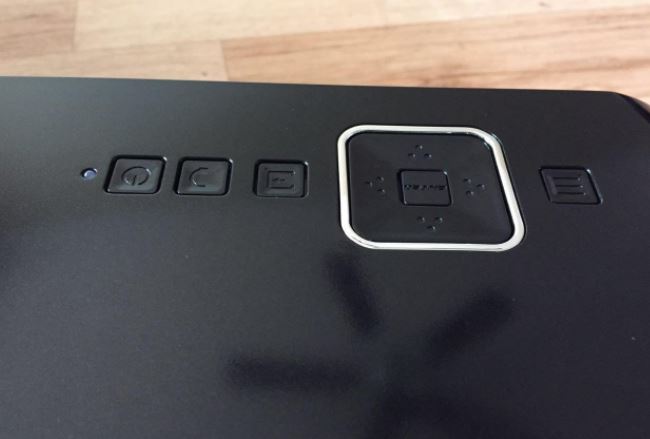 The easy to use ports on the back of the projector make for a true plug-and-play experience, mainly because they leave you with several options for what kind of content you can view. Smartphones, tablets, laptops and televisions are all compatible with the GP100 and you can play a variety of different types of media. Nearly all file formats are supported by the GP100 too. You can easily play .MPG, .AVI, .TS, .MOV video files, as well as view JPG, JPEG, BMP AND PNG photo files. If that isn't enough, the GP100 even supports the ebook formats, TXT and LRC.
Lastly, there is even a small collapsible stand built-into the projector right under the lens. The stand can help prop up the project body to aim at the right spot on your wall or screen if placing the entire projector high enough isn't an option. While it's a small addition, we found it to be a valuable one, mainly because it makes finding the perfect position for the projector that much easier.
When it comes to specs, the GP100 is certainly a powerhouse. It has a max resolution of full 1080p at 60hz and an optimal projection distance of between 1.2 and 5.5 meters. The lens is fully manual, so you can adjust it to your liking and the lumens LED lamp will last you up two 30,000 hours before it needs to be replaced. The GP100 can also project in both a 16:9 aspect ratio as well as a 4:3 aspect ratio, which makes it easy to customize the image size to type of video you're watching.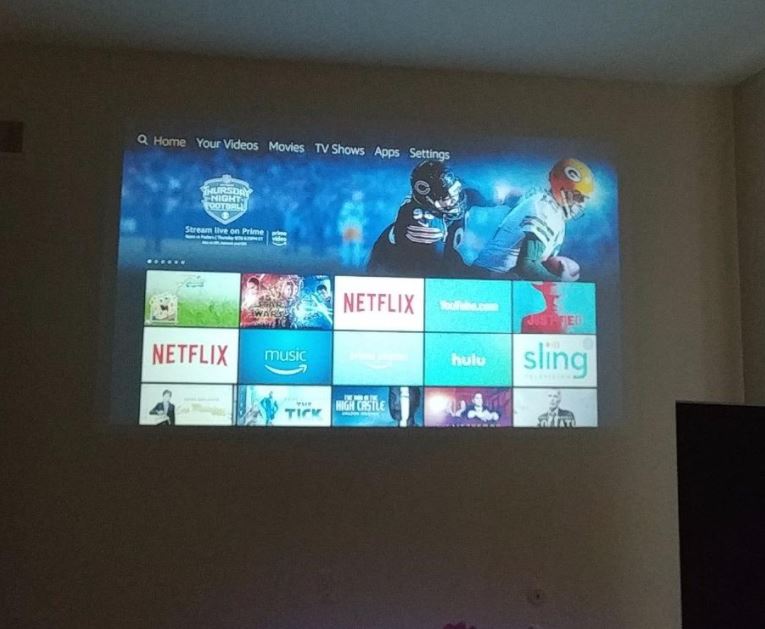 Video Quality
Overall, we were very impressed with the video quality of the GP100. The resolution was full 1080p, appeared bright and crisp, and was equally as impressive for photos and video games. However, we did notice that occasionally the color profiles in certain images appeared flat, and didn't pop as much as we would have liked. The project was still powerful enough to project well even in rooms with light, but couldn't totally dazzle us when it came to the hues it produced on our projection screen. Also, there were some compression artifacts in the image, meaning that we noticed some blurring and distorted corners, but this was easily remedied by using an HDMI cable plugged into a computer. Once we found the right cable, the resolution was dramatically improved.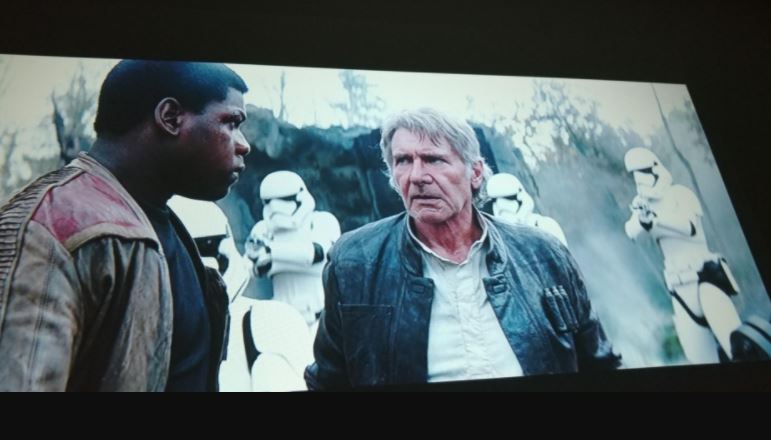 That being said, we also would have liked to see a possibility for some higher video resolutions. More movies and video games are being released in 4K versions in addition to HD, and it would have been a nice option to be able to ramp up the projector's resolution to support this kind of media. It wasn't essential, but we felt it would have made a difference and would have helped set this projector apart from others on the market.
Final Thoughts
We found the Vivibright GP100 to be a powerful, high-quality projector with an affordable price point. It wasn't overloaded with features or settings, but we actually found this to be a positive because it made using the device right out of the box easy, quick and stress-free. That being said, it did come with a remote and the technical specs were impressive for a machine this size. The real key to using the GP100 is being sure that you use a cable that is powerful enough to support true 1080p image quality. This helped avoid compression artifacts or blurry images.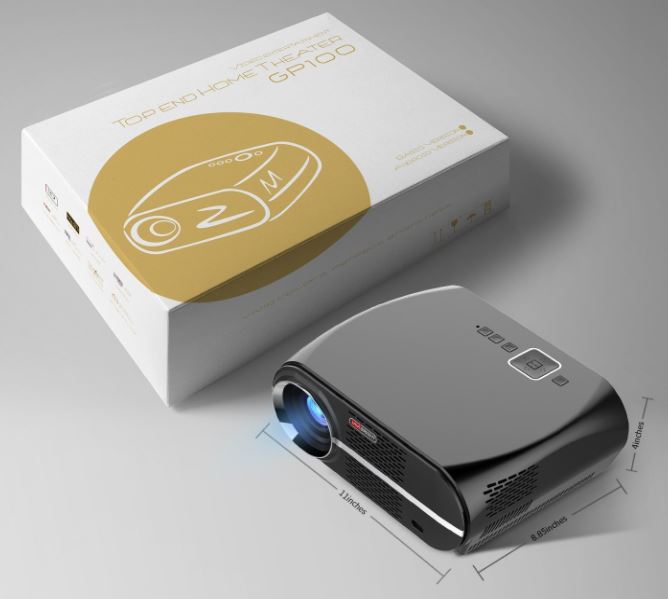 Our only real criticisms of the GP100 was that occasionally the colors seemed a little bit dull and that we would have liked to see it produce 4K image quality. The lack of saturation in the colors wasn't a glaring problem, nor one that would deter us from recommending the projector, but was still noticeable enough for us to mention. Also, a large majority of media is still being produced in 1080p, and our desire to see the GP100 produce 4K is mainly so that it still has applications when such higher resolutions become the norm.
Overall, the Vivibright GP100 is definitely worth a look for those who are in the market for an affordable projector that can still deliver when it comes to high-quality home entertainment.