If you've been on the fence about purchasing Starlink, you're not alone. The relatively pricey investment of $599 + sales tax and shipping gets you the Starlink Kit. In this kit is everything you need an nothing more. But what exactly does it come with? Today we're going to discuss everything that's included and a bit about each item.
What's Included in the "Starlink Kit"
When you purchase the latest residential or RV Starlink package, you get five items: the dish, router, power cable, network cable and metal base. There's some paperwork, too. An instruction manual and some legal documentation, but nothing else to mention. Let's go over each of these in greater detail.
Note: At no extra cost to you, we may earn a commission for purchases using our links. Learn more.
The Dish and Network Cable
Measuring 20.25 inches long and 12 inches high, the square dish is the largest piece of the kit. The 75-foot network cable comes pre-installed into the mounting tube and coiled up nicely. This isn't your average network cable, however. Although it's really just a standard cat 5 cable, each end is terminated with Starlink's proprietary plug-in connection.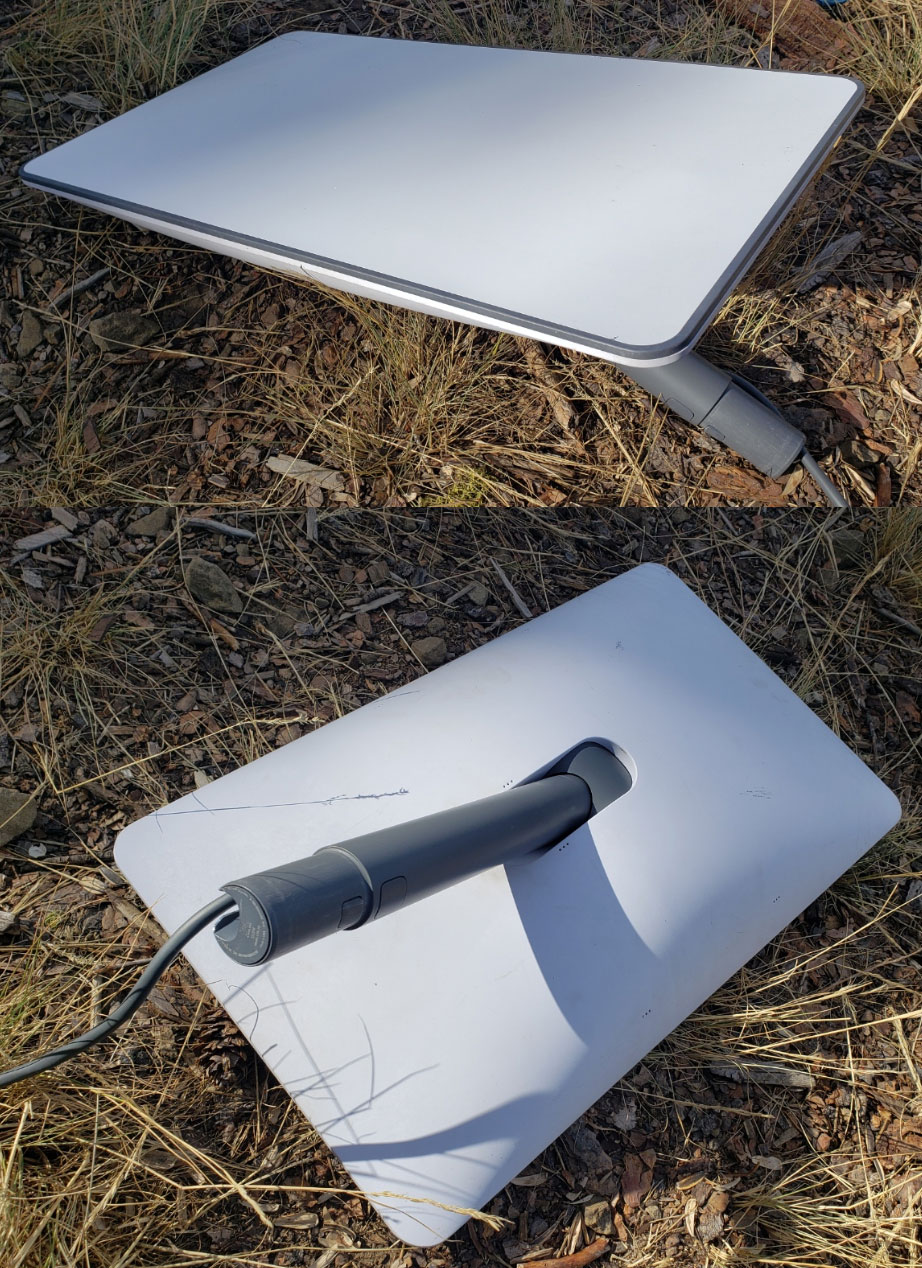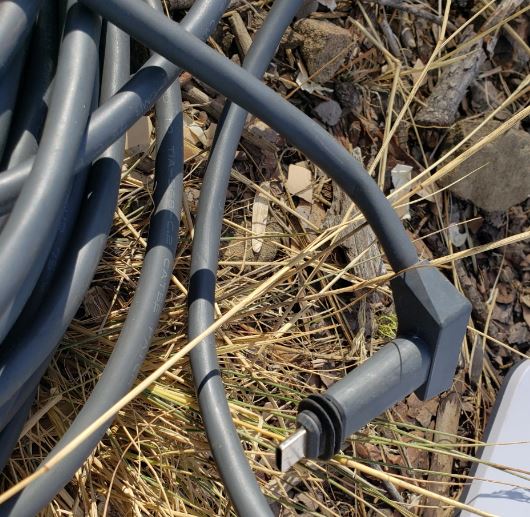 The Dish comes "stowed" which basically means folded up for transport. Once you plug it into the router, it'll automatically configure and move on its own. When and/or if you want to pack it up and move it, simply select "stow" within the app settings. Once setup and running, you won't need to manually adjust it or really worry about it at all. It's completely weatherproof, even when exposed to high heat or extreme cold.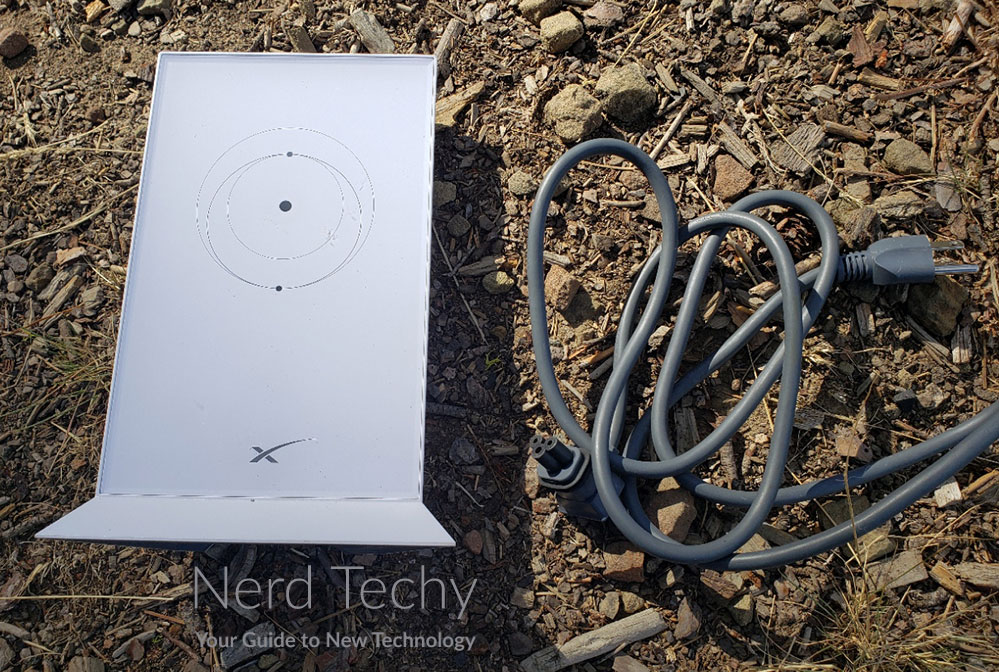 The Router and Power Cord
The WiFi router and power cord are the "brains" of the kit. Measuring 10 inches tall, 7 inches wide and 2.5 inches deep, the router has two ports located on the bottom of the unit. One is for power and the other is for the dish.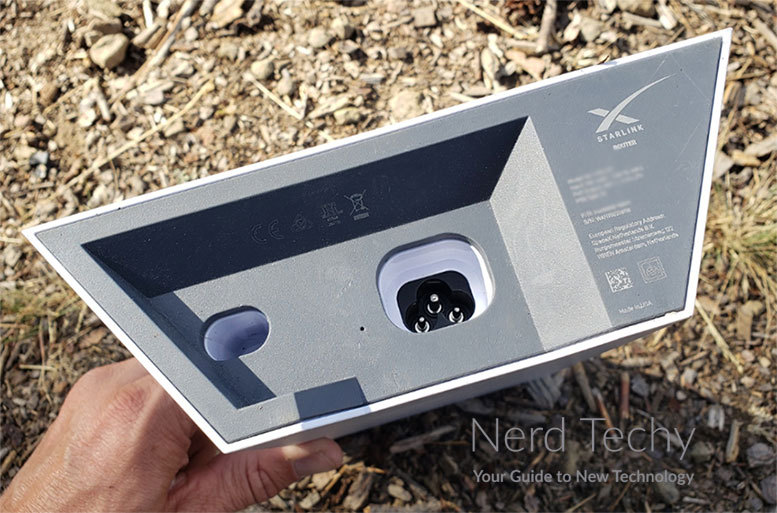 The front of the router is comprised of a solid glass material. Although it seems a bit fragile, it's relatively sturdy. Unfortunately, there's no other inputs on the router. If you want to connect a wired device, you'll need to pickup Starlink's very own Ethernet Adapter.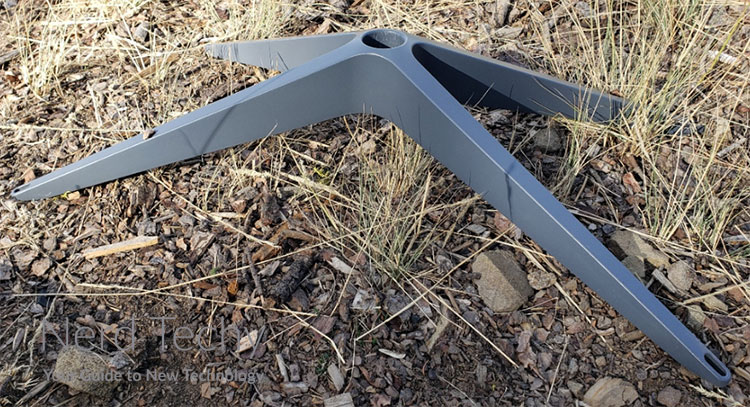 The Metal Stand (QuadPod)
The metal stand has four legs and is incredibly sturdy. The dish tube mounts directly into the center and snaps into place. Measuring 22 inches long, 12 and 7/8 inches wide, it provides a broad, sturdy position for the dish to rest on. Although it's only 4.75 inches tall, it's perfect for ground placement.
At the end of each leg is a hole for staking it down. Tent stakes work perfect for this. Ultimately, this provides added stability and support for strong winds. If measured from the center, the spacing for the holes is 21.5 inches long and 12.25 inches wide.
Extra Accessories
The Starlink kit comes with all of the essentials; everything you need to get it up and running. Simply find an area that has a clear view of the Northern sky, connect the dish to the stand, the cable to the router and plug it into an AC outlet. After a few minutes, it'll automatically find satellites to link with and you'll have access to unlimited Internet in even the most remote areas of the World.
If you're planning on a permanent or semi-permanent installation, you may want to pickup a Starlink dish mount. There's several different solutions for a wide range of installation scenarios. Whether you'd like to install Starlink on your existing home or vacation cabin, there are many options available.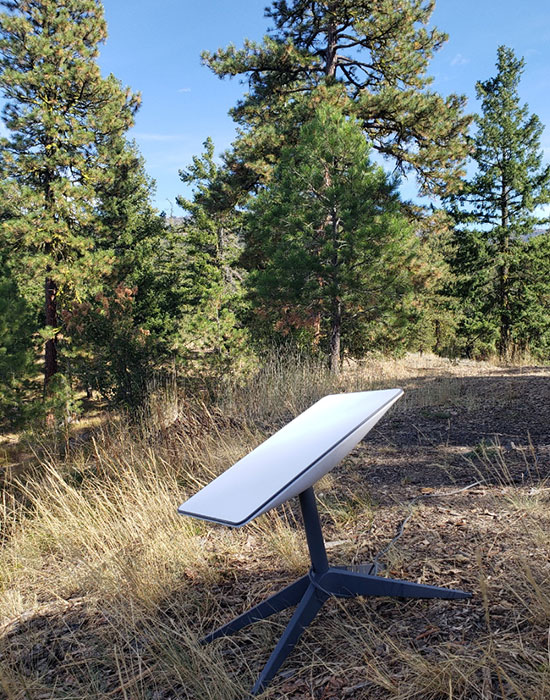 If you're planning on traveling to remote areas in your RV or camper van, you'll want to pick up a Starlink travel case. These offer ample protection for travel or on-the-go usage. Surprisingly, the entire kit stows away nicely with all of the included items. Sure, you could always use the box that your Starlink kit originally came in, but it obviously won't hold up like a hard case would.
If you need any WiFi range extenders, official mounts or extra cables, be sure to look at our list of Starlink accessories from the official shop. These are only available to current Starlink subscribers, so be sure to familiarize yourself with what's available before you go on a shopping spree.
Final Thoughts on What Starlink Comes With
As you can see, the items included in the Starlink residential or RV kit are identical. The dish, network cable, router, power cord and metal stand is everything that comes in the box when you first purchase your Starlink kit.
The only difference is the manner in which they bill you. As of now, you cannot switch between the residential or RV package once you commit to buy either one. However, the equipment is identical, so we may see this option available in the near future.
While the business and maritime Starlink packages have extremely limited availability, they're extraordinarily expensive. That said, we don't have any first-hand experience with either, so we're refraining from mentioning all that's included with those specific kits. All in all, one may call them "rare" or not widely used in comparison to the standard residential or RV Starlink kits.
Please consider sharing:
Note: At no extra cost to you, we may earn a commission for purchases using our links. Learn more.