Mother's Day is here, which could only mean one thing: yo momma is eagerly awaiting her well-earned gifts. Mothers are special people. Just think about how miraculous pregnancy really is. Women literally incubate and grow tiny humans inside of their bellies. It's a wonder that storks can still find work. We imagine that sexual reproduction has really put a damper on their business model. Anyway, the point is, buy a nice gift for your mother, why don't ya?
Every mother loves Michael Bolton. His sultry vocal tone, rippling bod and luxurious hair combine to make the Bolt-man the absolute epitome of maternal desire. Unfortunately, your mom doesn't have the electronic hardware for listening to Michael in all of his pop ballad glory. Sure, when they're driving they have their car stereo, but how long does that typically last? An hour at most. Barely enough time to complete his 1991 smash-hit, Time, Love & Tenderness, featuring the Grammy Award-winning cover of "When a Man Loves a Woman." That doesn't seem very fair to mom, does it?
Lucky for her, there are plenty of affordable, high-quality Bluetooth speakers on the market today. Some are rugged, such as the Havit M22, and some are built for elegance, such as the Bang & Olufsen Beoplay P6. Finding an affordable device which features the best of both worlds is not as easy you'd think, even when you consider the over-saturation of consumer electronic companies trying to get their devices noticed amidst a sea of mediocrity. If you look hard enough, and use some trial and error, there are several examples of speakers which meet both criteria. As tech reviewers, we have the opportunity to play around with many of the available options.
When we came across the Zenbre Z4 Bluetooth speaker, we knew we had to try it out. With a sub-$50 price tag and specs which rival that of speakers twice the cost, the Z4 seemed like an apt candidate for sustaining our dear Mother's crazed Michael Bolton addiction. With a combination of a IPX waterproof certification, unique design and claims of a long battery life, we couldn't wait to get our hands on the Z4. There was no way we were going to just hand it over to Ma and hope for the best without making sure it's worthy of Mother's gentle touch. Here is our honest review of the Zenbre Z4 Bluetooth speakers.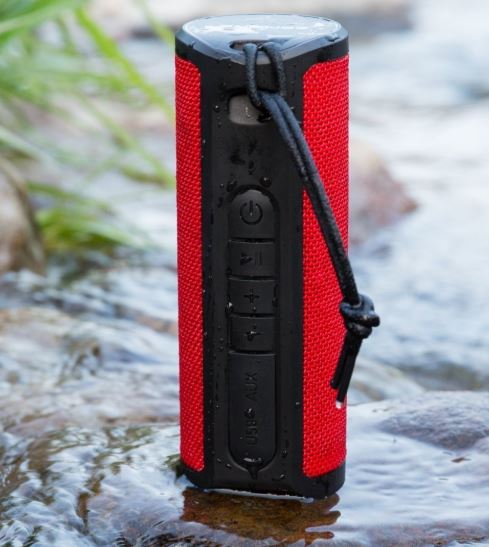 What's in the Box?
The packaging for the Zenbre Z4 is pretty bare bones. It ships in a minimalist white box, featuring only a picture of the speaker and the product name along the side. Included in the box is the speaker itself, a carrying tether for easier transportation, the user manual, an 3.5 mm AUX cable and a USB charging cable. For the price, we didn't expect many accessories, but as long as they put the money where it counts, we'll be more than happy.
Sound Quality
The sound is governed by x2 5 watt speaker units, which both feature low frequency radiators and a subwoofer. The two drivers and passive sub-woofers are specifically designed to offer improved lows and a wider sound spectrum then you might expect out of a budget speaker. If you've ever used a crummy pair of Bluetooth speakers before, you'll know that sometimes it seems like you'd just be better off using PC speakers, phone speakers, or cheap laptop speakers. When the wireless speaker's quality sounds thinner than the quality of your phone speaker, then it kind of defeats the purpose of owning a Bluetooth speaker in the first place.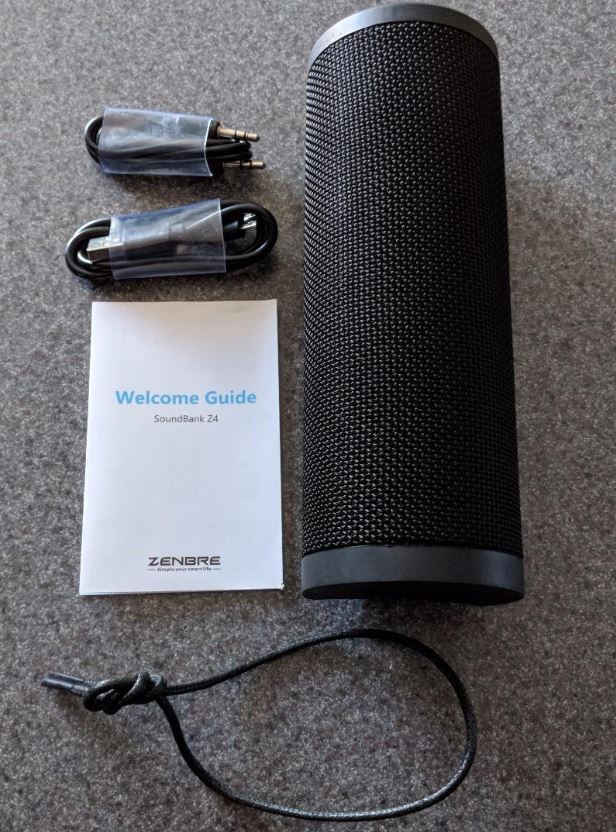 Thankfully, the Zenbre Z4 utilizes its hardware well. The low-frequency radiation truly helps expand the reach of the lows. The sub-woofers, although not as rich as that of a Bose model, are much better than you would expect. If you're expecting Bose level reproduction out of a speaker that literally costs a tenth of the price, then you probably need your head examined… no offense. The truth is, the gap between low-priced wireless speakers and Bose level wireless speakers, is probably not as impassable as one might think.
The device's high-frequency levels are free of the dreaded tinny sound which plagues so many budget-priced audio products. There is nothing quite as ear-grating as speakers or headphones that don't know how to handle high notes. We typically test out high frequencies by playing a very cymbal heavy songs. In this case, we used the Foo Fighters song, Everlong. Dave Grohl would have been proud of the Z4's performance. We didn't notice any harsh shrieking or static mush. Instead, all we hear is Taylor Hawkins doing what he does best – being the finest Foo he can be.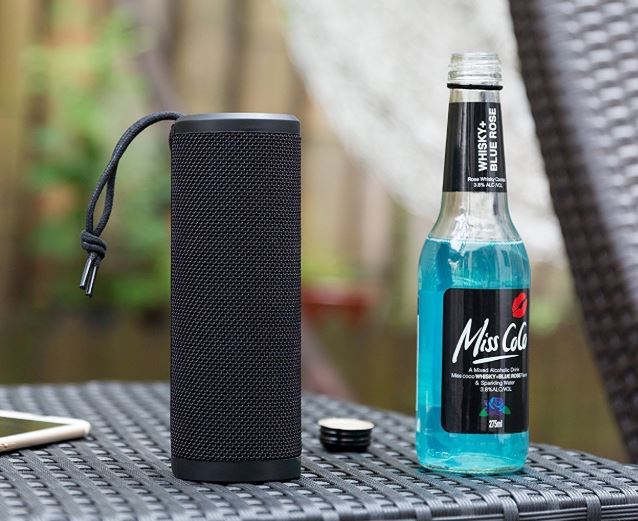 Sound Distribution
Zenbre claims that the Z4 offers 360-degree surround sound. Before we took the speaker for a whirl, we were conflicted in our skepticism. Based on the cylindrical shape of the Z4, believing that it could produce 360 degrees of sound wasn't too much of a leap. Though considering the device's price point, any potentially exuberant claims must be taken with a grain of salt. The good news is that the speaker's sound distribution is very impressive. We're unsure if the sound is perfectly distributed throughout all 360 degrees, but the audio certainly sounds like its evenly distributed.
The problem with speakers that don't feature surround sound is that if you're doing something that requires you to move around a lot, you have to keep changing the direction of the speaker in order to hear the sound at full loudness and richness. It can also be a hassle when you're listening to music with multiple people. If you're all sitting along a round table, then someone is going to be missing out. The Z4 makes sure that all of these problems are taken care of, producing sound which reaches every ear drum evenly.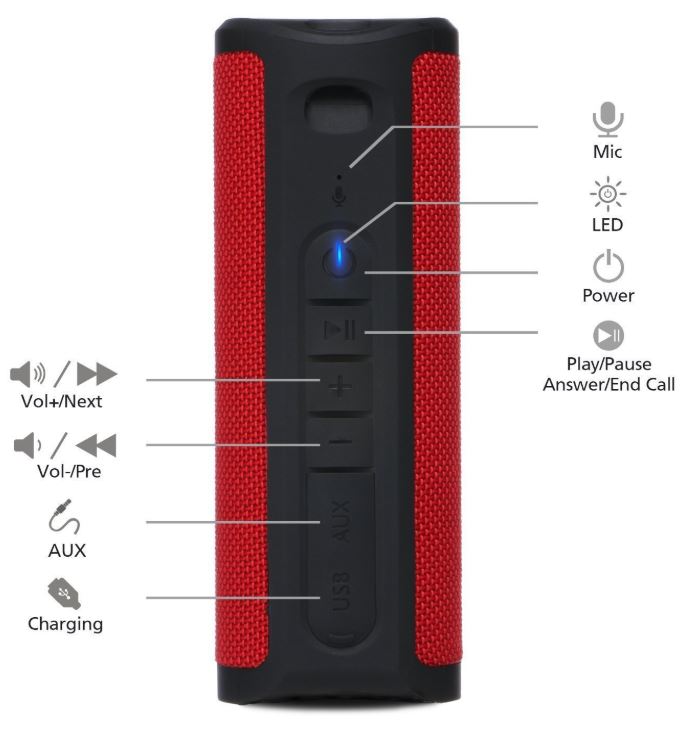 Battery Life
When it comes to making sure that all our gadgets are fully-charged, we're not always the most diligent electronics owners. That is why we prefer products that have extended battery lives. The Z4 includes an 1800 mAh rechargeable lithium-ion battery. Zenbre claims that the battery can last through 24 hours of playtime when listening at a moderate volume. We're not sure if our concept of a normal volume is different than theirs, but for us the battery lasted closer to 20 hours. We're not too concerned with the four-hour discrepancy since 20 hours is still plenty of time for our needs. A full charge takes about 4 hours, so we recommend charging it overnight so that you're never left in lurch.
Waterproof Certification
The Z4 is IPX4 waterproof certified, which means that the speaker will be able to withstand splashes, but not sprays or full submersions. Take it from us, you don't want to try and drown you speaker unless it has a rating of IPX7 or higher, no matter how many vile names it has called you or how inappropriately it has flirted with your wife. An IPX4 rating makes it safe to carry with you when you're lounging by the pool or when you're in the bathtub. We don't recommend using the speaker anywhere near a hose, in a rain storm, jumping off a waterfall, leaping off of the Golden State Bridge, or searching through the sewer for your lost goldfish.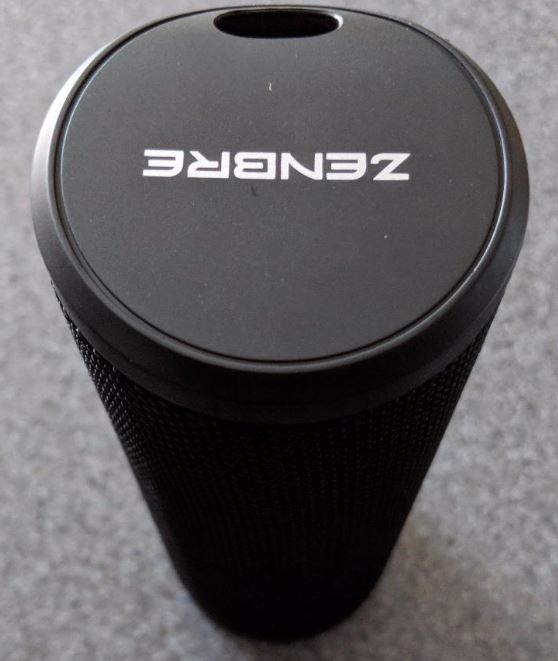 Dimensions
The Z4 is one ultra-portable speaker. Measuring in at 2.4 in. x 2.4 in. x 7.1 in., and weighing in at 1.35 lbs, moving the speaker from place to place is not a struggle in the slightest. Zenbre has even included a fabric tether handle cord thingamajig to helps you carry the Z4 around with you. The device fits perfectly in our messenger bags, purses, gym bags and backpacks. You can also stuff the Z4 into a large pocket, just in case you're ever missing a more suitable carrying option.
Stereo Pairing
The Z4 offers a really cool feature which allows you to connect two Z4 speakers, creating a stereo speaker system. When you pair the two speakers with your Bluetooth device, the speakers will automatically distribute the audio to create a surround sound experience. When you watch movies on your phone, you're usually limited to headphones or the device's cruddy speakers. The Z4 stereo feature turns your mobile media watching into an immersive soundscape. If your TV is Bluetooth enabled, you'll even be able to use the Z4 pair to add surround sound to your television viewing. Purchasing two of these speakers is considerably cheaper than purchasing an expensive designated surround sound system. The speakers' ability to properly and directionally distribute the sound is very impressive and greatly improves the audio experience.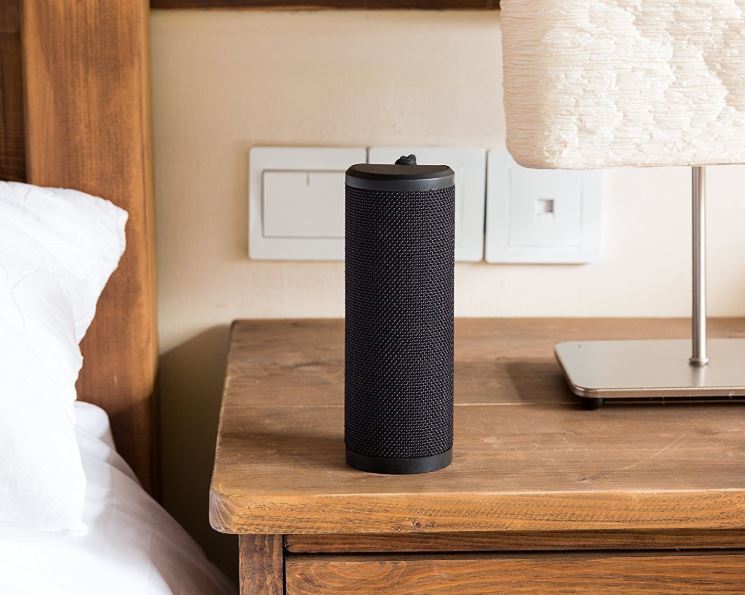 Microphone and Controls
One of our favorite parts about the Z4 are the monster-sized rubberized controls. We truly hate when Bluetooth speakers have buttons that would even be hard for a gnat to find. The Z4 doesn't make that mistake. The buttons are chunky, large and hard to miss. The soft rubber material is great for protecting against water damage. Right above the controls sits the pinhole sized microphone for in-speaker calling. When you answer the phone, you'll be able to use the speaker to have a conversation. Just keep in mind that anything you talk about is going to be very public since sounds emitted from this speaker tend to carry.
Final Thoughts
The Zenbre Z4 Bluetooth speakers are just what the mother ordered. And why did she order them? Because you didn't buy them for her fast enough. You know how bad she needed her Bolton fix! You should be ashamed of yourself. It you're lucky enough to have a mom that hasn't jumped the gun quite yet, then dive in while the proverbial iron is hot and scoop one of these up for Mother's Day. Or any day, really. Mommies deserve presents every day of the year. With their unique cylindrical design, balanced sound, waterproof rating and stereo pairing, the Z4's will definitely bring a smile to your mother's face.
At this price point, this device is hard to turn down and impossible to dismiss. Grab one of these for yourself, even if it's only a backup. Who knows, maybe it will wind up being your primary speaker after you give it a whirl.