AEEZO Dream Plus
Pros
Beautiful 2K IPS display.
Hybrid kickstand and AC cable.
Add files from any device via the cloud.
Touchscreen function is easy to use.
Expandable storage with SD card.
Cons
Cannot be wall-mounted.
Stated internal storage space is not very accurate.
Digital technology has changed many things in our lives, including how we think of photographs. Not long ago, snapping a photo represented an investment. Admittedly, this investment was small – a single frame of cheap film – but it made you think twice.
Let's say you were going on vacation, and you planned on taking a lot of pictures. So you brought five rolls of film with you, each with 24 frames. That's enough for 120 pictures, which is more than enough for any vacation. But you weren't snapping pictures of your continental breakfast, or taking 20 selfies in your hotel room.
As a result, photographs held a special place in our lives. People kept albums of photos, and hung their most cherished ones on their walls. Nowadays, people take pictures of anything and everything. Sometimes, this is banal, like pictures of food. But because we feel more free to snap away, we're also capturing more of our lives.
At the same time, we don't really have more space to display these photos. Sure, you can always upload an unlimited number to social media. But what if you want to share all your digital pictures in a more physical, tangible way? A digital picture frame is a great way to bring your digital photos into the real, physical world.
With that in mind, we're about to review the AEEZO Dream Plus, 10-inch 2K WiFi Digital Picture Frame. As you might expect, this frame has a high-resolution 2K display, for crisp, clear images. But there's a lot more to a good digital frame than the display resolution alone. You need to think about the design of the frame itself, and how it looks in your home.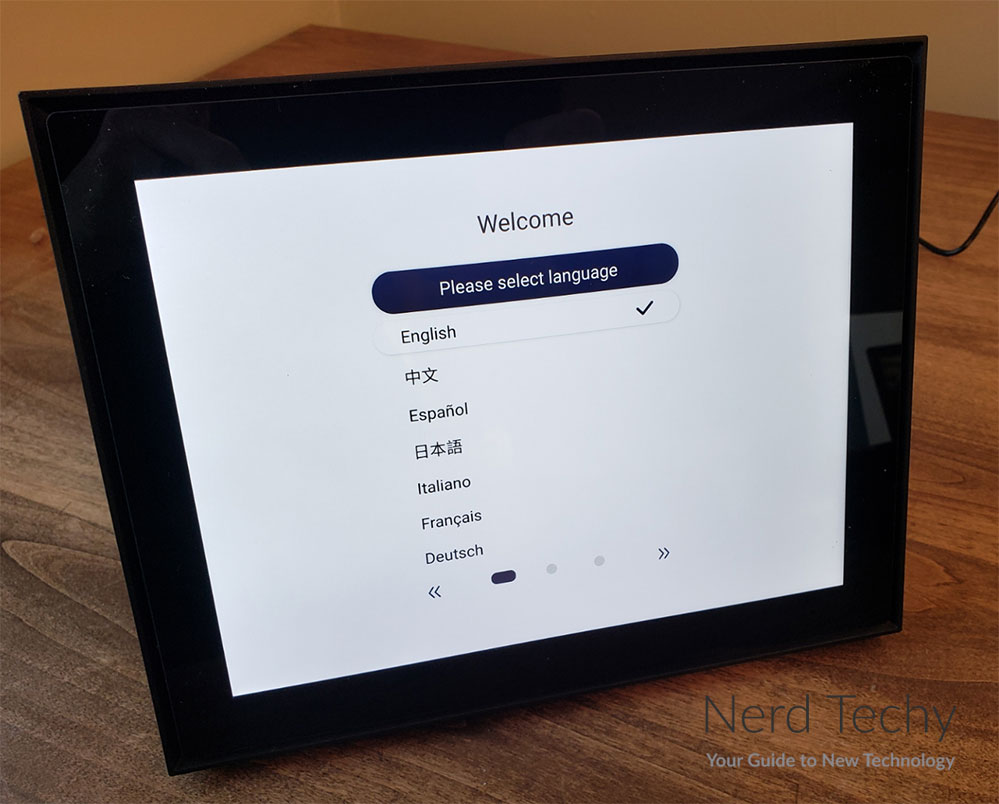 We'll have to talk about the memory capacity, and how many pictures you can store. We'll look at the upload features, and how you share photos to the frame. Additionally, we'll also discuss the controls and other important features. After we've looked at all these various factors, we'll have a better understanding of the frame. Then, we'll be equipped to render a fair verdict. Let's get started, and see what this picture frame has to offer!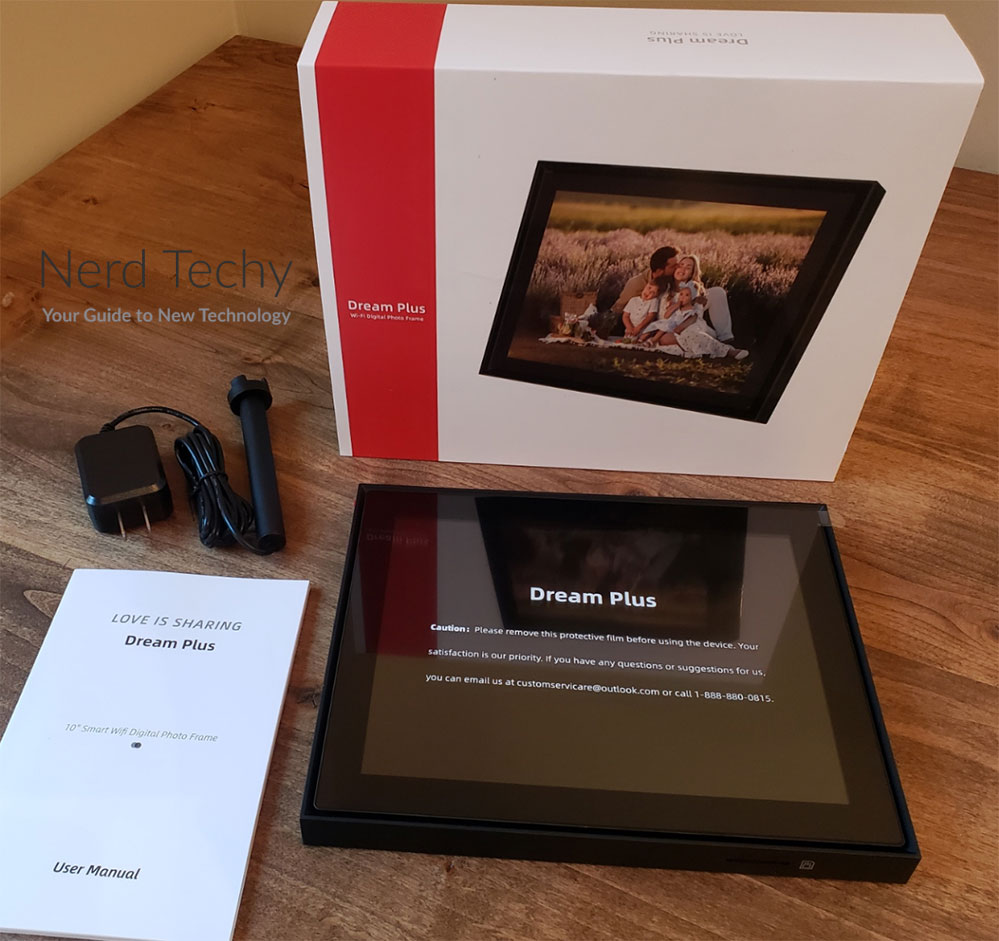 Design & Construction
The AEEZO Dream Plus Digital Frame is constructed from a durable plastic with a satin finish. This finish is both attractive and easy to clean, and it's available in black or white. The total size of the frame is 9.45 inches wide, 7.45 inches tall, and 0.79 inches thick. It weighs a total of 2.55 pounds, which is surprisingly weighty for the compact size. But even so, you're looking at a lightweight, portable frame that's easy to set up and move around.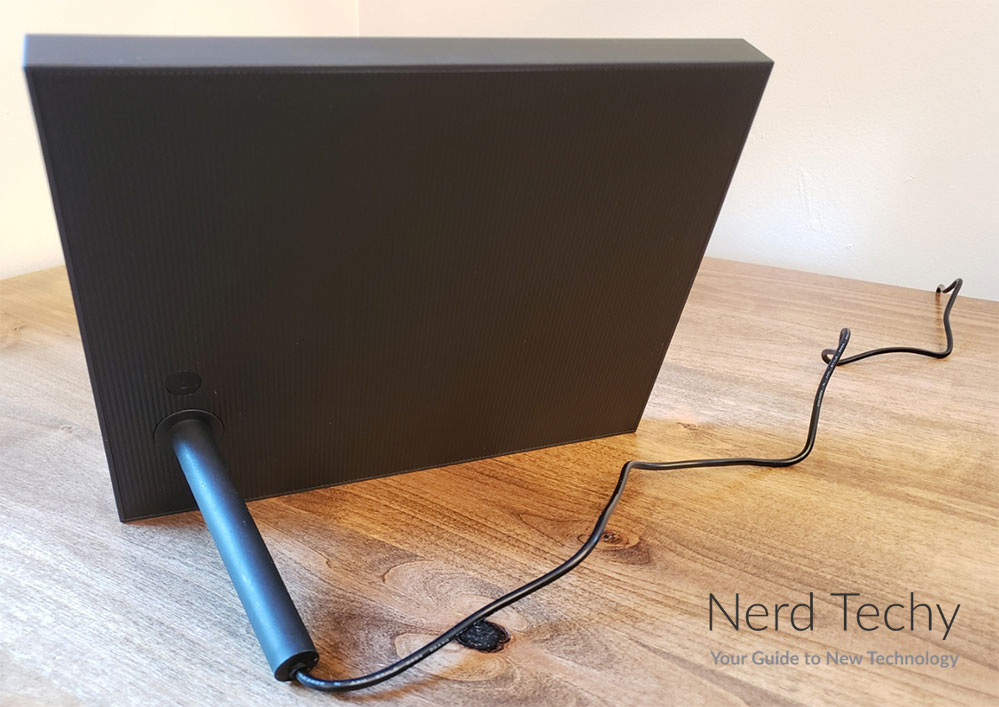 The back of the frame is textured, with ribs that run along the long axis. There's a power port at one corner, where the AC cable connects. The neat thing about the AC cable is that it's actually a hybrid kickstand/cable. The first few inches coming out of the back are fat and rigid, so it can prop up your frame.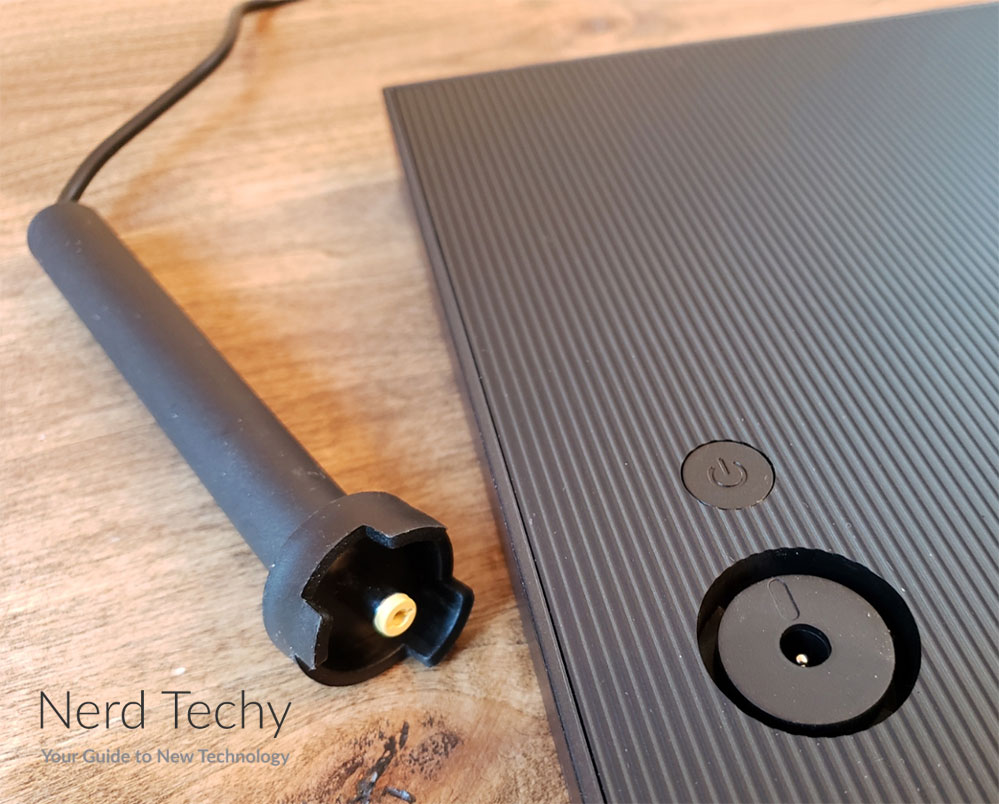 The wire comes out the back of the rigid portion, and runs to your nearest AC power outlet. This stand allows you to easily position the frame in both portrait and landscape modes. Unfortunately, because of the design, it also can't be wall mounted. This frame is only suitable for use on a table, nightstand, or another flat surface. The only other meaningful physical feature is an SD card slot in the side of the frame.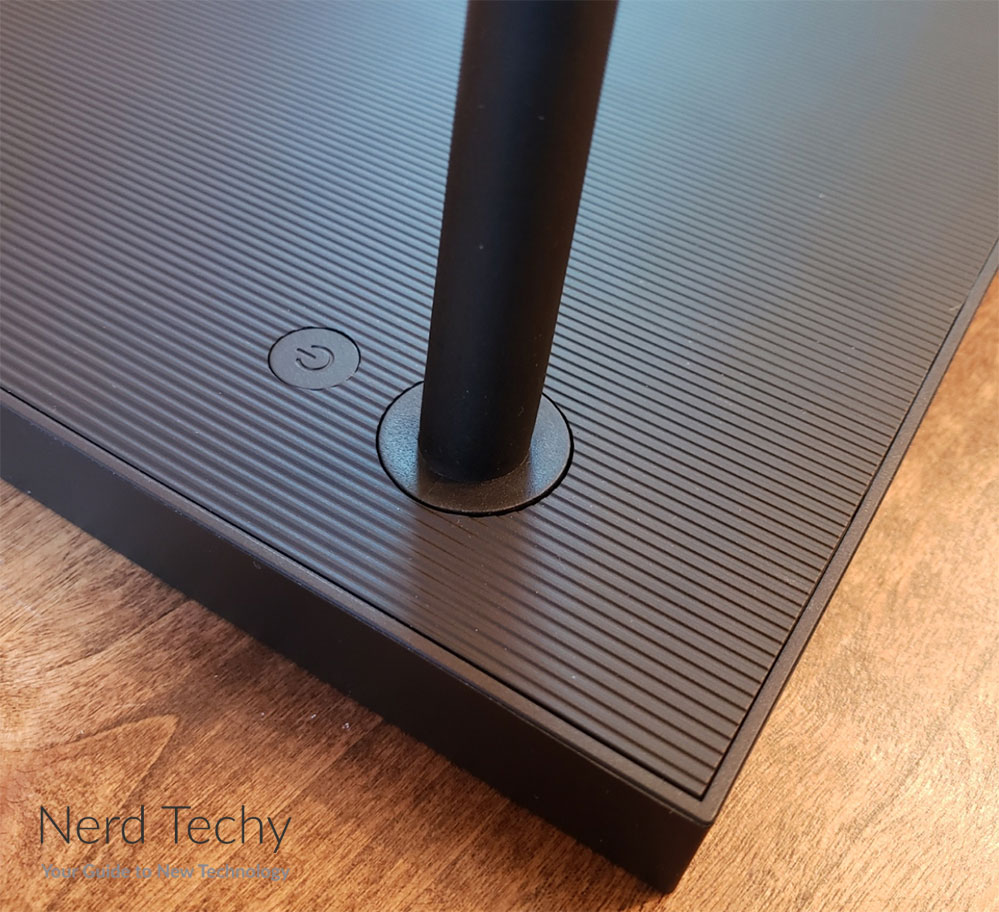 If you need a wall-mounted picture frame, check out the AEEZO 9-Inch Digital Frame. This is an attractive 9-inch frame that can be wall-mounted or put on a tabletop. It's also very affordable, although the automated cropping feature is a little bit quirky.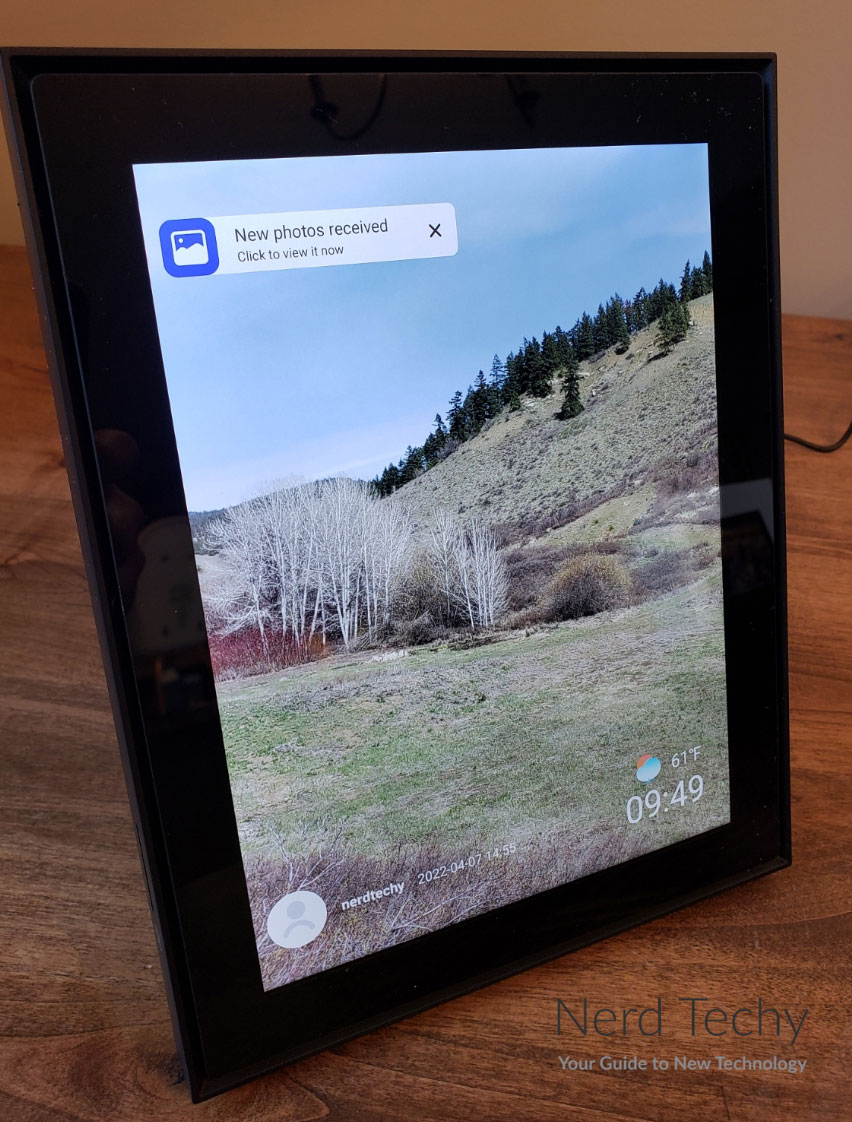 The display itself measures 10 inches on the diagonal. This is about the size of a large photo print, and it's a common frame size for physical photos. As a result, it will look right at place among other, ordinary picture frames. Not only that, but the display is a touchscreen. This allows you to interact with the frame without the need for any external apps, or even any buttons.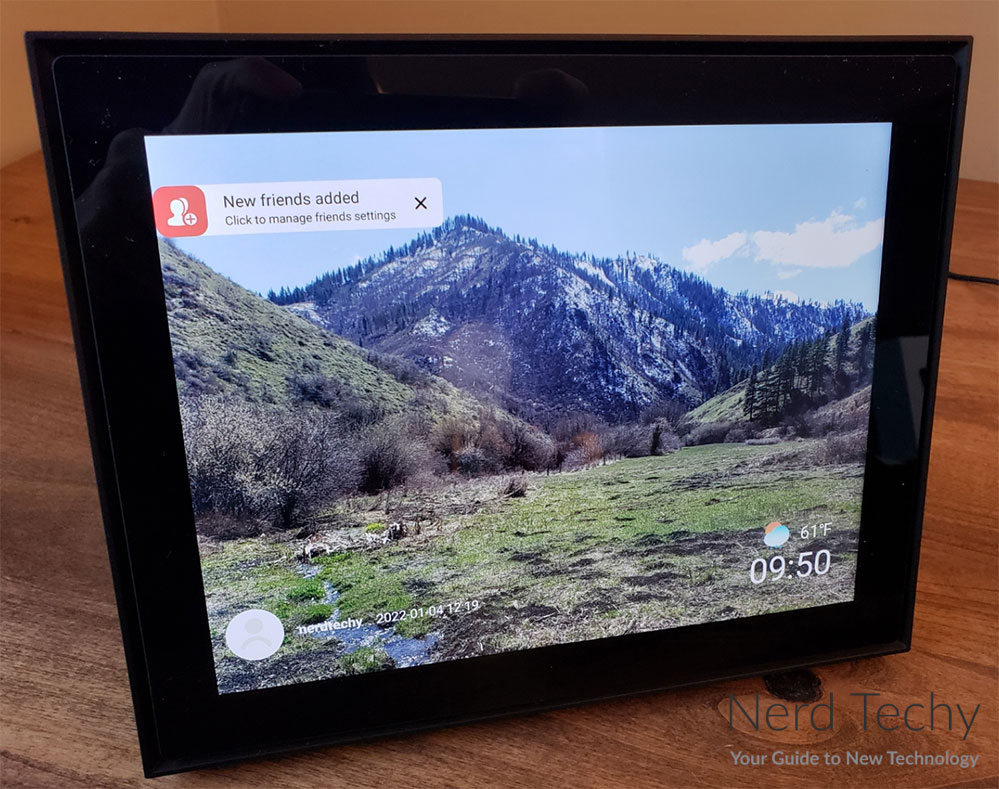 The touchscreen offers a number of useful functions. To begin with, you can browse all the photos that are stored on the frame. You can set individual photos as favorites, hide pictures you don't like, and even delete them altogether. You can adjust the photo interval during slideshow mode, or even pause the slideshow on a single photo. In addition, you can adjust the brightness, which is useful for different lighting conditions. You can even activate sleep mode, where the display turns off after a set period of time. That way, you don't waste energy running a picture frame that nobody's using at the moment.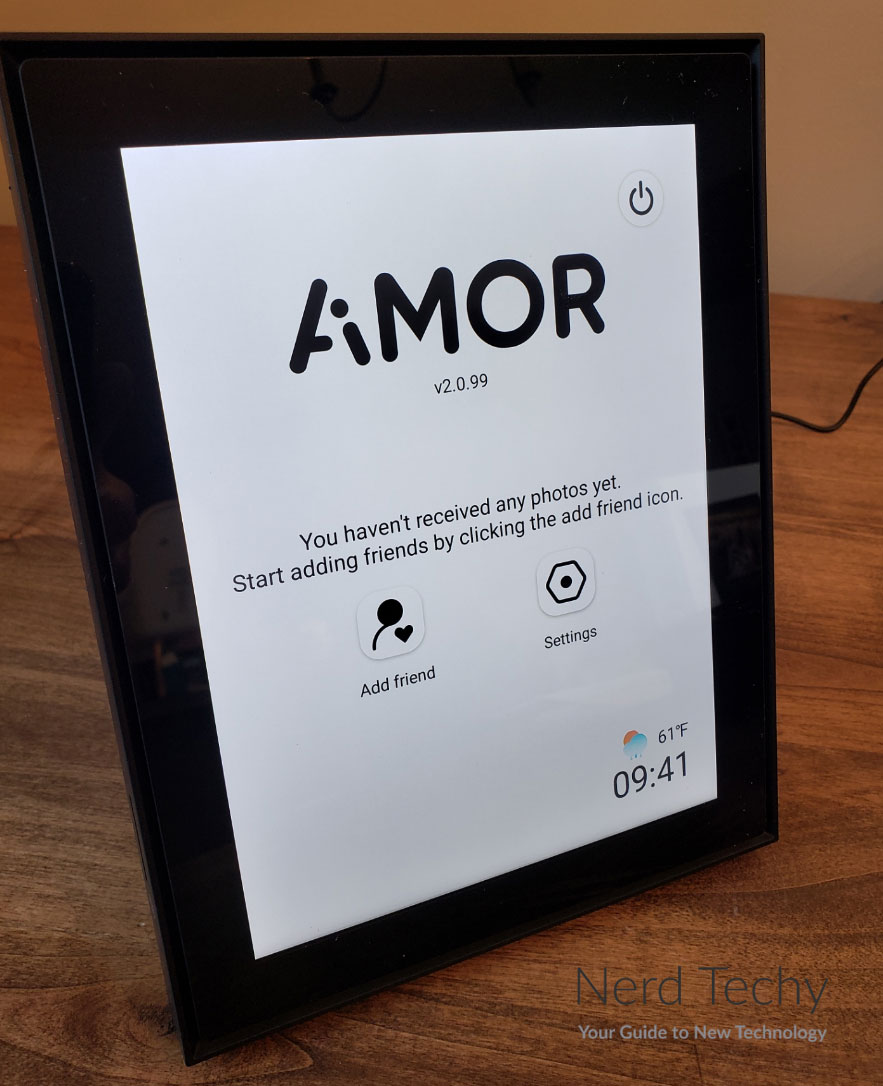 Connectivity & Storage
The AEEZO 10-inch 2K frame utilizes the AiMOR photo sharing platform, one of the most popular on the market. The platform is free to use, but you'll need an app in order to interface with it. To get started, download the app from Google Play or the Apple Store and install it. Once that's done, you'll be ready to pair your phone with your frame.
First, connect your frame to your WiFi, and follow the instructions to get your frame's code. Punch the code into the app, and you'll be paired and ready to share. After that, you can share photos from anywhere in the world. You can also pair multiple phones with the same frame, so the whole family can share. There are no bandwidth limits, which means you can upload unlimited photos without penalty.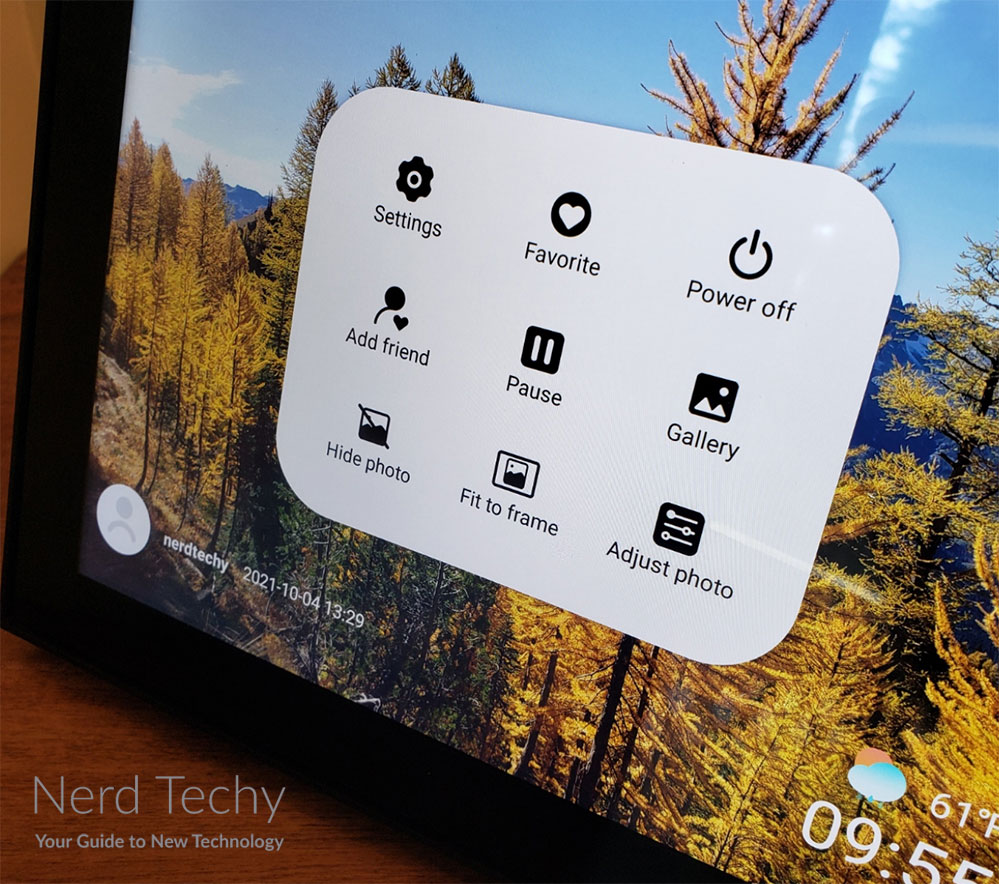 Of course, you'll need to have space on the frame to store your photos. In this regard, the AEEZO 2K frame is a bit of a mixed bag. On the one hand, you get 16GB of internal storage. AEEZO says this is enough for 30,000 pictures, but a lot depends on image quality. Even so, at the highest image qualities, you'll be able to store thousands of photos. You're unlikely to ever run out of space, unless you share an absurd number of pictures. On the other hand, only 10.7GB of space is available for storage. The other 5.3GB are taken up by the OS. This isn't a huge deal, but AEEZO doesn't mention it in their advertising. We're also befuddled as to how a picture frame OS takes up 5.3GB.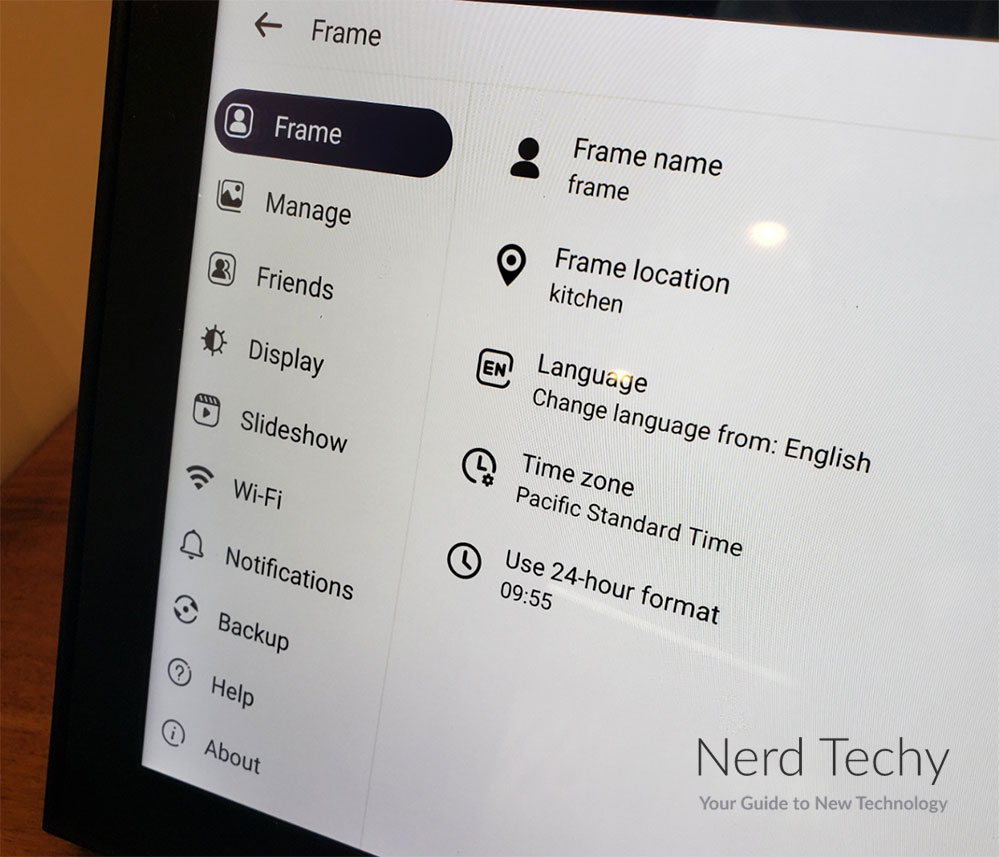 If you absolutely need a full 16GB of storage space, consider the AEEZO Smart Picture Frame. It doesn't just give you access to all 16GB of storage space. It's also expandable via both SD and USB, so you can get considerably more storage space. Then again, the image quality is not as good as today's frame.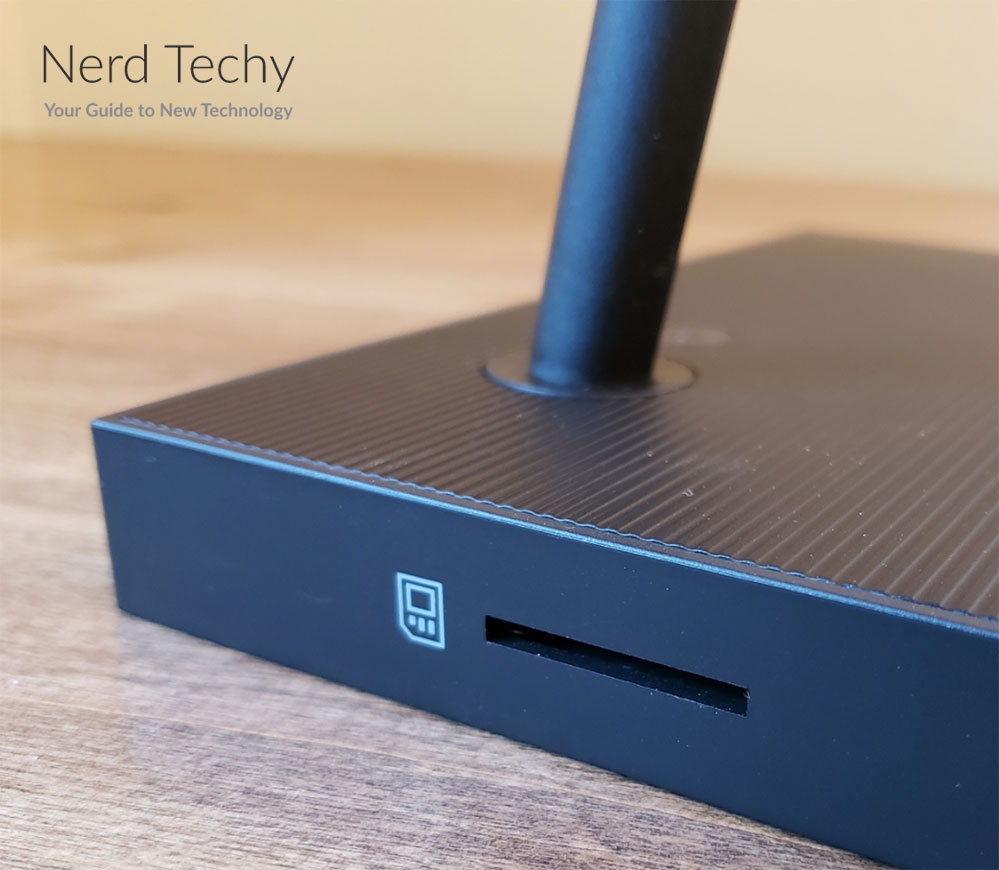 On a side note, the AEEZO 2K frame can also be expanded with an SD card, albeit not with USB. It accepts a full-sized SD card (not micro), with a capacity of up to 32GB. Another thing to note is that this frame can also store and play back video files. These aren't full length videos. With a maximum of 15 seconds, we're talking TikTok-length or shorter. But you can send a quick hello, or check in from your favorite vacation destination.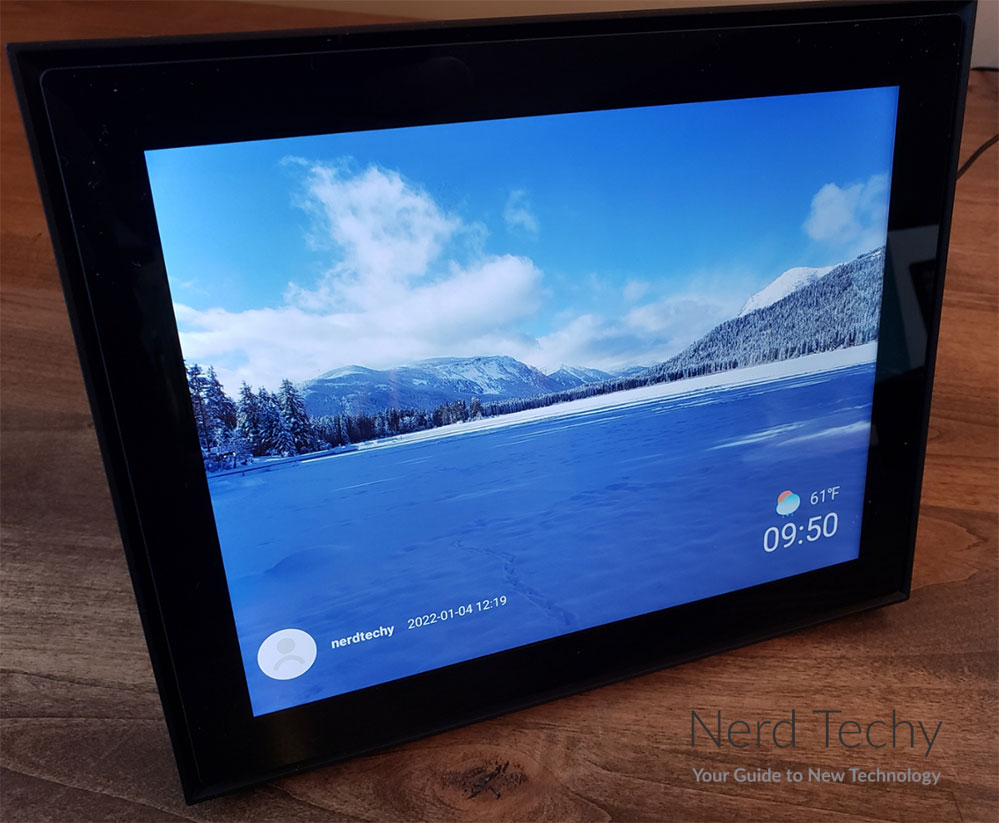 Image Quality
The screen on the AEEZO Dream Plus has a resolution of 2K, or 2,048 x 1,536 pixels. This is roughly twice the total number of pixels as 1080p, for much clearer, sharper images. To be fair, anything over 1080p is a bit controversial at this size. Because of the tiny size of the individual pixels, most people can't tell the difference. Then again, it's always better to have more resolution than less. Best case scenario, you have a little bit crisper picture. In the worst case, you're still getting a beautiful picture.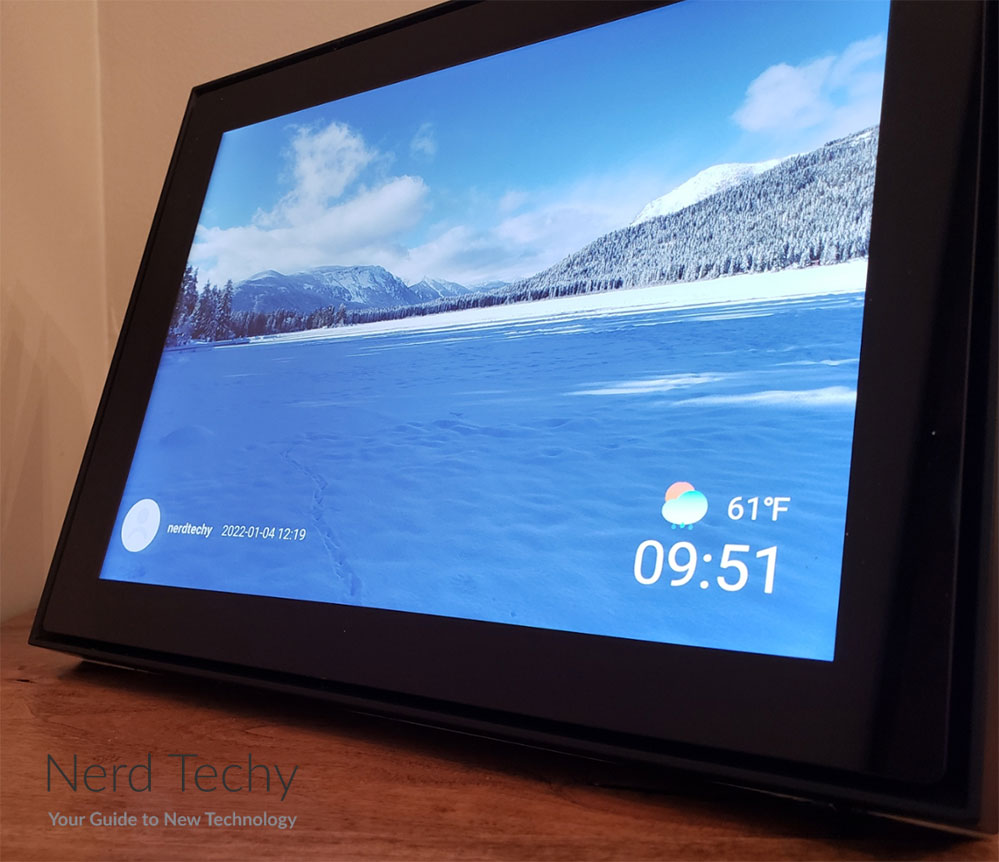 To go along with this, the screen is actually an IPS display. This technology is designed for optimal viewing at any angle. With older screen technologies, colors became faded and distorted when viewed at an angle. This screen can be viewed head on, or as much as 89 degrees to either side. In other words, it looks a lot like a real picture.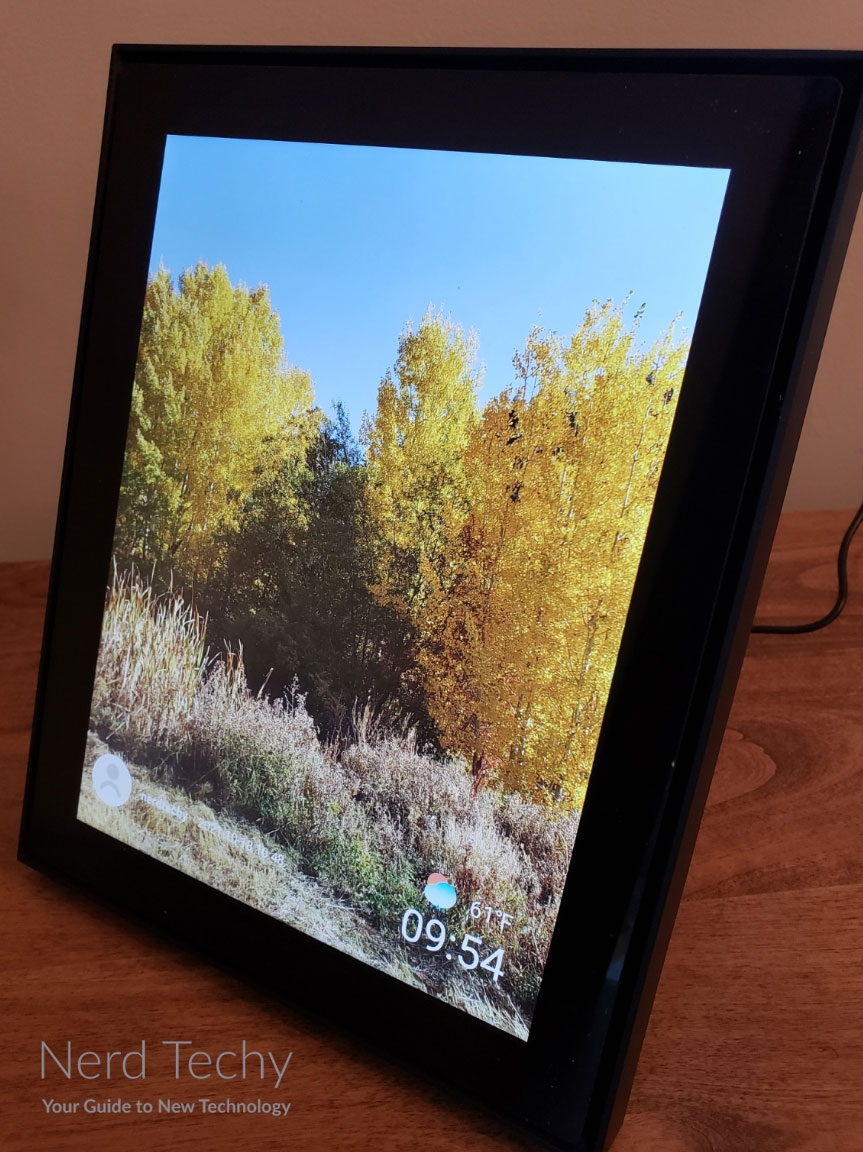 In addition, your photos will automatically be formatted to fit the screen. A portrait photo will display normally in portrait mode. The same is true for landscape photos in landscape mode. When the format doesn't match, the blank space will be filled with a matching-colored blur. If you prefer, you can also switch the settings to cropping mode. This will avoid any blur effect, which many people prefer. On the other hand, the cropping is automated, so it could look awkward, depending on the photo.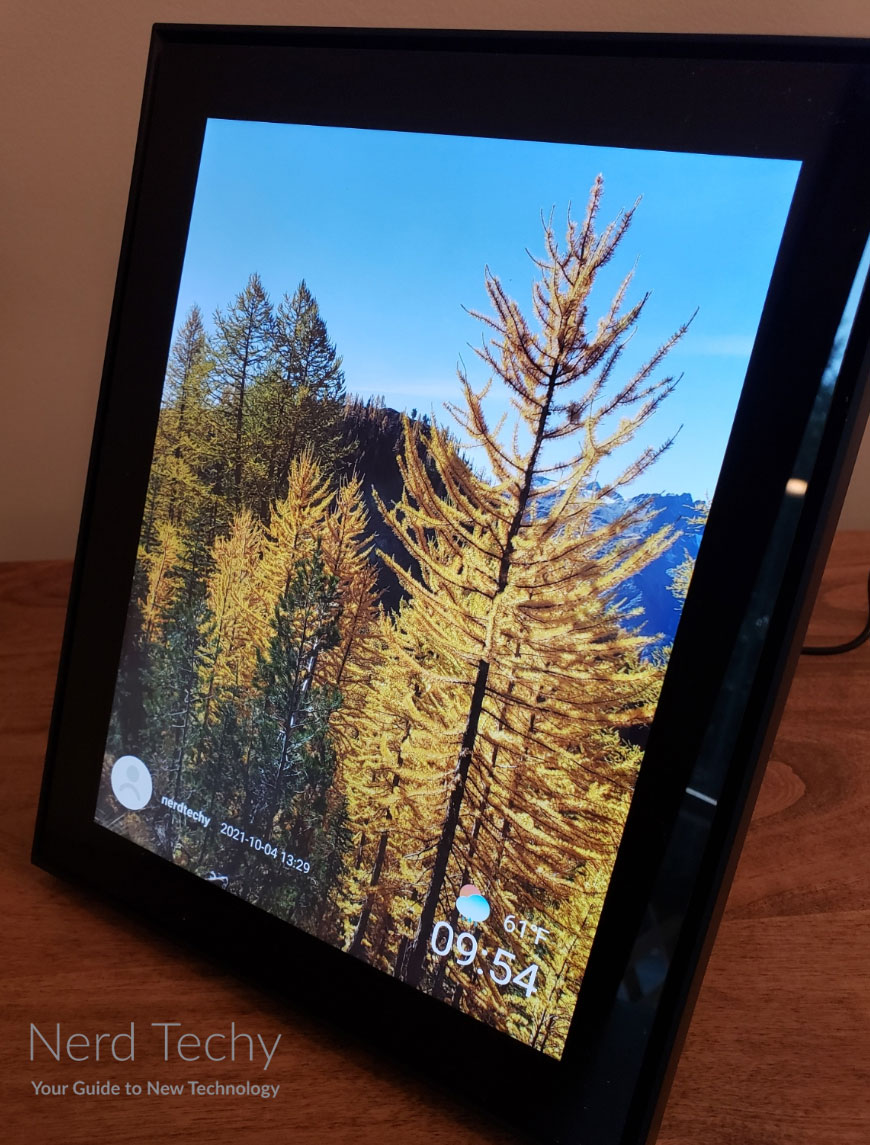 Beyond the display, this frame also has a pair of built-in speakers. These can be used to play music with your slideshow, or hear the audio from your videos. The speakers are pretty small, and they don't put out a ton of sound. But the sound they do put out is reasonably good quality. You don't have to deal with any distortion, crackling, popping, or tinniness.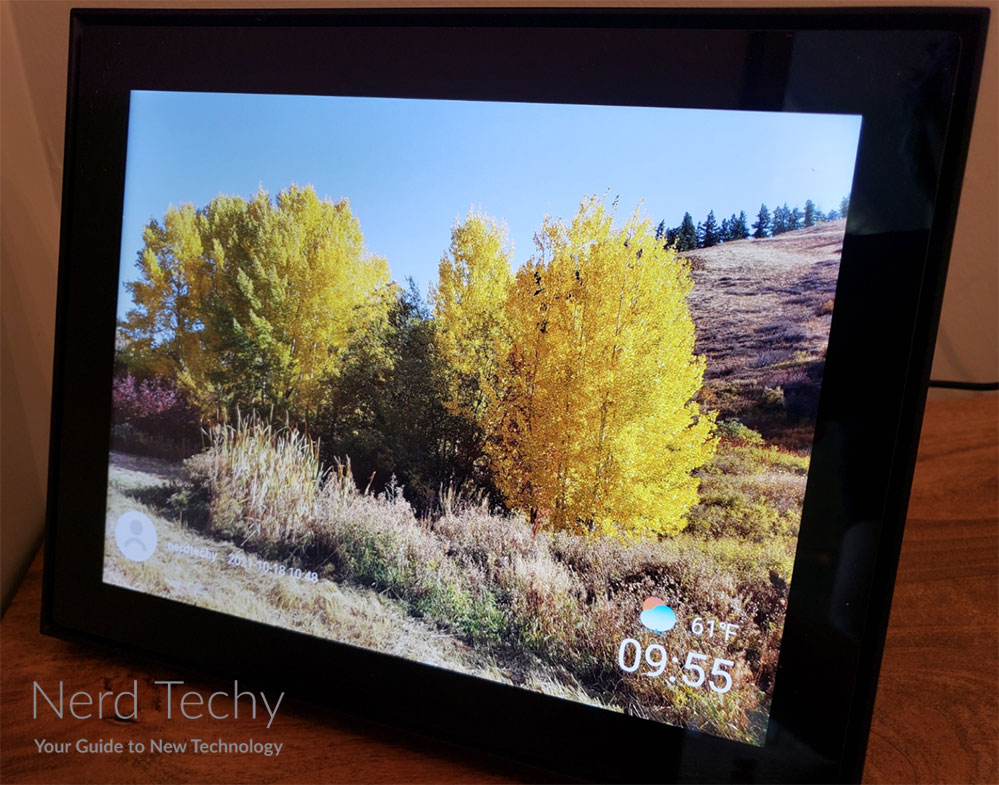 If this frame isn't exactly what you're looking for, there are plenty of other options. The Aura Frames Smith is an excellent example. It has a similar gorgeous display, along with an attractive, worked metal frame. It also comes with free cloud storage for your photos. On the other hand, the setup and privacy functions are a bit awkward.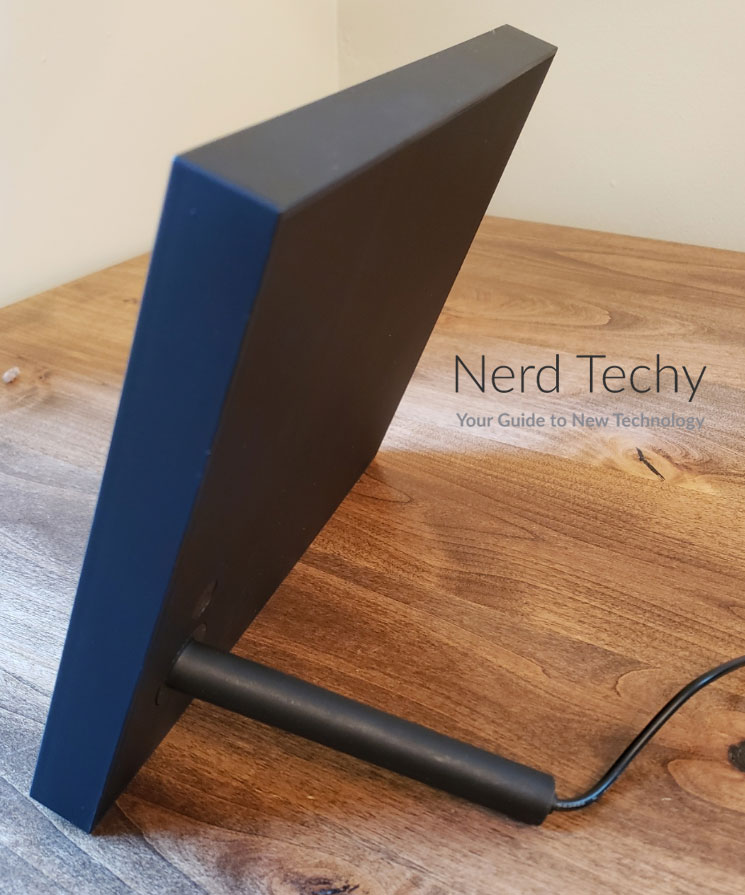 Final Verdict
So, is the AEEZO Dream Plus, 10-inch 2K WiFi Digital Picture Frame worth the investment? For the most part, yes! For one thing, you get a beautiful 2K display with rich colors and crisp images. You get a well thought-out design, with a hybrid kickstand/power cord. The app is effective and easy to use, and you can upload to the same frame from multiple phones. And with video as well as image support, you can share all your favorite moments.