Projectors are one of those technologies that never die. For many years, they were the only way to watch movies at home. But reel-to-reel film is clunky, and you needed somewhere to store it. VHS tapes truly democratized home video, bringing the latest blockbusters to everyone's living room. Projectors quickly went the way of the dinosaur.
And then a funny thing happened. As VHS gave way to DVD, which gave way to Blu-Ray, digital projectors gained a foothold in the office market. And with advances in technology, they've now come back into our living rooms. With a digital projector, you can use your Blu-Ray player or even a streaming service. At the same time, you'll retain the fun, old-timey appeal of a projected movie.
BenQ GV30 vs. GV11 Overview & Comparison
Today, we'll be going over the BenQ GV30 and GV11 portable projectors. BenQ has a long track record of producing high-quality projectors and monitors. But reputation alone doesn't guarantee that a product will be good. So, how do these projectors stack up? Here's a quick look:
GV30
Native Resolution: 720p
Battery Life: 150 minutes
Connectivity: HDMI, USB Type-C, WiFi, Bluetooth
Special Features: Can rotate lens upwards up to 135 degrees, Android TV preinstalled
GV11
Native Resolution: 480p
Battery Life: 160 minutes
Connectivity:HDMI, USB Type-C, WiFi, Bluetooth
Special Features: Can rotate lens upwards by 135 degrees, Android TV preinstalled
When compared to the Viewsonic M1, BenQ is a sure winner. If you compare the BenQ GV11 with the Viewsonic M1, you'll notice that the GV11's 270 degree speakers offer a better audio experience based on specs. See the chart below: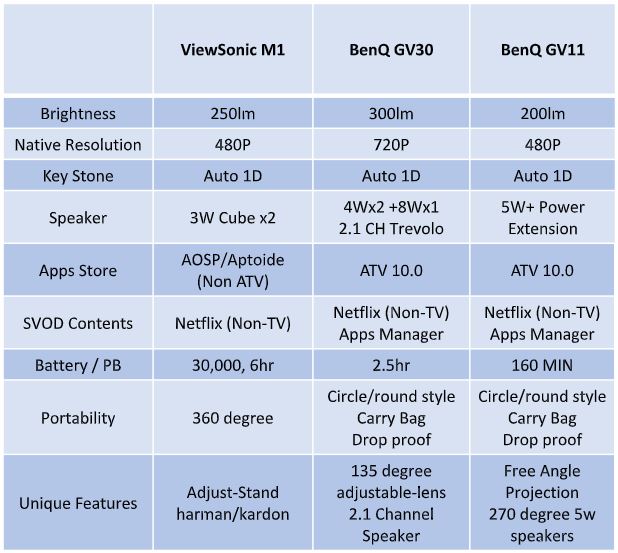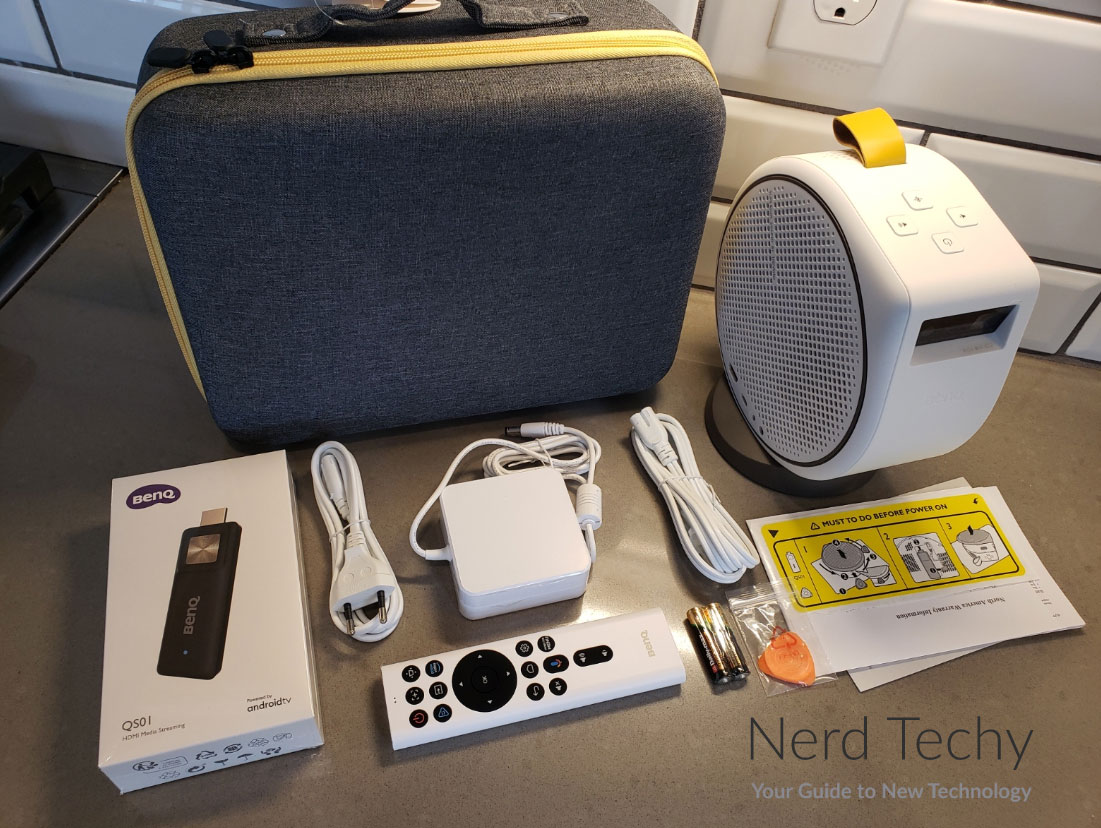 BenQ GV30 Portable Projector
The BenQ GV30 Portable Projector doesn't look like a projector at first blush. While most projectors sit horizontally, this one has a vertical orientation. It's as if someone took an ordinary projector and turned it on its side. The overall shape is circular, but the top and front are flattened where they meet, forming an angle. The lens is built into the front face of this angle.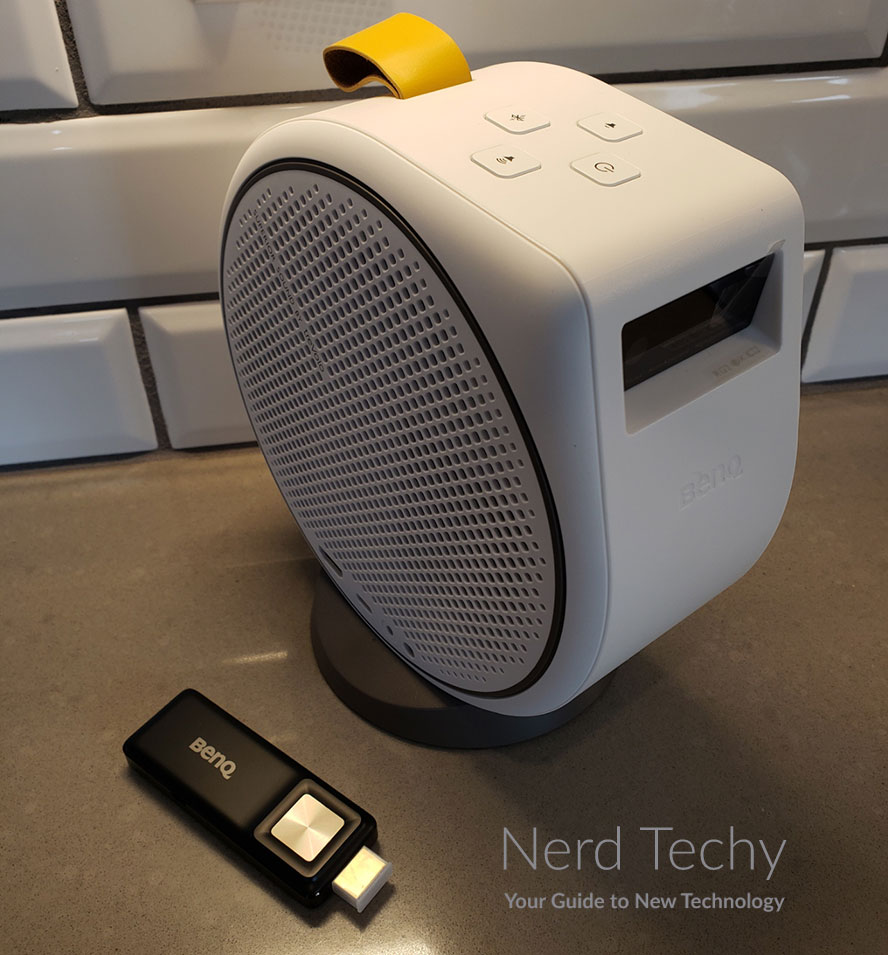 The housing is constructed from white plastic, with a smooth, matte finish that's easy to wipe clean. It measures 4.7 inches wide, 7.7 inches high, and 7.3 inches long. That's small enough for easy transport, even if you just throw it in your backpack. And at 3.53 pounds, it's very lightweight. You'll hardly even notice you're carrying it. And if you want to carry it around by hand, there's a little leather loop built into the top. Just put your finger through it and you're ready to go.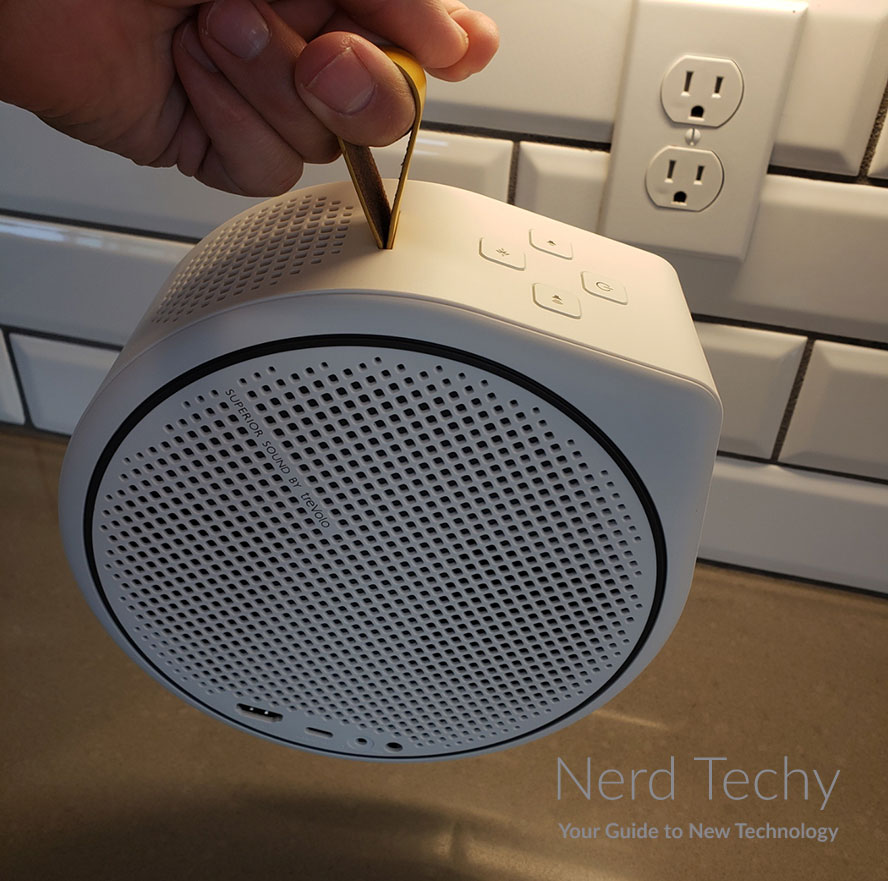 The sides of the housing are almost entirely covered by a grid of diamond-shaped holes. These are the speaker covers, although the speakers themselves aren't anywhere near that large. On top of the housing, you'll find a third grid of holes, which covers the woofer.
The GV30 comes with a little grey base with a cutout in the middle. This is where its curved design comes in handy. You can rotate the housing up to 45 degrees in a vertical direction. This is great for projecting on angled ceilings, or on the inside of a tent. On a tabletop, you just point the lens forwards.
The lens housing itself is a black rectangle. You can see the lens itself at the right; to its left are the light sensor and focus sensor. One thing we appreciated about the design is that the lens is recessed. This makes it harder to burn yourself by accident. The LED itself is rated for 20,000 hours of use with normal settings. In eco mode, it's rated for 30,000 hours.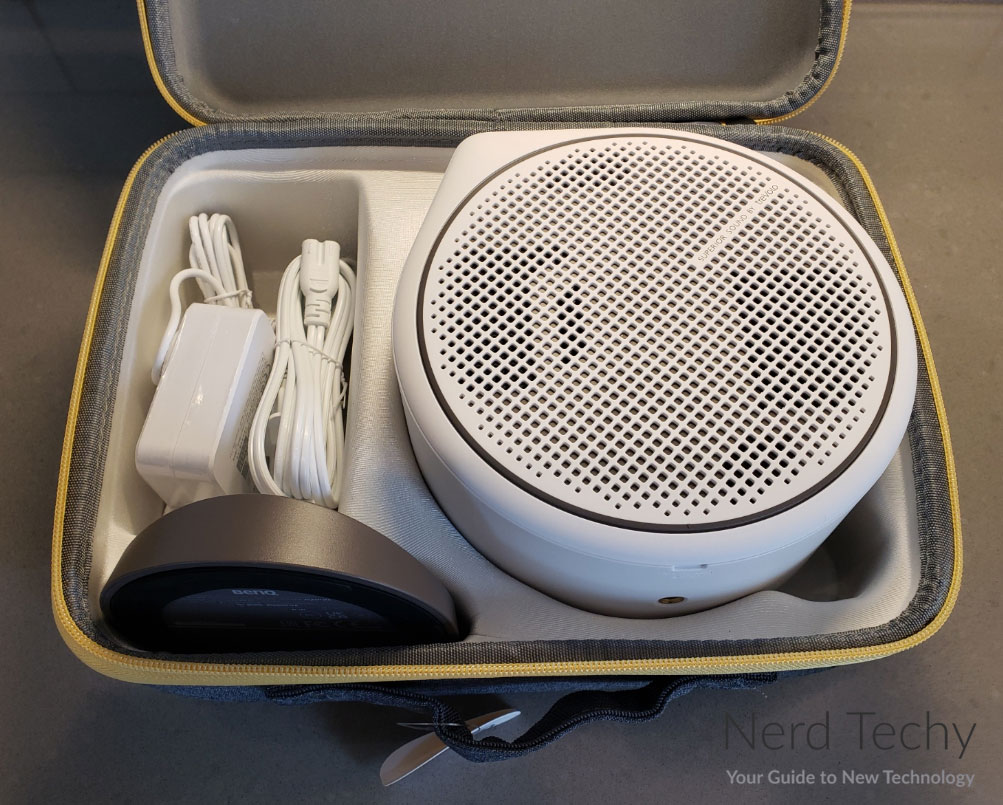 The package includes a padded carrying case, which is suitable for travel. It closes with a zipper, and has a semi-rigid design. The outside is a smooth blue-grey fabric, and the zipper is bright yellow. On top is a cloth carrying handle that's comfortable in your hand.
Controls and Connectivity
On top of the housing, you'll find a set of physical controls. These are white plastic buttons that match the rest of the housing. At the front is the power button, with a set of volume buttons behind it and to the sides. Behind them, in line with the power button, is the Bluetooth pairing button.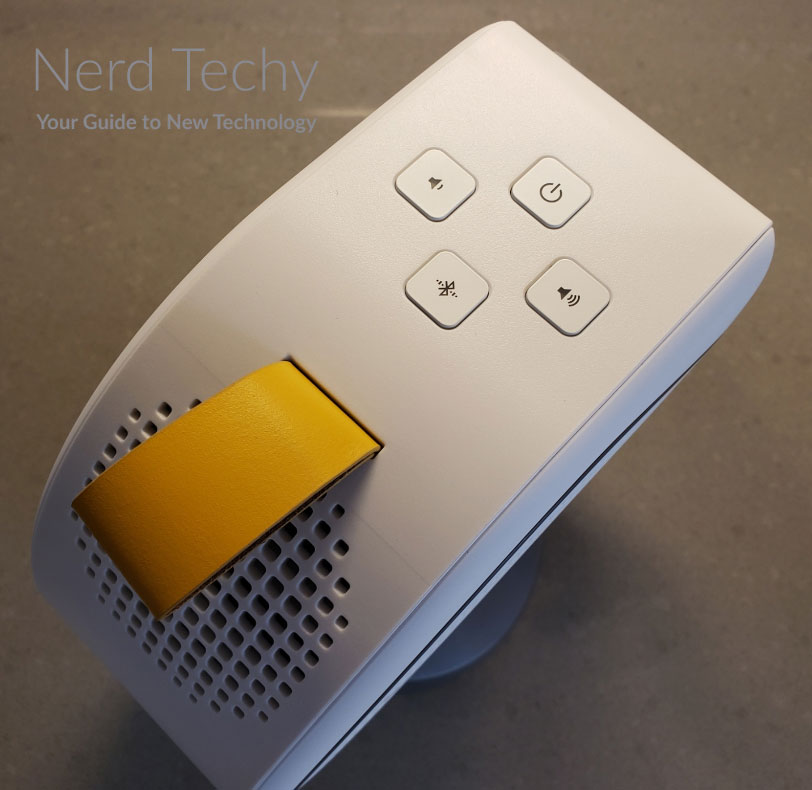 You'll also get a handheld remote. The remote gives you access to the projector menu, where you can change a number of your settings. You can change the video input. You can manually adjust the brightness. Or you can put the LED into a special "eco" mode that will adjust brightness based on the ambient light. You can change the color balance. There's also a little microphone button that allows you to use voice commands.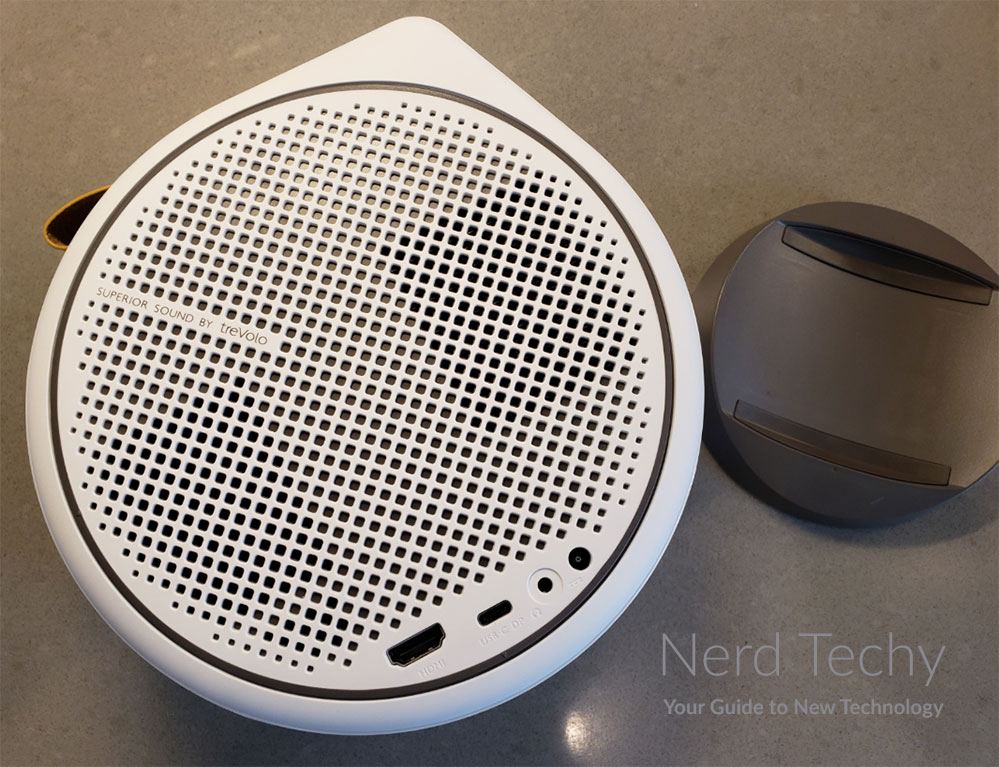 On the left side of the housing, you'll find all your wired connections. There's an HDMI cable for connecting your laptop, game console, or Blu-Ray player. Alternatively, you can connect via the USB Type-C port. There's a 3.5mm aux port, so you can plug in some headphones or a set of external speakers. Finally, there's a round DC power port for connecting the barrel-style adapter.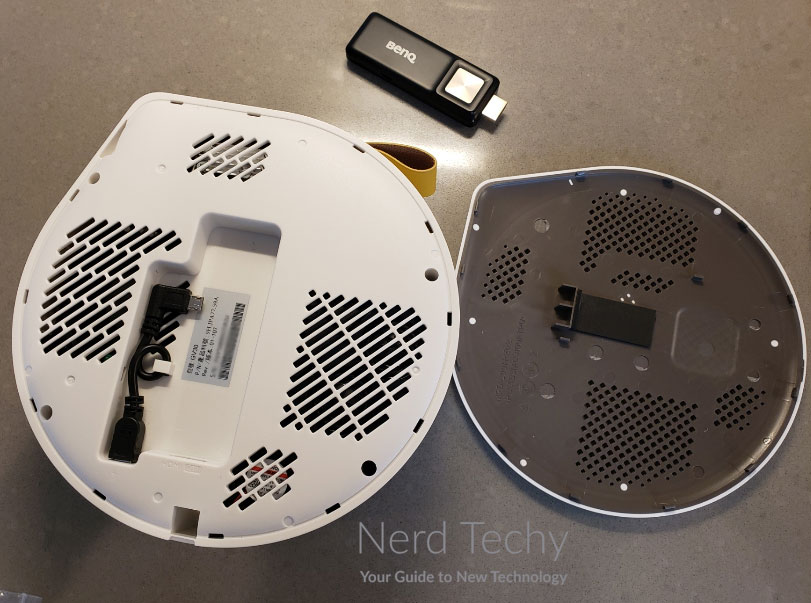 But who needs wires in the age of wireless technology? You can connect the projector to your home's WiFi network and stream to it from your phone. This allows you to use AirPlay and Chromecast to use your favorite streaming services. Connect to your preferred streaming service on your phone, then stream it directly to the GV30 and watch it on your living room wall.
If you're off-grid, you can still take advantage of some wireless technology. This projector supports Bluetooth connectivity, so you don't need WiFi to connect to your smartphone.
Video Quality
The BenQ GV30 has a native resolution of 720p. This used to be the standard for projectors, even well into the 1080p era. But nowadays, we tend to prefer projectors with 1080p resolution. Then again, most projectors aren't this small or lightweight, and you have to make some tradeoffs.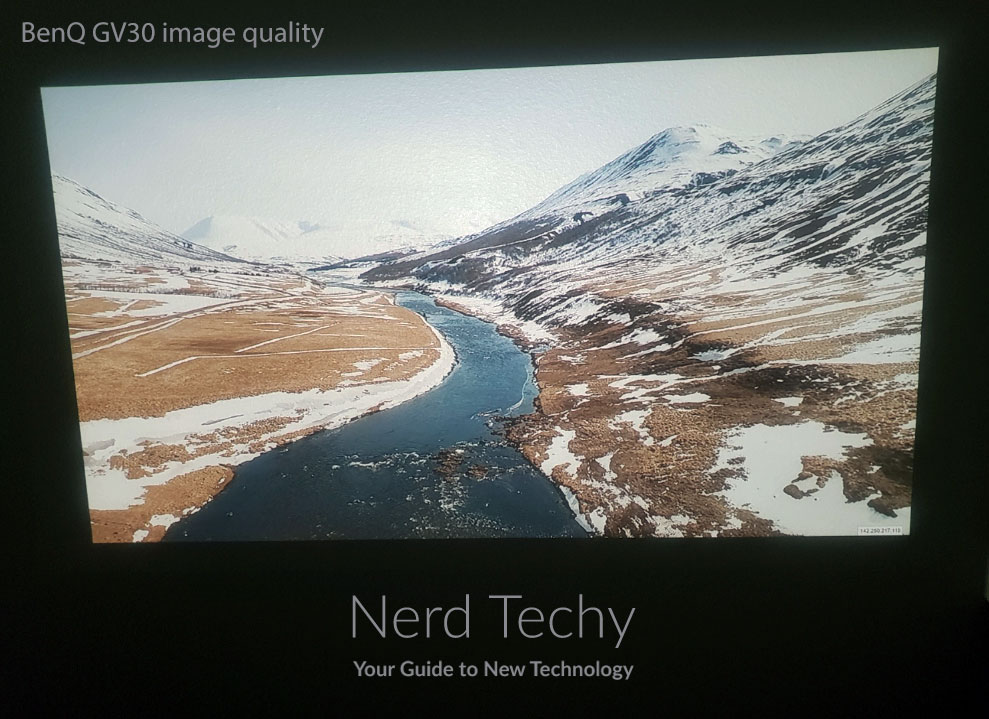 Furthermore, the projector actually mimics a 1080p display when it interfaces with other devices. As a result, you can use it with modern game systems and DVD players. It will downscale the video to 720p by itself. However, this appears to mess with the copy protection on Blu-Ray discs. So while you can watch DVDs from your Blu-Ray player, you can't watch an actual Blu-Ray.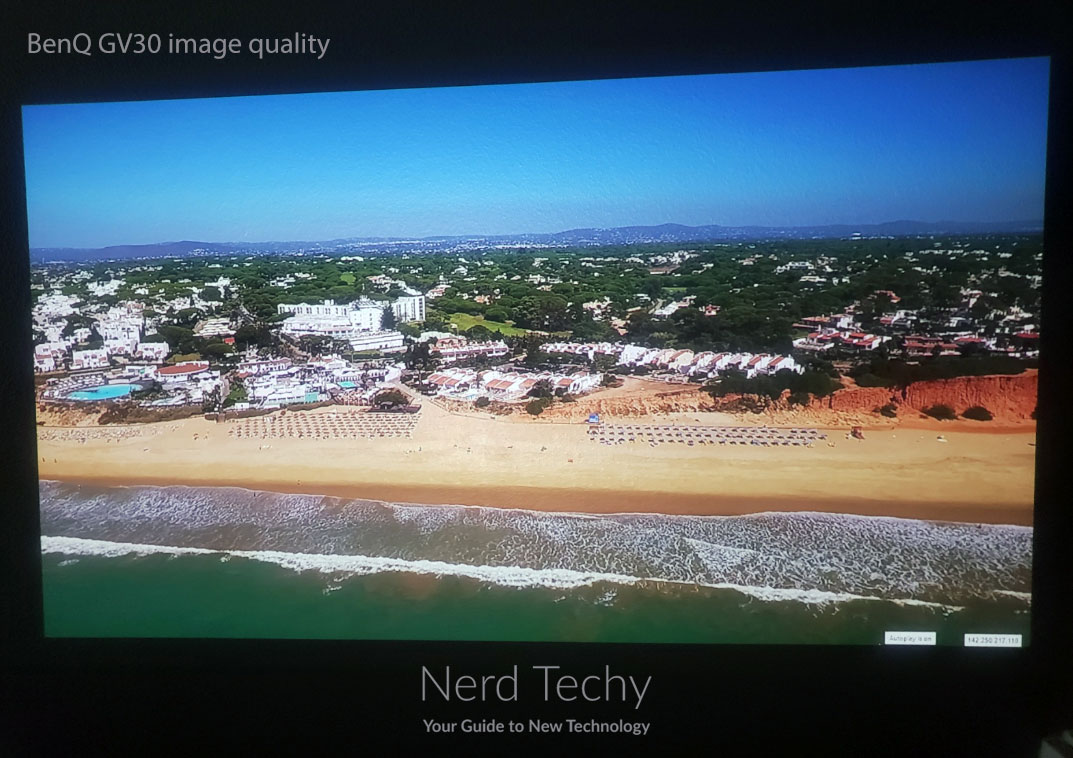 The LED outputs 300 lumens of light. This isn't incredibly bright, but brightness is a relative measurement. In a well-lit room, your video will start to fade if it's larger than 50 inches. In darkness, you can create up to a 100-inch video. That's a diagonal measurement of more than eight feet!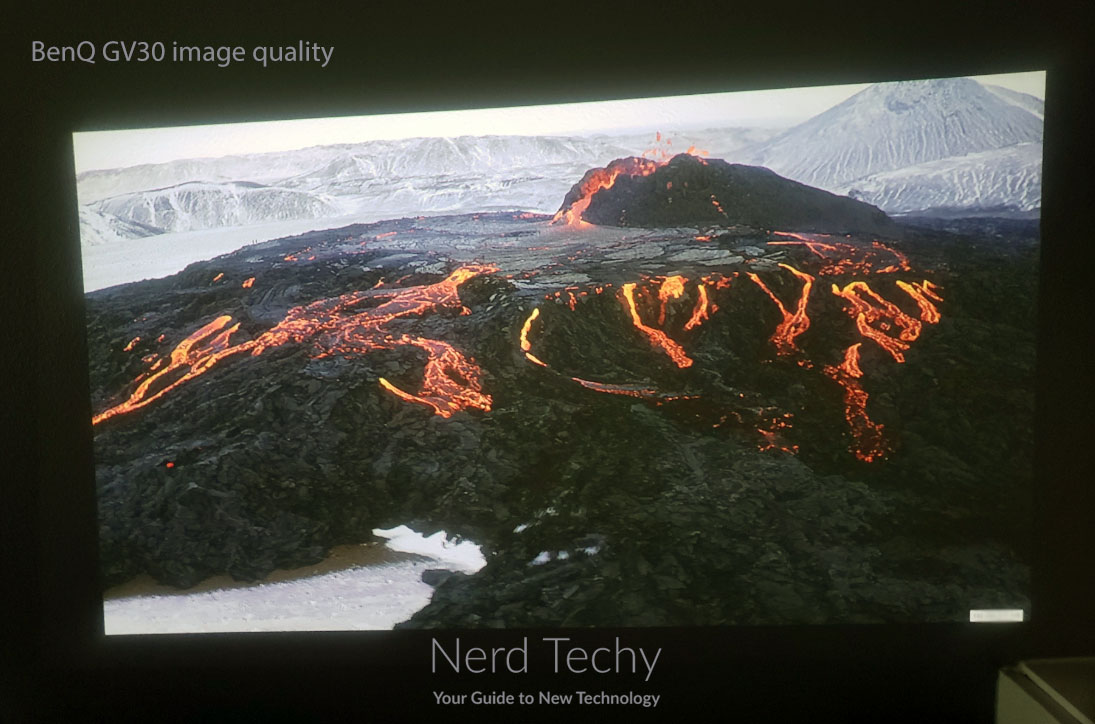 The GV30 has a contrast ratio of 100,000:1. That's the ratio of the lightest colors to the darkest colors on the screen. It's important when you're watching darker scenes, or playing games with dark, monochromatic atmospheres. Normally, we look for a contrast ratio of at least 1,000:1. 3,000:1 is the gold standard. Anything beyond that is overkill, because your eyes can't perceive the difference. But who said there's anything wrong with overkill?
Extra Features
The BenQ GV30 comes with automatic focus and keystone adjustment. When you first power it on, the image may be skewed or blurry. Give it a few seconds, and the image will flicker, then come back adjusted and focused. If this doesn't happen automatically, you can press the button on the remote to trigger an adjustment.
The projector also comes with Android TV pre-installed. This is a stripped-down version of Chrome OS that allows you to use almost any streaming app. So if you want to watch Hulu, you don't have to stream it from your phone and drain your battery.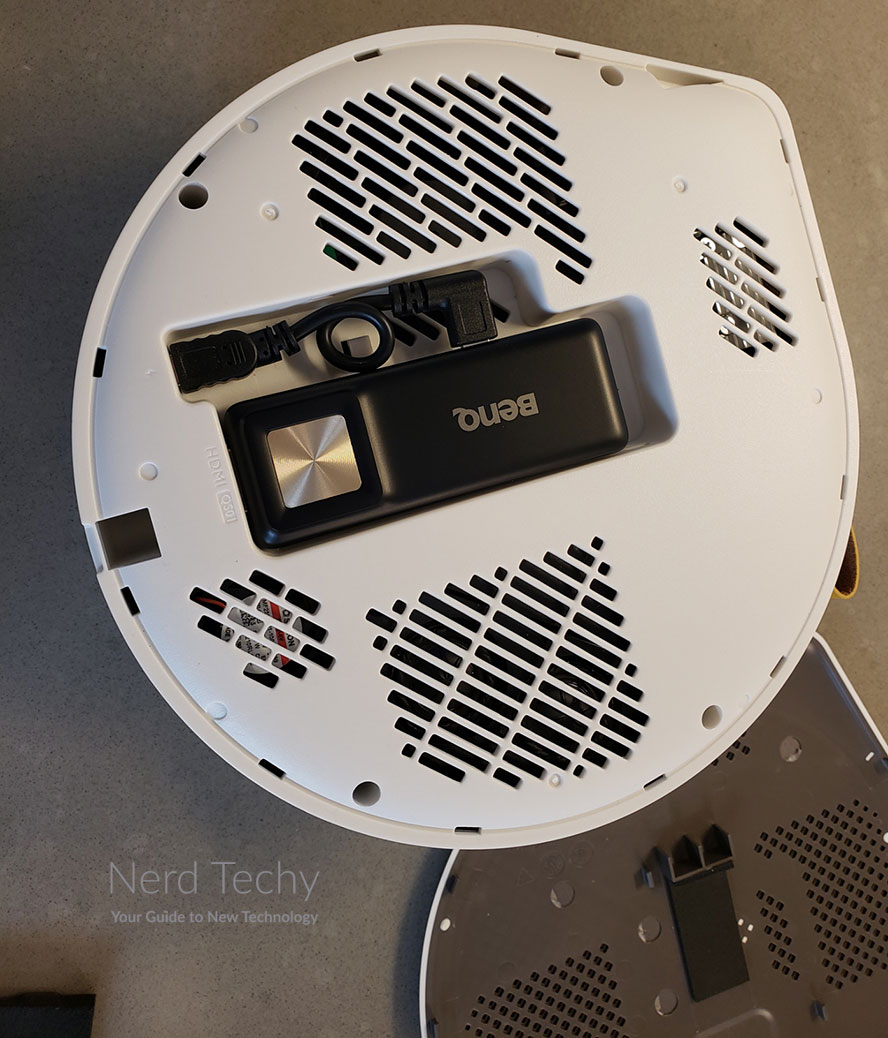 Speaking of batteries, the GV30 sports an internal battery with enough power for 2 ½ hours of use. This assumes that you're running on eco mode, with the volume turned relatively low. You'll also need to be using a USB connection or watching YouTube. If the projector has to downscale any video, your battery life will suffer.
The speakers put out a reasonable amount of volume – plenty to fill the average living room. The stereo works well, and the woofer provides more than enough punch.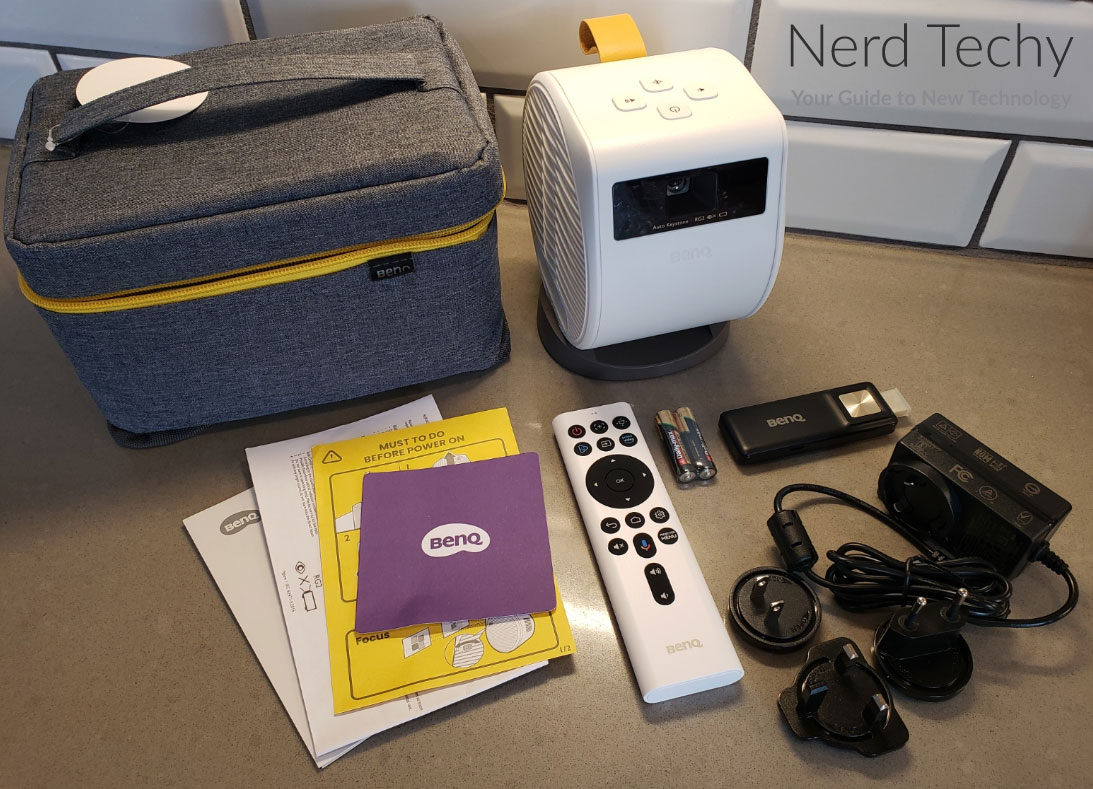 BenQ GV11 Portable Projector
The BenQ GV11 Portable Projector has a similar shape and design. It's also made from the same white plastic. However, it's a bit lighter at only 2.14 pounds, with a smaller, 4.5 x 6.0 x 5.5-inch profile. The sides also house speakers, but the grating consists of horizontal slats instead of holes.
You get a little grey base, where the projector can sit and rotate. However, it's designed to rotate even further than the GV30. It can point at 90 degrees straight upwards, so you can project videos on your ceiling. If you want to, you can lie on your back and watch movies while you're in bed.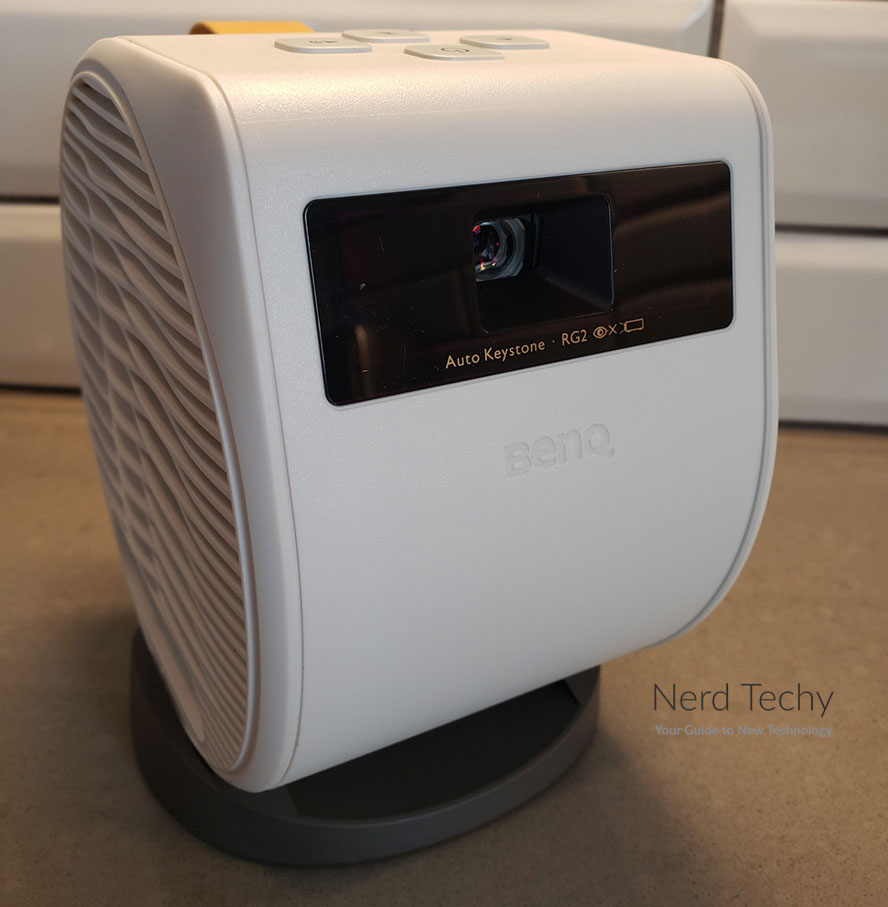 The light source is rated for 20,000 hours, or 30,000 hours in eco mode. You even get a similar carrying case to the GV30's. That way, you can keep it safe from damage when you're traveling.
Controls and Connectivity
The control scheme on the GV11 is identical to the GV30. There are power, volume, and Bluetooth buttons on top, and the rest of the controls are on the remote. You can also use the microphone button for voice commands.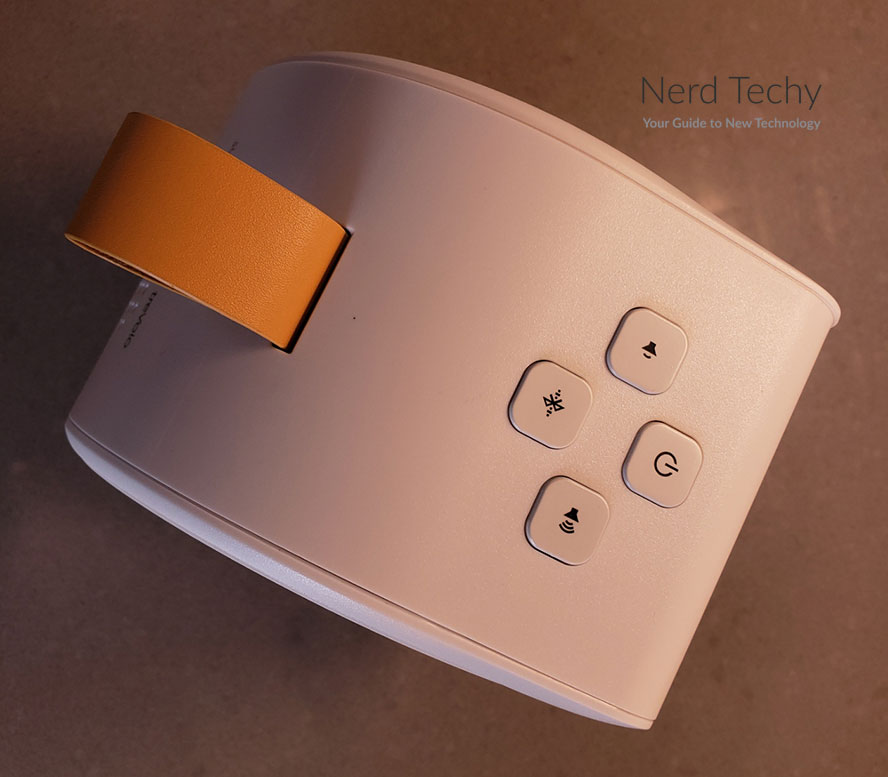 Similarly, the inputs are the same. You can connect via HDMI, USB Type-C, WiFi, or Bluetooth. You can use a 3.5mm aux cable for speakers or headphones. And when you need to plug in, the power port takes a barrel-style adapter.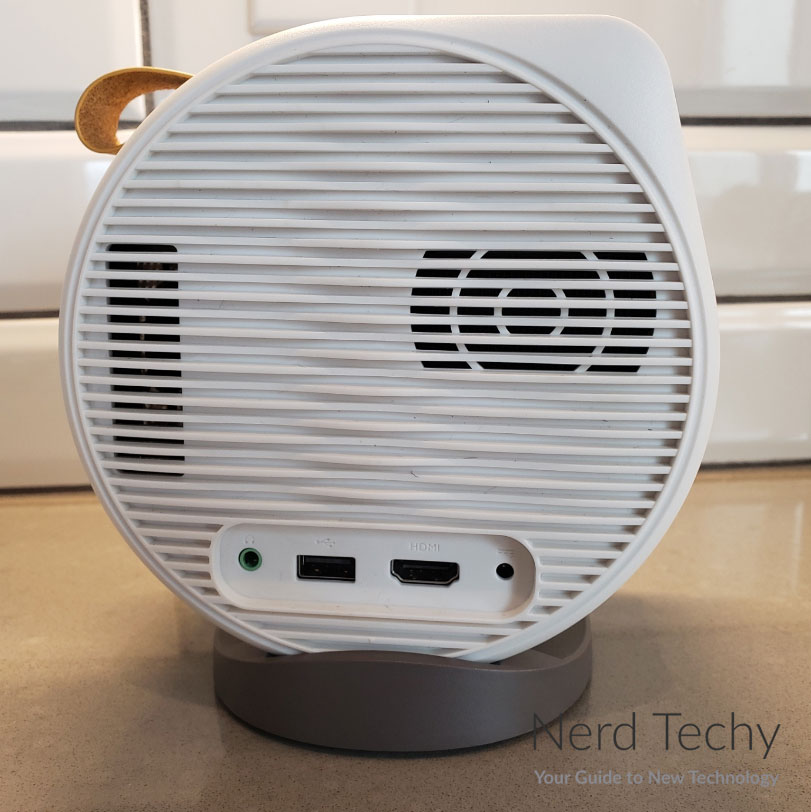 If you're primarily looking for a business projector, take a look at the BenQ EH600. It's a compact projector with a more traditional design. And it accepts inputs like VGA that you're more likely to encounter in a business environment.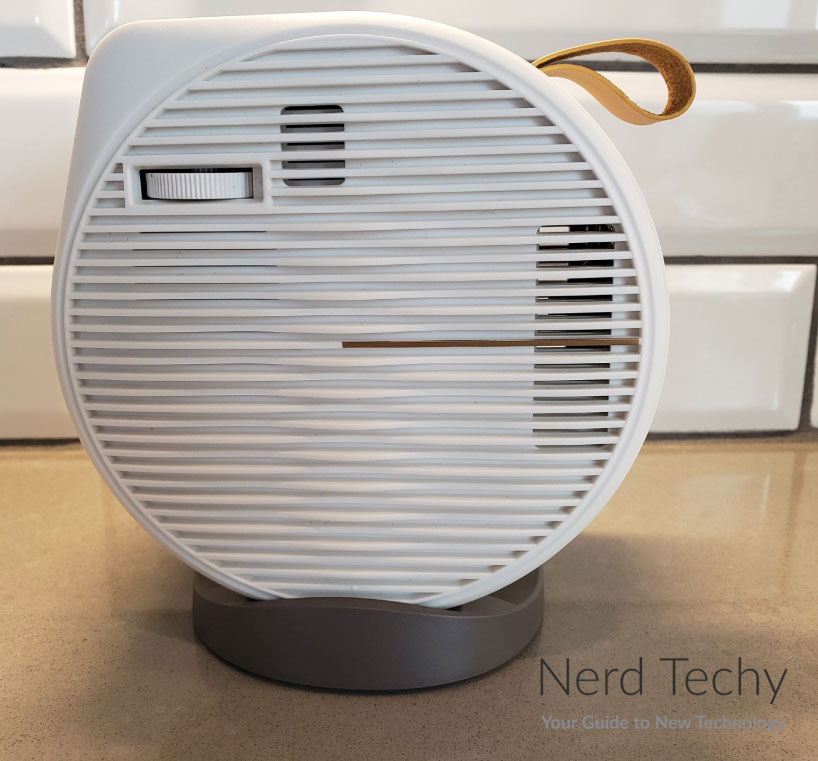 Video Quality
The BenQ GV11 has a native resolution of 480p. This is on the low end, and we're not sure why anyone would make a new projector with only 480p. That said, you can still accept up to a 1080p input. This comes with the same caveat as before; 4K Blu-Rays won't play, even with your player set to 1080p.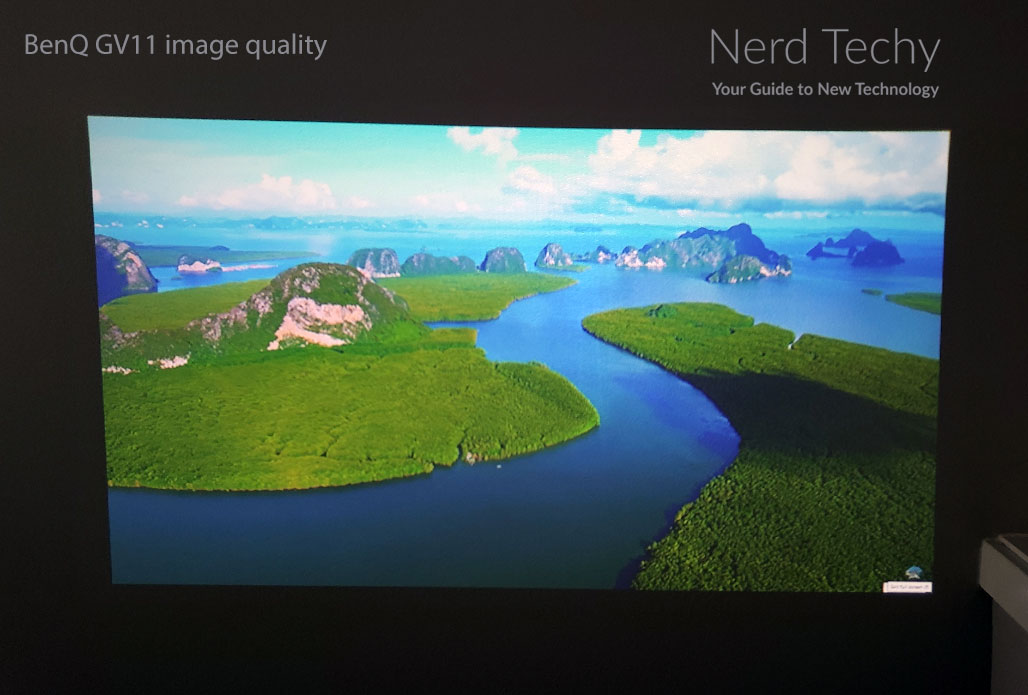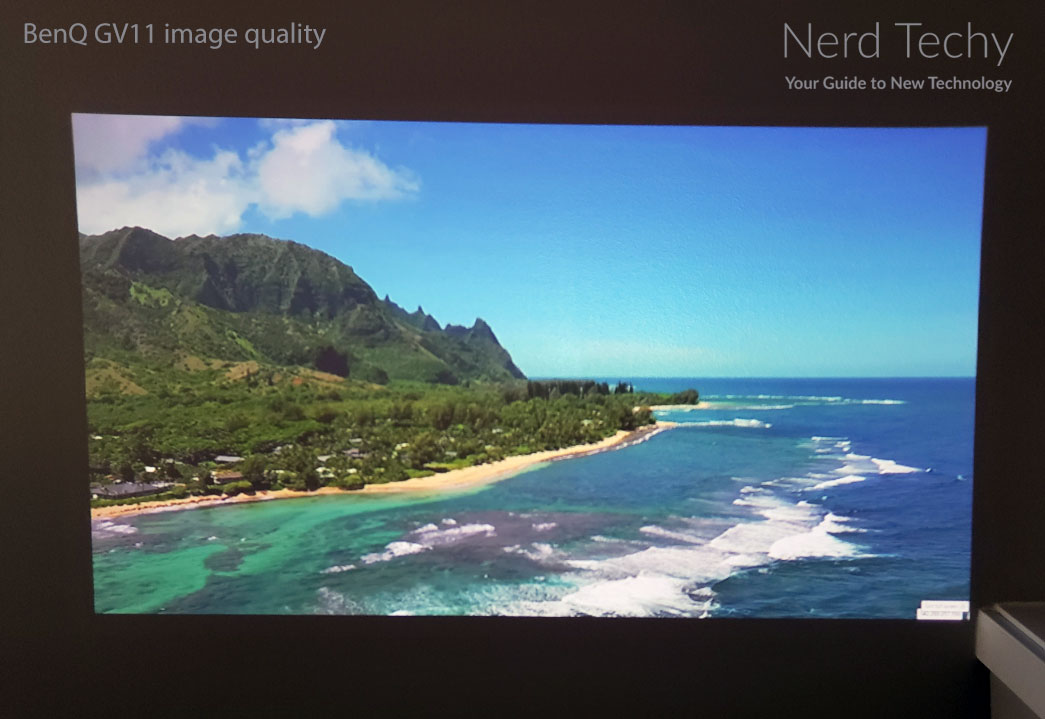 The maximum brightness of 200 lumens isn't terribly bright. If you're in a well-lit space, it won't produce a satisfying video. In a dark space, you'll get far better performance. The light will be sufficient for an 80-inch screen.
When it came to the contrast ratio, we had no complaints. At 100,000:1, dark scenes will be easy to distinguish.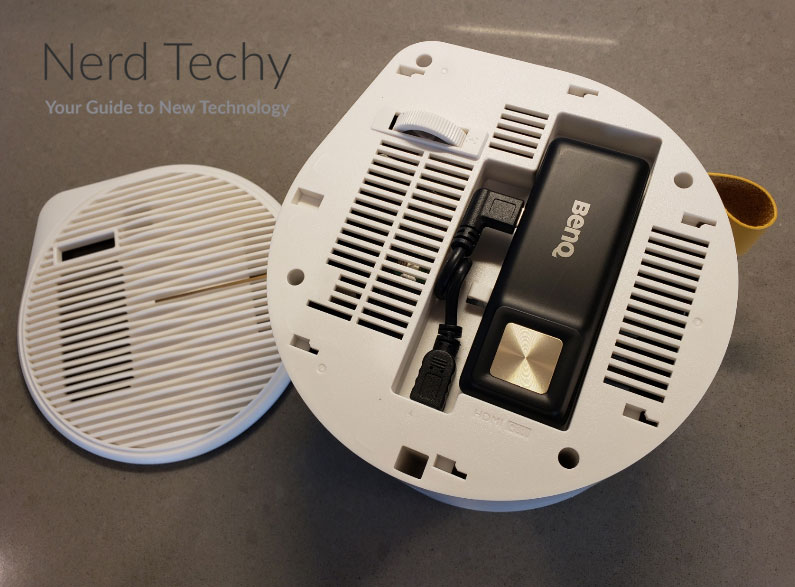 Extra Features
The GV11's 5-watt speakers are twice as powerful as the average projector speakers. They provide stereo sound in a 270-degree arc around the projector. And with the built-in subwoofer, the bass will have plenty of thump.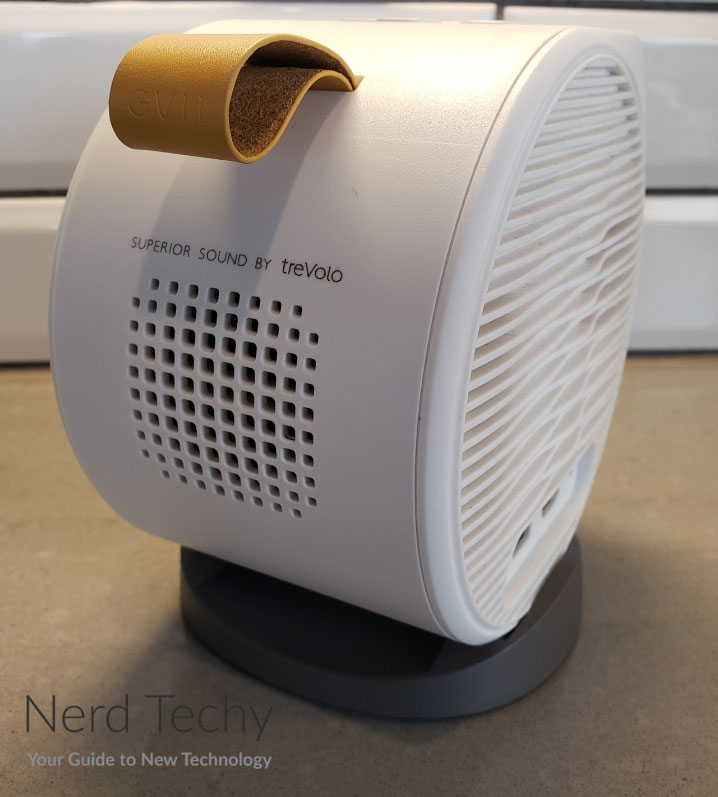 The Android TV operating system comes pre-installed. You can stream videos from Hulu, Disney+, and other services, even most obscure ones.
The battery is slightly more powerful than the GV30's, with a rating of 160 minutes. In practice, the difference isn't enough to be noticeable. You'll get just as much difference by adjusting the volume a little.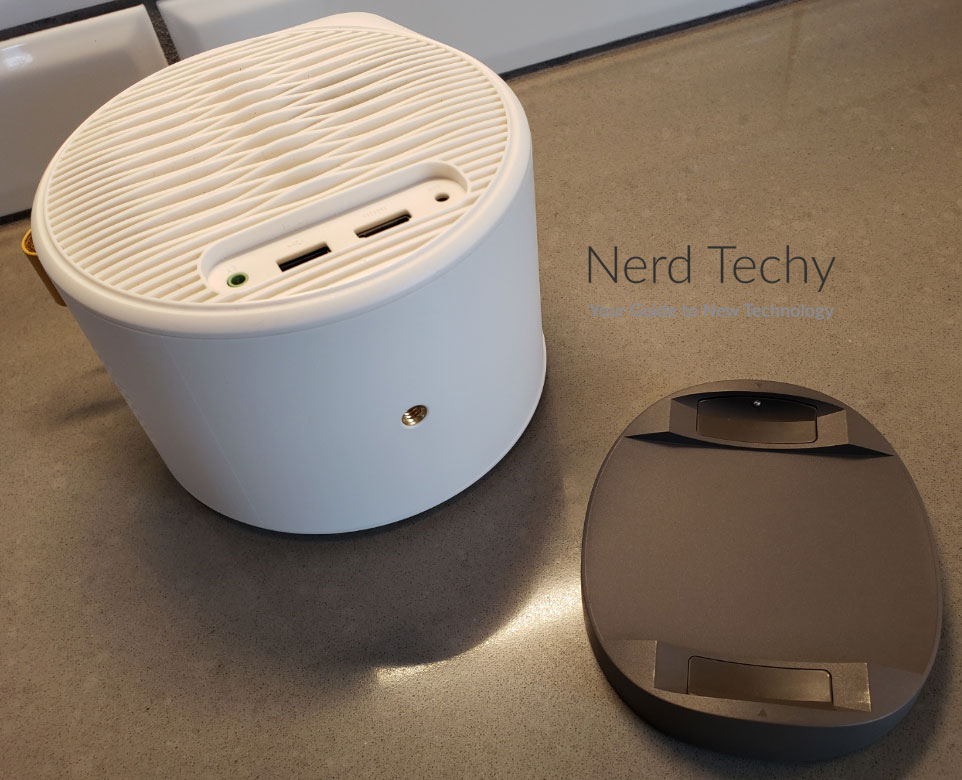 BenQ backs both of these projectors with their three-year manufacturer's warranty. That's among the best in the industry, and gives you all the protection you need should something go wrong.
Final Verdict
As you can see, the BenQ GV30 and GV11 portable projectors have a lot in common. They're both ultra-portable, and both of them have Android TV. Both have better speakers than the average projector, and both support HD video inputs.
That said, there are two major differences. First, the GV30 has a native resolution of 720p compared to the GV11's 480p resolution. Second, the GV11 is slightly smaller, but both can rotate 135-degrees to project on your ceiling. Other than that, they're nearly identical.
Overall, BenQ aims provide the easiest way to setup a mini cinema, virtually anywhere. With wide-angle projection (135″ rotation), good speakers, and all the latest streaming Apps, both the GV11 and GV30 are good picks.
If you're in the UK, follow this link to view the GV30's Amazon product page for more details.