If you haven't shopped for a robotic vacuum in a while, you're in for a surprise. To be frank, robot vacs used to be pretty dumb. They wandered around randomly, slamming into your walls and furniture until they ran out of battery. Yes, they would keep wide open floor areas free of dust. But they didn't cope well with more crowded or complex floor plans.
Modern robot vacuums have come a long way. Modern robot vacs meticulously map your home and navigate in an intelligent manner. Instead of bumping into objects, they see them and avoid them. Some even empty themselves, further reducing the time you spend dealing with your vacuum cleaner.
Note: At no extra cost to you, we may earn a commission for purchases using our links. Learn more.
Today, we're going to review three of the best self-emptying robot vacuums and mop combos for pet hair. Here's a preview:
| | Max Suction | Battery Life | Height | Special Feature |
| --- | --- | --- | --- | --- |
| Yeedi Vac 2 Pro | 3,000 Pa | 240 mins | 4.4" | Oscillating mop |
| roborock Q5+ | 2,700 Pa | 180 mins | 3.6" | Floating main brush |
| Roomba i7+ | 1,000 - 1,800 Pa | 75 mins | 3.63" | Allergen filter |
Yeedi Vac 2 Pro w/ Self Empty Station
Yeedi is well-known for their line of smart robot vacuums. For example, we recently reviewed the Yeedi Mop Station Pro. It's a powerful self-emptying mop that also has a vacuum, and we were pretty impressed. In fact, Yeedi tends to come up any time we think of the best robot vacuums.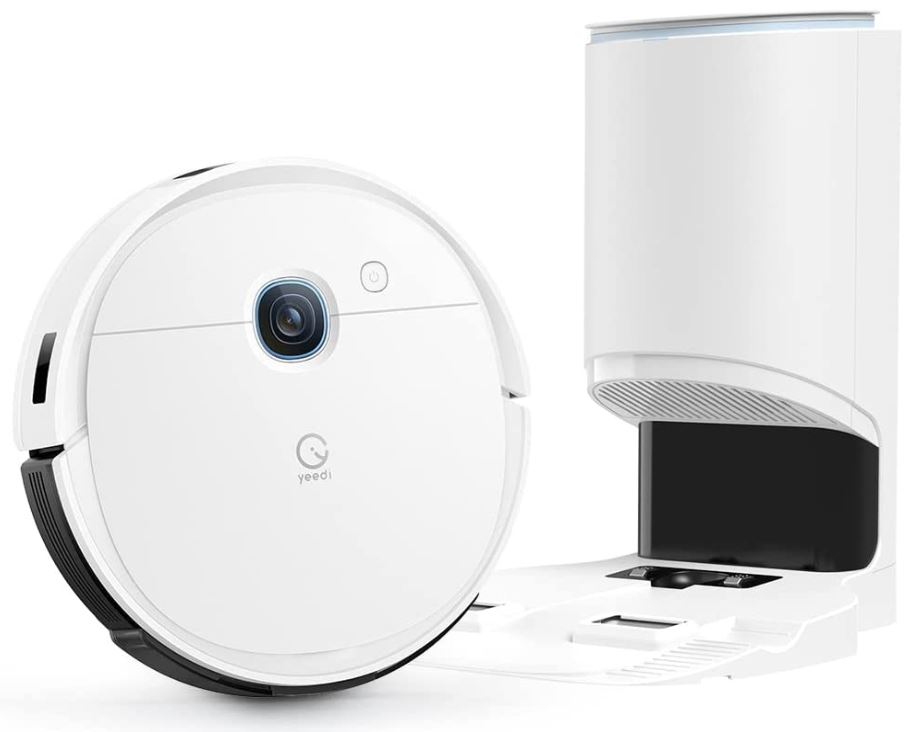 The Yeedi Vac 2 Pro is big and beefy, at 16 inches in diameter and 4.4 inches thick. On the one hand, the large diameter gives you a wider coverage area than many robot vacs. On the other hand, 4.4 inches is pretty thick. It's not going to fit under most couches, or most other furniture that sits low to the ground. The white housing has a smooth matte finish, which makes it easy to keep clean.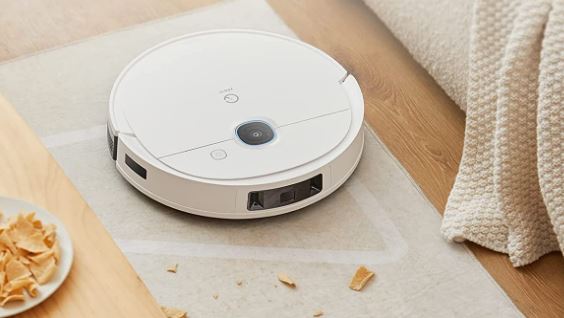 On the bottom of the housing, you'll see a set of big, fat wheels. These can cross large transitions between different types of flooring. They can also cross other obstacles, such as baby gate frames with a bottom rail. The main brush sits between the wheels, and has a classic double-helix shape. It does a good job on most surfaces, and can dig deep into thick carpets.
Behind the main roller brush is a mopping attachment with a microfiber pad. It oscillates back and forth to remove caked-on grime on your floors. When the vacuum detects that it's on a carpet, the mop will turn off to avoid wetting your carpet.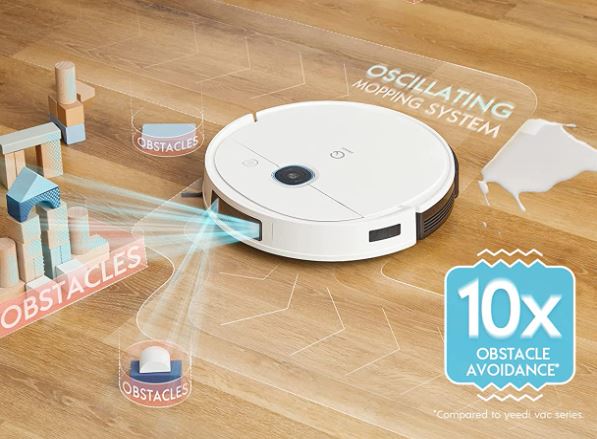 The Vac 2 Pro can work as a standalone vacuum, but it works best with the Yeedi Vac Station. This is a large base station that holds a 2.5-liter dust bag. That's enough for around a month of cleaning, depending on your usage patterns and how dirty your home is.
Yeedi backs both the Vac 2 Pro and the Vac Station with a 12-month warranty. If it fails prematurely, you'll be covered.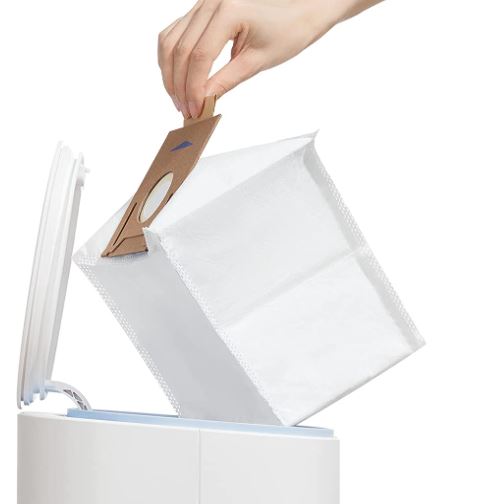 Cleaning Performance
The Yeedi Vac 2 Pro's motor provides 3,000 Pascals (Pa) of suction. That's about 10% stronger than the average robot vacuum, which draws air at 2,700Pa. You won't have any issues with deep pile carpets or dense, heavy messes. Pet hair will be no obstacle whatsoever.
Despite its powerful suction, this vacuum can run for four hours on a single charge. That's enough to cover pretty much any home, as long as you're only cleaning one floor.
The built-in sensor technology is outstanding. Using its sensors, the Vac 2 Pro can detect even small objects like toys and stray shoes. Instead of ramming into them or trying to climb over them, it will steer around them. This significantly reduces the number of times it gets stuck, compared to a typical robot vacuum.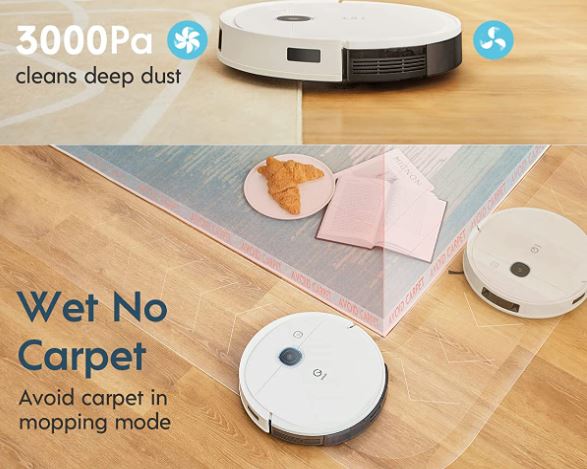 There's a power button on top of the vacuum to start a cleaning cycle. But to get the benefit of all the smart features, you'll have to install the app. Pair your phone with the vacuum, and you'll have a number of additional options. To begin with, you can set it to clean particular rooms, or create no-go zones on your floor plan. Keep in mind that this will only work after you've run a "dumb" cleaning cycle the first time. During the "dumb" cycle, the vacuum will map your floor plan, unlocking the in-app map.
You can also set your vacuum to run on a schedule. This can be daily or weekly. You can even set it to clean different rooms at different times. For example, you could clean your living room at night and your bedroom during the day.
roborock Q5+
The roborock Q5+ is a somewhat smaller vacuum, with a diameter of 14.96 inches and a height of 3.6.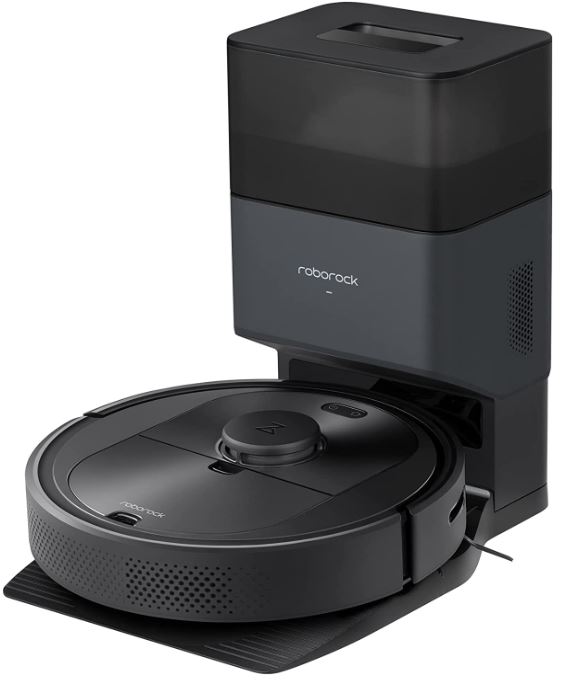 Ignore the LIDAR turret on the center, and it's even slimmer. Regardless, it can fit under some furniture, which can be helpful if your sofa sits high up off the floor. The matte black finish is easy on the eyes, and is also easy to keep clean.
The standout feature of this vacuum is its floating main brush. Instead of remaining in a fixed position, the brush rides on a spring-loaded axle. This axle remains pressed to the floor, regardless of its level. This ensures that you maintain good contact on all surfaces, from hardwoods and tiles to deep pile carpets. Just behind the main brush, you'll notice the main wheels. These are large enough to cross a ¾-inch transition, which is the largest you're liable to see around the house.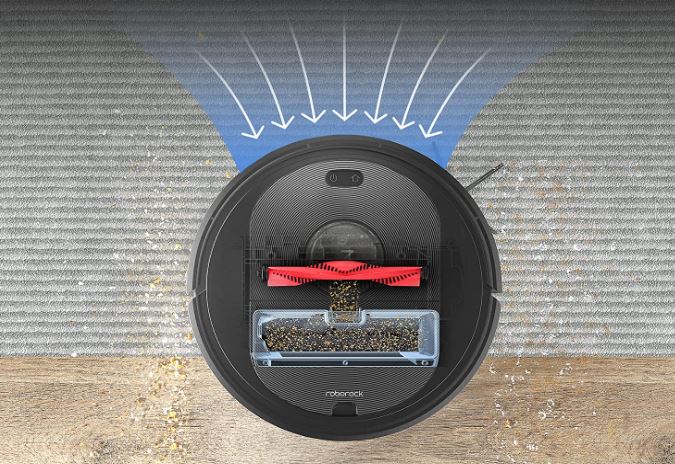 To the front and right of the main brush is a secondary brush. Instead of being barrel-shaped, this one is more like a helicopter. It sweeps out past the side of the vacuum housing and draws additional dust and dirt under the main roller. On solid floors, it does a great job of increasing your vacuum's coverage width.
The Q5+ comes with an oversized base station that does far more than charging. It houses a 2.5-liter dust bag, where your vacuum empties automatically after each cleaning. Instead of having to change a hopper a couple of times a week, you can change the bag once a month. Roborock advertises seven weeks, but that's assuming very light usage.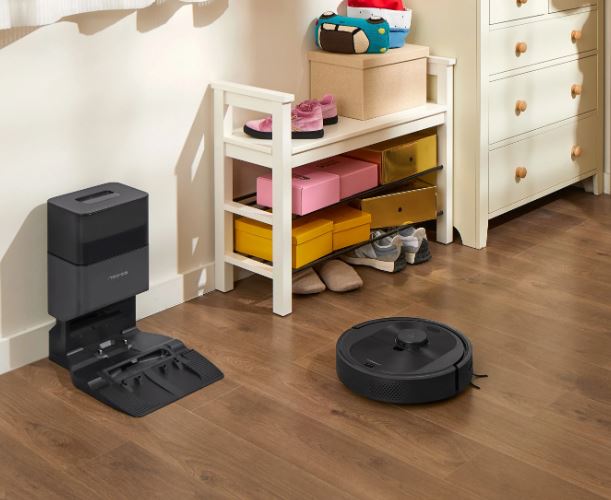 Cleaning Performance
This vacuum provides 2,700Pa of suction power, which is about average for a robot vacuum. That's not necessarily a criticism. You can still clean any type of carpet you want, as well as most messes. The only times you'll run into trouble are edge cases, and shouldn't ever come into play during routine cleaning.
The internal battery is rated to last for three hours. That's sufficient to vacuum more than 3,000 square feet of floor space. If you have a truly enormous rancher, that may require a break for charging. But for the vast majority of floor plans, you'll be able to get a thorough cleaning on a single battery charge.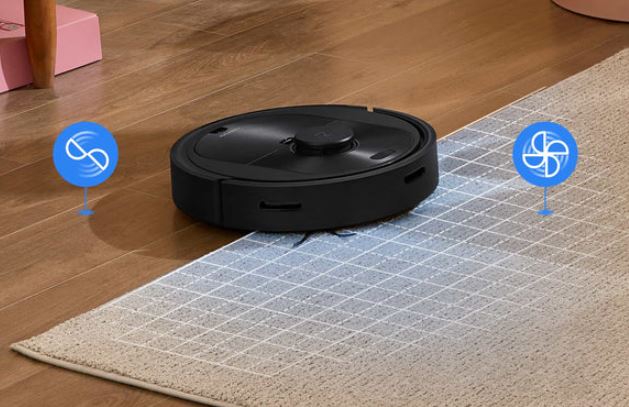 The Q5+'s mapping performance is out of this world. Most robot vacs these days can map a floor plan, but this one can also map your furniture. Furthermore, it even maps your floor's surface types. When you view your home's map in the smartphone app, you'll see carpets and solid floors in different colors.
Like with the Yeedi vacuum, you can create a personalized cleaning schedule and no-go zones. However, you can also create artificial walls to divide a room in two. And in addition to mapping your main floor, you can map up to four total floors. You'll have to manually move the vacuum up and down stairs and switch maps in the app. But even so, it's a relatively low-effort way to clean your entire home.
If your main goal is to prevent clogging from pet hair, check out the Trifo Lucy Ultra. It's a specialized pet vacuum with a slot in the middle instead of the roller brush. Unfortunately, the lack of a brush renders it incapable of digging down deep into carpets. It's also not self-emptying.
iRobot Roomba i7+
The iRobot Roomba i7+ is this year's successor the original robot vacuum. It has an unassuming matte black finish, and won't collect dust and grease. It's also reasonably compact, measuring 13.34 inches in diameter and 3.63 inches thick.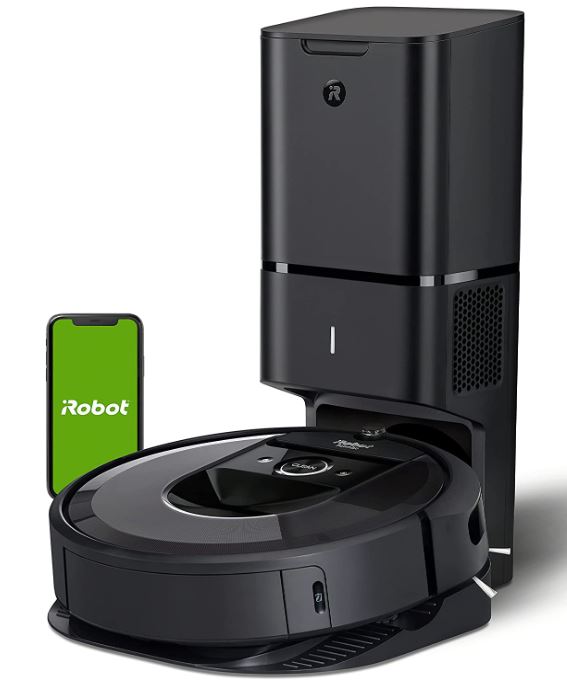 The brush design on the i7+ is unique. Instead of a single main roller, there are two rubber brushes that rest parallel to each other. They both rotate towards the center, drawing debris directly upwards. This dual design does an excellent job of preventing clogging, since hairs don't get pulled to one side. And despite the rubber material, the rollers do a decent job of cleaning carpets as well as solid floors. Speaking of solid floors, there's a right side "helicopter" brush, similar to the one on the Q5+.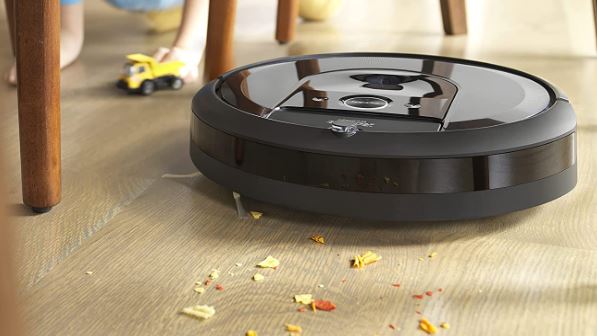 Inside the vacuum is a powerful, efficient filter. This filter removes 99% of dander from dogs and cats. Since dander is the material that causes pet allergies, you may even get some allergy relief. At the very least, you won't be blowing a cloud of dander out your vacuum's outflow vent.
Like the last two vacuums we looked at, the i7+ comes with a large base station with an internal dust bag. This lets you clean your floors for weeks at a time without intervention. In addition, iRobot provides free over-the-air firmware upgrades. As they refine their vacuum's performance, you can take advantage as long as you're connected to WiFi.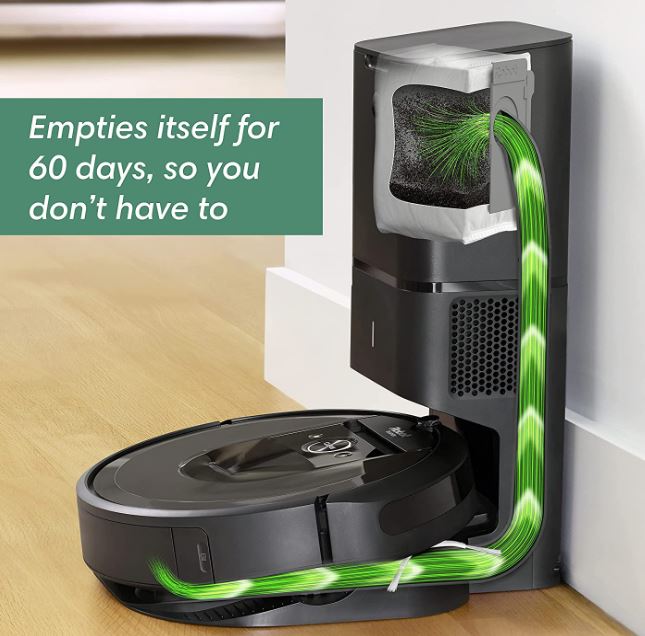 Cleaning Performance
The Roomba i7+ isn't quite as powerful as the others. With a maximum suction level of 1,800Pa, it can struggle on deep pile carpets. That said, you get excellent efficiency. Sensors detect the amount of resistance the motor is fighting and adjust the suction accordingly. In total, it can adjust between 1,000 and 1,800Pa, so you can save power during easier jobs.
The battery is rated to last for 75 minutes, a bit less than the other vacuums. That said, because of the smaller motor and adjustable suction, you get more mileage than you'd think. In the worst case scenario, the vacuum will just return to base, recharge, then resume cleaning.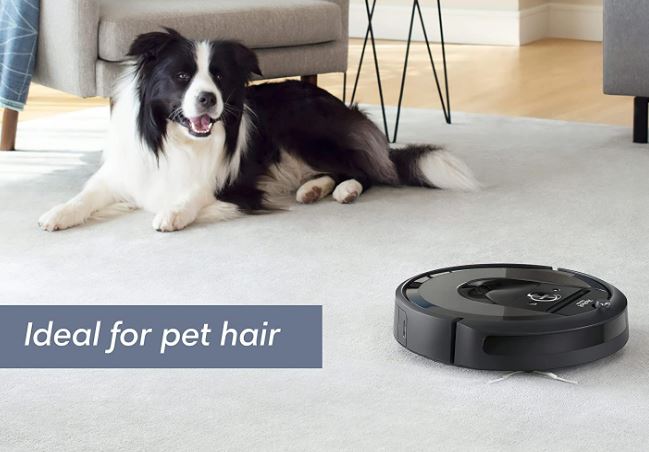 The app allows you to name the rooms in your house as well as set no-go zones. The no-go zones can even be very small, such as a nook where your pet bowls sit. It's easy to use, and scheduling your cleaning routine is pretty straightforward.
If raw suction power is what you crave, you'd be better served ditching a robot vacuum for something bigger. Consider the Dreo PowerLeap, for example. It's a cordless stick vacuum with 25,000Pa of suction and a removable, swappable battery. On the downside, it's not automatic, so you'll have to run it yourself.
Final Verdict
All three of these robotic vacuums have something to bring to the table. But since you have to choose one, which one is it going to be? Here's a quick summary of what we've learned.
We began by reviewing the Yeedi Vac 2 Pro w/ Self Empty Station. This 3,000Pa vacuum is very powerful, and can handle almost any mess on any surface. The oscillating mop is great for stubborn messes that the roller can't pick up. And with four hours of battery life, longevity is a non-issue.
Next, we examined the roborock Q5+. This vacuum provides an average amount of suction, but it sports a highly-effective floating main brush. The side brush makes it a bit more effective on solid floors, and the three hours of battery life is respectable. We also loved the ability to store up to four floor plans.
After that, we looked at the iRobot Roomba i7+. The i7+ has less suction power and battery life than the others. But the dual rubber brushes are truly innovative and virtually tangle-free. Pair that with an easy-to-use app and OTA updates, and you're looking at a solid vacuum.
Please consider sharing:
Note: At no extra cost to you, we may earn a commission for purchases using our links. Learn more.