As states and countries start to come out of lockdown, many people are thinking of gyms and haircuts. To be fair, a lot of us could use a haircut at this point. But many of us have fallen behind on trips to the dentist.
If you're a dentist yourself, you're probably torn between anticipation and dread. On the one hand, an influx of patients will surely be welcome at this point.
On the other hand, there are going to be a lot more of them than usual. And some of them will be coming with brand new dental issues. There's no doubt that you'll need the best possible tools to get the job done right.
In the past, we've reviewed a lot of small cameras. We've looked at smoke detectors that sport little pinhole cameras. We've even looked at spy pens, which are about as small as a hidden camera can get.
But using an ordinary camera, even a tiny one, for dental use is a non-starter. The problem is that cameras have a limited focal distance. Most cameras are designed for everyday distances, anywhere from a few feet to a few dozen feet.
Indeed, even an average smartphone camera can take an Instagram-worthy landscape photo. But for a dental camera, you need very, very close focal distances. After all, you're working inside a person's mouth!

ProDENT HD Intraoral Camera PD760
The ProDENT HD Intraoral Camera is designed primarily for ergonomics and ease of use. In fact, it's an update of an older ProDENT camera, the PD740. It has a tapered, vase-style design, similar to many electric toothbrushes.
This makes it very easy to hold and manipulate, and to make fine movements. On the front, you'll see a set of three buttons that are meant to be operated with your thumb. There's a power button at the bottom, a zoom button in the middle, and a capture button towards the top. There's an additional capture button on the back of the lens, which you can operate with your index finger.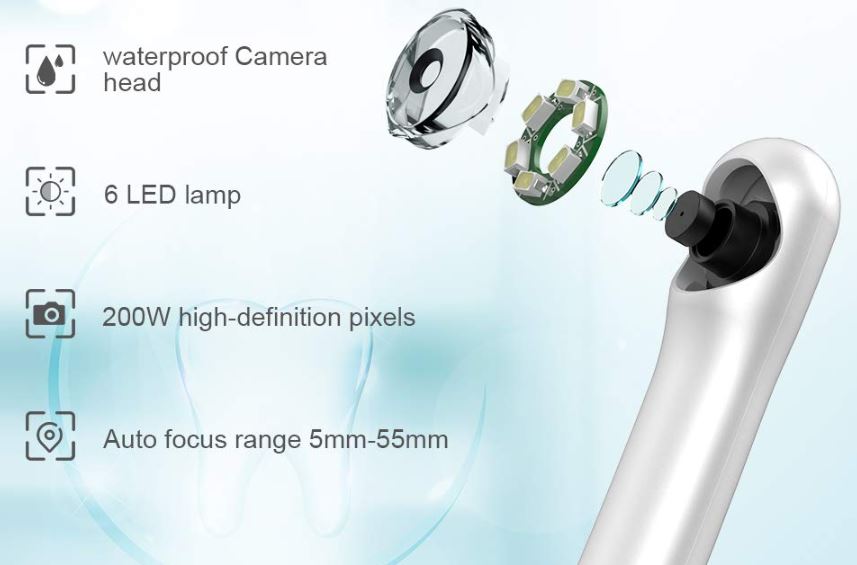 The lens itself is waterproof, which is a much-appreciated feature in any dental accessory. That said, you'll still want to use protective sleeves, both for sanitation and for better lens protection. There's a pack included in the kit, but it's easy to find and buy more. ProDENT sells a 200-pack of sleeves for a very reasonable price.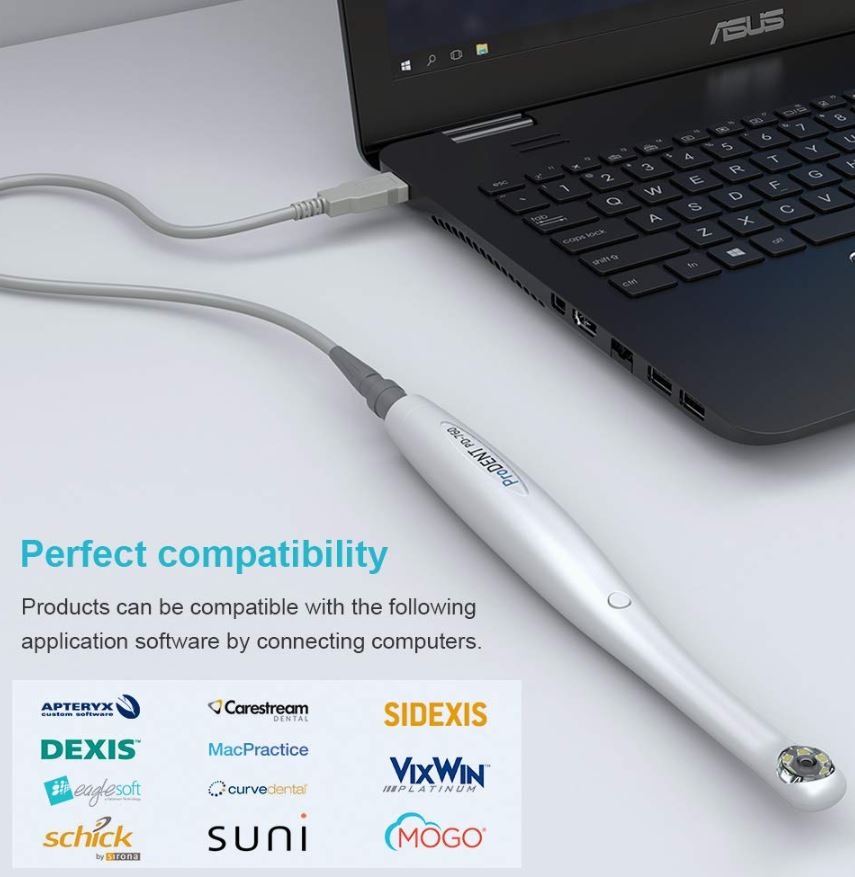 The camera has a resolution of 720p, which is more than good enough for dental purposes. It also has a very wide focus range, from 5 to 55 millimeters. Anywhere within this window, you're going to get exceptional clarity and sharpness.
The zoom function even allows for up to 4x zoom. If you need to get an extra-close look at a cavity or filling, you're not going to have any issues. The still camera is also very impressive. When you take a picture, it's stored in crystal clear 8 megapixel resolution. Lighting is also a non-issue. The LEDs are very bright, providing plenty of illumination. They also run cool, so they won't burn your patient's mouth.
The camera runs on USB power, and ships with a detachable cable. The detachable cable is a great feature, since you can easily replace it when it gets damaged. Along with the camera, you also get a plastic mounting bracket for convenient storage. The bracket includes bolts and nuts, so it's easy to install on day one.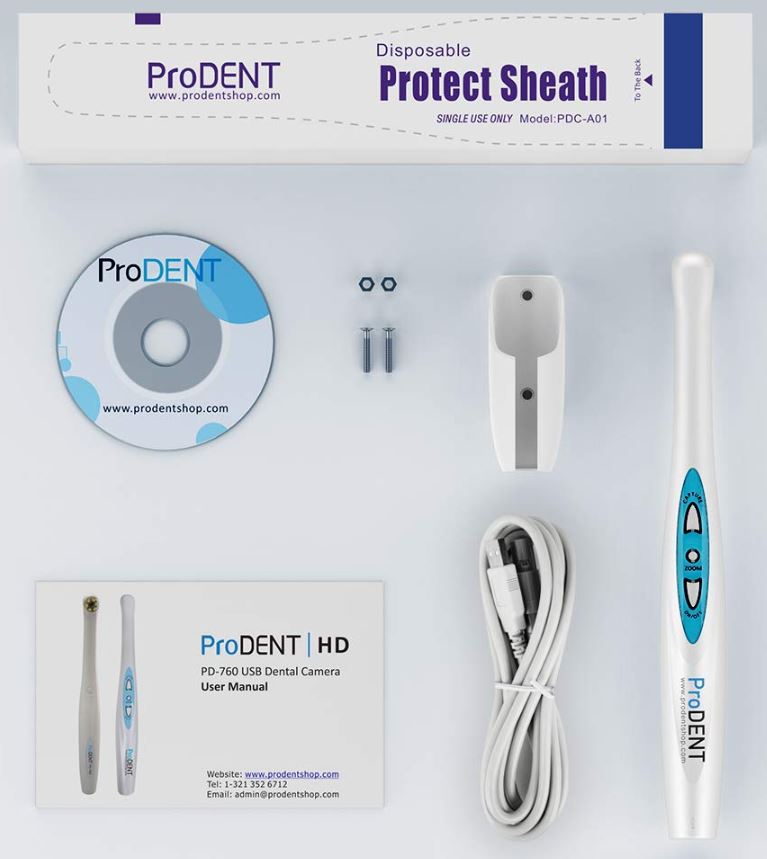 Compatibility and Extras
The ProDENT PD760 is advertised as a plug and play device. And, in a sense, this is true. It will run on any Windows machine from Windows 7 forward, in both 32 and 64-bit versions. No driver is required, so you can view the feed from your PC immediately through most camera apps.
But for professional use, you're going to want to use professional imaging software. In order to use your imaging software, you'll need to install the ProDENT Capture app. The app does not cost an extra fee, and is easy to install. However, it only comes with a license for two PCs. If you have multiple imaging PCs, this may not be enough.
The PD760 supports most imaging apps. These include Sidexis, Eaglesoft, Apteryx, XDR, Schick, Cleardent, DentiMax, AbleDent, CaptureLink, CliniView, ProfSuni, Tracker, and most versions of Dexis. That said, it's not compatible with Open Dental or Quickvision. It's also not compatible with Dexis versions 9.4.4 or 9.4.5. If you're using one of those Dexis versions, you'll need to upgrade to 9.4.6 or later. Alternatively, you can download to version 9.4.3.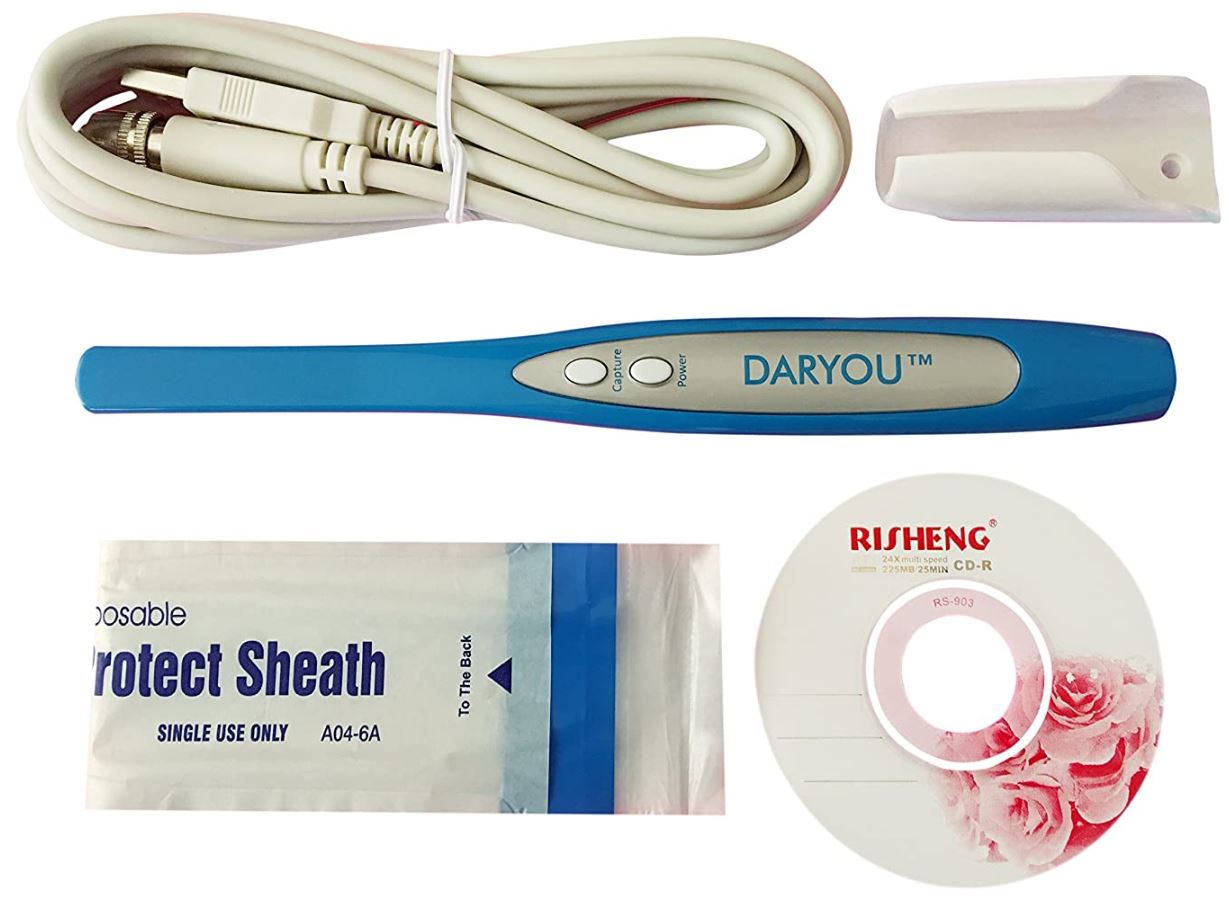 DARYOU Intraoral Camera DY-50
The DARYOU Intraoral Camera DY-50 is a bit different from the ProDENT. It doesn't have as many physical features, but it offers much wider compatibility. At first glance, the unit has a similar design to the ProDENT, with a vase-shaped profile. There are two buttons designed to be used with your thumb. The bottom button is for power, and the top button is used to capture a still image. The camera measures about 8 inches in length, and ships with a 6-foot USB cable. The cable is also detachable, so you don't have to worry about your unit being dead if it gets damaged.

One feature the DY-50 does offer is the ability to work with an optional foot switch. Hook one up to your PC and set it up in your imaging software, and you're ready to go. This is a great feature, since you can hold your hand steadier when you're not pressing a thumb button.
On the other hand, the DARYOU's lens is not waterproof. If it gets wet, it's possible that the camera may get damaged. To be fair, you should be using a safety sheath anyway, and there's a packet included in the kit. You can also buy replacement sheaths easily on the web. That said, you'll want to be extra careful that the sheath doesn't get damaged.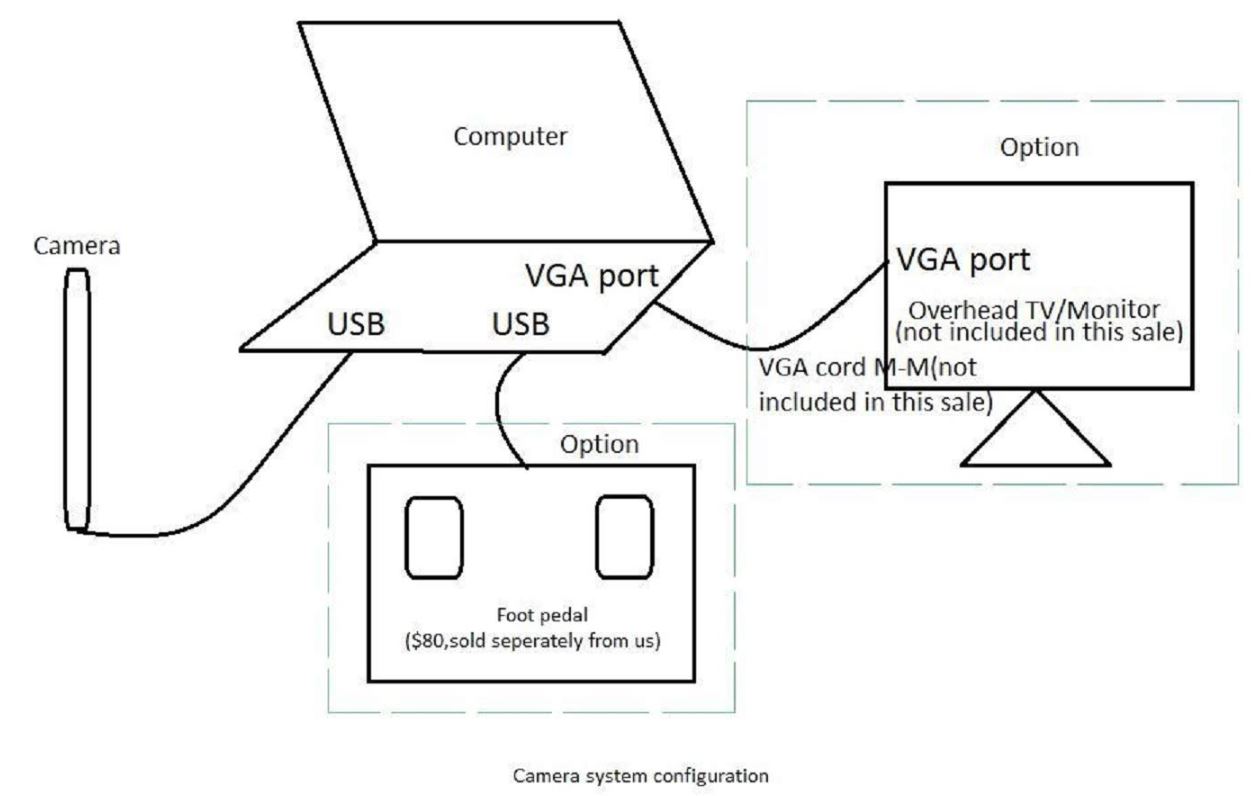 The camera quality is less impressive than the ProDENT's. It outputs in 480p, rather than 720p. That said, the quality is otherwise good, and you probably don't need that much resolution at very close ranges. For still images, the camera outputs in 5 megapixels, with a focus range of 5 to 50 millimeters.
Along with the camera, you get a magnetic mounting bracket, along with the necessary mounting hardware. The magnetic feature is a nice touch, especially when you're rushed from working on a packed schedule.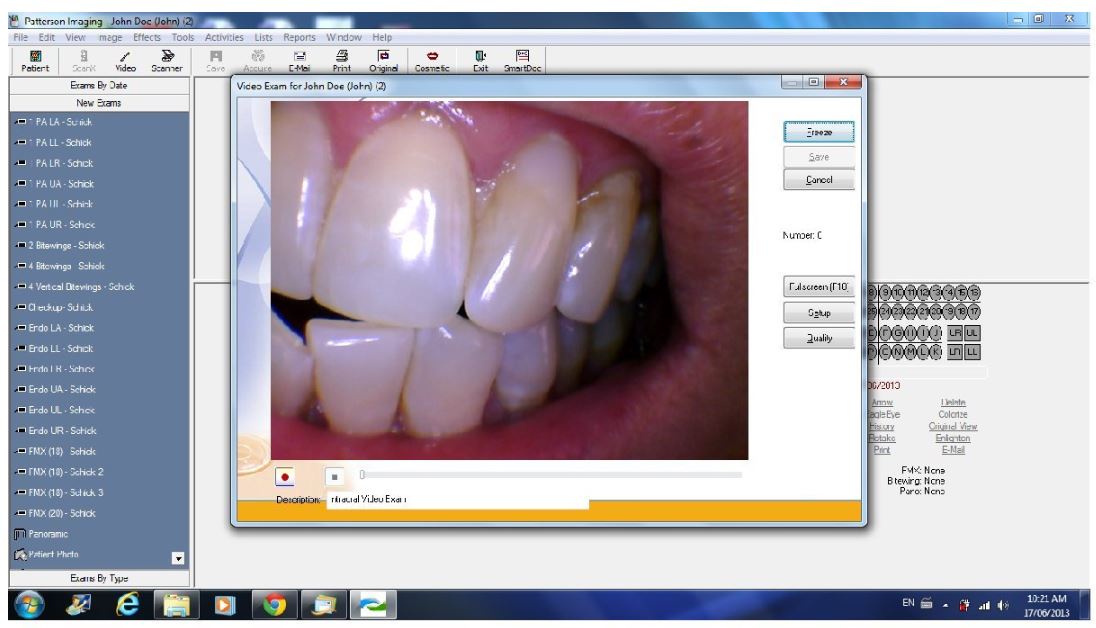 Compatibility and Extras
The DARYOU DY-50 requires that you install the button driver in order to activate it. Thankfully, you don't have to mess around with any online downloads to install the driver. Simply pop in the CD that's included with the package, open the PDF file, and follow the instructions. You get a license for three PCs rather than two, which is a great added value.
The DY-50 is comparable with almost every imaging software on the market. It's compatible with all the big names, such as Dexis, Eaglesoft, Apteryx, Adstra, XDR, CDR, Schick, Tracker, Cleardent, and DentiMax. You can also use it with some less common options, like AbleDent, CaptureLink, CliniView, ProfSuni, Dentrix Ascend, EasyDent-i, and Visix. There are also more than 20 other options. You can check the product description for a complete list.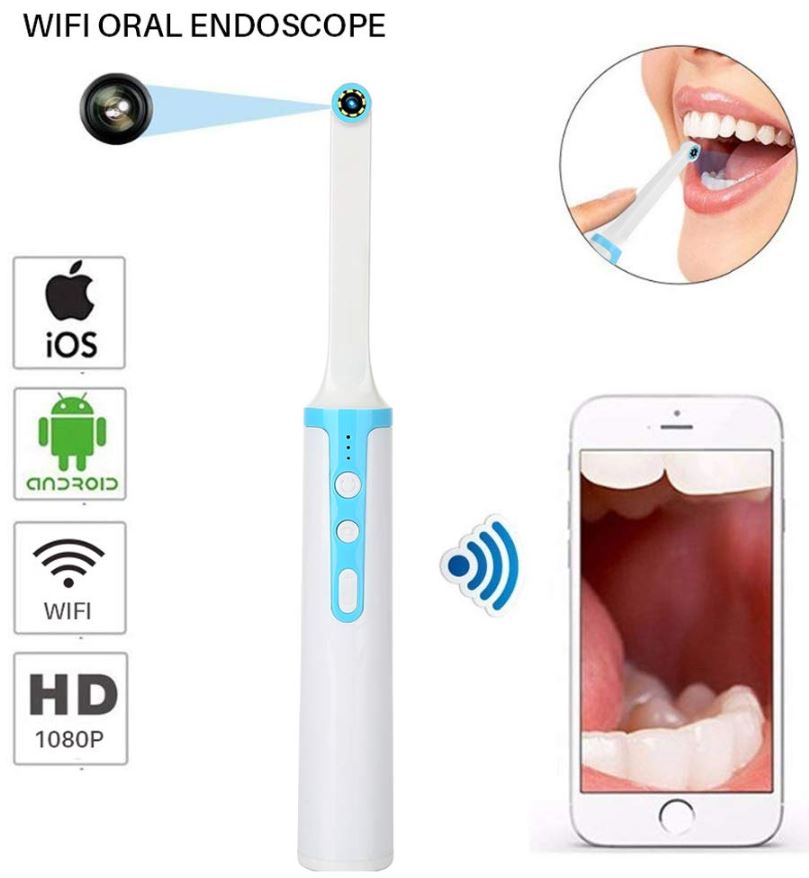 Apexel Wireless WiFi Oral Dental Endoscope
The Apexel Wireless WiFi Oral Dental Endoscope is designed for home use, rather than professional use. To be fair, a dentist could use it as a simple scope to identify issues. But it's not compatible with any imaging software, so you'd still need another camera regardless. That said, it does offer one unique feature. Instead of a wire, the Apexel camera uses an internal battery for its power supply. It carries enough charge for two hours of use, and takes two hours to fully charge from a dead state.
The design is a bit less ergonomic than the last two cameras we looked at. Instead of a vase-like profile, it's more like a barrel with a stem sticking out of it. Still, it's comfortable enough to use. On the handle, you'll find a power button, a capture button, and a button to adjust the brightness. You can adjust the brightness between eight different levels, which is a fantastic feature.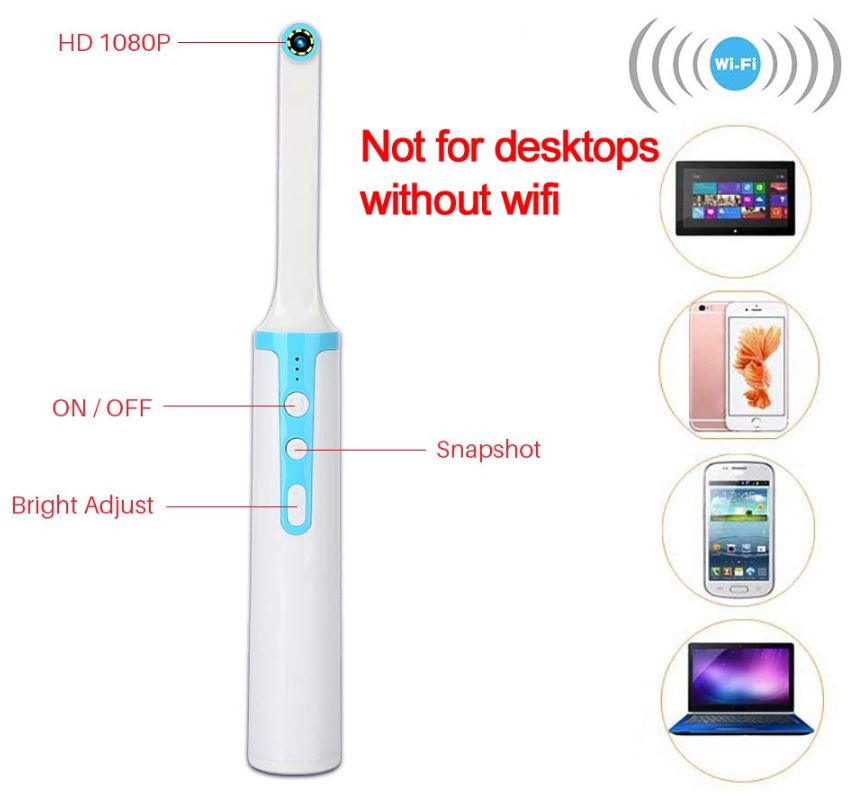 The camera has a resolution of 1080p, the best on our list. That said, it has a focal length of 1.5 centimeters, so you'll need to open wide to get a good picture. The still image quality is also a bit disappointing, at only 2 megapixels. The lens is IP67 water-resistant, so it's just fine to go in your mouth. If you're just buying the Apexel camera for yourself, you don't need to worry about a protective sleeve. But if multiple people are using it, you might want to buy some. You can purchase them separately at a reasonable price.
In addition to the camera itself, you get a USB charging cable, an instruction manual, and a dental mirror. This is a great bonus for home users. That said, dentists will be disappointed by the lack of a proper mounting bracket.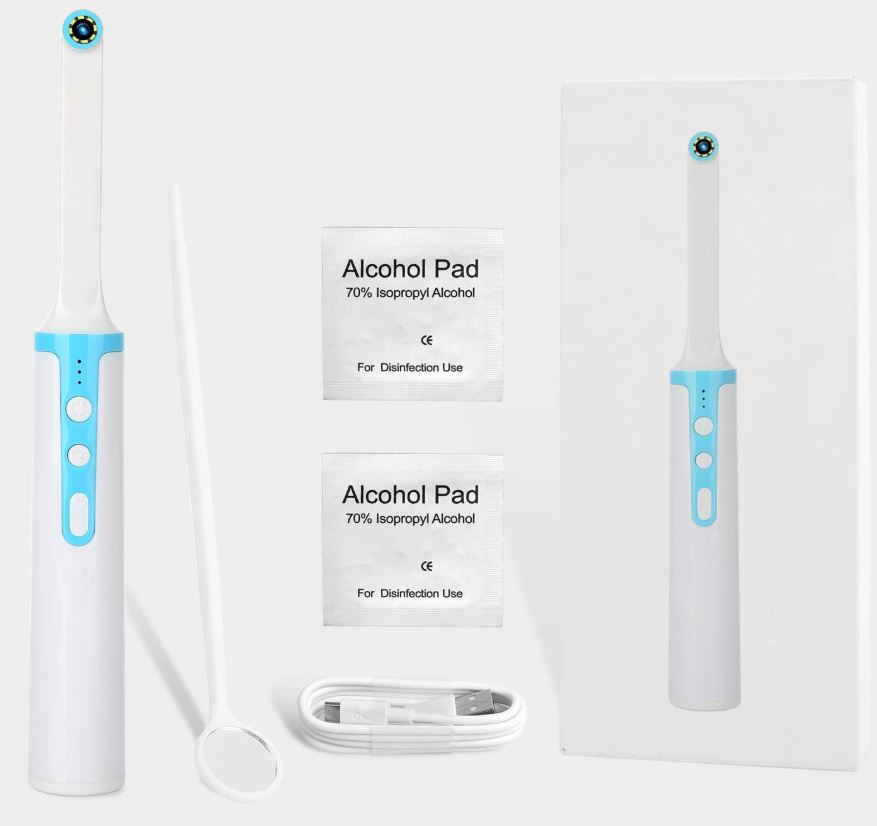 Compatibility and Extras
The Apexel camera does not connect to a standard PC. That said, it will connect to any Android or iOS device. Simply download the free app, and you're ready to get started. It's important to do this first, before you try to connect.
The reason for this is that the Apexel camera does not connect to your WiFi router. Instead, it functions as a small router of its own. Disconnect your device from your home WiFi system, then turn on the camera. Next, search for the Apexel camera in your WiFi list, and connect. Within three meters, or about nine feet, you'll get a fast, secure signal.
In addition, Apexel provides plenty of protection for your camera. In the first 30 days, you can return the camera for any reason, no questions asked. Beyond that, you get a one-year warranty, where Apexel will repair or replace at their discretion. And if you have any issues, they offer 24/7 customer support.
Final Verdict
So, how do these cameras compare to each other? Let's start with the ProDENT HD Intraoral Camera PD760. The PD760 provides excellent image quality, as well as top-notch ergonomics. The mount is easy to install, and the water-resistant lens keeps you safe if the protective sleeve breaks. That said, the software is a pain to set up, and you only get two licenses. But once it's set up, it's very easy to use, provided your imaging software is compatible.
The DARYOU Intraoral Camera DY-50 is a different animal altogether. It's compatible with almost every commonly-used imaging software on the market, with three licenses. It also has a magnetic mount, and can be controlled with a foot pedal for better stability. Then again, the ProDENT offers better image quality and video quality.
Finally, we looked at the Apexel Wireless WiFi Oral Dental Endoscope. This camera is designed primarily for home use, with no image software compatibility. But the wireless connection is easy to set up, and the light is adjustable. In addition, the 1080p video quality is out of this world.
Meet Derek, "TechGuru," a 34-year-old technology enthusiast with a deep passion for tech innovations. With extensive experience, he specializes in gaming hardware and software, and has expertise in gadgets, custom PCs, and audio.
Besides writing about tech and reviewing new products, Derek enjoys traveling, hiking, and photography. Committed to keeping up with the latest industry trends, he aims to guide readers in making informed tech decisions.