Halloween is almost here! What that means to you will depend how you prefer to celebrate. For many people, the entire month of October is horror movie season. Others see it as a time for raking leaves, winterizing, and preparing for trick-or-treaters.
But if you're a sucker for décor, Halloween means one thing: spooky decorations! This can take any number of forms, including the ever-popular jack-o-lantern. Vampires, werewolves, witches, and zombie decorations are all fair game. You can string a bunch of cheese cloth over your bushes to simulate a spider web. Or punch holes in sheets and make some fun ghosts.
Note: At no extra cost to you, we may earn a commission for purchases using our links. Learn more.
But if you want a Halloween display that really gives people the willies, you want animatronic decorations. Imagine walking up to a creepy statue. You might be mildly interested in it, or even amused. Then imagine the statue jumps and starts screaming. You're going to have a shock! It's certainly not something you're going to forget any time soon.
In fact, animatronic decorations are something of a cottage industry. With so many possible variations, you can imagine that there are lots of options to choose from. It's important to do your research and understand what you're looking at. Especially when you're buying online, when it can be hard to figure out some details. That's where we come in!
Choosing the Best Animatronic Halloween Decorations
Today, we'll be reviewing three of the best animatronic Halloween decorations we could get our hands on. All three of these options are motion-activated, and some have other control options. They're also genuinely creepy. If you're running a haunted house, they could all find an honored place in your collection.
That said, each of these Halloween-themed bits of robotics has its own unique quirks. We'll have to talk about the design, and what makes them uniquely spooky. Next, we'll talk about how they're powered, and what triggers their operation. Finally, we'll talk about the animatronic functions, which is where the real scares are. Let's take a closer look, and see what we learn!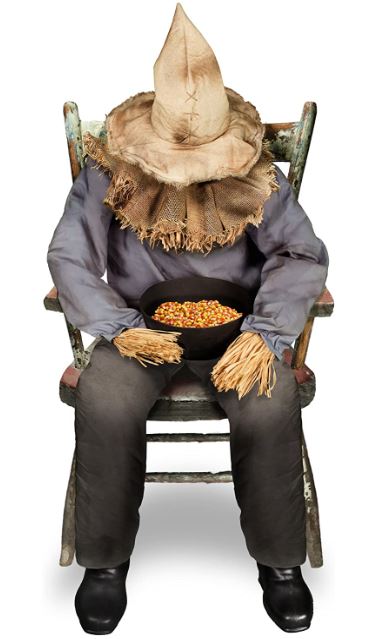 Spirit Halloween Animatronic Sitting Scarecrow
The Spirit Halloween Animatronic Sitting Scarecrow looks unassuming at first. He's just a scarecrow, slumped forward in his chair. The grey pants are smooth and nondescript, with black work boots peeking out from underneath. He wears a blue-grey shirt, with no seams or buttons. Straw hands stick out of his sleeves, and his head leans forward over his chest.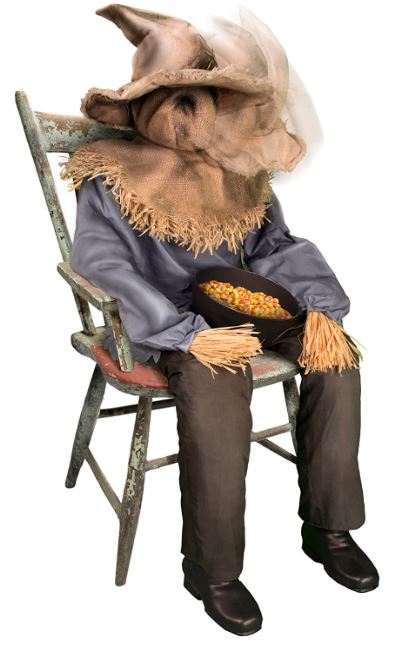 But look at him a bit closer, and he's downright unsettling. You can't see his face, which is covered by his conical brown hat. And the seamless, featureless nature of his clothing is just a bit too Spartan. It's almost as if this unassuming shell is an illusion that conceals something far more sinister. A black bowl rests in his lap (candy not included), tempting trick-or-treaters to reach for their reward.
This decoration measures 54 inches in height, 17 inches wide, and 15 inches from front to back. It's very lightweight, and consists mostly of clothes and straw with a frame for the arms and head. That frame sits on top of a support rod, which in turn attaches to a base. We should note that while the advertising features an appropriately spooky chair, it's not in the package. But it's easy enough to set the scarecrow up on your own porch chair, or any other suitable surface.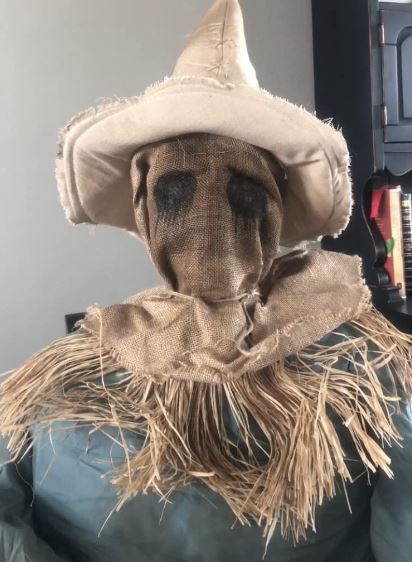 The design is reasonably well-engineered. It's by no means bulletproof, but it should last for years if you don't abuse it. That said, the electronics are not waterproof. If you leave it out in the rain, the motor will short out.
Power & Controls
There are two ways to power the Spirit Halloween scarecrow. The first is to insert a set of four AA batteries into the base. These will last for days of intermittent use. However, you'll want a fresh set on Halloween, when the motor will presumably see heavy use. Or you can ditch the batteries and use the six-foot cord to connect to your front porch power outlet.
In the base near the battery cover you'll also find some controls. First, there's a dial that controls the speaker volume level. There's also a switch to go between different operation modes. By default, the scarecrow is motion-activated, and will kick in when someone reaches for the bowl. However, you can also wire it into Spirit Halloween's foot switch control. This is a green plastic welcome mat that says "Step Here," and it's sold separately.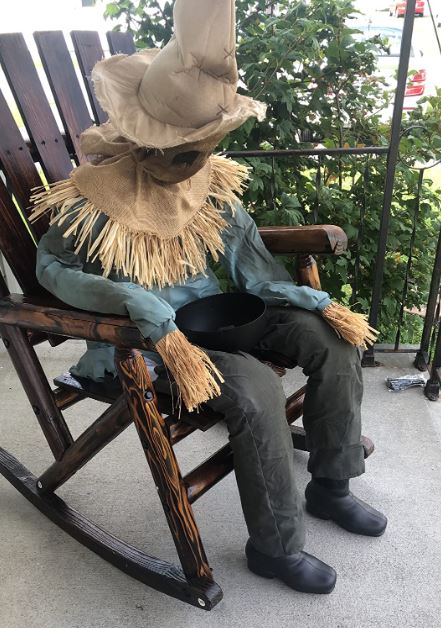 What Does it Do?
Whether you reach in for candy or step on the pad, you're in for a surprise. The scarecrow bolts upright, and his arms shoot out to his sides. At the same time, he stares directly at you with two black spray-painted eyes. They're the only visual "feature" on the whole scarecrow, and they seem to gaze into your soul. At the same time, he lets out a terrifying scream, an unsettling mixture of rage and agony.
Then he slowly slumps back into his normal position, and his arms return to his sides. He lets out a low, menacing laugh, as if he's in on the joke. Is it a cheap trick? Absolutely! But that's part of what Halloween is all about.
Halloween is also a time for parties, and it's a great opportunity to try out your costuming skills. If you want to throw a great party, consider spicing things up with some LED party balloons. They're not just great for Halloween parties; they're a perfect accessory for any festive occasion.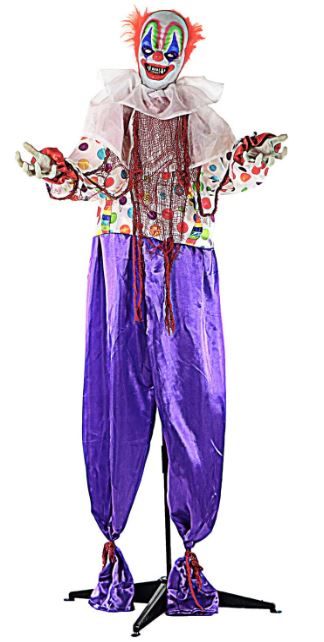 Haunted Hill Farm Talking Clown Prop
The Haunted Hill Farm Talking Clown Prop is a creepy clown prop that's as creepy as they come. Right off the bat, there's something wrong about this guy. His red, green, and blue eye makeup extends up his bulbous forehead like a pair of otherworldly portals. His grin reveals a set of vampire fangs right out of your nightmares.
His polka dot shirt is charming enough, but it's covered by a red spiderweb that drapes down from his neck. A pair of pale hands reach out of his red-fringed sleeves, but they look emaciated. Is this clown some kind of undead creature? Whatever he is, he's the stuff of 80s horror movie nightmares.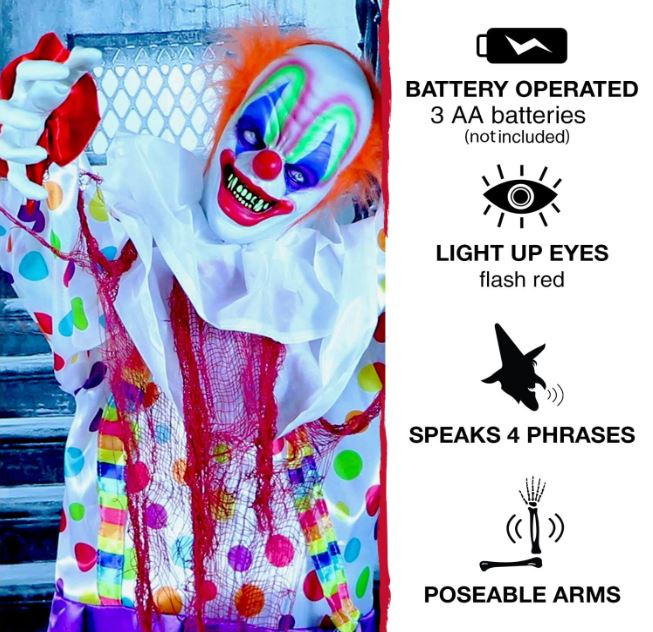 This is a free-standing animatronic with poseable arms that mount to a shoulder frame and a head. The rest is just clothing, which hangs down in a vaguely human-like shape. The electronics are located in the head, which mounts to the top of a pole. The pole has three sections that stack together, on top of a base with four legs. When fully assembled, the cloud stands 65 inches tall, and assembly takes just a few minutes.
The design is not waterproof, but it should last for a long time as long as it doesn't get knocked over. It's also worth noting that there are 11 different clown designs. One is headless. Another carries a creepy baby doll. And they come in different heights, as tall as 72 inches.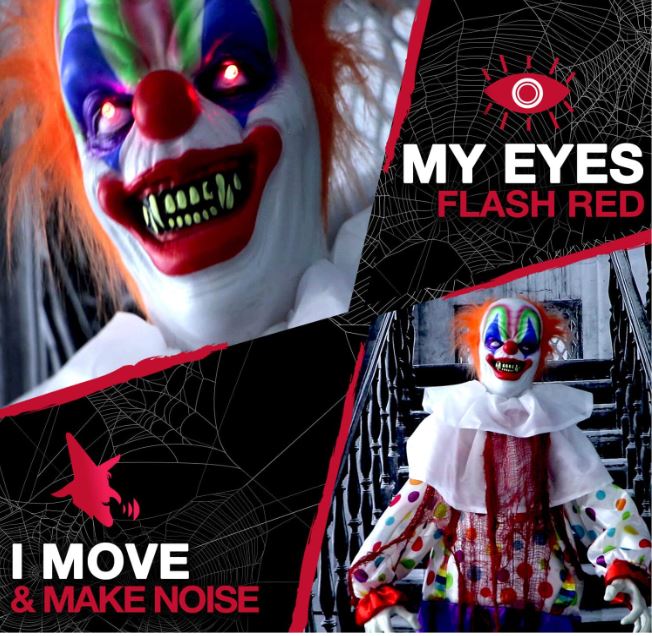 Power & Controls
In the neck of the clown, you'll find a white plastic motor housing. This same housing also has a removable cover for the battery compartment. Slip in three AA batteries, flip the power switch, and you're good to go.
There's only one operating mode: motion sensing. When the power is on, the Haunted Hill Farm clown will activate whenever someone is in range. This makes it great for haunted houses, or for positioning along a walkway.
While you're setting up your decorations, you may also want some appropriate seasonal lighting. In that case, check out our list of the best waterproof outdoor LED light strips. You can put these under your eaves, across a pergola, or in other locations. You can also change them to different colors to celebrate different occasions.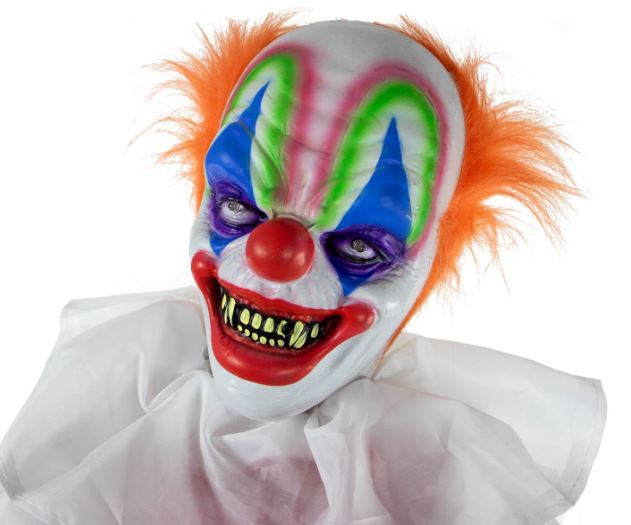 What Does it Do?
When you activate the motion sensor, the clown comes to life. His eyes flash and his head moves from side to side. As it does, he waves his arms, which rotates his shoulders and causes his entire body to move. It looks like he's quaking with rage and taunting you to come closer.
At the same time, you'll hear one of four pre-recorded phrases. The clown has a low, rasping voice that sounds like a horror movie villain. He'll say one of the following things:
"Hey, you look familiar. Maybe because I've been hiding under your bed!"
"That's it, come closer. I've got something for you and it's not a balloon!"
"Good, run away. I'll catch up with you later in your nightmares!"
"Oh, did I scare you? Good, you taste much better when you're scared!"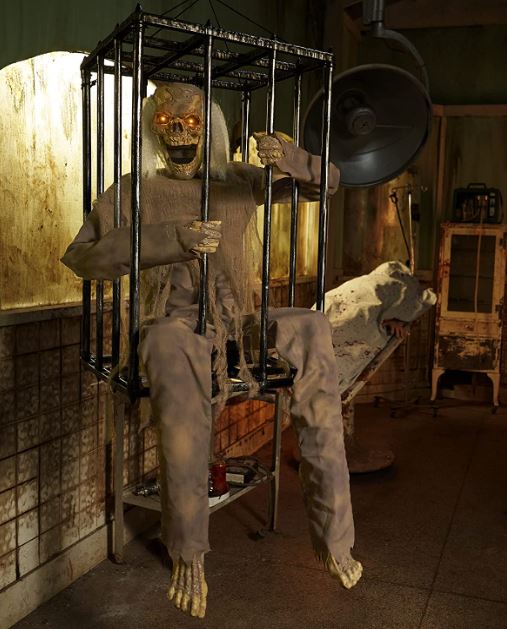 Spirit Halloween Animatronic "Barry"
The Spirit Halloween Animatronic "Barry" is a frightening zombie-like creature. He looks like the guy from Tales From the Crypt, with a skeletal face and rotting flesh peeling off it. He's mostly bald, with long white hair around the fringes that hangs to his shoulders. If there's any remaining doubt that he's undead, you can see through the gap behind his jawbone.
"Barry" wears brown prisoners rags, and sits inside a rectangular cage. His legs hang out the front, and his skeletal hands grip the bars. The cage itself has an antiqued appearance, as if it's seen many years of use. Whatever "Barry" did to get locked up, it looks like he's been there a while.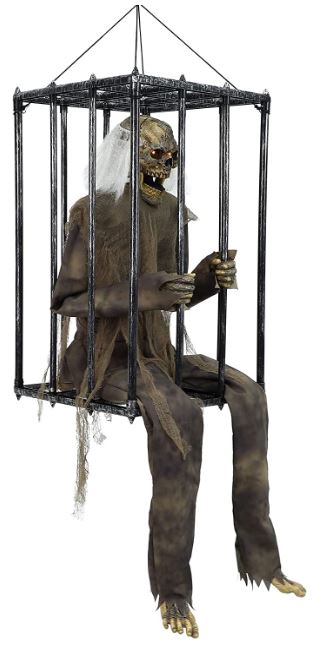 The entire decoration measures 50.4 inches high, including the prisoner's calves and feet. It's 24 inches wide and slightly deeper at 29.5 inches. That extra depth is mostly thanks to the feet, which stick out to the front. The whole thing weighs 8.5 pounds, and hangs from your ceiling on a set of cords. Like the other decorations we've looked at, it's not waterproof.
Power & Controls
"Barry" is a particularly feisty animatronic, and needs wall power to operate. There's an AC power adapter included, with a long, 9.8-foot cord. Plug it in and you're ready to get started.
The motor will kick in whenever someone walks in front of the motion sensor. That said, you can also connect Spirit Halloween's footpad if you prefer a manual control.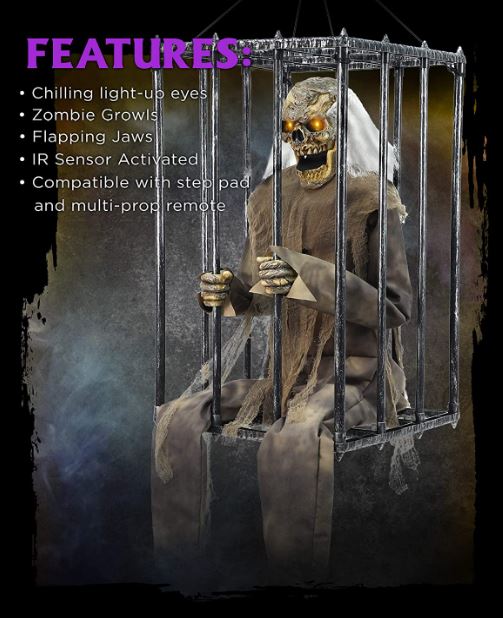 While you're decorating, it's not a bad idea to think of festive lights. Darkness might be spooky, but it can also make it hard to navigate. Besides, you need at least a little light to show off your decorations. Consider a set of LED mason jar lights, for example. They provide dim, atmospheric lighting without being too distracting.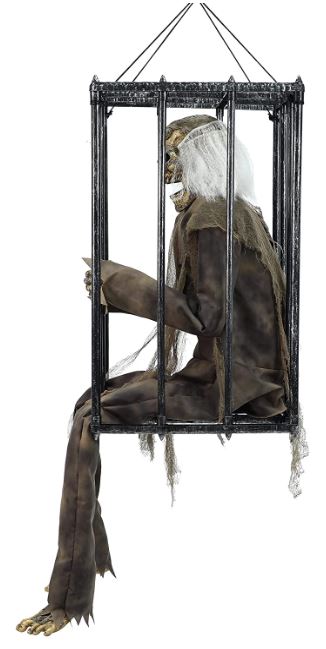 What Does it Do?
"Barry" is clearly unhappy with his predicament. When you get close, his eyes glow red and his jaw starts flapping up and down. He makes a series of guttural zombie growls and drooling noises, and it's all pretty intimidating. Meanwhile, he rocks back and forth in his cage as if he's trying to make an escape.
Final Verdict
All of these options are guaranteed to give you the willies. But which animatronic Halloween decoration is the best of the bunch? Obviously, that's a subjective judgement. Here's a quick summary of what we've learned.
We began by reviewing the Spirit Halloween Animatronic Sitting Scarecrow. This faceless scarecrow guards your Halloween candy. When someone approaches, it lets out a blood-curdling scream that's sure to delight trick-or-treaters. It's also easy to set up, and can run on AC power without any batteries.
After that, we evaluated the Haunted Hill Farm Talking Clown Prop. This is a little less realistic, but it also doesn't have the benefit of sitting down. It's motion-activated, it's ultra-creepy, and it comes in 11 different variants. If you love evil clowns, this is a perfect choice for you.
Finally, we looked at the Spirit Halloween Animatronic "Barry." This hanging zombie in a cage is as scary as they come. He grunts, he growls, he flails around in his cage. "Barry" is also AC-powered, so you don't have to worry about battery life. And just like the scarecrow, you can control it with a footpad if you want to.
Please consider sharing:
Note: At no extra cost to you, we may earn a commission for purchases using our links. Learn more.