Running a business poses many challenges. And one of the biggest hurdles you'll have to clear is payroll management. For a large business, this is less of a concern. By the time you're as big as Walmart or Microsoft, payroll expenses are a drop in the bucket. If you're a medium-sized business, outsourcing is often the way to go. There are literally dozens of companies that do nothing but process other companies' payrolls.
But if you're a small business with just a few employees, it's a whole different ball game. Outsourcing will most likely be too expensive. At the same time, you don't want to be giving your employees handwritten checks.
Those checks won't clear right away. Depending on the bank, they can take up to a week to clear. From a payroll perspective, that's completely unacceptable. Your employees want to access their money right away. They have bills to pay.
Handwritten checks also pose risks for your business. For instance, what happens if you make a typo? At worst, you misspell an employee's last name and the check gets rejected.
Then you have an upset employee, and you have to issue a new check. The same goes for other checks your business issues. For example, you don't want to mess up any vendor payments.
Secure check printing systems solve a lot of these problems. With a secure checking system and magnetic ink, you can produce real payroll receipts. When your employees take them to the bank, they should clear immediately.
You can also produce secure, professional-looking checks to pay your vendors. Secure checks are also virtually impossible to forge, and you don't have to worry about anyone stealing your checkbook. But to produce them, you'll need a magnetic ink printer.
Choosing the Best MICR Printers for Secure Check Printing (Magnetic Ink)
We're about to review three of the best MICR printers for secure check printing. All three of these printers are compatible with magnetic ink, and come with a magnetic cartridge. They're also from reliable printer manufacturers, so you don't have to worry about premature failure.
That said, there are also important differences between the three. We'll have to look at the controls, paper hoppers, and other physical components. We'll need to talk about how they connect, and what computers they're compatible with. And of course, we'll discuss how well they perform. Let's dig deeper, and see what we find!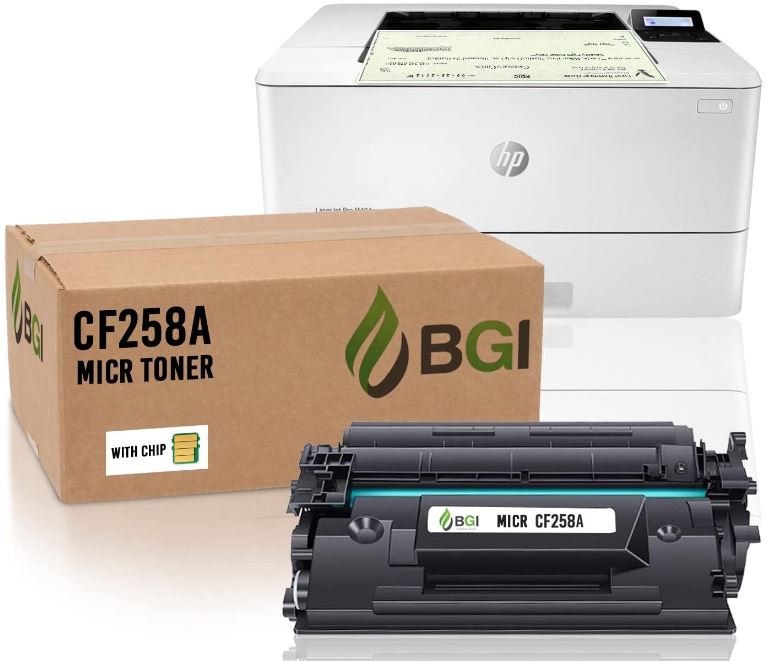 BGI HP M404n Check Printing Bundle
The BGI HP M404n Check Printing Bundle is a two-part package. First, you get an HP M404n printer. Second, you get a Be Green Ink magnetic toner cartridge.
The printer itself is a beefy, office-sized device with a rectangular housing and rounded edges. It measures 15 inches deep, 14.06 inches wide, and 8.5 inches tall. The white plastic housing will match the rest of your office décor, and is easy to dust off. At the top right is an LCD display, which is angled slightly forwards towards the operator. The rest of the top consists of an angled output bin, with a capacity of 150 sheets.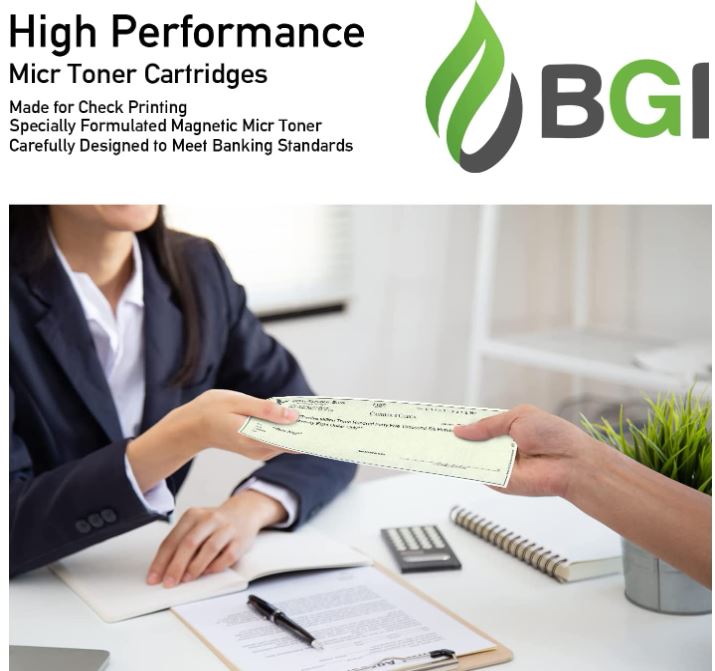 Beneath this, you'll find the paper hoppers. The top tray has a capacity of 100 sheets, and the lower tray can hold 250. They're easy to load, and accept standard-sized 8 ½ x 11-inch paper.
The HP printer is covered by a 3-month warranty through BGI. Meanwhile, BGI backs the toner cartridge with a lifetime warranty.
Connectivity and Compatibility
The M404n printer connects to your computer via USB. However, it can also be configured as a network printer. It supports Ethernet connectivity as well as dual band WiFi. And if you want to print from the cloud, you can. As a result, it's versatile enough to suit a variety of business needs.
This printer is compatible with almost any modern computer. It works with Windows 7 and later, as well as MacOS 10.12 Sierra and later. In addition to that, you can print from the Windows Client OS, and even from Android and iOS devices. With all of that being said, you'll still need secure check printing software, which is not included.
If you're running a retail business, you don't just need to print checks. You also need to print receipts for your customers. If you need a high-capacity receipt printer, consider the Rongta RP332. It offers wide system compatibility, so it will work with almost any POS. And it uses a heat-activated heating process, so there's no ink or toner to deal with.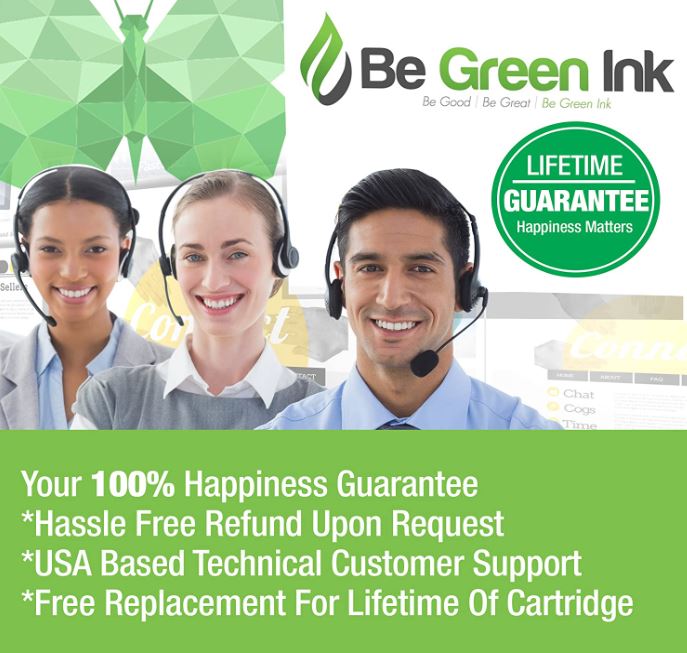 Printer Capability
The HP M404n is capable of printing speeds of up to 40 pages per minute. That's on par with a standard office printer. So if you're printing off full-page pay slips, you could take care of 40 employees per minute. And if you're printing simple checks with three checks per page, that goes up to 120 employees. You'll spend way more time entering your payroll information than you will printing your checks.
Even at that speed, this printer produces very crisp text and images. At 1,200 DPI, it's way more precise than you need for a check printer. You could even print greyscale photos with it, although that would be a waste of magnetic toner.
The toner cartridge itself is rated for a yield of 1,500 pages. That works out to 4,500 checks assuming three checks per page. If you're printing full-page pay slips, you should get more like 3,000 pages. A lot depends on how much text you're printing, and how detailed the pay slips are.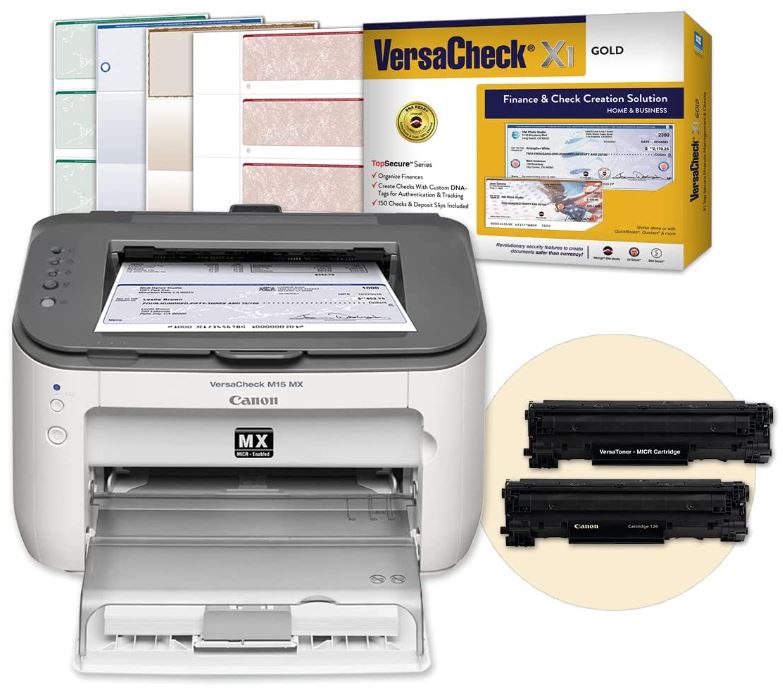 VersaCheck Canon M15 MX MICR Laser Check Printer Bundle
The VersaCheck Canon M15 MX MICR Laser Check Printer Bundle is a three-part bundle. To begin with, there's a Canon M15 MX printer. There's also a pair of toner cartridges. The first is a standard Canon 126 black cartridge, suitable for ordinary document printing. The second is a VersaCheck magnetic black toner cartridge.
The printer has a mostly white housing with a charcoal grey top panel. Most of the top panel is occupied by the paper output tray. However, there's a row of buttons to the left to perform most of your basic everyday functions. The overall size of the housing is 14.9 inches wide, 11.5 inches deep, and 9.6 inches tall. That's about the same as a typical desktop printer, so it doesn't take up too much space.
In the bottom of the housing is an input tray that accepts up to 250 sheets. It's not a typical hopper, and it's a bit unorthodox. You flip the door down, then insert your pages before you start printing.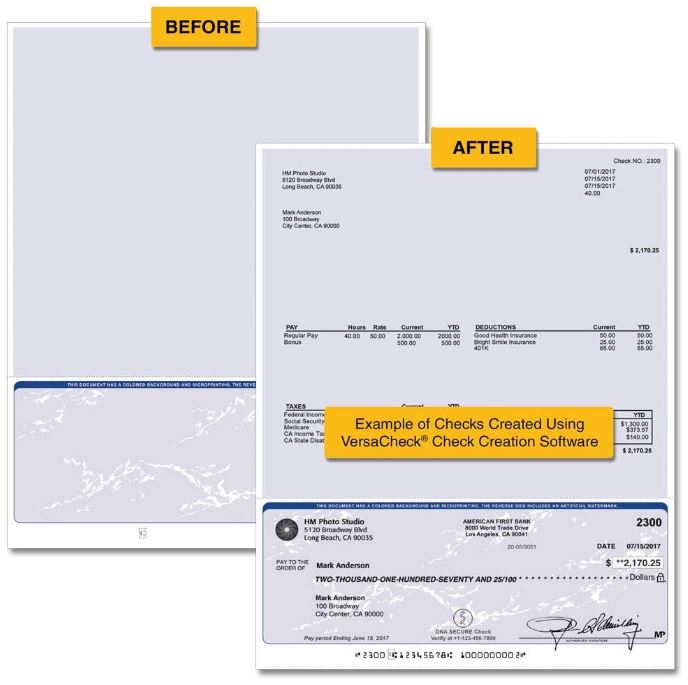 In addition to all that, you get a couple of important extras. First, you get a starter pack of 100 sheets of check paper. That's enough to get through your first 450 checks. More importantly, you get a copy of VersaCheck Gold check printing software. That's a huge benefit, since otherwise you'd still have to buy your own software.
Connectivity and Compatibility
The M15 MX printer can connect to your computer via USB. It can also be used as a network printer using Ethernet or WiFi connectivity.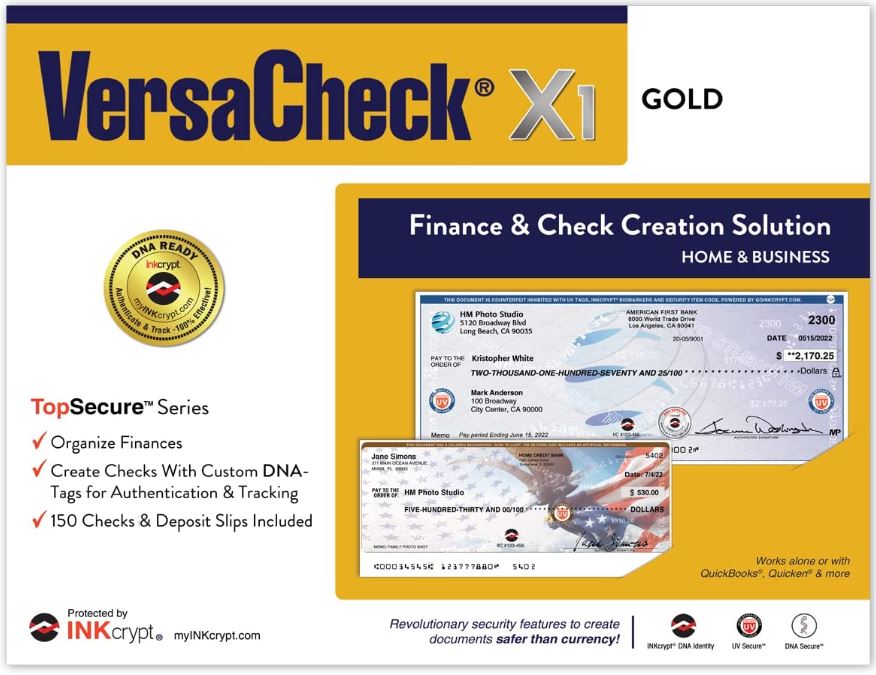 The printer itself is compatible with pretty much any computer. It will work with any Windows PC, starting with Windows 7. It's also compatible with Mac computers running OS X v10.8 or later. However, there is a catch. The included software will run on almost any Windows machine, including Windows Server 2008 and 2012. But the Mac software isn't included in the package. You'd have to buy the separate Mac software from VersaCheck, or use a different software.
When you're buying a new printer, you'll probably need somewhere to put it. If desk space is at a premium, there's no need to worry. Check out our list of the best printer stands and carts. At least one of them is bound to be right for your needs.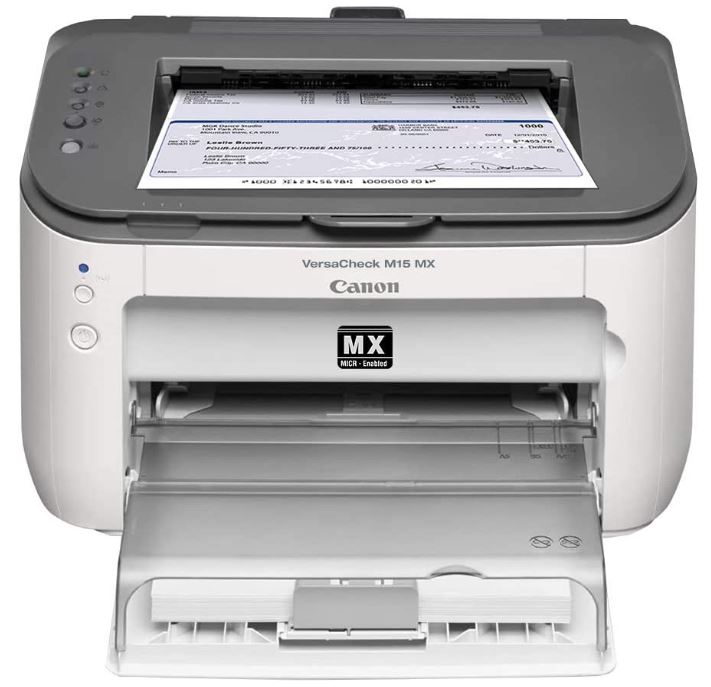 Printer Capability
The M15 MX can print up to 26 pages per minute. That's on the slow side for an office printer, but not terribly so. At three checks per page, you could still put out 78 checks per minute. As for resolution, it prints at a crisp 600 DPI. Needless to say, this is no photo printer. But for checks or basic office documents, it does more than a good enough job. And for office work, it features automatic duplex printing. This is great for printing booklets or pamphlets, although that's really just a secondary application.
The magnetic toner cartridge has a high yield of up to 2,000 pages. That's 6,000 pages at three pages per sheet. Once again, your mileage may vary when printing complete payroll sheets.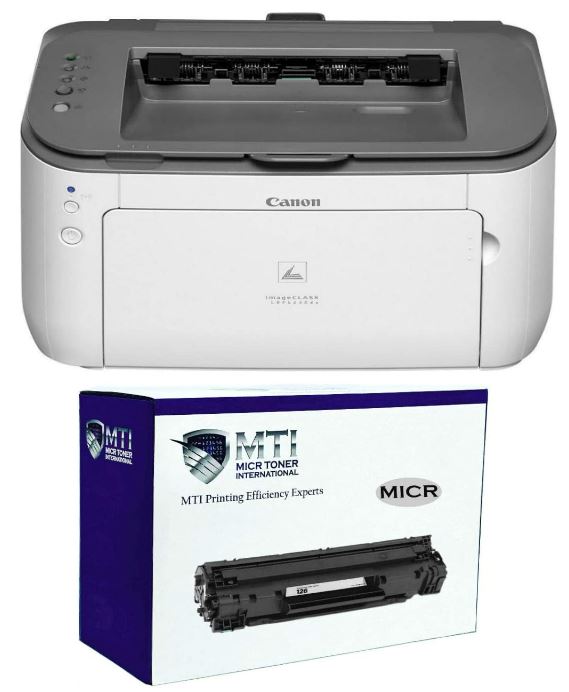 Canon imageCLASS LBP6230dw Wireless Laser MICR Check Printer Bundle
If you're looking for a great printer, it's hard to go wrong with Canon's imageCLASS series.
The Canon imageCLASS LBP6230dw printer has a white plastic housing with a charcoal top panel. It looks good with any office décor, and has a small, 11.5" x 14.9" footprint. The paper feeds out into a tray in the top. Next to the tray is a row of control buttons so you can access all the basic functions.
The paper hopper is a bit unorthodox. You flip open a door on the front panel, and slide your pages under a shroud. Then you remove any unused sheets when you're done. That said, the capacity of 250 pages is reasonably generous.
The imageCLASS LBP6230 is covered by a 12-month manufacturer's warranty. If there are any defects in materials or labor, you'll be fully protected.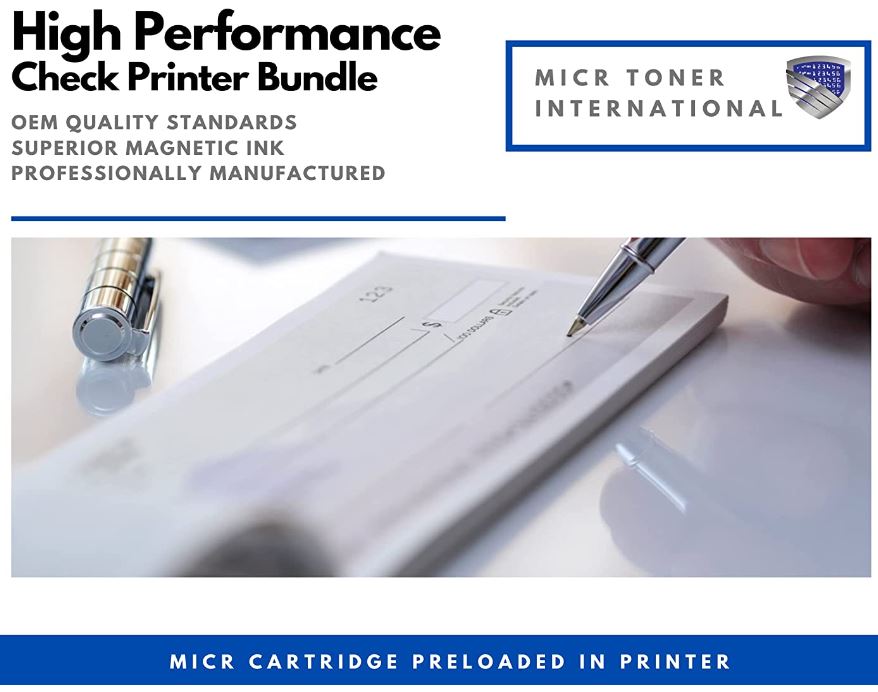 Connectivity and Compatibility
You can connect to this printer using a variety of methods. In addition to USB, you can connect it via Ethernet or WiFi and use it as a network printer.
System compatibility is a bit of a mixed bag. On the one hand, it's compatible with Windows operating systems dating back to Windows 7 and Windows Server 2008. It also works with Linux and Citrix systems. However, it's not compatible with MacOS. You'll also need your own check printing software in order to create your checks.
Printer Capability
The imageCLASS LBP6230dw can print at a rate of 26 pages per minute. It supports automatic duplex printing, with a print resolution of 600 DPI. So while it's hardly a speedster, it's more than fast enough for the task.
Along with the printer, you get an MCR magnetic toner cartridge. The cartridge is pretty robust, with a yield of 2,100 pages at three checks per page. That's enough to print 6,300 checks before you have to buy a new cartridge.
Final Verdict
All three of these MICR printers will do a great job of printing secure checks. But which one is going to be best for your business? Here's what we've learned.
We began by looking at the BGI HP M404n Check Printing Bundle. This bundle includes a high-quality HP printer with 40 pages per minute at 1,200 DPI. It's compatible with almost any computer, and works as a USB, network, or cloud printer. And the toner cartridge yields 1,500 pages at three checks per page.
Next, we reviewed the VersaCheck Canon M15 MX MICR Laser Check Printer Bundle. This printer is a tad slower, at 26 pages per minute. However, the magnetic toner cartridge has a higher, 2,000-page capacity. You also get automatic duplex printing and a regular black toner cartridge for documents.
Finally, we evaluated the Canon imageCLASS LBP6230dw Wireless Laser MICR Check Printer Bundle. It's similar in many ways to the M15 MX. Both have the same printing speed and resolution, as well as automatic duplex printing. However, while the M15 MX comes with additional features for documents, the imageCLASS LBP6230dw has a bigger toner cartridge. With a yield of 2,100 pages, it's the most productive of the bunch.