Don't look now, but the calendar is fast approaching Halloween. It's the time of year when we all dress up in spooky costumes and watch scary movies. Halloween is many people's favorite holiday, and it's easy to understand why.
Compared to other holidays, there's less stress. You don't have to travel, make fancy dinners, or deal with your in-laws. Even so, people still put a lot of energy into preparing for it. We set up elaborate lawn displays, carve pumpkins, and buy candy for trick-or-treaters. And of course, everyone loves to get dressed up in a fun Halloween costume.
Note: At no extra cost to you, we may earn a commission for purchases using our links. Learn more.
But back in the old days, dressing up for Halloween was no laughing matter. People believed that ghosts and demons roamed the night on October 31st. If you wanted to be safe, you needed to fool them, so you wore a scary costume.
That way, the spirits would think you were one of them. Even jack-o-lanterns have a sinister origin. They were believed to ward off evil spirits, so it was important to have one on your porch on Halloween. Otherwise, your house could end up haunted!
Nowadays, we take Halloween a lot less seriously. But we still like to get dressed up and show off our costuming skills to our friends. This can be a great way to put your arts and crafts skills to the test.
However, you don't have to rely on old-school crafting skills to create a good costume. With modern technology, you can do all kinds of things your parents could only have dreamed of. Take an LED mask, for example. With a light-up mask, you can create animations, or just wear a terrifying LED face. All you have to do is find a mask that goes well with the rest of your costume.
Choosing the Best Light-Up LED Halloween Masks
We're about to review five of the best light-up LED Halloween masks we could find. Most of these options have replaceable batteries, so there's no limit to their life cycle. They're also easy to operate, so you don't have to be a tech expert. We also looked for masks that were comfortable and breathable.
That said, there are many factors that go into determining the best mask. To figure out which one is right for you, we'll need to dig deeper into each of our options. We'll talk about how they're made, and how they fit on your head. And of course, we'll talk about the LED features and functions. After that, we'll have a complete picture of what we're dealing with. Let's begin!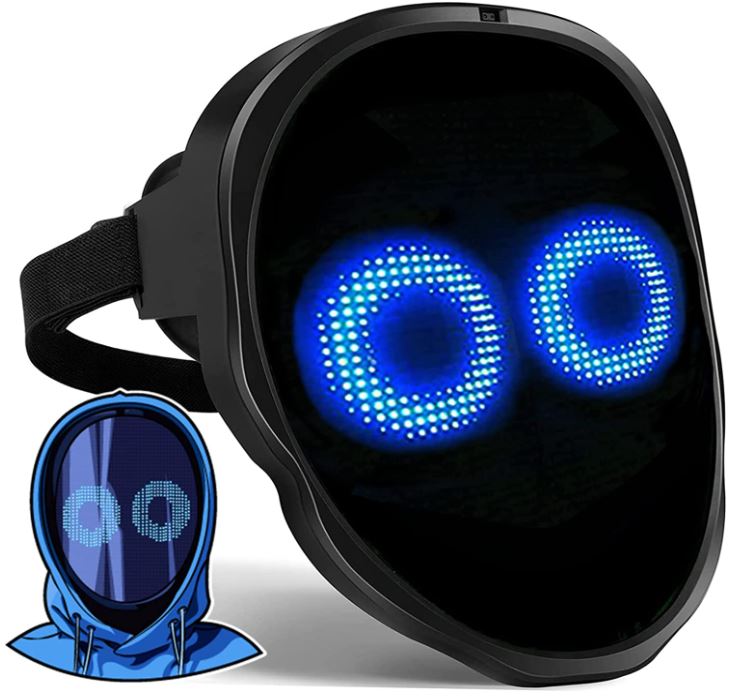 Luminous Face Transforming LED Mask
The Luminous Face Transforming LED Mask is just a flat, face-shaped mask at first glance. When unpowered, it's a bare black surface with cutouts for your eyes. On the back is a wide elastic strap, which can be adjusted to fit your head. There's soft silicone padding around the eyes, and the mask feels almost like a set of swim goggles. You can breathe freely, and you'll have a reasonably wide range of vision.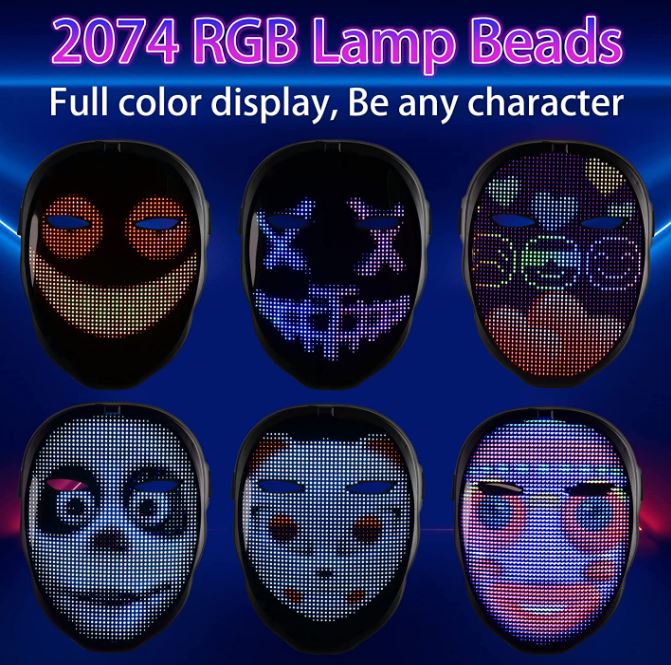 Inside the front of the mask are 2,074 individual RGB diodes. The resolution is roughly 46 x 58, although the shape is irregular, not rectangular. Each individual diode can light up in any color, so the entire surface turns into a low-resolution LED display.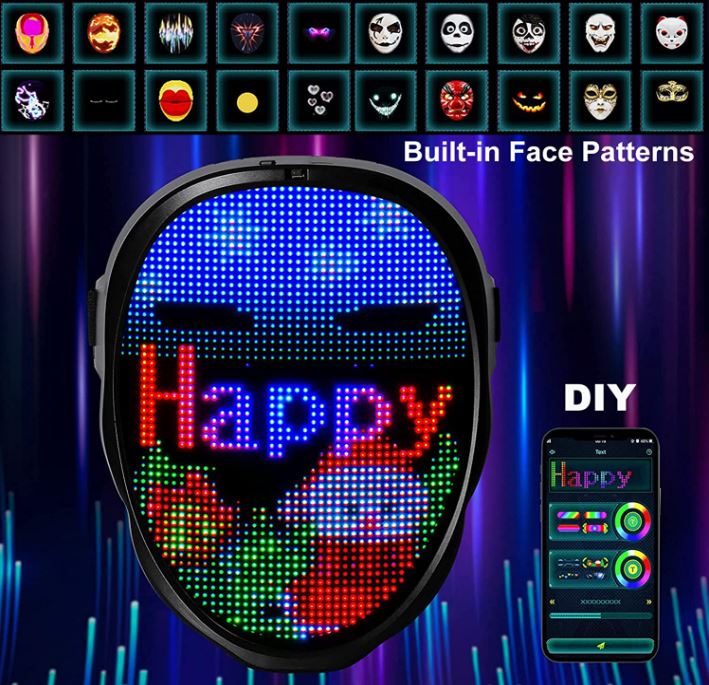 There are two ways to customize the display. The first is to use hand gestures in front of the motion sensor on the front. To do this, cover the sensor when you turn on the mask. The screen should say "OK" to confirm that hand gestures have been activated. Using this method, you can swipe your hand left or right to choose from 50 animations or 70 static images.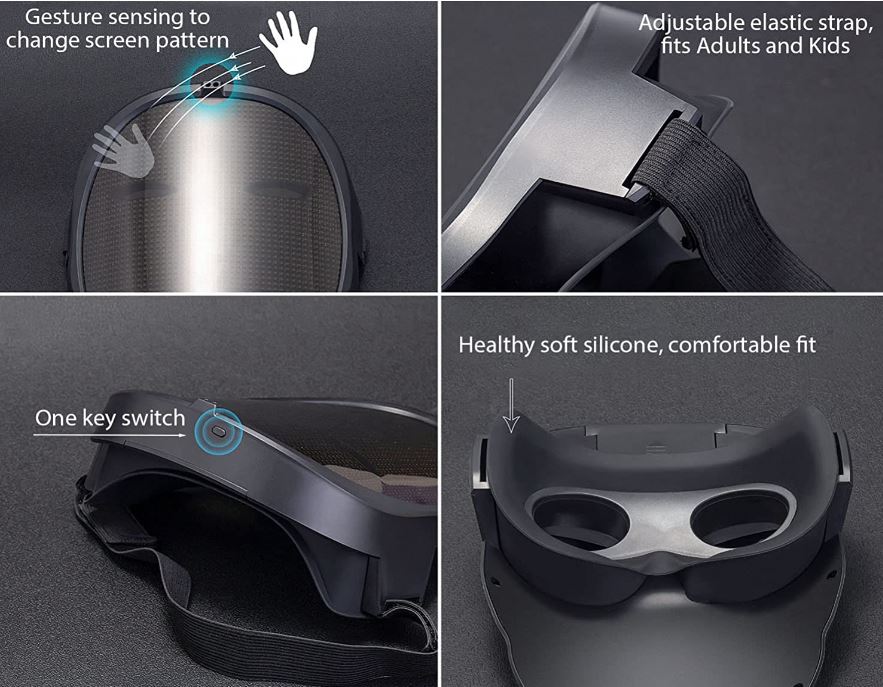 Using the phone app, controls are even simpler. You can choose from the same set of animations and images, or upload your own pictures. You can even create your own custom strolling text. There's also a music option with an EQ display. When the internal microphone picks up audio, the waveform on the screen will move along with it.
This mask has two different power options. The first has an internal rechargeable battery that will last for between 10 and 14 hours. It charges via USB Type-C, and will fully recharge in around five hours. Alternatively, you can order a version with a battery housing for three AA batteries.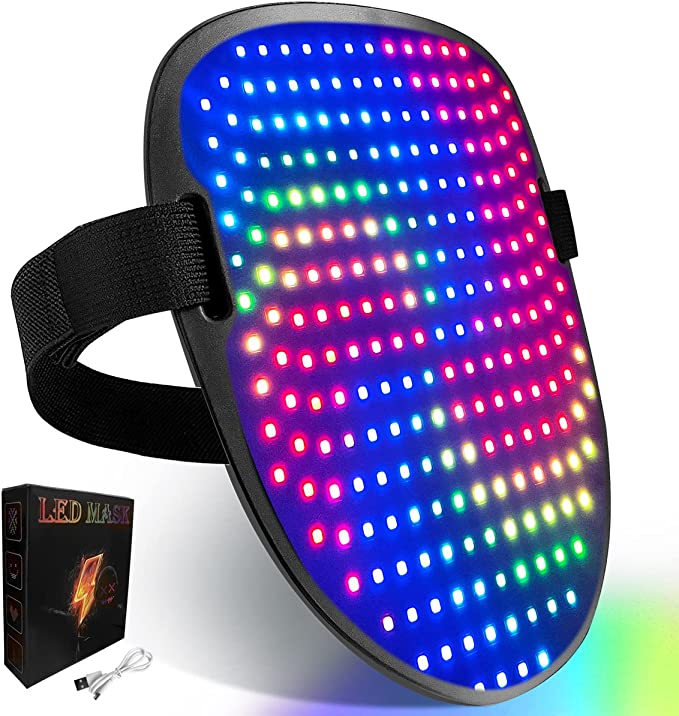 MEGOO LED Mask
The MEGOO LED Mask has a similar flat, black design. It attaches to your head with an adjustable elastic strap, and there's generous foam padding around your eyes. It's comfortable to wear, but the eye slits are a bit narrow. This means you'll have limited visibility, so it's not ideal if you have to navigate unfamiliar areas.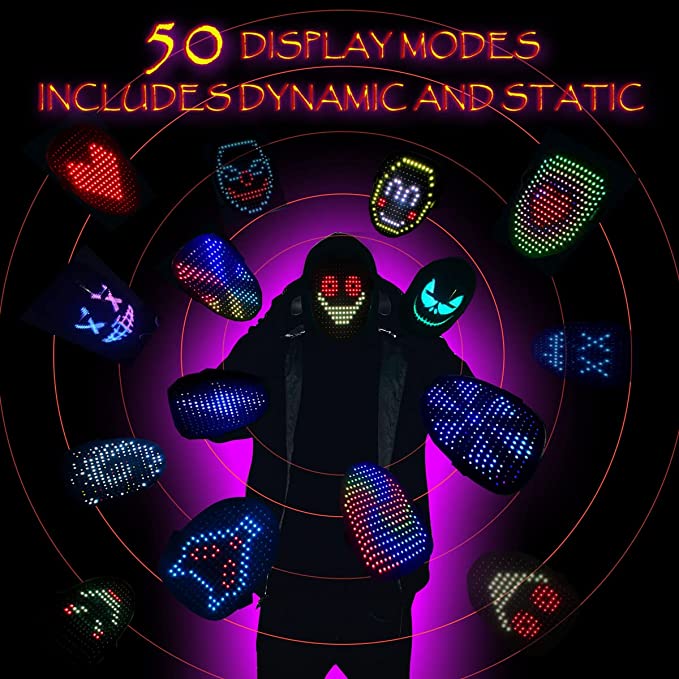 On the front surface, there are 234 LED diodes, arranged in a roughly 16 x 17 grid. As before, those numbers are rough, because the shape is not entirely regular.
There are no app controls for the MEGOO mask. However, the gesture controls are simple to understand. Hold your hand over the motion sensor while you turn on the power, and the screen should say "OK." You can turn it back off by putting your hand over the sensor until the screen shows an "X." Using the controls, you can cycle between 50 different display modes. These include not just static images, but also several fun animations.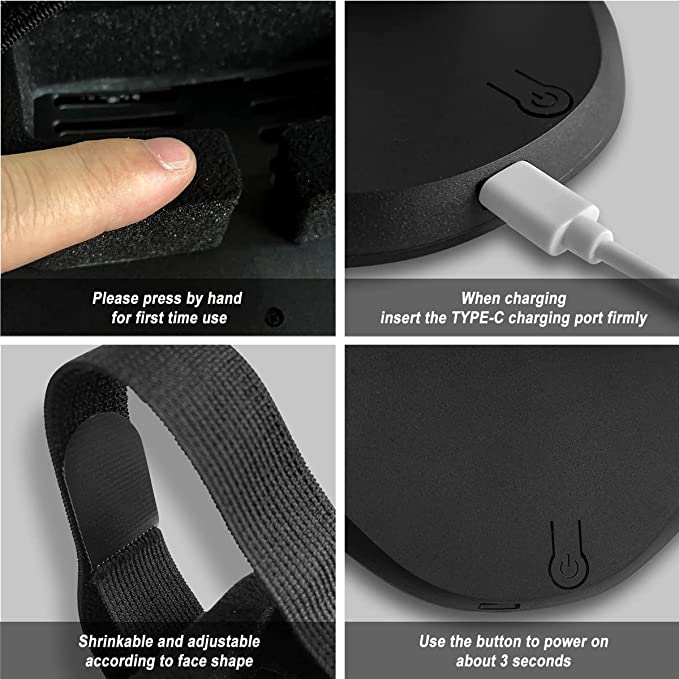 This mask runs on an internal rechargeable battery. It's rated for around eight hours of use, but that will depend on the method of operation. For example, the battery will drain faster with an animation than it will with a static image. When it dies, you can recharge it in about three hours with the included USB Type-C cable.
Of course, wearing a costume is only part of celebrating Halloween; you also want to put up some decorations. And what good are decorations on Halloween night if nobody can see them? If you want soft, unobtrusive illumination, consider an LED mason jar light. They're a great way to light up a small area for a few hours.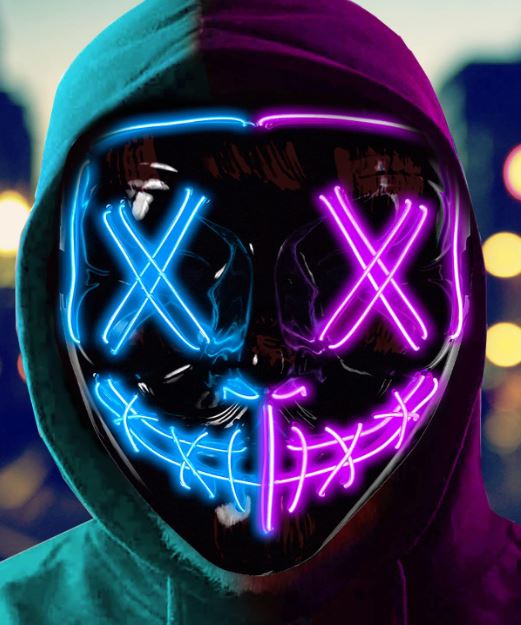 Pegason LED Halloween Mask
The Pegason LED Halloween Mask is designed with the now-classic pattern from the Purge movies. It sports a wide, creepy, stitched grin across an all-black surface. There are Xs where its eyes should be, and a vaguely-outlined nose, with a border around the entire face. You can order it in all-blue or all-purple, or choose a blue/red or blue/purple two-tone design.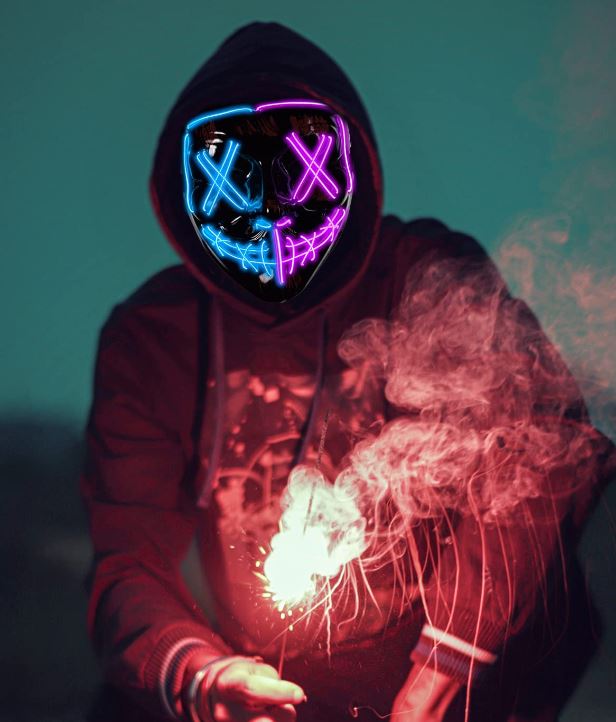 Beneath the LED lighting is an all-black PVC plastic Guy Fawkes mask. It's not noticeable when the LEDs are lit. But when the lights are off, you can make out the unmistakable outline of a mustache. The eye cutouts allow for good visibility, and foam padding makes the mask comfortable to wear. The elastic headband is easily adjustable, and the overall size is 8.2 inches high and 7 inches wide.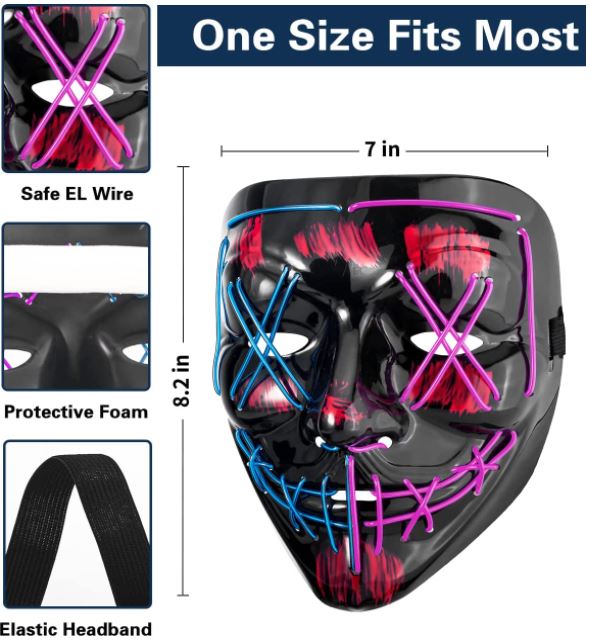 This mask is powered by a pair of AA batteries, which go in a separate battery housing. This pocket-sized housing has a clip on the back, to secure it to your belt or pocket. It connects to your mask with a cord, which you can conceal in your costume. The batteries will last for around 60 to 90 minutes, depending on how you're using the LEDs.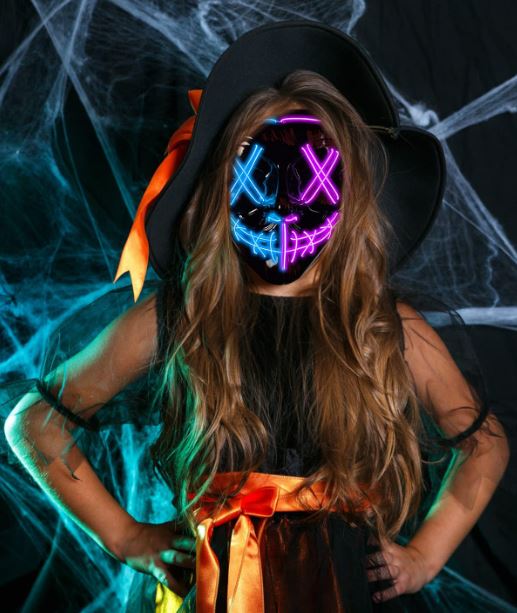 On the front of the battery housing is a single control button, which switches between three modes. You can turn the LEDs on, put them into a slow flicker, or make them flicker quickly. The same button will also turn the lights off altogether. Next to the button is a red power indicator, to let you know the batteries are supplying power. In theory, if the light is on, the mask should also be on.
We've already talked about how decorative ambient lighting can be a great extra holiday touch. But why not use the same set of lights for multiple occasions? With RGB outdoor LED lights, you can. They're smartphone-controllable, so you can change colors with the seasons.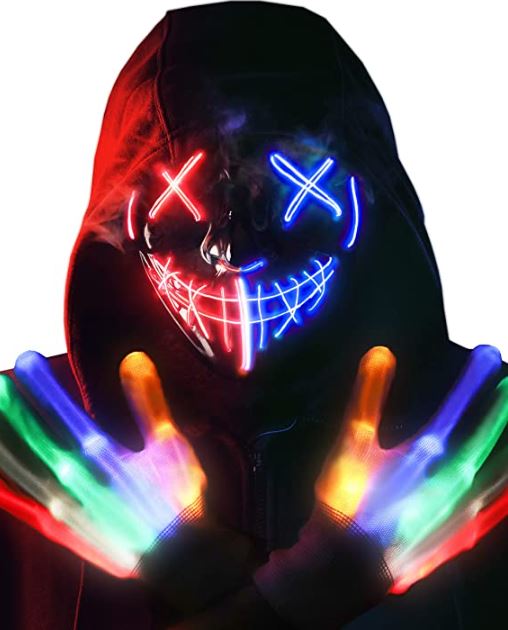 LED Purge Halloween Mask with Gloves
The LED Purge Halloween Mask with Gloves is yet another Purge-style mask. It's even built around a similar black PVC Guy Fawkes mask, although this one is a hair larger. It's comfortable to wear, and will adjust to fit pretty much anybody. The LEDs have a two-tone design, and are available in blue/red or blue/pink.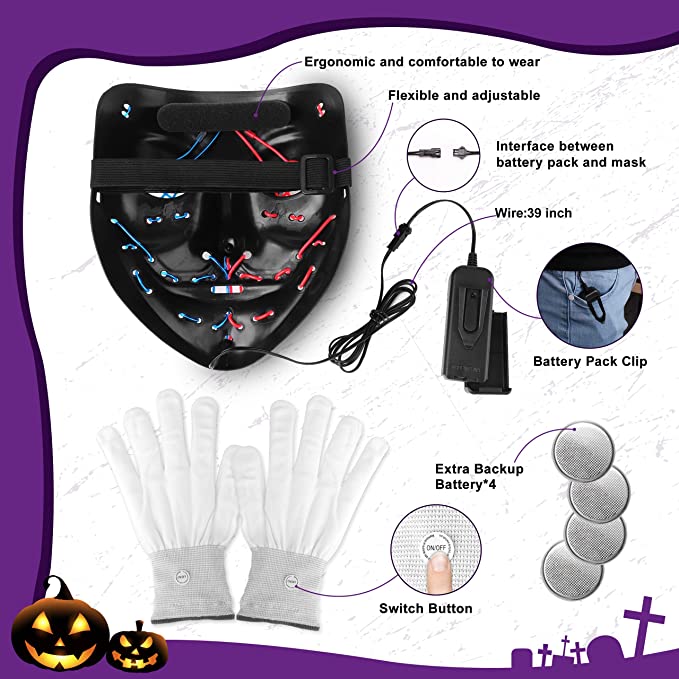 You also get a similar battery fob, which takes two AA batteries. It clips into your belt or pocket, and connects to the mask with a breakaway cord. If the cord comes under stress, it will disconnect rather than snapping. The control is a simple on/off switch, which activates or deactivates the LEDs.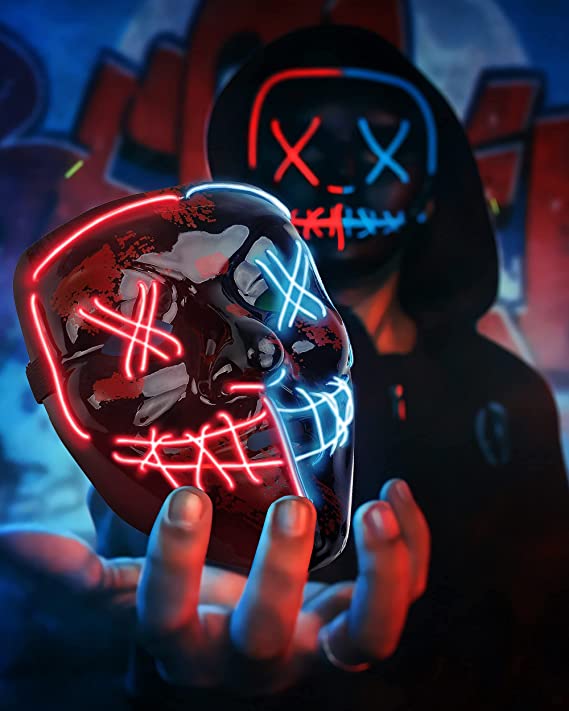 Along with the mask itself, you get a pair of RGB gloves. Each finger has its own color: orange, white, blue, green, and red, ranging from your pinky to your thumb. You can activate them with a simple button on the wrist band. Each one is powered by a small CR2016 battery, and there are four extras in the kit.
The gloves aren't made for working, and they don't provide a lot of grip. In a word, they're neither durable nor practical. But they're fun to wear with a costume, and they're great for taking photos or dancing at a party.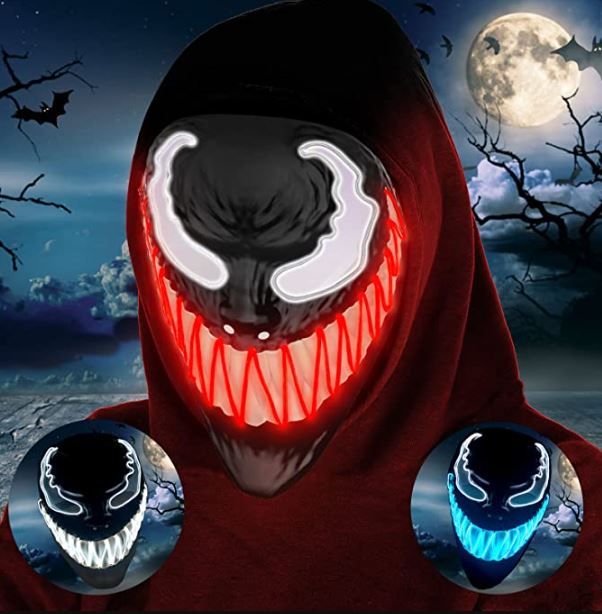 Creepy Grin (Venom) Light Up Halloween Mask
The Creepy Grin Light Up Halloween Mask is a Venom mask. It might not be branded that way for copyright reasons, but that's what it is. It's the spitting image of everybody's favorite Spider Man villain. It has a huge, wide grin with white, crescent-like eyes with irregular edges. Across the mouth is a red zig-zag LED, and the eyes are outlined with blue LEDs.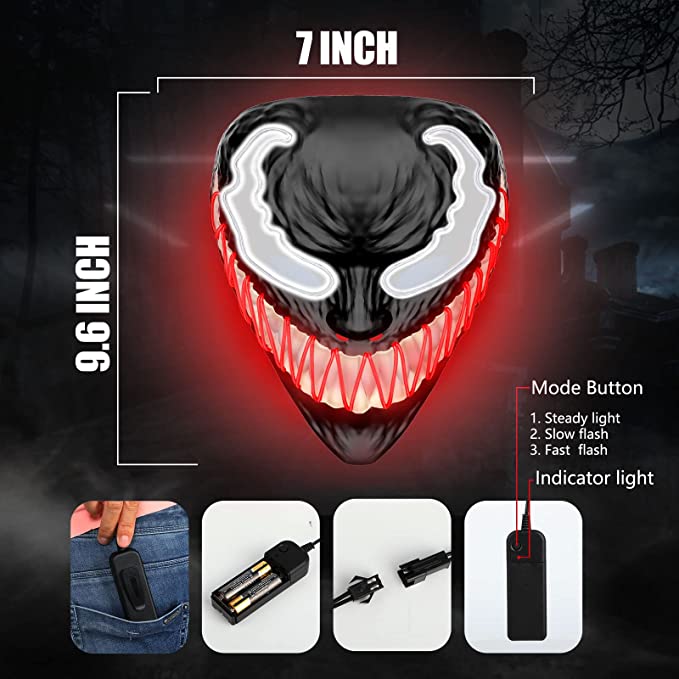 The mask is constructed from solid black PVC plastic, with an adjustable elastic head band. It's reasonably comfortable to wear, and there are openings in the nose and mouth. As a result, it's easier to breathe than it is with some other masks. The package also includes an optional tongue attachment. You just cut a hole in the mouth and insert it. To be honest, the tongue is pretty chintzy, and we just threw it away.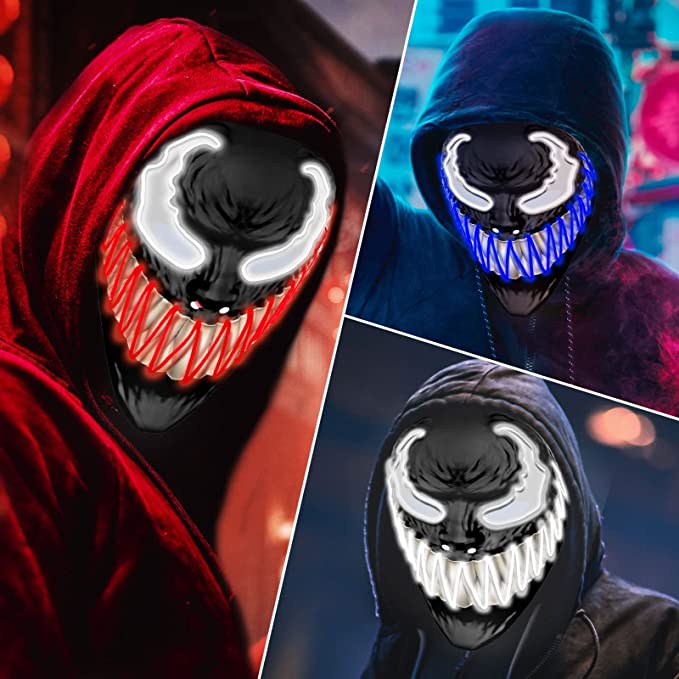 The Creepy Grin mask utilizes a pair of AA batteries, which go in a fob with a belt clip. On the clip is a button that controls the operation, and can select from four modes. The lights can be on, off, flicker slowly, or flicker quickly. Better yet, a pair of batteries will last you a full 24 hours.
Final Verdict
Which light-up LED Halloween mask is right for you will depend on what you're looking for. Let's quickly recap what we've learned about each option.
We began by looking at the Luminous Face Transforming LED Mask. This is a beautiful LED display that can show any image you want. With animation options and a music mode, you can even make your mask dynamic. And with AA and rechargeable options, you get to choose the best power supply for your needs.
After that, we evaluated the MEGOO LED Mask. This is similar in many respects to the last mask, but it has a much lower resolution. It also lacks an app, and has a slightly narrower field of vision. On the plus side, it still has easy-to-use gesture controls, and it's less than half the price.
Next up on our list was the Pegason LED Halloween Mask. This is a Purge-style mask that comes in multiple color options. It's comfortable to wear, and the LEDs are easy to control. The only downside is the somewhat limited battery life.
The LED Purge Halloween Mask with Gloves was fourth in line. It's virtually identical to the Pegason mask, but with somewhat longer battery life. And while it costs a few dollars more, it also comes with a slick pair of RGB gloves.
The last mask we reviewed was the Creepy Grin Light Up Halloween Mask. This Venom-inspired mask is a great complement to any generic monster outfit. It's easy to operate, and you get an impressive 24 hours of battery life. That's longer than you'll ever wear a mask continuously.
Please consider sharing:
Note: At no extra cost to you, we may earn a commission for purchases using our links. Learn more.