Fall is in the air. And while pumpkin spice season might just be getting started, it's not too early to think about Halloween. There are plenty of ways to decorate your home. Maybe you have a busy lifestyle and keep things simple with a traditional jack-o-lantern.
Maybe you like to go all-out with a yard display and decorations hanging from your trees. But no matter what your approach, a set of colored LED lights is a great way to get festive. They take just a few minutes to set up, which makes them a great choice even if you're very busy. And if you have a big display, it will be well-lit at night.
Note: At no extra cost to you, we may earn a commission for purchases using our links. Learn more.
The cool thing about colored LED floodlights is that they tend to be adjustable. In other words, you aren't limited to a single set of seasonal colors. When Halloween gives way to Christmas, you can switch from orange to red and green.
Maybe you want pink lights for Valentine's Day or red, white and blue for the fourth of July. You can change things up when and how you like. Unlike with colored incandescent bulbs, you don't have to swap out your lights to change colors. You do it with an app or remote control.
On top of all this, LED lights serve a practical function. Just like traditional floodlights, they light up your property, which can deter thieves. So not only are you making your yard more festive, but you're protecting your home at the same time. But with all that being said, it's important to find the right light. You want one that's bright enough and durable enough for your needs. Otherwise, you're bound to be disappointed.
Choosing the Best Affordable RGB Flood Lights for Halloween
We're about to review three of the best affordable RGB Halloween flood lights on the market. All three of these lights are built for outdoor use, so you can light up your entire yard. They're also customizable, which is exactly what we want to see in any colorful LED light.
But to find out which one is right for you, you'll want to know more details. We'll look at the physical build, and how well they're constructed. We'll evaluate the LEDs themselves, and see how bright they are. In addition, we'll also need to talk about the controls, and how you can customize them. After that, we'll have enough information to make a fair judgement. Let's get started, and see what we find out!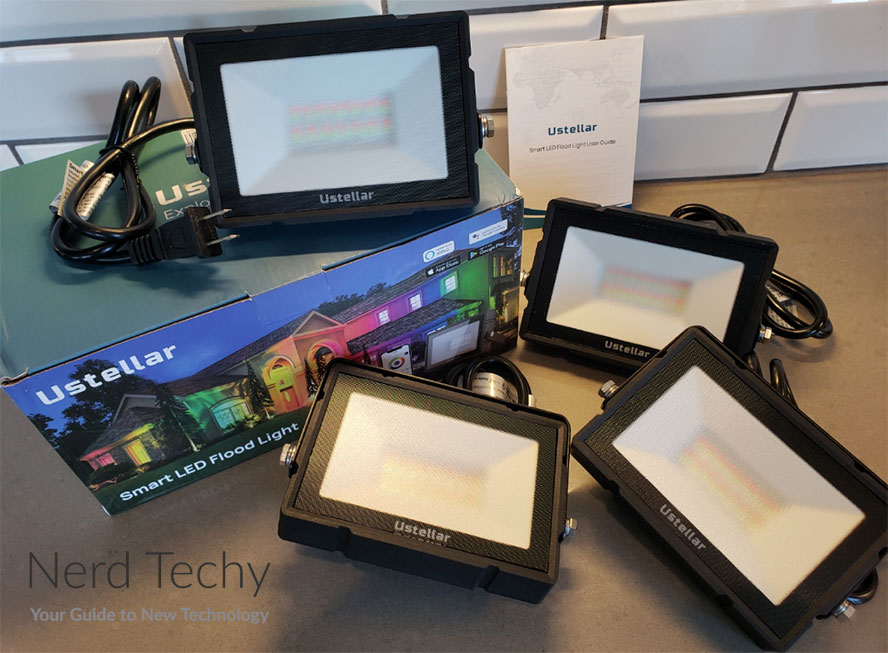 Ustellar TANK 20W Smart RGB Flood Lights
The Ustellar TANK 20W Smart RGB Flood Lights are constructed primarily from a durable black aluminum. The housing is rectangular, and measures 4.7 inches tall, 5.5 inches wide, and 1.2 inches thick. The LED diode cover is made from a textured glass with an anti-glare design. This is better for diffusing light and protecting eyes. The light emitted is also softer, creating a gentle atmosphere. Best of all, the lights come in a 4-pack, so you can cover a fairly wide area.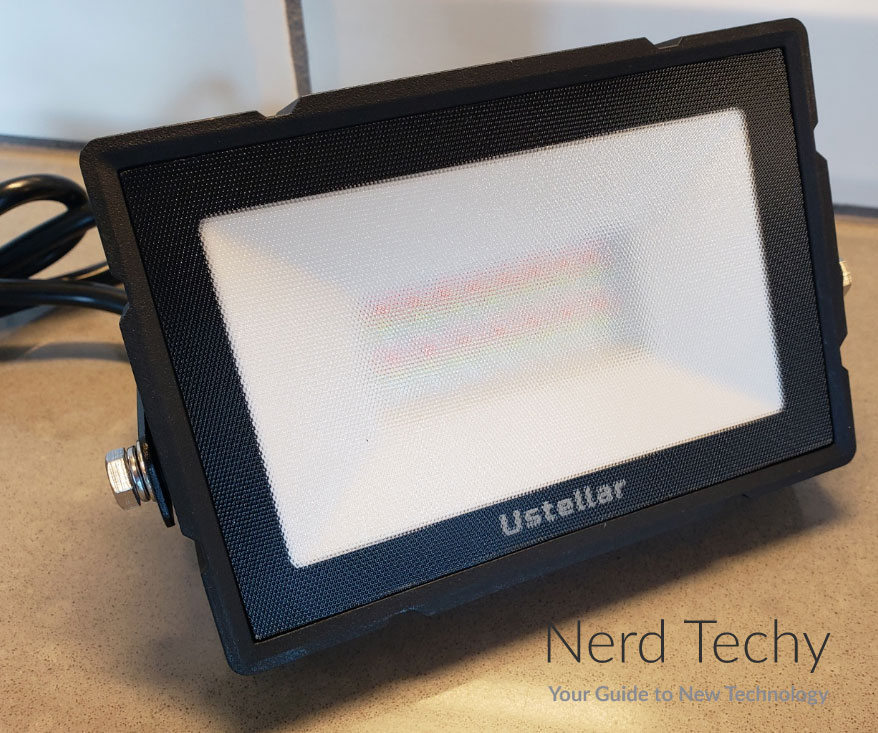 At the back of the housing is a 40-inch power cord, which can plug into any AC outlet or extension cord. There's also a metal support bracket that props the light up at an angle. You can rotate the bracket 360 degrees, so you can angle the lights exactly the way you want to.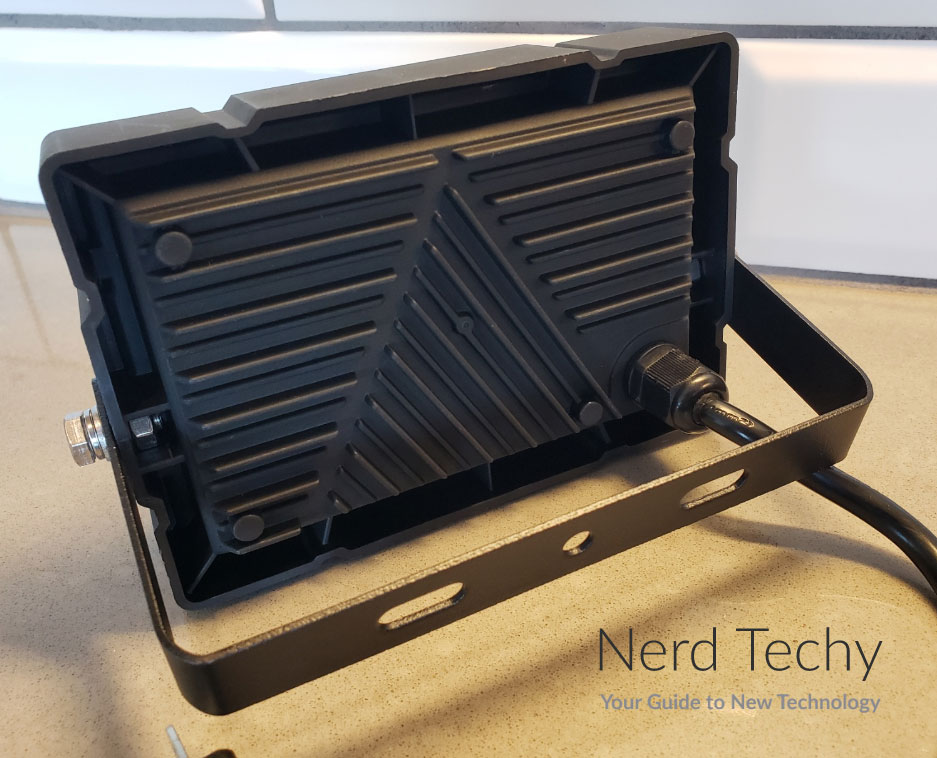 The TANK has a weather-resistance rating of IP66. The first "6" means that it's 100% dust-proof, even from ultra-fine particles. The second "6" means that it can withstand a lot of water. It's not quite submersion-proof, but it will stand up to hard, driving rain. You can even spray it clean with a hose. Ustellar backs this up with a 2-year warranty, so you know you're protected.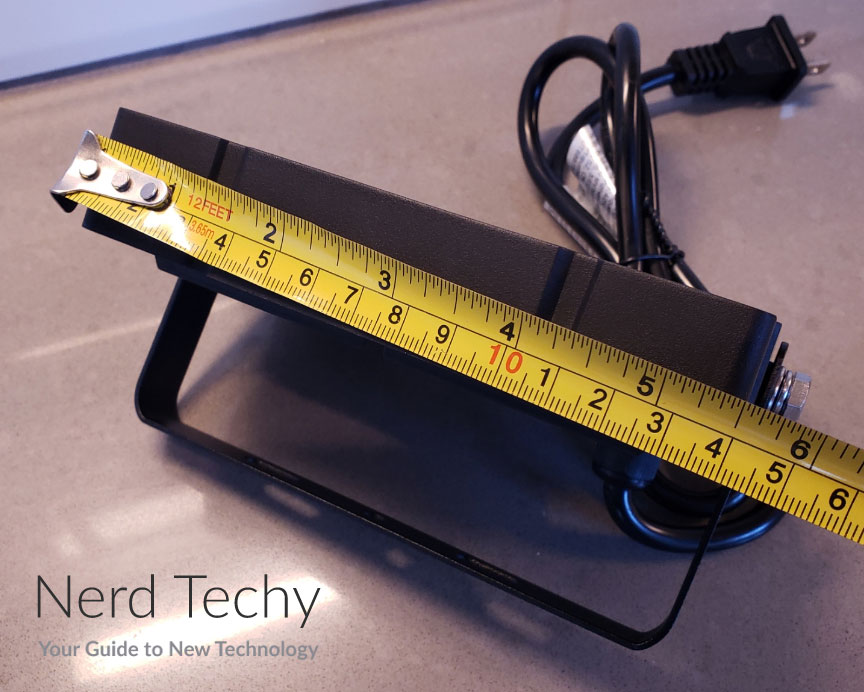 Each LED flood light draws 20 watts of power. That might not sound like much, but keep in mind that LEDs put out a ton of light for the wattage. In fact, a 20-watt LED is roughly equivalent to a 100-watt incandescent bulb. That's not insanely bright, but it will illuminate a fair bit of your yard.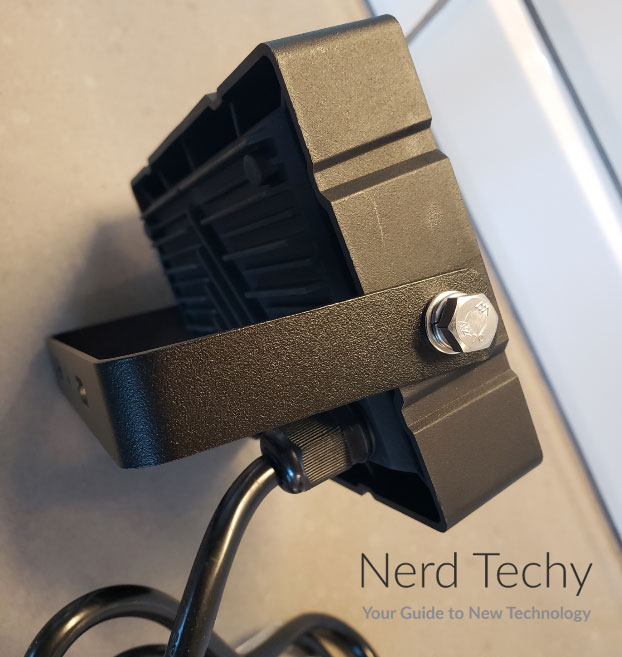 This is all great news. But what if all you need is a set of security flood lights? In that case, a dedicated white light is probably your best choice. Check out our list of the best white LED outdoor flood lights. They're less festive, but they're the right tool for the job.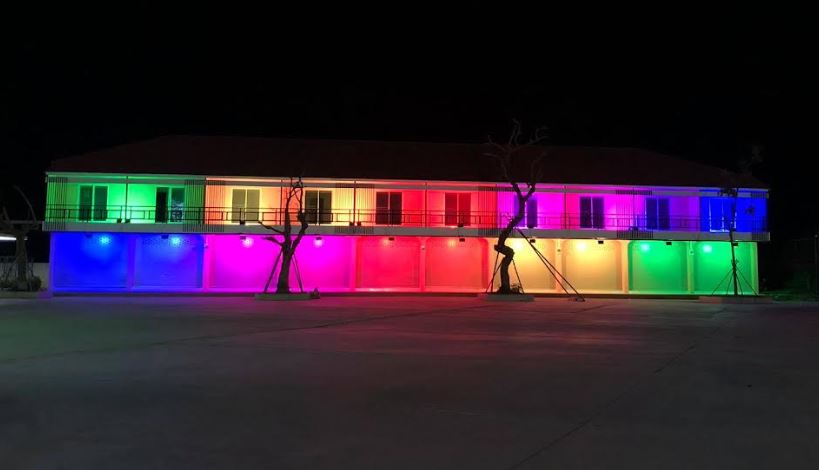 Connectivity and Control
The Ustellar TANK flood lights are controlled via the TechLife Pro app. The app is free to download and install, and it's easy to set up. You'll need to be on your home WiFi network to complete the initial pairing. But once you're paired, you can control your lights from anywhere on Earth.
Within the app, you can customize all of your lights individually. Alternatively, you can group two or more of your lights into a group. When you change the settings for a group of lights, they all change.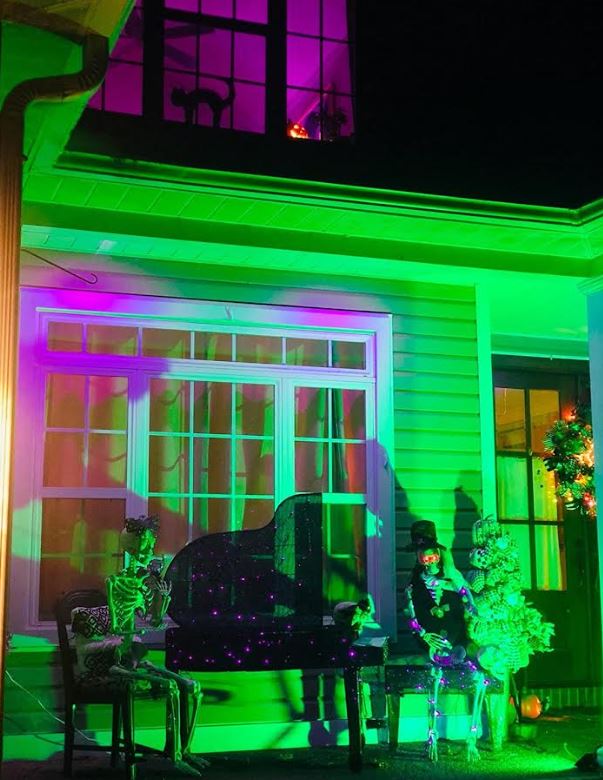 To begin with, you can adjust the color and brightness. So if you want a dimmer, more atmospheric light, you can create that effect. As far as color options go, you can choose from the full range of RGB colors.
If you want more dynamic lighting effects, you can choose between 23 preset "scenes." These are patterns where the colors change, pulse, fade, and make other transformations. Or if you don't like any of the presets, you can create your own.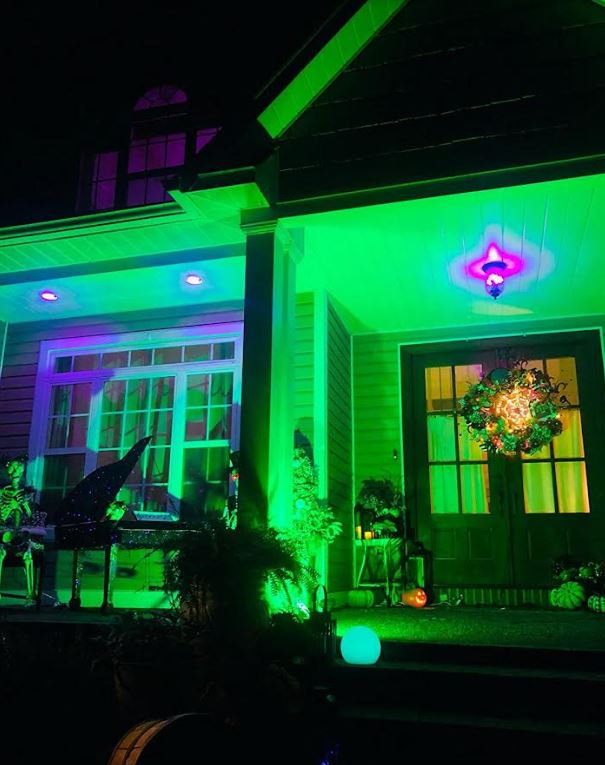 There's also a timer setting in the app. You can schedule groups or individual lights to turn on or off on a regular basis. It's a weekly schedule, so you can set different times for different days. This way, you can tailor your lights to your everyday habits.
Besides all that, the TANK lights support Alexa and Google Assistant controls. You obviously won't get the visual feedback you'll get from the app. But for simple operations like turning the lights on and off, it's a nice touch.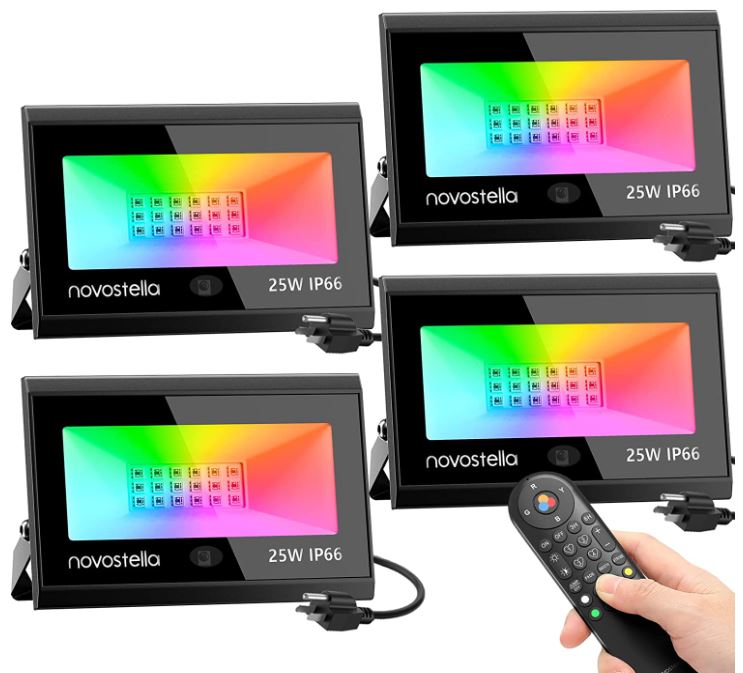 Novostella 25W RGB LED Flood Lights
The Novostella 25W RGB LED Flood Lights have a black metal frame. It measures 6.3 inches wide, 4.2 inches high, and 1.2 inches thick. The glass cover isn't quite as tough as the Ustellar, but it's crystal clear and doesn't distort the color. You can order one light individually, or save on the per-unit price by buying a 4-pack.
On the back is a rotating support bracket that can pivot 120 degrees. You can lay a light down flat or hold it up at a steep angle. There are even screw slots in the bracket, so you can mount it on a wall or a tree. At one corner of the housing is a 47-inch power cord, with a 3-prong grounded plug at the end.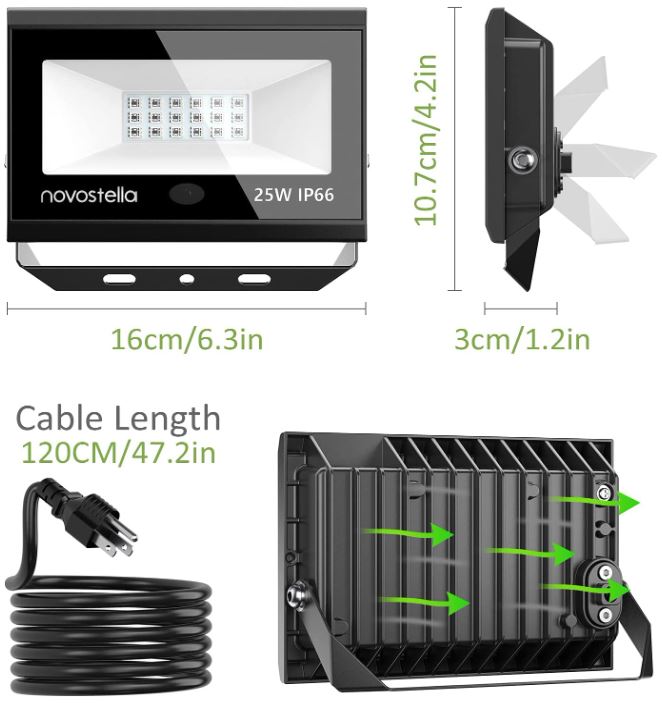 Like the Ustellar lights, these have a weather-resistance rating of IP66. However, they also have a lifetime usage rating of 50,000 hours. That's several years of nonstop, always-on operation. In practice, they should function for a decade or more. Part of the reason the diodes are so durable is the design of the case itself. There's a set of fins on the back, which serve to dissipate heat.
The power rating of 25 watts is pretty impressive. It's similar in brightness to a 150-watt incandescent bulb. So while it's not going to shine like a super-powerful 250-watt bulb, it's pretty bright.
If you like the basic design but would like more features, consider the Novostella Blink. It's a similar light in most ways, including the physical build. That said, it comes with more advanced control features, albeit at a higher price tag.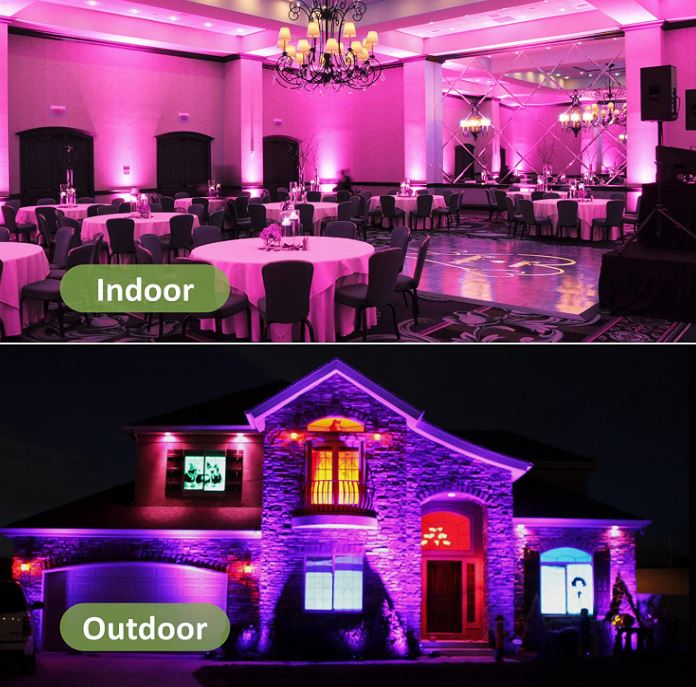 Connectivity and Control
Instead of a smartphone app, the Novostella lights are controlled by an infrared remote. This remote has a 24-foot range, but requires a clear line of sight. Smack in the middle is a set of four numbered buttons, which let you operate individual lights. When you turn a light off and on, it will remember its previous settings.
You have separate on and off buttons, along with a set of brightness buttons. These can be used to dim the lights almost all the way off if you really want to. In the same general area is a set of timer buttons. These can be used to set a 3-hour or 6-hour timer respectively.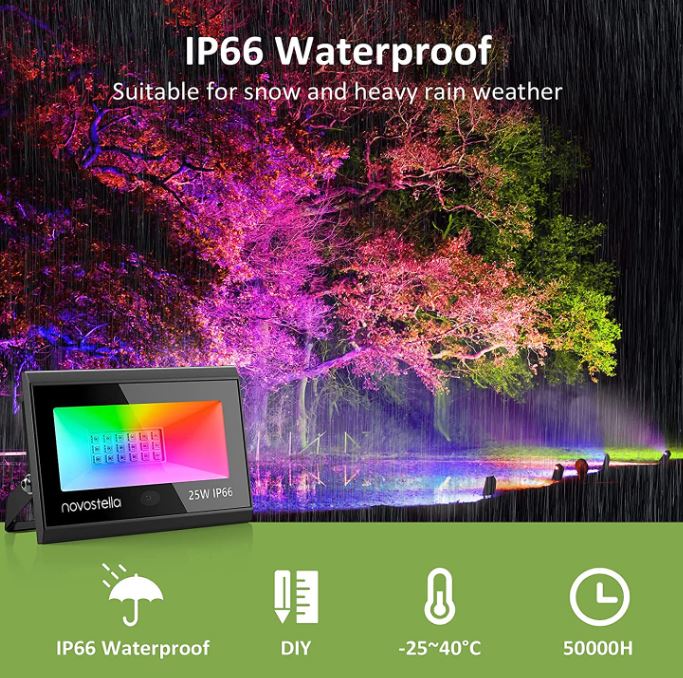 At the bottom of the controller is an array of eight buttons with colored circles on them. These buttons can be used to select the preset colors. Alternatively, there's a color wheel at the top for creating a custom color. It's easy and intuitive, but we have one gripe about the design. Because of the way it's set up, it's tough to match more than one light with the same custom color.
Above the color buttons is a row of four animation mode buttons. There's a pulsing "jump" mode, a strobe mode, a gentle fading mode, and a smooth transition. The "jump" button also allows you to create a DIY mode. The process isn't intuitive, but it's easy enough to build your own mode once you get the hang of it.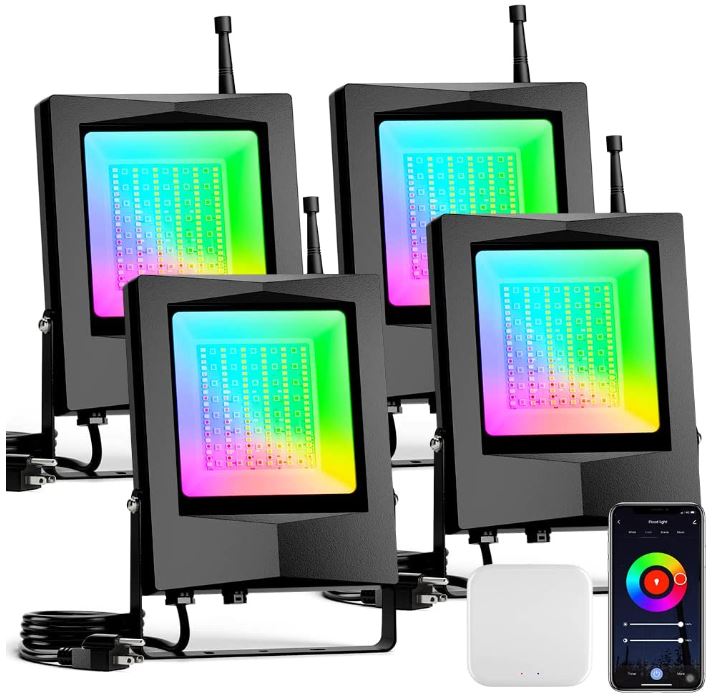 MustWin 20W Smart Flood Lights
The MustWin 20W Smart Flood Lights have a tough black aluminum housing with a glass cover. They're big and beefy, at 11.02 inches high, 7.68 inches wide, and 2.56 inches thick. And they come in a 4-pack, so you can cover a larger area.
As with the other flood lights, the MustWin light has a rotating stand that it can hold it at any angles. It's wall-mountable, and sports a long, 78-inch power cord. The weather-resistance rating of IP65 isn't quite as impressive, but you still don't have to worry about rain. Just don't hose it down, and you'll be fine.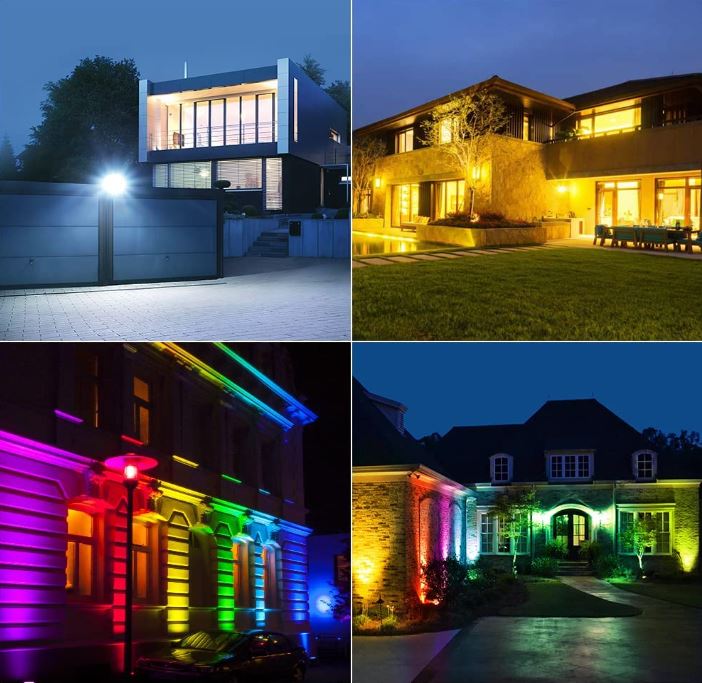 The diodes draw 20 watts of power, about the same as a 150-watt incandescent light. And while the default function is RGB, you can also switch over to a white mode. The white is adjustable from a 2,700K red-tinged warm white to a 6,500K blue-tinged cool white. And both modes are completely dimmable, so you can suit the lights to any environment.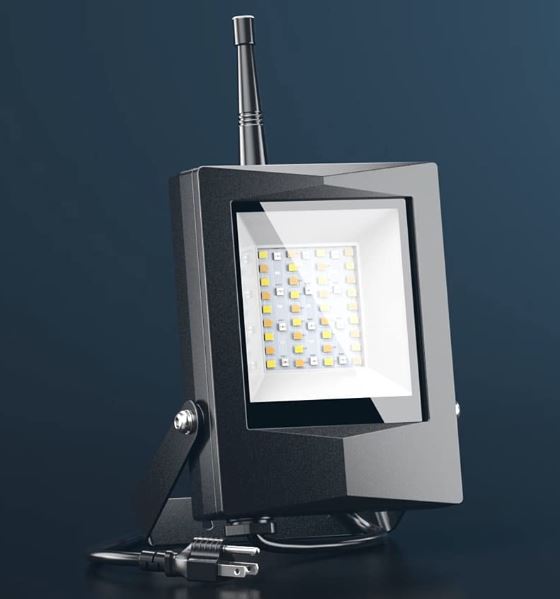 Connectivity and Control
The MustWin smart flood lights have three control options. You can use the smartphone app, a line of sight remote, or your voice assistant. If one light is within the range of your router (about 150 feet), all of your lights should work. That's because the lights connect to each-other and form a Bluetooth mesh network. As long as a light is within 65 feet of the network, it will work. The same goes for the handheld remote. If you can point it at one light, you can control all of them. Moreover, you can expand your setup to up to 200 lights.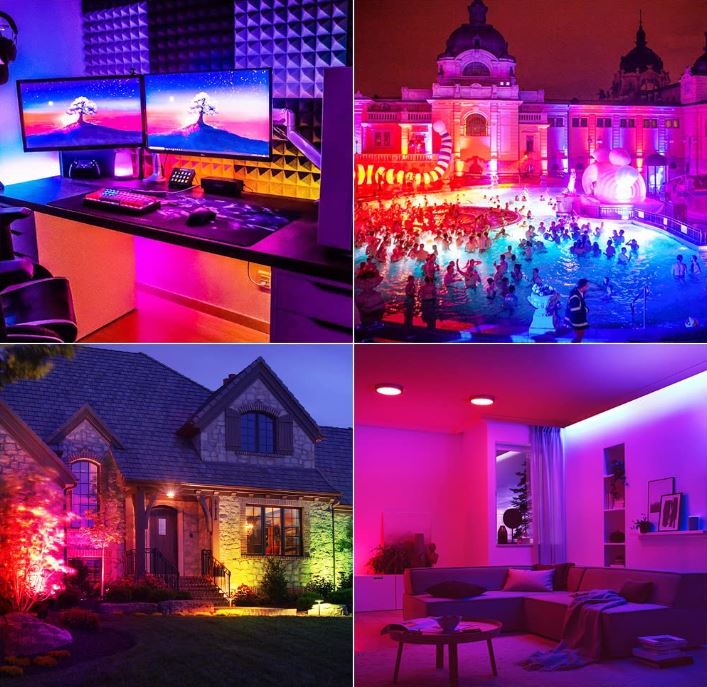 You can group multiple lights together or control them individually. And you'll have access to the entire 16-million color RGB spectrum. Like the Ustellar lights, you can create a custom timer for each light or group. And there are eight lighting scenes to choose from, although you can't create your own.
Final Verdict
As you can see, these are all well-engineered flood lights. But which set is the right choice for your yard? Here's a quick summary of what we've learned today.
We started out with the Ustellar TANK 20W Smart RGB Flood Lights. These lights provide the full 16-million color RGB spectrum. The textured glass is durable, and the app is easy to use. You also get tons of customization, including 23 animation modes and a weekly timer function.
After that, we reviewed the Novostella 25W RGB LED Flood Lights. These lights have a handheld remote, which somewhat limits your control options. But they still do everything you need, and they're very durable, with a 50,000-hour duty rating. And the 25-watt diodes provide plenty of brightness.
Finally, we looked at the MustWin 20W Smart Flood Lights. These are great if you want to cover a large area, because they form a Bluetooth mesh network. They also have plenty of control options, including the ability to work as a white light.
Note: At no extra cost to you, we may earn a commission for purchases using our links. Learn more.