Energy prices are up, and people are trying to save money in any way they can. Many of us are setting our thermostats a couple of degrees colder than last year. "Put on a sweater" has started to sound less like a dismissive phrase than a piece of sage wisdom. And if you work in an office, you may have noticed your employer taking a similar strategy.
A sweater or hoodie can keep most of your body warm, but you need your hands free to operate your computer. As a result, your hands can feel chilly even when you're comfortable on average. How do you solve this problem without turning up the heat? As it turns out, a heated desk pad is one of the best options!
We're about to review four of the best heated warm desk pads we could get our hands on. If you don't have time to read the full reviews, here are the basics:
Which one is the right choice for you? Let's take a closer look at each one, and see how they stack up!
1. Olidik Warm Desk Pad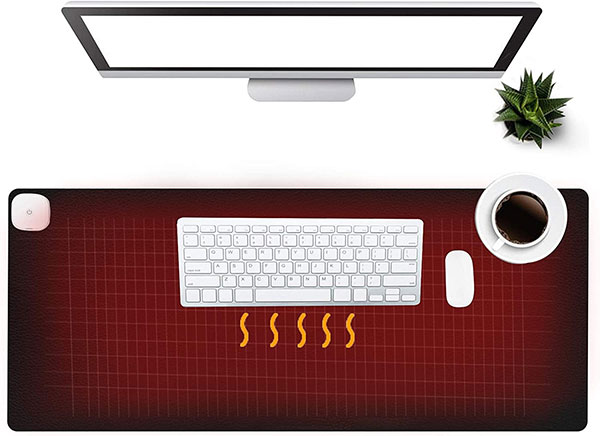 Key features:
31 x 13 inches.
Three temperature settings.
Faux leather and PVC construction.
The Olidik Warm Desk Pad is a wide, narrow desk pad that measures 31 inches wide and 13 inches long. It's all black, with a faux leather PVC upper surface and a rubberized, non-slip back. These layers sandwich the heating element and distribute the heat more evenly. Meanwhile, a protective film on top of the faux leather prevents staining.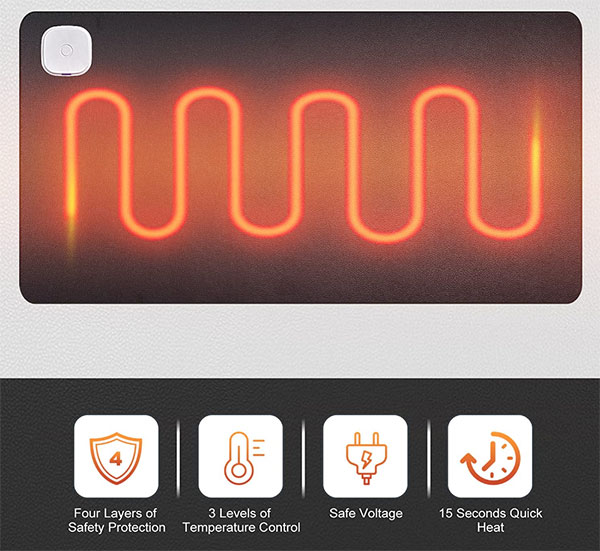 The entire desk pad is waterproof, so spills won't short out the electronics. This keeps it from shocking you by mistake. The power cord itself is located at the back left, well away from your hands. It's 59 inches long, so it should be long enough to reach the nearest AC wall outlet or power strip.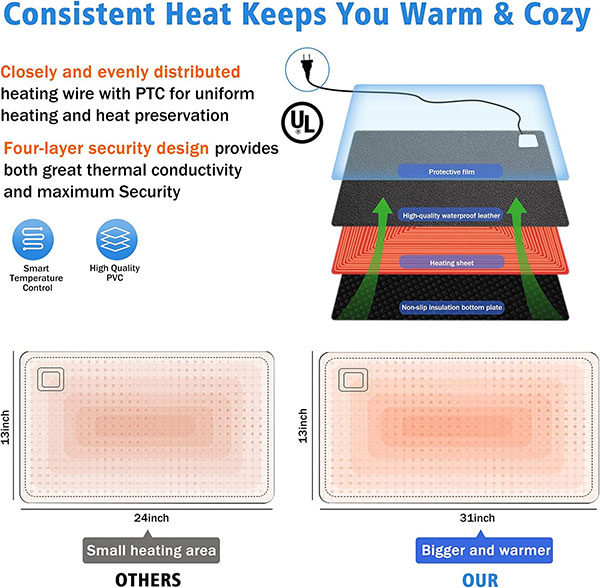 The power cord connects to a square white block that sticks out of the top of the desk pad. This block doesn't just convert the AC power to DC power; it also serves as a controller. The top has a soft touch button in the center that turns on the pad. Press it once, and the heater will go into the highest, 122-degree mode, while the backlight will turn orange. A second press will switch to the medium, 113-degree setting and the light will turn green. Press the button a third time to go to the lowest, 104-degree setting and the light will turn blue. A fourth press will turn off both the heater and the backlight.
In addition to all that, the Olidik pad has a safety system to prevent inadvertent overuse. After every hour of operation, the light will flash multiple times to remind you the heater is active. After four hours, the heater will automatically shut itself off. You don't have to worry about it running all weekend while you're away from the office.
2. Mymyth Heated Desk Pad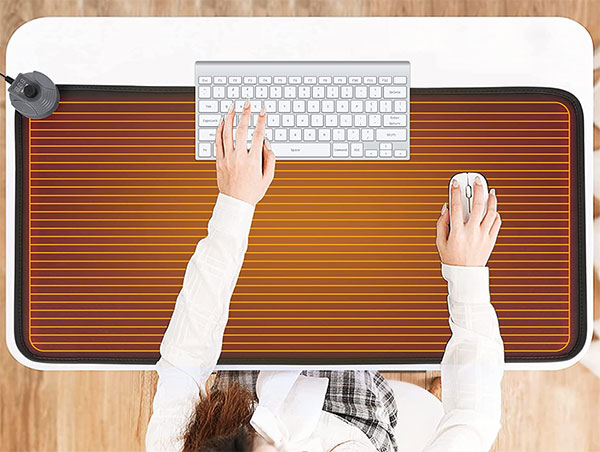 Key features:
31.5 x 17.5 inches.
Eight temperature settings.
Faux leather and rubber construction.
Built-in temperature display.
The Mymyth Heated Desk Pad has a somewhat larger design, at 31.5 inches wide and 17.5 inches deep. That's a bit large for use with a laptop, since you don't want your laptop sitting directly on the pad. It could damage your computer. However, it's great for use with a full-sized monitor. You'll have a larger heated area than with a shallower pad, which means a warmer desk overall.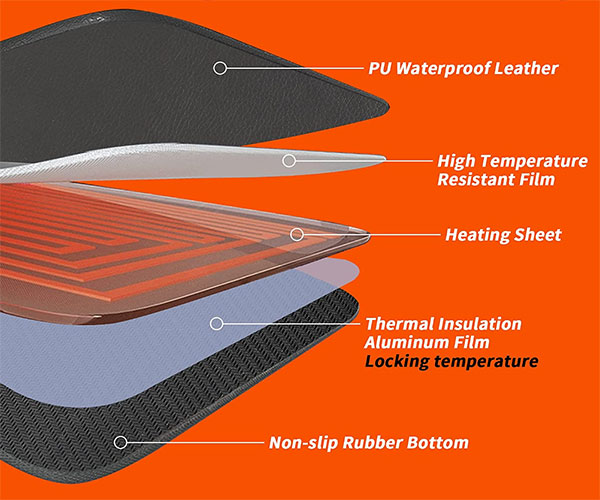 This pad has a multi-layered design, with smooth black faux leather on the top surface. The bottom is made from a textured rubber, which prevents it from slipping around on your desk. In-between is a special temperature film that distributes heat evenly across the surface. The whole thing is very sturdy, with a nylon band stitched around the border for extra security. It seems like it should last for a long time and stand up to a reasonable amount of abuse.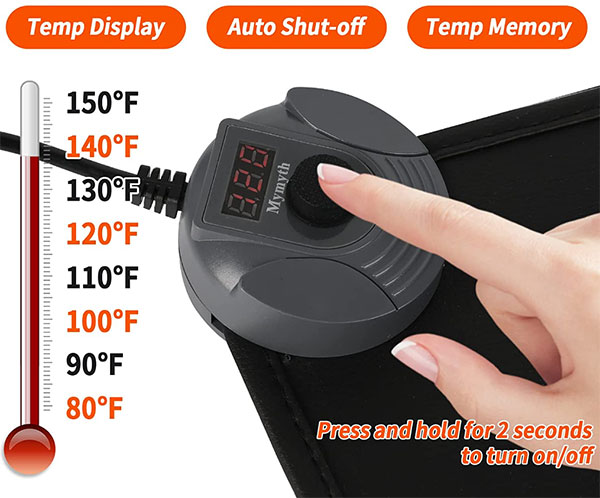 At the back left corner is a circular black fob that looks a little bit like a hockey puck. On top is a large black button that's used to cycle through the eight heat settings. These are 80, 90, 100, 110, 120, 130, 140, and 150 degrees Fahrenheit. So you're looking at anywhere from lukewarm to fairly hot. Regardless of your setting, you won't have any surprises. A red LCD display on the edge of the controller shows you the current temperature. There's also an auto-shutoff function for safety and energy savings.
If you're looking at a variety of desk pad options, there are plenty to choose from. For example, a wireless charging mouse pad can charge certain mice while you're using them. That's certainly a nifty feature to have at your fingertips.
3. ChoiCARE Heated Warm Desk Pad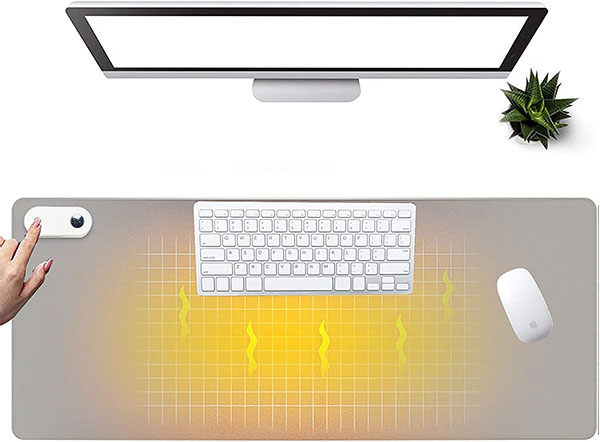 Key features:
31.5 x 13 inches.
Three temperature settings.
Faux leather and rubber construction.
Built-in heat level display.
The ChoiCARE Heated Warm Desk Pad comes in two different color options: black or grey. It measures 31.5 inches wide and 13 inches deep, so it's useful for laptops as well as desktops. The upper layer is a textured faux leather that boasts a waterproof, oil-proof coating. This makes it virtually stain-proof, as well as preventing any potential shocks caused by a spill. The bottom side of the pad is made from a textured rubber to keep it firmly in place. The edges are heavily stitched, which keeps everything from coming apart. You don't have to worry about it wearing out prematurely.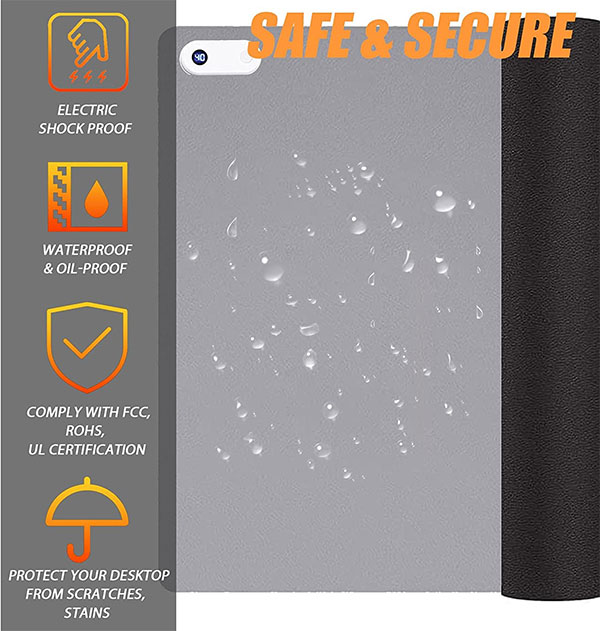 The power cord measures 60 inches in length, and attaches directly to an oval-shaped white control module. The module is located at the back left of the pad, and the cord is removable. This makes it easy to roll up the desk mat and take it on the road with you. But roll it, don't fold it; folding it will damage the internal heating coils.
On the standard version of the mat, the heating element covers the entire area. However, there's a special "Black Upgrade" version that has a dead zone in the middle. This zone is roughly the size of a laptop, so you can set your laptop on it without causing any damage.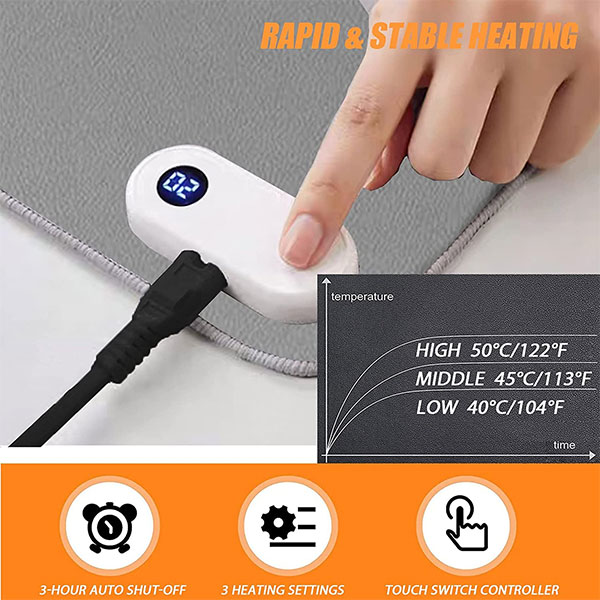 The control button is located at the left side of the white module. You can use it to cycle through three different heat settings: 104, 113, and 122 degrees. A small blue LCD screen on the right of the module will tell you the current setting. You also don't have to worry about turning off the mat when you're done. A 3-hour auto shutoff timer activates every time you power it on.
If you're looking for something a little bit different, consider an armrest mouse pad. They won't keep your hands warm like a heated desk pad. But they're great if you have ergonomic issues with regular mouse pads, even glass mouse pads.
4. Tulpock Heated Desk Pad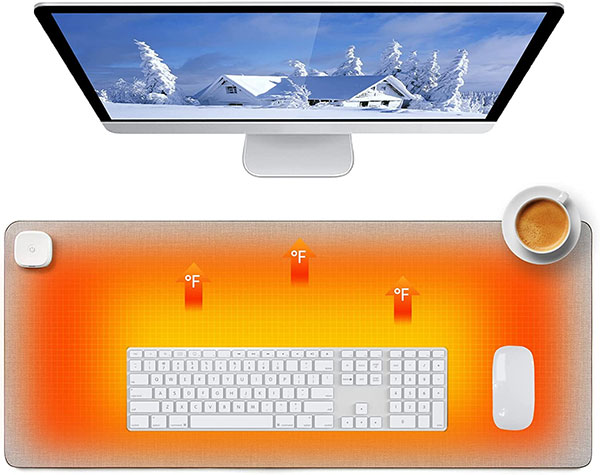 Key features:
31 x 13 inches.
Three temperature settings.
Faux leather and PVC construction.
The Tulpock Heated Desk Pad is available in black or grey, with a PU PVC felt top. This is a lightly textured synthetic fabric that works very well under a mouse. It measures 31 inches wide and 13 inches deep, with a 59-inch power cord. That's long enough to reach the nearest power outlet without any issues. The cord is also removable for storage and transport.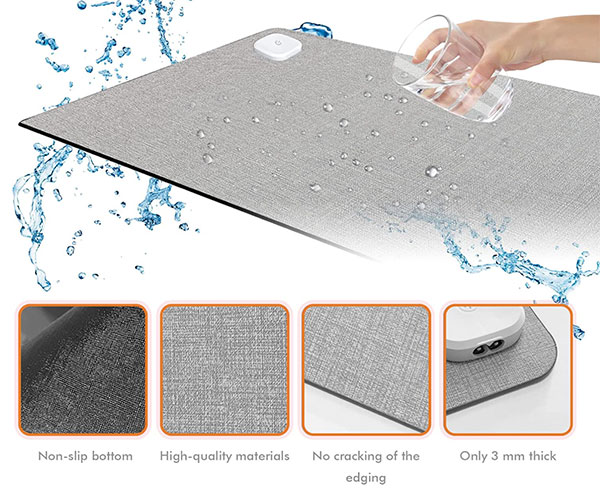 The bottom of the mat is made from a rubbery PVC material, and doesn't slide around easily. The inner heating elements are entirely enclosed, which keeps them safe from damage. And the shell is waterproof, which significantly reduces the risk of electrical shock. Everyday spills and splashes are simply not a concern.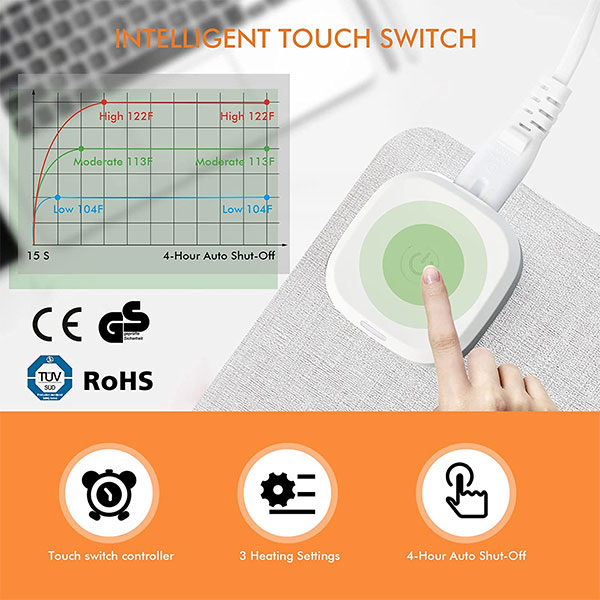 The control module is a square white block, located at the back left of the pad. It has a soft touch button in the middle to adjust the temperature level. Press it and you'll notice a backlight illuminate, which will change color based on the temperature. The pad starts at 122 degrees, with a red backlight. Pressing the button again will lower the temperature to 113 degrees, and a third press will lower it to 104. On these settings, the light will turn green and blue respectively. Pressing the button a fourth time shuts the heater off.
A reminder light will blink several times every 60 minutes to let you know it's time to take a break. After four hours, the auto-shutoff function will turn the pad off altogether. This isn't a big deal, since you can turn it back on.
If you want to use a mouse pad with your heated desk pad, what better than a leather mouse pad? Not only will it be durable, but it will add a touch of elegance to your desk.
How to Choose the Best Heated Desk Pad
Before we deliver our verdict, let's talk about what makes a good heated desk mat. Specifically, why would you want to choose one over another? Here are some things to consider:
Material – Leather and faux leather are generally water-resistant and easy to clean. However, you might need to use a separate mouse pad depending on your mouse. Super soft leather and felt pads are much better for mouse tracking. Be careful about spills, though, since they can soak into the soft surface.
Size – How big of an area do you have to cover? You may also want a smaller pad if you're using a laptop.
Safety – Different heated desk pads have different safety features. Ideally, your pad should be water-resistant and shock resistant. At the very least, it should have a non-skid bottom layer. A good heated pad should also have an automated shutoff function. Otherwise, it could waste power or even become a safety hazard.
Temperature options – Some heated pads only have a single setting. Others have many settings to choose from. Look for a pad with a minimum of three temperature options.
Aesthetics – A good desk pad is practical, not cosmetic – but it's also highly visible. All other things being equal, go with a pad that looks good.
Final Verdict
As you can see, these are all well-designed heated desk pads. But which one is going to be the optimal fit for your needs? Here's a quick recap of what we've learned today.
We started out by reviewing the Olidik Warm Desk Pad. This desk pad is as wide as you could ask for, but at 13 inches deep, it doesn't go far back on your desk. This makes it a great choice for laptops, since you can keep the laptop clear of the pad. It's also well-engineered, with a waterproof shell and straightforward single-button controls.
Next, we examined the Mymyth Heated Desk Pad. This is a broader pad, more suitable for full-sized monitors than for using with a laptop. It also has a whopping eight temperature settings, so you get plenty of customization. And with its multi-layered, reinforced design, it's more durable than you'd expect.
Third on our list was the ChoiCARE Heated Warm Desk Pad. This pad has three temperature settings and an LCD display on the control module. The standard version is already narrow enough to use with laptops, depending on your placement. But the Black Upgrade version's dead zone is an even better feature for laptop users.
Finally, we looked at the Tulpock Heated Desk Pad. This pad has a PU PVC felt top, and feels more like a traditional mouse pad. It has a removable power cord that's easy for transport. And with three temperature settings and automatic shutoff, you have all the features you really need.
Meet Derek, "TechGuru," a 34-year-old technology enthusiast with a deep passion for tech innovations. With extensive experience, he specializes in gaming hardware and software, and has expertise in gadgets, custom PCs, and audio.
Besides writing about tech and reviewing new products, Derek enjoys traveling, hiking, and photography. Committed to keeping up with the latest industry trends, he aims to guide readers in making informed tech decisions.