One of the main reasons people buy area rugs is to keep their feet warm. Nobody wants to step out of bed and directly onto cold hardwood. The same is true for walking around in any room, or any solid flooring surface. A rug just doesn't feel as cold underfoot as solid materials. This is normally effective, but what if your floors are truly frigid?
In that case, a heated under rug mat can be the perfect solution to your problems. It plugs into your wall, then heats up the area under your area rug. This keeps your feet warm, and can contribute extra heat to your room. But you want to be careful when you're choosing one. Choose poorly, and you won't get the performance you were counting on.
With that in mind, we're going to review four of the best under rug radiant floor heaters. If you're pressed for time, here's a quick and dirty look at each option:
Of course, there are more things we need to consider before we render our verdict. Let's dig deeper, and see what we come up with!
1. RugHeat Under Rug Heating Mat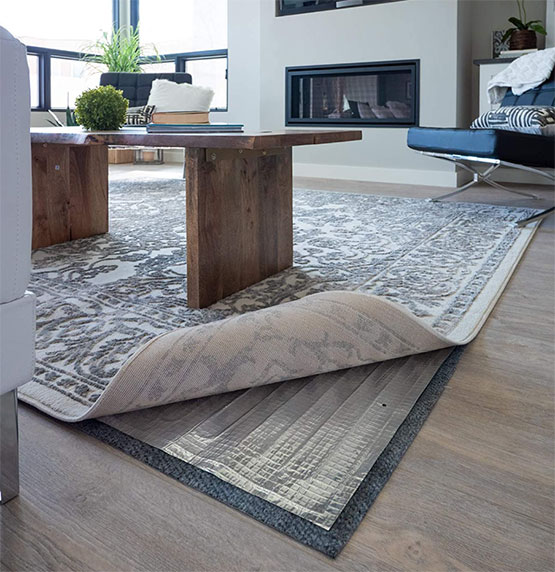 Key features:
Comes in five sizes.
Water-resistant design.
The RugHeat Under Rug Heating Mat is a straightforward little radiant heater. Heat is provided by a metal coil, which runs back and forth in a zig-zag pattern along the length of the mat. This coil is enclosed by two sheets of foil which are sandwiched over it on the top and the bottom.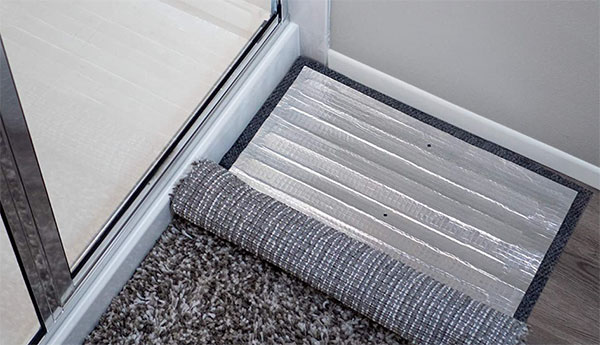 At first, the idea of a foil mat might sound off-putting. But this isn't like tinfoil, which is easy to tear. It's a tough alloy foil that you'd need a pair of metal shears to cut through. It protects the inner coil from water and keeps you safe from electric shocks. You can use it in a basement or other damp area without any issues. The foil also helps to evenly distribute the heat so it's not centered directly over the coils.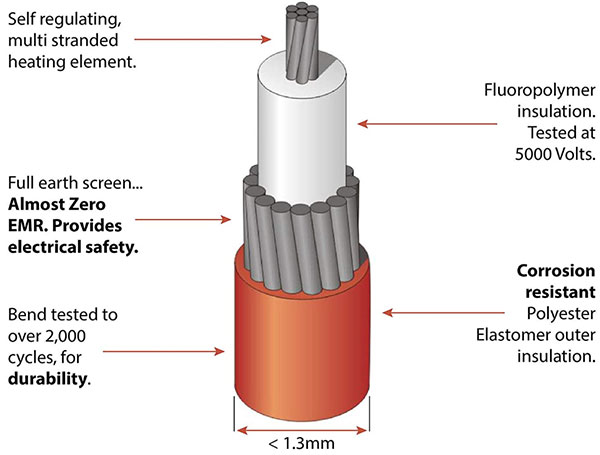 If you have any issues, RugHeat provides a five-year manufacturer's warranty. If there are any premature fails, you'll be fully covered. Be aware that you need to have a soft mat between the heating mat and the floor. If it's directly on a solid surface, furniture could damage it.
When choosing an under rug heating mat, sizing is important. You can't trim these mats, since it would damage them. You also don't want a mat that's too big and sticks out from under your area rug. Ideally, you'll want an inch of free space on all sides. In practice, you're not likely to find a mat that's perfect for your rug. Look for the largest size you can find that won't stick out.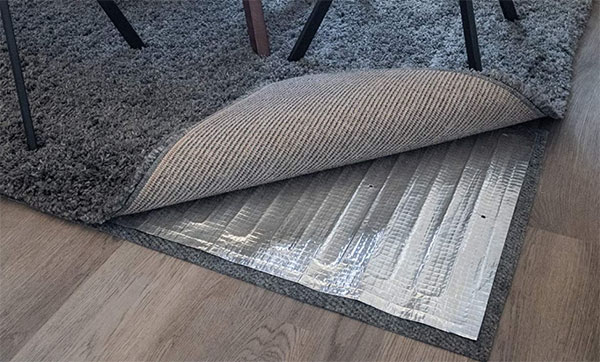 The RugHeat mat is available in the following sizes: 58" x 81", 22" x 34", 34" x 58", and 63" x 93". There's also a 22" x 89" version for under runners. The eight foot power cord is attached to one corner of the mat. The controls are near the end towards the plug, on the side of an in-line fob. The fob has a pair of buttons on it for turning the mat on and off.
This radiant heater will warm up your whole room, but it will mostly just keep your feet warmer. If you want a compact heater for the room, check out our list of the best low-wattage space heaters. They'll boost the temperature a few degrees without breaking the bank.
2. RugBuddy Speedheat Under Rug Heater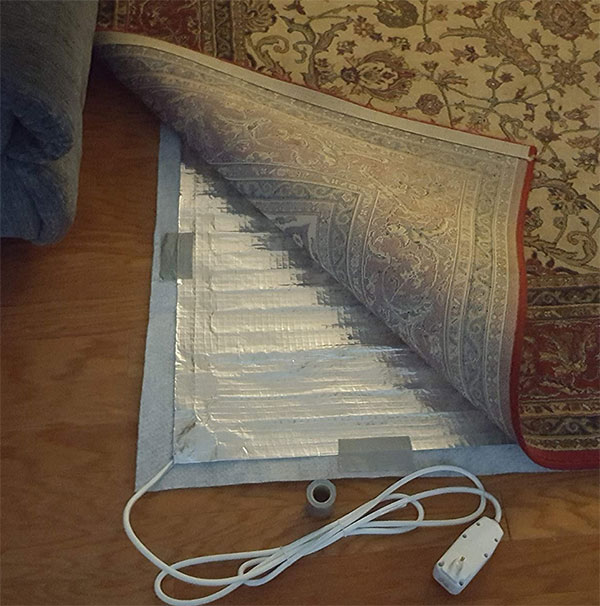 Key features:
Comes in four sizes.
Shock-resistant design.
The RugBuddy SpeedHeat is another ultra-slim mat with a straightforward design. Like the RugHeat mat, it uses an inner metal coil to provide heat, with an alloy foil wrap for protection. However, there's also a polypropylene layer to further diffuse the heat and minimize hot spots. Between the two materials, there's virtually zero risk of shock or fire.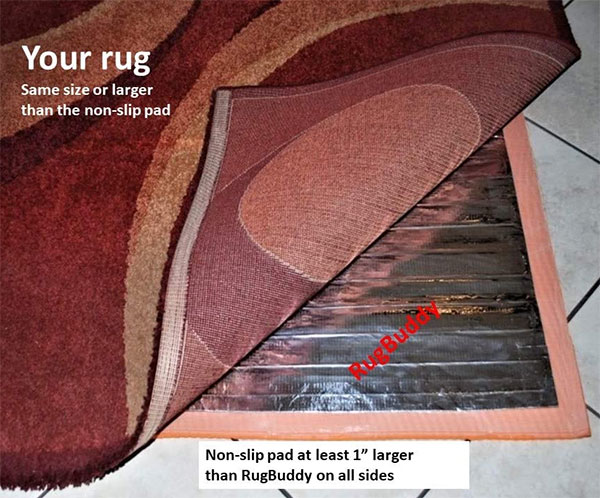 RugBuddy backs their product with two forms of protection. To begin with, you get a 30-day money-back guarantee, which is exactly what it sounds like. If it doesn't work for any reason, you'll get a full refund. You also get a five-year replacement warranty for failures due to defects in parts and labor.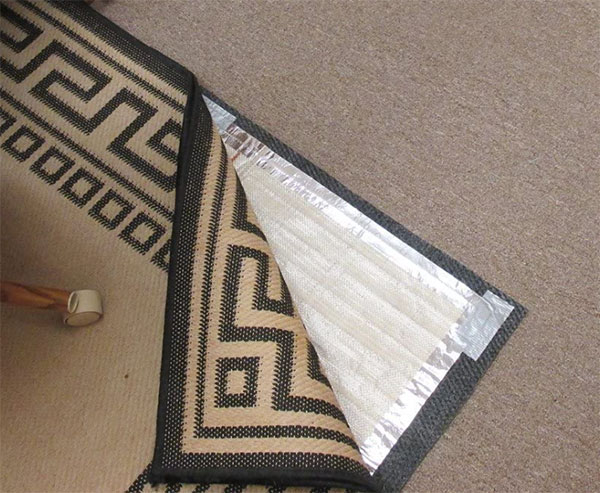 The RugBuddy is available in four sizes: 93" x 63", 81" x 58", 58" x 34", and an 89" x 22" runner pad. RugBuddy recommends taping the corners of the pad to your rug pad to keep it in position. As with the previous mat, power is provided by an 8-foot cord. A pair of on/off buttons are located on a fob near the plug. An indicator light will illuminate when the coil is active.
At the end of the day, an under rug mat will only warm your room a few degrees. If you want more robust performance, you'll need something a bit more powerful. Consider the Dreo Solaris Max. It's a 24-inch portable space heater that can maintain the temperature in an entire room.
3. Hot Carpet Woo Warmer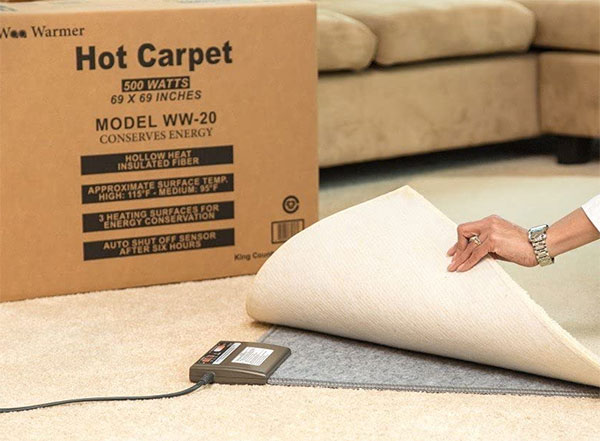 Key features:
Comes in three sizes.
Polyester design does not require a floor pad.
The Hot Carpet Woo Warmer is a somewhat different design. It's made from polyester, not foil, and it's noticeably thicker. This is primarily for safety, to keep the coils from transmitting too much heat.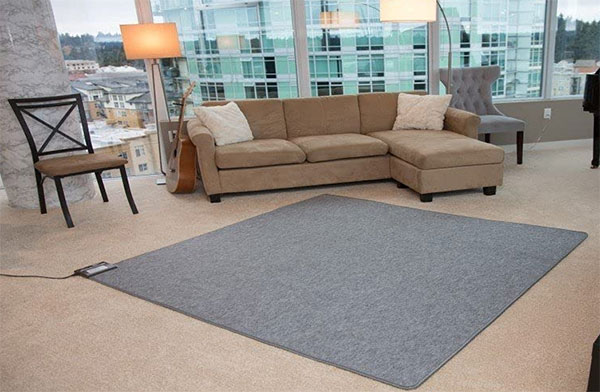 However, it has an added benefit. Because the material is soft, it provides plenty of cushion for the inner coils. You can use it directly under a carpet without the need for a carpet pad underneath. On the other hand, the bottom is smooth and doesn't provide any grip. If you're on hardwood or another slippery surface, you'll still want to use an anti-skid mat underneath.
You can order the Hot Carpet in three sizes. It comes in 70" x 70", 33" x 72", and 92" x 76.5". Woo Warmer backs the heating mat with a 12-month warranty. That's not all that long, but it's enough to know whether there are any factory defects.
The control system for this under rug floor heater is totally different from the others. Instead of being on the end of the cord, it's located on one corner of the warmer. It's a flat grey rectangular box with three buttons to select three different heat settings. A fourth button turns the power on and off. This placement is an odd choice. It's easy to trip over, and it has to be partially covered by your rug, which creates a bulge. You also don't want to step on it, since it could crack the plastic housing. This is less of an issue if the controller is under a piece of furniture.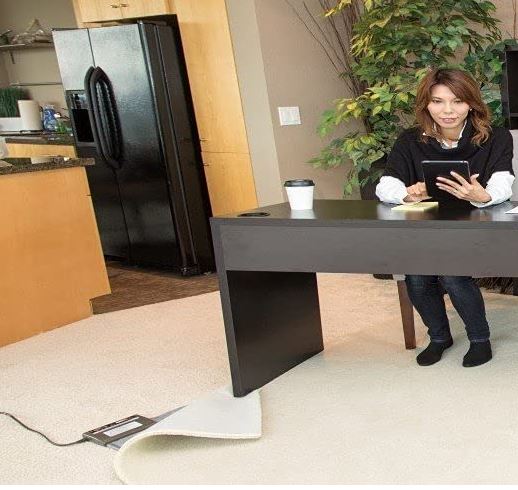 On the plus side, there are a couple of useful safety features. A built-in temperature sensor will shut off the power if it hits 115 degrees. The coils will also shut off automatically after six hours of operation.
One thing you can't do with any of these under rug floor heaters is use them outside. If you want a similar device for outdoors, consider a heated snow melting mat instead. It will be far more durable, and can stand up to the weather.
4. OLYDON Electric Heated Floor Mat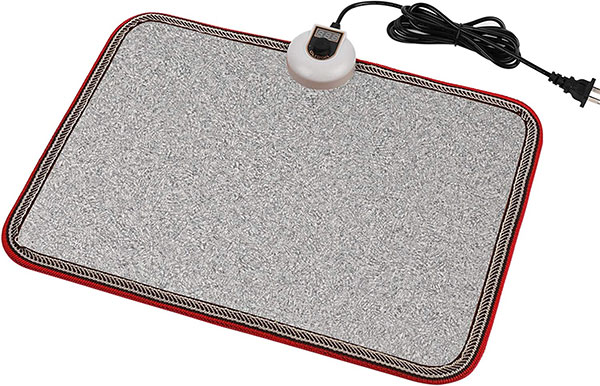 Key features:
Small mat for warming your feet.
Does not require a rug.
The OLYDON Electric Heated Floor Mat is entirely different from the others. Instead of sitting under your area rug, it's a small mat in its own right, designed to warm your feet. Because it's basically a foot warmer, there's only one size available: 12.6" x 17.3". The bottom is clear plastic, with a pattern of little nubs on the bottom to keep it from slipping. The top is made from soft, flame-resistant felt, with reinforced bands and stitching around the edges. You also get your choice of three patterns: stone, wood grain, or yellow.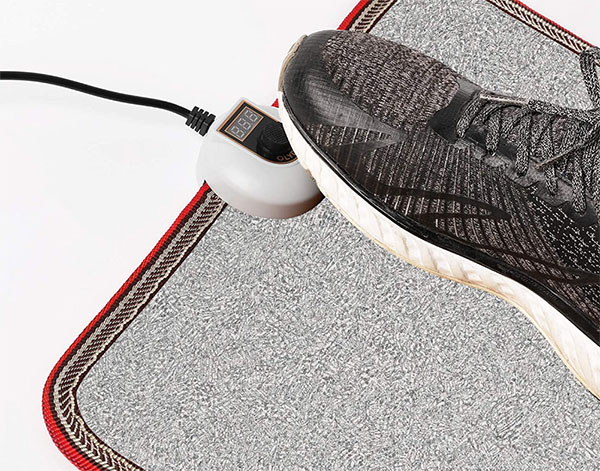 The control unit is a white hub the shape and size of a hockey puck. It has a large black button in the center that's designed to be operated with your foot. Using the button, you can cycle through seven temperature levels. These range from a lukewarm 85 degrees to a toasty 145 degrees. When you first turn on the unit, it will default to the medium setting of 115 degrees. That's warm enough to noticeably warm your feet, but not hot enough to pose a burn risk.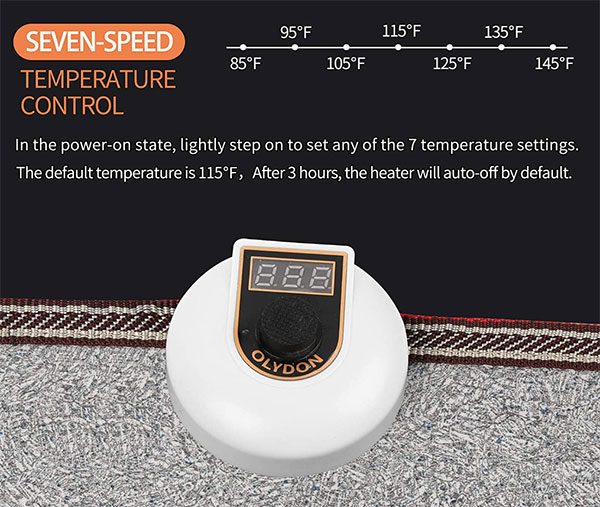 If you're not sure what your temperature setting is, just look in front of the button. There's a little LCD display that shows the current temperature. A 74.8-inch power cord extends from the back of the control unit, which gives you plenty of reach.
The heating element kicks in very quickly when it's activated. Within 30 seconds, you'll notice the temperature starting to rise. You also don't have to worry about accidentally forgetting to turn off your heating pad. It will automatically shut off after three hours, so it won't waste power or create a hazard.
Under Rug Radiant Heater Basics
Before we wrap up, let's talk about the basics of under rug radiant heaters. How do they work, and what should you expect from them?
Under rug radiant heaters work with an electric coil. When power passes through the coil, it heats up. The coil is embedded in foil, fabric, or another fire-safe material. This material distributes heat more evenly, so it can safely be transmitted through your carpet.
These heaters can cause damage to certain types of flooring. For example, most under rug heating mats aren't recommended for use on a vinyl floor. You may also run into issues with some wood floor finishes, or flooring that's installed with metal strips. When in doubt, always check the instructions.
The last thing to keep in mind is that an under rug heater isn't suitable for use as a primary heater. To keep a warm room all by itself, the room would have to be closed and well-insulated. Even then, you'd need to cover at least 70% of the floor with heating elements. Instead, think of these heaters as a supplement to your existing heating.
Final Verdict
All four of these under rug radiant floor heaters have their own benefits and drawbacks. But which is the best fit for you? Here's a quick summary of what we learned about each one.
The RugHeat Under Rug Heating Mat is a straightforward under rug mat. It has simple on/off operation, and a surprisingly durable build. You can use it in a damp environment without the risk of shock or damage. We also appreciated the wide variety of sizes, including the long, narrow runner warming mat.
Next, we looked at the RugBuddy Speedheat. This is similar in many ways to the RugHeat mat, but the polypropylene layer provides for better heat distribution. It's also available in a different selection of sizes. So depending on the size of your area rug, one or the other may be the ideal fit.
Third on our list was the Hot Carpet Woo Warmer. This carpet warmer is made from thick polyurethane, so it's safe to use without a soft carpet mat underneath. The built-in controller can be a concern unless you're able to keep it under furniture or against a wall. Then again, it's also nice to be able to choose three different heats.
We finished up by reviewing the OLYDON Electric Heated Floor Mat. This is more of a foot warmer than a radiant floor heater. Even so, it can provide some relief to sore feet at the end of a long day. We also liked the foot-operated control button and temperature display window. And with seven temperature levels, you can customize the heat to the level you want.