These days, indoor air quality is a common concern. Our homes can harbor harmful chemical vapors and unpleasant odors that linger for days, weeks, or months. This is also a concern if you run a business. If one person smokes in your hotel room or rental cabin, it can smell like smoke for months. This will make the space undesirable, and cost you money. One way to eliminate odors and chemicals is to use an ozone generator. This will solve your problem in mere hours, creating safe, pristine air.
But ozone generators can get expensive. If you're not careful, you can end up spending hundreds of dollars to get your hands on a good one. Today, we'll be looking at three of the best affordable ozone generators on the market. All three of them cost under $100, and all of them far outperform their price tag. The first is the Airthereal MA5000, a lightweight unit that's rated to treat up to 1,000 square feet of space. The next two, the Alpine Air Commercial and the Ziss, are rated for up to 2,000 square feet. So, which one of these ozone generators is the best choice? We're about to find out!
What is an Ozone Generator?
There's a lot of confusion and misinformation about the differences between an ozone generator, an ionizer, and an air purifier. An air purifier is a simple filter. Air enters the unit, runs through a filter, and comes out the other side. Air purifiers are best for removing particulates, such as mold spores, dust, and pollen. That said, most of them are not well-suited to removing odors and chemicals.
Ionizers are often confused with ozone generators, but they actually serve the same function as a normal purifier. Ionizers draw your air through a series of plates that create positive and negatively-charged particles, or ions. These ions will cause particles to cling to the plates, or to fall to the ground after they exit the filter. Ionizers are generally less efficient than air purifiers. However, they're easier to clean. Just wipe down the plates once a week, and your ionizer will generally need no further maintenance.
Like an ionizer, an ozone generator works by electrical, rather than mechanical means. However, ozone generators aren't designed to remove particles. Instead, they're designed to eliminate odors, chemicals, and even biological contaminants like bacteria, viruses, mold, and mildew. In other words, they're fundamentally different machines, with a fundamentally different purpose.
How do Ozone Generators Work?
To understand how ozone generators work, you first need to understand what ozone is. Ozone is simply a different type of oxygen molecule. Most oxygen, the kind our body uses for energy, consists of two bonded oxygen atoms, and is called O2. O2 is found everywhere, and makes up about 21% of the air we breathe. However, when hit with an intense electrical charge, oxygen atoms can cluster in groups of three. When this happens, you get ozone, sometimes called O3.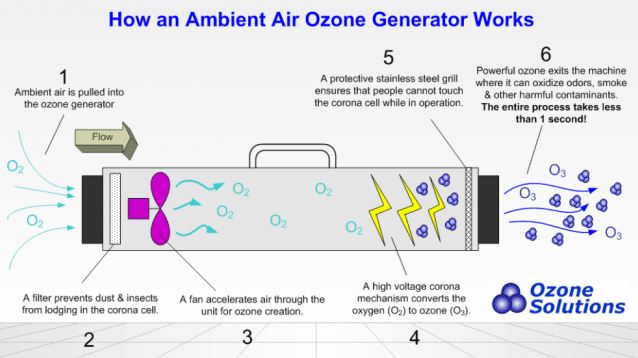 In nature, ozone is created by thunderstorms, and tends to rise to the upper atmosphere. There, it protects us from intense solar radiation. When gamma rays strike an ozone molecule, the molecule absorbs the energy and loses an oxygen atom. This converts the ozone back into O2, forming a natural cycle that keeps life on Earth safe from radiation. That said, at ground level, ozone can be dangerous. In large quantities, it can cause airway inflammation and even lung damage. As a matter of fact, the EPA issues public alerts when ozone levels are very high. Similarly, the state of California has actually banned the sale of ozone generators altogether. Sorry, Californians. You won't be able to order one.
So, does this mean that ozone generators are dangerous? When used improperly, yes. But so are bug bombs, chainsaws, and car batteries. The key is to use proper safety procedures to avoid breathing too much ozone. When you're treating a room, simply shut the door and make sure the room is unoccupied. If you're treating an entire house, take a long walk or a trip to the mall. Make sure to bring any household pets with you, since ozone is also dangerous to them. Aquarium fish will be fine where they are. After the treatment is done, let the room or house air out for about 30 minutes. The ozone will cycle outside, and will naturally break down fairly quickly in natural sunlight.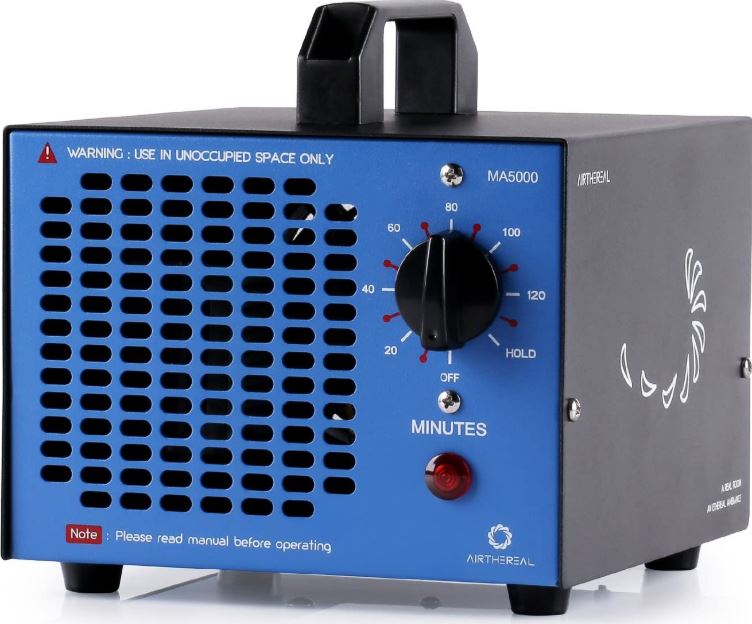 Airthereal MA5000 (5000mg) Commercial Ozone Generator
The Airthereal MA5000 (5000mg) Commercial Ozone Generator is a relatively compact unit. It measures 6.8 inches tall, 7.4 inches wide, and 6.8 inches deep. At 3.46 pounds, it's lightweight, and a soft rubber handle makes it easy to carry. The entire case is constructed from durable anodized aluminum, with a black top and sides. The front and rear panel can either be blue or black depending on which option you choose. On the bottom, there are four rubber feet that prevent skidding and scratching.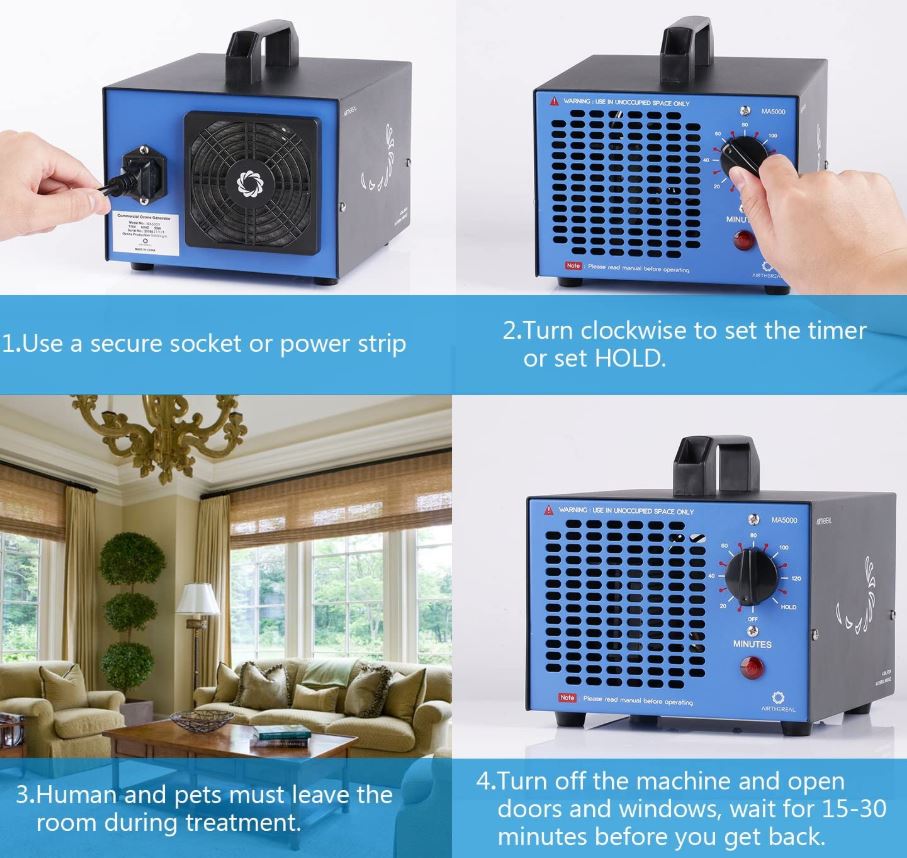 The front of the MA5000 is a simple grill, through which the ozone is expelled. Next to the grill, you'll find a simple control dial, along with a red warning light. This light will turn on when the MA5000 is active, so you'll know to stay out of the room. On the back of the unit, you'll find an intake fan. It's covered by a simple dust filter, which can be easily removed for cleaning. In addition to the ozone generator itself, you also get a "No Entry" door sign that hangs on your doorknob. This ensures that others will stay safe during your ozone treatment.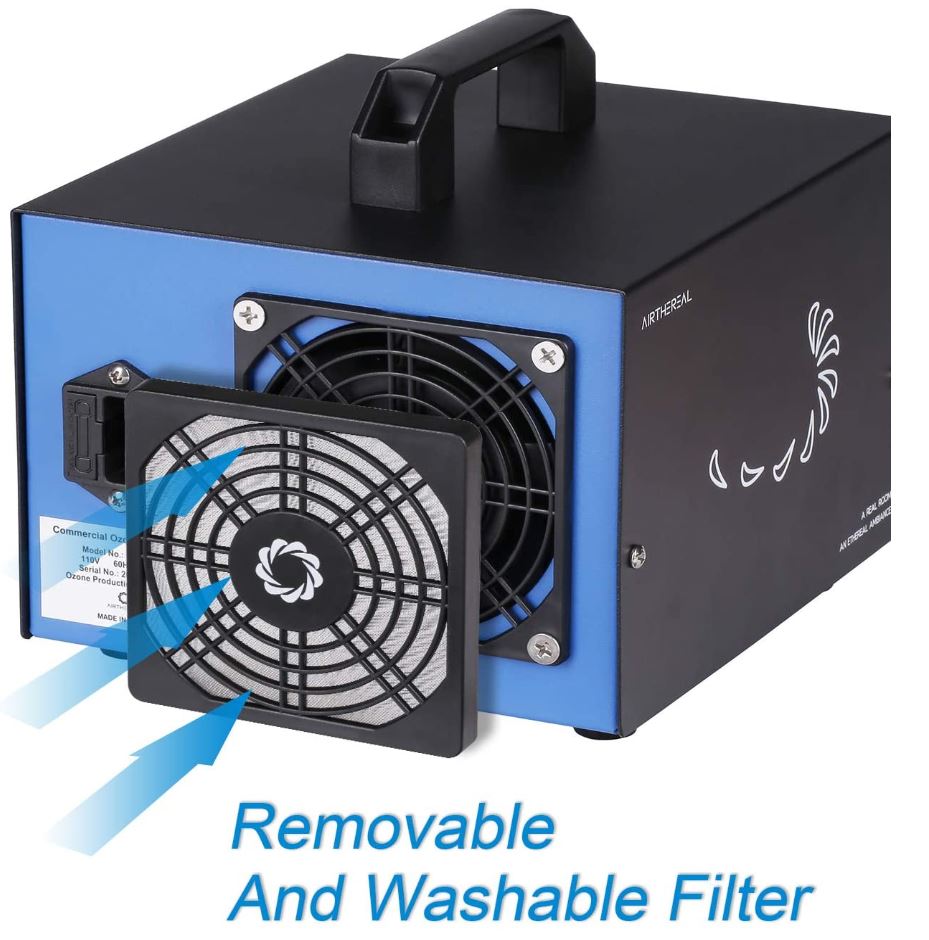 Usage and Performance
The MA5000 operates with a simple timer function. Plug it in, turn the dial, and it will run for a set time, anywhere from 10 minutes to 2 hours. Airthereal includes a chart that lets you know how long to run the ozone generator for a given room size. For very large spaces, you may need to run the MA5000 for even longer. In that case, turn the timer all the way to the end, where it says "HOLD". This will keep the unit running until it's manually turned off.
In all, the MA5000 can treat up to 1,000 square feet of space. This is enough for any single room, and even for a small house or a cabin. If you need to treat more square footage, consider the Airthereal MA10K-PRODIGI Ozone Generator. It costs a bit more than the MA5000, but it's capable of treating up to 2,000 square feet. Not too shabby!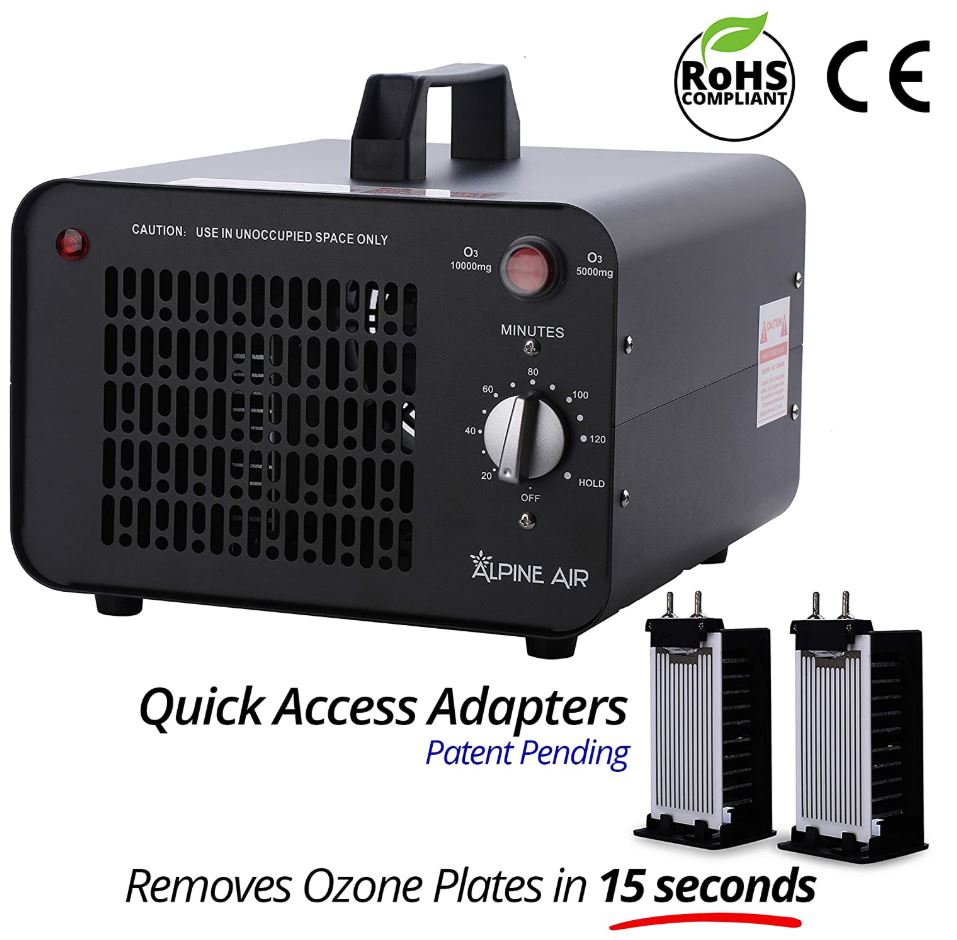 Alpine Air Commercial (10000mg) Ozone Generator
The Alpine Air Commercial (10000mg) Ozone Generator is a bit larger than the MA5000. It measures 11 inches wide, 8.5 inches tall, and 9.7 inches deep. It weighs 6.37 pounds, but it's still very easy to carry, thanks to a collapsible carrying handle. The case is constructed from anodized aluminum, with curved corners that lend it a soft look. On the front panel, there's a simple outflow grill, and a red warning light on the top left corner. On the right hand side, there's a control dial, as well as a nifty toggle button. The dial is made of stainless steel, so it's easy to keep clean. The back of the unit houses a large intake fan that can move more air than most ozone generators.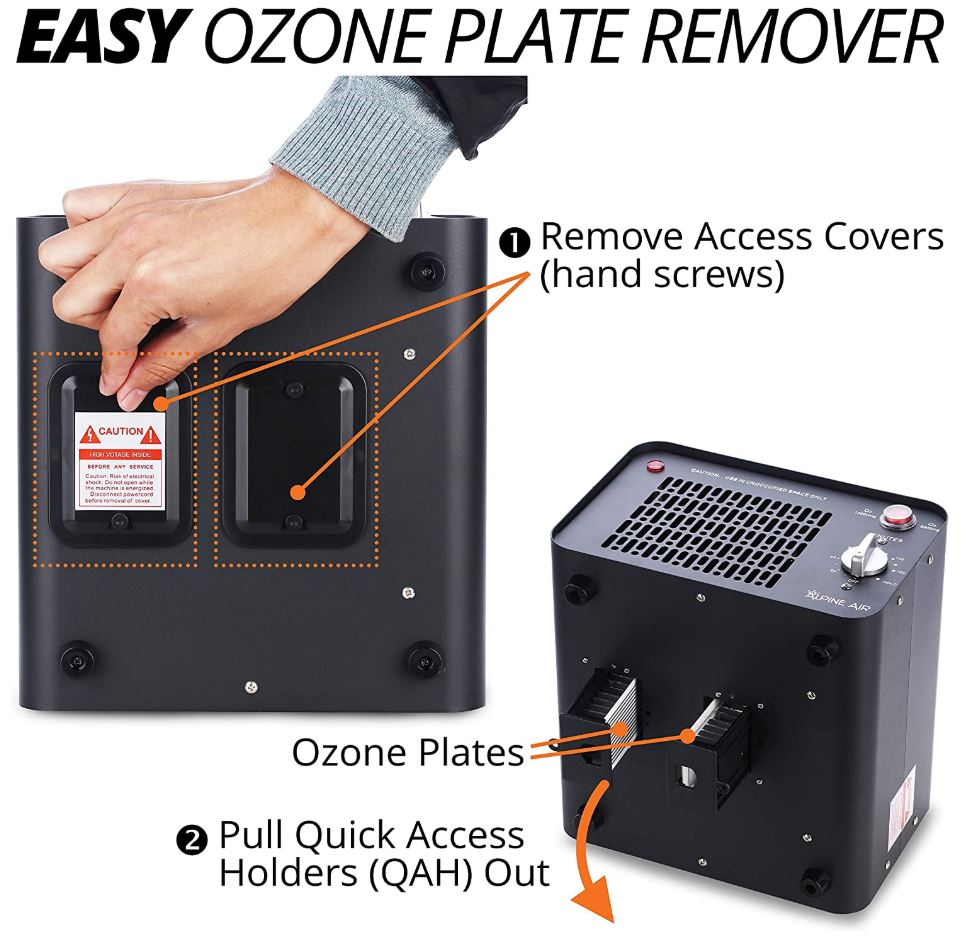 The bottom of the Alpine Air Commercial is unique. Between the rubber skids, there's a pair of clamps that can be pulled out of the unit. These clamps house the ceramic generator plates, which are washable. On most ozone generators, the plates are hard to access, while these are easily accessible. Not only is this useful for cleaning, it's also useful for replacement. While the plates are rated for 6,000 hours, it's nice to know that replacement is easy when the time comes. And if you have any problems, you're protected by Alpine Air's 1-year replacement warranty.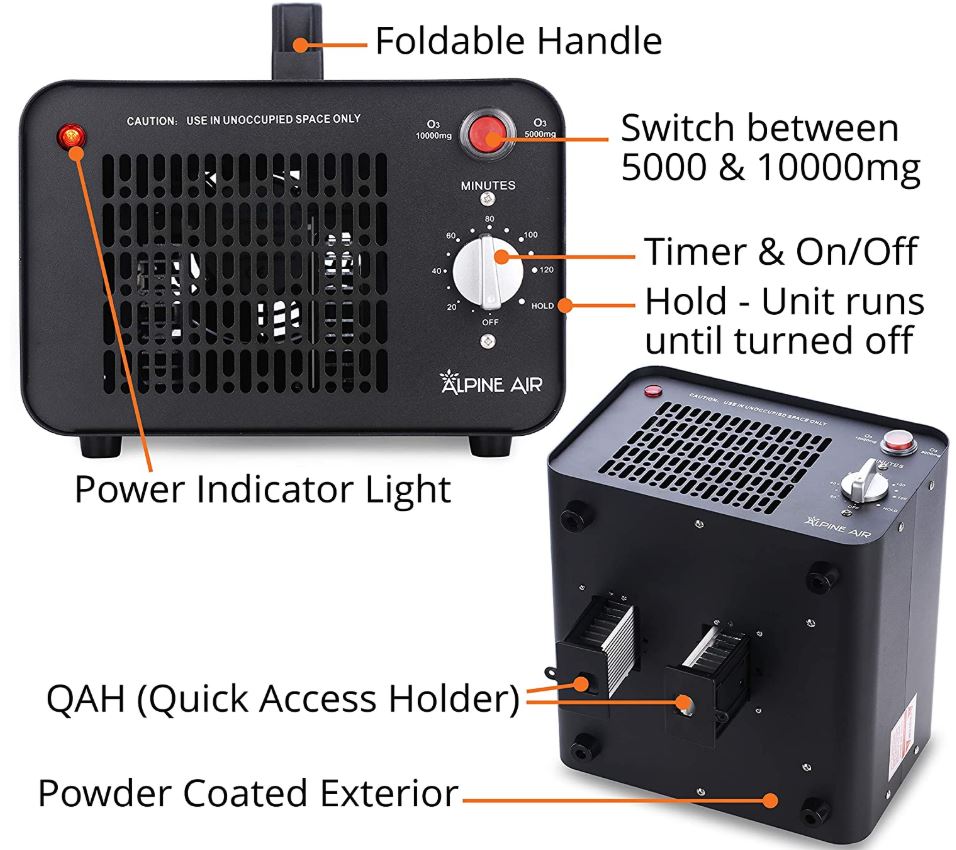 Usage and Performance
Like the MA5000, the Alpine Air Commercial has a simple timer for operation. You can set it for anywhere from 10 minutes to 2 hours. There's even a "HOLD" function for longer-term use. The toggle button is a nice added feature. You can easily switch between 5,000 and 10,000mg per hour of ozone generation. At 5,000mg, the Alpine Air generator can treat up to 1,000 square feet of space. At 10,000mg, you can treat up to 2,000 square feet. This is sufficient for treating most homes, and just about any commercial space. Meanwhile, for smaller spaces, the 5,000mg option helps you to save power.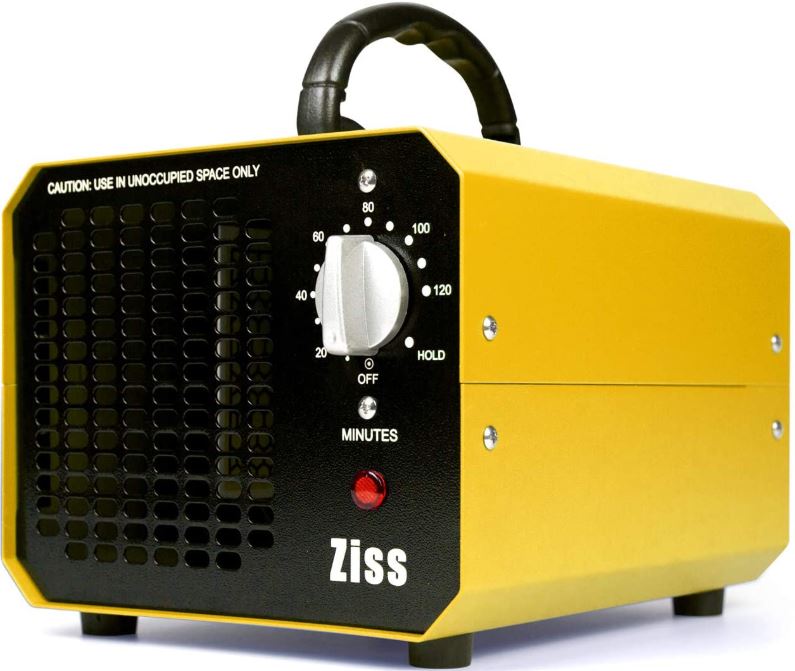 Ziss (10000mg) Commercial Ozone Generator
The Ziss (10000mg) Commercial Ozone Generator is a cross between the first two ozone generators we looked at. It has the large size and capacity of the Alpine Air unit, but the simpler operation of the Airthereal MA5000. The Ziss is 8.7 inches wide, 7.1 inches high, and 11 inches deep. At 8.6 pounds, it's the heaviest ozone generator on our list, but it sports a foldable handle for transport. The top, sides, and bottom of the case are constructed from a blue anodized aluminum. The front and back are glossy black, providing an attractive contrast.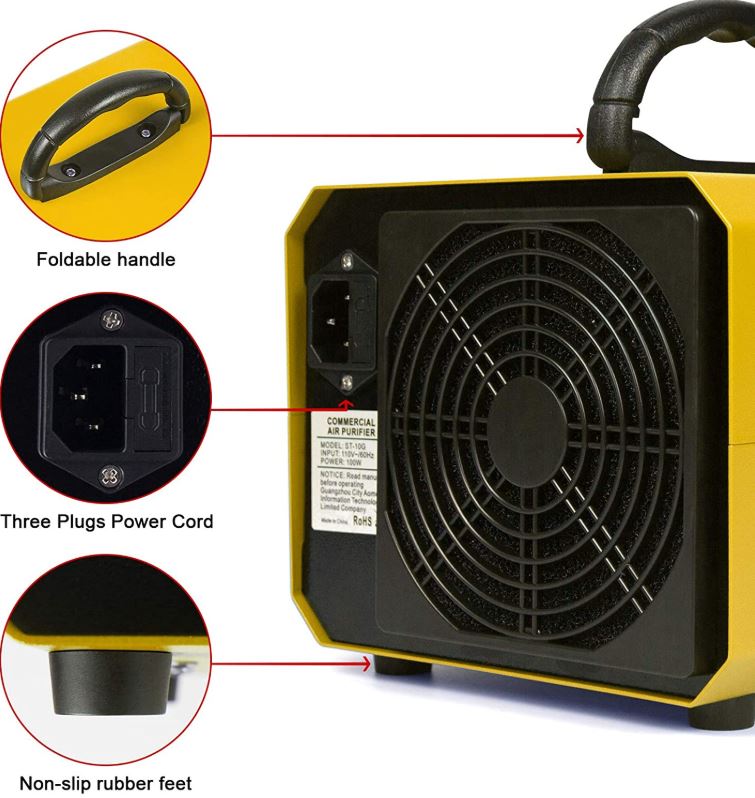 On the front of the unit, you'll see a dial control, with a stainless steel finish that's easily washable. Like on the other units, there's also a red warning light that lets you know when ozone is being produced. These are located on the right, with the majority of the panel occupied by an outlet grill. Also like on the other units, there are rubber anti-skid feet that also protect your surfaces from getting scratched. The back of the Ziss sports a large intake fan. The fan is covered by a washable, removable filter that's easy to keep clean. If anything goes wrong, you're protected by Ziss's 3-year warranty. They also provide 24-hour customer service if you need any questions answered.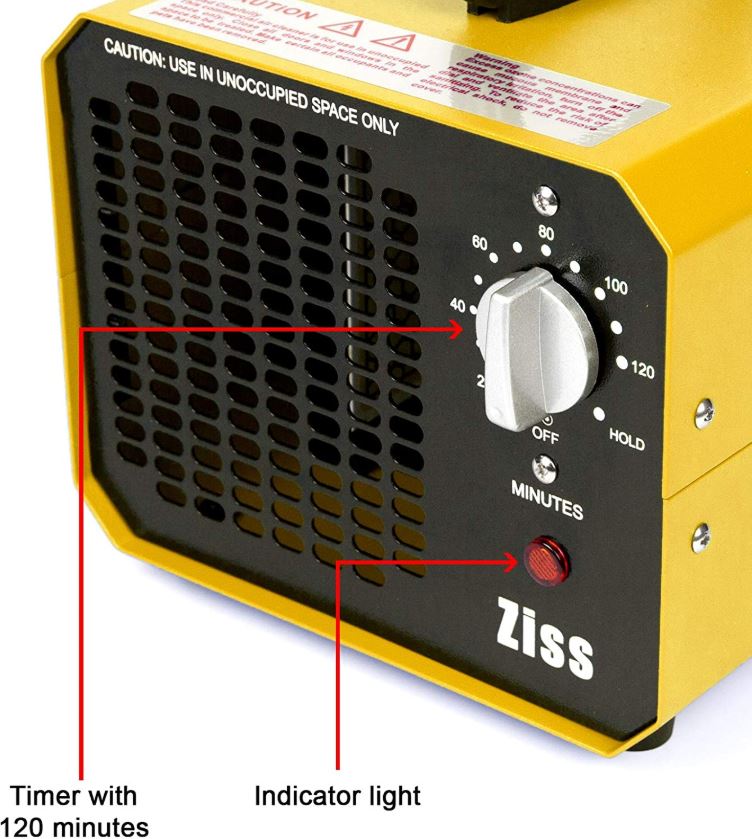 Usage and Performance
Like the other ozone generators on our list, the Ziss operates on a timer. Simply turn the dial where you want it, and you can generate ozone for 10 minutes to 2 hours. If you need to run it even longer, you can also use a "HOLD" option to simply leave it on. As its name implies, it will generate 10,000mg of ozone per hour. This is sufficient to treat up to 2,000 square feet of space. You'll be just fine for treating most suburban homes, as well as most commercial spaces.
Final Verdict
So, where does this leave us? As is so often the case, it depends on what you need. For a small home, or for smaller spaces like hotel rooms, the Airthereal MA5000 is just fine. It can treat up to 1,000 square feet of space, and it's also the most affordable machine on our list. It's rugged and durable, and comes from a brand that's famous for quality air purification.
The Alpine Air Commercial is better for larger spaces. With a capacity of 10,000mg per hour, you can treat up to 2,000 square feet. And if you need to treat smaller spaces, the toggle switch helps you to save power. Moreover, the easily-removable plates are a nice touch. You can keep the machine clean, and replace the plates in about a minute when needed. All in all, it's a respectable machine that comes at a very reasonable price.
For the most demanding uses, the Ziss Ozone Generator is your best choice. It has the same capacity as the Alpine Air unit, but it's easier to operate. To be fair, changing the plates is a challenge, but this is only necessary after thousands of hours of use. But the main attraction is the three-year warranty. If you're going to use your ozone generator every day, you're protected from premature failure. And the easy operation means you won't have to worry about accidentally using the wrong power level.