Wireless network adapters are devices that are installed to allow the sending and receiving of data via a wireless network. This convenience is highly important for just about every computer, as wireless network adapters ensure that users enjoy flawless network and internet connectivity.
One type of wireless network adapter are known as PCIe wireless adapters- they're intended for desktop computers. As long as your computer has an available PCIe slot on your motherboard, installing a PCIe wireless adapter is pretty straightforward and uncomplicated, even with little or no experience.
In this buying guide, we'll lay out the details and specifications of the best rated PCIe wireless adapters for the 2018-2019 year.
ASUS 4×4 AC3100 PCIe Adapter (PCE-AC88)
The new ASUS 4×4 AC3100 PCIe Adapter (PCE-AC88) provides all of the "bells and whistles" while showcasing the best performance we've ever seen. Utilizing the latest 802.11ac chipset, it relies on dual bands to deliver speeds up to AC3100 through the 5 GHz and 2.4 GHz channels. As an improvement over the incredible popular and widely trusted PCE-AC68 (the next recommendation on our list), the new PCE-AC88 uses a never before seen, brand new 4×4 antenna for a 60% improvement in available speeds.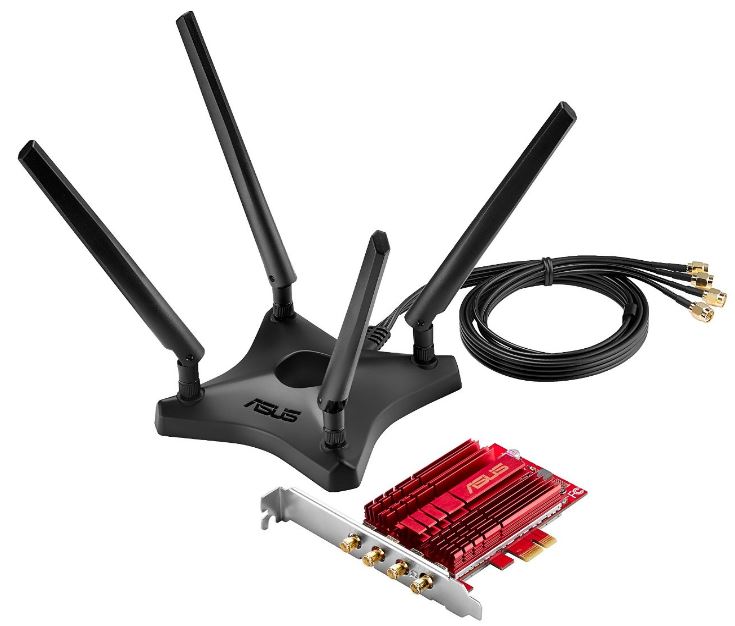 The antenna is to be setup and configured in an external fashion to allow the magnetic base to amplify and efficiently communicate with your router and other wireless devices that are a part of your WiFi network. It's arranged in a unique 4×4 design with four-transmit and four-receiving antennas to clearly and almost effortlessly provide a drastic improvement over literally any other PCI-e WiFi adapter currently on the market. Additionally, the antenna is flexible in its design so it can be mounted incredibly easily with a built-in magnet on the bottom.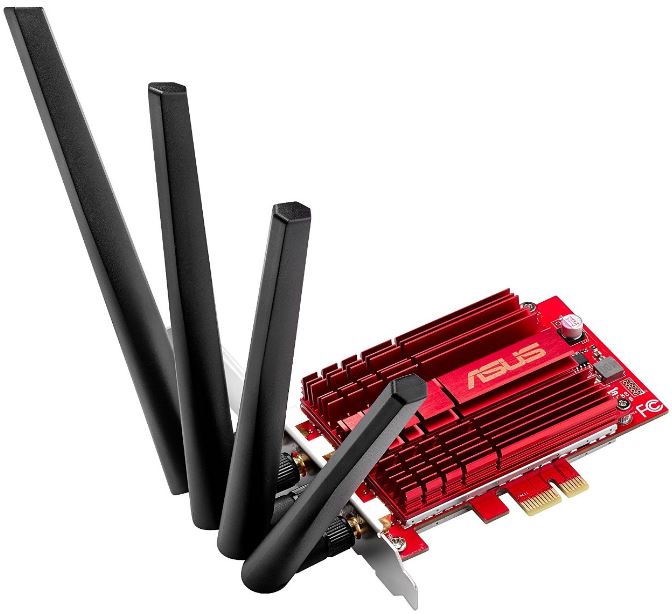 If you aren't a fan of the external antenna design, you always have the option to remove the individual antennas from the external antenna base and screw them individually onto the adapter itself. This lets you hide the antennas so they're sticking out of the back of your PC case, rather than place them on a wall, on your desk, etc.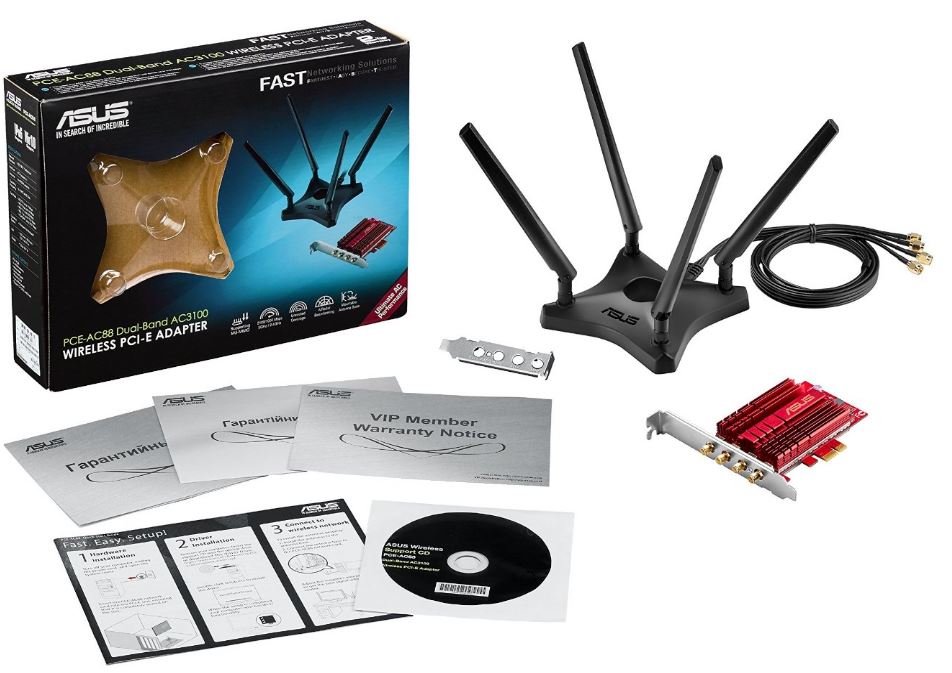 Although it holds the same "red heatsink" style that you may have already seen in the past, the ASUS 4×4 AC3100 PCIe Adapter seems to handle heat and high-load capacities with ease. It's a customized heatsink that's been specially crafted for the unique 4×4 antenna design. All damaging heat will effectively dissipate with passive cooling – no need for any specialized fans or moving air.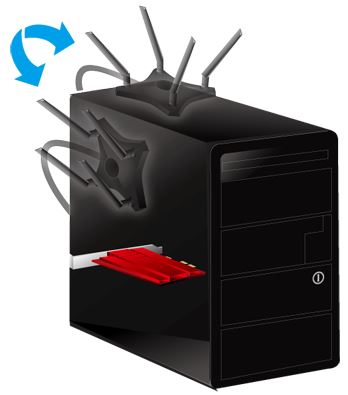 Compatibility is another key component that should be examined. Needless to say, this adapter works wonderfully with virtually any modern-day build that's using Windows 7 or higher. Installation is a breeze too. There isn't much prior experience or tech-know-how that's needed to get it installed, configured and up and running for the first time. No drivers are necessarily required, unless you're trying to use it on Linux or an obscure operating system. Plug and play installation makes it an easy upgrade for anyone to make, no matter how "tech-savvy" they actually are.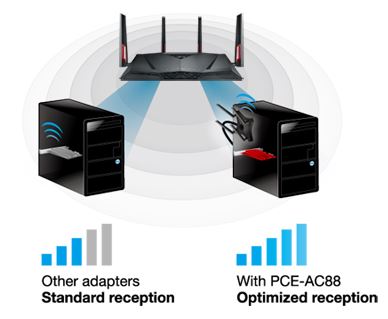 ASUS Dual-Band Wireless-AC1900 PCI-E Adapter
The ASUS Dual-Band Wireless-AC1900 PCI-E Adapter (PCE-AC68) is compatible with 5th generation 802.11ac chipset and delivers insanely fast transfer speeds up to 1.3 Gbps. It's also dual band, so you're assured a super fast wireless Internet connection that doesn't lag or lose connection. The design includes an external antenna that's adjustable and fully flexible – you can therefore extend the signal and point it to different directions to get the best reception in your home or office. However, you're not required to use it if you prefer the 3 standard antennas (included).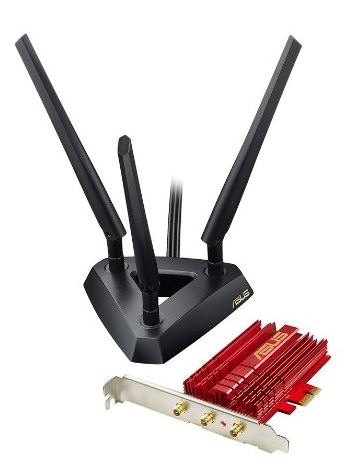 It comes with a high power design utilizing the latest AC-1900 technology. With this, dead zones in even the largest of homes can finally be eliminated with any additional effort. This allows for 150% greater area coverage than previous models that don't carry these capabilities.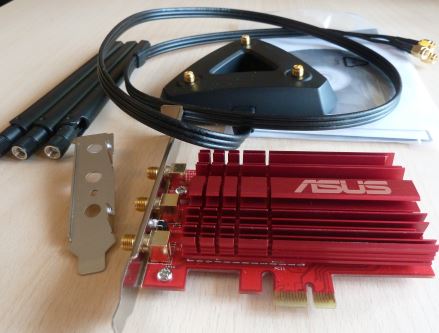 The ASUS AC1900 PCI-E Adapter is very easy to install as well – once installed it will give you a reliable Internet connection without hiccups. Just plug it right in and you should be good to go. Comptaible with multiple operating systems including the latest version of Windows 10, it's a smart upgrade for those who want to stay on the cutting edge of fast WiFi.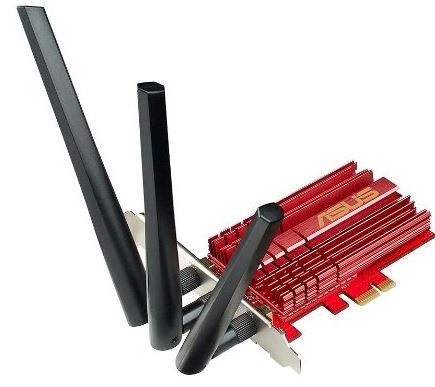 From first glance you may have noticed the large red heatsink. It's designed with this to facilitate the dissipation of heat so stable operation is always achieved. As we all know, overheating is a common problem with computers, so having this built-in oversized heatsink will eliminate all problems that can arise from high temperatures and keep it running cool at all times.
The ASUS Dual-Band Wireless-AC1900 PCI-E Adapter (PCE-AC68) can be purchased for just over $90. If having a quality wireless connection on your desktop computer is really important to you, you will surely find the price reasonable. Built to handle the latest in 4k streaming, online gaming, and the furthest range, we feel that it's clearly the best of the best for 2016.
TP-LINK Archer T9E
The Archer T9E from TP-LINK is their latest PCI wireless adapter that uses the 802.11ac chipset for the providing incredibly fast transfer speeds over the 2.4 GHz and 5 GHz bands. Available in either AC1300, AC1750, or AC1900, you can choose the speeds you need and still take advantage of the latest advancements in wireless technology.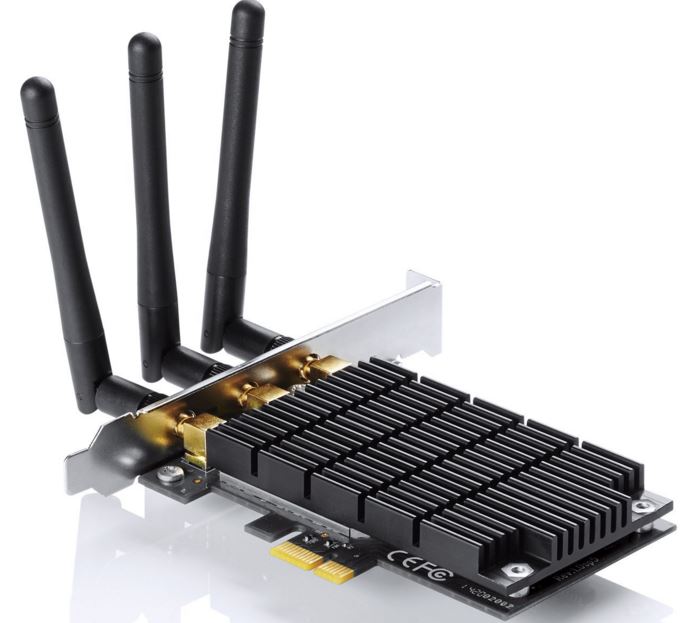 With transfer speeds up to 1300 Mbps on the 5 GHz band, and 600 Mbps on the 2.4 GHz band, it's a great choice for those who enjoy online gaming and high definition video streaming. With 3 external antennas. It utilizes a 3×3 true dual band setup in an omnidirectional manner. You can even upgrade the antennas if you prefer ones that are a bit stronger. However, we feel that the ones that it comes with are just fine!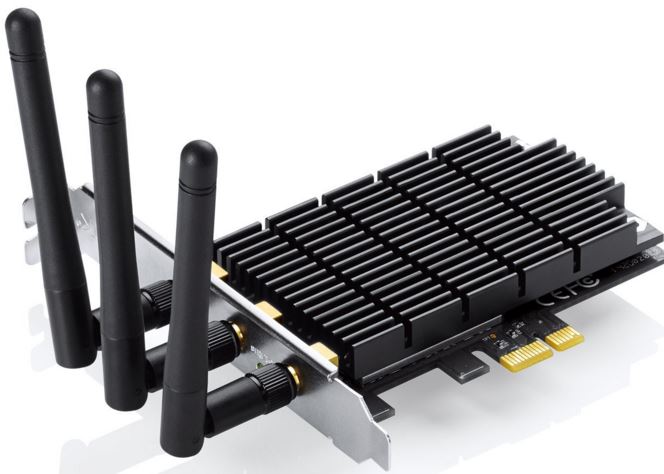 Built with TP-LINK's beamforming capabilities, you can expect a strong signal, even through multiple stories or walls. The Archer T9E is a great choice for those who have large homes or just want that extra boost of bandwidth. Best of all, it's backed by an industry-leading 2 year warranty that comes with 24/7 customer support for any technical inquiries.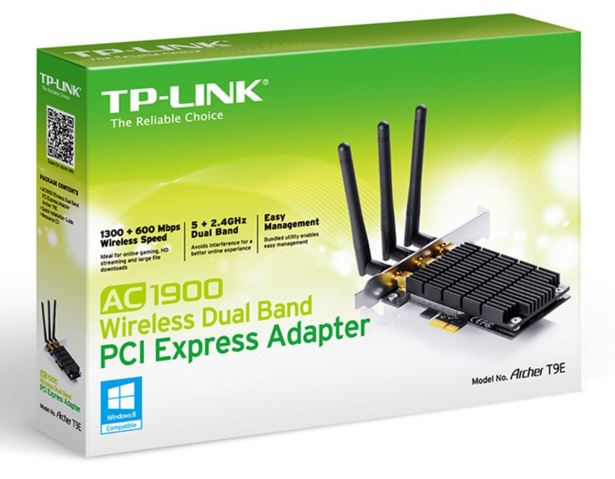 Rosewill PCIe Wireless Adapter
The Rosewill PCI Wireless Adapter is another great choice that's backwards compatible with 802.11 a/b/g/n, and its PCI express capabilities enable it to transfer data up to 300Mbps + 867Mbps on two channels.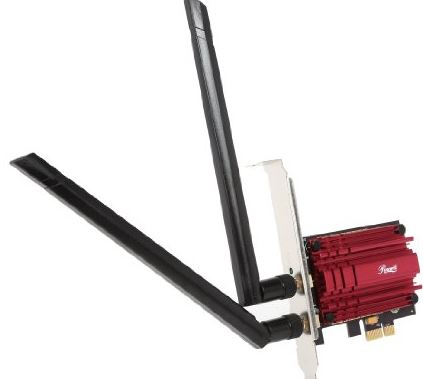 Since it supports a dual band connection, it can provide a reliable wireless high speed Internet connection. It works on 2.4 GHz and 5 GHz frequencies, but if you're into watching high definition videos and playing multiplayer games online, we recommend choosing the 5 GHz channel for a more seamless streaming experience.
Since it comes with a bundled utility CD, setting it up is easy and trouble free. Everything is laid out in a detailed and instructional manner to make the initial installation a breeze. Installing it is not considered a troublesome upgrade. With a quick look over the included software, you'll have it functioning seamlessly in no time. Best of all, supports both 32 and 64 bit versions of Windows XP, Vista, 7, and 8. It also works on Ad-hoc and has a variety of different infrastructure modes for a great deal of customization.
The Rosewill PCI Wireless Adapter starts at just $12 for the N150 version, and is available in increasingly faster versions on up to AC1200 for $58. This makes it the most affordable option for those who may not need the best of the best, but still want a PCI wireless adapter that can offer reliability and decent speeds.
TP-LINK TL-WDN4800 PCI Wireless Adapter
The TP-LINK TL-WDN4800 PCI Wireless Adapter is a dual band PCI wireless adapter, so it can deliver both reliable and super fast Internet connection speeds when connecting to the web. Its interface is compatible with PCI Express and comes with a wireless transmission power of 20dBm with Max EIRP. As for the frequency range, it works on 2.4 – 2.4835GHz, 5.180 – 5.240GHz, and 5.745 – 5.825GHz. Its wireless modes allow for Ad-hoc and infrastructure modes.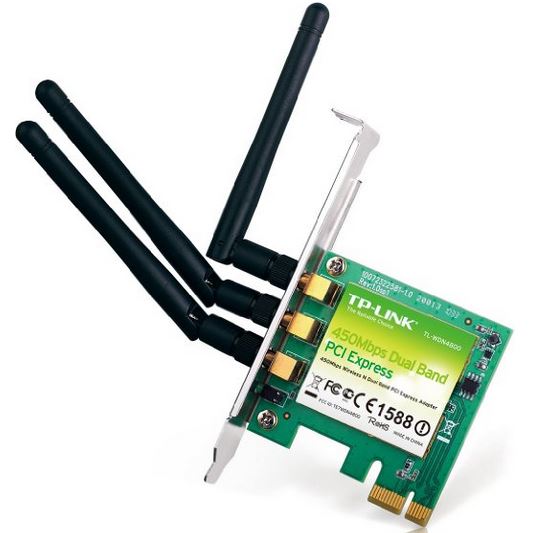 If you're using Windows, the TP-LINK TL-WDN4800 will work both on 32 and 64 bit platforms for Operating Systems all the way back to XP.
It's really easy to set it up, even if you're not the techie type of computer user. The accompanying utility CD will serve as your guide when setting the TP-LINK TL-WDN4800 up to your wireless network. In the process of initially setting it up, you can configure the security settings according to your specific needs.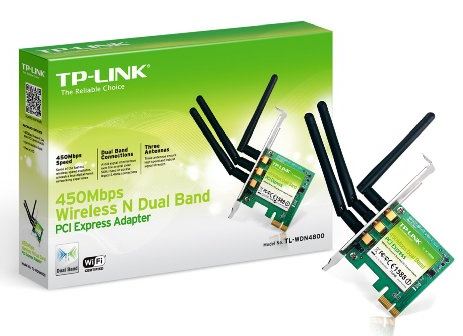 Installation is very straightforward and easy, but if you're not sure how to do it, it would be better to hire a professional. But really all you need to do is open up your case and slide it into one of your existing PCIe slots.
You can get the TP-LINK TL-WDN4800 PCIe Wireless Adapter for less than $40, making it an affordable and popular option for many
Which Wireless Adapter Should You Go For?
When it comes to fast and efficient WiFi, there are very few reasons to hold back. If you're looking for the absolute "best of the best", look no further than the newly released ASUS 4×4 AC3100 PCIe Adapter (PCE-AC88). It's designed to support AC3100 speeds and is equipped with some pretty cool features that make its unique 4×4 antenna design quite useful.
If you're looking for a full-featured PCIe wireless adapter, the ASUS Dual-Band Wireless-AC1900 PCI-E Adapter is your best choice. It comes with an adjustable antenna; so you can adjust it and pick up signals from the strongest points in your home or office. And since it utilizes the 5th generation 802.11ac chipset with speeds up to 1.3 Gbps, it's an easy winner in our book. Promised to clear up dead zones and boost coverage by 150%, it's the best choice for those who need high bandwidth capabilities.
The Archer T9E from TP-LINK is another great choice too, however. It's available in three different performance options from AC1300 to AC1900, but priced a bit less than the ASUS adapter.
If you are really on a budget and you're looking for a functional but affordable PCIe wireless adapter, consider checking out the Rosewill IEEE PCIe Wireless Adapter. It's the least expensive of the variety, but still performs exceedingly well for most scenarios.