Wireless adapters aren't just routers, shoved inside of desktop computers. They're a means of extending your wireless network to a broader area, of affecting control over your network, and expanding network reception. With the right adapter, your options can remain wide open. Some wireless adapters ask you to choose between convenience and efficiency, but more often than not, you can have both.
Choosing the Right PCIe Wireless Adapter
Finding a great PCIe wireless adapters isn't tricky. Knowing how to choose between several good adapters can be more challenging. It helps if you have a specific idea of what you're looking to find.
Number of Antennas
What's the point of having a bunch of antennas sitting in one place? Instead of thinking of antennas as something which pick-up or transmit Wi-Fi signals, think of them as tubes for carrying data. More antennas mean more tubes, though not necessarily larger tubes.
You almost can think of each antenna as being its own network. If you're planning on having four devices on your network, each drawing large quantities of bandwidth, then you're going to want one antenna for each device.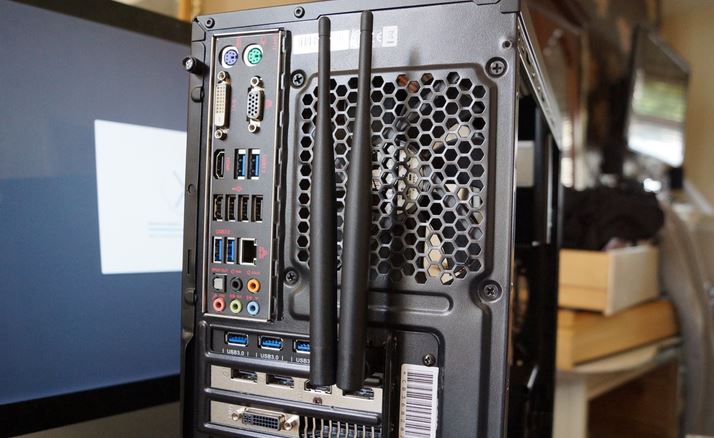 Antenna Qualities
You also want to pay attention to the quality of the antennas included with any given PCIe Wireless Adapter. In other words, how big are the tubes? Some antennas are made to broadcast lengthy distances, others aren't. Some are made to handle large streams of data, other aren't.
If a manufacturer doesn't explicitly tell you anything about signal distance, you can safely assume it's about 30-feet. Stock antennas are rarely impressive, but often possible to replace. In fact, another characteristic of the best PCIe wireless adapters is being able to remove and replace stock antennas.
Apart from replacement, it can be helpful to be able to rotate the antennas. It can provide a real boost to your signal, at least in certain circumstances. It's the kind of thing that varies from room to room, so it can be tough to know if you're going to be able to benefit from rotational antennas until you've got them in your hands. But adaptability rarely hurts.
Speed and Bandwidth
How quick do you need the adapter to be? Speed is actually a combination of several factors working together because speed is always relative to the demands of the network. A card that works wonderfully for your friend might be terribly slow for you.
For the most part, any decent PCIe wireless adapter will be able to accommodate at least one Gigabit of data throughput, which is capable of serving nearly every person and every home network. But if you're among the minority of people who need a two or three gigabit throughput, there are always adapters capable of that kind of power.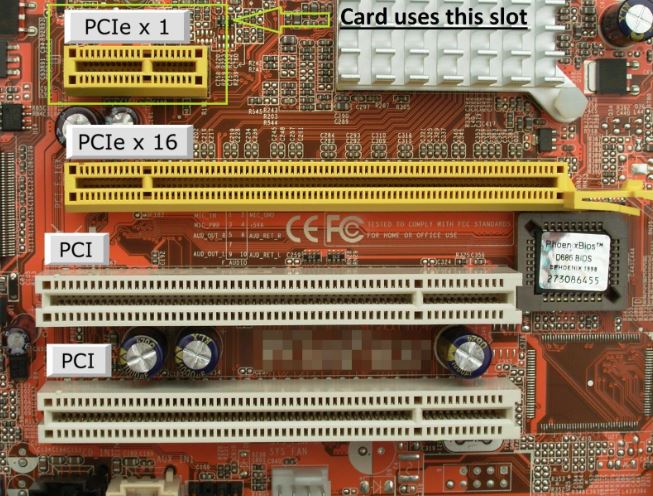 Operating System Support
Does it work when you plug it in? There's a difference between native support and being able to get something to work. Native support means you can basically plug in the card and installation is done. Often times, it's possible to extend support beyond what's listed by the manufacturer. But you generally only want to do this when you know what you're doing.
Physical Size
Can you fit the PCIe wireless adapter inside of your case? For people with low-profile cases, or PC cases with a smaller form factor, size can be a critical determination. You're mostly interested in the height of the card. To know the maximum height your adapter can be, you'll have to measure your case.
For people with full sized towers, you really only need to worry about having an empty PCIe slot. Even the largest PCIe wireless adapters will fit into any full sized case without a second thought.
Card Cooling
There's little difference between a PCIe wireless adapter and any other circuit-board in your computer. As they work harder, they get hotter. If you're using a powerful PCIe wireless adapter, then you're probably going to encounter more heat. And heat can get in the way of performance because your equipment will throttle as it begins to exceed normal temperatures.
Having an effective cooler can make a world of difference in network performance. Aluminum coolers are not only appropriate to the task of cooling a wireless adapter, they're highly cost effective. But keep in mind, a large aluminum cooler means it's suboptimal to place your wireless adapter directly beneath another component's heat exhaust. You'll need to think more about positioning to find the right spot.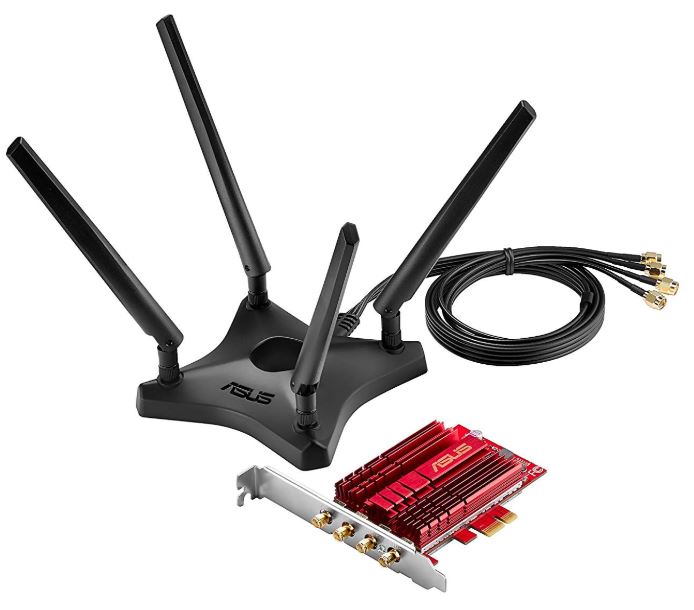 ASUS 4×4 AC3100 PCIe Adapter (PCE-AC88)
The ASUS PCE-AC88 4×4 is an AC3100 PCIe Adapter, intended to be an all-in-one kit. It includes not only the wireless adapter card, but a fairly formidable set of external antennas. These dual-band antennas can transmit signals with processing speeds of 2100 Mbps on the 5GHz band, and an additional 1000 Mbps on the 2.4 GHz band. It would be safe to call this equipment future-proofed, especially relative to average American network speeds.
The use of R-SMA antenna connectors make it possible to connect this card with almost any aftermarket antenna. And MU-MIMO support means you can support four high bandwidth connections, and still end up with pretty smooth streaming.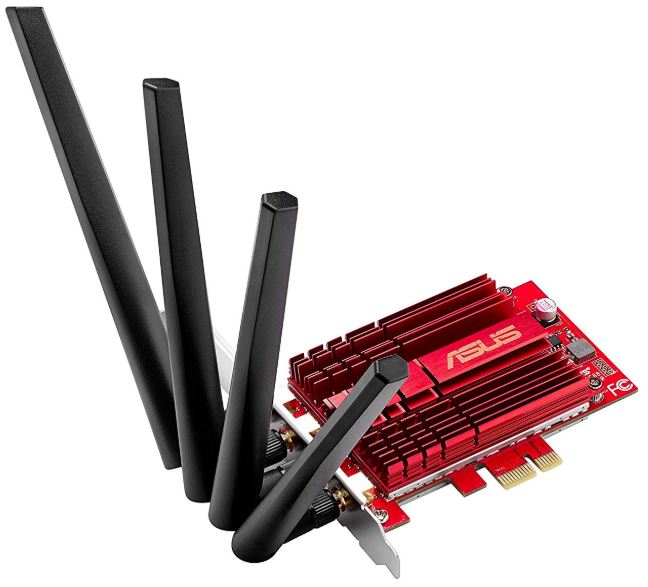 Build & Design
The PCIe adapter itself looks like almost any other PCIe card, though it's covered in heatsinks and painted bright red. Like any other adapter, the ASUS 4×4 will start to heat-up when placed under heavy computational load. Its customized heatsink is excellent at dissipating heat, provided that your case is reasonably cool to begin with. If your case runs warm, then the heatsink will do very little for you.
Cooling is essential for the longevity of the equipment, but it's also essential for a stable performance, especially if your network adapter starts to become hammered with traffic. It's often a good idea to position an adapter like this near a case fan.
The other thing to notice about this adapter is the included antenna. It's actually a separate antenna stand, constructed around a magnetic base. The magnetic nature of the base allows each antenna to be flexibly adjusted in the interests of improving network coverage. Each antenna can be attached to individual PCIe slots, making for an incredibly powerful yet compact installation.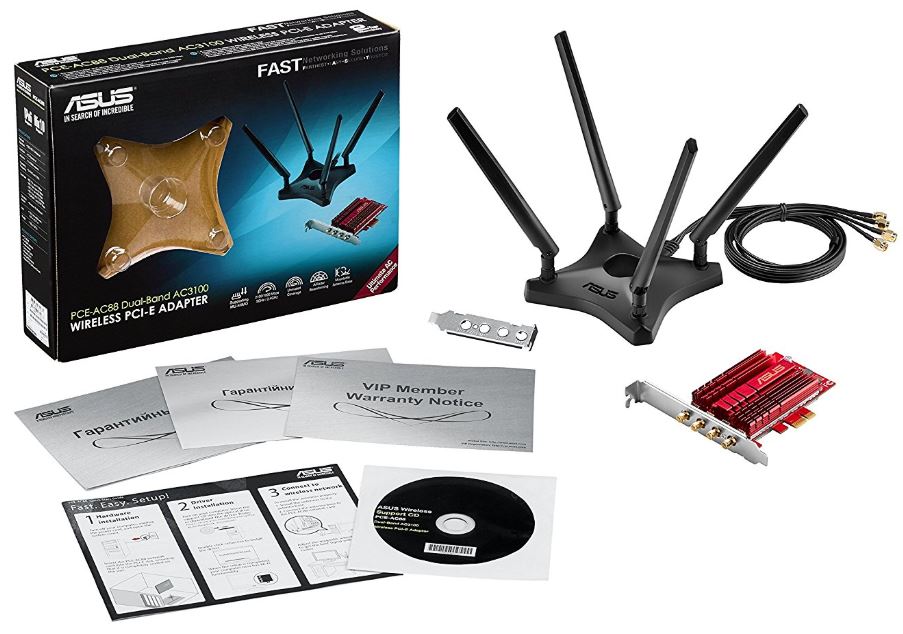 Other Considerations
The ASUS 4×4 PCIe Adapter supports Windows 10 and Windows 7. It does require at least a 64-bit operating system, so the 32-bit versions of Windows are out.
This equipment has a peak operating temperature of about 104°C. Something to keep in mind if you happen to use this adapter in a room that's poorly cooled, or in a PC case that's poorly ventilated.
The ASUS 4×4 AC3100 includes the PCE-AC88 adapter, a one-year warranty, and a low profile bracket. The bracket is useful for installing the 4×4 AC3100 in small form factor cases.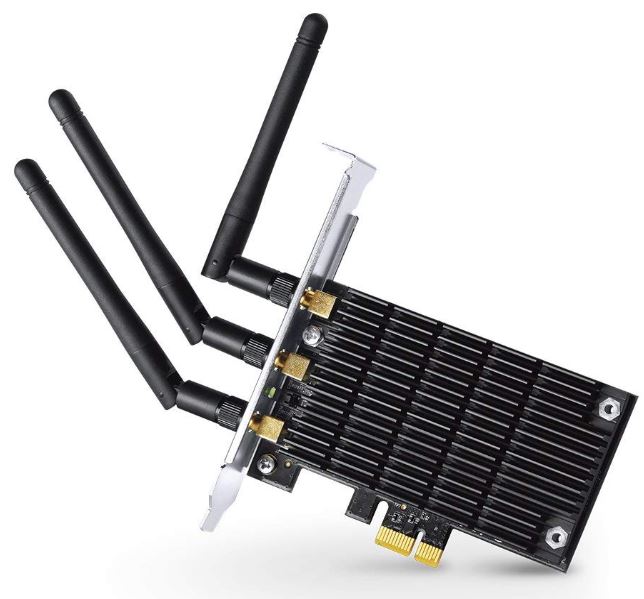 TP-Link Archer T9E AC1900
TP-Link is among the more respected names in networking equipment. And the TP-Link Archer T9E AC1900 is sure to be among the most straightforward network adapters on the market.
That's not to say it doesn't have power. It uses the same modern beamforming technologies as the ASUS adapter, and is capable of providing support for bandwidth in the neighborhood of 1900 Mbps.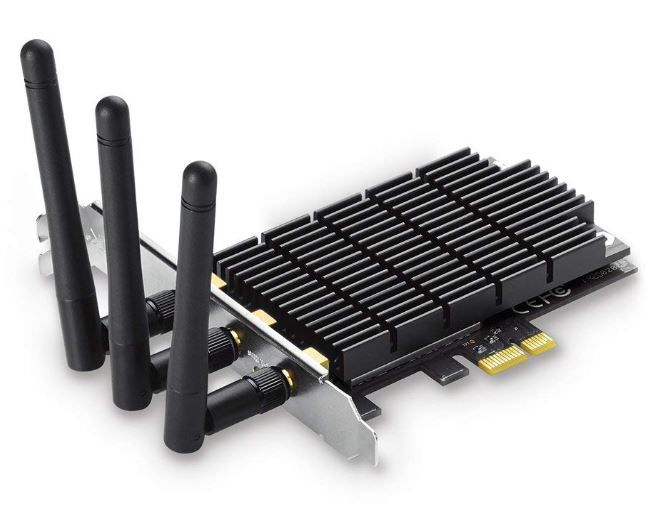 Build & Design
The T9E measures 4.5 x 4.8 x 0.8-inches, making it about as small and compact as any PCIe card. At the end of the card, there are three adjustable antennas attached. Each can be adjusted in a range of about 90-degrees. But because these antennas are attached to the card, it can be tricky for them to work effectively unless the PC you're using is in a good place to broadcast your network signal.
Like with the ASUS 4×4 AC3100, this networking card features an aluminum heat sink. It's slightly harder to see because the dark coloring helps it blend in, but it's just as effective at moving heat away from your components. It helps make this adapter ideal for 4K content, online gaming, UHD video streams, and so forth.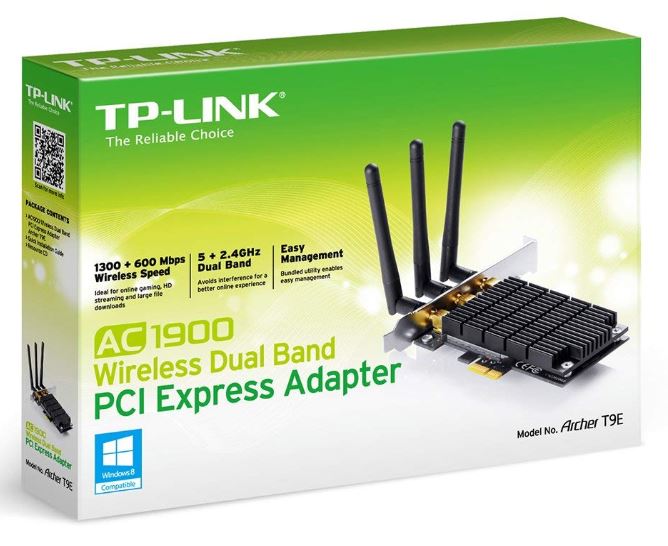 Other Considerations
The T9E supports Windows XP, 7, 8, and 8.1. It supports both the 32-bit and 64-bit versions for each of those operating systems. Though it's not built specifically for Windows 10, you should have no problem getting it to work. You would only need to get the Windows 10 driver from their website, and jump through a few additional hoops after that. But it's not difficult to get done.
The stock antennas have a dBi rating of 2, which is pretty weak. It indicates they're useful for about 30-feet of transmission. But they can be removed and replaced if you end up needing more signal support than the stock antennas can provide.
The TP-Link Archer T9E AC1900 includes a two-year warranty, and is backed with 24/7 tech support. Like with the ASUS AC3100, this adapter includes its own small form factor mounting bracket. As long as the length of this adapter isn't an issue for your case, you'll have no issue fitting it in.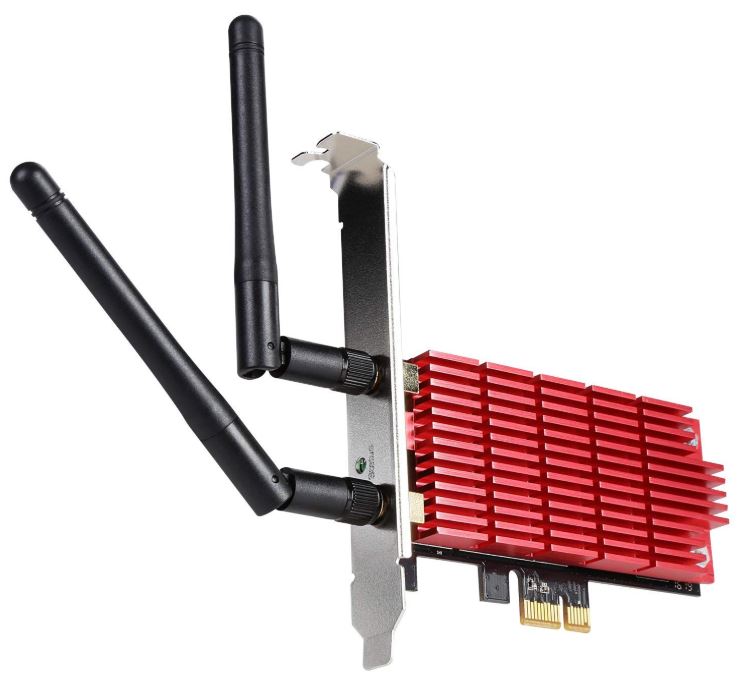 Rosewill AC1300 WiFi Adapter
Rosewill has few fans. It could be because their equipment never tries to be the very best. They don't try to make the best keyboards or the best Wi-Fi adapters, only competent devices at reasonable prices. That's essentially what you can expect from the Rosewill AC1300 WiFi Adapter.
Most people don't need multi-gigabit adapters. The average internet user in the United States enjoys about 100 Mbps. That means for most people in most circumstances, there's really nothing wrong with selecting an adapter that can provide anything over one gigabit of bandwidth.
The AC1300 is capable of drawing 867 Mbps from the 5 GHz band, and an additional 400 Mbps from the 2.4 Ghz band. Combine those figures together and round up. You end up with the AC1300.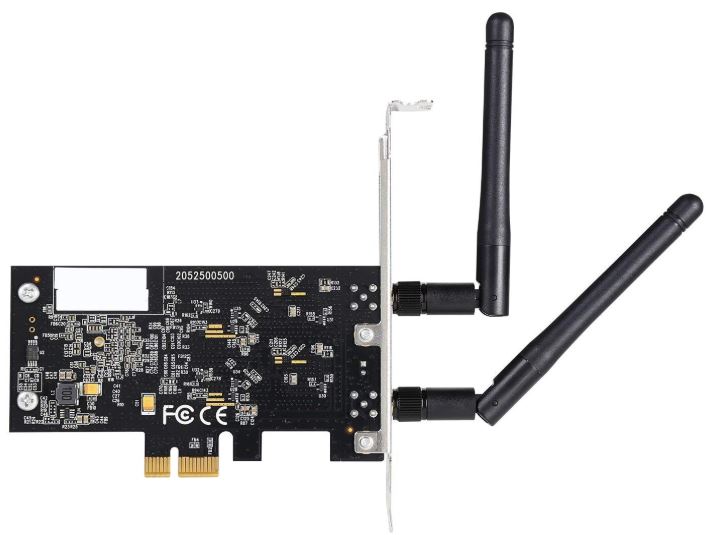 Build & Design
This adapter measures 4.5 x 4.8 x 0.85-inches. It includes two antennas, which can be detached and replaced with aftermarket antennas. And like the other adapters on this list, the antennas can be fully rotated for multi-directional coverage. The included antennas have terribly average performance. They're good for sending out a Wi-Fi signal about 30 feet.
The Rosewill AC1300 WiFi Adapter uses a bright red aluminum heat sink, similar to the ASUS AC3100. Rosewill's looks more generic, but it does an equally effective job at dissipating heat. And that's really the theme of this adapter.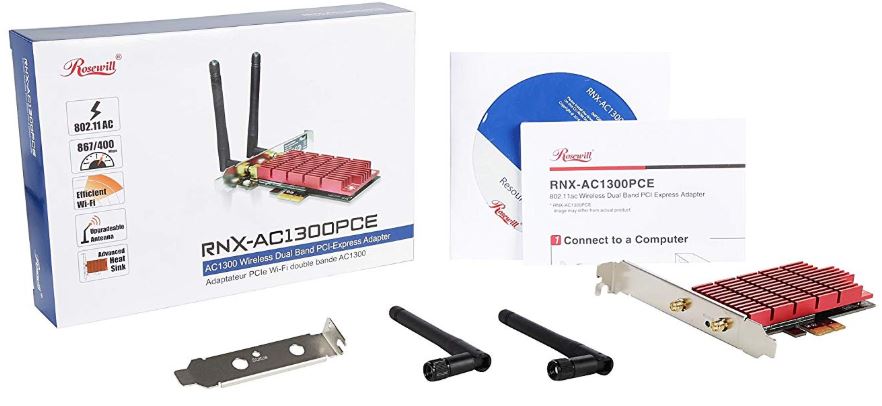 Other Considerations
The Rosewill AC1300 supports Windows XP, 7, 8, 8.1, and 10. The AC1300 supports MIMO for reliable lag-free gaming and video streaming. And you can squeeze about 11 devices onto the network before things start to slow down.
Choosing Among the Best PCIe Wireless Adapters
The ASUS 4×4 AC3100 is the most powerful adapter on this list. It can handle about three gigabits of bandwidth, spread across four antennas, positioned anywhere you want. It's a great choice for someone who expects several high bandwidth connections on their network, and someone who's wants strong antennas packaged with their adapter.
The TP-Link Archer T9E AC1900 has three antenna ports instead of four. That number of antennas is proportional to its slightly lower bandwidth capabilities. For people who are looking for a card that can handle something in the neighborhood of two gigabits of bandwidth, the T9E AC1900 is ideal. It's great if you want power similar to the ASUS AC3100, but you don't want to bother with using a separate antenna station.
Finally, there's the Rosewill AC1300 WiFi Adapter. Aiming for the middle isn't right for everyone, it's certainly not as exciting as getting a top-of-the-line adapter. But the simple truth is this. For most people in most circumstances, the Rosewill AC1300 will perform just as well as the far-more-expensive ASUS AC3100. Unless you have reason to believe 1300 Mbps isn't going to cut it for your network, the AC1300 is worth picking up.