Social media has changed how we communicate with our families, our friends, and the world at large. Instead of taking time out from a dinner party to watch home videos, we share our favorite clips on Facebook. In the era of smartphones, this is quick, easy, and convenient. But what if you have older videos from before the digital era? In that case, you might still have a stack of old VHS tapes laying around gathering dust. How do you get those tapes into digital format?
One way would be to use a VHS to DVD converter, but that only gets you halfway. You're still working with a physical medium, which makes posting and sharing your videos a pain. Unfortunately, it's a lot easier to burn a video to DVD than it is to extract raw video from a DVD. So if you want the most versatile solution possible, you'll want a video capture card. That way, you can take your videos directly from your VCR and record them to your computer.
We're about to review three different capture cards for VHS and other older players. We'll start with the AVerMedia EZMaker 7. The EZMaker 7 is a simple external capture card for Windows, and includes a copy of CyberPower DVD editing software. Next, we'll review the UCEC USB Video Capture Device. This is an external QuickTime capture card for Mac, although it will also work with Windows using UCEC's proprietary software. Finally, we'll be looking at the StarTech.com USB Video Capture Adapter Cable. This is a windows-only capture card that doesn't include any software, but it supports 720×576 PAL video. Which one is the best? Let's dig deeper, and see what we learn!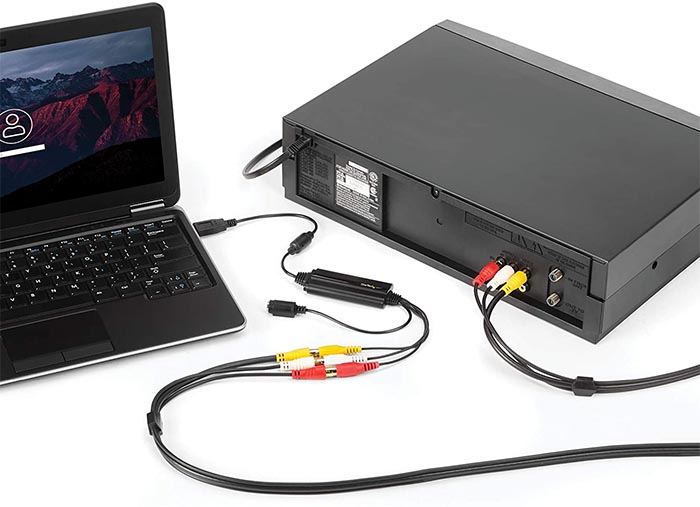 What is a Video Capture Card?
Before we go any further, let's talk about what a video capture card is and what it does. Simply put, a capture card is any device that converts a video signal into something your computer can use. Now, this might be confusing at first. Don't computers deal with video signals all the time?
The reason is that graphics cards are very good at taking a recorded file and rendering a video. They're also good at rendering video from games and other interactive sources. But they're not as efficient at taking a full video stream and encoding it in real time. This is a problem for live streamers, or if you're trying to back up VHS tapes. It can lead to skipping, frame dropping, desynchronization between audio and video, and other serious problems. A capture card takes the load off of your computer, delivering a signal that's ready to write in real time. Most capture cards are expensive, and are designed for gamers who want to stream in high quality. For VHS and other SD video, you don't need anything quite as exotic, which is why we made this list.
In addition to supporting varying video qualities, capture cards can also install differently. For instance, some of them are internal cards that need to be installed. Others are USB dongles, such as the units we'll be looking at today. The advantage of an internal card is that it takes up less space, and you can't lose it. Once it's installed, you simply plug into the back of your PC. On the other hand, many people don't feel confident adding parts to their PC. Not only that, but some computers, such as laptops, are difficult or impossible to modify. With an external dongle, you can plug into any machine with a USB port. This offers much more durability, at the expense of a somewhat clunkier interface.
Features to Look For
There are two main features you need to consider when you're buying a USB to RCA or S-Video capture card. The first is compatibility, and the second is any software that may be included. Let's delve into each of those topics.
Compatibility is a concern on both ends of the connection. On the computer side, you should have a USB port, so there should be no issues there. However, some capture cards are compatible with only Windows, some with only Mac, and others are compatible with both. This is something you need to know before you buy. Similarly, on the input side, you need an input that's compatible with your device. For newer devices like game consoles, this means HDMI or optical. For older SD devices, it means RCA or S-Video.
When it comes to software, it all depends on what you need. Most capture cards come with software, but it's usually fairly barebones. You'll be able to capture and save video, you'll need to use your own software. If you see a capture card with good software, that's a huge plus. It can potentially save you money down the road on paying for your own editing suite. On the other hand, if a capture card doesn't come with any software whatsoever, that's also worth considering. You'll need to buy recording software just to start using the card. If you already have software, this is a non-issue. You'll probably prefer using the app you're already comfortable with.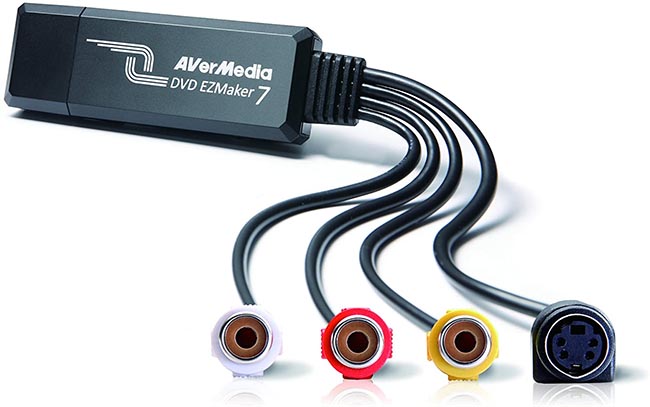 AVerMedia EZMaker 7
AVerMedia is a well-known manufacturer in the video capture market. In fact, we've already reviewed their GC573 4K internal capture card, and we were impressed. Impressed enough that when we saw the EZMaker 7, we were eager to give it a once-over.
The EZMaker 7 is a small USB fob, measuring 3.2 inches long, 1.1 inches wide, and 0.5 inches thick. And at only 1.7 ounces, it's so light you can carry it anywhere. Keep in mind that these dimensions are for the fob only. The cords are about six inches long, and dangle off of one end. On the other end, you'll find a USB plug. The plug is covered by a removable cap, which protects it from damage when it's not in use. The shell of the unit is constructed from glossy black plastic, so it collects fingerprints but it's easy to clean.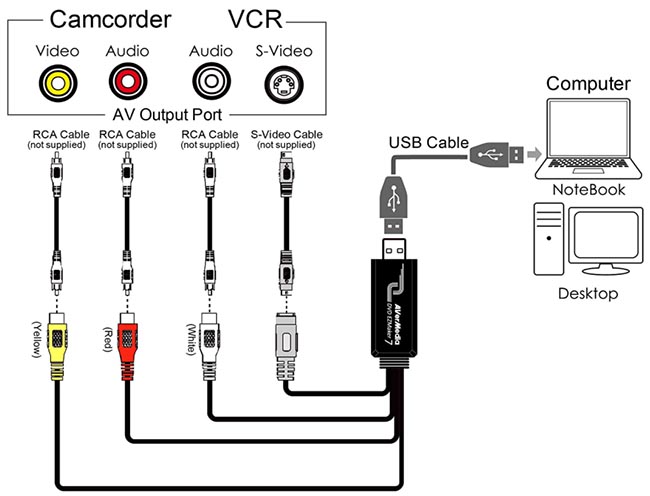 The four cables will support most SD video devices. The first three are your standard red, white, and yellow RCA cables. These are useful for VCRs, DVDs, and other older devices. The fourth is an S-Video cable. This is a less commonly-used format, but can be your only option on some devices. If nothing else, the ability to use S-Video adds some versatility.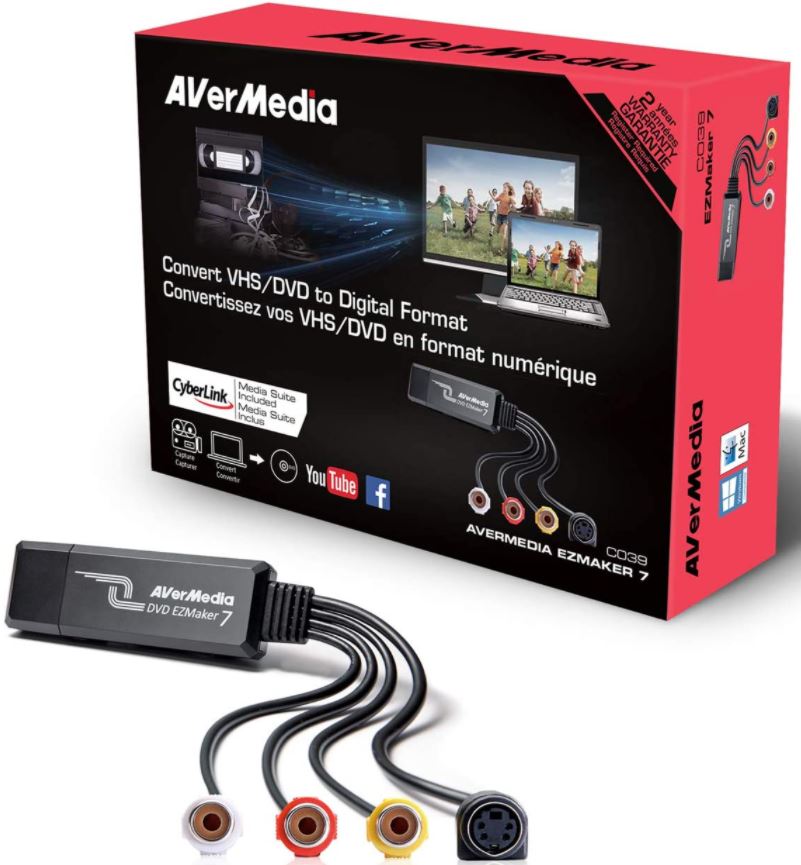 The EZMaker 7 will work with any version of Windows from XP forward, including Windows 10 Home and Professional. The minimum processor requirement is only 2.4GHz, so even an older PC will work. HD authoring requires a 3.0GHz processor, but that shouldn't be needed for normal SD content. However, it does not work with Apple machines, so Mac users will need to look elsewhere.
Along with the capture card itself, you get a CD with CyberLink PowerDirector 10 and PowerProducer 5. These apps allow you to perform basic video capture and a few editing functions. You can also use them to burn your captured video to DVD. Be careful, though. The registration key is on a sticker on the wrapper, so hold on to that wrapper!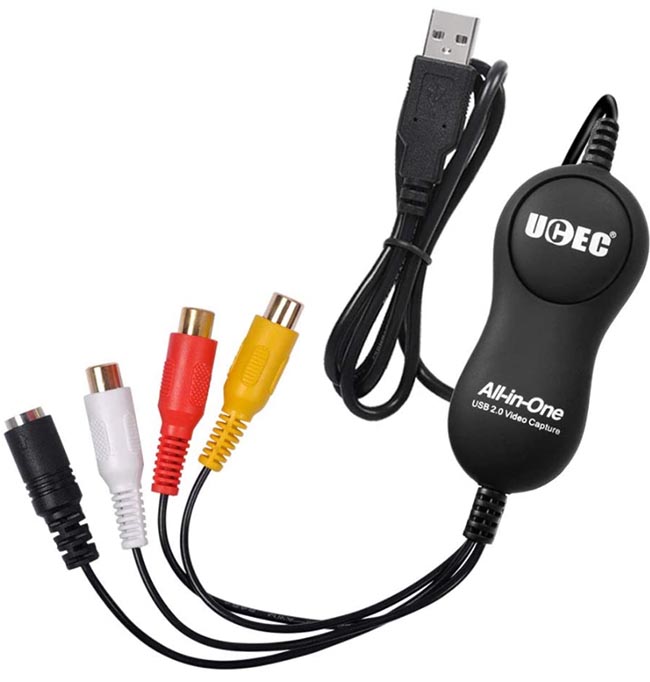 UCEC USB Video Capture Device
UCEC is known primarily for their cables and other related technology, such as their retractable HDMI cable. Their USB Video Capture Device falls right into this category. It's a 3-foot cable with an adapter fob in the center. This fob measures just a few inches in length, and is small enough to fit in the palm of your hand. That said, the cable and fob together are a little bulky for carrying in your pocket. But if you slip the whole thing into a laptop bag or messenger bag, you'll hardly notice it. Like the AVerMedia cable, the UCEC USB Video Capture Device accepts both RCA and S-Video inputs. You also get a bonus 4.9-foot RCA extension cable for making awkward connections.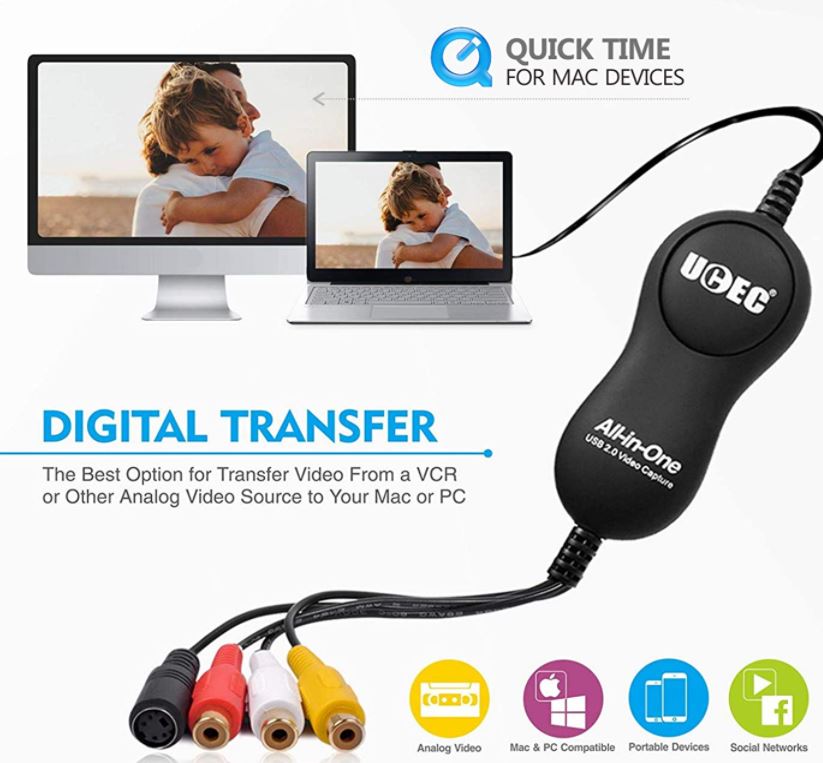 The UCEC capture card is compatible with Apple QuickTime right out of the box. This means you don't have to install any software on your MacBook or Mac desktop. Everything you need is already included with your operating system. On Windows, you can use the UCEC software included in the box. It's not pretty, and there aren't any bells and whistles, but it will capture your video. The Windows capture software is included on a disc in the package.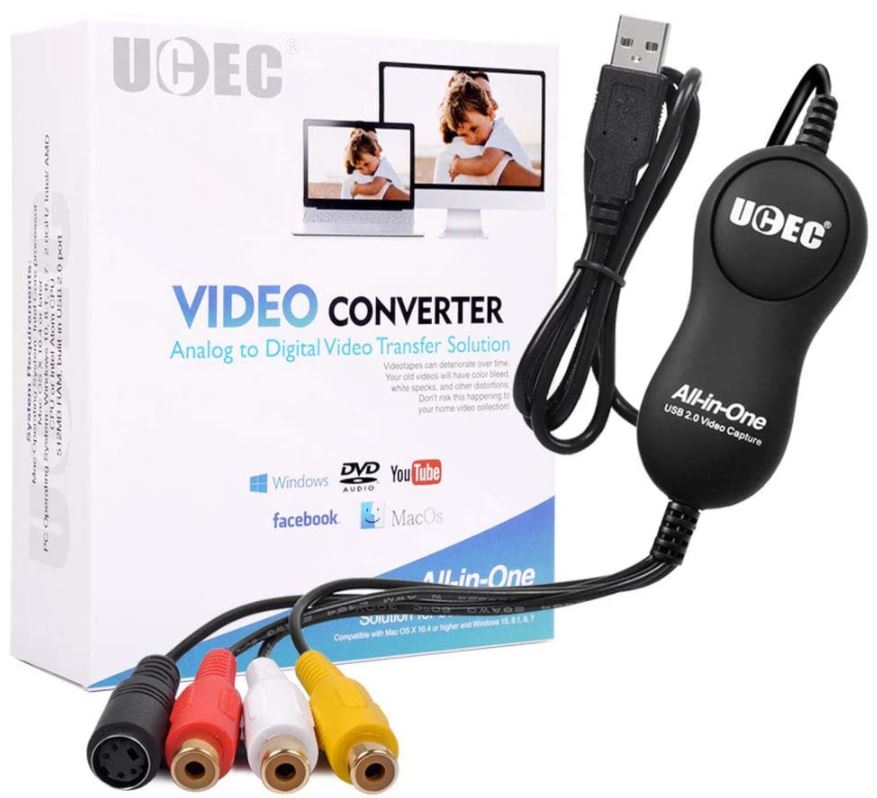 Regardless of your operating system, you'll need to be able to edit your files. Thankfully, it converts video to the H.264 format, which is universally supported. From there, you can upload it to social media, or edit it in your favorite editing suite. UCEC backs the USB Video Capture Device with a 12-month manufacturer's warranty, so you're protected from any premature failures.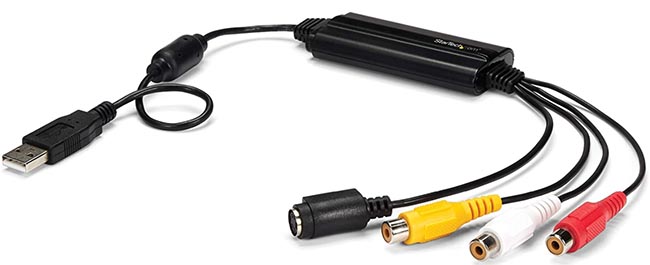 StarTech.com USB Video Capture Adapter Cable
StarTech.com are computer connectivity experts, producing everything from cables to PCIe USB expansion cards. Their USB Video Capture Adapter Cable continues in the same high-quality vein. It has a similar inline design to the UCEC capture device, but it's not quite as bulky. It also doesn't come with any extension cables, so you're on your own in that regard.
Another thing you'll have to provide for yourself is video capture software. There's none included with the unit. However, the output is compatible with TWAIN software. By extension, it's compatible with most other video capture software as well. The StarTech.com card will work with any version of Windows from 7 forward. On the downside, it won't work with Mac.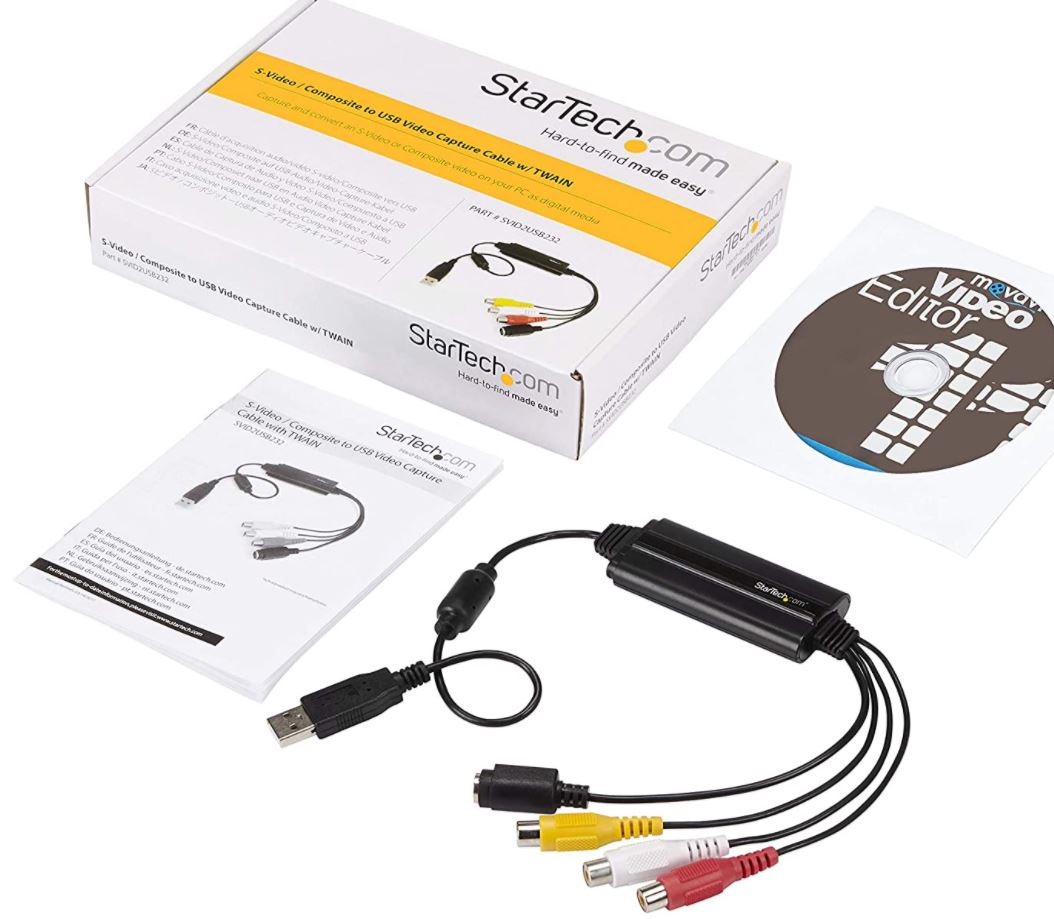 So far, the StarTech.com unit might seem like a clear loser. But there's one major advantage it has over our other options. It can capture video from 720×576 PAL/SECAM outputs. This means it can be used to backup or digitize foreign DVDs and VHS tapes that aren't available in the US. In addition to this, it will still work with ordinary American NTSC video.
Final Verdict
As is often the case, which SD video capture card is the best will depend on your exact needs. Let's go over what we've learned. We started with the AVerMedia EZMaker 7. This is an excellent capture card for Windows users. The CyberPower software that's included offers a lot more than basic recording. You can edit, trim clips, burn DVDs, and more. It's not quite professional-grade, but it's significantly better than your average capture card software. Put all of that in a tiny, pocket-friendly package, and you're looking at a great choice.
The UCEC USB Video Capture Device is a better choice if you're a Mac user. As a matter of fact, it's the only one of our three options that's compatible with MacOS. On the other hand, when we say it's compatible, we mean it's plug-and-play. It will work directly with Apple QuickTime, so you don't have to install any third-party software. Windows use is a bit clunkier, but the included software still gets the job done. The unit itself is a bit larger than the AVerMedia capture card, thanks to the longer cables. That said, it has a proportionately longer reach, and extension cables are included in the box.
The StarTech.com USB Video Capture Adapter Cable is less ideal than the others if you're looking for good software. The software, in fact, is nonexistent, and the card only works with Windows. Its inline design is convenient to use, but also a bit large for your pocket. On the other hand, the StarTech.com capture card has one huge advantage over the others. It will capture video in 720x576PAL. This is a big advantage if you're trying to capture video from European or Japanese DVDs. It's also helpful for some models of camcorder. If you want to get 720×576 PAL video from an RCA or S-Video connection, this is an excellent choice.